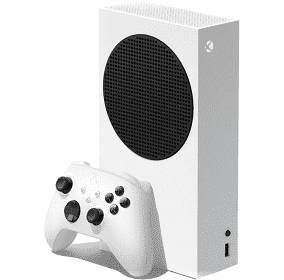 Xbox Series S – 512 GB SSD
Description
Xbox Series S – 512 GB SSD
Experience a new generation of gaming at a lower price point with the Microsoft Xbox Series S.
Nearly 60% smaller than the Xbox Series X, it's the tiniest Xbox ever. Yet it still delivers high frame rates up to 120 fps and speedy loading times – just what you need for intensive gaming.
Play the latest releases in Quad HD at 60 fps, while the Xbox Velocity Architecture powered 512 GB custom SSD storage allows you to seamlessly switch between games.
Introducing the new Xbox Wireless Controller
With its sculptured surface and refined geometry, the new Wireless controller is a thing of beauty. Take aim with the textured grip and hybrid D-pad and share your gameplay at the click of a button. Pairing with the Xbox Series S in seconds, you can seamlessly switch between compatible consoles, PCs and mobile devices.
Your old favourites look better than ever
There's no need to let your old Xbox games get dusty. As well as being ready for the next generation of games, the Xbox Series S features the revolutionary new Xbox Velocity Architecture. It provides improved loading times, stable frame rates and higher resolutions to thousands of your favourite Xbox One, Xbox 360 and even original Xbox games.
| Winner Name | Ticket Number | Draw Date |
| --- | --- | --- |
| Nikki Hall | 197 | 13/09/2022 |
| Ticket Number | Date | Name |
| --- | --- | --- |
| 1 | 2022-09-13 00:46:24 | Vivvienne Falcon |
| 2 | 2022-09-13 16:19:12 | Nathan White |
| 3 | 2022-09-09 20:10:28 | Rachel S Long |
| 4 | 2022-09-13 19:04:04 | claire-louise flanagan |
| 5 | 2022-09-13 18:24:06 | Patricia Clarkson |
| 6 | 2022-09-13 07:25:58 | Rachael Holland |
| 7 | 2022-09-10 17:13:12 | Donna Mears |
| 8 | 2022-09-12 20:09:22 | Beth Wheeler |
| 9 | 2022-09-13 13:05:52 | Laurence Dent |
| 10 | 2022-09-13 07:25:58 | Rachael Holland |
| 11 | 2022-09-10 18:19:57 | Ian O'Connor |
| 12 | 2022-09-13 17:14:58 | Ella Clarke |
| 13 | 2022-09-12 21:44:22 | Rosie Dart |
| 14 | 2022-09-10 17:13:12 | Donna Mears |
| 15 | 2022-09-11 13:01:34 | Alan Clarke |
| 16 | 2022-09-13 00:46:24 | Vivvienne Falcon |
| 17 | 2022-09-13 11:24:52 | Emma Dent |
| 18 | 2022-09-13 17:20:28 | Marny Stocker |
| 19 | 2022-09-13 11:45:29 | Loren Gunn |
| 20 | 2022-09-13 00:46:24 | Vivvienne Falcon |
| 21 | 2022-09-13 19:34:28 | Joe Rabone |
| 22 | 2022-09-13 00:46:24 | Vivvienne Falcon |
| 23 | 2022-09-13 00:46:24 | Vivvienne Falcon |
| 24 | 2022-09-12 20:37:54 | Kelly Gribble |
| 25 | 2022-09-13 18:00:58 | Lee Mills |
| 26 | 2022-09-13 17:30:47 | Jenny King |
| 27 | 2022-09-13 20:13:54 | Charlotte Wells |
| 28 | 2022-09-13 16:40:54 | Janet Ferguson |
| 29 | 2022-09-10 22:18:29 | Ben Stocker |
| 30 | 2022-09-13 14:54:24 | Mark Pease |
| 31 | 2022-09-12 20:09:22 | Beth Wheeler |
| 32 | 2022-09-10 17:13:12 | Donna Mears |
| 33 | 2022-09-13 14:54:24 | Mark Pease |
| 34 | 2022-09-13 19:21:08 | Kirsty Gates |
| 35 | 2022-09-13 20:48:14 | Patricia Clarkson |
| 36 | 2022-09-13 16:32:14 | Nicola Copley |
| 37 | 2022-09-13 14:56:20 | Kelvin Courtenay |
| 38 | 2022-09-13 20:44:10 | Charlotte Leckie |
| 39 | 2022-09-10 10:25:31 | Laurence Dent |
| 40 | 2022-09-13 20:59:26 | Laura Valavicius |
| 41 | 2022-09-12 01:04:27 | Danielle Hooper |
| 42 | 2022-09-13 14:54:24 | Mark Pease |
| 44 | 2022-09-13 18:44:21 | Christina Allen |
| 45 | 2022-09-13 19:59:00 | Kizzy Redman |
| 46 | 2022-09-13 13:05:52 | Laurence Dent |
| 48 | 2022-09-13 19:28:28 | Tanya Roberts |
| 49 | 2022-09-13 19:51:31 | kelly donnelly |
| 50 | 2022-09-13 14:56:20 | Kelvin Courtenay |
| 51 | 2022-09-13 20:56:04 | Riah Alder |
| 52 | 2022-09-13 12:19:18 | Helen Markham |
| 53 | 2022-09-13 13:05:52 | Laurence Dent |
| 54 | 2022-09-13 20:41:35 | Talia Tucker |
| 55 | 2022-09-13 20:13:54 | Charlotte Wells |
| 56 | 2022-09-13 09:37:07 | Joanne Stewart |
| 57 | 2022-09-13 00:46:24 | Vivvienne Falcon |
| 58 | 2022-09-13 20:53:43 | Patricia Clarkson |
| 59 | 2022-09-13 19:59:00 | Kizzy Redman |
| 60 | 2022-09-13 20:59:44 | Kim Escott |
| 62 | 2022-09-13 14:54:24 | Mark Pease |
| 63 | 2022-09-13 13:55:48 | Mandy Moore |
| 64 | 2022-09-13 15:43:14 | Kevin Hayes |
| 65 | 2022-09-13 09:07:23 | Shaun Sloman |
| 66 | 2022-09-13 14:54:24 | Mark Pease |
| 67 | 2022-09-10 10:25:31 | Laurence Dent |
| 68 | 2022-09-10 10:25:31 | Laurence Dent |
| 69 | 2022-09-13 19:06:57 | Cristina Evans |
| 70 | 2022-09-13 20:41:59 | E L |
| 71 | 2022-09-13 20:31:27 | Viv Munslow |
| 72 | 2022-09-13 19:04:04 | claire-louise flanagan |
| 73 | 2022-09-13 19:59:00 | Kizzy Redman |
| 74 | 2022-09-13 20:54:17 | Joanne Warner |
| 75 | 2022-09-13 19:49:43 | Joanne Stewart |
| 76 | 2022-09-13 14:54:24 | Mark Pease |
| 78 | 2022-09-13 10:08:52 | Siobhan Clifford |
| 79 | 2022-09-13 19:35:43 | Georgina Morgan |
| 80 | 2022-09-13 20:17:25 | Carter Perry |
| 81 | 2022-09-13 12:01:50 | Jodie Leaman |
| 82 | 2022-09-13 17:14:58 | Ella Clarke |
| 83 | 2022-09-13 01:16:48 | Leah Knight |
| 84 | 2022-09-13 20:48:14 | Patricia Clarkson |
| 86 | 2022-09-13 20:52:08 | Chris Carr |
| 87 | 2022-09-13 00:46:24 | Vivvienne Falcon |
| 88 | 2022-09-13 13:25:24 | Danielle Hooper |
| 89 | 2022-09-13 20:26:48 | Ellie Leefmans |
| 90 | 2022-09-13 17:11:55 | Daniel Smith |
| 91 | 2022-09-13 20:49:59 | Kelvin Courtenay |
| 92 | 2022-09-13 20:01:23 | Nicola Naylor |
| 93 | 2022-09-13 14:54:24 | Mark Pease |
| 94 | 2022-09-13 19:59:00 | Kizzy Redman |
| 95 | 2022-09-13 19:49:43 | Joanne Stewart |
| 96 | 2022-09-13 17:06:33 | Joanne Stewart |
| 97 | 2022-09-13 20:41:21 | Tamsin Davis |
| 98 | 2022-09-13 12:12:48 | Amy Hardware |
| 99 | 2022-09-13 00:46:24 | Vivvienne Falcon |
| 100 | 2022-09-10 10:25:31 | Laurence Dent |