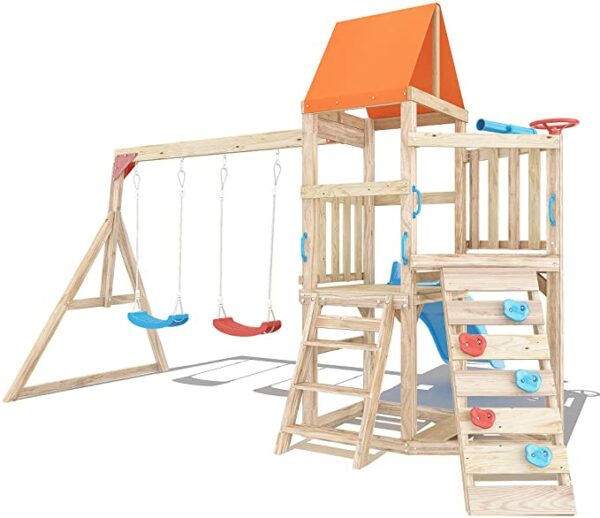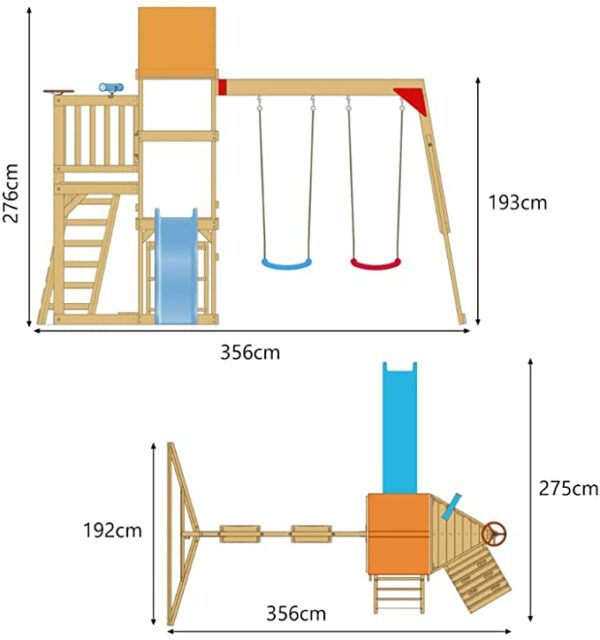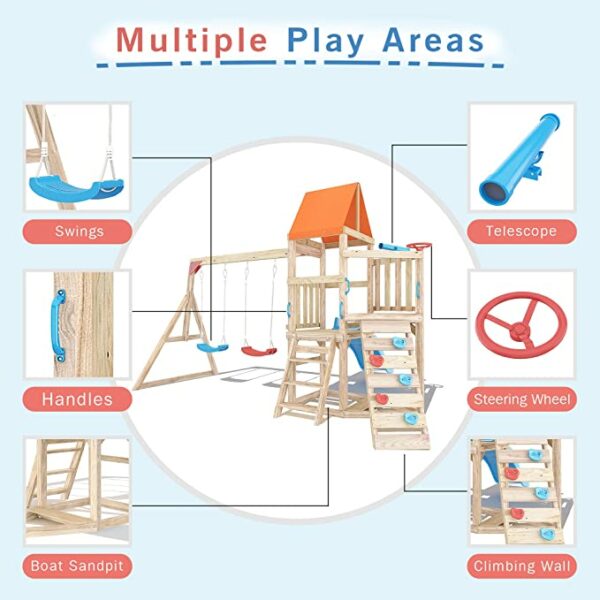 Wooden Climbing Frame, Garden Play Equipment with Swing Slide Set, Wooden Garden Playhouse for Outdoors with Sandpit, Climbing Ladder & Play-Accessories
Description
Outdoor games make kids no longer indulge in electronic devices. Various play accessories such as swings, slide, climbing stones, telescope, steering wheel and sandpit makes them exercise and entertain for hours.
【MATERIAL STRUCTURE】The timber is pressure treated and has passed quality and safety test for longevity and low maintenance. Large tarp with plenty of room is easy to handle, washable, tear resistant, UV-stabilized and mould-resistant.
Precise structural design ensures the stability of the overall structure and guarantees the safety of children. Detailed Installation drawings is conducive for assembly,Climbing frame with ship platforms, slide, double swings, sandpit and many accessories.
【SAFETY AND ENVIRONMENTAL PROTECTION】Safety is our priority. Our climbing frame has passed EN71 European Safety Standards test. The timber is also tested to comply with EN71-3 Standard to ensure the chemicals are safe to use in children products.Our hardware is of good quality, with a ten year guarantee.
| Winner Name | Ticket Number | Draw Date |
| --- | --- | --- |
| Lucie Dobeer | 284 | 01/06/2022 |
1-100
101-200
201-300
301-400
401-500
501-600
| Ticket Number | Date | Name |
| --- | --- | --- |
| 2 | 2022-06-01 19:30:20 | Mary Thomas |
| 3 | 2022-05-26 13:47:44 | Kelly Parker |
| 5 | 2022-06-01 14:01:25 | Amanda Byrne |
| 6 | 2022-05-28 13:32:31 | Michael O'connor |
| 7 | 2022-05-27 09:41:08 | Anna-marie Wills |
| 8 | 2022-06-01 02:33:42 | Sally Egan |
| 9 | 2022-05-27 21:01:03 | Trudi Parnell |
| 10 | 2022-06-01 11:39:04 | Julie Rae |
| 11 | 2022-06-01 06:43:59 | Lucinda Massey |
| 12 | 2022-05-27 20:27:34 | Mandy Smith8 |
| 13 | 2022-06-01 19:59:49 | Skinner Teena |
| 14 | 2022-05-31 16:24:06 | Anna Benney |
| 15 | 2022-05-27 09:41:08 | Anna-marie Wills |
| 16 | 2022-05-31 20:40:19 | Paige Gibson |
| 17 | 2022-05-28 13:32:31 | Michael O'connor |
| 18 | 2022-05-31 14:22:12 | Lucy Houghton |
| 19 | 2022-05-26 17:24:13 | Katie Kelly |
| 20 | 2022-05-27 21:01:03 | Trudi Parnell |
| 21 | 2022-05-31 08:53:23 | Jodie James |
| 22 | 2022-05-28 13:32:31 | Michael O'connor |
| 23 | 2022-06-01 19:25:27 | Philippa Blair |
| 24 | 2022-05-31 20:40:19 | Paige Gibson |
| 25 | 2022-06-01 09:24:56 | Steve Archer |
| 26 | 2022-05-29 11:03:45 | Dean O'Connor |
| 27 | 2022-05-26 17:24:13 | Katie Kelly |
| 28 | 2022-06-01 20:27:59 | Daisy Sengun |
| 29 | 2022-05-28 18:13:59 | Hayley LAWLESS |
| 31 | 2022-06-01 15:40:01 | Nicola Cobain |
| 32 | 2022-06-01 13:50:42 | Lois Yates |
| 33 | 2022-06-01 20:06:20 | Candy Light |
| 34 | 2022-06-01 18:50:19 | Craig Boyd |
| 36 | 2022-06-01 17:44:17 | Daniel Cobain |
| 39 | 2022-06-01 19:27:32 | Claire Drury |
| 41 | 2022-06-01 19:17:28 | Katrina IķStevens |
| 42 | 2022-06-01 16:13:44 | Jodie Ellis |
| 44 | 2022-06-01 19:27:32 | Claire Drury |
| 45 | 2022-06-01 20:32:02 | Sian Beer |
| 46 | 2022-05-31 11:03:13 | Williams Ashlyn |
| 47 | 2022-06-01 19:25:27 | Philippa Blair |
| 48 | 2022-05-31 20:43:31 | Jordan Dobbin |
| 49 | 2022-05-30 19:35:12 | Samantha Yeates |
| 51 | 2022-06-01 20:13:50 | Juliet Phillips |
| 53 | 2022-06-01 09:54:23 | Nick Stevens |
| 54 | 2022-06-01 16:22:27 | Jacob Robins |
| 56 | 2022-05-28 09:18:10 | Lyn Peters |
| 57 | 2022-06-01 11:09:19 | Emma Jones |
| 58 | 2022-06-01 20:28:20 | Kerri Del-Pizzo |
| 63 | 2022-06-01 20:06:20 | Candy Light |
| 64 | 2022-05-31 22:45:25 | Alan Gowland |
| 66 | 2022-05-26 16:59:27 | Elaine Whittaker |
| 67 | 2022-06-01 14:01:25 | Amanda Byrne |
| 68 | 2022-06-01 11:18:18 | Gail Gilbert |
| 69 | 2022-06-01 20:28:20 | Kerri Del-Pizzo |
| 74 | 2022-06-01 19:26:24 | Laura Smith |
| 75 | 2022-06-01 19:10:17 | Mary Allwood |
| 76 | 2022-06-01 15:25:05 | Neil Dombrowski |
| 77 | 2022-06-01 20:35:55 | Stacey Williamson |
| 78 | 2022-06-01 16:13:44 | Jodie Ellis |
| 80 | 2022-06-01 13:50:42 | Lois Yates |
| 81 | 2022-06-01 19:59:49 | Skinner Teena |
| 82 | 2022-06-01 15:25:05 | Neil Dombrowski |
| 83 | 2022-06-01 20:06:20 | Candy Light |
| 85 | 2022-05-31 17:40:48 | Lekel North |
| 86 | 2022-06-01 10:22:04 | Amy Whitlam |
| 87 | 2022-06-01 19:27:32 | Claire Drury |
| 89 | 2022-06-01 19:05:29 | Kellie Imms |
| 91 | 2022-06-01 20:21:35 | Chloe Stone |
| 93 | 2022-06-01 20:06:20 | Candy Light |
| 94 | 2022-06-01 16:13:44 | Jodie Ellis |
| 95 | 2022-05-31 13:04:22 | Lauren Rogers |
| 96 | 2022-05-31 08:09:10 | maxine menhennett |
| 98 | 2022-06-01 16:13:44 | Jodie Ellis |
| 100 | 2022-05-26 13:59:17 | Nicola Bird |