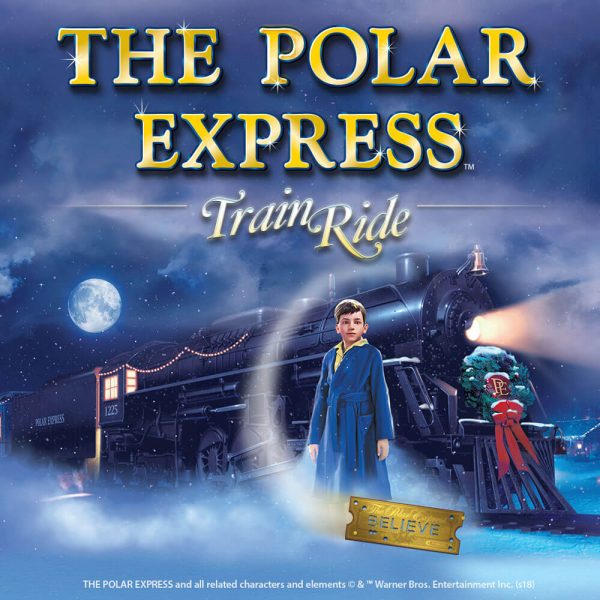 WIN TICKETS FOR THE POLAR EXPRESS TRAIN RIDE UP TO 6 PEOPLE – LOW ODDS #2
Description
WIN TICKETS FOR THE POLAR EXPRESS TRAIN RIDE UP TO 6 PEOPLE – LOW ODDS #2
Premium Tickets  FOR UP TO 6 PEOPLE
EVERYONE receives a Silver Sleigh Bell from Santa – the first gift of Christmas.
All our Premium Class ticket holders receive a freshly baked cookie and hot chocolate.
Premium Ticket holders will also receive a THE POLAR EXPRESS™ Souvenir Ceramic Mug to take home.
Babies under 2 travelling on a lap only receive a Silver Sleigh Bell.
| Winner Name | Ticket Number | Draw Date |
| --- | --- | --- |
| Anne-Marie Daniels | 36 | 01/09/2022 |
| Ticket Number | Date | Name |
| --- | --- | --- |
| 1 | 2022-08-29 13:27:28 | Penny Southan |
| 2 | 2022-08-29 21:01:41 | Hayley Twine-Hibbs |
| 3 | 2022-09-01 08:16:13 | Claire Harris |
| 4 | 2022-09-01 10:02:22 | Sarah Smith |
| 5 | 2022-08-30 15:36:53 | Tracey Turpin |
| 6 | 2022-08-31 09:27:55 | Victoria Roberts |
| 7 | 2022-08-29 17:52:39 | Sandra Owen Youens |
| 8 | 2022-08-31 21:22:08 | Natasha Cleave |
| 9 | 2022-08-31 07:45:27 | Emma Henwood |
| 10 | 2022-08-29 17:58:12 | Lee harris |
| 11 | 2022-08-31 19:45:21 | Jasmine Walsh |
| 12 | 2022-09-01 17:09:25 | Claire Drury |
| 13 | 2022-08-26 10:47:48 | Leanne Bowers |
| 14 | 2022-09-01 14:17:00 | Gemma Syms |
| 15 | 2022-09-01 17:11:14 | Rebecca Merrett |
| 16 | 2022-08-29 21:29:42 | Emma Henwood |
| 17 | 2022-08-29 20:47:13 | Lisa Howard |
| 18 | 2022-08-26 22:48:16 | Emma Reeve |
| 19 | 2022-08-26 20:31:52 | Julie Cleave |
| 20 | 2022-08-31 17:15:29 | Trina Branch |
| 21 | 2022-08-29 23:10:57 | Georgia Samuel |
| 22 | 2022-09-01 12:01:16 | Antonia Shackleton |
| 23 | 2022-08-29 19:22:44 | Trina Branch |
| 24 | 2022-08-29 18:59:50 | Leanne Gunn |
| 25 | 2022-08-29 20:27:10 | Shaunagh Palmer |
| 26 | 2022-09-01 17:11:14 | Rebecca Merrett |
| 27 | 2022-09-01 18:02:48 | Lauren Tooley |
| 28 | 2022-08-29 19:34:49 | Victoria Hogg |
| 29 | 2022-08-28 14:09:22 | Ben Stocker |
| 30 | 2022-08-30 21:58:26 | Sophie Bird |
| 31 | 2022-08-31 13:35:30 | James Stapleton |
| 32 | 2022-08-26 16:25:32 | Elz . |
| 33 | 2022-08-29 23:10:57 | Georgia Samuel |
| 34 | 2022-08-29 19:29:53 | Chloe Rainbow |
| 35 | 2022-08-30 15:24:50 | Melanie Walker |
| 36 | 2022-09-01 18:46:18 | Anne-Marie Daniels |
| 37 | 2022-08-31 22:50:58 | Linda Beer |
| 38 | 2022-08-31 23:41:13 | Patricia Clarkson |
| 39 | 2022-08-31 07:02:03 | Michelle Tomlinson |
| 40 | 2022-09-01 17:11:57 | Darryl Avery |
| 41 | 2022-08-31 21:22:08 | Natasha Cleave |
| 42 | 2022-08-31 22:44:09 | Sarah Dennis |
| 43 | 2022-09-01 18:02:48 | Lauren Tooley |
| 44 | 2022-09-01 13:24:01 | Leanne Gunn |
| 45 | 2022-09-01 12:02:46 | Trina Branch |
| 46 | 2022-09-01 18:44:38 | Danielle Lindsay |
| 47 | 2022-08-29 19:11:43 | Gemma Horn |
| 48 | 2022-08-31 22:43:59 | Katie Flynn |
| 49 | 2022-09-01 08:44:46 | Sonia Holden |
| 50 | 2022-08-30 15:24:50 | Melanie Walker |
| 51 | 2022-08-31 09:19:16 | Shannon Shaw |
| 52 | 2022-08-29 17:59:46 | Helen Gudgin |
| 53 | 2022-09-01 18:42:58 | Emma-lee Wilson |
| 54 | 2022-09-01 16:01:34 | Wendy Wells |
| 55 | 2022-08-31 19:31:10 | Jade-louise Foster |
| 56 | 2022-09-01 10:50:37 | Anne Mackay |
| 57 | 2022-08-29 18:59:50 | Leanne Gunn |
| 58 | 2022-09-01 18:02:48 | Lauren Tooley |
| 59 | 2022-08-30 07:40:51 | Claire Smale |
| 60 | 2022-09-01 17:11:57 | Darryl Avery |
| 61 | 2022-08-31 13:21:35 | Emma Henwood |
| 62 | 2022-08-31 07:02:03 | Michelle Tomlinson |
| 63 | 2022-08-30 15:40:20 | Sian Bush |
| 64 | 2022-09-01 18:44:38 | Danielle Lindsay |
| 65 | 2022-09-01 12:19:19 | Paul Jones |
| 66 | 2022-08-30 15:24:50 | Melanie Walker |
| 67 | 2022-08-27 14:48:40 | Nichola Priest |
| 68 | 2022-09-01 16:59:37 | Andy Pitty |
| 69 | 2022-08-30 15:40:20 | Sian Bush |
| 70 | 2022-08-29 17:57:59 | Kelly Clarke-booth |
| 71 | 2022-08-30 18:42:24 | Rhiannon Clarke |
| 72 | 2022-09-01 00:46:30 | Katie Hurrell |
| 73 | 2022-09-01 18:59:08 | Rebecca McCabe |
| 74 | 2022-08-31 21:49:13 | Kelly Parker |
| 75 | 2022-09-01 18:02:48 | Lauren Tooley |
| 76 | 2022-09-01 08:44:46 | Sonia Holden |
| 77 | 2022-09-01 15:41:35 | emma mccauley |
| 78 | 2022-09-01 08:44:46 | Sonia Holden |
| 79 | 2022-08-31 19:34:16 | Callum Clarke |
| 80 | 2022-08-29 21:48:29 | Meisha Williams |
| 81 | 2022-08-30 15:24:50 | Melanie Walker |
| 82 | 2022-09-01 13:10:25 | Ian Whitford |
| 83 | 2022-09-01 08:16:13 | Claire Harris |
| 84 | 2022-08-30 00:01:34 | Leah-marie James |
| 85 | 2022-09-01 08:44:46 | Sonia Holden |
| 86 | 2022-09-01 10:50:37 | Anne Mackay |
| 87 | 2022-09-01 11:59:33 | Sian Beer |
| 88 | 2022-09-01 11:59:33 | Sian Beer |
| 89 | 2022-09-01 15:51:09 | Tia Richardson |
| 90 | 2022-09-01 16:57:11 | Mark Hamm |
| 91 | 2022-09-01 16:08:14 | Samantha Head |
| 92 | 2022-09-01 14:35:00 | Tyler Ward |
| 93 | 2022-08-29 21:48:29 | Meisha Williams |
| 94 | 2022-08-31 10:47:53 | Lisa Head |
| 95 | 2022-09-01 18:52:38 | Shannon Shaw |
| 96 | 2022-09-01 10:42:25 | Kathrine Yeo |
| 97 | 2022-08-29 23:15:48 | Steven Brown |
| 98 | 2022-09-01 11:09:12 | Debbie Hayman |
| 99 | 2022-09-01 08:44:46 | Sonia Holden |
| 100 | 2022-09-01 06:16:19 | Phil Gaudin |