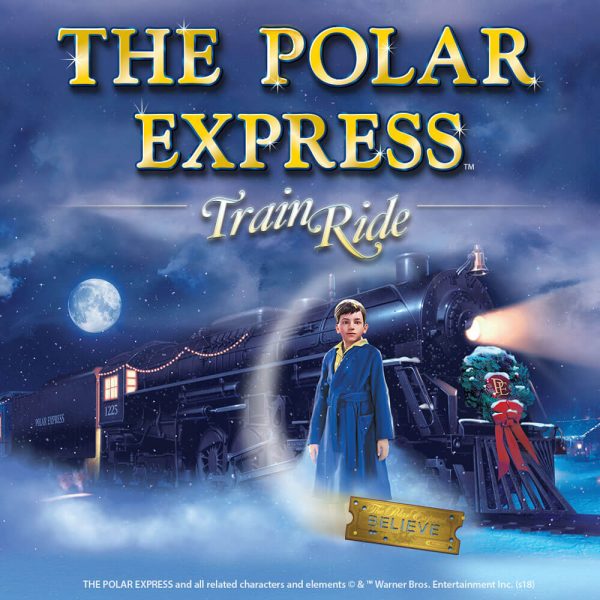 WIN TICKETS FOR THE POLAR EXPRESS TRAIN RIDE UP TO 6 PEOPLE FOR 99P #4
Description
WIN TICKETS FOR THE POLAR EXPRESS TRAIN RIDE UP TO 6 PEOPLE FOR 99P #4
WIN TICKETS FOR THE POLAR EXPRESS TRAIN RIDE UP TO 6 PEOPLE FOR 99P #3
Standard seating can be purchased in even and odd quantities.
EVERYONE receives a Silver Sleigh Bell from Santa – the first gift of Christmas.
All our Standard Class ticket holders receive a freshly baked cookie and cup of hot chocolate.
Babies under 2 travelling on a lap only receive a Silver Sleigh Bell.
| Winner Name | Ticket Number | Draw Date |
| --- | --- | --- |
| Keri-Anne Taylor | 148 | 20/09/2022 |
1-100
101-200
201-300
301-400
401-500
| Ticket Number | Date | Name |
| --- | --- | --- |
| 1 | 2022-09-14 21:30:15 | Michael Stoneman |
| 2 | 2022-09-14 21:30:15 | Michael Stoneman |
| 3 | 2022-09-14 21:30:15 | Michael Stoneman |
| 4 | 2022-09-14 21:30:15 | Michael Stoneman |
| 5 | 2022-09-14 21:30:15 | Michael Stoneman |
| 6 | 2022-09-14 21:30:15 | Michael Stoneman |
| 7 | 2022-09-14 21:30:15 | Michael Stoneman |
| 8 | 2022-09-15 05:55:30 | Laurie Driver |
| 9 | 2022-09-15 21:24:54 | Fiona Oakley |
| 10 | 2022-09-15 22:22:43 | Jodie Cullum |
| 11 | 2022-09-14 20:55:33 | Leanne Smith |
| 12 | 2022-09-15 05:55:30 | Laurie Driver |
| 13 | 2022-09-17 06:24:16 | Ayisha Moyle |
| 14 | 2022-09-14 21:30:15 | Michael Stoneman |
| 15 | 2022-09-14 21:30:15 | Michael Stoneman |
| 16 | 2022-09-14 21:30:15 | Michael Stoneman |
| 17 | 2022-09-15 05:55:30 | Laurie Driver |
| 18 | 2022-09-14 20:55:33 | Leanne Smith |
| 19 | 2022-09-14 21:30:15 | Michael Stoneman |
| 20 | 2022-09-14 21:30:15 | Michael Stoneman |
| 21 | 2022-09-14 23:22:03 | Lisa Roberts |
| 22 | 2022-09-14 23:22:03 | Lisa Roberts |
| 23 | 2022-09-14 23:22:03 | Lisa Roberts |
| 24 | 2022-09-14 21:30:15 | Michael Stoneman |
| 25 | 2022-09-15 05:55:30 | Laurie Driver |
| 26 | 2022-09-14 21:30:15 | Michael Stoneman |
| 27 | 2022-09-14 21:30:15 | Michael Stoneman |
| 28 | 2022-09-18 08:45:05 | Gina Bell |
| 29 | 2022-09-14 21:30:15 | Michael Stoneman |
| 30 | 2022-09-19 21:22:41 | Mandy Smith8o |
| 31 | 2022-09-17 21:16:32 | Vikki Major |
| 32 | 2022-09-18 16:25:52 | Alice Hunt |
| 33 | 2022-09-19 07:59:07 | Dana Mills |
| 34 | 2022-09-14 21:30:15 | Michael Stoneman |
| 35 | 2022-09-14 21:30:15 | Michael Stoneman |
| 36 | 2022-09-14 21:30:15 | Michael Stoneman |
| 37 | 2022-09-18 11:21:10 | Kelly Obrey |
| 38 | 2022-09-17 18:39:38 | Trudi Parnell |
| 39 | 2022-09-17 17:51:14 | Katie Reddaway |
| 40 | 2022-09-16 19:01:03 | Janet Coling |
| 41 | 2022-09-14 22:17:13 | Victoria Roberts |
| 42 | 2022-09-14 21:39:54 | Jade Hulme |
| 43 | 2022-09-17 16:28:07 | Laura Thresher |
| 44 | 2022-09-17 06:24:16 | Ayisha Moyle |
| 45 | 2022-09-14 21:30:15 | Michael Stoneman |
| 46 | 2022-09-20 01:01:13 | Riddock Suzanne |
| 47 | 2022-09-17 06:24:16 | Ayisha Moyle |
| 48 | 2022-09-14 22:03:49 | Kirsty Huxtable |
| 49 | 2022-09-19 07:49:06 | Tracey Sly |
| 50 | 2022-09-19 07:59:07 | Dana Mills |
| 51 | 2022-09-19 07:59:07 | Dana Mills |
| 52 | 2022-09-19 17:55:39 | Hollie Hunt |
| 53 | 2022-09-14 21:30:15 | Michael Stoneman |
| 54 | 2022-09-19 22:36:30 | Susan Chalk |
| 55 | 2022-09-14 21:30:15 | Michael Stoneman |
| 56 | 2022-09-15 17:06:13 | Katharine Petherick |
| 57 | 2022-09-15 06:10:30 | Laurie Driver |
| 58 | 2022-09-17 17:51:14 | Katie Reddaway |
| 59 | 2022-09-14 21:30:15 | Michael Stoneman |
| 60 | 2022-09-18 09:18:41 | Gary Thompson |
| 61 | 2022-09-20 09:01:44 | Elise Watling |
| 62 | 2022-09-14 21:30:15 | Michael Stoneman |
| 63 | 2022-09-14 21:30:15 | Michael Stoneman |
| 64 | 2022-09-20 08:40:18 | charlotte parnell |
| 65 | 2022-09-17 22:16:16 | Patricia Clarkson |
| 66 | 2022-09-19 07:53:21 | Dana Mills |
| 67 | 2022-09-14 21:30:15 | Michael Stoneman |
| 68 | 2022-09-17 13:46:51 | Helen Clarke |
| 69 | 2022-09-14 21:30:15 | Michael Stoneman |
| 70 | 2022-09-17 08:10:58 | Shelley Clewes |
| 71 | 2022-09-18 20:55:58 | Melissa Hockings |
| 72 | 2022-09-19 07:59:07 | Dana Mills |
| 73 | 2022-09-18 21:44:18 | lorraine hall |
| 74 | 2022-09-20 01:01:13 | Riddock Suzanne |
| 75 | 2022-09-14 21:30:15 | Michael Stoneman |
| 76 | 2022-09-20 11:20:44 | Jo Butcher |
| 77 | 2022-09-14 21:30:15 | Michael Stoneman |
| 78 | 2022-09-19 07:59:07 | Dana Mills |
| 79 | 2022-09-19 11:09:16 | Casmine Wilde |
| 80 | 2022-09-14 21:30:15 | Michael Stoneman |
| 81 | 2022-09-20 08:09:44 | Vicky Rosser |
| 82 | 2022-09-14 21:30:15 | Michael Stoneman |
| 83 | 2022-09-18 21:49:51 | Gemma Duggan |
| 84 | 2022-09-14 21:30:15 | Michael Stoneman |
| 85 | 2022-09-20 12:59:58 | S T L |
| 86 | 2022-09-20 10:36:34 | Natalie Anderson |
| 87 | 2022-09-14 20:27:44 | Elz . |
| 88 | 2022-09-16 23:20:05 | Rachel Palmer |
| 89 | 2022-09-14 21:30:15 | Michael Stoneman |
| 90 | 2022-09-19 07:59:07 | Dana Mills |
| 91 | 2022-09-17 06:24:16 | Ayisha Moyle |
| 92 | 2022-09-16 10:35:50 | Tammy Bartlett |
| 93 | 2022-09-17 13:26:58 | Mandy Morris |
| 94 | 2022-09-15 11:21:06 | Moira Angel |
| 95 | 2022-09-18 09:39:40 | Carla Drake |
| 96 | 2022-09-14 21:30:15 | Michael Stoneman |
| 97 | 2022-09-14 21:30:15 | Michael Stoneman |
| 98 | 2022-09-19 00:07:18 | Natalie Anderson |
| 99 | 2022-09-14 21:30:15 | Michael Stoneman |
| 100 | 2022-09-18 16:33:46 | Gina Bell |