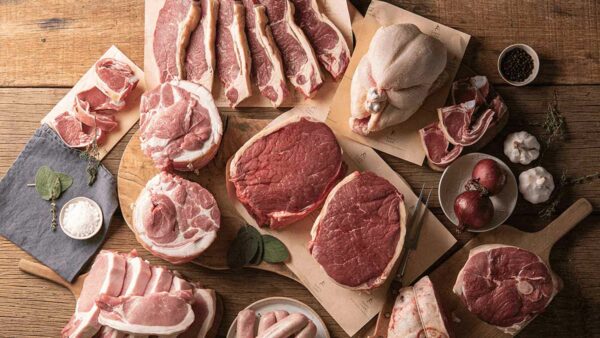 Win Darts Farm Family Meat Hamper Delivered All Over Uk -14/6
Description
Win Darts Farm Family Meat Hamper Delivered All Over Uk -14/6
Our Family Box contains all the favourites. From a mixture of quick and easy to cook cuts to incredible Sunday roasting joints, this is the perfect box for feeding the whole family.
Our Master Butchers, Phillip and Alastair, are experts in sourcing and hand selecting the finest quality, locally reared meat.
They oversee the whole process from field to fork, using traditional butchering techniques, skill and great care.
Topside of Beef Joints x2 (min weight 2.72kg)
Spare Rib Pork Joint x2 (min weight 2.72kg)
Whole Leg of Lamb, cut in half (min weight 2.5kg)
Free Range Chicken (min weight 1.81kg)
Pork Sausages x6 (min weight 453g)
Pork Loin Steaks x6 (min weight 1.2kg)
Lamb Chops x6 (min weight 1kg)
Sirloin Steak x6 (min weight 1.2kg)
Picture for illustration purposes only, please see breakdown of contents for exact items supplied.
| Winner Name | Ticket Number | Draw Date |
| --- | --- | --- |
| Emma & lee | 199 | 14/06/2022 |
1-100
101-200
201-300
301-400
| Ticket Number | Date | Name |
| --- | --- | --- |
| 1 | 2022-06-14 20:22:45 | Elliot White |
| 2 | 2022-06-14 14:13:52 | Kirsty Westy |
| 3 | 2022-06-11 19:04:27 | Jade Pook |
| 4 | 2022-06-14 20:04:12 | Michelle Eveson |
| 5 | 2022-06-12 22:19:37 | Rachael Rowlands |
| 6 | 2022-06-14 06:08:10 | Emma Jones |
| 7 | 2022-06-12 16:14:36 | phyllis steer |
| 8 | 2022-06-13 21:48:08 | Kevin Hayes |
| 9 | 2022-06-14 11:40:13 | Leah Gove |
| 11 | 2022-06-13 23:41:28 | Jonathan Holloway |
| 12 | 2022-06-14 10:17:36 | Pauline Mills |
| 13 | 2022-06-11 15:49:59 | Amanda Beard |
| 14 | 2022-06-10 22:30:45 | Dean Stevens |
| 16 | 2022-06-14 19:20:29 | shelby Rawlinson |
| 17 | 2022-06-12 23:57:14 | Mrs S Wood |
| 18 | 2022-06-14 17:42:50 | Rosalyn Coles |
| 20 | 2022-06-14 09:37:03 | Rainbow Brite |
| 21 | 2022-06-14 09:37:03 | Rainbow Brite |
| 22 | 2022-06-14 20:09:24 | Oliver Keeler |
| 23 | 2022-06-13 13:32:21 | Tracy Daniell |
| 24 | 2022-06-11 11:51:21 | Rainbow Brite |
| 26 | 2022-06-14 17:18:10 | Dean O'Connor |
| 27 | 2022-06-13 23:41:28 | Jonathan Holloway |
| 28 | 2022-06-14 10:36:32 | Connie Mackenzie |
| 29 | 2022-06-13 22:54:08 | Sam Gough |
| 30 | 2022-06-12 21:25:12 | Jessica Foster |
| 32 | 2022-06-14 09:45:08 | Emma Davies |
| 33 | 2022-06-14 18:23:22 | Di Hodge |
| 34 | 2022-06-14 16:56:59 | Zoe Budd |
| 35 | 2022-06-14 19:23:37 | Michelle Teague |
| 36 | 2022-06-10 21:01:57 | Janet Mann |
| 37 | 2022-06-14 18:34:55 | Julie Bouskill |
| 38 | 2022-06-14 10:30:15 | Janet Mann |
| 39 | 2022-06-14 16:28:36 | Claire Darby |
| 40 | 2022-06-14 18:36:14 | Karina Williams |
| 41 | 2022-06-14 12:05:42 | Samantha Sedgbeer |
| 42 | 2022-06-10 18:54:09 | Neil King |
| 43 | 2022-06-14 16:45:44 | Louise Nickels |
| 44 | 2022-06-12 15:16:31 | Linda Beer |
| 46 | 2022-06-12 13:48:57 | Dean Beaufoy |
| 48 | 2022-06-10 11:41:32 | Debra Hamilton |
| 49 | 2022-06-14 19:57:25 | Katrina IķStevens |
| 50 | 2022-06-14 18:51:26 | Dean Hepburn |
| 52 | 2022-06-10 18:02:05 | Marie West |
| 53 | 2022-06-14 14:40:30 | Jonathan Eaves |
| 55 | 2022-06-13 20:04:23 | Donna Spicer |
| 56 | 2022-06-14 14:04:50 | Katie-Louise Chalk |
| 57 | 2022-06-14 10:17:36 | Pauline Mills |
| 58 | 2022-06-14 10:36:32 | Connie Mackenzie |
| 59 | 2022-06-14 18:04:08 | rachael england |
| 60 | 2022-06-14 16:56:59 | Zoe Budd |
| 61 | 2022-06-14 10:33:06 | Rachel Gilbert |
| 63 | 2022-06-13 18:23:15 | Lisa Riordan |
| 64 | 2022-06-14 17:22:41 | Diana Donald |
| 65 | 2022-06-14 19:51:44 | Graham Rabbitts |
| 66 | 2022-06-11 15:33:22 | Joseph Clifford |
| 67 | 2022-06-14 15:12:16 | Moira Angel |
| 68 | 2022-06-13 20:04:23 | Donna Spicer |
| 69 | 2022-06-14 18:04:11 | Sarah Kallmeier |
| 72 | 2022-06-14 19:23:35 | selina lisle |
| 73 | 2022-06-14 16:28:15 | Laura Currie |
| 74 | 2022-06-14 20:26:41 | Lisa Edwards |
| 75 | 2022-06-14 20:14:37 | Joanna Brailsford-Dunn |
| 76 | 2022-06-14 18:09:15 | Felicity Worden |
| 78 | 2022-06-14 14:17:40 | Kennie Small |
| 79 | 2022-06-14 18:50:32 | Janet Parker |
| 80 | 2022-06-14 18:51:26 | Dean Hepburn |
| 81 | 2022-06-14 20:01:29 | Esme Kershaw |
| 82 | 2022-06-14 10:02:20 | Jo Disley |
| 83 | 2022-06-13 17:41:10 | Kirsty Darke |
| 84 | 2022-06-14 19:51:53 | Abbie Dring |
| 85 | 2022-06-13 17:02:42 | Christopher Wannell |
| 86 | 2022-06-14 10:28:03 | Sarah Moran |
| 87 | 2022-06-14 19:48:14 | Ben Melsome |
| 88 | 2022-06-10 11:41:32 | Debra Hamilton |
| 89 | 2022-06-12 16:14:36 | phyllis steer |
| 90 | 2022-06-14 18:51:26 | Dean Hepburn |
| 91 | 2022-06-14 15:25:55 | Stacey Easter |
| 92 | 2022-06-14 08:40:52 | Deborah Talbot |
| 93 | 2022-06-14 08:40:52 | Deborah Talbot |
| 94 | 2022-06-14 18:51:26 | Dean Hepburn |
| 97 | 2022-06-14 18:09:15 | Felicity Worden |
| 98 | 2022-06-12 20:17:05 | Gail Gilbert |
| 99 | 2022-06-14 20:25:10 | Leigh White |