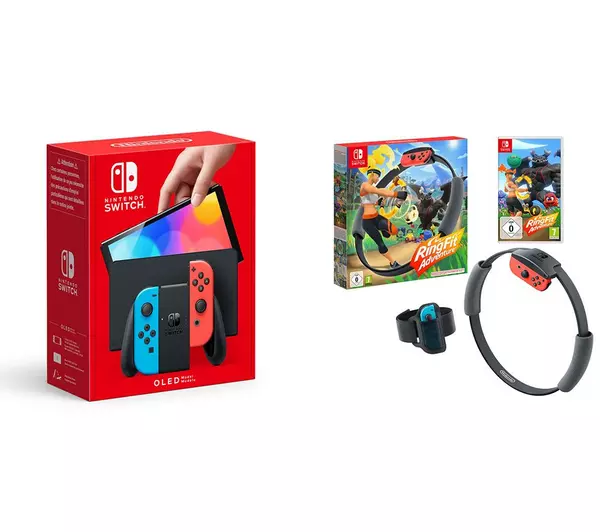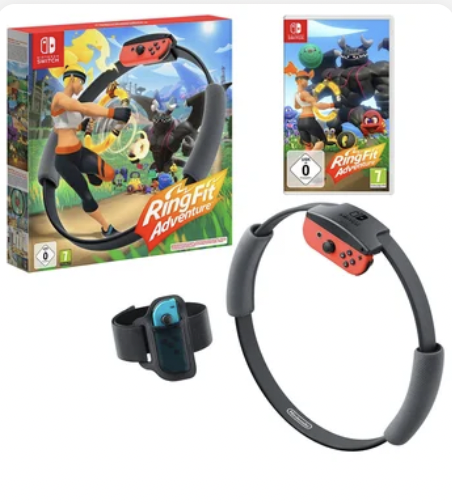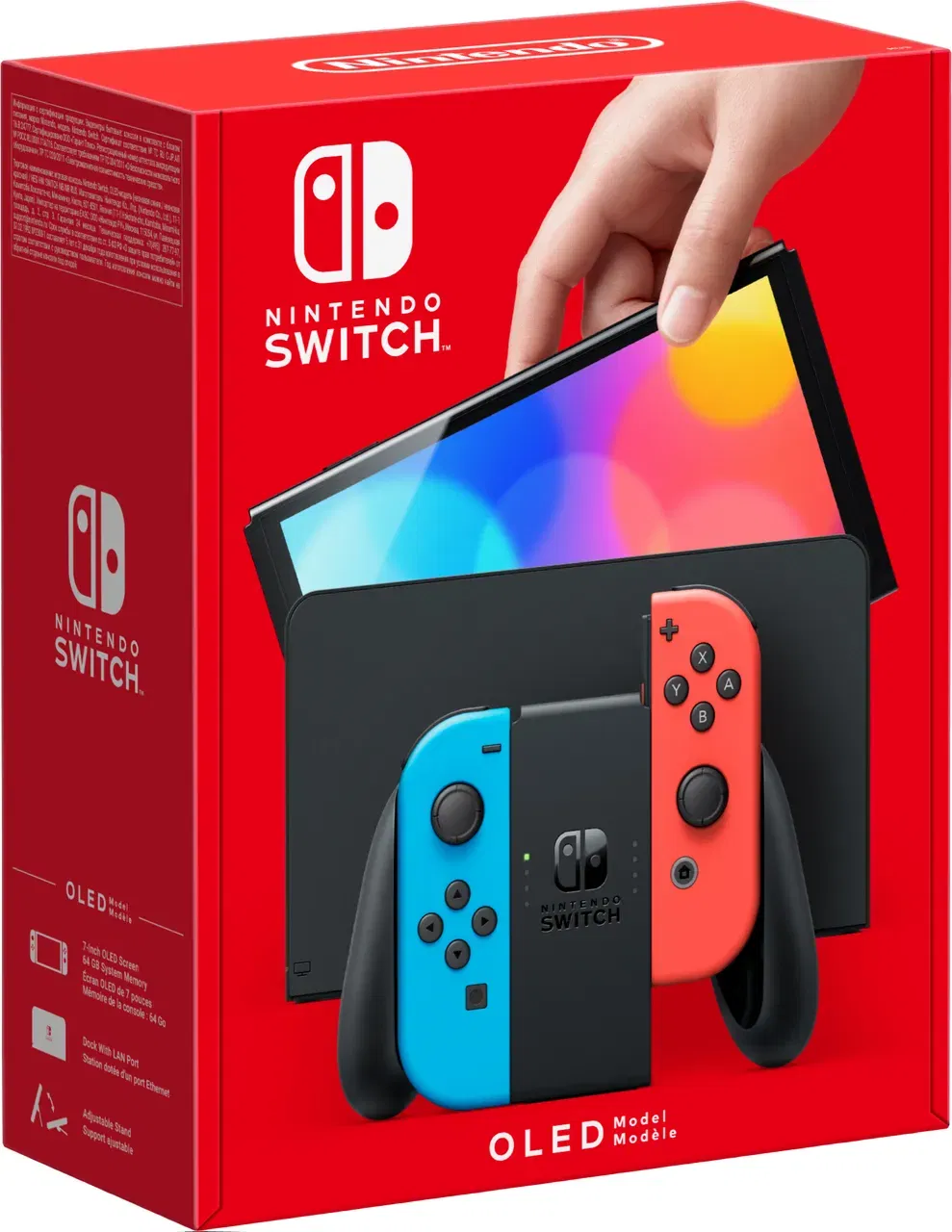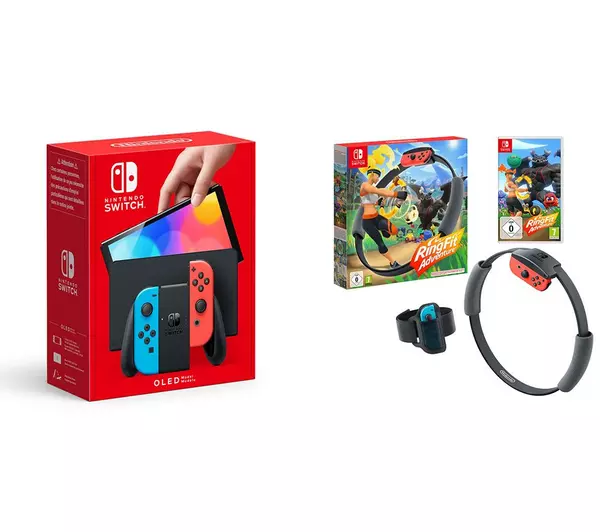 WIN A NEON SWITCH OLED AND RING FIT
Description
WIN A NEON SWITCH OLED AND RING FIT
Nintendo Switch OLED Neon Red/Blue
Meet the newest member of the Nintendo family, enhanced with a vibrant OLED screen, more stable online play, 64GB internal storage and new speakers. Nintendo Switch OLED transforms to suit your lifestyle, so you can play the games you love wherever you go.
Handheld
Pick up and play with the Joy-Con controllers attached. Nintendo Switch OLED features a vibrant 7-inch OLED screen with a slimmer design. The large screen's vivid colours and high contrast deliver a richer handheld and tabletop gaming experience.
Tabletop
Flip out the stand and pass a controller to another player for competitive or co-operative multiplayer, anytime and anywhere. The Switch OLED has a wide adjustable stand that can be set to your perfect viewing angle for comfortable tabletop gameplay.
Docked
Dock your Switch to enjoy HD gaming on your TV. The dock included with the Nintendo Switch OLED console features 2 USB ports, an HDMI port to connect your TV and a new wired LAN port, for more stable online play in TV mode.
Ring Fit Adventure Nintendo Switch
Explore an expansive world in Ring Fit Adventure for Nintendo Switch – where you can battle enemies using real-life fitness exercises! Mini- games and workout routines make Ring Fit Adventure fun for players of all skill levels and lifestyles.
With the Ring-Con in hand and Leg-Strap equipped, it's time to set out on a fitness-filled quest that gives you a full-body workout! Use real-life exercises to explore a fantasy adventure world. Defeat a bodybuilding dragon and his minions in this fitness video game for Nintendo Switch! Jog in place to traverse grass-swept plains or choose from a selection of exercises to attack enemies in this workout that keeps you coming back for more.
Two new accessories, Ring-Con and Leg-Strap, precisely measure your real-world actions and turn them into in-game movements. With short mini-games and customisable full-body workout routines, Ring Fit Adventure is a great escape to play from the comfort and privacy of your own home for all players of all fitness levels.
In Adventure mode, defeat enemies with attacks based on over 60 real- world exercises as you traverse more than 100 levels in over 20 worlds. As you work through each level (and work up a sweat too), you'll earn experience points and collect ingredients to craft health- restoring smoothies.
| Winner Name | Ticket Number | Draw Date |
| --- | --- | --- |
| michaela vesely | 1191 | 18/01/2023 |
| Ticket Number | Date | Name |
| --- | --- | --- |
| 1 | 2023-01-11 17:39:53 | Hannah Riley |
| 2 | 2023-01-15 20:39:23 | Ian O'Connor |
| 3 | 2023-01-12 15:18:14 | Charlie Cogan |
| 4 | 2023-01-17 10:32:35 | Sophie Wright |
| 5 | 2023-01-15 23:45:35 | Nicola Symons |
| 6 | 2023-01-14 19:44:23 | Michelle Darke |
| 7 | 2023-01-11 22:06:42 | Annie Narvidge |
| 8 | 2023-01-13 18:06:37 | Becca Hirst |
| 9 | 2023-01-11 21:48:11 | Natasha England |
| 10 | 2023-01-15 23:45:35 | Nicola Symons |
| 11 | 2023-01-13 21:52:08 | Katie Wesson |
| 12 | 2023-01-13 18:06:37 | Becca Hirst |
| 13 | 2023-01-13 17:46:59 | Lisa Hodge |
| 14 | 2023-01-17 09:39:53 | Jade Hulme |
| 15 | 2023-01-15 12:43:40 | Daniel Paddington |
| 16 | 2023-01-14 15:54:19 | Claire Leworthy |
| 17 | 2023-01-17 09:46:59 | Elliot Wolsey |
| 18 | 2023-01-16 12:15:46 | Sharon Crisp |
| 19 | 2023-01-16 21:01:16 | Maria Rawlings |
| 20 | 2023-01-16 21:07:13 | Clare Dakin |
| 21 | 2023-01-11 18:34:57 | Lisa Roberts |
| 22 | 2023-01-11 18:34:57 | Lisa Roberts |
| 23 | 2023-01-11 18:34:57 | Lisa Roberts |
| 24 | 2023-01-16 21:12:04 | Nicki Rivers |
| 25 | 2023-01-11 22:06:42 | Annie Narvidge |
| 26 | 2023-01-12 17:14:18 | Rebecca Barton |
| 27 | 2023-01-11 19:32:55 | Joshua Perrett |
| 28 | 2023-01-16 21:08:32 | Vikki Lee |
| 29 | 2023-01-15 20:39:23 | Ian O'Connor |
| 30 | 2023-01-15 23:45:35 | Nicola Symons |
| 31 | 2023-01-17 23:39:32 | Harry Davis |
| 32 | 2023-01-13 13:59:39 | Brogan Simpson |
| 33 | 2023-01-13 11:50:50 | E W |
| 34 | 2023-01-12 17:14:18 | Rebecca Barton |
| 35 | 2023-01-15 08:32:51 | Tammy Bartlett |
| 36 | 2023-01-12 22:39:25 | Michael Rossiter |
| 37 | 2023-01-18 06:48:16 | Sonya Flack |
| 38 | 2023-01-17 22:14:45 | Mark Lofthouse |
| 39 | 2023-01-13 10:02:16 | Kym Dalziel |
| 40 | 2023-01-18 11:36:18 | Helen Stoneman |
| 41 | 2023-01-15 14:43:21 | Oliver Narramore |
| 42 | 2023-01-18 11:28:47 | Helen Stoneman |
| 43 | 2023-01-16 19:14:13 | Jonny Davies |
| 44 | 2023-01-13 08:13:56 | Hannah Schofield |
| 45 | 2023-01-18 09:20:01 | Lisa Bigg |
| 46 | 2023-01-17 09:46:59 | Elliot Wolsey |
| 47 | 2023-01-18 03:00:58 | Amy Wain |
| 48 | 2023-01-12 17:14:18 | Rebecca Barton |
| 49 | 2023-01-11 22:06:42 | Annie Narvidge |
| 50 | 2023-01-12 20:15:31 | Amy Mitchell |
| 51 | 2023-01-11 22:06:42 | Annie Narvidge |
| 52 | 2023-01-18 15:55:16 | Sophie Skinner |
| 53 | 2023-01-18 09:40:40 | Christopher Hodgson |
| 54 | 2023-01-17 23:45:45 | Diane Fox |
| 55 | 2023-01-18 14:22:07 | Leia Tiar |
| 56 | 2023-01-17 17:21:41 | Sophie Hodge |
| 57 | 2023-01-17 23:42:30 | Sharon Crisp |
| 58 | 2023-01-18 09:02:16 | Jade Papoutsis |
| 59 | 2023-01-18 10:00:30 | K Westy |
| 60 | 2023-01-18 13:59:04 | Natasha Yeo |
| 61 | 2023-01-17 19:00:44 | Bethany Riley-wood |
| 62 | 2023-01-17 23:39:32 | Harry Davis |
| 63 | 2023-01-18 12:52:21 | Dan Archer |
| 64 | 2023-01-16 15:15:39 | Karmen Cummings |
| 65 | 2023-01-18 16:00:56 | Daniel Paddington |
| 66 | 2023-01-17 19:49:45 | Michelle Martin |
| 67 | 2023-01-17 19:00:44 | Bethany Riley-wood |
| 68 | 2023-01-12 03:15:08 | R O |
| 69 | 2023-01-13 23:21:24 | Rebecca Barton |
| 70 | 2023-01-13 23:21:24 | Rebecca Barton |
| 71 | 2023-01-12 22:00:21 | Carole Hill |
| 72 | 2023-01-17 19:52:04 | Brett Ansell |
| 73 | 2023-01-18 15:14:55 | Alan Simkiss |
| 74 | 2023-01-18 11:36:18 | Helen Stoneman |
| 75 | 2023-01-11 21:59:03 | Alison Fenton |
| 76 | 2023-01-13 22:07:04 | Cody Crosby |
| 77 | 2023-01-16 07:10:59 | Katie Schneider |
| 78 | 2023-01-12 03:15:08 | R O |
| 79 | 2023-01-17 17:49:05 | Anna Parker |
| 80 | 2023-01-13 19:39:49 | Nikki Saunders |
| 81 | 2023-01-13 13:48:01 | Andrea Sikorjakova |
| 82 | 2023-01-17 19:35:24 | Fiona turnbull |
| 83 | 2023-01-12 03:15:08 | R O |
| 84 | 2023-01-14 12:21:26 | Lisa Brown |
| 85 | 2023-01-18 16:53:36 | Sarah Hardcastle |
| 86 | 2023-01-12 15:18:14 | Charlie Cogan |
| 87 | 2023-01-13 23:21:24 | Rebecca Barton |
| 88 | 2023-01-17 19:35:24 | Fiona turnbull |
| 89 | 2023-01-12 15:47:22 | Eden Walker |
| 90 | 2023-01-18 11:28:47 | Helen Stoneman |
| 91 | 2023-01-13 22:12:59 | Jade Bailey |
| 92 | 2023-01-18 14:54:30 | Raymond Burgess |
| 93 | 2023-01-18 12:43:20 | Michael Richards |
| 94 | 2023-01-18 09:40:40 | Christopher Hodgson |
| 95 | 2023-01-18 15:30:22 | Kayleigh Janek |
| 96 | 2023-01-18 14:42:58 | Melissa Hockings |
| 97 | 2023-01-17 17:52:22 | Terri Samways |
| 98 | 2023-01-18 11:44:57 | June Sargeant |
| 99 | 2023-01-18 03:00:58 | Amy Wain |
| 100 | 2023-01-16 13:45:32 | Ricky Jamieson |
| 101 | 2023-01-11 23:37:08 | Caroline White |
| 102 | 2023-01-18 13:44:28 | Charlotte Bruckshaw |
| 103 | 2023-01-17 22:14:45 | Mark Lofthouse |
| 104 | 2023-01-17 12:12:49 | Stacey Walker |
| 105 | 2023-01-18 16:00:56 | Daniel Paddington |
| 106 | 2023-01-14 19:27:09 | Nicola Fusco |
| 107 | 2023-01-11 15:44:09 | Amelia Reynolds |
| 108 | 2023-01-18 13:03:48 | Jessica Hine |
| 109 | 2023-01-18 11:37:00 | Jessica Pratt |
| 110 | 2023-01-17 22:14:45 | Mark Lofthouse |
| 111 | 2023-01-18 10:07:05 | Jennifer White |
| 112 | 2023-01-18 14:20:10 | Amanda Wright |
| 113 | 2023-01-13 09:23:41 | Caroline Taylor |
| 114 | 2023-01-16 20:26:31 | Emma Craven |
| 115 | 2023-01-18 11:36:18 | Helen Stoneman |
| 116 | 2023-01-18 13:25:57 | Charlie Vernon |
| 117 | 2023-01-13 14:10:52 | Jessica Richards |
| 118 | 2023-01-17 22:14:45 | Mark Lofthouse |
| 119 | 2023-01-18 12:52:21 | Dan Archer |
| 120 | 2023-01-17 21:03:25 | Caroline Mullin |
| 121 | 2023-01-18 15:09:40 | Regan Homer |
| 122 | 2023-01-18 08:54:33 | Sinead Cummings |
| 123 | 2023-01-18 13:44:28 | Charlotte Bruckshaw |
| 124 | 2023-01-15 14:24:25 | Lee Fairclough |
| 125 | 2023-01-12 20:15:31 | Amy Mitchell |
| 126 | 2023-01-18 11:28:47 | Helen Stoneman |
| 127 | 2023-01-12 15:47:22 | Eden Walker |
| 128 | 2023-01-18 15:49:57 | Emma Hart |
| 129 | 2023-01-17 20:18:34 | Hannah Chapman |
| 130 | 2023-01-18 08:54:33 | Sinead Cummings |
| 131 | 2023-01-18 09:40:40 | Christopher Hodgson |
| 132 | 2023-01-18 13:51:57 | Alana Williams |
| 133 | 2023-01-18 12:52:21 | Dan Archer |
| 134 | 2023-01-18 09:02:16 | Jade Papoutsis |
| 135 | 2023-01-12 22:49:43 | Emma White |
| 136 | 2023-01-15 12:15:22 | Nicole Walsh |
| 137 | 2023-01-18 12:48:27 | Kerry Eldred |
| 138 | 2023-01-16 13:45:32 | Ricky Jamieson |
| 139 | 2023-01-18 08:45:37 | Melanie Mason 31 |
| 140 | 2023-01-18 16:00:56 | Daniel Paddington |
| 141 | 2023-01-12 11:47:15 | Ian Lipscombe |
| 142 | 2023-01-18 12:48:27 | Kerry Eldred |
| 143 | 2023-01-18 10:44:47 | Adam West |
| 144 | 2023-01-18 11:18:42 | Brogan Everist |
| 145 | 2023-01-18 16:03:28 | Sean Mcginley |
| 146 | 2023-01-18 14:20:10 | Amanda Wright |
| 147 | 2023-01-18 14:17:50 | Jason Moore |
| 148 | 2023-01-14 13:46:16 | Sophie Tozer |
| 149 | 2023-01-12 13:44:52 | Poppy Turner |
| 150 | 2023-01-18 11:36:18 | Helen Stoneman |
| 151 | 2023-01-18 15:22:45 | Leighanne Denslow |
| 152 | 2023-01-18 15:41:52 | TRACEY Board |
| 153 | 2023-01-12 17:14:18 | Rebecca Barton |
| 154 | 2023-01-18 08:54:33 | Sinead Cummings |
| 155 | 2023-01-18 11:28:47 | Helen Stoneman |
| 156 | 2023-01-16 21:05:54 | Graham Haywood |
| 157 | 2023-01-16 18:09:40 | Lisa Bailey |
| 158 | 2023-01-18 03:00:58 | Amy Wain |
| 159 | 2023-01-17 08:51:46 | Lorraine Scrivens |
| 160 | 2023-01-18 13:34:14 | Steve Gratton |
| 161 | 2023-01-17 09:46:59 | Elliot Wolsey |
| 162 | 2023-01-18 14:55:54 | Abbey Hutchings |
| 163 | 2023-01-18 14:31:59 | Sarah Ashton |
| 164 | 2023-01-18 11:24:28 | Emma Pester |
| 165 | 2023-01-12 22:49:43 | Emma White |
| 166 | 2023-01-18 12:52:21 | Dan Archer |
| 167 | 2023-01-18 09:02:16 | Jade Papoutsis |
| 168 | 2023-01-18 16:00:56 | Daniel Paddington |
| 169 | 2023-01-18 16:00:56 | Daniel Paddington |
| 170 | 2023-01-18 16:25:52 | Meryl Toogood |
| 171 | 2023-01-11 15:21:32 | Nicola Gregory |
| 172 | 2023-01-13 22:24:33 | Joyce Hope |
| 173 | 2023-01-13 18:06:37 | Becca Hirst |
| 174 | 2023-01-14 10:38:55 | Amanda Bird Bird |
| 175 | 2023-01-18 14:31:04 | Emma & lee |
| 176 | 2023-01-18 16:00:56 | Daniel Paddington |
| 177 | 2023-01-18 10:35:39 | Sadie Mulgrue |
| 178 | 2023-01-18 16:00:56 | Daniel Paddington |
| 179 | 2023-01-18 11:36:18 | Helen Stoneman |
| 180 | 2023-01-18 14:50:12 | Rebecca Ricks |
| 181 | 2023-01-18 15:13:11 | Hannah Snell |
| 182 | 2023-01-18 11:28:47 | Helen Stoneman |
| 183 | 2023-01-18 16:00:56 | Daniel Paddington |
| 184 | 2023-01-18 16:00:56 | Daniel Paddington |
| 185 | 2023-01-12 19:03:08 | Lisa Peters |
| 186 | 2023-01-18 15:22:28 | Jessica Jones |
| 187 | 2023-01-18 10:53:09 | Andrea Sikorjakova |
| 188 | 2023-01-18 16:00:56 | Daniel Paddington |
| 189 | 2023-01-12 16:26:32 | Janice Parker-Done |
| 190 | 2023-01-18 11:43:03 | Rebecca vaughan |
| 191 | 2023-01-13 21:09:01 | Kimberley Dickson |
| 192 | 2023-01-18 15:33:14 | Victoria Brownlow |
| 193 | 2023-01-18 15:29:21 | Jodie Baker |
| 194 | 2023-01-18 16:04:45 | Helen Turner |
| 195 | 2023-01-11 15:44:09 | Amelia Reynolds |
| 196 | 2023-01-16 16:06:55 | Bethany Riley-wood |
| 197 | 2023-01-17 19:00:44 | Bethany Riley-wood |
| 198 | 2023-01-18 15:22:54 | Shannon Shaw |
| 199 | 2023-01-14 12:21:26 | Lisa Brown |
| 200 | 2023-01-17 18:01:37 | Kerry Westcott |
| 201 | 2023-01-18 13:51:00 | Jodie Smith |
| 202 | 2023-01-18 09:02:16 | Jade Papoutsis |
| 203 | 2023-01-18 12:03:16 | Matthew Nickels |
| 204 | 2023-01-18 15:04:43 | Charlotte Ocallaghan |
| 205 | 2023-01-13 11:38:15 | Helen Louth |
| 206 | 2023-01-18 09:34:46 | rebecca ling |
| 207 | 2023-01-18 09:34:46 | rebecca ling |
| 208 | 2023-01-18 14:13:13 | William Mckeown |
| 209 | 2023-01-17 13:40:43 | Tiffany Spear |
| 210 | 2023-01-18 11:36:18 | Helen Stoneman |
| 211 | 2023-01-17 21:26:10 | Samantha Thorne |
| 212 | 2023-01-18 13:51:57 | Alana Williams |
| 213 | 2023-01-16 15:58:00 | Debbie Carroll |
| 214 | 2023-01-13 11:45:36 | Kirsty Mortimore |
| 215 | 2023-01-18 15:22:31 | Tracy Owen |
| 216 | 2023-01-18 11:52:06 | Harry Conway |
| 217 | 2023-01-17 21:19:15 | Sarah & Michael Walshe |
| 218 | 2023-01-17 01:35:28 | Kerri Mills |
| 219 | 2023-01-17 19:52:04 | Brett Ansell |
| 220 | 2023-01-16 23:59:47 | Beth Harland |
| 221 | 2023-01-18 10:07:05 | Jennifer White |
| 222 | 2023-01-12 03:15:08 | R O |
| 223 | 2023-01-18 09:40:40 | Christopher Hodgson |
| 224 | 2023-01-18 09:40:40 | Christopher Hodgson |
| 225 | 2023-01-17 08:42:36 | Sharon Foster |
| 226 | 2023-01-16 20:27:51 | Melanie Atkins |
| 227 | 2023-01-13 13:41:41 | Kim Loosemore |
| 228 | 2023-01-18 15:56:31 | Becci Vayle |
| 229 | 2023-01-18 15:22:28 | Jessica Jones |
| 230 | 2023-01-12 20:15:31 | Amy Mitchell |
| 231 | 2023-01-12 15:18:14 | Charlie Cogan |
| 232 | 2023-01-17 18:01:37 | Kerry Westcott |
| 233 | 2023-01-13 20:16:31 | Moira Jayne Angel |
| 234 | 2023-01-13 21:09:01 | Kimberley Dickson |
| 235 | 2023-01-13 11:09:22 | Amber Ley |
| 236 | 2023-01-18 09:49:23 | Rachel Gilbert |
| 237 | 2023-01-14 18:39:44 | Ryan Darke |
| 238 | 2023-01-18 14:39:06 | Hannah Del-pizzo |
| 239 | 2023-01-18 08:51:21 | Hannah Evans |
| 240 | 2023-01-18 16:00:56 | Daniel Paddington |
| 241 | 2023-01-18 16:59:02 | Jason Parker |
| 242 | 2023-01-18 15:00:17 | Jess Louise |
| 243 | 2023-01-16 18:28:08 | Gemma Gorringe |
| 244 | 2023-01-18 09:40:40 | Christopher Hodgson |
| 245 | 2023-01-12 22:39:25 | Michael Rossiter |
| 246 | 2023-01-18 11:28:47 | Helen Stoneman |
| 247 | 2023-01-18 11:32:49 | Leigh Day |
| 248 | 2023-01-12 19:32:14 | Stephanie Phillips |
| 249 | 2023-01-17 15:24:14 | Gemma Robinson |
| 250 | 2023-01-18 13:11:33 | Miranda Young |
| 251 | 2023-01-18 15:39:51 | Deborah Gardner |
| 252 | 2023-01-16 07:10:59 | Katie Schneider |
| 253 | 2023-01-17 23:30:15 | Kelly Gaskin |
| 254 | 2023-01-17 23:30:15 | Kelly Gaskin |
| 255 | 2023-01-18 11:36:18 | Helen Stoneman |
| 256 | 2023-01-18 16:36:42 | Corrina Tekin |
| 257 | 2023-01-13 22:07:04 | Cody Crosby |
| 258 | 2023-01-18 15:29:34 | Bobbi Mogridge |
| 259 | 2023-01-18 12:43:20 | Michael Richards |
| 260 | 2023-01-18 17:03:53 | Lauren Rockett |
| 261 | 2023-01-18 16:06:06 | Kerry Jones |
| 262 | 2023-01-18 14:18:22 | Macey Mcgovern |
| 263 | 2023-01-18 08:51:21 | Hannah Evans |
| 264 | 2023-01-18 14:20:10 | Amanda Wright |
| 265 | 2023-01-14 17:24:47 | Michael Gilpin |
| 266 | 2023-01-17 08:42:36 | Sharon Foster |
| 267 | 2023-01-16 22:52:30 | Charlotte Chappell |
| 268 | 2023-01-18 16:00:56 | Daniel Paddington |
| 269 | 2023-01-18 14:55:54 | Abbey Hutchings |
| 270 | 2023-01-18 14:55:20 | Amanda Sturdy |
| 271 | 2023-01-18 15:10:05 | Molly Courtney |
| 272 | 2023-01-18 16:03:28 | Sean Mcginley |
| 273 | 2023-01-18 16:00:56 | Daniel Paddington |
| 274 | 2023-01-16 13:15:50 | Jane Jones |
| 275 | 2023-01-14 16:06:23 | M K j m |
| 276 | 2023-01-18 11:56:11 | Caroline FairClough |
| 277 | 2023-01-18 16:03:28 | Sean Mcginley |
| 278 | 2023-01-18 14:48:48 | Tara Hutton |
| 279 | 2023-01-13 11:50:50 | E W |
| 280 | 2023-01-18 13:44:28 | Charlotte Bruckshaw |
| 281 | 2023-01-16 22:52:30 | Charlotte Chappell |
| 282 | 2023-01-18 16:00:56 | Daniel Paddington |
| 283 | 2023-01-17 18:10:57 | Lisa Pring |
| 284 | 2023-01-18 16:00:56 | Daniel Paddington |
| 285 | 2023-01-18 10:01:40 | Gemma Ball |
| 286 | 2023-01-18 10:22:00 | Tyrone Small |
| 287 | 2023-01-18 13:51:00 | Jodie Smith |
| 288 | 2023-01-18 13:32:58 | amy jackson |
| 289 | 2023-01-13 14:25:32 | Kieran Barrington |
| 290 | 2023-01-18 09:02:16 | Jade Papoutsis |
| 291 | 2023-01-18 14:54:30 | Raymond Burgess |
| 292 | 2023-01-18 08:51:21 | Hannah Evans |
| 293 | 2023-01-18 12:05:29 | Jane Jones |
| 294 | 2023-01-17 23:30:15 | Kelly Gaskin |
| 295 | 2023-01-12 22:49:43 | Emma White |
| 296 | 2023-01-17 19:00:44 | Bethany Riley-wood |
| 297 | 2023-01-18 14:50:12 | Rebecca Ricks |
| 298 | 2023-01-18 09:20:01 | Lisa Bigg |
| 299 | 2023-01-18 03:53:10 | Deborah Carling |
| 300 | 2023-01-18 13:35:57 | Zoe Chapman |
| 301 | 2023-01-12 15:18:14 | Charlie Cogan |
| 302 | 2023-01-18 11:36:18 | Helen Stoneman |
| 303 | 2023-01-17 12:56:39 | Kelly Beresford |
| 304 | 2023-01-18 12:57:41 | Janice Parker-Done |
| 305 | 2023-01-12 03:15:08 | R O |
| 306 | 2023-01-18 15:22:45 | Leighanne Denslow |
| 307 | 2023-01-13 16:16:34 | Samantha Thorne |
| 308 | 2023-01-12 20:15:31 | Amy Mitchell |
| 309 | 2023-01-18 16:00:56 | Daniel Paddington |
| 310 | 2023-01-17 19:52:04 | Brett Ansell |
| 311 | 2023-01-13 10:23:19 | Rebecca McCabe |
| 312 | 2023-01-17 19:00:44 | Bethany Riley-wood |
| 313 | 2023-01-13 16:16:34 | Samantha Thorne |
| 314 | 2023-01-14 19:27:09 | Nicola Fusco |
| 315 | 2023-01-12 09:21:04 | Sharon Foster |
| 316 | 2023-01-18 16:00:56 | Daniel Paddington |
| 317 | 2023-01-18 10:34:53 | Natalie Milner |
| 318 | 2023-01-16 21:42:42 | Marcus Scott |
| 319 | 2023-01-17 10:32:35 | Sophie Wright |
| 320 | 2023-01-15 17:47:59 | Carla Drake |
| 321 | 2023-01-17 16:43:52 | Amber Ley |
| 322 | 2023-01-16 12:48:53 | Amy Mitchelmore |
| 323 | 2023-01-18 12:28:35 | Hailey Green |
| 324 | 2023-01-18 14:34:03 | Jessica Richards |
| 325 | 2023-01-18 11:28:47 | Helen Stoneman |
| 326 | 2023-01-18 16:00:56 | Daniel Paddington |
| 327 | 2023-01-17 12:56:39 | Kelly Beresford |
| 328 | 2023-01-14 16:06:23 | M K j m |
| 329 | 2023-01-18 16:43:21 | abigail peach |
| 330 | 2023-01-13 11:09:22 | Amber Ley |
| 331 | 2023-01-18 12:51:23 | Elaine Lipscombe |
| 332 | 2023-01-18 13:51:57 | Alana Williams |
| 333 | 2023-01-16 13:46:42 | Jayne Anslow |
| 334 | 2023-01-18 15:21:19 | Tanya Sherlock |
| 335 | 2023-01-18 08:41:35 | Amanda Logue |
| 336 | 2023-01-17 17:21:41 | Sophie Hodge |
| 337 | 2023-01-17 18:21:03 | Corey Pace |
| 338 | 2023-01-18 11:28:47 | Helen Stoneman |
| 339 | 2023-01-18 12:43:20 | Michael Richards |
| 340 | 2023-01-18 15:26:53 | Claire Bailey |
| 341 | 2023-01-16 19:40:39 | Sam Fitzsimmons |
| 342 | 2023-01-18 09:02:16 | Jade Papoutsis |
| 343 | 2023-01-18 08:54:33 | Sinead Cummings |
| 344 | 2023-01-16 19:32:12 | Katie Bastian |
| 345 | 2023-01-18 16:00:56 | Daniel Paddington |
| 346 | 2023-01-18 15:47:48 | Stephanie Pickford |
| 347 | 2023-01-18 11:36:18 | Helen Stoneman |
| 348 | 2023-01-18 15:35:23 | Julie Elms |
| 349 | 2023-01-16 19:25:30 | Sharon Noble |
| 350 | 2023-01-12 03:15:08 | R O |
| 351 | 2023-01-18 14:54:30 | Raymond Burgess |
| 352 | 2023-01-18 16:00:56 | Daniel Paddington |
| 353 | 2023-01-18 09:40:40 | Christopher Hodgson |
| 354 | 2023-01-15 18:04:33 | Beth Wheeler |
| 355 | 2023-01-17 15:30:31 | kerry b |
| 356 | 2023-01-18 15:29:34 | Bobbi Mogridge |
| 357 | 2023-01-18 16:40:25 | Eric Marsdon |
| 358 | 2023-01-18 10:34:53 | Natalie Milner |
| 359 | 2023-01-18 09:52:25 | Melanie Gliddon |
| 360 | 2023-01-11 18:16:24 | Kym Davies |
| 361 | 2023-01-17 20:35:49 | Danielle Bagley |
| 362 | 2023-01-18 14:39:06 | Hannah Del-pizzo |
| 363 | 2023-01-18 14:40:10 | Hannah Evans |
| 364 | 2023-01-18 16:00:56 | Daniel Paddington |
| 365 | 2023-01-17 10:30:26 | Krystina Fullelove |
| 366 | 2023-01-18 16:00:56 | Daniel Paddington |
| 367 | 2023-01-15 14:56:42 | Emily Billing |
| 368 | 2023-01-18 15:44:52 | Lk Kd |
| 369 | 2023-01-11 21:03:32 | Lau X |
| 370 | 2023-01-18 16:00:56 | Daniel Paddington |
| 371 | 2023-01-13 11:12:42 | Carl Sharrock |
| 372 | 2023-01-11 22:10:37 | Leah Back |
| 373 | 2023-01-14 13:46:16 | Sophie Tozer |
| 374 | 2023-01-18 10:53:09 | Andrea Sikorjakova |
| 375 | 2023-01-18 08:03:52 | Laura Swift |
| 376 | 2023-01-18 15:43:55 | Jenn ifer |
| 377 | 2023-01-16 12:24:05 | Moira Jayne Angel |
| 378 | 2023-01-18 16:00:56 | Daniel Paddington |
| 379 | 2023-01-18 11:28:47 | Helen Stoneman |
| 380 | 2023-01-18 10:34:53 | Natalie Milner |
| 381 | 2023-01-18 11:37:38 | Lewis Cowell |
| 382 | 2023-01-17 17:21:41 | Sophie Hodge |
| 383 | 2023-01-18 02:28:36 | Paige Stead |
| 384 | 2023-01-18 15:22:54 | Shannon Shaw |
| 385 | 2023-01-13 11:09:22 | Amber Ley |
| 386 | 2023-01-18 09:40:40 | Christopher Hodgson |
| 387 | 2023-01-16 21:34:31 | Rebecca Burns |
| 388 | 2023-01-18 09:02:16 | Jade Papoutsis |
| 389 | 2023-01-12 17:14:18 | Rebecca Barton |
| 390 | 2023-01-17 16:43:52 | Amber Ley |
| 391 | 2023-01-16 13:45:32 | Ricky Jamieson |
| 392 | 2023-01-18 16:00:56 | Daniel Paddington |
| 393 | 2023-01-18 09:02:16 | Jade Papoutsis |
| 394 | 2023-01-18 11:36:18 | Helen Stoneman |
| 395 | 2023-01-18 10:01:40 | Gemma Ball |
| 396 | 2023-01-18 11:28:47 | Helen Stoneman |
| 397 | 2023-01-14 16:06:23 | M K j m |
| 398 | 2023-01-17 10:30:26 | Krystina Fullelove |
| 399 | 2023-01-18 06:48:16 | Sonya Flack |
| 400 | 2023-01-13 22:12:59 | Jade Bailey |