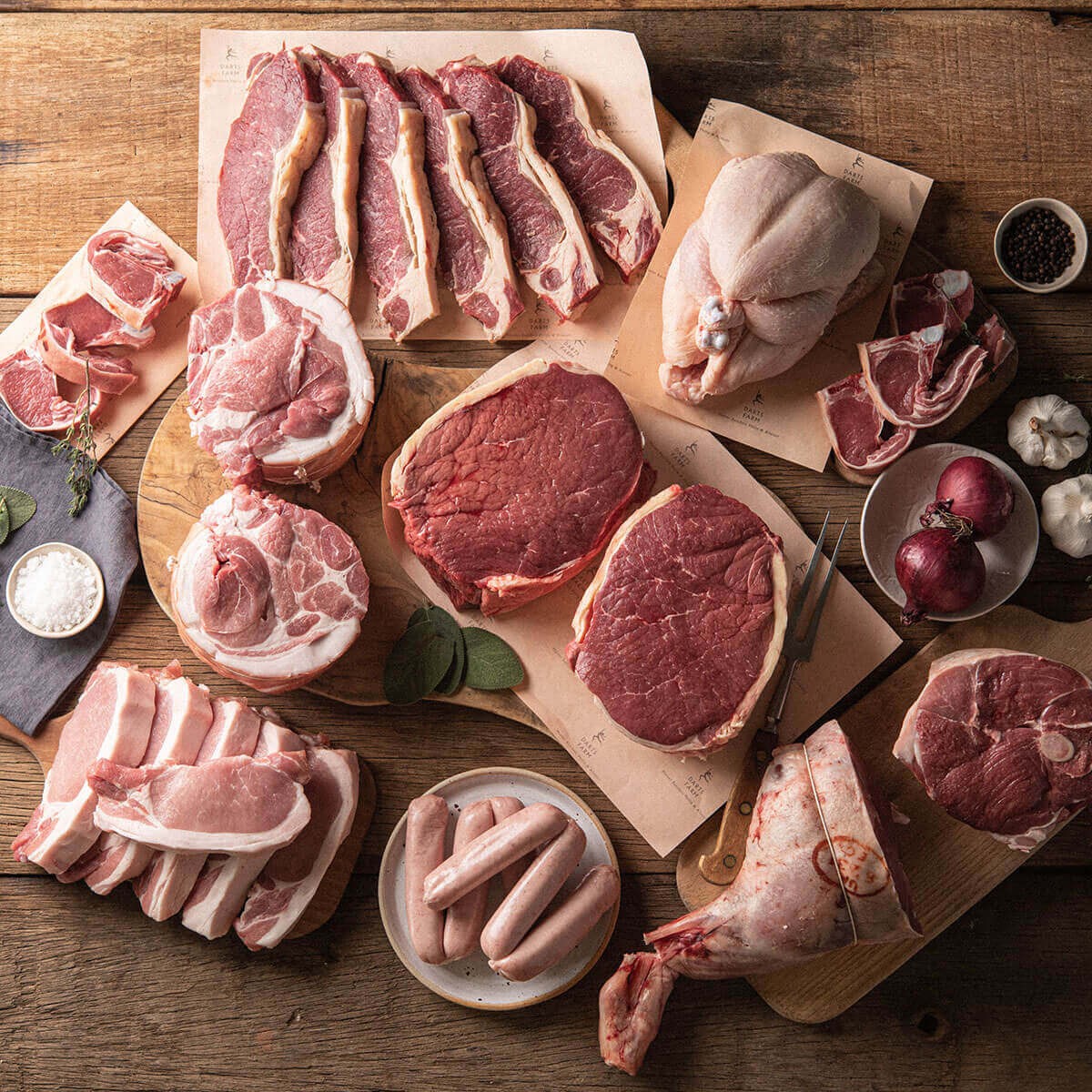 WIN A DARTS FARM FAMILY MEAT SELECTION BOX – 23/10
Description
WIN A DARTS FARM FAMILY MEAT SELECTION BOX – 23/10
Our Family Box contains all the favourites. From a mixture of quick and easy to cook cuts to incredible Sunday roasting joints, this is the perfect box for feeding the whole family.
Our Master Butchers, Phillip and Alastair, are experts in sourcing and hand selecting the finest quality, locally reared meat.
They oversee the whole process from field to fork, using traditional butchering techniques, skill and great care.
Topside of Beef Joints x2 (min weight 2.72kg)
Spare Rib Pork Joint x2 (min weight 2.72kg)
Whole Leg of Lamb, cut in half (min weight 2.5kg)
Free Range Chicken (min weight 1.81kg)
Pork Sausages x6 (min weight 453g)
Pork Loin Steaks x6 (min weight 1.2kg)
Lamb Chops x6 (min weight 1kg)
Sirloin Steak x6 (min weight 1.2kg)
Picture for illustration purposes only, please see breakdown of contents for exact items supplied.
*At times hamper contents may vary due to stock availability, but items will be replaced with products of the same or higher value and quality.
| Winner Name | Ticket Number | Draw Date |
| --- | --- | --- |
| karen Davey | 51 | 23/10/2023 |
| Ticket Number | Date | Name |
| --- | --- | --- |
| 1 | 2023-10-23 20:15:52 | Mark Winter |
| 2 | 2023-10-23 20:57:46 | Alexander Ross |
| 3 | 2023-10-22 19:55:07 | Graeme Archer |
| 4 | 2023-10-23 12:20:07 | sue fogarty |
| 5 | 2023-10-23 19:04:34 | Dolly Davis |
| 7 | 2023-10-18 22:33:51 | Ryan kirby |
| 8 | 2023-10-22 08:34:02 | Kirsty Essam |
| 9 | 2023-10-22 17:14:56 | phyllis steer |
| 10 | 2023-10-22 15:13:58 | Michael King |
| 11 | 2023-10-23 16:19:40 | sarah Wilson |
| 12 | 2023-10-20 22:23:18 | karen Davey |
| 13 | 2023-10-22 23:45:21 | LL BB |
| 14 | 2023-10-23 19:24:31 | Juliet Phillips |
| 16 | 2023-10-22 23:12:17 | Leah Knight |
| 17 | 2023-10-23 19:39:20 | Jay Ricketts |
| 18 | 2023-10-23 18:56:55 | Kerry Gee |
| 19 | 2023-10-21 19:18:44 | Sophie Vale |
| 20 | 2023-10-23 19:15:12 | Jasmine Baillie |
| 21 | 2023-10-23 19:49:15 | Lisa Roberts |
| 22 | 2023-10-23 10:31:36 | Emma & lee |
| 23 | 2023-10-23 19:17:44 | Tracy Daniell |
| 24 | 2023-10-23 19:21:47 | Wayne Mills |
| 26 | 2023-10-22 13:52:51 | Marriette Hewitt |
| 27 | 2023-10-20 19:12:26 | Heather Baker |
| 29 | 2023-10-22 23:12:17 | Leah Knight |
| 32 | 2023-10-20 10:57:44 | Kim Ayres |
| 33 | 2023-10-23 01:48:35 | Suzanne Brice |
| 34 | 2023-10-23 18:40:58 | G B |
| 36 | 2023-10-23 01:41:59 | Jodie Ellis |
| 40 | 2023-10-23 16:50:14 | Mike Lee |
| 41 | 2023-10-23 18:12:27 | Usher Prowse |
| 42 | 2023-10-23 20:07:39 | Natalie Holding |
| 43 | 2023-10-23 18:40:58 | G B |
| 45 | 2023-10-23 18:40:58 | G B |
| 46 | 2023-10-23 19:40:18 | Mark Dodd |
| 49 | 2023-10-21 08:29:18 | Sam Fitzsimmons |
| 50 | 2023-10-23 20:02:20 | Helen Taylor-Bartle |
| 51 | 2023-10-20 22:23:18 | karen Davey |
| 52 | 2023-10-23 16:47:07 | Anne-Marie Daniels |
| 54 | 2023-10-23 07:43:08 | Kerry Westcott |
| 55 | 2023-10-23 19:57:12 | Gemma Corber |
| 57 | 2023-10-23 19:54:04 | Anika Warnes |
| 58 | 2023-10-23 19:21:05 | Nicola Price |
| 61 | 2023-10-23 19:13:02 | Michael Garside |
| 62 | 2023-10-23 20:15:52 | Mark Winter |
| 64 | 2023-10-23 20:15:52 | Mark Winter |
| 66 | 2023-10-23 18:59:44 | Kath Greeno |
| 67 | 2023-10-23 20:15:52 | Mark Winter |
| 69 | 2023-10-23 20:47:26 | Candice Carrington |
| 71 | 2023-10-23 07:57:02 | Jasmin Bourne |
| 72 | 2023-10-22 15:12:47 | Jordan Wortley |
| 73 | 2023-10-23 18:12:27 | Usher Prowse |
| 74 | 2023-10-23 18:40:32 | Robert Hall |
| 75 | 2023-10-23 16:43:15 | Lisa Darragh |
| 76 | 2023-10-23 20:11:59 | Claire lambeth |
| 77 | 2023-10-23 01:48:35 | Suzanne Brice |
| 78 | 2023-10-23 19:20:30 | Emily Ayres |
| 79 | 2023-10-23 20:28:29 | amy Parr |
| 81 | 2023-10-23 06:53:40 | Lisa Dockree |
| 83 | 2023-10-23 11:30:38 | Matt Morley |
| 86 | 2023-10-23 08:43:52 | Sharon Saunders |
| 87 | 2023-10-23 20:57:46 | Alexander Ross |
| 88 | 2023-10-23 19:49:15 | Trudi Aitken |
| 89 | 2023-10-22 13:52:51 | Marriette Hewitt |
| 90 | 2023-10-20 10:57:44 | Kim Ayres |
| 91 | 2023-10-23 20:57:23 | Trudi Kim |
| 93 | 2023-10-22 13:52:51 | Marriette Hewitt |
| 96 | 2023-10-22 08:34:02 | Kirsty Essam |
| 98 | 2023-10-20 10:57:44 | Kim Ayres |
| 99 | 2023-10-23 15:51:47 | Kerry Mcveigh |
| 100 | 2023-10-22 15:13:58 | Michael King |
| 105 | 2023-10-22 13:52:51 | Marriette Hewitt |
| 107 | 2023-10-23 02:19:23 | Marie Sandford |
| 108 | 2023-10-23 20:32:51 | Dianne H |
| 109 | 2023-10-23 18:19:35 | Hazel King |
| 112 | 2023-10-23 19:36:53 | Suzanne Hart |
| 113 | 2023-10-19 14:13:19 | Diane Fox |
| 114 | 2023-10-23 09:49:36 | Amii mccarthy |
| 115 | 2023-10-23 19:22:49 | Robyn Bennett |
| 117 | 2023-10-22 15:13:58 | Michael King |
| 118 | 2023-10-23 09:51:22 | sarah Wilson |
| 119 | 2023-10-23 16:19:40 | sarah Wilson |
| 120 | 2023-10-23 01:48:35 | Suzanne Brice |