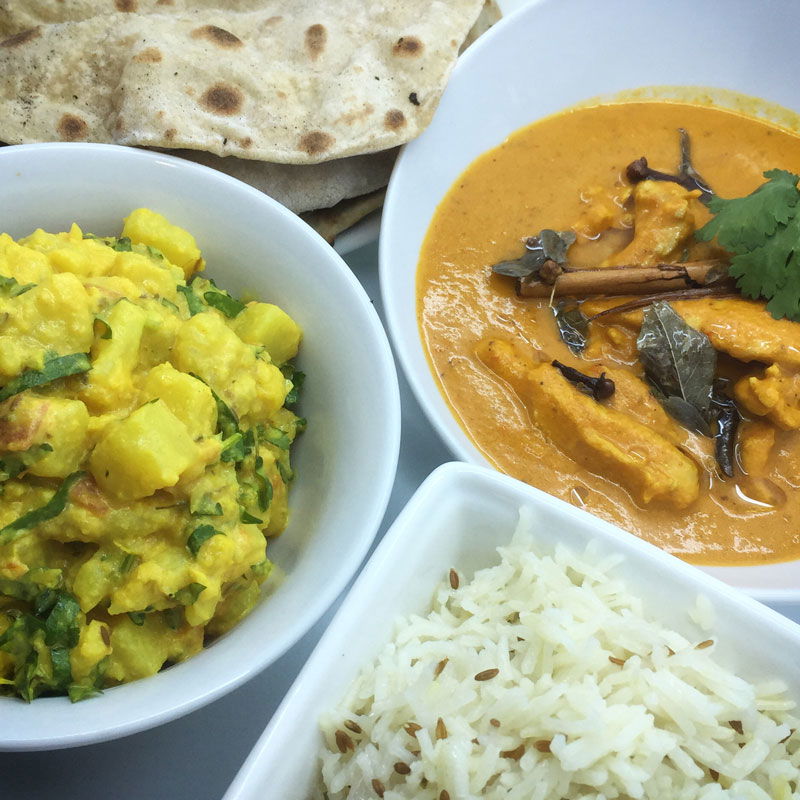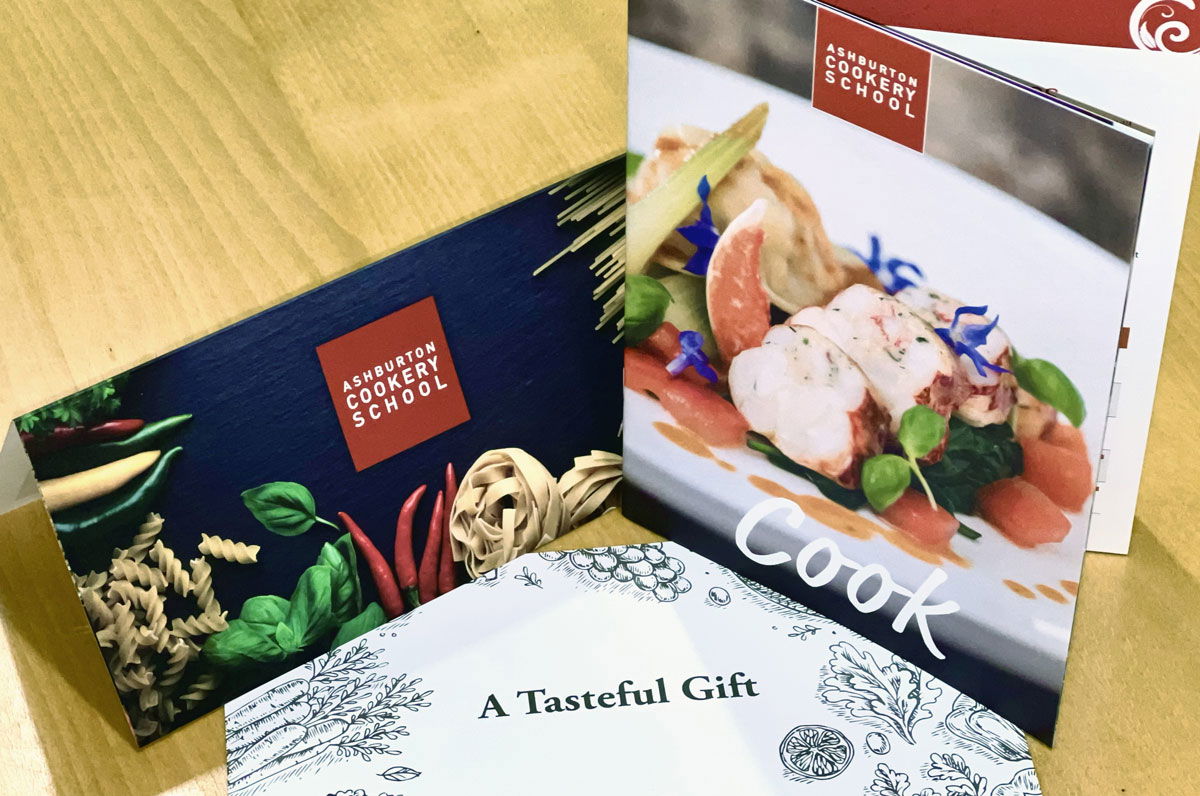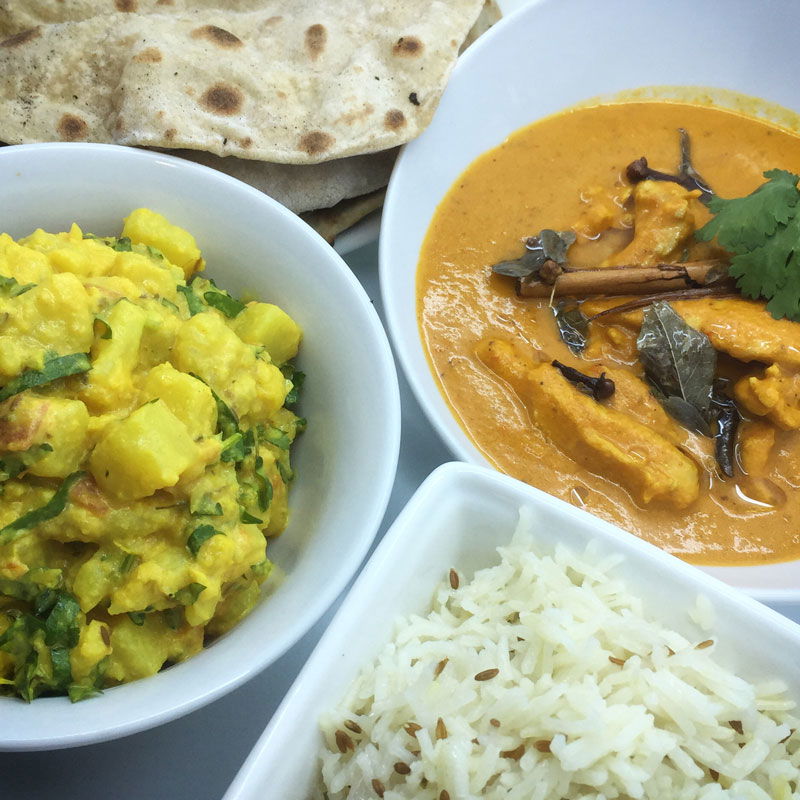 WIN A COOKING EXPERIENCE AT THE ASHBURTON COOKING SCHOOL FOR 2
Description
WIN A COOKING EXPERIENCE AT THE ASHBURTON COOKING SCHOOL FOR 2
This is a great experience to do as a couple, or with a friend or family member.
On our Indian To Go evening cookery course you will spend 3 hours of fast-paced cookery to create a fantastic and delicious take-home Indian meal for two that you will have prepared yourself.
Indian cuisine is amongst the most vibrant and varied in the world, and it is no wonder that it is the most popular of foods in the UK.
With step by step instruction from our expert chef tutor you will be creating classic Indian dishes and learn how to use Indian spices and ingredients to recreate an authentic Indian taste at home. At the end of the course you will take home a great, Indian Takeaway for two ready to eat.
TYPICAL RECIPES
Hyderabdi Methi Keema
Minced lamb curry with fenugreek, chilli and coriander.
Gujarati Ringan Batata Nu Shaak
Spicy aubergine and potato curry.
Basmati rice
with lemon, orange, cinnamon and cardamom.
Naan
Indian flat bread with cumin, garlic and coconut.
Can be swapped for Thai or Chinese cooking course
| Winner Name | Ticket Number | Draw Date |
| --- | --- | --- |
| Mark Bradley | 44 | 20/03/2023 |
| Ticket Number | Date | Name |
| --- | --- | --- |
| 1 | 2023-03-19 20:57:03 | Adam OConnor |
| 2 | 2023-03-14 17:00:24 | Rachel Bentley |
| 3 | 2023-03-20 14:09:36 | Emma & lee |
| 4 | 2023-03-14 19:52:08 | Bren Last |
| 5 | 2023-03-20 19:57:18 | Emma White |
| 7 | 2023-03-20 20:51:42 | Wendy Thompsett |
| 8 | 2023-03-20 19:46:11 | Ruth Bryant |
| 9 | 2023-03-20 13:27:04 | Kirsty Unwin |
| 10 | 2023-03-20 18:29:53 | Gail. Gilbert. |
| 13 | 2023-03-20 19:36:18 | Samantha Bailey |
| 14 | 2023-03-20 19:57:18 | Emma White |
| 15 | 2023-03-20 19:32:50 | Neil Potter |
| 17 | 2023-03-20 19:32:50 | Neil Potter |
| 18 | 2023-03-20 19:36:18 | Samantha Bailey |
| 20 | 2023-03-20 20:51:42 | Wendy Thompsett |
| 21 | 2023-03-14 16:34:28 | Lisa Roberts |
| 22 | 2023-03-20 19:57:18 | Emma White |
| 23 | 2023-03-20 20:21:43 | LJ Storer no |
| 24 | 2023-03-20 19:57:18 | Emma White |
| 26 | 2023-03-20 19:05:07 | Tia Richardson |
| 27 | 2023-03-14 16:52:58 | Philip Colbourne |
| 28 | 2023-03-20 15:42:49 | Gemma Skett |
| 29 | 2023-03-20 19:32:50 | Neil Potter |
| 37 | 2023-03-20 20:35:52 | Matt Dale |
| 40 | 2023-03-20 19:32:50 | Neil Potter |
| 42 | 2023-03-14 17:31:18 | Emma Kowalski |
| 44 | 2023-03-20 19:20:13 | Mark Bradley |
| 45 | 2023-03-20 18:39:57 | Julia Kuhn |
| 52 | 2023-03-20 19:36:18 | Samantha Bailey |
| 56 | 2023-03-14 16:00:41 | Jo Sommers |
| 58 | 2023-03-20 18:49:24 | Joanne Ison |
| 62 | 2023-03-20 20:25:57 | Mark Higham |
| 65 | 2023-03-20 19:36:18 | Samantha Bailey |
| 68 | 2023-03-20 20:51:42 | Wendy Thompsett |
| 81 | 2023-03-17 18:06:20 | Ian Gobel |
| 84 | 2023-03-20 20:51:31 | Bonnie Van Beek |
| 86 | 2023-03-19 15:09:42 | Irene Wood |
| 87 | 2023-03-20 20:35:52 | Matt Dale |
| 88 | 2023-03-19 23:41:51 | Sarah Cooper |
| 89 | 2023-03-20 17:25:24 | Julie Cleave |
| 93 | 2023-03-20 20:39:04 | Ruth Christophers |
| 94 | 2023-03-20 18:58:29 | Tina Hawker |
| 101 | 2023-03-20 19:36:18 | Samantha Bailey |
| 107 | 2023-03-20 19:32:50 | Neil Potter |
| 111 | 2023-03-20 17:17:03 | Trudi Kim |
| 119 | 2023-03-20 16:21:28 | Rachel Gilbert |