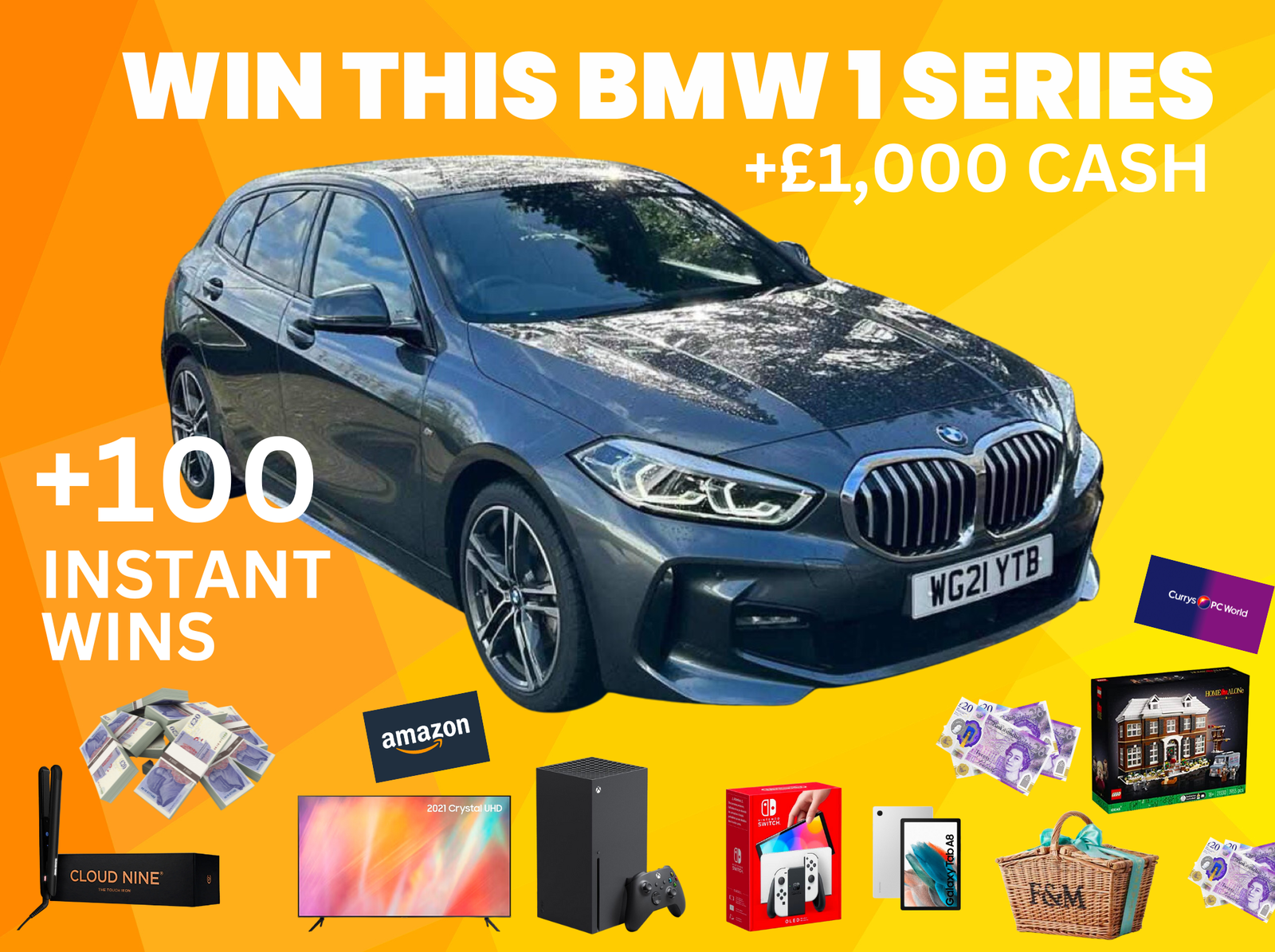 WIN A BMW 1 Series 118i [136] M Sport AND £1000 CASH JACKPOT PLUS 100 MEGA INSTANT WINS UP FOR GRABS
Description
WIN A BMW 1 Series 118i [136] M Sport AND £1000 CASH JACKPOT PLUS 100 MEGA INSTANT WINS UP FOR GRABS
DESCRIPTION
BMW 1 Series 118i [136] M Sport 5dr Petrol Hatchback +£1000 Cash
PLUS 100 MEGA INSTANT WINS UP FOR GRABS
ONE winner will A BMW 1 Series 118i M Sport AND £1000 CASH.
Each ticket purchased for this competition will be entered into main prize, regardless if you win any instant wins!
CAR DETAILS
Jul 2021
FUEL: Petrol
TRANSMISSION: Manual
MILEAGE: 5,800
ENGINE: 1,499 cc
INTERIOR: Black Dakota leather w/ perforation
EXTERIOR: Mineral Grey
Aluminium lightweight construction
Anthracite velour floor mats
Body colour mirror caps
Brake drying
Contrast stitching on instrument panel
Dab digital radio
Drive performance control
Driver and front passenger seat heating
Eco pro mode
Electronic differential lock
Front and rear disc brakes
Front armrest foldable with integrated storage compartment
Led eyebrow turn indicators
M sport exterior styling aerodynamics pack – 1 series
Matt black air guide grilles
Open luggage compartment
Personal profile
Rear window wiper
Reduced rolling resistance tyres
Remote control with integrated key with high-gloss black inlay and m designation and 1 button for open/ close lock
Speed limiter
Sun visors with vanity mirrors and insert tab
Two zone automatic air conditioning
Welcome lighting
Window
Simply enter the raffle and you will be randomly allocated your tickets. If your tickets match one of the numbers in the description below, you will win that prize instantly!
Ticket numbers are allocated randomly to every order.
If your ticket number (s) match then you win the prize next to it.
IF YOU WISH TO EXCHANGE FOR CASH ALT ON ALL PRIZES ( EXCEPT FOR CASH PRIZES) IT WILL BE 80% OF THE PRIZE VALUE.
Instant Wins
| Ticket | Prize | Winner |
| --- | --- | --- |
| 238 | £500 | |
| 501 | XBOX X | |
| 842 | GREY GOOSE VODKA BUNDLE | Louise White |
| 1190 | £200 supermarket voucher | |
| 1342 | £200 CASH | |
| 1688 | TAG HEUER FORMULA 1 | |
| 1831 | BEATS X KIM FIT PRO EARBUDS | |
| 2136 | £300 AMAZON GIFT CARD | |
| 2458 | £300 NEXT GIFT CARD | |
| 2981 | MULBERRY Small Check Lambswool Scarf | |
| 3236 | MULBERRY BAYSWATER BAG | |
| 3487 | £1000 CASH | |
| 3712 | £300 CASH | |
| 4000 | NINTENDO SWITCH OLED | Carlie Gilbert |
| 4397 | AU VODKA BUNDLE | Kayleigh Gibbons |
| 4663 | £200 scratch cards | |
| 4906 | MIXED SPIRIT BUNDLE | |
| 5218 | £500 CASH | |
| 5555 | FORTNUM AND MASON HAMPER | |
| 5720 | £200 SUPERMARKET VOUCHER | Andrew Jennings |
| 6032 | £200 CASH | |
| 6419 | CHRISTMAS HAMPER | |
| 6721 | HOTEL CHOCOLATE BUNDLE | |
| 6956 | FRAGRANCE BUNDLE | |
| 7299 | LEGO HOME ALONE | Steve Bridges |
| 7472 | £200 CURRYS GIFT CARD | |
| 7771 | £200 SMYTHS GIFT CARD | George tomlinson |
| 8064 | £200 CASH | Scott Bennett |
| 8463 | £1000 CASH | |
| 8739 | £200 CASH | |
| 8946 | SAMSUNG 65″ TV | Laura McMahon |
| 9123 | £300 JD sports | |
| 9516 | APPLE AIRPODS PRO | Sam Pride |
| 9832 | NINJA OL550UK | T I |
| 10092 | DYSON V10 | Dot Clarke |
| 10329 | £200 SUPERMARKET VOUCHER | |
| 11800 | CLOUD 9 TOUCH AND £100 HAIR SALON VOUCHER | |
| 10937 | TOM FORD Eau de Parfum, 50ml Fragrance Gift Set | Leah Ashton |
| 11274 | £200 RANGE GIFT CARD | |
| 11539 | £200 AMERICAN GOLF VOUCHER | |
| 12121 | Dyson HAIRDRYER | |
| 12573 | £200 IKEA VOUCHER | |
| 12905 | Xbox Series S | |
| 12998 | £200 SMYTHS GIFT CARD | |
| 13451 | £200 SUPERMARKET VOUCHER | |
| 13732 | DYSON AIRWRAP | |
| 14134 | SAMSUNG 65″ | |
| 14267 | £200 LOTTO SCRATCH CARDS | Fliss Wright |
| 14873 | Creed Aventus Aftershave | Kelly Reed |
| 15736 | Samsung Galaxy Tab A8 | |
| 15897 | £100 primark gift card | |
| 16135 | £100 hairsalon gift card | |
| 16409 | £1000 CASH | |
| 16861 | GUCCILeather GG Marmont Card Holder | |
| 17054 | £200 CASH | |
| 17385 | GHD HAIR STRAIGHTENERS | |
| 17741 | DEWALT DRILL | |
| 17927 | £200 HALFORDS GIFT CARD | Emma King |
| 18211 | £100 JD & £100 PRIMARK GIFT CARD | Stacey Bell |
| 18648 | NEWBALANCE TRAINERS | |
| 19006 | JOULES COAT | |
| 19380 | £300 NORTH FACE GIFT CARD | Sam Pride |
| 19534 | £200 TICKET MASTER VOUCHER | |
| 19928 | Instax camera and accessories | Samantha Penberthy |
| 20263 | ODDIE FAMILY PACK | |
| 20677 | PAMPER VOUCHER | |
| 20798 | Ooni Fyra 12 Wood Pellet Pizza Oven | |
| 21182 | £500 CASH | |
| 21407 | £250 CASH | |
| 21669 | GUCCI Leather belt with Double G buckle | |
| 21952 | MULBERRY ALEXA BAG | Rachael Bury |
| 22222 | £200 SITE CREDIT | Samantha Bennett |
| 22576 | £200 CASH | |
| 22841 | £200 PETS AT HOME VOUCHER | |
| 23117 | HIS AND HERS CHANEL | |
| 23406 | £250 MARKS AND SPENCERS GIFT CARD | |
| 23696 | PAIR OF DR MARTENS BOOTS | |
| 23900 | CHRISTMAS HAMPER | |
| 24371 | FRAGRANCE GIFT SET | |
| 24586 | £300 NEXT GIFT CARD | |
| 24972 | APPLE IPHONE 14 | Darryl Nichols |
| 25114 | APPLE AIRPODS PRO | Jamie Mitchelmore |
| 25581 | £250 CASH | |
| 25837 | £200 LEGO GIFT CARD | |
| 26019 | £1000 CASH | Stacey David |
| 26437 | LINDT CHOCOLATE HAMPER | |
| 26552 | SCREWDRIVER SET | Jason Moore |
| 26304 | £200 WORTH OF SCRATCH CARDS | |
| 26491 | 2X UGG SLIPPERS | |
| 26511 | HOTEL CHOCOLATE VELVETISER AND PAIR OF SLIPPERS | |
| 26876 | £250 CASH | |
| 26998 | FORTNUM AND MASON HAMPER | Dominic Packer |
| 27101 | 6 BOTTLES OF MOET | |
| 27430 | £300 CASH | |
| 27628 | £300 SUPERMARKET VOUCHER | Jade Clark |
| 27991 | £250 CASH | Emma Lou |
| 28063 | NINTENDO SWITCH OLED | Lynda Milne-Smith |
| 28421 | £1000 CASH | |
| Winner Name | Ticket Number | Draw Date |
| --- | --- | --- |
| Laura Smith | 12579 | 15/11/2023 |
1-1000
1001-2000
2001-3000
3001-4000
4001-5000
5001-6000
6001-7000
7001-8000
8001-9000
9001-10000
10001-11000
11001-12000
12001-13000
13001-14000
14001-15000
15001-16000
16001-17000
17001-18000
18001-19000
19001-20000
20001-21000
21001-22000
22001-23000
23001-24000
24001-25000
25001-26000
26001-27000
27001-28000
28001-29000
| Ticket Number | Date | Name |
| --- | --- | --- |
| 1 | 2023-11-15 19:26:20 | Steven Wheway |
| 8 | 2023-11-15 20:55:07 | Kerrie Mudge |
| 12 | 2023-11-13 21:36:18 | Samantha Bennett |
| 13 | 2023-11-08 21:41:09 | Kayleigh Williams |
| 16 | 2023-11-15 18:05:33 | Michelle Taylor |
| 27 | 2023-11-08 15:43:21 | Jordan Gorman |
| 28 | 2023-11-15 20:39:47 | Holly Kemp |
| 31 | 2023-11-15 11:25:55 | Charlie H |
| 34 | 2023-11-08 16:04:36 | Tracey Milne |
| 35 | 2023-11-10 16:47:29 | Jeanette Glynn |
| 36 | 2023-11-08 15:40:18 | S S |
| 40 | 2023-11-15 17:45:37 | J S |
| 41 | 2023-11-15 17:46:01 | Jamie Jones |
| 43 | 2023-11-08 17:08:53 | Adam Shaw |
| 50 | 2023-11-10 09:27:02 | Shaun Sloman |
| 51 | 2023-11-15 19:53:12 | Lucy Baker |
| 61 | 2023-11-14 11:54:27 | Kimberley Tidmarsh |
| 63 | 2023-11-14 10:55:06 | marina brynen |
| 65 | 2023-11-15 19:43:00 | Kelly Reed |
| 69 | 2023-11-15 08:31:04 | marion clark |
| 74 | 2023-11-08 15:35:20 | Dominik Mielczarek |
| 78 | 2023-11-15 18:06:39 | Kirsty L gates |
| 80 | 2023-11-12 05:30:18 | Karen Harman |
| 83 | 2023-11-08 16:34:12 | Thomas Massara |
| 84 | 2023-11-10 03:21:58 | LL BB |
| 91 | 2023-11-15 19:32:31 | Stephen Wilkinson |
| 96 | 2023-11-13 20:05:45 | Jordan Priddis |
| 98 | 2023-11-15 20:13:46 | D T |
| 99 | 2023-11-15 13:34:30 | rita lockett |
| 108 | 2023-11-15 20:53:37 | k. b |
| 109 | 2023-11-15 20:34:29 | Tracy Brown |
| 112 | 2023-11-10 16:44:56 | Jeanette Glynn |
| 113 | 2023-11-15 20:01:49 | Jeanette Anderson |
| 120 | 2023-11-08 16:41:37 | Lauren cattermole |
| 123 | 2023-11-15 19:24:25 | Ross Main |
| 124 | 2023-11-15 19:05:21 | Natasha Parnell |
| 129 | 2023-11-13 20:31:05 | Kayleigh Gibbons |
| 131 | 2023-11-13 13:55:10 | Ryan Bowyer |
| 134 | 2023-11-08 16:19:15 | Casey-Jane Bennett |
| 137 | 2023-11-08 16:53:38 | Mark Lowe |
| 142 | 2023-11-09 07:07:43 | Shannon Lillico |
| 149 | 2023-11-15 21:12:25 | Jamie Jones |
| 150 | 2023-11-08 20:20:43 | J B |
| 158 | 2023-11-11 18:26:04 | G W |
| 162 | 2023-11-13 21:46:02 | Ryan Bougourd |
| 165 | 2023-11-10 06:34:30 | James Bennellick |
| 171 | 2023-11-14 22:33:51 | Charlotte Tanner |
| 174 | 2023-11-15 19:10:03 | Keeley Bush |
| 175 | 2023-11-08 20:54:06 | Anamarie Chidgey |
| 181 | 2023-11-15 19:11:57 | Victoria Kerr |
| 187 | 2023-11-15 19:04:47 | Holly Kemp |
| 190 | 2023-11-08 20:53:06 | Nathan Hill |
| 191 | 2023-11-13 20:44:49 | Tracy Green |
| 193 | 2023-11-13 19:48:30 | Philip Eddy |
| 199 | 2023-11-15 12:44:45 | Stacey Williamson |
| 201 | 2023-11-15 19:42:06 | Cherry Pearson |
| 202 | 2023-11-15 20:23:03 | Debbie Carroll |
| 205 | 2023-11-15 19:12:44 | Danielle Hooper |
| 207 | 2023-11-13 20:04:51 | J E |
| 212 | 2023-11-15 19:19:31 | Shirley Macdonald |
| 213 | 2023-11-15 18:28:36 | Jazmine Gale |
| 218 | 2023-11-15 19:51:00 | Laura Carr |
| 221 | 2023-11-15 19:53:27 | Sian Cox |
| 222 | 2023-11-15 20:21:40 | Emily Lampitt |
| 228 | 2023-11-15 16:28:33 | JMS S |
| 229 | 2023-11-08 16:41:26 | Rosie Byron |
| 232 | 2023-11-15 19:43:00 | Kelly Reed |
| 233 | 2023-11-15 17:32:36 | Dominic Packer |
| 239 | 2023-11-15 15:52:46 | Gary King |
| 240 | 2023-11-15 19:36:29 | Thomas Black |
| 242 | 2023-11-15 19:36:48 | Naomi Turner |
| 249 | 2023-11-10 11:27:54 | Nico Looze |
| 254 | 2023-11-08 16:53:38 | Mark Lowe |
| 255 | 2023-11-15 13:26:53 | Jessica Pellens |
| 258 | 2023-11-15 19:43:00 | Kelly Reed |
| 259 | 2023-11-15 19:53:57 | Simon Treacher |
| 262 | 2023-11-15 09:14:11 | Bradley Stevens |
| 264 | 2023-11-15 18:12:56 | T S |
| 268 | 2023-11-13 20:58:56 | Sean Tompkinson |
| 269 | 2023-11-15 03:17:10 | Julie Maddock |
| 273 | 2023-11-15 19:18:03 | Lilly Bertram |
| 278 | 2023-11-13 20:14:04 | Rachel Eidam |
| 279 | 2023-11-08 15:35:43 | Amber Lake |
| 280 | 2023-11-15 21:00:31 | Lewis Holmes |
| 281 | 2023-11-13 06:17:17 | Kayleigh Gibbons |
| 282 | 2023-11-15 11:24:42 | Darryl Gumbrill |
| 283 | 2023-11-15 20:15:36 | Kirsty Sanderson |
| 292 | 2023-11-13 21:29:46 | Eddie Smith |
| 294 | 2023-11-11 13:29:50 | Sophie Moss |
| 302 | 2023-11-14 20:35:34 | Kelly Snape |
| 305 | 2023-11-15 16:34:34 | K Y |
| 306 | 2023-11-09 06:57:32 | Stacey Bell |
| 311 | 2023-11-13 19:32:35 | Georgina Gerry |
| 312 | 2023-11-08 16:10:09 | Natalie Carey |
| 313 | 2023-11-15 19:40:28 | Darren Mclean |
| 320 | 2023-11-15 19:43:00 | Kelly Reed |
| 322 | 2023-11-15 20:10:50 | Sharon Middleton8 |
| 326 | 2023-11-15 19:43:00 | Kelly Reed |
| 328 | 2023-11-15 17:17:55 | T S |
| 329 | 2023-11-15 19:14:44 | Kelly Powell |
| 333 | 2023-11-15 18:32:10 | Tiffany Spear |
| 335 | 2023-11-11 12:13:05 | Kayleigh Gibbons |
| 336 | 2023-11-15 00:37:11 | D T |
| 337 | 2023-11-14 21:36:30 | T S |
| 339 | 2023-11-08 16:57:11 | Darryl Nichols |
| 341 | 2023-11-13 20:27:17 | Paula Jayne Johnson |
| 345 | 2023-11-13 17:29:18 | Vicci Del-Pizzo |
| 346 | 2023-11-08 15:55:05 | Jodie Chappell |
| 348 | 2023-11-08 15:49:47 | Anthony Boult |
| 351 | 2023-11-15 20:09:28 | Emma Rodrigues |
| 352 | 2023-11-10 19:26:14 | Jackie West |
| 353 | 2023-11-11 10:41:29 | Emma Lou |
| 356 | 2023-11-15 11:10:06 | Lewis Carnell |
| 357 | 2023-11-15 19:30:33 | E L |
| 360 | 2023-11-15 20:43:13 | Sami Knott |
| 361 | 2023-11-15 16:48:23 | rob denslow |
| 362 | 2023-11-15 20:54:52 | Antony Davies |
| 375 | 2023-11-13 18:21:26 | Robert Woodruff |
| 390 | 2023-11-09 18:41:37 | Jamie Hext |
| 401 | 2023-11-13 19:36:40 | Toby Shapcott |
| 402 | 2023-11-08 16:27:02 | Nickey Bukin |
| 403 | 2023-11-15 16:38:02 | Jeffery Moseley |
| 411 | 2023-11-08 15:58:50 | Gary Morrish |
| 413 | 2023-11-09 20:23:53 | Tina Lander |
| 414 | 2023-11-09 21:30:23 | R McCabe |
| 419 | 2023-11-15 19:27:47 | Katrina OConnor |
| 424 | 2023-11-15 18:13:35 | Nicola Curry |
| 429 | 2023-11-15 16:45:45 | Scott Priestley |
| 430 | 2023-11-13 21:29:02 | Kayleigh arnold |
| 432 | 2023-11-15 16:05:59 | Cory Waller |
| 433 | 2023-11-15 18:40:46 | amy Parr |
| 437 | 2023-11-15 11:10:46 | C C |
| 439 | 2023-11-08 15:37:20 | Maja Smith |
| 443 | 2023-11-15 19:43:00 | Kelly Reed |
| 445 | 2023-11-15 11:13:32 | Becky H |
| 447 | 2023-11-15 19:43:00 | Kelly Reed |
| 448 | 2023-11-13 21:17:02 | Matthew Furness |
| 450 | 2023-11-13 20:44:20 | Emma White |
| 451 | 2023-11-15 18:28:36 | Adam Downey |
| 454 | 2023-11-14 14:46:11 | Sophie Harbron |
| 461 | 2023-11-08 15:48:28 | Holly Sheppard |
| 462 | 2023-11-14 21:32:08 | Jenna Wadling |
| 463 | 2023-11-15 19:31:34 | anna barnett |
| 465 | 2023-11-09 08:00:32 | Joanna Stevenson |
| 466 | 2023-11-14 12:23:20 | Jeffery Moseley |
| 468 | 2023-11-14 06:51:48 | Dan Churchill |
| 469 | 2023-11-15 20:47:07 | Sam Pride |
| 470 | 2023-11-09 12:07:38 | Bradley Stevens |
| 474 | 2023-11-15 12:00:58 | Aidan Mclean |
| 476 | 2023-11-15 18:41:23 | Pennie Peacock |
| 481 | 2023-11-14 13:42:26 | Shana Taylor |
| 490 | 2023-11-15 21:01:22 | Kayleigh Bartlett |
| 496 | 2023-11-14 22:35:11 | Rachael Morton |
| 502 | 2023-11-08 19:25:53 | Chloe Torabi |
| 505 | 2023-11-15 12:14:20 | Charlotte Batey |
| 506 | 2023-11-15 19:30:45 | Stephen Wilkinson |
| 507 | 2023-11-15 16:54:50 | Tina Cox |
| 508 | 2023-11-15 00:02:24 | Patricia Tolhurst |
| 510 | 2023-11-15 18:36:38 | Vicky Densham |
| 513 | 2023-11-15 19:43:00 | Kelly Reed |
| 515 | 2023-11-15 19:32:15 | Dominic Rea |
| 522 | 2023-11-13 21:31:22 | Demi Broome |
| 523 | 2023-11-14 19:50:01 | Kirsty Essam |
| 529 | 2023-11-08 16:27:53 | Scott Haddon |
| 531 | 2023-11-13 19:13:31 | Pennie Peacock |
| 532 | 2023-11-15 16:56:05 | Glenn Bowden |
| 536 | 2023-11-15 20:44:17 | David Fitzsimmons |
| 549 | 2023-11-09 21:54:55 | Holly Kemp |
| 550 | 2023-11-15 17:56:05 | A.T W. |
| 552 | 2023-11-15 16:46:47 | rob denslow |
| 554 | 2023-11-13 23:11:31 | Shelley Brooks |
| 559 | 2023-11-13 20:56:00 | Craig Payne |
| 563 | 2023-11-15 20:56:02 | Ellee Jennings |
| 571 | 2023-11-15 19:02:26 | Steve Bridges |
| 574 | 2023-11-15 13:35:36 | Julie Riddell |
| 575 | 2023-11-15 13:21:53 | E L |
| 579 | 2023-11-08 15:42:33 | William Macnab |
| 580 | 2023-11-09 00:32:49 | Leia Tiar |
| 584 | 2023-11-15 18:11:26 | Andy Nolan |
| 585 | 2023-11-15 19:11:46 | Leighanne Birdsall |
| 586 | 2023-11-13 19:50:08 | Danielle Kinsella |
| 587 | 2023-11-15 18:00:54 | Lucy Clark |
| 589 | 2023-11-15 14:38:01 | Jessica Pellens |
| 590 | 2023-11-15 12:06:01 | Warren Kenny |
| 592 | 2023-11-13 19:15:06 | Amy Ball |
| 593 | 2023-11-09 12:17:06 | Chloe Cox |
| 595 | 2023-11-13 19:15:35 | Jeremy Bowen |
| 596 | 2023-11-08 16:21:11 | Carly Stapleton |
| 597 | 2023-11-08 16:39:34 | Sharron Birds |
| 598 | 2023-11-15 16:32:34 | Diana Greensmith |
| 601 | 2023-11-15 20:54:50 | Charlotte Chappell |
| 603 | 2023-11-08 16:20:43 | Nick Miller |
| 604 | 2023-11-15 16:32:34 | Diana Greensmith |
| 606 | 2023-11-15 20:57:16 | Kas S |
| 608 | 2023-11-15 16:32:34 | Diana Greensmith |
| 610 | 2023-11-13 20:11:08 | Gemma Norton |
| 612 | 2023-11-15 15:04:28 | Kim Loosemore |
| 620 | 2023-11-11 12:13:05 | Kayleigh Gibbons |
| 621 | 2023-11-15 20:41:23 | Michelle Newcombe |
| 622 | 2023-11-15 13:22:05 | Jamie Edwards |
| 624 | 2023-11-14 06:38:58 | Michael t O'connor |
| 627 | 2023-11-15 17:01:00 | Laila Schofield |
| 628 | 2023-11-15 18:48:29 | Paula Lynch |
| 632 | 2023-11-15 19:31:58 | Hannah Brown |
| 634 | 2023-11-08 22:55:57 | Shelby Isaacs |
| 643 | 2023-11-15 20:53:05 | Emma King |
| 647 | 2023-11-15 18:10:14 | Demi Broome |
| 650 | 2023-11-13 09:53:04 | Charlotte Crispin |
| 651 | 2023-11-10 21:16:13 | Sabrina Wilding |
| 652 | 2023-11-15 20:52:48 | David Fitzsimmons |
| 655 | 2023-11-12 18:28:09 | Rio Powell |
| 656 | 2023-11-08 23:07:45 | Ryan kirby |
| 662 | 2023-11-08 16:58:22 | Mark Lowe |
| 663 | 2023-11-08 20:08:52 | Emma Lou |
| 665 | 2023-11-15 17:19:05 | Marian Bolsworth |
| 668 | 2023-11-08 16:45:18 | Rebecca Fetherlin |
| 670 | 2023-11-13 20:51:03 | Darren Mclean |
| 673 | 2023-11-09 10:21:49 | Lee Gable |
| 674 | 2023-11-13 21:50:05 | Trudi Aitken |
| 676 | 2023-11-15 18:53:05 | Molly Graham |
| 677 | 2023-11-15 20:59:41 | Suzi Gooding |
| 678 | 2023-11-15 14:22:55 | Jasmine courtis |
| 680 | 2023-11-08 20:51:58 | Tracy Daniell |
| 683 | 2023-11-15 20:38:33 | Bradley Hervin |
| 686 | 2023-11-15 20:23:53 | holly m bewers |
| 700 | 2023-11-15 17:59:10 | Justin Lashley |
| 704 | 2023-11-13 20:35:31 | Natasha Mason |
| 710 | 2023-11-15 20:17:40 | Shazzy Mazzy |
| 720 | 2023-11-08 15:45:39 | Lee Harris |
| 721 | 2023-11-11 11:15:56 | Mark Wilson |
| 724 | 2023-11-12 18:20:54 | V G |
| 726 | 2023-11-15 17:49:44 | Amy C |
| 727 | 2023-11-15 17:39:55 | Steph E |
| 732 | 2023-11-15 18:42:46 | Leah Hamilton |
| 735 | 2023-11-14 16:25:22 | Laurie Peters |
| 738 | 2023-11-15 18:38:57 | Tara Humphris |
| 740 | 2023-11-14 07:58:08 | Diana Greensmith |
| 747 | 2023-11-13 19:24:03 | Kelly Blake |
| 751 | 2023-11-15 20:52:25 | Sam Pride |
| 755 | 2023-11-13 19:24:42 | Aaron Lynch |
| 759 | 2023-11-15 20:10:25 | Kurt Warren |
| 760 | 2023-11-13 21:17:22 | Hannah Keeley |
| 761 | 2023-11-08 15:50:26 | Danielle Humphreys |
| 766 | 2023-11-15 19:29:31 | E L |
| 768 | 2023-11-14 03:00:23 | Georgia Brown |
| 776 | 2023-11-15 16:44:33 | Julie Major |
| 781 | 2023-11-15 19:30:34 | Ashley Herron |
| 784 | 2023-11-15 19:43:16 | Marian Sercombe |
| 787 | 2023-11-14 19:06:10 | Simon Barlow |
| 788 | 2023-11-14 13:43:59 | Devon Allen |
| 790 | 2023-11-12 16:57:30 | Mark Lowe |
| 791 | 2023-11-13 21:25:03 | Emily Lampitt |
| 794 | 2023-11-11 00:01:34 | Wahida Sussex |
| 795 | 2023-11-08 20:49:57 | Anna Vickery |
| 804 | 2023-11-15 17:19:38 | Laurie Peters |
| 808 | 2023-11-08 15:40:43 | Sharon Middleton |
| 810 | 2023-11-14 09:21:29 | Natasha Mason |
| 815 | 2023-11-08 15:37:11 | Tammy Bartlett |
| 816 | 2023-11-08 20:09:42 | Jack Wonnacott |
| 823 | 2023-11-13 20:27:16 | Donna Crane |
| 828 | 2023-11-15 18:58:26 | Vicky Robins |
| 831 | 2023-11-15 19:43:00 | Kelly Reed |
| 840 | 2023-11-15 18:26:27 | Faye Thompson |
| 842 | 2023-11-13 19:15:18 | Louise White |
| 844 | 2023-11-15 20:06:02 | Laurence Dent |
| 851 | 2023-11-15 19:29:31 | E L |
| 855 | 2023-11-14 12:13:07 | Darren Lawson |
| 859 | 2023-11-10 23:34:59 | Kim Briggs |
| 863 | 2023-11-14 21:28:26 | Darren Mclean |
| 865 | 2023-11-14 19:06:10 | Simon Barlow |
| 866 | 2023-11-08 22:44:05 | Sophie Wright |
| 867 | 2023-11-15 19:43:00 | Kelly Reed |
| 869 | 2023-11-13 20:37:29 | Anika Warnes |
| 871 | 2023-11-15 13:34:30 | rita lockett |
| 872 | 2023-11-13 19:16:06 | Amy Ball |
| 875 | 2023-11-15 19:30:33 | E L |
| 876 | 2023-11-15 19:03:53 | Dth Dth |
| 877 | 2023-11-15 19:43:00 | Kelly Reed |
| 879 | 2023-11-14 22:12:06 | Morgan Parsons |
| 880 | 2023-11-15 20:30:12 | Jay Brownie |
| 881 | 2023-11-13 20:46:39 | Suzi Gooding |
| 883 | 2023-11-08 15:39:16 | Tyler Price |
| 891 | 2023-11-15 19:31:11 | Adam Frost |
| 895 | 2023-11-15 20:03:23 | LJ Storer no |
| 909 | 2023-11-14 21:59:34 | Thea Warren |
| 911 | 2023-11-08 15:43:16 | Charlene Ferre |
| 919 | 2023-11-13 17:13:28 | Ian Critchlow |
| 920 | 2023-11-15 19:52:58 | Darren Martin |
| 921 | 2023-11-14 22:22:03 | Tyrone Hodge |
| 922 | 2023-11-08 16:36:59 | Colin Kneeshaw |
| 923 | 2023-11-15 17:21:13 | Steph E |
| 928 | 2023-11-15 16:43:42 | D T |
| 929 | 2023-11-15 07:41:30 | Laura Carr |
| 930 | 2023-11-15 12:53:07 | William Preston |
| 931 | 2023-11-15 20:19:16 | S S |
| 934 | 2023-11-15 20:57:51 | Sam Pride |
| 938 | 2023-11-15 07:02:19 | Rhys Heavens |
| 940 | 2023-11-14 23:24:50 | Danielle McIntyre |
| 946 | 2023-11-15 20:13:18 | Nicola St Clair |
| 947 | 2023-11-15 15:18:18 | Cherry Pearson |
| 948 | 2023-11-09 12:00:40 | Hayley Taylor |
| 949 | 2023-11-15 21:01:49 | Shannon Curtis |
| 952 | 2023-11-14 19:06:10 | Simon Barlow |
| 956 | 2023-11-15 13:27:05 | Vicki Hadley |
| 960 | 2023-11-15 19:43:00 | Kelly Reed |
| 961 | 2023-11-15 17:33:54 | Michael Gibbons |
| 968 | 2023-11-08 15:42:50 | William Harvey |
| 973 | 2023-11-15 10:43:16 | Hollie Bryant |
| 976 | 2023-11-15 19:11:18 | Andrew Feaver |
| 978 | 2023-11-08 17:08:53 | Adam Shaw |
| 985 | 2023-11-15 19:43:00 | Kelly Reed |
| 989 | 2023-11-15 19:41:33 | Craig Kendall |
| 993 | 2023-11-15 19:22:14 | Ross Main |
| 997 | 2023-11-15 19:00:49 | Kaylie Rice |
| 998 | 2023-11-15 13:26:49 | Beryl Wilkins |
| 1000 | 2023-11-15 16:29:13 | Joanna Peters |