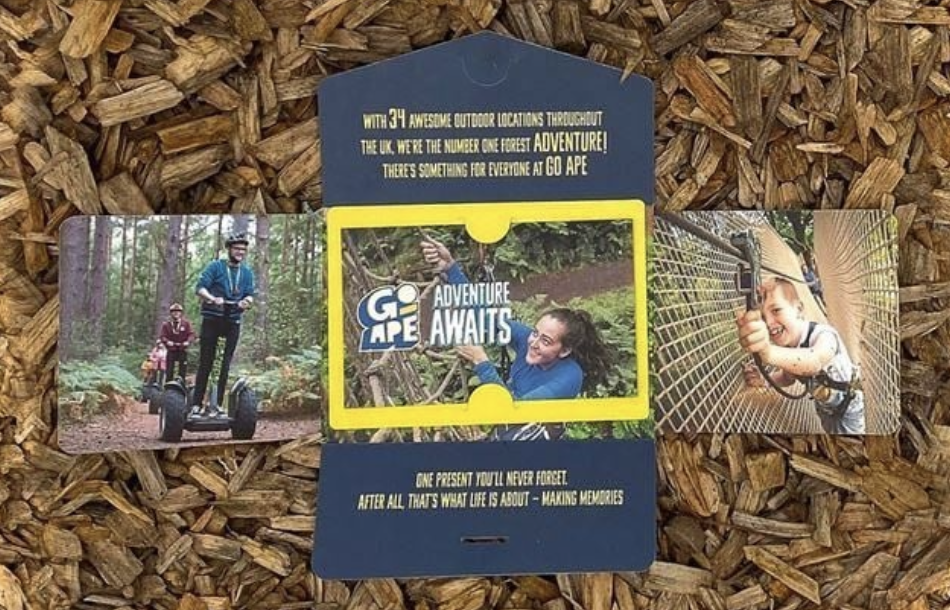 WIN A £200 GO APE GIFT VOUCHER – 22/03
Description
WIN A £200 GO APE GIFT VOUCHER – 22/03
From four to eighty-four, with a head for heights or not, Go Ape offers exhilarating outdoor activities that will live with you and your Tribe for a lifetime.
Whether you're looking to go on a high ropes course with incredible zip lines or push yourself physically and mentally, then you've arrived at the right place. Your bucket-list adventure is only a few clicks away.
Adventure shouldn't be something that we schedule, it should be at the core of how we navigate our lives.
The more that we embrace living life adventurously the more surprising and exciting life becomes. It may be challenging, but life is frequently more rewarding and tastes sweeter when we get out of our comfort zone and don't opt for safe.
| Winner Name | Ticket Number | Draw Date |
| --- | --- | --- |
| Kirsty Musgrove | 62 | 22/03/2023 |
1-100
101-200
201-300
301-400
| Ticket Number | Date | Name |
| --- | --- | --- |
| 1 | 2023-03-22 15:01:48 | Suzi Gooding |
| 2 | 2023-03-22 09:39:18 | jeanette rich |
| 3 | 2023-03-22 20:16:36 | Debbie Dodd |
| 4 | 2023-03-22 09:19:37 | Charlotte Tebbit-Teague |
| 5 | 2023-03-22 06:27:07 | Emma Jones |
| 6 | 2023-03-22 19:36:43 | Cameron Thompson |
| 7 | 2023-03-22 15:01:48 | Suzi Gooding |
| 8 | 2023-03-19 00:08:51 | Hayley Spears |
| 9 | 2023-03-22 18:58:35 | Rebecca Reed |
| 12 | 2023-03-22 20:36:07 | Claire Drury |
| 13 | 2023-03-22 09:39:18 | jeanette rich |
| 14 | 2023-03-21 10:38:52 | Juliet Phillips |
| 15 | 2023-03-22 11:57:52 | sue fogarty |
| 17 | 2023-03-22 20:55:39 | Danielle Bagley |
| 18 | 2023-03-22 16:30:34 | Kirsty Kilkenny |
| 19 | 2023-03-22 19:51:53 | Emma Jones |
| 20 | 2023-03-22 20:36:07 | Claire Drury |
| 21 | 2023-03-20 21:56:49 | Sarah Osborne |
| 22 | 2023-03-22 16:56:55 | Michelle Soanes |
| 23 | 2023-03-22 13:54:20 | Sharon Hobday |
| 24 | 2023-03-22 11:57:52 | sue fogarty |
| 28 | 2023-03-22 20:57:41 | Amber Ley |
| 29 | 2023-03-22 20:35:55 | Clare Darby |
| 30 | 2023-03-22 17:57:38 | Lisa Gunstone |
| 34 | 2023-03-22 19:55:10 | Xoe Goacher |
| 39 | 2023-03-22 20:57:26 | Ryan Shepherd |
| 40 | 2023-03-22 19:40:08 | Bethany Brassington |
| 44 | 2023-03-22 19:15:39 | Pamela Bradshaw |
| 45 | 2023-03-22 20:13:12 | Helen Turner |
| 46 | 2023-03-22 20:11:00 | Zoe Dervis |
| 47 | 2023-03-22 19:36:43 | Cameron Thompson |
| 51 | 2023-03-22 19:24:31 | Vanessa Gale |
| 52 | 2023-03-22 10:40:33 | Laura Currie |
| 59 | 2023-03-22 14:32:25 | Jem V |
| 62 | 2023-03-17 13:56:50 | Kirsty Musgrove |
| 64 | 2023-03-17 12:47:00 | Chantel Adams |
| 67 | 2023-03-17 20:09:26 | KATIE WHITCOMBE |
| 72 | 2023-03-22 19:15:39 | Pamela Bradshaw |
| 75 | 2023-03-22 20:26:12 | Maisie Andrews |
| 78 | 2023-03-22 20:36:24 | Peggy Phillips |
| 81 | 2023-03-22 18:15:48 | Roxanne Hancox |
| 83 | 2023-03-22 14:32:25 | Jem V |
| 85 | 2023-03-17 12:26:08 | Leia Tiar |
| 86 | 2023-03-22 20:45:25 | Vikki Walsh |
| 92 | 2023-03-22 14:16:06 | Deanne Melhuish |
| 94 | 2023-03-22 20:43:04 | Abbie Cook |
| 95 | 2023-03-22 11:52:30 | Fliss Wright |