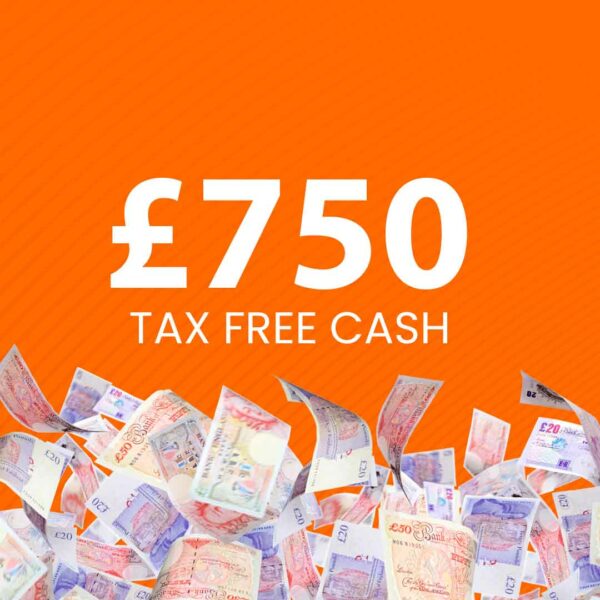 WIN £750 CASH FOR 75P- 6/9
Description
WIN £750 CASH FOR 75P- 6/9
How do you fancy winning £750 cash? What's even better is the 75p ticket price.
Once all the tickets are sold or the timer runs out (whichever happens first) then a winner is automatically selected, no matter how many tickets are sold.
The winner will be contacted after the live draw.
Good luck.
| Winner Name | Ticket Number | Draw Date |
| --- | --- | --- |
| Ian Anslow | 696 | 06/09/2022 |
1-200
201-400
401-600
601-800
801-1000
1001-1200
1201-1400
1401-1600
1601-1800
| Ticket Number | Date | Name |
| --- | --- | --- |
| 1 | 2022-09-03 12:05:23 | Samantha4659 Gunn |
| 2 | 2022-09-04 17:09:24 | Jessica Pratt |
| 3 | 2022-09-03 12:05:23 | Samantha4659 Gunn |
| 4 | 2022-09-05 14:23:34 | Tracey Webber |
| 5 | 2022-09-03 23:58:41 | Shanice Shepherd |
| 6 | 2022-09-05 16:11:12 | Bradley Hubble |
| 7 | 2022-09-03 20:35:59 | Sarah Hatfield |
| 8 | 2022-09-03 21:24:39 | Jemima Richards |
| 9 | 2022-09-05 19:26:02 | Chloe Cox |
| 10 | 2022-09-03 19:53:22 | Samantha Collett |
| 11 | 2022-09-03 21:35:44 | daniel kelly |
| 12 | 2022-09-02 23:10:37 | Oliver Roberts |
| 13 | 2022-09-03 09:58:09 | Jade Haley |
| 14 | 2022-09-05 15:20:28 | Tara Marks |
| 15 | 2022-09-04 22:24:09 | Hilary robinson |
| 16 | 2022-09-05 19:08:34 | Toni Stone |
| 17 | 2022-09-04 16:40:46 | Rachel Salloway |
| 18 | 2022-09-05 19:26:02 | Chloe Cox |
| 19 | 2022-09-03 19:53:22 | Samantha Collett |
| 20 | 2022-09-03 12:05:23 | Samantha4659 Gunn |
| 21 | 2022-09-05 12:04:22 | Lisa Roberts |
| 22 | 2022-09-02 23:10:37 | Oliver Roberts |
| 23 | 2022-09-05 12:04:22 | Lisa Roberts |
| 24 | 2022-09-01 15:37:15 | Emma Louise |
| 25 | 2022-09-06 06:46:08 | Claire Lou |
| 26 | 2022-09-05 20:30:11 | Sarah Morgan |
| 27 | 2022-09-05 20:43:50 | Julie Cooper |
| 28 | 2022-09-05 19:26:02 | Chloe Cox |
| 29 | 2022-09-05 19:26:02 | Chloe Cox |
| 30 | 2022-09-05 08:45:12 | jan blackler |
| 31 | 2022-09-06 06:46:08 | Claire Lou |
| 32 | 2022-09-06 07:24:39 | Rachel Woodcock |
| 33 | 2022-09-06 07:47:26 | daniel kelly |
| 34 | 2022-09-04 08:48:37 | Melanie Tidridge |
| 35 | 2022-09-06 12:58:54 | Rachel Scott |
| 36 | 2022-09-04 21:32:41 | Jenny King |
| 37 | 2022-09-06 13:58:33 | Kayleigh Jackson |
| 38 | 2022-09-06 06:46:08 | Claire Lou |
| 39 | 2022-09-05 20:27:24 | Mary Moulson |
| 40 | 2022-09-04 22:24:09 | Hilary robinson |
| 41 | 2022-09-02 19:52:11 | Carita Widdicombe |
| 42 | 2022-09-05 21:47:34 | Emily Evans |
| 43 | 2022-09-05 01:18:52 | Kelly George |
| 44 | 2022-09-06 07:39:19 | Kerry NOSWORTHY |
| 45 | 2022-09-06 08:05:29 | Samantha Sedgbeer |
| 46 | 2022-09-06 11:10:03 | Sharon Longbottom |
| 47 | 2022-09-05 21:24:54 | Christine Buckley |
| 48 | 2022-09-06 07:24:39 | Rachel Woodcock |
| 49 | 2022-09-06 06:54:08 | Jennifer Kate |
| 50 | 2022-09-05 19:08:42 | Fiona turnbull |
| 51 | 2022-09-05 11:26:04 | Katie Harrison |
| 52 | 2022-09-05 20:50:08 | Sophie Grimes |
| 53 | 2022-09-06 07:39:19 | Kerry NOSWORTHY |
| 54 | 2022-09-06 04:53:10 | Tara Palk |
| 55 | 2022-09-06 07:27:18 | Sharon marie Williams |
| 56 | 2022-09-05 20:14:42 | Molly Watkins |
| 57 | 2022-09-05 23:34:24 | Emily Rapson |
| 58 | 2022-09-06 14:33:35 | Joseph Clifford |
| 59 | 2022-09-06 13:17:12 | Gemma Syms |
| 60 | 2022-09-06 14:28:34 | Denise Kennedy |
| 61 | 2022-09-06 12:58:54 | Rachel Scott |
| 62 | 2022-09-06 09:33:54 | Cherie Johns |
| 63 | 2022-09-05 21:31:38 | Emma Bray |
| 64 | 2022-09-06 09:17:03 | Raymond Burgess |
| 65 | 2022-09-04 22:24:09 | Hilary robinson |
| 66 | 2022-09-06 12:29:19 | Zoe Walmsley |
| 67 | 2022-09-05 21:24:54 | Christine Buckley |
| 68 | 2022-09-06 09:17:03 | Raymond Burgess |
| 69 | 2022-09-04 17:19:43 | Foghorn Gleghorn |
| 70 | 2022-09-06 04:53:10 | Tara Palk |
| 71 | 2022-09-06 07:12:19 | Riddock Suzanne |
| 72 | 2022-09-05 20:26:45 | Nikki Keetch |
| 73 | 2022-09-05 23:15:32 | Debs A T |
| 74 | 2022-09-06 15:36:54 | Esme Kershaw |
| 75 | 2022-09-05 21:22:20 | Judith Barnett |
| 76 | 2022-09-05 20:13:38 | Mason Hunt |
| 77 | 2022-09-03 21:24:39 | Jemima Richards |
| 78 | 2022-09-05 23:20:11 | Brooke Hunt |
| 79 | 2022-09-06 15:52:35 | Sarah Moran9 |
| 80 | 2022-09-04 19:34:29 | Caitlyn Davies |
| 81 | 2022-09-06 14:10:59 | Shannon Williams |
| 82 | 2022-09-06 12:13:28 | Katie Taylor |
| 83 | 2022-09-06 07:08:53 | Rachel Salloway |
| 84 | 2022-09-05 20:10:26 | Christopher Wannell |
| 85 | 2022-09-06 12:32:42 | Kaylie northcott |
| 86 | 2022-09-06 14:03:14 | D Dixon |
| 87 | 2022-09-06 09:17:03 | Raymond Burgess |
| 88 | 2022-09-06 14:33:35 | Joseph Clifford |
| 89 | 2022-09-04 22:23:12 | Jodie Forrest |
| 90 | 2022-09-06 16:59:18 | Tara Palk |
| 91 | 2022-09-06 13:39:03 | Keith Moore |
| 92 | 2022-09-05 11:10:16 | Deb Jones |
| 93 | 2022-09-05 21:47:34 | Emily Evans |
| 94 | 2022-09-04 22:24:09 | Hilary robinson |
| 95 | 2022-09-06 10:10:11 | Sadie Hughes |
| 96 | 2022-09-02 11:18:13 | Angela Skene |
| 97 | 2022-09-05 23:15:32 | Debs A T |
| 98 | 2022-09-04 22:23:12 | Jodie Forrest |
| 99 | 2022-09-05 19:26:02 | Chloe Cox |
| 100 | 2022-09-05 09:52:17 | Alicia Sandercock |
| 101 | 2022-09-05 20:06:59 | David Forte |
| 102 | 2022-09-06 08:04:27 | Jade Haley |
| 103 | 2022-09-06 16:59:45 | Michelle North |
| 104 | 2022-09-06 11:10:03 | Sharon Longbottom |
| 105 | 2022-09-05 21:43:12 | Helen Cottrell |
| 106 | 2022-09-06 17:52:16 | K W |
| 107 | 2022-09-06 17:35:57 | Lauryn Wiltshire |
| 108 | 2022-09-05 10:36:41 | Gemma Norgate |
| 109 | 2022-09-06 15:30:05 | Kirstie Heyes |
| 110 | 2022-09-06 15:45:45 | Amy Phillips |
| 111 | 2022-09-05 23:15:32 | Debs A T |
| 112 | 2022-09-05 23:20:11 | Brooke Hunt |
| 113 | 2022-09-05 20:27:02 | Emma Daniels |
| 114 | 2022-09-06 16:17:16 | Amy Archer |
| 115 | 2022-09-04 14:53:40 | Vicky Stoddart |
| 116 | 2022-09-06 09:03:33 | Beth Heard |
| 117 | 2022-09-06 14:03:14 | D Dixon |
| 118 | 2022-09-06 17:13:42 | Adam Mason |
| 119 | 2022-09-06 12:31:17 | Ivana Plankova |
| 120 | 2022-09-06 07:12:19 | Riddock Suzanne |
| 121 | 2022-09-05 21:39:54 | Kirsti Reeves |
| 122 | 2022-09-06 13:43:37 | Gemma Lane |
| 123 | 2022-09-05 23:15:32 | Debs A T |
| 124 | 2022-09-06 08:39:41 | Heidi Griffiths |
| 125 | 2022-09-06 09:36:27 | Kerry Packer |
| 126 | 2022-09-06 07:55:10 | Tia potter |
| 127 | 2022-09-06 07:24:39 | Rachel Woodcock |
| 128 | 2022-09-06 09:17:03 | Raymond Burgess |
| 129 | 2022-09-06 18:19:10 | Jasmine Baillie |
| 130 | 2022-09-06 04:53:10 | Tara Palk |
| 131 | 2022-09-06 12:02:16 | Sophie Alltoft |
| 132 | 2022-09-06 14:11:23 | Helen Willis |
| 133 | 2022-09-06 13:05:17 | Jo Butcher |
| 134 | 2022-09-05 19:34:43 | Lauren Gilbert |
| 135 | 2022-09-05 22:19:46 | jeanette rich |
| 136 | 2022-09-06 16:09:29 | David Hart |
| 137 | 2022-09-05 22:04:53 | Daniel Churchill |
| 138 | 2022-09-06 18:37:09 | Jane Clarke |
| 139 | 2022-09-06 16:59:18 | Tara Palk |
| 140 | 2022-09-06 13:26:52 | Courtney Morris |
| 141 | 2022-09-02 19:01:19 | Ben Stocker |
| 142 | 2022-09-06 16:57:32 | Steven Hutchings |
| 143 | 2022-09-06 12:53:55 | Lisa Walker |
| 144 | 2022-09-06 14:03:14 | D Dixon |
| 145 | 2022-09-06 15:56:24 | Tracey Rea |
| 146 | 2022-09-06 13:31:45 | Samantha Sedgbeer |
| 147 | 2022-09-06 02:36:05 | Viv Munslow |
| 148 | 2022-09-06 09:15:40 | Debs Hamilton |
| 149 | 2022-09-06 07:50:51 | Katherine Woolfenden |
| 150 | 2022-09-06 14:27:05 | Hannah Riley |
| 151 | 2022-09-06 16:33:24 | Joanne Poll |
| 152 | 2022-09-06 15:47:21 | Wez Wakelin |
| 153 | 2022-09-05 23:37:35 | Christine Swift |
| 154 | 2022-09-03 21:24:39 | Jemima Richards |
| 155 | 2022-09-05 23:20:11 | Brooke Hunt |
| 156 | 2022-09-06 18:27:41 | Kayleigh Skinner |
| 157 | 2022-09-06 02:24:12 | Emma Northcott |
| 158 | 2022-09-06 03:30:30 | Nicola Hamilton |
| 159 | 2022-09-06 18:09:29 | Jodie ann longbottom |
| 160 | 2022-09-06 13:58:33 | Kayleigh Jackson |
| 161 | 2022-09-06 17:33:48 | Leah Gove |
| 162 | 2022-09-06 16:04:34 | Natasha Parnell |
| 163 | 2022-09-06 16:15:42 | Amy Archer |
| 164 | 2022-09-05 21:25:10 | Gemma Louise Matthews |
| 165 | 2022-09-06 12:25:05 | Samantha Sedgbeer |
| 166 | 2022-09-06 18:05:51 | Paige Jordan |
| 167 | 2022-09-06 12:02:22 | John Sproston |
| 168 | 2022-09-06 09:15:40 | Debs Hamilton |
| 169 | 2022-09-06 16:17:16 | Amy Archer |
| 170 | 2022-09-06 00:34:11 | Tess Clark |
| 171 | 2022-09-05 21:54:14 | Joanne Woodland |
| 172 | 2022-09-04 09:25:15 | Suzette Dodson-Rouse |
| 173 | 2022-09-05 19:02:46 | Kirstyn Carpenter |
| 174 | 2022-09-06 15:12:30 | Jack Hedges |
| 175 | 2022-09-06 04:53:10 | Tara Palk |
| 176 | 2022-09-06 11:11:51 | Julie Heald |
| 177 | 2022-09-06 14:03:14 | D Dixon |
| 178 | 2022-09-05 18:44:43 | Jen Bush |
| 179 | 2022-09-06 16:54:59 | David Lewis |
| 180 | 2022-09-06 16:55:40 | Lucy Barrett |
| 181 | 2022-09-05 06:39:45 | Jodie Southwell |
| 182 | 2022-09-06 17:19:19 | Nicole Stevenson |
| 183 | 2022-09-06 08:20:13 | Clodagh Caulfield |
| 184 | 2022-09-06 16:17:16 | Amy Archer |
| 185 | 2022-09-06 12:29:19 | Zoe Walmsley |
| 186 | 2022-09-06 14:11:23 | Helen Willis |
| 187 | 2022-09-06 09:17:03 | Raymond Burgess |
| 188 | 2022-09-06 00:11:52 | Roxanne Hill |
| 189 | 2022-09-06 12:07:31 | Jodie Ellis |
| 190 | 2022-09-05 19:33:19 | Sean Houlihan |
| 191 | 2022-09-06 16:59:18 | Tara Palk |
| 192 | 2022-09-06 10:57:18 | Marc Jones |
| 193 | 2022-09-06 09:17:03 | Raymond Burgess |
| 194 | 2022-09-05 22:50:56 | Donna Baker |
| 195 | 2022-09-06 14:20:51 | Claire Lee |
| 196 | 2022-09-06 13:39:03 | Keith Moore |
| 197 | 2022-09-06 14:28:34 | Denise Kennedy |
| 198 | 2022-09-03 18:37:35 | Talia Tucker |
| 199 | 2022-09-06 12:02:22 | Karla Bradshaw |
| 200 | 2022-09-06 07:24:39 | Rachel Woodcock |