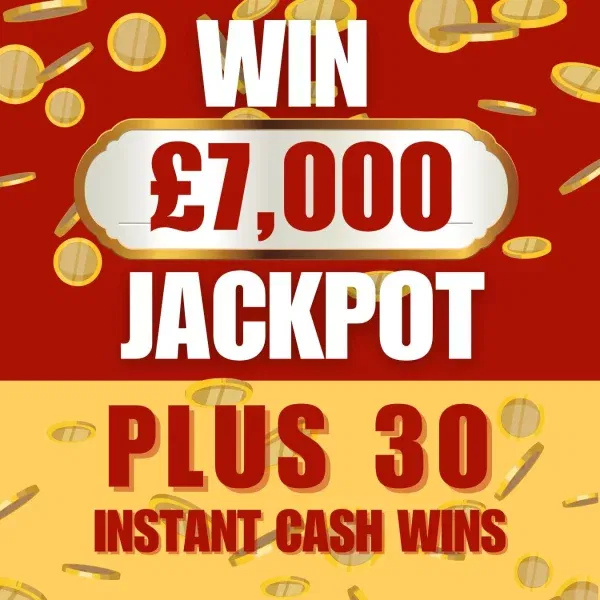 WIN £7,000 JACKPOT PLUS 30 MEGA INSTANT CASH WINS UP FOR GRABS #7
Description
WIN £7,000 JACKPOT PLUS 30 MEGA INSTANT CASH WINS UP FOR GRABS #7
One winner will win £7,000 tax free cash ( everyone will be entered into this, regardless if you win any instant wins!
Simply enter the raffle and you will be randomly allocated your tickets. If your tickets match one of the numbers in the description below, you will win that prize instantly!
Ticket numbers are allocated randomly to every order.
If your ticket number (s) match then you win the prize next to it.
we will contact all instant winners.
Instant Wins
| Ticket | Prize | Winner |
| --- | --- | --- |
| 8 | £500 | R S |
| 373 | £500 | Danielle Hughes |
| 745 | £1000 | Wahida Sussex |
| 952 | £2000 | Anna Feria Marie - Khan's |
| 1869 | £500 | Kirsty Wills |
| 2250 | £500 | |
| 3303 | £500 | Jade Cleland |
| 4804 | £500 | Lewis Bleir |
| 5520 | £1000 | Emma Lou |
| 5959 | £1000 | Chris Brown |
| 6213 | £1500 | Colin Kneeshaw |
| 6666 | £1500 | Chris Carr |
| 6934 | £2000 | |
| 7283 | £500 | Rachael Irvine |
| 7521 | £500 | N Bb |
| 8572 | £500 | Daniel Paddington |
| 8609 | £500 | G W |
| 9032 | £1000 | T P |
| 9154 | £1000 | |
| 9506 | £500 | |
| 10091 | £500 | Darren Mclean |
| 11830 | £1000 | |
| 13778 | £1500 | S D |
| 14900 | £2000 | Martin Pinkney |
| 16794 | £500 | |
| 17751 | £500 | |
| 18196 | £500 | Kiani Pearce |
| 19184 | £1000 | Daniel Paddington |
| 23023 | £1000 | Suzanne Pike |
| 24995 | £1000 | |
| Winner Name | Ticket Number | Draw Date |
| --- | --- | --- |
| Chris Carr | 14664 | 10/11/2023 |
1-1000
1001-2000
2001-3000
3001-4000
4001-5000
5001-6000
6001-7000
7001-8000
8001-9000
9001-10000
10001-11000
11001-12000
12001-13000
13001-14000
14001-15000
15001-16000
16001-17000
17001-18000
18001-19000
19001-20000
20001-21000
21001-22000
22001-23000
23001-24000
24001-25000
| Ticket Number | Date | Name |
| --- | --- | --- |
| 1 | 2023-11-04 14:06:18 | LL BB |
| 2 | 2023-11-10 17:01:48 | Simon Stead |
| 3 | 2023-11-09 16:41:21 | Ferrett Pearson |
| 6 | 2023-11-02 23:05:48 | Natasha Hippolyte |
| 8 | 2023-11-05 07:36:52 | R S |
| 9 | 2023-11-07 14:56:58 | Kerry Westcott |
| 10 | 2023-11-05 16:39:18 | Jeffery Moseley |
| 11 | 2023-11-10 16:37:56 | Julia Barrett |
| 13 | 2023-11-10 18:41:06 | Amie Goodchild |
| 14 | 2023-11-10 17:27:27 | Bex. L. |
| 16 | 2023-11-10 17:29:29 | Amy Hardware |
| 17 | 2023-11-09 23:39:12 | Stacey Dymond |
| 19 | 2023-11-08 18:01:52 | Jessica Pellens |
| 20 | 2023-11-05 18:44:34 | Jeffery Moseley |
| 21 | 2023-11-03 13:58:21 | Martin Pinkney |
| 22 | 2023-11-02 15:22:36 | Sharon White |
| 23 | 2023-11-05 07:25:34 | T S |
| 27 | 2023-11-10 17:03:48 | Jade Ballard |
| 28 | 2023-11-10 15:01:42 | Thomas Mcbride |
| 29 | 2023-11-10 20:27:03 | Clair Squire |
| 30 | 2023-11-10 19:12:52 | Caroline Solly |
| 31 | 2023-11-06 22:25:28 | ZW D |
| 32 | 2023-11-07 20:37:32 | Jessica Pellens |
| 33 | 2023-11-09 21:59:34 | Natalie Carey |
| 34 | 2023-11-01 19:10:29 | Donna U |
| 35 | 2023-11-01 14:36:16 | Jade Brown |
| 36 | 2023-11-09 09:00:32 | Jessica Pellens |
| 37 | 2023-11-10 16:55:57 | Rachel Brewer |
| 38 | 2023-11-10 16:52:55 | Rachel Brewer |
| 41 | 2023-11-10 19:27:16 | Victoria Bishop |
| 42 | 2023-11-10 14:20:41 | Sarah Caunter |
| 44 | 2023-11-01 22:26:47 | T P |
| 46 | 2023-11-02 12:14:44 | Samuel Wannell |
| 47 | 2023-11-10 18:58:42 | Tara Enticknap |
| 48 | 2023-11-10 13:46:10 | Karla Bradshaw |
| 49 | 2023-11-09 14:43:56 | Megan Fletcher |
| 50 | 2023-11-09 23:40:00 | Stacey Dymond |
| 51 | 2023-11-10 20:38:49 | Danielle Bagley |
| 52 | 2023-11-07 23:24:05 | S JR |
| 53 | 2023-11-10 15:48:06 | Stacey Bell |
| 56 | 2023-11-10 20:56:07 | Emma Hedge |
| 57 | 2023-11-01 22:30:50 | G W |
| 58 | 2023-11-10 19:14:25 | Lauren Hodgson |
| 59 | 2023-11-10 20:43:30 | Ellie Brown |
| 61 | 2023-11-10 19:55:57 | Rusheena Leslie |
| 63 | 2023-11-09 21:52:23 | Matthew Sercombe |
| 64 | 2023-11-10 19:31:16 | Chris Carr |
| 65 | 2023-11-01 14:28:19 | Jess Shephard |
| 66 | 2023-11-01 22:53:29 | H T |
| 67 | 2023-11-10 13:40:47 | Darren Williamson |
| 68 | 2023-11-10 06:26:56 | Amy Hardware |
| 69 | 2023-11-01 21:52:04 | Tia Potter |
| 70 | 2023-11-10 10:53:56 | Martin Sercombe |
| 72 | 2023-11-03 09:43:27 | Jessica Pellens |
| 73 | 2023-11-10 17:20:24 | Roxanne Frayne |
| 74 | 2023-11-10 20:24:18 | C C |
| 75 | 2023-11-10 16:44:58 | Kayleigh Carr |
| 76 | 2023-11-10 18:36:48 | Elizabeth Stevens |
| 77 | 2023-11-10 19:34:37 | Emma Lou |
| 78 | 2023-11-01 20:48:12 | Bonita Grech |
| 79 | 2023-11-10 03:25:25 | LL BB |
| 81 | 2023-11-10 20:40:49 | Lisa Roberts |
| 82 | 2023-11-10 19:38:51 | R S |
| 83 | 2023-11-10 16:42:44 | Darren Mclean |
| 84 | 2023-11-10 20:21:17 | Kirsty L gates |
| 85 | 2023-11-10 13:57:48 | Darren Mclean |
| 88 | 2023-11-06 21:56:31 | Emma Lou |
| 90 | 2023-11-06 22:45:49 | Z D |
| 91 | 2023-11-10 21:06:45 | Emma & lee |
| 92 | 2023-11-10 20:11:38 | Gary Morrish |
| 94 | 2023-11-10 12:05:18 | Toni Walker-Cox |
| 95 | 2023-11-10 17:22:13 | Olivia Patchett |
| 98 | 2023-11-10 20:39:11 | Tracy Bennett |
| 99 | 2023-11-05 22:38:43 | Jeffery Moseley |
| 100 | 2023-11-10 18:22:39 | Olivia Taylor |
| 101 | 2023-11-07 19:37:40 | Nicola pugh |
| 102 | 2023-11-10 17:44:44 | Jo Pennington |
| 107 | 2023-11-10 15:05:13 | Jamail Akhtar |
| 109 | 2023-11-10 20:23:03 | Jodie Longbottom |
| 110 | 2023-11-10 11:48:20 | Anna Feria Marie - Khan's |
| 114 | 2023-11-10 16:09:31 | Iain Thomas |
| 115 | 2023-11-02 20:10:05 | Emma Lou |
| 118 | 2023-11-10 16:05:57 | Kayleigh Gibbons |
| 120 | 2023-11-09 15:18:08 | Jade Cleland |
| 121 | 2023-11-09 13:14:46 | Jason Thorne |
| 122 | 2023-11-10 20:49:14 | Katie nichols |
| 123 | 2023-11-09 23:38:20 | Stacey Dymond |
| 124 | 2023-11-09 22:08:42 | Kayleigh Garrett |
| 125 | 2023-11-10 14:43:52 | Kayleigh Carr |
| 127 | 2023-11-07 20:05:18 | Sarah Box |
| 128 | 2023-11-10 18:24:40 | Grant Lee |
| 129 | 2023-11-03 13:55:11 | Martin Pinkney |
| 130 | 2023-11-10 10:57:01 | Koz Ann |
| 131 | 2023-11-10 20:14:34 | Clair mcculloch |
| 132 | 2023-11-10 19:38:46 | Nicola Naylor |
| 135 | 2023-11-10 19:50:54 | Laura Roche |
| 137 | 2023-11-01 22:24:10 | T P |
| 138 | 2023-11-01 14:30:55 | Casey Brown |
| 139 | 2023-11-10 03:33:23 | Bethany Neeson |
| 140 | 2023-11-10 20:06:07 | JAMES CLINTON |
| 141 | 2023-11-03 19:06:39 | Sarah Snell |
| 142 | 2023-11-10 19:44:18 | Chloe Cox |
| 143 | 2023-11-09 15:57:53 | M P |
| 144 | 2023-11-01 23:22:00 | ZW D |
| 145 | 2023-11-07 21:13:40 | Han L |
| 146 | 2023-11-08 08:19:44 | D T |
| 148 | 2023-11-10 13:48:41 | Stephanie Mccandless |
| 149 | 2023-11-05 16:04:06 | Emma P |
| 150 | 2023-11-07 15:01:01 | Kerry Westcott |
| 151 | 2023-11-09 17:27:50 | Megan Fletcher |
| 152 | 2023-11-01 14:25:19 | Scott Palfrey |
| 153 | 2023-11-10 16:00:56 | Andrew Gillen |
| 154 | 2023-11-05 07:24:17 | T S |
| 156 | 2023-11-09 22:26:12 | Louise White |
| 157 | 2023-11-01 23:02:38 | H TE |
| 158 | 2023-11-09 10:59:59 | R S |
| 160 | 2023-11-10 20:32:06 | James Mathewson |
| 162 | 2023-11-10 10:57:01 | Koz Ann |
| 163 | 2023-11-10 21:10:58 | Casey Brown |
| 164 | 2023-11-10 12:51:02 | Kerry Westcott |
| 166 | 2023-11-10 16:00:56 | Andrew Gillen |
| 167 | 2023-11-10 20:35:45 | Lynda Mackenzie |
| 168 | 2023-11-10 17:16:28 | Nicola Hamilton |
| 169 | 2023-11-10 20:25:05 | Lynda Mackenzie |
| 170 | 2023-11-10 03:16:32 | Amanda Gerry-O'Connor |
| 171 | 2023-11-10 18:32:48 | Sean Farr |
| 172 | 2023-11-10 17:29:31 | Shane Daniell |
| 173 | 2023-11-01 23:10:51 | H T |
| 174 | 2023-11-10 18:37:50 | Danni Laffey |
| 176 | 2023-11-10 19:54:36 | Jonny Boy |
| 177 | 2023-11-10 09:16:13 | Jemma Trevelyan |
| 178 | 2023-11-09 23:10:30 | Lee Williams |
| 179 | 2023-11-03 13:53:32 | Martin Pinkney |
| 181 | 2023-11-07 20:30:34 | Jessica Pellens |
| 182 | 2023-11-07 01:25:53 | E L |
| 183 | 2023-11-10 21:08:24 | Emma & lee |
| 184 | 2023-11-10 14:43:58 | A.T W. |
| 185 | 2023-11-09 23:06:52 | Lee Williams |
| 186 | 2023-11-10 19:11:28 | Lee Rae |
| 187 | 2023-11-07 11:23:51 | Shari richards |
| 188 | 2023-11-10 20:50:55 | Sarah Biggs |
| 189 | 2023-11-01 22:49:13 | H T |
| 190 | 2023-11-10 16:38:43 | Iain Thomas |
| 191 | 2023-11-02 11:57:02 | k. b |
| 192 | 2023-11-10 06:01:15 | Charlene Crawford |
| 193 | 2023-11-04 04:52:57 | Mike Furness |
| 195 | 2023-11-10 17:31:33 | Laura Ware |
| 196 | 2023-11-10 20:54:12 | richard williams |
| 197 | 2023-11-10 05:47:04 | Gail. Gilbert. |
| 198 | 2023-11-04 04:54:57 | Mike Furness |
| 199 | 2023-11-10 11:46:40 | Anna Feria Marie - Khan's |
| 200 | 2023-11-10 18:39:21 | laura Jenkins |
| 201 | 2023-11-05 07:25:34 | T S |
| 203 | 2023-11-10 19:23:32 | Joanna Taylor |
| 204 | 2023-11-10 20:44:47 | D H |
| 205 | 2023-11-10 03:22:49 | Bethany Neeson |
| 207 | 2023-11-06 21:38:20 | LL BB |
| 208 | 2023-11-10 19:14:52 | Tyler Holmes |
| 209 | 2023-11-06 02:01:05 | Jade Cleland |
| 210 | 2023-11-10 10:49:56 | Billie Macdonald |
| 211 | 2023-11-10 14:24:54 | Leanne Pearce |
| 213 | 2023-11-07 14:58:26 | Kerry Westcott |
| 214 | 2023-11-01 18:18:42 | Farrnoosh Worden |
| 215 | 2023-11-10 19:23:57 | Mark Lowe |
| 216 | 2023-11-03 22:06:29 | T S |
| 217 | 2023-11-10 20:10:21 | Louise Maddocks |
| 218 | 2023-11-10 01:50:30 | Cheryl Lang |
| 219 | 2023-11-01 15:04:39 | Aidan Mclean |
| 221 | 2023-11-10 19:59:46 | Keith King |
| 222 | 2023-11-01 23:02:38 | H TE |
| 223 | 2023-11-06 20:30:47 | Michael Clark |
| 225 | 2023-11-02 02:32:32 | Jade Cleland |
| 228 | 2023-11-10 12:03:11 | Tina Cox |
| 229 | 2023-11-10 10:34:18 | Slater Chidgey |
| 230 | 2023-11-10 20:42:43 | Maja Smith |
| 231 | 2023-11-06 21:34:44 | LL BB |
| 232 | 2023-11-10 21:09:19 | Casey Brown |
| 233 | 2023-11-09 15:52:19 | M P |
| 234 | 2023-11-01 14:27:16 | Maddie Jefferies |
| 235 | 2023-11-10 19:13:14 | Emma & lee |
| 236 | 2023-11-09 07:14:03 | Julie Woodmore |
| 237 | 2023-11-10 12:46:19 | Zaneta Jezewska |
| 238 | 2023-11-10 06:52:39 | Jodie Jodie |
| 243 | 2023-11-06 15:11:34 | Jessica Pellens |
| 245 | 2023-11-10 16:46:46 | Dean Brown |
| 246 | 2023-11-10 13:47:03 | Hannah Jones |
| 247 | 2023-11-10 17:42:25 | David Minns |
| 248 | 2023-11-05 18:44:34 | Jeffery Moseley |
| 249 | 2023-11-01 19:10:29 | Donna U |
| 250 | 2023-11-10 20:52:38 | Katie Channing |
| 251 | 2023-11-10 16:37:43 | Kathryn Hills |
| 252 | 2023-11-06 22:25:28 | ZW D |
| 254 | 2023-11-03 18:18:09 | Mike Furness |
| 255 | 2023-11-10 16:31:09 | Iain Thomas |
| 256 | 2023-11-05 07:35:25 | Karolina Moore |
| 257 | 2023-11-09 21:50:57 | Aaron Darby |
| 259 | 2023-11-02 12:14:44 | Samuel Wannell |
| 260 | 2023-11-10 16:49:28 | Kathleen Starling |
| 261 | 2023-11-10 18:48:58 | Marcus Trott |
| 262 | 2023-11-07 15:01:01 | Kerry Westcott |
| 263 | 2023-11-01 22:57:37 | H T |
| 264 | 2023-11-10 14:18:13 | Debbie Shore |
| 265 | 2023-11-05 11:29:11 | Nicola Brown |
| 266 | 2023-11-04 08:47:04 | Samuel Wannell |
| 267 | 2023-11-10 16:45:36 | Sam Grinnol |
| 268 | 2023-11-04 04:49:59 | Mike Furness |
| 269 | 2023-11-10 16:39:28 | Chaz P J |
| 270 | 2023-11-02 02:31:01 | Jade Cleland |
| 271 | 2023-11-09 22:09:39 | Jeanette Anderson |
| 272 | 2023-11-10 09:47:16 | Wayne Morgan |
| 273 | 2023-11-08 07:18:06 | Shari richards |
| 274 | 2023-11-10 20:38:22 | anthony corness |
| 275 | 2023-11-10 20:11:12 | Tamsin PS |
| 276 | 2023-11-10 20:19:32 | Paul Delaney |
| 277 | 2023-11-10 10:15:46 | Cahli Dodd |
| 278 | 2023-11-10 20:53:22 | Danielle Crookall |
| 280 | 2023-11-10 20:02:33 | Alex Richardson |
| 281 | 2023-11-10 20:07:11 | Martin Sercombe |
| 282 | 2023-11-10 18:27:11 | Liam Chard-maple |
| 283 | 2023-11-09 23:42:55 | Stacey Dymond |
| 286 | 2023-11-10 19:14:52 | Tyler Holmes |
| 287 | 2023-11-02 19:45:44 | SF 3 |
| 288 | 2023-11-02 12:52:39 | Emma White |
| 289 | 2023-11-09 18:23:55 | Clare Jackson |
| 290 | 2023-11-01 18:59:52 | S JR |
| 291 | 2023-11-10 20:58:34 | Chris Carr |
| 292 | 2023-11-09 21:48:43 | Charlie Liley |
| 293 | 2023-11-10 15:55:47 | Lauren Jeffery |
| 294 | 2023-11-10 19:04:20 | Tyler Holmes |
| 295 | 2023-11-09 23:42:07 | Stacey Dymond |
| 296 | 2023-11-10 20:01:52 | Debbie jessup |
| 298 | 2023-11-10 21:05:07 | Danielle Hughes |
| 299 | 2023-11-09 10:22:26 | Nicola Brown |
| 300 | 2023-11-08 14:28:40 | Nicola Brown |
| 301 | 2023-11-09 09:28:21 | Han L |
| 302 | 2023-11-10 16:18:36 | Iain Thomas |
| 303 | 2023-11-09 11:26:08 | Jade Cleland |
| 304 | 2023-11-10 20:26:09 | Lisa Brown |
| 306 | 2023-11-10 16:48:30 | Gina Winter |
| 307 | 2023-11-07 18:50:02 | S JR |
| 309 | 2023-11-10 19:28:54 | James Yearling |
| 310 | 2023-11-10 16:14:40 | Iain Thomas |
| 311 | 2023-11-10 17:27:27 | Bex. L. |
| 312 | 2023-11-02 12:14:44 | Samuel Wannell |
| 313 | 2023-11-10 03:16:32 | Amanda Gerry-O'Connor |
| 315 | 2023-11-03 19:08:58 | Sarah Snell |
| 316 | 2023-11-10 16:42:47 | James Mathewson |
| 317 | 2023-11-10 20:01:09 | Jessica Roxanne |
| 318 | 2023-11-10 13:12:52 | Amy Daniel |
| 319 | 2023-11-10 20:10:02 | Amina Allsop |
| 320 | 2023-11-10 19:59:13 | Emily Deeley |
| 322 | 2023-11-04 08:47:04 | Samuel Wannell |
| 323 | 2023-11-10 03:51:12 | Amanda Gerry-O'Connor |
| 324 | 2023-11-10 17:45:36 | Melissa Pryce |
| 325 | 2023-11-10 19:09:52 | Joanne Conway |
| 326 | 2023-11-10 20:44:50 | David Smith |
| 327 | 2023-11-10 18:06:28 | Heather Jenkins |
| 330 | 2023-11-02 00:19:21 | Chloe W |
| 332 | 2023-11-01 22:18:50 | G W |
| 334 | 2023-11-10 06:10:03 | Jo Pennington |
| 335 | 2023-11-01 14:26:31 | Lauren Gillard |
| 336 | 2023-11-01 16:29:29 | Charlie Georgina |
| 338 | 2023-11-10 15:46:14 | A.T W. |
| 339 | 2023-11-10 19:40:40 | Holly Ring |
| 341 | 2023-11-10 17:29:29 | Amy Hardware |
| 342 | 2023-11-10 20:12:07 | James Rossi Nicholas |
| 343 | 2023-11-05 06:52:48 | Jade Cleland |
| 344 | 2023-11-01 17:24:21 | Jade Cleland |
| 345 | 2023-11-01 23:16:11 | ZW D |
| 347 | 2023-11-10 19:36:33 | T W |
| 348 | 2023-11-10 17:55:11 | Demi Broome |
| 350 | 2023-11-01 19:17:51 | barbara warne |
| 351 | 2023-11-10 13:25:37 | Jem V |
| 353 | 2023-11-10 16:53:49 | Mr Egon Longish |
| 354 | 2023-11-10 20:27:51 | Lynda Mackenzie |
| 355 | 2023-11-10 16:15:59 | Iain Thomas |
| 356 | 2023-11-10 19:54:12 | Michael King |
| 357 | 2023-11-03 07:49:27 | Jeanette Anderson |
| 358 | 2023-11-10 14:52:48 | Sophie White |
| 359 | 2023-11-10 03:18:26 | Bethany Neeson |
| 362 | 2023-11-10 16:09:31 | Iain Thomas |
| 364 | 2023-11-03 18:19:41 | Mike Furness |
| 366 | 2023-11-01 19:32:06 | Donna U |
| 368 | 2023-11-09 07:14:03 | Julie Woodmore |
| 369 | 2023-11-10 19:12:06 | Amy C |
| 371 | 2023-11-10 19:08:24 | Tyler Holmes |
| 372 | 2023-11-10 19:54:03 | Diane Rainbird |
| 373 | 2023-11-10 20:55:49 | Danielle Hughes |
| 375 | 2023-11-10 19:27:16 | Victoria Bishop |
| 376 | 2023-11-10 20:28:00 | Marc Rowson |
| 377 | 2023-11-10 21:09:03 | Anthony Heardson |
| 378 | 2023-11-10 16:40:37 | Karen Duncanson |
| 380 | 2023-11-08 13:40:30 | D T |
| 381 | 2023-11-10 20:30:25 | michael Kennedy |
| 383 | 2023-11-03 09:39:06 | S JR |
| 386 | 2023-11-02 10:03:14 | Casey Brown |
| 387 | 2023-11-04 20:28:38 | E L |
| 388 | 2023-11-10 18:44:42 | Emma P |
| 389 | 2023-11-06 22:34:00 | Z D |
| 391 | 2023-11-04 04:54:57 | Mike Furness |
| 392 | 2023-11-01 15:12:05 | Michelle Power |
| 393 | 2023-11-10 10:57:01 | Koz Ann |
| 394 | 2023-11-09 10:59:59 | R S |
| 395 | 2023-11-10 19:17:01 | Chris Carr |
| 396 | 2023-11-09 22:44:06 | Elise Williams |
| 397 | 2023-11-01 19:10:29 | Donna U |
| 398 | 2023-11-10 18:49:56 | Chloe Walker |
| 400 | 2023-11-04 07:52:33 | Samuel Wannell |
| 401 | 2023-11-10 19:22:00 | Maria Morrow |
| 402 | 2023-11-10 17:37:47 | Amy Hardware |
| 404 | 2023-11-10 07:14:47 | Meigan Hepburn |
| 407 | 2023-11-02 15:15:25 | Richard Wharton |
| 408 | 2023-11-10 03:17:31 | Amanda Gerry-O'Connor |
| 409 | 2023-11-09 20:30:23 | Louise Steer |
| 410 | 2023-11-02 19:45:44 | SF 3 |
| 411 | 2023-11-02 11:57:02 | k. b |
| 412 | 2023-11-10 12:51:42 | Stacey David |
| 413 | 2023-11-10 19:27:38 | Anna Hart |
| 414 | 2023-11-10 20:12:13 | Martin Sercombe |
| 415 | 2023-11-07 01:25:53 | E L |
| 416 | 2023-11-10 17:48:18 | Darren Mclean |
| 420 | 2023-11-09 10:27:31 | Emma Lou |
| 421 | 2023-11-05 18:00:36 | Emma P |
| 422 | 2023-11-02 11:50:38 | Samuel Wannell |
| 423 | 2023-11-06 22:34:00 | Z D |
| 424 | 2023-11-02 11:50:38 | Samuel Wannell |
| 425 | 2023-11-09 17:17:04 | Diana Greensmith |
| 426 | 2023-11-10 17:59:47 | Kim White |
| 427 | 2023-11-10 20:25:52 | Darryl Nichols |
| 429 | 2023-11-10 19:53:33 | Jo Carrielies |
| 431 | 2023-11-10 20:05:45 | A.T W. |
| 432 | 2023-11-10 13:46:02 | Wendy Phillips |
| 433 | 2023-11-10 20:04:12 | Michelle Searles |
| 434 | 2023-11-02 11:48:25 | T S |
| 435 | 2023-11-04 04:52:57 | Mike Furness |
| 436 | 2023-11-10 20:52:59 | Rebecca Binmore |
| 437 | 2023-11-02 23:04:47 | Stacey Bell |
| 438 | 2023-11-02 22:04:25 | Christine Swift |
| 442 | 2023-11-02 12:14:44 | Samuel Wannell |
| 443 | 2023-11-10 12:28:08 | Mandy Cove |
| 444 | 2023-11-05 22:38:43 | Jeffery Moseley |
| 445 | 2023-11-10 19:35:22 | Jennay Murray |
| 446 | 2023-11-10 16:42:44 | Darren Mclean |
| 447 | 2023-11-10 01:35:42 | Amanda Gerry-O'Connor |
| 448 | 2023-11-01 20:19:41 | Cez S |
| 449 | 2023-11-10 19:34:22 | Sian Stead |
| 450 | 2023-11-10 11:26:33 | Donna Western |
| 451 | 2023-11-10 20:47:48 | Chris Carr |
| 452 | 2023-11-08 07:18:06 | Shari richards |
| 453 | 2023-11-01 22:15:07 | Natasha Mason |
| 455 | 2023-11-02 19:30:05 | T S |
| 456 | 2023-11-07 01:32:28 | E L |
| 457 | 2023-11-01 22:36:10 | T P |
| 460 | 2023-11-10 16:33:33 | Iain Thomas |
| 461 | 2023-11-02 09:56:22 | S JR |
| 462 | 2023-11-10 10:52:21 | Koz Ann |
| 463 | 2023-11-10 19:56:17 | Ryan Blight |
| 464 | 2023-11-05 23:45:46 | R M |
| 467 | 2023-11-10 19:18:06 | Claire Hockings |
| 468 | 2023-11-02 08:54:58 | Emma Lou |
| 470 | 2023-11-09 15:55:27 | M P |
| 471 | 2023-11-01 22:43:13 | T P |
| 472 | 2023-11-10 20:54:09 | Chloe Collins |
| 474 | 2023-11-10 19:09:51 | Emily Cobb |
| 476 | 2023-11-10 16:00:50 | Katherine Ferris |
| 477 | 2023-11-04 14:06:18 | LL BB |
| 479 | 2023-11-10 15:54:42 | Helen Dent |
| 480 | 2023-11-07 01:32:28 | E L |
| 481 | 2023-11-10 01:36:39 | Amanda Gerry-O'Connor |
| 484 | 2023-11-10 02:38:05 | Stacy Hutchings |
| 485 | 2023-11-10 20:26:01 | S D |
| 486 | 2023-11-03 21:58:31 | Sophie Rees |
| 487 | 2023-11-09 15:55:27 | M P |
| 488 | 2023-11-10 14:53:37 | Lynda Mackenzie |
| 489 | 2023-11-10 20:00:00 | cundy Sophie |
| 490 | 2023-11-10 20:05:43 | Brian Salmon |
| 493 | 2023-11-10 11:48:20 | Anna Feria Marie - Khan's |
| 494 | 2023-11-10 09:28:32 | Lauren Walker |
| 495 | 2023-11-10 18:10:59 | Louise Maddocks |
| 496 | 2023-11-07 19:43:15 | A.T W. |
| 497 | 2023-11-10 16:14:40 | Iain Thomas |
| 498 | 2023-11-10 12:55:16 | Lee Jarrett |
| 499 | 2023-11-07 19:06:43 | Michael Clark |
| 500 | 2023-11-09 17:19:53 | Jade Cleland |
| 502 | 2023-11-10 12:17:11 | Matthew Pile |
| 503 | 2023-11-04 10:28:54 | Katrina OConnor |
| 504 | 2023-11-10 19:33:52 | Jennay Murray |
| 505 | 2023-11-02 11:57:49 | Samuel Wannell |
| 506 | 2023-11-10 13:58:52 | Zoe Bowden |
| 507 | 2023-11-09 21:39:24 | gayle willis |
| 508 | 2023-11-07 20:05:18 | Sarah Box |
| 509 | 2023-11-01 19:14:57 | Donna U |
| 510 | 2023-11-10 16:54:10 | Sarah Brickland |
| 511 | 2023-11-10 12:27:42 | Louise Williams |
| 513 | 2023-11-09 21:52:23 | Matthew Sercombe |
| 514 | 2023-11-10 17:48:18 | Darren Mclean |
| 515 | 2023-11-10 07:11:55 | Rebecca Brewer |
| 516 | 2023-11-01 22:24:10 | T P |
| 518 | 2023-11-10 19:12:57 | Scott Mills |
| 519 | 2023-11-10 03:04:09 | Bethany Neeson |
| 521 | 2023-11-02 10:01:52 | Casey Brown |
| 522 | 2023-11-10 20:37:31 | Danielle Bagley |
| 523 | 2023-11-09 10:59:59 | R S |
| 524 | 2023-11-07 01:25:53 | E L |
| 525 | 2023-11-10 18:07:51 | Ann Hall |
| 526 | 2023-11-10 19:54:11 | Michelle Hoare |
| 527 | 2023-11-10 16:48:30 | Gina Winter |
| 528 | 2023-11-05 07:24:17 | T S |
| 529 | 2023-11-10 14:22:16 | Natasha Mason |
| 530 | 2023-11-01 23:22:00 | ZW D |
| 531 | 2023-11-10 20:20:00 | Karen Duncanson |
| 532 | 2023-11-10 18:58:29 | barbara warne |
| 533 | 2023-11-10 18:18:58 | Emma Ormrod |
| 534 | 2023-11-01 23:10:51 | H T |
| 535 | 2023-11-10 20:07:45 | Emma Lane |
| 536 | 2023-11-04 04:49:59 | Mike Furness |
| 537 | 2023-11-06 19:35:47 | Chloe W |
| 538 | 2023-11-10 17:14:10 | Ray Burgess |
| 539 | 2023-11-10 20:03:50 | Alannah Gornall |
| 540 | 2023-11-10 17:20:24 | Roxanne Frayne |
| 541 | 2023-11-10 12:34:28 | Dorota Wieczorek |
| 543 | 2023-11-10 17:20:10 | Sarah Deakin |
| 544 | 2023-11-05 07:22:17 | T S |
| 545 | 2023-11-10 19:25:56 | CLARE GAY |
| 546 | 2023-11-03 17:01:28 | Emma Lou |
| 548 | 2023-11-10 18:49:56 | Dyane Baden-Moore |
| 549 | 2023-11-08 15:26:38 | Jessica Pellens |
| 550 | 2023-11-05 19:51:27 | Lynsey Sinanaj |
| 551 | 2023-11-01 19:10:29 | Donna U |
| 552 | 2023-11-05 16:50:01 | Emma P |
| 553 | 2023-11-10 19:19:54 | Helen Taylor |
| 554 | 2023-11-10 16:42:44 | Darren Mclean |
| 555 | 2023-11-03 19:08:58 | Sarah Snell |
| 556 | 2023-11-03 12:32:27 | Ruby Brown |
| 557 | 2023-11-10 20:25:05 | Conner Davey |
| 558 | 2023-11-02 19:44:28 | SF 3 |
| 559 | 2023-11-10 20:18:00 | Molly Workman |
| 560 | 2023-11-10 09:21:02 | Lisa Clark |
| 561 | 2023-11-01 14:42:39 | Esme Kershaw |
| 562 | 2023-11-10 16:38:43 | Iain Thomas |
| 563 | 2023-11-07 15:46:56 | LL BB |
| 565 | 2023-11-10 17:45:55 | Daniela Hawkins |
| 566 | 2023-11-10 18:40:57 | zac smith |
| 567 | 2023-11-08 07:40:47 | Jade Rogers |
| 568 | 2023-11-10 18:39:24 | Steve Bridges |
| 569 | 2023-11-07 12:41:47 | D T |
| 570 | 2023-11-10 19:02:21 | Siobhan Clifford |
| 571 | 2023-11-05 18:10:05 | Marie Sandford |
| 572 | 2023-11-09 17:46:57 | Jade Cleland |
| 573 | 2023-11-09 23:58:02 | Jodie Ellis |
| 574 | 2023-11-10 18:05:40 | Jane Coates |
| 575 | 2023-11-06 22:34:00 | Z D |
| 576 | 2023-11-10 18:56:44 | Lisa Burgess |
| 577 | 2023-11-09 21:42:29 | Jeffery Moseley |
| 578 | 2023-11-10 18:57:05 | Lesley Fletcher |
| 579 | 2023-11-10 19:29:46 | ML 73 |
| 580 | 2023-11-10 21:11:15 | Teri Pannell |
| 582 | 2023-11-01 14:29:25 | A.T W. |
| 583 | 2023-11-10 20:26:03 | Louise Hooper |
| 584 | 2023-11-02 16:27:22 | Emma & lee |
| 585 | 2023-11-10 18:15:14 | Pat Turner |
| 587 | 2023-11-10 19:28:27 | Phillip Drew |
| 588 | 2023-11-10 20:59:23 | Danielle Kinsella |
| 589 | 2023-11-10 20:21:23 | Jenny King |
| 590 | 2023-11-10 19:02:14 | Wahida Sussex |
| 591 | 2023-11-01 22:30:40 | T P |
| 592 | 2023-11-10 10:37:03 | Lisa-Marie Newbery |
| 593 | 2023-11-10 10:41:05 | Suzi Gooding |
| 595 | 2023-11-10 20:48:41 | Lucy Hobbs |
| 596 | 2023-11-01 22:49:13 | H T |
| 598 | 2023-11-10 17:27:27 | Bex. L. |
| 599 | 2023-11-02 16:34:57 | Samuel Wannell |
| 600 | 2023-11-10 16:44:33 | Maxine Williams |
| 601 | 2023-11-10 18:09:28 | Kayleigh Garrett |
| 602 | 2023-11-10 16:54:43 | Kylie Aveyard |
| 603 | 2023-11-04 04:56:17 | Mike Furness |
| 605 | 2023-11-10 19:45:25 | Jennie Barnard |
| 607 | 2023-11-10 16:33:33 | Iain Thomas |
| 609 | 2023-11-10 17:45:20 | Daniela Kumanichlieva |
| 611 | 2023-11-10 19:41:53 | R S |
| 614 | 2023-11-10 19:28:01 | Kaili Osborn |
| 615 | 2023-11-09 11:27:57 | Jade Cleland |
| 616 | 2023-11-10 19:08:24 | Tyler Holmes |
| 617 | 2023-11-10 20:48:22 | April Parkyn |
| 618 | 2023-11-01 20:44:01 | S JR |
| 619 | 2023-11-10 19:48:44 | Bex Dimmick |
| 620 | 2023-11-10 20:17:12 | Gemma Horn |
| 622 | 2023-11-10 18:12:13 | Chloe Torabi |
| 624 | 2023-11-04 07:52:33 | Samuel Wannell |
| 625 | 2023-11-08 21:41:58 | Louise Williams |
| 630 | 2023-11-10 16:41:25 | Shari richards |
| 631 | 2023-11-09 21:41:48 | Jodie Longbottom |
| 633 | 2023-11-07 15:18:08 | Beth Harvey |
| 634 | 2023-11-10 20:26:01 | S D |
| 636 | 2023-11-10 16:41:46 | Gemma Milnes |
| 637 | 2023-11-09 22:26:37 | Gail. Gilbert. |
| 639 | 2023-11-10 16:58:06 | Rachel richļ |
| 640 | 2023-11-03 01:37:48 | D T |
| 641 | 2023-11-09 14:42:31 | Megan Fletcher |
| 642 | 2023-11-04 04:56:58 | Jessica Pellens |
| 643 | 2023-11-10 17:58:00 | Kelly Johnson |
| 644 | 2023-11-02 13:45:58 | Brogan Sandercock |
| 645 | 2023-11-10 16:15:59 | Iain Thomas |
| 646 | 2023-11-08 18:23:24 | Jessica Pellens |
| 647 | 2023-11-10 11:19:48 | richard williams |
| 648 | 2023-11-05 16:51:37 | Jeffery Moseley |
| 649 | 2023-11-07 01:32:28 | E L |
| 651 | 2023-11-02 19:12:06 | Bonita Grech |
| 652 | 2023-11-09 17:17:04 | Diana Greensmith |
| 653 | 2023-11-07 01:25:53 | E L |
| 654 | 2023-11-10 08:11:06 | Jasmine Pitts |
| 655 | 2023-11-04 23:37:37 | S JR |
| 656 | 2023-11-10 21:04:15 | Danielle Kelly |
| 657 | 2023-11-01 14:55:38 | Samantha Wilding |
| 659 | 2023-11-09 08:57:32 | Jessica Pellens |
| 661 | 2023-11-10 19:24:39 | Shelly Eames-Doddrell |
| 662 | 2023-11-01 22:43:13 | T P |
| 663 | 2023-11-10 15:32:03 | Jack Wonnacott |
| 664 | 2023-11-10 12:59:31 | Matthew Sercombe |
| 665 | 2023-11-10 18:56:44 | Lisa Burgess |
| 666 | 2023-11-10 16:13:00 | Iain Thomas |
| 667 | 2023-11-10 19:46:23 | Kylie Aveyard |
| 668 | 2023-11-10 15:48:14 | Laura Ware |
| 669 | 2023-11-10 20:48:41 | Lucy Hobbs |
| 670 | 2023-11-09 21:46:49 | Keshia Jameson |
| 671 | 2023-11-04 10:24:24 | E L |
| 672 | 2023-11-09 22:40:23 | Helen Beer |
| 674 | 2023-11-10 09:56:46 | Liam Chard-maple |
| 675 | 2023-11-10 15:40:47 | Pippa Humphris |
| 676 | 2023-11-10 21:05:41 | Lynda Mackenzie |
| 677 | 2023-11-02 00:15:47 | Chloe W |
| 678 | 2023-11-06 18:49:59 | Samuel Wannell |
| 679 | 2023-11-10 15:46:24 | Kim Loosemore |
| 680 | 2023-11-10 19:15:26 | Kiri Woodd |
| 681 | 2023-11-02 19:46:56 | SF 3 |
| 682 | 2023-11-04 04:52:57 | Mike Furness |
| 683 | 2023-11-10 20:49:39 | Leanne Chalk |
| 684 | 2023-11-01 14:36:07 | Nicola Brown |
| 685 | 2023-11-01 22:30:40 | T P |
| 686 | 2023-11-10 10:52:17 | Martin Sercombe |
| 687 | 2023-11-01 22:53:29 | H T |
| 689 | 2023-11-10 11:19:48 | richard williams |
| 691 | 2023-11-07 11:16:47 | Roxanne Lander |
| 693 | 2023-11-10 20:39:11 | Tracy Bennett |
| 694 | 2023-11-03 16:07:32 | LL BB |
| 697 | 2023-11-10 17:27:38 | Lorraine Mcardle |
| 698 | 2023-11-10 18:54:12 | Lee Prior |
| 699 | 2023-11-09 22:30:28 | Kelly Birkinshaw |
| 700 | 2023-11-01 15:03:29 | Chani Comrie |
| 702 | 2023-11-10 15:46:57 | Laura Ware |
| 703 | 2023-11-02 13:16:50 | Julie Woodmore |
| 704 | 2023-11-02 14:15:19 | A.T W. |
| 705 | 2023-11-10 16:09:31 | Iain Thomas |
| 706 | 2023-11-08 22:36:50 | Dominic Packer |
| 708 | 2023-11-10 19:28:14 | Carly Trebilcock |
| 709 | 2023-11-05 07:36:52 | R S |
| 711 | 2023-11-10 18:37:01 | Sam Fitzgerald |
| 713 | 2023-11-09 23:41:16 | Stacey Dymond |
| 714 | 2023-11-10 17:26:15 | Bex. L. |
| 715 | 2023-11-10 02:57:53 | Kate Minors |
| 716 | 2023-11-10 08:39:23 | Felicity Westhead |
| 717 | 2023-11-10 11:23:41 | Sarah Caunter |
| 718 | 2023-11-10 19:53:33 | Jo Carrielies |
| 719 | 2023-11-01 22:57:37 | H T |
| 720 | 2023-11-10 14:53:37 | Lynda Mackenzie |
| 722 | 2023-11-10 18:51:28 | Dyane Baden-Moore |
| 723 | 2023-11-09 23:36:08 | Stacey Dymond |
| 725 | 2023-11-09 21:24:29 | Joanne Martin |
| 726 | 2023-11-03 19:02:50 | Sarah Snell |
| 727 | 2023-11-01 14:29:15 | Julie Woodmore |
| 729 | 2023-11-10 13:47:48 | Nicola Walker |
| 730 | 2023-11-10 17:31:52 | Laina Barnacle |
| 731 | 2023-11-10 20:10:02 | Amina Allsop |
| 732 | 2023-11-10 10:15:46 | Cahli Dodd |
| 734 | 2023-11-10 21:05:22 | Bradley Hervin |
| 735 | 2023-11-07 11:27:16 | Han L |
| 736 | 2023-11-10 15:22:58 | Amanda Gerry-O'Connor |
| 737 | 2023-11-06 19:35:47 | Chloe W |
| 738 | 2023-11-05 16:39:18 | Jeffery Moseley |
| 739 | 2023-11-10 15:55:04 | Hannah Drinkwater |
| 741 | 2023-11-10 19:19:13 | Daniel Paddington |
| 742 | 2023-11-09 22:48:51 | Lorna Furber |
| 743 | 2023-11-02 16:20:18 | Sharon Saunders |
| 744 | 2023-11-10 17:01:48 | Simon Stead |
| 745 | 2023-11-08 23:39:24 | Wahida Sussex |
| 746 | 2023-11-01 14:25:32 | Liz Lloyd |
| 747 | 2023-11-10 17:33:21 | Sharon Carr |
| 748 | 2023-11-05 23:45:46 | R M |
| 749 | 2023-11-01 15:11:31 | Verity Dechan |
| 750 | 2023-11-10 10:00:40 | Lauren cattermole |
| 751 | 2023-11-01 14:58:47 | Samantha Wilding |
| 752 | 2023-11-10 21:03:41 | Agnes Newman |
| 753 | 2023-11-10 17:45:36 | Melissa Pryce |
| 754 | 2023-11-01 22:26:47 | T P |
| 755 | 2023-11-01 23:06:57 | H TE |
| 756 | 2023-11-01 19:34:16 | Donna U |
| 758 | 2023-11-10 20:11:44 | Jenna Bott |
| 759 | 2023-11-10 03:57:42 | Amanda Gerry-O'Connor |
| 760 | 2023-11-01 19:10:29 | Donna U |
| 761 | 2023-11-05 05:03:01 | G W |
| 762 | 2023-11-01 19:34:16 | Donna U |
| 766 | 2023-11-01 19:36:29 | Donna U |
| 767 | 2023-11-02 02:31:01 | Jade Cleland |
| 769 | 2023-11-10 09:56:46 | Liam Chard-maple |
| 770 | 2023-11-09 22:00:51 | Natalie Carey |
| 771 | 2023-11-05 03:35:58 | Sharon Saunders |
| 772 | 2023-11-01 22:15:07 | Natasha Mason |
| 773 | 2023-11-10 19:44:22 | Emma Ormrod |
| 774 | 2023-11-02 11:48:25 | T S |
| 775 | 2023-11-08 21:55:03 | Mickylee Sheppard |
| 776 | 2023-11-10 20:26:20 | Z D |
| 777 | 2023-11-10 11:43:23 | Lauren Wigggett |
| 779 | 2023-11-02 13:45:58 | Brogan Sandercock |
| 780 | 2023-11-04 09:47:28 | Nicola Brown |
| 782 | 2023-11-04 10:24:24 | E L |
| 783 | 2023-11-10 09:24:39 | Kev Parker |
| 784 | 2023-11-03 22:06:29 | T S |
| 785 | 2023-11-10 19:09:44 | Jodie Longbottom |
| 786 | 2023-11-10 16:29:39 | Iain Thomas |
| 787 | 2023-11-10 16:42:58 | Karen Duncanson |
| 788 | 2023-11-07 18:37:48 | Jeffery Moseley |
| 790 | 2023-11-10 17:42:11 | Daniel Hibbs |
| 791 | 2023-11-08 14:04:58 | M P |
| 792 | 2023-11-10 18:17:01 | H L |
| 794 | 2023-11-07 01:25:53 | E L |
| 797 | 2023-11-10 14:59:00 | Laura Hall |
| 798 | 2023-11-10 20:34:44 | Cody Clarke |
| 799 | 2023-11-10 20:20:20 | Sarah Melton |
| 801 | 2023-11-08 14:07:11 | M P |
| 803 | 2023-11-10 17:30:38 | Dominic Packer |
| 804 | 2023-11-08 08:18:24 | R H |
| 806 | 2023-11-10 07:46:51 | Laura Gist |
| 807 | 2023-11-01 21:43:00 | Sarah Widdop |
| 808 | 2023-11-09 23:39:51 | Michael Little |
| 809 | 2023-11-03 21:59:21 | Natalie Carey |
| 811 | 2023-11-10 19:41:43 | Emma Edmunds |
| 813 | 2023-11-05 16:41:37 | Jeffery Moseley |
| 814 | 2023-11-09 21:33:55 | Rio Atchinson |
| 815 | 2023-11-03 18:16:20 | Mike Furness |
| 816 | 2023-11-10 00:23:58 | P C |
| 817 | 2023-11-10 14:59:00 | Laura Hall |
| 820 | 2023-11-10 18:27:11 | Liam Chard-maple |
| 821 | 2023-11-08 08:18:06 | D T |
| 822 | 2023-11-02 10:15:02 | Lucy Grant |
| 823 | 2023-11-04 15:04:31 | S JR |
| 824 | 2023-11-10 11:48:20 | Anna Feria Marie - Khan's |
| 825 | 2023-11-09 21:46:44 | DHLB W |
| 827 | 2023-11-07 19:02:15 | Samuel Wannell |
| 828 | 2023-11-04 23:56:27 | Sophie Rees |
| 830 | 2023-11-10 16:45:57 | Darren Mclean |
| 831 | 2023-11-10 19:38:46 | Nicola Naylor |
| 833 | 2023-11-10 17:48:18 | Darren Mclean |
| 834 | 2023-11-01 19:36:29 | Donna U |
| 835 | 2023-11-09 23:20:59 | Sean Kane |
| 836 | 2023-11-10 20:39:21 | Sarah Snell |
| 837 | 2023-11-10 19:31:41 | Carly Trebilcock |
| 838 | 2023-11-03 07:09:22 | Jade Cleland |
| 841 | 2023-11-01 21:55:01 | Jessica Pellens |
| 842 | 2023-11-09 06:55:21 | Sophie Hall |
| 845 | 2023-11-09 23:36:08 | Stacey Dymond |
| 846 | 2023-11-10 19:20:46 | G B |
| 850 | 2023-11-10 10:57:01 | Koz Ann |
| 851 | 2023-11-10 09:49:42 | Yvonne Tape |
| 853 | 2023-11-10 20:43:04 | Rachael Irvine |
| 854 | 2023-11-05 19:55:25 | Jade Chadwick |
| 855 | 2023-11-10 19:06:34 | Lynda Mackenzie |
| 856 | 2023-11-05 20:49:13 | Thomas Edmonds |
| 857 | 2023-11-07 01:25:53 | E L |
| 859 | 2023-11-10 14:30:22 | Wendy Kelsall |
| 860 | 2023-11-06 22:25:28 | ZW D |
| 861 | 2023-11-01 22:36:10 | T P |
| 862 | 2023-11-10 10:57:32 | Tia Potter |
| 863 | 2023-11-10 21:01:06 | George tomlinson |
| 864 | 2023-11-10 11:54:47 | amanda carthew |
| 865 | 2023-11-02 11:48:25 | T S |
| 866 | 2023-11-01 19:16:04 | Donna U |
| 867 | 2023-11-10 19:21:06 | Chris Carr |
| 868 | 2023-11-10 19:36:00 | Nicola Naylor |
| 870 | 2023-11-10 16:33:33 | Iain Thomas |
| 876 | 2023-11-10 11:59:25 | Samuel Williams |
| 877 | 2023-11-03 22:22:27 | LL BB |
| 878 | 2023-11-01 14:53:05 | Samantha Wilding |
| 879 | 2023-11-10 21:03:52 | Kirsty Davis |
| 881 | 2023-11-10 19:56:17 | Ryan Blight |
| 883 | 2023-11-01 16:45:00 | Marie Sandford |
| 884 | 2023-11-10 18:55:20 | Lisa Burgess |
| 887 | 2023-11-10 10:26:13 | Tina Scott |
| 888 | 2023-11-02 11:48:25 | T S |
| 889 | 2023-11-10 15:08:44 | Charlene Crawford |
| 893 | 2023-11-07 09:53:14 | Emma Lang |
| 894 | 2023-11-03 09:48:36 | Jessica Pellens |
| 895 | 2023-11-10 18:08:58 | Chloe Torabi |
| 897 | 2023-11-09 07:14:03 | Julie Woodmore |
| 898 | 2023-11-01 16:04:47 | Michael Clark |
| 899 | 2023-11-10 20:09:55 | Martin Sercombe |
| 900 | 2023-11-08 18:19:34 | Jessica Pellens |
| 901 | 2023-11-10 16:38:43 | Iain Thomas |
| 902 | 2023-11-10 20:23:31 | Emma Clarke |
| 905 | 2023-11-05 07:36:52 | R S |
| 906 | 2023-11-10 11:02:26 | James Yearling |
| 907 | 2023-11-10 10:57:01 | Koz Ann |
| 909 | 2023-11-09 17:46:57 | Jade Cleland |
| 911 | 2023-11-10 19:22:28 | Nicholas Warnes |
| 912 | 2023-11-10 17:33:16 | Amy Hardware |
| 913 | 2023-11-10 12:27:25 | Dorota Wieczorek |
| 914 | 2023-11-10 16:03:03 | Andrew Gillen |
| 915 | 2023-11-09 14:11:24 | Stacey May |
| 916 | 2023-11-03 22:06:29 | T S |
| 917 | 2023-11-09 11:50:39 | Holly Kemp |
| 918 | 2023-11-10 17:27:49 | Gemma Osborn |
| 921 | 2023-11-10 16:28:15 | Pamela Johnston |
| 924 | 2023-11-02 03:35:46 | S JR |
| 925 | 2023-11-02 00:17:24 | Chloe W |
| 926 | 2023-11-10 21:00:17 | Michelle Searles |
| 927 | 2023-11-01 23:22:00 | ZW D |
| 928 | 2023-11-10 21:08:28 | Andrew Bennington |
| 929 | 2023-11-05 19:39:12 | Julie Woodmore |
| 931 | 2023-11-10 17:53:36 | Laura Roche |
| 932 | 2023-11-10 20:56:04 | Chloe Marks |
| 934 | 2023-11-09 23:03:11 | Lee Williams |
| 935 | 2023-11-10 16:42:44 | Darren Mclean |
| 937 | 2023-11-10 17:01:11 | Blake Connolly |
| 938 | 2023-11-01 22:53:29 | H T |
| 939 | 2023-11-10 19:37:04 | R S |
| 940 | 2023-11-05 18:00:36 | Emma P |
| 941 | 2023-11-10 12:05:18 | Toni Walker-Cox |
| 942 | 2023-11-10 16:26:25 | Katherine Meathrel |
| 945 | 2023-11-09 23:40:00 | Stacey Dymond |
| 946 | 2023-11-10 06:54:08 | Emma Lou |
| 947 | 2023-11-10 16:14:40 | Iain Thomas |
| 948 | 2023-11-10 11:02:47 | Ellie Black |
| 949 | 2023-11-10 00:15:47 | Jade Morris |
| 950 | 2023-11-06 06:42:03 | Han L |
| 952 | 2023-11-09 23:30:37 | Anna Feria Marie - Khan's |
| 954 | 2023-11-01 14:25:34 | Lauren Gillard |
| 957 | 2023-11-10 19:14:51 | Susan Gurling |
| 958 | 2023-11-06 18:04:38 | S JR |
| 959 | 2023-11-10 19:31:16 | Chris Carr |
| 960 | 2023-11-10 20:44:10 | Grace West |
| 965 | 2023-11-10 19:00:24 | Lynda Mackenzie |
| 966 | 2023-11-10 10:45:28 | Xavier Marchena Stanciu |
| 967 | 2023-11-10 15:53:48 | Chris Carr |
| 969 | 2023-11-10 05:07:32 | Phillip Drew |
| 970 | 2023-11-01 14:30:00 | Casey Brown |
| 973 | 2023-11-10 20:21:31 | connor howe |
| 974 | 2023-11-01 14:57:01 | Samantha Wilding |
| 975 | 2023-11-02 18:39:03 | k. b |
| 976 | 2023-11-10 07:22:31 | Kylie Aveyard |
| 977 | 2023-11-05 08:03:57 | S JR |
| 979 | 2023-11-06 17:34:47 | Nicola Brown |
| 981 | 2023-11-07 18:50:02 | S JR |
| 982 | 2023-11-10 13:57:48 | Darren Mclean |
| 983 | 2023-11-10 17:10:36 | Sarah Asplen |
| 984 | 2023-11-10 00:26:06 | Anna Feria Marie - Khan's |
| 985 | 2023-11-10 13:27:23 | Marie Sandford |
| 987 | 2023-11-02 17:42:06 | Jamie Jones |
| 988 | 2023-11-06 18:49:59 | Samuel Wannell |
| 989 | 2023-11-02 00:21:56 | Becci Vayle |
| 990 | 2023-11-10 19:46:30 | Lee Street |
| 991 | 2023-11-10 07:34:15 | J B |
| 992 | 2023-11-10 19:01:29 | Stacey La'moon |
| 993 | 2023-11-10 07:07:26 | Gemma Norgate |
| 994 | 2023-11-03 13:58:21 | Martin Pinkney |
| 995 | 2023-11-08 14:30:56 | Nicola Brown |
| 996 | 2023-11-10 10:27:48 | Bethany Neeson |
| 997 | 2023-11-01 18:21:15 | Jeanette Glynn |
| 998 | 2023-11-10 20:06:24 | Kelly Morrey |
| 1000 | 2023-11-01 16:45:00 | Marie Sandford |