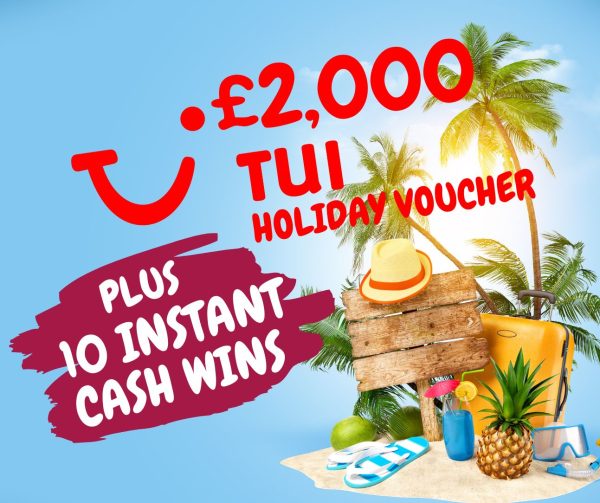 WIN £2000 TUI HOLIDAY VOUCHER + 10 INSTANT CASH WINS #6
Description
WIN £2000 TUI HOLIDAY VOUCHER + 10 INSTANT CASH WINS #6
One winner will win 2K TUI HOLIDAY VOUCHER ( everyone will be entered into this, regardless if you win any instant wins!
Simply enter the raffle and you will be randomly allocated your tickets. If your tickets match one of the numbers in the description below, you will win that prize instantly!
Ticket numbers are allocated randomly to every order.
If you are lucky, We will make contact with you, please give us 24 hrs to make contact
If your ticket number (s) match then you win the prize next to it.
Claimed prizes will be updated every several hours
WE WILL CONTACT ALL INSTANT WINNERS
Instant Wins
| Ticket | Prize | Winner |
| --- | --- | --- |
| 40 | £250 CASH | Ellie Wilkins |
| 152 | £250 CASH | A.T W. |
| 350 | £250 CASH | |
| 547 | £250 CASH | Han L |
| 1010 | £250 CASH | |
| 1257 | £250 CASH | Laurie Peters |
| 1500 | £250 CASH | Shellbie May |
| 2004 | £250 CASH | Levi Crutchley |
| 2412 | £250 CASH | Mike Lee |
| 2501 | £250 CASH | Helen Cottrell |
| Winner Name | Ticket Number | Draw Date |
| --- | --- | --- |
| Jessica Pellens | 2068 | 07/11/2023 |
1-500
501-1000
1001-1500
1501-2000
2001-2500
2501-3000
| Ticket Number | Date | Name |
| --- | --- | --- |
| 1 | 2023-11-07 21:06:47 | Emma Fort |
| 2 | 2023-11-07 15:53:14 | Tina Cox |
| 6 | 2023-11-07 19:35:29 | Lynda Mackenzie |
| 7 | 2023-11-07 20:54:35 | Debbie Nichols |
| 9 | 2023-11-07 19:09:14 | Helen Cottrell |
| 10 | 2023-11-01 21:11:46 | Helen Cottrell |
| 11 | 2023-11-01 21:45:06 | Jessica Pellens |
| 15 | 2023-11-06 22:11:06 | Alannah Hatton |
| 17 | 2023-11-07 20:33:36 | Tina-marie Mckeown |
| 18 | 2023-11-07 20:29:41 | Helen Dent |
| 20 | 2023-11-07 18:47:49 | Ivana Plankova |
| 23 | 2023-11-07 20:52:59 | Debbie Nichols |
| 26 | 2023-11-07 14:08:03 | Gemma Gale |
| 29 | 2023-11-07 21:09:27 | Anna Feria Marie - Khan's |
| 30 | 2023-11-03 16:31:07 | k. b |
| 32 | 2023-11-07 21:11:32 | Jessica Pellens |
| 33 | 2023-11-01 22:37:45 | Iain Thomas |
| 34 | 2023-11-01 21:07:55 | Helen Cottrell |
| 35 | 2023-11-07 20:34:37 | Holly Stempkowski |
| 36 | 2023-11-07 04:07:43 | P C |
| 37 | 2023-11-05 15:09:55 | Gemma Gale |
| 38 | 2023-11-04 16:54:21 | Gemma Gale |
| 39 | 2023-11-07 21:07:22 | S JR |
| 40 | 2023-11-07 11:05:42 | Ellie Wilkins |
| 41 | 2023-11-03 22:44:01 | Katie Cattermole |
| 43 | 2023-11-07 12:35:11 | Laura Biercewicz |
| 44 | 2023-11-04 16:53:03 | Jessica Pellens |
| 45 | 2023-11-07 20:41:09 | Gemma Norgate |
| 46 | 2023-11-07 21:01:28 | Jessica Pellens |
| 47 | 2023-11-07 20:44:40 | Kate Coley |
| 48 | 2023-11-02 08:52:26 | Fliss Wright |
| 49 | 2023-11-07 15:42:06 | Lisa Clark |
| 50 | 2023-11-07 21:06:47 | Emma Fort |
| 51 | 2023-11-07 20:43:15 | T I |
| 52 | 2023-11-02 11:12:04 | Suzanne Riddock |
| 53 | 2023-11-07 01:15:32 | Gail. Gilbert. |
| 54 | 2023-11-07 21:04:54 | Jessica Pellens |
| 55 | 2023-11-02 13:06:13 | Jeffery Moseley |
| 56 | 2023-11-07 09:17:39 | T S |
| 57 | 2023-11-07 11:11:19 | Michael King |
| 59 | 2023-11-05 20:43:39 | Paula Jayne Johnson |
| 60 | 2023-11-07 10:59:02 | Mike Furness |
| 61 | 2023-11-03 00:15:47 | Jason Matthews |
| 62 | 2023-11-07 13:18:26 | Luke Walkey |
| 63 | 2023-11-01 22:16:38 | Iain Thomas |
| 66 | 2023-11-05 14:57:21 | Sarah jane Glover |
| 67 | 2023-11-07 09:11:35 | T S |
| 68 | 2023-11-04 18:40:46 | Clare Matthews |
| 69 | 2023-11-07 14:22:33 | Steve Bryant |
| 71 | 2023-11-07 13:41:39 | Lee Stipic |
| 72 | 2023-11-07 09:28:08 | Becki Chidgey |
| 74 | 2023-11-07 11:59:12 | Laura Hall |
| 75 | 2023-11-07 20:35:06 | Jody Josolyne |
| 80 | 2023-11-01 21:20:40 | Maria Mahoney |
| 81 | 2023-11-07 19:29:44 | Lisa Burgess |
| 82 | 2023-11-01 16:37:04 | Jessica Pellens |
| 83 | 2023-11-07 09:34:58 | hannah king |
| 85 | 2023-11-07 19:35:29 | Lynda Mackenzie |
| 86 | 2023-11-03 21:42:44 | Emma Reeve |
| 87 | 2023-11-07 16:27:03 | Debbie Nichols |
| 88 | 2023-11-06 22:55:14 | Kim Briggs |
| 89 | 2023-11-07 11:44:13 | Lisa Spiller |
| 90 | 2023-11-02 10:58:55 | Kathleen Starling |
| 92 | 2023-11-07 15:21:29 | R S |
| 94 | 2023-11-02 20:56:52 | Nicci Taylor |
| 95 | 2023-11-02 20:40:14 | Suzanne Riddock |
| 96 | 2023-11-07 19:35:29 | Lynda Mackenzie |
| 99 | 2023-11-07 16:06:49 | Kerryanne Dolan |
| 100 | 2023-11-07 09:11:35 | T S |
| 102 | 2023-11-07 17:21:11 | Suzanne Ryder |
| 103 | 2023-11-02 11:12:04 | Suzanne Riddock |
| 104 | 2023-11-07 10:23:20 | Mike M |
| 107 | 2023-11-07 09:28:08 | Becki Chidgey |
| 108 | 2023-11-03 21:42:44 | Emma Reeve |
| 109 | 2023-11-07 10:07:59 | Kayley Belue |
| 110 | 2023-11-07 17:52:57 | Izzy Eveson |
| 112 | 2023-11-01 21:11:46 | Helen Cottrell |
| 113 | 2023-11-07 07:25:31 | Raymondij Burgess |
| 115 | 2023-11-03 18:13:14 | Mike Furness |
| 116 | 2023-11-07 10:23:20 | Mike M |
| 117 | 2023-11-07 14:29:42 | Jodie Ellis |
| 118 | 2023-11-07 13:44:41 | Mia Gilpin |
| 119 | 2023-11-07 16:44:48 | Hayley Jackson |
| 120 | 2023-11-07 12:08:12 | L B |
| 122 | 2023-11-07 16:53:32 | k. b |
| 124 | 2023-11-07 21:10:58 | Jenn ifer |
| 125 | 2023-11-01 20:10:17 | Philippa Lohmeyer |
| 127 | 2023-11-07 19:35:29 | Lynda Mackenzie |
| 128 | 2023-11-07 09:12:40 | T S |
| 129 | 2023-11-07 18:52:49 | Sarah Taylor |
| 130 | 2023-11-07 20:30:39 | Carrie Robinson |
| 132 | 2023-11-03 09:32:30 | Jessica Pellens |
| 135 | 2023-11-01 18:27:31 | k. b |
| 136 | 2023-11-07 10:20:00 | A.T W. |
| 137 | 2023-11-06 16:52:45 | Jenny Burkett |
| 138 | 2023-11-07 09:17:39 | T S |
| 139 | 2023-11-04 14:42:49 | Beth Wheeler |
| 140 | 2023-11-02 17:29:26 | S M |
| 141 | 2023-11-07 14:45:54 | Sarah Cully |
| 142 | 2023-11-07 18:52:13 | Carly Stapleton |
| 143 | 2023-11-07 16:44:48 | Hayley Jackson |
| 144 | 2023-11-07 20:13:40 | Rebecca Davies |
| 146 | 2023-11-07 11:15:58 | Jessica Pellens |
| 149 | 2023-11-02 11:17:08 | Emma Kowalski |
| 151 | 2023-11-06 23:11:34 | Danielle McIntyre |
| 152 | 2023-11-02 13:55:25 | A.T W. |
| 153 | 2023-11-01 21:12:51 | Marie Mckenna |
| 154 | 2023-11-07 15:34:27 | Kieran Mclear |
| 155 | 2023-11-01 20:02:56 | Kirsty Harvey |
| 156 | 2023-11-07 09:21:10 | Joanna Stevenson |
| 158 | 2023-11-07 15:42:06 | Lisa Clark |
| 159 | 2023-11-07 12:07:38 | Nicola Curry |
| 160 | 2023-11-07 07:30:16 | Hannah Del-pizzo |
| 161 | 2023-11-07 19:33:47 | Claire Baker |
| 162 | 2023-11-07 19:13:45 | Helen Cottrell |
| 163 | 2023-11-01 19:15:06 | Suzanne Riddock |
| 164 | 2023-11-07 15:42:59 | LL BB |
| 165 | 2023-11-07 09:17:39 | T S |
| 166 | 2023-11-02 13:44:13 | Adrienne Green |
| 167 | 2023-11-07 10:30:50 | Victoria Sealey |
| 168 | 2023-11-04 18:38:18 | Vicks P |
| 169 | 2023-11-07 21:06:10 | Morgan Samuels |
| 170 | 2023-11-03 09:53:37 | Vicki Brace |
| 171 | 2023-11-07 20:58:59 | Morgan Samuels |
| 172 | 2023-11-07 21:04:54 | Jessica Pellens |
| 173 | 2023-11-07 09:28:08 | Becki Chidgey |
| 174 | 2023-11-07 20:17:09 | Emma Loughlin |
| 175 | 2023-11-07 01:13:29 | Louise Hodge |
| 176 | 2023-11-07 21:12:12 | Samantha Gallacher |
| 177 | 2023-11-07 17:54:58 | Rachel cassidy |
| 178 | 2023-11-07 16:11:32 | paul jackson |
| 179 | 2023-11-07 14:16:19 | Laura Ware |
| 180 | 2023-11-06 23:16:55 | Danielle McIntyre |
| 181 | 2023-11-07 01:44:41 | k. b |
| 182 | 2023-11-07 21:11:32 | Shane Voysey |
| 183 | 2023-11-02 11:17:08 | Emma Kowalski |
| 186 | 2023-11-01 21:07:55 | Helen Cottrell |
| 187 | 2023-11-06 19:21:46 | Portia Horak-Fovargue |
| 188 | 2023-11-07 09:49:03 | Diane Connor |
| 191 | 2023-11-02 11:19:54 | Emma Kowalski |
| 193 | 2023-11-07 21:13:17 | Jenn ifer |
| 194 | 2023-11-01 14:44:16 | Stacey Carpanini |
| 198 | 2023-11-07 17:27:24 | Justin Lashley |
| 199 | 2023-11-04 17:14:43 | A.T W. |
| 200 | 2023-11-07 19:56:12 | Jeffery Moseley |
| 201 | 2023-11-07 14:22:33 | Steve Bryant |
| 202 | 2023-11-07 09:51:56 | Emma Lang |
| 203 | 2023-11-07 17:34:33 | Nichola Brown |
| 204 | 2023-11-07 01:45:15 | k. b |
| 205 | 2023-11-07 09:17:39 | T S |
| 207 | 2023-11-01 20:52:32 | Joanna Stevenson |
| 208 | 2023-11-01 19:02:42 | Donna U |
| 210 | 2023-11-07 15:19:58 | R S |
| 212 | 2023-11-07 20:16:41 | Cez S |
| 213 | 2023-11-07 20:35:54 | Stacey Heggadon |
| 214 | 2023-11-01 19:15:06 | Suzanne Riddock |
| 215 | 2023-11-01 21:47:55 | Antonia Wilson |
| 217 | 2023-11-07 19:21:36 | Becki Chidgey |
| 218 | 2023-11-07 20:33:02 | Laura Topps |
| 219 | 2023-11-07 09:12:40 | T S |
| 220 | 2023-11-07 19:52:43 | Natasha jacobs |
| 223 | 2023-11-07 21:04:54 | Jessica Pellens |
| 224 | 2023-11-07 21:11:52 | Gary King |
| 225 | 2023-11-07 21:11:27 | S JR |
| 226 | 2023-11-07 09:14:41 | T S |
| 227 | 2023-11-07 17:26:15 | J/S J/S |
| 228 | 2023-11-07 17:15:22 | Clare Jason-Ryan |
| 229 | 2023-11-02 22:01:03 | Brooke Cheesmond |
| 230 | 2023-11-07 09:28:08 | Becki Chidgey |
| 231 | 2023-11-07 18:37:26 | Stephanie Hartnoll |
| 235 | 2023-11-02 11:14:54 | Suzanne Riddock |
| 237 | 2023-11-07 15:18:34 | R S |
| 238 | 2023-11-07 09:53:15 | DHLB W |
| 239 | 2023-11-07 18:56:11 | Lacey Hudson |
| 241 | 2023-11-07 15:21:29 | R S |
| 242 | 2023-11-07 10:48:51 | D T |
| 243 | 2023-11-07 15:17:21 | R S |
| 244 | 2023-11-01 22:16:38 | Iain Thomas |
| 245 | 2023-11-06 21:12:56 | k. b |
| 246 | 2023-11-07 09:17:39 | T S |
| 248 | 2023-11-07 07:28:00 | Lisa Burgess |
| 249 | 2023-11-07 19:09:41 | Shelley Brooks |
| 250 | 2023-11-01 14:53:34 | Janice Nicholas |
| 251 | 2023-11-07 15:51:37 | Frankie Mortimore |
| 252 | 2023-11-07 16:54:05 | k. b |
| 253 | 2023-11-07 19:47:36 | Daniel Paddington |
| 254 | 2023-11-06 21:55:31 | Rachel Gilbert |
| 255 | 2023-11-07 17:18:51 | Laura Swift |
| 256 | 2023-11-07 13:18:26 | Luke Walkey |
| 258 | 2023-11-01 21:20:40 | Maria Mahoney |
| 259 | 2023-11-07 13:05:01 | Lottie Howitt |
| 260 | 2023-11-06 21:46:17 | Yasmin Tanner |
| 261 | 2023-11-01 21:49:16 | Jessica Pellens |
| 262 | 2023-11-02 14:17:34 | Stacey May |
| 263 | 2023-11-07 20:43:37 | Sarah Widdop |
| 264 | 2023-11-06 23:11:47 | T S |
| 265 | 2023-11-07 09:49:11 | Liam Chard-maple |
| 267 | 2023-11-07 14:17:33 | Becki Chidgey |
| 269 | 2023-11-07 11:59:12 | Laura Hall |
| 270 | 2023-11-07 19:19:03 | Kerrie Mudge |
| 272 | 2023-11-07 20:52:49 | David Fitzsimmons |
| 273 | 2023-11-07 09:52:38 | James Bennett |
| 274 | 2023-11-07 19:47:06 | Liam Chard-maple |
| 275 | 2023-11-07 19:30:32 | Gemma Gale |
| 276 | 2023-11-07 20:57:25 | Wayne Stanners |
| 277 | 2023-11-07 15:18:34 | R S |
| 278 | 2023-11-07 07:28:00 | Lisa Burgess |
| 280 | 2023-11-06 23:11:47 | T S |
| 281 | 2023-11-07 20:30:39 | Carrie Robinson |
| 282 | 2023-11-07 09:14:41 | T S |
| 283 | 2023-11-07 20:44:10 | S E H |
| 284 | 2023-11-07 14:08:03 | Gemma Gale |
| 286 | 2023-11-02 19:08:30 | Emma Reeve |
| 288 | 2023-11-02 11:12:04 | Suzanne Riddock |
| 289 | 2023-11-07 15:19:58 | R S |
| 290 | 2023-11-07 21:07:48 | Emma Fort |
| 291 | 2023-11-02 18:28:51 | Gemma Dix |
| 293 | 2023-11-07 09:41:31 | Hayley Dann |
| 294 | 2023-11-07 09:52:38 | James Bennett |
| 295 | 2023-11-07 12:01:11 | Nicola Jameson |
| 296 | 2023-11-03 00:15:47 | Jason Matthews |
| 298 | 2023-11-07 09:16:16 | T S |
| 299 | 2023-11-07 20:24:34 | Natalie Evans |
| 300 | 2023-11-07 09:36:41 | Tania Johns |
| 301 | 2023-11-07 16:09:57 | Lynn Mcfaull |
| 302 | 2023-11-07 08:07:52 | Dawn Prendergast |
| 303 | 2023-11-01 20:21:40 | Kerry Seward |
| 304 | 2023-11-07 20:31:42 | Jade Blight |
| 305 | 2023-11-07 20:02:33 | Vicky Albinson |
| 306 | 2023-11-07 11:54:50 | Marie Sandford |
| 307 | 2023-11-07 21:12:29 | S JR |
| 309 | 2023-11-07 15:17:21 | R S |
| 310 | 2023-11-07 15:18:34 | R S |
| 311 | 2023-11-07 20:42:35 | Michael Little |
| 313 | 2023-11-02 13:06:13 | Jeffery Moseley |
| 318 | 2023-11-07 20:51:20 | Jennifer Ronchetti |
| 319 | 2023-11-07 19:02:02 | Emma Lou |
| 320 | 2023-11-07 19:35:29 | Lynda Mackenzie |
| 322 | 2023-11-07 21:08:14 | Jessica Pellens |
| 323 | 2023-11-07 09:48:43 | Jo Williams |
| 325 | 2023-11-07 18:42:04 | Holly Ring |
| 326 | 2023-11-06 21:13:52 | k. b |
| 328 | 2023-11-07 18:46:40 | Laura Bailey |
| 329 | 2023-11-07 21:13:37 | Codie Hancox |
| 331 | 2023-11-07 09:52:38 | James Bennett |
| 332 | 2023-11-07 21:00:21 | Vanessa Newcombe |
| 333 | 2023-11-06 23:07:53 | T S |
| 334 | 2023-11-02 20:34:52 | sarah sprague |
| 335 | 2023-11-03 16:31:07 | k. b |
| 337 | 2023-11-02 13:06:13 | Jeffery Moseley |
| 339 | 2023-11-01 21:48:33 | Jessica Pellens |
| 340 | 2023-11-04 17:13:57 | Amanda Gerry-O'Connor |
| 341 | 2023-11-07 08:22:24 | Farrah Goodwin |
| 342 | 2023-11-07 20:20:40 | Jessica Pellens |
| 344 | 2023-11-02 12:00:42 | k. b |
| 345 | 2023-11-07 15:39:03 | Alex Walters |
| 346 | 2023-11-07 18:31:02 | Kas S |
| 347 | 2023-11-07 19:09:41 | Shelley Brooks |
| 349 | 2023-11-04 14:20:51 | Gemma Gale |
| 351 | 2023-11-02 19:12:23 | charlotte proctor |
| 352 | 2023-11-07 12:28:21 | Marcus Trott |
| 353 | 2023-11-07 09:17:39 | T S |
| 355 | 2023-11-03 23:34:20 | Jemima Hember |
| 358 | 2023-11-03 00:17:59 | Jason Matthews |
| 360 | 2023-11-07 11:55:36 | Marie Sandford |
| 361 | 2023-11-07 10:39:58 | k. b |
| 362 | 2023-11-07 18:29:34 | Rachel Scott |
| 364 | 2023-11-07 19:12:56 | Ayisha Moyle |
| 365 | 2023-11-07 19:53:05 | Louise Hartin |
| 366 | 2023-11-07 16:53:32 | k. b |
| 367 | 2023-11-03 18:13:14 | Mike Furness |
| 368 | 2023-11-07 19:33:47 | Claire Baker |
| 369 | 2023-11-06 17:15:04 | Hannah Allpress |
| 370 | 2023-11-01 18:30:19 | k. b |
| 371 | 2023-11-07 13:18:26 | Luke Walkey |
| 372 | 2023-11-02 11:53:11 | Alisha Carrington |
| 374 | 2023-11-07 16:48:03 | P C |
| 375 | 2023-11-01 22:37:45 | Iain Thomas |
| 377 | 2023-11-07 21:11:27 | S JR |
| 378 | 2023-11-07 19:45:49 | Stacey Sprague |
| 379 | 2023-11-07 20:35:44 | Michael Clark |
| 380 | 2023-11-06 15:27:38 | Tracy Brown |
| 381 | 2023-11-07 16:46:39 | Daniel Langdon |
| 382 | 2023-11-07 19:26:02 | Lynda Mackenzie |
| 383 | 2023-11-07 16:14:44 | Samantha Byrne |
| 384 | 2023-11-07 14:37:55 | Kerry Westcott |
| 385 | 2023-11-07 09:47:31 | Shirley Lumley |
| 387 | 2023-11-02 13:23:36 | June Culshaw |
| 388 | 2023-11-07 18:58:14 | Fiona Godwin-Wood |
| 389 | 2023-11-07 16:46:39 | Daniel Langdon |
| 390 | 2023-11-07 09:17:39 | T S |
| 391 | 2023-11-05 09:58:35 | Vicks P |
| 392 | 2023-11-07 09:28:08 | Becki Chidgey |
| 393 | 2023-11-07 10:38:43 | Lynn Mcfaull |
| 394 | 2023-11-07 09:40:00 | Emma Lou |
| 395 | 2023-11-07 10:57:14 | Stacey Williamson |
| 396 | 2023-11-07 18:52:06 | Miss Kimberley Sharman |
| 397 | 2023-11-07 20:40:29 | Stacey Green |
| 398 | 2023-11-07 14:37:12 | Kerry Westcott |
| 399 | 2023-11-07 09:03:36 | Emma & lee |
| 400 | 2023-11-07 20:36:07 | Emma White |
| 401 | 2023-11-07 09:33:12 | k. b |
| 402 | 2023-11-07 10:59:29 | Leanne Dickson |
| 403 | 2023-11-04 16:53:03 | Jessica Pellens |
| 404 | 2023-11-07 20:59:51 | Morgan Samuels |
| 405 | 2023-11-07 09:17:39 | T S |
| 406 | 2023-11-06 12:43:28 | J R |
| 407 | 2023-11-07 19:08:19 | Gary King |
| 408 | 2023-11-07 20:04:11 | Jan Holland |
| 409 | 2023-11-07 19:33:47 | Claire Baker |
| 410 | 2023-11-07 09:14:41 | T S |
| 412 | 2023-11-07 15:21:29 | R S |
| 413 | 2023-11-01 14:45:11 | Lily Langford-Courage |
| 414 | 2023-11-04 21:37:39 | Stacey Bell |
| 415 | 2023-11-02 03:47:54 | Sonia Jones |
| 416 | 2023-11-07 09:36:12 | Amy McCarthy |
| 417 | 2023-11-07 06:49:11 | Louise Dymond-Tooze |
| 418 | 2023-11-07 19:32:04 | Lisa Burgess |
| 419 | 2023-11-07 21:10:58 | Jenn ifer |
| 421 | 2023-11-07 17:33:12 | marion clark |
| 422 | 2023-11-07 15:17:21 | R S |
| 424 | 2023-11-07 10:51:02 | Stacey Williamson |
| 425 | 2023-11-07 20:01:03 | Jodie Ellis |
| 426 | 2023-11-02 11:12:04 | Suzanne Riddock |
| 427 | 2023-11-02 11:17:08 | Emma Kowalski |
| 429 | 2023-11-07 13:44:44 | Sarah Burgwin |
| 431 | 2023-11-07 15:18:34 | R S |
| 434 | 2023-11-07 14:29:42 | Jodie Ellis |
| 436 | 2023-11-07 15:10:53 | Tom Speed |
| 437 | 2023-11-02 10:59:14 | Lisa-Marie Newbery |
| 438 | 2023-11-06 23:11:47 | T S |
| 440 | 2023-11-06 14:28:43 | Tammy Bartlett |
| 441 | 2023-11-07 19:35:29 | Lynda Mackenzie |
| 442 | 2023-11-01 21:07:55 | Helen Cottrell |
| 443 | 2023-11-07 12:56:17 | Liam Chard-maple |
| 444 | 2023-11-06 18:38:52 | Paul Jonas |
| 446 | 2023-11-07 20:59:51 | Morgan Samuels |
| 447 | 2023-11-07 09:53:15 | DHLB W |
| 449 | 2023-11-01 16:41:05 | Marie Sandford |
| 450 | 2023-11-01 19:13:21 | Alan Salter |
| 451 | 2023-11-07 11:06:41 | Hayley Whitbread |
| 452 | 2023-11-04 20:10:03 | Lacey Laird |
| 454 | 2023-11-01 14:45:44 | Hannah Carter |
| 455 | 2023-11-07 09:29:04 | Alexandra Somerset |
| 456 | 2023-11-07 15:19:58 | R S |
| 458 | 2023-11-07 17:37:25 | Claire French |
| 459 | 2023-11-07 18:47:48 | Andrea Ezard |
| 460 | 2023-11-07 09:16:16 | T S |
| 461 | 2023-11-07 19:29:44 | Lisa Burgess |
| 462 | 2023-11-07 21:05:42 | Sarah Kallmeier |
| 464 | 2023-11-07 18:52:13 | Carly Stapleton |
| 465 | 2023-11-07 21:11:25 | Anna Feria Marie - Khan's |
| 466 | 2023-11-07 20:57:20 | Barnaby Poslett |
| 467 | 2023-11-03 19:34:21 | A.T W. |
| 468 | 2023-11-07 21:12:19 | Helen Montgomery |
| 469 | 2023-11-07 19:24:05 | Jamie dipple |
| 471 | 2023-11-07 21:04:21 | Stefan Hawkins |
| 472 | 2023-11-07 09:17:39 | T S |
| 473 | 2023-11-07 10:01:37 | S E H |
| 474 | 2023-11-07 21:02:36 | Tracey Mills |
| 475 | 2023-11-07 20:31:36 | Marny Stocker |
| 476 | 2023-11-07 13:19:34 | P C |
| 478 | 2023-11-02 08:56:59 | S JR |
| 480 | 2023-11-03 22:28:23 | Katie Wesson |
| 482 | 2023-11-07 19:16:09 | J t |
| 483 | 2023-11-06 23:09:26 | T S |
| 486 | 2023-11-07 21:03:24 | Liam Webb |
| 487 | 2023-11-07 16:46:55 | SF 3 |
| 489 | 2023-11-07 20:33:28 | Rebecca Spencer |
| 490 | 2023-11-07 12:20:26 | A H |
| 491 | 2023-11-07 19:31:42 | Claire Baker |
| 493 | 2023-11-07 19:32:04 | Lisa Burgess |
| 495 | 2023-11-07 18:58:02 | Katie Rogers |
| 496 | 2023-11-07 17:35:49 | Jay Brownie |
| 497 | 2023-11-07 07:00:17 | Tracey Milne |
| 498 | 2023-11-01 16:05:49 | Sarah Caunter |
| 499 | 2023-11-07 13:11:22 | Rebecca Mitchell-Bawden |
| 500 | 2023-11-01 23:10:39 | Joanna Stevenson |