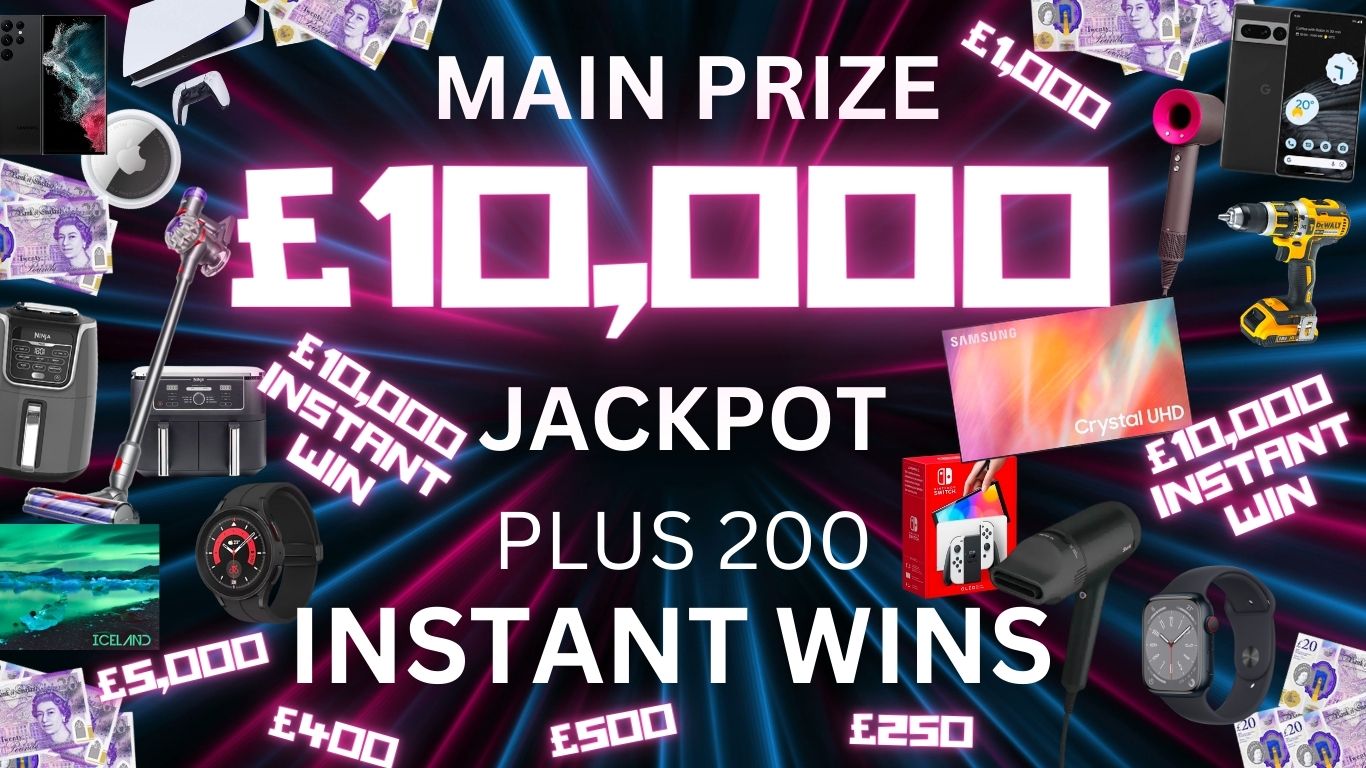 WIN £10,000 TAX FREE CASH PLUS 200 INSTANT WINS
Description
WIN £10,000 TAX FREE CASH PLUS 200 INSTANT WINS
DESCRIPTION
WIN £10,000 CASH JACKPOT PLUS 200 MEGA INSTANT WINS UP FOR GRABS
ONE winner will WIN £10,000 CASH JACKPOT
Each ticket purchased for this competition will be entered into main prize, regardless if you win any instant wins!
Simply enter the raffle and you will be randomly allocated your tickets. If your tickets match one of the numbers in the description below, you will win that prize instantly!
Ticket numbers are allocated randomly to every order.
WE WILL UPDATE THE INSTANT WINS EVERY SEVERAL HOURS
When you enter an instant win competition you need to check the instant win list, which is allocated on the instant win competition. we will contact all instant winners
If your ticket number (s) match then you win the prize next to it.
IF YOU WISH TO EXCHANGE FOR CASH ALT ON ALL PRIZES ( EXCEPT FOR CASH PRIZES) IT WILL BE 80% OF THE PRIZE VALUE.
YOU COULD WIN MORE THAN ONE PRIZE INSTANTLY
Even if you don't manage to secure an instant win on this occasion you are still entered in with all your entries to our £10,000 TAX FREE CASH MAIN PRIZE
NUMBER 
PRIZE
WINNER

191

£1,000 Cash

Jordan Edgecombe

878

£25 SITE CREDIT

Sarah Jason ryan

948

£100 CASH

Robert Clements

1098

£50 CASH

Jennifer Waye

1108

£500 CASH

S Willis

1811

NINTENDO SWITCH OLED

Samantha Wilding

1928

CLEANING BUNDLE OR £200 CASH

Lisa Bigg

2293

PS5

Donna Marie

2608

£250 CASH

3302

£100 SUPERMARKET

Hermon Gosling

3511

£400 CASH

Victoria Wells

3684

£250 CASH

Tegan Harris

3784

£50 AMAZON GIFT CARD

Nina Henton-Waller

4127

APPLE AIRTAG

4340

£500 CASH

Lisa Jayne Mather-Roberts

4363

£100 SITE CREDIT

Daniel Wadling

4468

£50 NANDOS GIFT CARD

GJ S

4548

£100 JUST EAT GIFT CARD

SUGAR CHRIS

5127

£150 NIKE GIFT CARD

Mark Lowe

5950

£50 CASH

6106

£100 CASH

Rhys Hook

6355

£150 CASH

Carl Hoare

6687

£200 SUPERMARKET GIFT CARD

William Harvey

7846

DYSON HAIRDRYER

Hannah Drinkwater

7976

DYSON V8

Victoria Paddon

8349

APPLE AIRPODS

ali b

8490

DYSON AIRWRAP

Jeanette Glynn

8705

SMEG KETTLE AND TOASTER

M K j m

8844

£1,000 CASH

9443

£500 CASH

Ellesha Carney

10154

£350 GUCCI SPEND

Kim Eaves

10170

£100 JOHN LEWIS GIFT CARD

Joshua Yates

11558

£150 M&S GIFT CARD

Jordan Amor

11756

PIXEL 7 PRO PHONE

Lauren stone

12339

GALAXY S22 ULTRA

Libby Lewis

12440

APPLE IPHONE 14 128GB

Mrs J

12830

£1,000 CASH

Emma Ormrod

12832

£400 CASH

Sian Platt

12983

£500 SUPERMARKET GIFT CARD
Kirsty Musgrove

13239

HOLIDAY FOR 2 TO ICELAND

13517

MULBERRY MILLIE BAG

13758

£500 CASH

Danielle Lindsay

13936

£75 CASH

14017

£100 HARVESTER GIFT CARD

Lee Horswill

14031

PAIGNTON ZOO PASS

14287

DYSON HAIRDRYER

Victoria Jones

14625

£100 MILLER & CARTER GIFT CARD

Sarah Barlow

15005

DEWALT DCD795M2

Daniel Tyler

15914

£50 CASH

16008

£100 SITE CREDIT

Helen Cottrell

16440

£200 SUPERMARKET GIFT CARD
Emma Potter

17258

£1,000 CASH

Emma White

17435

£500 CASH

GJ S

17620

MANSCAPE KIT

Katie Medler

18112

APPLE WATCH

Jennifer White

19024

£5,000 CASH

Samantha Wilding

19586

Samsung Galaxy Watch5 ProMSUNG

S Willis

19942

NINJA AF400UK

20091

NINJA AF160

Danielle Mearns

20335

NINJA 3 PIECE SAUCEPANS

S Willis

20676

£500 CASH

Roxanne Hill

20716

£300 AMAZON GIFT CARD

Paul Matthews

21091

NINTENDO SWITCH OLED

21104

DYSON HAIRDRYER

Kerrie Rundle

21799

SHARK IZ202UKT

21866

SHARK HAIRDRYER

22679

CLEANING BUNDLE

23715

SAMSUNG UE65A7100- 65' TV

Emma Potter

23748

SAMSUNG 43INCH

Courtney Johnson

23856

XBOX X

Hannah price

24050

PS5

stephanie dale

24180

XBOX S

Sarah Jason ryan

24302

HALFORDS 200PC SOCKET SET

Emily D

24334

£500 CASH

Helen Cottrell

24346

£300 SUPERMARKET VOUCHER

Mark Lowe

24891

£100 MILLER AND CARTER GIFT CARD

25835

£50 CASH

Rhys Hook

26150

£100 SITE CREDIT

Chloe Cockram

27217

£100 LOVE TO SHOP GIFT CARD

28216

£200 JD SPORTS GIFT CARD

28399

£100 NIKE GIFT CARD

Kayleigh Gibbons

28416

AU VODKA BUNDLE

Emily D

28649

£5,000 CASH

Kiall Scott

28652

XBOX X

Sami Knott

28688

£100 CASH

karen Davey

28716

£100 NEXT GIFT CARD

Danielle Kinsella

28837

£50 SITE CREDIT

Kristoffer Bradley

28925

£75 CASH

Andy Hawkins

29364

£100 SUPERMARKET GIFT CARD

Terri Hunt

29375

£1,000 CASH

29494

GO PRO

Linda Beer

29646

£50 BOOTS GIFT CARD

Deana Bristow

29673

£50 NANDOS

30056

£100 CASH

Emma Lievesley

30268

DYSON AIRWRAP

30285

SMEG KETTLE AND TOASTER

Shauna Fitzsimmons

30311

NESPRESSO COFFEE MACHINE

30439

GUCCI BELT

Gemma Bowden

3

0736

£100 PANDORA GIFT CARD

Emma Reeve

30757

PS5

Donna Marie

30903

XBOX X

alan piekielniak

30986

£50 CASH

31033

£100 VBUCKS GIFT CARD

Katie Medler

31566

OVERNIGHT STAY AT BOVEY CASTLE

Lee Mills

31624

£150 CASH

GJ S

31970

£200 CASH

Tracey Parker

31978

SAMSUNG UE65A7100- 65' TV

Sian Platt

32419

£500 SUPERMARKET GIFT CARD

Sarah Billington

33482

£1,000 CASH

Sian Beer

33620

£100 WORTH OF SCRATCH CARDS

33879

£50 SITE CREDIT

34088

£50 NANDOS

34534

£50 MILLER &CARTER

B L

34608

£50 CASH

Miss T

34652

£50 AMAZON GIFT CARD

Victoria Meredith

35786

£100 CASH

3

5993

£100 SITE CREDIT

Debbie Jeffers

36098

CHANEL NO5 PERFUME

Rebecca furlong

36202

DIOR Sauvage Elixir, 60ml

Andy Hawkins

36394

£200 CASH

Claire Symons

36579

£200 SUPERMARKET GIFT CARD

Caroline Taylor

37350

£200 AMAZON

Rhys Hook

37354

PS5

Courtney R

37805

DEWALT DCD795M2

Zoe Reynolds

37822

£100 CASH

Katie Bosworth

38367

£400 CASH

Samantha Wilding

38371

SAMSUNG 43INCH

Helen Cottrell

38578

NINJA AF300

38694

NINJA SAUCEPANS 3 PC

Phil Ball

38708

£500 CASH

Helen Cottrell

38919

£50 PIZZA EXPRESS

Shauni Sullivan

39064

£100 NANDOS

Jeanette Anderson

39324

£100 MILLER AND CARTER GIFT CARD

Samantha Walker

39336

APPLE IPAD 64GB

Anika Warnes

39410

£1,000 TUI GIFT CARD

39763

£1,000 HAYS TRAVEL GIFT CARD

41507

£150 CASH

Chris Carr

41765

£200 CASH

Emma Reeve

41865

£50 CASH

Joshua Hughes

42817

£50 SITE CREDIT

Dominic Packer

42867

£100 PANDORA GIFT CARD

Mel T

43428

£100 SUPERMARKET GIFT CARD

Nathan Hill

43680

£50 CASH

Sarah Ballard

43993

£50 BOOTS GIFT CARD

Martyna Pop

44627

£50 AMAZON GIFT CARD

45522

£10,000 CASH

Shauna Fitzsimmons

45762

£200 JD SPORTS GIFT CARD

Louisa Feaver

46211

£50 PRIMARK

Laura Kendell

46451

APPLE AIRPODS

Lee Mills

47083

£100 CASH

Lauren Clapp

47119

£100 AMAZON

Victoria PritchardDavies

47381

LEGO Star Wars 75331 The Razor Crest

K W

47510

£100 SCRATCH CARDS

47721

£50 CASH

Matt Hatfield

47743

£50 JUST EAT GIFT CARD

48472

DYSON HAIRDRYER

Michaela Nodwell

48655

GHDS

Darren Locke

49107

£200 IKEA GIFT CARD

Shauna Fitzsimmons

49435

£200 EVERY MONTH FOR 12 MONTHS

Natasha Hollingsworth

50550

LAZY SPA MIAMI

Lauren Dillon (O'Mara)

50610

GARDEN EGG CHAIR

50870

OUTDOOR GARDEN SET

Kiri Woodd

51330

KING SIZE BED

Karen Collins

52302

£300 CASH

Emma Reeve

52468

ROLEX WATCH LADIES

Kiri Woodd

52953

MENS ROLEX WATCH

52979

£50 CASH

53072

PENNY WELL FARM FAMILY DAY TICKETS

53300

£1,000 CASH

Scott Haddon

53805

£100 SUPERMARKET GIFT CARD

54059

CREAM TEA FOR TWO AT BOVEY CASTLE

Danielle Lindsay

54724

£100 WORTH SCRATCH CARD

Richard Bosworth

55735

£250 BOTOX VOUCHER

56055

£100 HAIR SALON GIFT CARD

Mrs P

56373

DEWALT DCD795M2

Daniel Wadling

56616

£100 Cash

56617

£200 IKEA GIFT CARD

Katie Medler

56672

£50 NEXT GIFT CARD

57154

£500 CASH

Lauren Charlesworth

57235

£100 CASH

57285

£100 SUPERMARKET GIFT CARD

58222

OLAPLEX SHAMPOO & CONDITIONER

58309

HOME TREE-Q2

58332

£200 CASH

Joe Keirle

59018

£200 AMAZON

Laura Bailey

59079

£100 HARVESTER GIFT CARD

Kayleigh Gibbons

60066

CLEANING BUNDLE

Shauna Fitzsimmons

60350

£100 ZARA GIFT CARD

K W

61062

£100 RIVER ISLAND GIFT CARD

Patricia Hinkley

61601

£100 SUPERDRY GIFT CARD

Shereen Baldwin

61706

£250 CASH

Brooke Cheesmond

61869

STEAM DECK 512GB

Sally Smith

62112

£10,000 CASH

Kerry Gee

62530

Sub Beer Tap

M K j m

62576

£200 CASH

Courtney Johnson

62634

£50 SITE CREDIT

David rogerson

63112

£100 CASH

Jenni Kerr

63151

£500 WORTH OF SCRATCH CARDS

63202

£200 CASH

63403

£50 CASH

R Osben
Maximum tickets per user: 500
1-5000
5001-10000
10001-15000
15001-20000
20001-25000
25001-30000
30001-35000
35001-40000
40001-45000
45001-50000
50001-55000
55001-60000
60001-65000
65001-70000
| Ticket Number | Date | Name |
| --- | --- | --- |
| 1 | 2023-03-04 08:51:12 | Kelly Powell |
| 2 | 2023-03-06 17:21:49 | Megan Lee |
| 3 | 2023-03-11 18:52:15 | Toni Brady |
| 4 | 2023-02-28 14:07:57 | Katie Medler |
| 5 | 2023-02-21 22:57:15 | Jay Jay |
| 6 | 2023-02-20 18:44:05 | K R |
| 9 | 2023-03-11 22:49:15 | Richard Cottrell |
| 10 | 2023-03-06 13:11:48 | Katie Medler |
| 12 | 2023-03-01 14:52:32 | Ellesha Carney |
| 14 | 2023-02-21 20:14:06 | Sharon Hobday |
| 15 | 2023-02-20 19:07:03 | Glenn Bowden |
| 16 | 2023-03-20 01:19:52 | Michelle Whiting |
| 17 | 2023-02-20 18:52:41 | Emily Brown |
| 18 | 2023-03-01 19:51:25 | Ryan kirby |
| 19 | 2023-02-20 18:44:32 | Chris Carr |
| 20 | 2023-02-24 11:34:23 | Kayleigh Gibbons |
| 23 | 2023-03-21 00:10:21 | Chris Carr |
| 24 | 2023-03-03 09:03:52 | Sarah Jason ryan |
| 25 | 2023-03-22 20:00:04 | Sinead Cummings |
| 26 | 2023-03-11 17:51:24 | Kiri Woodd |
| 28 | 2023-03-16 15:23:16 | Zako D |
| 29 | 2023-03-12 10:17:16 | Marika Nevalainen |
| 30 | 2023-02-21 17:25:23 | Hannah price |
| 31 | 2023-02-21 09:53:13 | Andy Hawkins |
| 32 | 2023-03-20 10:41:13 | Emma Potter |
| 33 | 2023-02-21 10:33:15 | Joanne Rodwell |
| 35 | 2023-03-19 20:17:00 | Daniel Paddington |
| 36 | 2023-03-01 13:04:35 | Helen Cottrell |
| 37 | 2023-02-23 17:03:41 | Amy Daniel |
| 41 | 2023-02-21 13:02:27 | Tia Potter |
| 44 | 2023-03-16 14:58:52 | Diana Starling |
| 45 | 2023-03-04 09:26:25 | Vicki White |
| 47 | 2023-02-21 17:23:29 | Sarah Baker |
| 48 | 2023-03-01 10:28:38 | Allan Moreton |
| 49 | 2023-03-19 20:45:21 | Ricky Walters |
| 50 | 2023-02-21 19:45:43 | Emma Jones |
| 51 | 2023-03-03 18:34:07 | Rebecca Ricks |
| 52 | 2023-03-06 17:02:04 | Ian Garner |
| 53 | 2023-02-20 20:38:01 | Nicola Farley |
| 55 | 2023-02-24 18:11:32 | Amy Hardware |
| 56 | 2023-03-04 15:28:36 | Pamela Bradshaw |
| 58 | 2023-03-04 21:37:11 | Neil Potter |
| 59 | 2023-03-22 18:49:00 | Rebecca friend |
| 60 | 2023-02-21 11:58:12 | Jessica Andrews |
| 61 | 2023-02-23 15:57:56 | Stephanie Bush |
| 63 | 2023-02-20 20:21:20 | Lisa Cornish |
| 64 | 2023-03-14 14:33:43 | Helen Cottrell |
| 65 | 2023-03-03 09:15:25 | Sian Platt |
| 68 | 2023-03-02 18:29:26 | Rikki Millett |
| 69 | 2023-03-05 23:14:09 | joanna wolska |
| 71 | 2023-03-19 13:20:34 | Emma Pullen |
| 72 | 2023-03-12 08:37:06 | Sian Beer |
| 73 | 2023-02-20 21:08:21 | Emma ruderham |
| 74 | 2023-03-01 17:28:36 | James Bennellick |
| 75 | 2023-03-16 00:45:59 | Chris Carr |
| 76 | 2023-03-15 14:11:11 | Lauren Charlesworth |
| 77 | 2023-02-28 12:11:12 | Samantha Wilding |
| 78 | 2023-02-21 09:56:37 | Katie Frost |
| 79 | 2023-02-20 18:53:15 | Chris Carr |
| 80 | 2023-02-20 21:01:33 | Lisa Ansell |
| 81 | 2023-02-22 19:04:20 | C W |
| 82 | 2023-03-09 18:51:51 | Helen Clarke |
| 83 | 2023-02-28 11:57:08 | Emma Reeve |
| 84 | 2023-02-20 20:36:09 | Hermon Gosling |
| 85 | 2023-02-21 11:01:16 | Sophia Summers |
| 86 | 2023-02-20 20:51:52 | Emma Pickering |
| 87 | 2023-03-01 17:39:27 | Emily Brown |
| 88 | 2023-02-21 23:38:30 | R Osben |
| 89 | 2023-02-21 11:48:18 | Gemma Gale |
| 90 | 2023-03-20 12:35:48 | Sian Liquorish |
| 91 | 2023-02-26 11:33:57 | Libby Lewis |
| 92 | 2023-02-24 05:57:58 | Samantha Wilding |
| 95 | 2023-03-03 15:16:48 | David Chalkley |
| 96 | 2023-03-06 10:02:35 | Lynne Deeley |
| 97 | 2023-03-04 00:27:36 | Cameron Thompson |
| 98 | 2023-03-01 19:08:35 | Michael t O'connor |
| 99 | 2023-03-03 12:11:00 | Sian Platt |
| 100 | 2023-02-20 20:47:22 | Victoria Coulson |
| 101 | 2023-02-20 20:18:15 | Joe Keirle |
| 102 | 2023-03-01 17:29:53 | Emily Andrews |
| 103 | 2023-03-02 16:22:06 | David Maddocks |
| 104 | 2023-03-19 16:23:56 | Emma Potter |
| 105 | 2023-02-20 18:58:22 | Gemma Knowles |
| 106 | 2023-03-02 17:53:26 | L H |
| 107 | 2023-02-23 21:01:21 | Tia Potter |
| 108 | 2023-02-23 12:44:03 | Tracie Alford |
| 109 | 2023-02-24 18:32:30 | Emma Church |
| 110 | 2023-02-20 19:00:21 | Richard Higham |
| 111 | 2023-02-22 10:27:39 | Emma Jones |
| 113 | 2023-02-20 20:32:59 | Roxanne Hill |
| 114 | 2023-03-03 18:02:12 | Shanice Shepherd |
| 115 | 2023-03-05 18:46:39 | Ian Craig |
| 117 | 2023-02-21 19:10:49 | R Osben |
| 119 | 2023-02-20 20:00:59 | Trina Chaney |
| 120 | 2023-02-28 07:34:29 | ~ Abby & Kelly ~ |
| 122 | 2023-02-21 00:12:23 | Amy Hardware |
| 123 | 2023-02-28 20:29:11 | Jeffery Moseley |
| 124 | 2023-02-20 19:34:43 | Tash Wright |
| 125 | 2023-02-24 13:21:18 | Marie Sandford |
| 126 | 2023-03-01 19:13:27 | Jessica Porritt |
| 127 | 2023-02-24 22:15:04 | Katie Medler |
| 130 | 2023-02-21 14:01:10 | Tia Potter |
| 133 | 2023-03-04 10:37:32 | nathan miller |
| 135 | 2023-03-06 16:00:56 | Hermon Gosling |
| 136 | 2023-02-20 22:25:09 | Sami Knott |
| 137 | 2023-02-24 15:08:54 | Rhys Hook |
| 139 | 2023-03-06 19:35:20 | Danielle Danielle |
| 140 | 2023-02-28 17:35:10 | LADY Trina |
| 141 | 2023-02-21 19:34:14 | Jay Jay |
| 142 | 2023-02-20 19:07:51 | B L |
| 143 | 2023-02-20 18:47:27 | Sarah Cooper |
| 144 | 2023-02-20 19:42:55 | Jenny Mills |
| 145 | 2023-03-01 12:49:05 | MacDonald Ella |
| 148 | 2023-03-03 18:33:13 | Shannon Lillico |
| 149 | 2023-02-21 08:37:32 | Stacy Crockford |
| 150 | 2023-02-21 21:20:55 | Mels T |
| 151 | 2023-02-23 11:01:51 | N P |
| 152 | 2023-03-20 23:37:14 | Amanda-jane Maloney |
| 153 | 2023-03-22 19:20:47 | Rebecca Chappell |
| 154 | 2023-02-27 15:26:45 | Nick Stevens |
| 155 | 2023-03-04 11:27:17 | Ugne Terentjevaite |
| 156 | 2023-02-20 19:04:14 | Kiri Leanne |
| 159 | 2023-02-23 18:17:33 | J m Blackmore |
| 160 | 2023-03-01 19:07:41 | Danielle McIntyre |
| 161 | 2023-03-10 23:49:38 | Jeanette Anderson |
| 162 | 2023-03-18 22:00:47 | Ryan Finch |
| 163 | 2023-03-01 19:40:10 | LJ Storer no |
| 164 | 2023-03-18 20:59:08 | Laura Creane |
| 165 | 2023-03-06 20:35:41 | Amanda-jane Maloney |
| 166 | 2023-03-20 10:24:39 | Claire Westwood |
| 167 | 2023-02-21 00:42:42 | Teri-louise Gray |
| 168 | 2023-02-23 21:06:49 | Kaylie northcott |
| 169 | 2023-02-20 21:23:09 | Donna Marie |
| 171 | 2023-02-20 19:39:40 | Steve Archer |
| 172 | 2023-03-09 09:37:59 | M KM |
| 173 | 2023-02-24 14:22:39 | N P |
| 174 | 2023-02-23 14:04:33 | Mels T |
| 175 | 2023-02-20 20:46:43 | Carol Joyce |
| 176 | 2023-02-25 09:59:42 | Michael t O'connor |
| 179 | 2023-02-20 18:46:06 | Aaron Worth |
| 180 | 2023-02-21 16:18:19 | Chris Carr |
| 182 | 2023-03-16 13:47:16 | Joe Keirle |
| 183 | 2023-02-23 17:21:09 | Denise Turner |
| 184 | 2023-03-23 18:06:50 | Danielle Framingham |
| 185 | 2023-03-20 20:08:14 | Fleur Egington |
| 187 | 2023-03-03 12:46:46 | Georgia Armour |
| 188 | 2023-02-20 20:49:40 | Keeley Grinsted |
| 189 | 2023-03-05 23:02:58 | Natalie Gibson |
| 190 | 2023-02-23 10:41:52 | Joshua Yates |
| 191 | 2023-02-23 17:44:24 | Jordan Edgecombe |
| 192 | 2023-03-01 03:39:11 | Niki Rowles |
| 193 | 2023-02-28 11:53:42 | Melizza Long |
| 194 | 2023-02-24 20:23:03 | Lisa Roberts |
| 196 | 2023-02-21 21:54:39 | Ryan kirby |
| 199 | 2023-02-24 01:34:43 | Caroline Taylor |
| 200 | 2023-03-12 13:33:46 | Linda Beer |
| 202 | 2023-02-20 18:53:01 | Katie O'Boyle |
| 203 | 2023-02-26 13:16:33 | Dianne H |
| 204 | 2023-02-21 10:30:13 | Samantha Head |
| 205 | 2023-03-19 20:04:16 | Joshua Hughes |
| 206 | 2023-03-05 14:07:55 | Sabrina Canepa |
| 207 | 2023-02-20 19:19:33 | H W |
| 210 | 2023-02-24 07:15:47 | Eri Hall |
| 211 | 2023-02-28 13:27:43 | Miss T |
| 212 | 2023-03-03 09:26:13 | Tara Evans |
| 213 | 2023-02-27 12:13:52 | Paul Matthews |
| 214 | 2023-02-20 20:03:43 | S D |
| 215 | 2023-03-05 10:42:04 | Abby Evans |
| 216 | 2023-02-23 16:58:47 | Lou Lister |
| 217 | 2023-03-11 22:21:50 | Elisha Eldridge |
| 218 | 2023-03-19 15:59:57 | Emma Potter |
| 219 | 2023-03-02 10:08:03 | Nigel Davis |
| 220 | 2023-02-21 17:20:47 | R Osben |
| 221 | 2023-02-24 13:35:32 | Donna Skinner |
| 223 | 2023-03-05 14:53:20 | Adam Le-Huray Baker |
| 224 | 2023-03-08 13:31:31 | Emma White |
| 225 | 2023-02-21 08:01:43 | Donna Marie |
| 227 | 2023-02-21 13:01:27 | Emily McInnes |
| 228 | 2023-03-01 20:02:13 | Charlie Barden |
| 229 | 2023-03-18 11:28:30 | Samantha c |
| 230 | 2023-03-23 16:11:58 | Jodie Bird |
| 231 | 2023-02-21 18:55:24 | Mark Lowe |
| 234 | 2023-02-28 14:01:13 | Katie Medler |
| 235 | 2023-03-03 17:29:26 | Louis Mearns |
| 236 | 2023-02-21 23:38:30 | R Osben |
| 237 | 2023-02-21 10:37:53 | Susan Munt |
| 239 | 2023-02-20 19:58:39 | Ayesha Davies |
| 240 | 2023-02-22 16:58:25 | Mark Lowe |
| 241 | 2023-03-18 13:53:54 | Sharna Yeowell |
| 243 | 2023-02-20 20:36:05 | Demi Horn |
| 244 | 2023-03-20 03:09:04 | Miss T |
| 245 | 2023-02-24 11:37:21 | J K |
| 246 | 2023-03-06 20:28:49 | Tom Clay |
| 247 | 2023-03-20 10:19:29 | Emma Potter |
| 248 | 2023-02-23 18:44:29 | Ollie Collins |
| 249 | 2023-02-22 17:03:56 | Pamela Bradshaw |
| 250 | 2023-03-22 12:37:13 | Katherine Rowe |
| 251 | 2023-03-06 12:01:31 | Sharon Hobday |
| 252 | 2023-02-27 21:10:33 | Lauren Turner |
| 253 | 2023-03-14 14:58:34 | Chris Carr |
| 254 | 2023-02-21 12:48:10 | Shona Hatch |
| 256 | 2023-03-20 17:44:15 | Lee Mills |
| 257 | 2023-03-21 11:02:12 | Michael Maxwell |
| 258 | 2023-02-28 14:28:22 | Sarah Jason ryan |
| 259 | 2023-02-21 08:10:36 | Holly Jackson |
| 260 | 2023-02-22 11:35:22 | Tracey Osborn |
| 262 | 2023-03-18 20:05:42 | Joshua Hughes |
| 264 | 2023-02-28 14:34:21 | Sarah Jason ryan |
| 265 | 2023-02-20 19:01:48 | Nathan White |
| 266 | 2023-03-02 23:33:44 | Simone Grose |
| 267 | 2023-02-20 23:54:56 | Emma & lee |
| 268 | 2023-02-20 19:55:37 | Kelly Radmore |
| 270 | 2023-03-18 11:26:02 | Samantha c |
| 271 | 2023-02-23 11:17:44 | Lee Wallace |
| 272 | 2023-03-01 12:09:49 | Daniel Paddington |
| 274 | 2023-03-13 16:52:38 | Debbie Mckimm |
| 276 | 2023-02-20 22:14:30 | Mels T |
| 278 | 2023-02-20 19:20:19 | Matthew Nickels |
| 279 | 2023-03-01 09:06:17 | Kelly Russell |
| 280 | 2023-03-20 10:40:17 | Marie Tucker |
| 281 | 2023-02-28 22:31:02 | Kaylie T |
| 282 | 2023-02-20 19:33:42 | Neil Potter |
| 283 | 2023-02-22 17:55:54 | Darren Bruce |
| 284 | 2023-02-20 20:56:34 | Louis Bergin |
| 285 | 2023-03-05 20:21:12 | Ann Hall |
| 286 | 2023-03-01 06:53:49 | Samantha Wilding |
| 287 | 2023-03-21 13:59:22 | Caroline Western |
| 288 | 2023-03-22 19:49:03 | Tom Hobson |
| 290 | 2023-03-20 10:25:06 | Emma Potter |
| 291 | 2023-02-21 15:06:00 | Debbie Marsh |
| 295 | 2023-03-01 08:24:37 | Amy Hardware |
| 296 | 2023-02-21 07:12:19 | Lisa Ritson |
| 297 | 2023-03-13 11:16:34 | Carol Welsh |
| 298 | 2023-03-11 07:47:21 | Kiri Woodd |
| 300 | 2023-03-01 07:25:39 | Miss T |
| 302 | 2023-02-27 23:07:27 | Jason Crockett |
| 303 | 2023-02-22 06:45:57 | Will Hageman |
| 304 | 2023-03-16 10:25:39 | Jane Hasni |
| 306 | 2023-02-24 16:38:33 | Mels T |
| 307 | 2023-02-25 10:24:42 | Stacey Dymond |
| 308 | 2023-03-01 08:14:36 | Amy Hardware |
| 309 | 2023-02-26 10:14:55 | Shauna Fitzsimmons |
| 310 | 2023-02-24 18:05:51 | Emily Dyke |
| 311 | 2023-03-22 16:19:10 | Hannah Smith |
| 313 | 2023-02-21 10:42:13 | Levanna Baxter |
| 314 | 2023-03-18 15:26:42 | Emma Potter |
| 315 | 2023-03-12 09:45:52 | Tidey Gemma |
| 318 | 2023-03-18 12:17:50 | Emma Reeve |
| 319 | 2023-02-28 09:46:16 | Chantelle Norman |
| 320 | 2023-03-03 22:00:34 | Lauren stone |
| 321 | 2023-02-28 14:41:26 | Emma Pullen |
| 322 | 2023-03-01 22:03:10 | Jordan Amor |
| 323 | 2023-02-20 23:47:59 | Katie Tully |
| 325 | 2023-02-20 21:22:05 | Sam Hicks |
| 327 | 2023-02-20 18:53:17 | Clare Corfield |
| 328 | 2023-03-20 15:51:11 | Amy Leslie |
| 330 | 2023-03-09 20:17:13 | Lisa Roberts |
| 331 | 2023-02-21 10:19:07 | Maddie Groves |
| 332 | 2023-02-23 09:36:07 | N P |
| 334 | 2023-02-21 01:01:14 | Suzi Gooding |
| 335 | 2023-03-01 12:39:03 | Mels T |
| 336 | 2023-02-28 22:31:02 | Kaylie T |
| 337 | 2023-03-01 15:56:13 | Kelsey Herriott |
| 338 | 2023-02-20 19:34:00 | Hannah Long |
| 339 | 2023-02-20 18:49:38 | Amy Hardware |
| 340 | 2023-03-01 12:15:12 | Elizabeth Myatt |
| 341 | 2023-03-06 20:20:20 | Tina Gates |
| 342 | 2023-03-14 07:58:37 | Emma Potter |
| 343 | 2023-03-20 12:19:50 | Ashley Commins |
| 344 | 2023-02-28 10:22:48 | Ellesha Carney |
| 345 | 2023-03-01 14:30:32 | K W |
| 346 | 2023-03-14 23:18:58 | James Osben |
| 348 | 2023-02-22 21:30:15 | Michael Davies |
| 349 | 2023-03-07 17:28:24 | Sian Hawkins |
| 350 | 2023-03-01 16:48:58 | Marie Tucker |
| 351 | 2023-02-22 01:03:08 | R Osben |
| 353 | 2023-02-21 17:30:45 | Leah Guppy |
| 357 | 2023-03-10 23:19:05 | Sarah jane Glover |
| 359 | 2023-03-09 09:37:59 | M KM |
| 360 | 2023-02-28 19:57:56 | Tyler Christensen |
| 361 | 2023-03-20 19:43:31 | Dani Goodwin |
| 362 | 2023-02-28 12:08:39 | Kayleigh Gibbons |
| 363 | 2023-02-27 05:36:29 | Karen Lee |
| 364 | 2023-03-11 18:24:33 | Sarah Billington |
| 367 | 2023-03-02 17:48:03 | Marcus Johns |
| 368 | 2023-02-20 21:28:08 | Andy Hawkins |
| 369 | 2023-02-20 19:34:43 | Tash Wright |
| 370 | 2023-03-03 22:16:05 | Mels T |
| 373 | 2023-03-18 22:40:11 | Cheryl White |
| 375 | 2023-02-20 18:58:09 | Marc Baker |
| 378 | 2023-02-24 10:31:49 | Shauna Fitzsimmons |
| 379 | 2023-03-20 02:16:53 | Miss T |
| 380 | 2023-03-22 07:59:59 | Ellen Dixon |
| 383 | 2023-02-23 20:03:28 | Alex Alex |
| 384 | 2023-02-21 07:02:58 | Donna Marie |
| 385 | 2023-03-02 20:37:28 | Kalim Choudhury |
| 386 | 2023-02-21 06:54:04 | Tia Potter |
| 387 | 2023-03-22 21:14:47 | Shereen Baldwin |
| 388 | 2023-02-21 09:48:46 | Stacy Crockford |
| 390 | 2023-02-21 10:14:55 | Chelsey Lindsay |
| 391 | 2023-02-20 21:26:13 | Rebecca Scott |
| 393 | 2023-02-20 22:25:09 | Sami Knott |
| 395 | 2023-03-02 20:59:52 | Richard Higham |
| 396 | 2023-03-06 21:35:04 | Tina-marie Wellings |
| 397 | 2023-02-25 07:51:57 | Samantha Wilding |
| 398 | 2023-03-08 18:07:16 | Paul Latham |
| 401 | 2023-02-21 21:06:44 | Lisa Bailey |
| 402 | 2023-03-01 12:31:47 | Daniel Paddington |
| 403 | 2023-03-22 18:02:05 | Dana whereat |
| 404 | 2023-03-04 08:28:59 | Holly Griffith |
| 405 | 2023-03-19 15:07:51 | Nicola Naylor |
| 406 | 2023-03-03 16:26:34 | Gemma Shaddick |
| 407 | 2023-02-22 14:31:24 | N P |
| 410 | 2023-03-06 07:22:33 | Katrina Bevan |
| 411 | 2023-03-20 15:14:41 | Donna Crane |
| 412 | 2023-02-21 18:43:56 | Mark Lowe |
| 414 | 2023-03-20 20:37:03 | Jolene Collings |
| 415 | 2023-03-02 10:23:43 | Kaylie T |
| 416 | 2023-03-19 21:19:02 | Lorraine Shipp |
| 417 | 2023-02-22 23:43:28 | C W |
| 418 | 2023-02-20 20:18:15 | Joe Keirle |
| 419 | 2023-02-22 00:44:19 | R Osben |
| 420 | 2023-02-20 19:23:47 | Catherine Marsh |
| 421 | 2023-03-20 02:57:24 | Neil Potter |
| 422 | 2023-03-04 13:21:19 | Hollie Linger |
| 423 | 2023-02-21 08:04:52 | Donna Marie |
| 424 | 2023-03-02 20:27:13 | Victoria Powell |
| 426 | 2023-03-09 19:03:44 | Kiri Woodd |
| 427 | 2023-02-22 20:54:13 | Annabell Breslan |
| 428 | 2023-02-20 18:50:49 | Zoey Hinchcliffe |
| 431 | 2023-03-19 11:24:41 | Claire Sandford |
| 432 | 2023-02-21 10:51:14 | Kayleigh Masters |
| 433 | 2023-02-24 07:33:43 | Amy Wain |
| 434 | 2023-03-18 11:26:02 | Samantha c |
| 435 | 2023-03-20 16:12:46 | Sharmagne Withey |
| 436 | 2023-03-21 21:21:59 | Cheryl Hole |
| 438 | 2023-02-26 00:53:19 | S W |
| 440 | 2023-02-20 19:34:13 | Loren Cox |
| 441 | 2023-03-10 02:09:53 | Eri Hall |
| 442 | 2023-02-24 16:25:23 | Z E |
| 443 | 2023-03-04 08:43:03 | Annabell Breslan |
| 445 | 2023-03-01 12:12:18 | Mahli Binmore |
| 446 | 2023-03-18 21:12:45 | Steve Bryant |
| 447 | 2023-03-13 09:39:59 | Jane Hasni |
| 448 | 2023-03-11 07:25:46 | Kiri Woodd |
| 449 | 2023-02-20 20:22:52 | Jo Pennington |
| 450 | 2023-03-19 18:27:54 | Joshua Hughes |
| 452 | 2023-02-21 10:40:31 | Emma Reeve |
| 454 | 2023-02-21 15:20:32 | Louise Brooks |
| 455 | 2023-02-20 18:49:46 | Alex Alex |
| 456 | 2023-03-01 19:19:19 | Liam Wallage |
| 457 | 2023-03-09 13:25:13 | L E B |
| 460 | 2023-03-05 22:38:23 | Caroline Williams |
| 461 | 2023-02-22 20:46:32 | Sharon Hobday |
| 463 | 2023-03-09 21:37:32 | Samantha Seymour |
| 464 | 2023-02-21 19:46:03 | Mark Lowe |
| 467 | 2023-02-21 07:31:42 | Stephanie Hartnoll |
| 468 | 2023-03-01 10:28:38 | Allan Moreton |
| 470 | 2023-02-20 19:31:58 | Jack Andrieux |
| 471 | 2023-03-21 06:02:56 | Emma Reeve |
| 472 | 2023-02-24 07:35:08 | Samantha Wilding |
| 475 | 2023-02-20 19:41:47 | Danielle Scott |
| 476 | 2023-03-03 19:31:38 | Suzanne Holcombe |
| 477 | 2023-02-20 19:22:32 | Tyrone Small |
| 479 | 2023-02-22 13:55:13 | Lionel Sutton |
| 480 | 2023-02-21 21:08:28 | Wendy Kelsall |
| 481 | 2023-03-18 17:20:56 | Kerry Richards |
| 482 | 2023-03-23 16:24:03 | Wendy Kelsall |
| 483 | 2023-03-06 16:47:53 | ali b |
| 484 | 2023-02-20 23:55:41 | Chelsea King |
| 485 | 2023-02-22 01:03:08 | R Osben |
| 486 | 2023-02-20 18:44:55 | LADY Trina |
| 487 | 2023-03-05 01:18:02 | Roxanne Hill |
| 489 | 2023-02-23 23:18:31 | Kimberley Lewis |
| 490 | 2023-02-21 11:41:34 | Kirsty Haughton |
| 491 | 2023-03-20 10:50:30 | Elizabeth Coulthard |
| 492 | 2023-03-06 19:44:09 | Jessica Hill |
| 493 | 2023-02-20 22:19:35 | Andy Hawkins |
| 496 | 2023-02-21 08:31:17 | Keri-Anne Taylor |
| 498 | 2023-03-05 14:15:16 | Raveena Saini |
| 499 | 2023-03-17 22:17:33 | Nicola Black |
| 500 | 2023-02-28 18:26:37 | Georgia Atherton |
| 501 | 2023-03-16 15:23:16 | Zako D |
| 503 | 2023-02-22 00:56:54 | R Osben |
| 504 | 2023-02-20 19:39:22 | David Fitzsimmons |
| 506 | 2023-02-28 18:03:10 | Jamie-leigh Johansson |
| 507 | 2023-03-01 16:43:56 | Ami Donovan |
| 508 | 2023-02-21 12:26:27 | Laura Amos |
| 509 | 2023-02-27 15:49:53 | Natalie Milner |
| 511 | 2023-02-21 22:48:45 | C W |
| 512 | 2023-02-28 12:19:34 | Tamzin Hurrell |
| 513 | 2023-02-20 18:55:18 | Diana Starling |
| 514 | 2023-02-21 19:29:36 | Paige MacDonald |
| 515 | 2023-03-01 09:52:57 | Kerryanne Botibol |
| 516 | 2023-03-02 23:33:44 | Simone Grose |
| 518 | 2023-03-17 23:47:10 | Natasha Pitman |
| 519 | 2023-03-03 12:41:38 | Sian Platt |
| 520 | 2023-02-28 18:35:26 | M KM |
| 521 | 2023-03-21 01:19:12 | Gemma Bygrave |
| 522 | 2023-03-22 20:00:32 | Fletcher Charlotte |
| 523 | 2023-02-23 14:03:07 | Zara Abbott |
| 525 | 2023-03-11 19:28:07 | Sarah Billington |
| 526 | 2023-02-20 18:47:52 | Keira Bradford-jones |
| 527 | 2023-02-25 09:51:33 | Tara Evans |
| 528 | 2023-02-20 19:02:41 | Georgia Cornish |
| 529 | 2023-02-23 10:15:42 | Harry T |
| 530 | 2023-02-21 10:30:46 | Darryl Gumbrill |
| 531 | 2023-03-06 21:35:54 | Anthony Rose |
| 532 | 2023-02-28 18:36:26 | Mels T |
| 533 | 2023-02-22 03:33:45 | Georgina Aggett |
| 534 | 2023-03-03 17:00:32 | V G |
| 535 | 2023-03-05 14:38:29 | Katie Lacey |
| 536 | 2023-03-19 19:18:02 | Claire King |
| 537 | 2023-02-24 07:44:39 | K W |
| 538 | 2023-02-21 10:38:33 | Luke Rossiter |
| 541 | 2023-03-01 20:49:30 | Tia Sparkes |
| 543 | 2023-02-20 18:44:58 | Jemma Edghill |
| 544 | 2023-03-01 15:37:45 | Abi Parnell |
| 545 | 2023-03-11 13:35:23 | Sam Hicks |
| 546 | 2023-03-07 19:51:51 | Hermon Gosling |
| 547 | 2023-03-03 10:24:55 | Joanne Smith |
| 548 | 2023-02-21 19:22:51 | Mike H |
| 549 | 2023-02-24 15:39:02 | Emma Reeve |
| 551 | 2023-03-19 21:36:14 | Sharon Alderson |
| 553 | 2023-02-22 17:14:14 | Pamela Bradshaw |
| 555 | 2023-03-01 13:57:47 | Verity Dechan |
| 556 | 2023-02-20 22:17:04 | Rebekka Lucas |
| 557 | 2023-03-02 12:50:58 | Stacey Dymond |
| 558 | 2023-02-20 20:07:11 | Emma Fort |
| 559 | 2023-02-20 19:00:15 | Donna Marie |
| 561 | 2023-02-28 17:25:31 | Janice Parker-Done |
| 562 | 2023-03-19 14:19:36 | Lorraine Mcardle |
| 563 | 2023-03-23 12:59:25 | Kiall Scott |
| 564 | 2023-03-02 15:40:18 | Georgia Shore |
| 566 | 2023-02-24 00:28:00 | Georgina Aggett |
| 567 | 2023-02-21 23:38:30 | R Osben |
| 568 | 2023-02-20 21:11:34 | Andy Hawkins |
| 569 | 2023-02-20 18:57:06 | Sophie Knott |
| 570 | 2023-02-20 18:54:43 | Ella Tolhurst |
| 572 | 2023-02-24 03:34:15 | Kayleigh Gibbons |
| 573 | 2023-02-20 23:54:56 | Emma & lee |
| 574 | 2023-02-28 15:43:09 | Neil Potter |
| 575 | 2023-02-20 18:58:41 | Paula Bolt |
| 576 | 2023-03-17 23:41:05 | Katie Tully |
| 577 | 2023-02-23 23:46:25 | Juliet Phillips |
| 578 | 2023-02-22 01:09:26 | R Osben |
| 579 | 2023-03-20 13:15:41 | Vicki Wakefield |
| 583 | 2023-03-14 10:55:10 | Chris Carr |
| 584 | 2023-02-21 13:00:57 | Mels T |
| 585 | 2023-03-04 18:45:07 | Samantha Bailey |
| 586 | 2023-03-02 23:52:12 | Lisa Glover |
| 587 | 2023-03-08 14:12:03 | Lisa Hutchings |
| 588 | 2023-03-01 22:44:11 | Liam Northcott |
| 589 | 2023-02-20 22:10:37 | Doreen Williams |
| 590 | 2023-02-27 17:08:57 | Lee Mills |
| 591 | 2023-02-28 20:37:54 | Jessica Foster |
| 592 | 2023-02-24 19:28:47 | Emma Jones |
| 593 | 2023-02-20 21:43:49 | Ashley Rideout |
| 594 | 2023-02-20 19:12:54 | Bonnie Van Beek |
| 595 | 2023-02-24 00:26:04 | Georgina Aggett |
| 596 | 2023-03-04 18:47:38 | Shavanna Woon |
| 597 | 2023-03-01 16:22:47 | Sophie Morgan |
| 598 | 2023-03-20 10:30:31 | Emma Potter |
| 599 | 2023-02-21 07:22:30 | Jodie Southwell |
| 601 | 2023-03-19 21:29:09 | Chris Carr |
| 602 | 2023-02-20 18:19:44 | Kaili Osborn |
| 603 | 2023-02-20 20:59:24 | Aimee Gegg |
| 604 | 2023-03-02 22:49:03 | Bethany Williams |
| 605 | 2023-03-14 00:20:53 | Chris Carr |
| 606 | 2023-03-11 19:31:45 | Tracy Jones |
| 608 | 2023-03-21 16:38:54 | Sherrianne Cooke |
| 610 | 2023-03-02 08:32:46 | Amanda Logue |
| 611 | 2023-02-21 10:38:33 | Luke Rossiter |
| 612 | 2023-02-27 21:12:23 | Kim Scott |
| 613 | 2023-02-20 19:33:42 | Neil Potter |
| 614 | 2023-03-01 20:10:58 | Aidan White |
| 615 | 2023-02-21 16:58:34 | Sinead Coker |
| 616 | 2023-03-11 20:37:53 | Chantelle Smith |
| 617 | 2023-03-12 22:42:21 | Kiri Woodd |
| 618 | 2023-03-18 22:11:38 | marion clark |
| 619 | 2023-02-23 15:28:14 | Adeana Fletcher |
| 620 | 2023-03-21 12:54:34 | Rebecca furlong |
| 621 | 2023-03-01 12:27:39 | Samantha c |
| 623 | 2023-03-05 10:16:07 | S W |
| 624 | 2023-03-04 22:31:37 | Sophie Morgan |
| 625 | 2023-03-20 10:31:23 | Molly Fleming |
| 626 | 2023-03-14 18:57:09 | Joshua Hughes |
| 630 | 2023-03-23 14:19:09 | Stuart Ryall |
| 631 | 2023-02-23 00:23:47 | Miss T |
| 634 | 2023-03-22 07:22:14 | Miss T |
| 636 | 2023-02-21 10:31:51 | Laura Amos |
| 637 | 2023-02-20 19:02:54 | Sam Strike |
| 638 | 2023-02-28 15:03:20 | Kayleigh Gibbons |
| 640 | 2023-02-28 14:36:35 | Chantelle Amphlett |
| 641 | 2023-03-21 19:58:40 | Ian Wallis |
| 642 | 2023-02-21 02:07:33 | Kelly Howells |
| 643 | 2023-03-19 10:46:23 | S P |
| 645 | 2023-02-20 20:38:08 | Paris Johnson |
| 646 | 2023-02-25 09:35:30 | Roger Hubbard |
| 647 | 2023-03-04 09:44:22 | Morgan Samuels |
| 648 | 2023-03-18 11:21:31 | Samantha c |
| 649 | 2023-03-21 03:27:58 | Deborah Boyd |
| 650 | 2023-03-11 10:55:50 | Kiri Woodd |
| 651 | 2023-02-22 21:33:28 | Emma Pullen |
| 652 | 2023-02-21 16:03:04 | Ashleigh Conaghan |
| 654 | 2023-02-24 08:09:38 | Darryl Gumbrill |
| 655 | 2023-03-08 16:37:09 | Kiri Woodd |
| 656 | 2023-03-11 23:50:26 | Sharna Yeowell |
| 658 | 2023-02-26 19:31:52 | Sarah Jason ryan |
| 661 | 2023-02-20 23:37:50 | C W |
| 662 | 2023-02-21 14:59:06 | Chris Carr |
| 664 | 2023-02-20 18:58:11 | Tanya Sherlock |
| 666 | 2023-02-24 12:38:19 | Jo Disley |
| 668 | 2023-03-11 19:04:37 | Kayleigh Barnard |
| 669 | 2023-03-11 13:46:57 | Kiri Woodd |
| 670 | 2023-02-20 21:25:56 | James Owen |
| 671 | 2023-02-23 16:43:19 | Jodie Baker |
| 672 | 2023-03-18 02:41:54 | Leyanne Macdonald |
| 673 | 2023-02-28 06:55:14 | Catherine Golden |
| 675 | 2023-03-20 11:10:43 | Dale Stephenson |
| 676 | 2023-02-23 23:35:38 | Donna Marie |
| 677 | 2023-02-21 22:45:28 | Jay Jay |
| 678 | 2023-03-21 20:30:28 | Rebecca Booth |
| 679 | 2023-03-20 18:43:06 | Roxanne Hill |
| 680 | 2023-03-10 15:57:56 | Hermon Gosling |
| 681 | 2023-02-20 21:35:19 | Sophie Rowland |
| 682 | 2023-03-18 18:52:01 | michelle wallis |
| 683 | 2023-02-20 18:53:31 | Katherine Parker |
| 684 | 2023-02-20 19:45:00 | L C |
| 685 | 2023-03-16 10:35:51 | Sharleen Furber |
| 686 | 2023-02-24 11:34:23 | Kayleigh Gibbons |
| 687 | 2023-02-23 18:52:40 | Shalanda Mullings |
| 688 | 2023-02-28 19:30:20 | Michael Gibbons |
| 689 | 2023-02-22 10:42:29 | Jannine White |
| 690 | 2023-02-20 21:46:45 | Kim White |
| 692 | 2023-03-18 07:30:48 | Sarah Barlow |
| 693 | 2023-03-06 13:35:40 | Simon saunders |
| 694 | 2023-03-17 21:26:16 | Kelly Radmore |
| 695 | 2023-03-03 21:46:48 | Sian Platt |
| 696 | 2023-02-21 19:00:12 | Donna Marie |
| 697 | 2023-03-22 08:21:50 | Alex Tyers |
| 698 | 2023-03-17 16:01:09 | S W |
| 699 | 2023-03-16 16:20:50 | Charmaine Tape |
| 700 | 2023-03-19 12:24:17 | Emma Jones |
| 701 | 2023-03-22 19:44:29 | Samantha Wood |
| 702 | 2023-02-20 18:37:00 | Bonnie Van Beek |
| 705 | 2023-03-01 16:16:01 | M KM |
| 706 | 2023-02-21 17:53:21 | N P |
| 708 | 2023-03-18 04:43:37 | Samantha Kaszics |
| 709 | 2023-02-26 11:32:24 | Libby Lewis |
| 710 | 2023-03-19 11:38:28 | Lauren Marsh |
| 711 | 2023-03-04 14:54:27 | Tia Potter |
| 713 | 2023-03-02 19:23:00 | Hermon Gosling |
| 714 | 2023-02-23 10:32:50 | R Osben |
| 715 | 2023-02-21 18:46:57 | N P |
| 716 | 2023-03-10 21:44:30 | Ian Wallis |
| 717 | 2023-02-21 11:22:33 | Greg Manley |
| 718 | 2023-03-06 19:12:09 | Sharon Goby |
| 719 | 2023-02-23 14:16:36 | Zara Abbott |
| 720 | 2023-03-14 17:23:55 | Sarah jane Glover |
| 721 | 2023-03-14 03:07:35 | Chelsea Bishop |
| 722 | 2023-03-03 13:16:58 | Tracy Mills |
| 723 | 2023-02-21 10:17:12 | Jolene Collings |
| 725 | 2023-03-09 19:03:44 | Kiri Woodd |
| 726 | 2023-03-01 08:42:41 | Amy Hardware |
| 727 | 2023-03-02 19:47:00 | Sadie Mulgrue |
| 728 | 2023-03-19 13:15:33 | Michelle Fewings |
| 729 | 2023-03-17 02:31:46 | Emma Reeve |
| 730 | 2023-02-21 23:02:51 | Sally Smith |
| 731 | 2023-03-16 16:20:11 | Julie Botley |
| 732 | 2023-03-02 14:05:57 | Samantha Reed |
| 735 | 2023-02-24 11:07:06 | Kate Sheriff |
| 736 | 2023-03-12 00:49:00 | Lauren stone |
| 738 | 2023-02-20 17:01:24 | Amber Lawrence |
| 739 | 2023-02-28 10:48:53 | Ellesha Carney |
| 741 | 2023-03-13 18:46:52 | Andy S |
| 742 | 2023-02-28 08:35:13 | Raveena Saini |
| 743 | 2023-02-21 01:06:50 | Helen Cottrell |
| 744 | 2023-03-06 20:43:31 | Lauren Charlesworth |
| 745 | 2023-03-04 20:50:13 | Donna Blundell |
| 746 | 2023-02-24 20:22:34 | Jacqueline Sandford |
| 747 | 2023-02-24 19:22:52 | Emily Hatfield |
| 748 | 2023-03-09 20:49:24 | Joanne Baker |
| 750 | 2023-02-24 08:29:26 | K W |
| 751 | 2023-03-02 09:00:38 | Lawrence Coombes |
| 752 | 2023-02-20 22:47:02 | Andy Hawkins |
| 753 | 2023-02-20 19:09:06 | Tyrone Small |
| 755 | 2023-02-23 15:57:38 | Shauna Fitzsimmons |
| 756 | 2023-03-07 16:41:04 | S W |
| 757 | 2023-03-20 02:11:33 | Pamela Forester |
| 758 | 2023-03-02 15:02:11 | Kelly Mcintosh |
| 759 | 2023-02-22 17:03:56 | Pamela Bradshaw |
| 760 | 2023-02-22 06:26:45 | Kirsty Passmore |
| 761 | 2023-02-20 20:05:10 | Ricky Walters |
| 762 | 2023-02-20 18:52:41 | Caron Wilson |
| 763 | 2023-02-21 09:19:26 | Tia Potter |
| 764 | 2023-02-21 19:10:38 | Spencer Troth |
| 767 | 2023-03-01 13:03:26 | Stacey Lindley |
| 769 | 2023-03-20 14:33:45 | Sarah Voaden |
| 771 | 2023-03-18 18:51:03 | Karen Garratley |
| 772 | 2023-03-19 19:36:42 | Joshua Hughes |
| 773 | 2023-03-17 22:51:03 | Jemma Moore |
| 774 | 2023-03-01 12:38:40 | Jamie Radmore |
| 775 | 2023-02-21 18:10:08 | Jasmin Rockey |
| 776 | 2023-02-21 16:00:35 | Claire Strange |
| 778 | 2023-03-04 22:33:01 | Suzanne Riddock |
| 779 | 2023-03-06 11:25:57 | Sophie Morgan |
| 780 | 2023-02-26 12:10:54 | Samantha Payne |
| 781 | 2023-03-20 14:10:46 | Sam Cook |
| 782 | 2023-03-07 20:45:55 | Ian Wallis |
| 783 | 2023-02-20 19:55:33 | Emely Mann |
| 784 | 2023-02-20 22:26:16 | Andy Hawkins |
| 785 | 2023-02-24 11:23:32 | Kayleigh Gibbons |
| 787 | 2023-03-01 15:05:47 | M KM |
| 788 | 2023-03-03 16:29:06 | Ellesha Carney |
| 790 | 2023-03-20 18:51:18 | Leah Moore |
| 793 | 2023-02-23 16:16:52 | Franky Boy |
| 794 | 2023-03-12 10:34:01 | Lenka Rowsell |
| 795 | 2023-03-16 15:22:54 | Sally Smith |
| 796 | 2023-02-28 23:46:21 | Craig Coates |
| 797 | 2023-03-02 10:21:41 | Jennifer White |
| 798 | 2023-03-21 00:31:05 | M N |
| 799 | 2023-03-20 05:38:55 | Emma Louise |
| 800 | 2023-03-19 20:04:16 | Joshua Hughes |
| 802 | 2023-03-20 12:48:06 | Mel Watts |
| 803 | 2023-02-20 19:24:47 | Natalie Grose |
| 806 | 2023-03-22 21:02:05 | David rogerson |
| 809 | 2023-03-11 17:05:26 | Lois Harris |
| 810 | 2023-02-24 11:22:39 | Kayleigh Williams |
| 813 | 2023-03-06 19:16:42 | Claire Hills |
| 814 | 2023-03-02 21:27:21 | LJ Storer no |
| 816 | 2023-03-01 14:55:22 | M KM |
| 817 | 2023-03-05 12:17:09 | Diane Fox |
| 819 | 2023-02-24 13:06:19 | Lewis Holmes |
| 820 | 2023-02-28 09:00:22 | Kayleigh Gibbons |
| 821 | 2023-02-28 17:45:34 | ali b |
| 822 | 2023-02-27 23:21:53 | Cheryl Matthews |
| 824 | 2023-02-23 17:13:26 | Rachel Hayes |
| 825 | 2023-02-25 07:21:46 | Samantha Wilding |
| 826 | 2023-03-05 14:30:36 | Daniel Paddington |
| 827 | 2023-03-02 12:49:16 | Stacey Dymond |
| 828 | 2023-02-24 06:29:17 | J K |
| 829 | 2023-03-19 23:59:54 | Kirsty Ledger |
| 831 | 2023-03-06 19:13:02 | Sian Platt |
| 832 | 2023-02-24 13:19:25 | Tia Potter |
| 836 | 2023-02-24 20:40:54 | Helen Cottrell |
| 837 | 2023-03-14 14:37:59 | Helen Cottrell |
| 838 | 2023-03-02 21:02:37 | Leah Searle |
| 840 | 2023-02-20 20:07:58 | Sarah George |
| 842 | 2023-02-23 10:02:19 | N P |
| 843 | 2023-02-25 07:25:43 | Samantha Wilding |
| 844 | 2023-02-20 23:41:11 | Lucy Wootton |
| 845 | 2023-03-22 22:01:24 | Murray Abigail |
| 846 | 2023-03-21 07:27:06 | kelly Knapton |
| 847 | 2023-02-20 18:56:51 | Kelly Howells |
| 848 | 2023-02-20 18:53:53 | Alex Parrott |
| 849 | 2023-02-21 13:46:10 | Katie Heath |
| 851 | 2023-03-05 14:50:41 | Katie Lacey |
| 852 | 2023-02-21 18:43:43 | Joe Keirle |
| 853 | 2023-02-21 08:56:19 | Jackie Loizides-Wright |
| 854 | 2023-02-28 16:40:28 | Lorraine Higgin |
| 855 | 2023-03-19 20:49:04 | Leon Barrett |
| 857 | 2023-03-06 16:43:10 | Craig Wilde |
| 858 | 2023-02-21 02:44:34 | Emma Northcott |
| 859 | 2023-03-21 10:26:45 | Joshua Hughes |
| 860 | 2023-02-23 17:07:54 | Tegan Vinnicombe |
| 862 | 2023-02-28 16:07:28 | Yasmin O'Hare |
| 863 | 2023-03-06 21:39:28 | Tara Evans |
| 867 | 2023-02-20 21:32:16 | Chris Carr |
| 869 | 2023-03-02 20:22:08 | emma west |
| 870 | 2023-02-23 09:23:54 | Justine Buckley |
| 871 | 2023-03-20 18:18:29 | Jenny Baskerville |
| 872 | 2023-03-19 18:07:25 | Joshua Hughes |
| 873 | 2023-03-02 11:30:54 | Samantha Sanders |
| 874 | 2023-03-01 21:32:04 | S W |
| 875 | 2023-02-22 17:17:38 | Carl Hoare |
| 877 | 2023-03-01 18:35:27 | Fran Dongworth |
| 878 | 2023-02-23 14:47:42 | Sarah Jason ryan |
| 880 | 2023-03-01 15:12:13 | Georgia Henning |
| 881 | 2023-02-28 13:48:52 | Mike Lee |
| 884 | 2023-02-28 10:49:09 | Sarah Jason ryan |
| 885 | 2023-03-18 22:09:21 | marion clark |
| 886 | 2023-02-24 07:33:43 | Amy Wain |
| 887 | 2023-02-20 22:54:27 | Serena Schofield |
| 888 | 2023-03-17 13:46:55 | Carly Mason |
| 889 | 2023-02-28 03:17:39 | Tara Evans |
| 890 | 2023-02-28 09:51:42 | Lois Lovering |
| 891 | 2023-03-21 00:10:21 | Chris Carr |
| 892 | 2023-03-04 07:44:09 | Samantha Hughes |
| 893 | 2023-03-14 13:47:03 | Emma Louise |
| 894 | 2023-02-26 15:48:25 | Caroline Taylor |
| 896 | 2023-02-22 19:26:54 | Maariyah Sharif |
| 897 | 2023-02-20 21:53:20 | Amy Dommett |
| 898 | 2023-02-20 22:26:16 | Andy Hawkins |
| 899 | 2023-02-20 22:34:09 | Simone Grose |
| 900 | 2023-03-11 19:37:55 | Michael Barr |
| 902 | 2023-03-02 18:45:30 | Steve Hornby |
| 903 | 2023-02-28 14:56:48 | Jeni Ward |
| 904 | 2023-03-07 14:15:25 | michelle wallis |
| 905 | 2023-02-21 13:35:54 | Emma Jones |
| 906 | 2023-03-20 01:57:12 | Pamela Forester |
| 907 | 2023-03-06 16:15:49 | Elliott Bryant |
| 908 | 2023-03-07 22:37:13 | Lisa Roberts |
| 909 | 2023-03-01 13:20:36 | Louisa Feaver |
| 910 | 2023-03-02 08:35:18 | Miss T |
| 911 | 2023-02-21 07:17:42 | JoJo Gosling |
| 913 | 2023-02-21 15:05:46 | Melissa Whittaker |
| 914 | 2023-03-20 13:49:06 | Chris Carr |
| 915 | 2023-02-23 07:30:14 | Vicci Del-Pizzo |
| 917 | 2023-02-22 03:32:15 | Georgina Aggett |
| 918 | 2023-02-20 19:34:51 | Gabbie Beer |
| 919 | 2023-02-28 16:02:37 | Pamela Bradshaw |
| 920 | 2023-02-20 19:35:43 | Franky Boy |
| 921 | 2023-03-20 14:08:11 | Sally Franks |
| 922 | 2023-03-17 10:19:25 | Emma Reeve |
| 923 | 2023-02-20 22:15:10 | Donna Marie |
| 924 | 2023-03-16 14:43:43 | Sally Smith |
| 925 | 2023-02-23 22:08:15 | Hannah Teed |
| 927 | 2023-02-20 19:34:20 | Shauni Sullivan |
| 928 | 2023-02-25 10:06:02 | Tara Evans |
| 930 | 2023-03-01 13:10:35 | Rosie Reynolds |
| 931 | 2023-03-23 17:30:36 | Karen Collins |
| 932 | 2023-03-20 17:40:58 | Jo Kestell |
| 934 | 2023-02-20 19:39:54 | Emma Potter |
| 935 | 2023-02-23 18:24:16 | Robert Prowse |
| 936 | 2023-02-25 08:02:16 | Samantha Wilding |
| 938 | 2023-02-21 12:00:45 | R Osben |
| 939 | 2023-03-04 22:29:15 | karen Davey |
| 940 | 2023-02-26 18:31:29 | Hannah Wilks |
| 941 | 2023-02-23 12:53:57 | Paul Compton |
| 942 | 2023-03-20 09:43:46 | Cheryl Brown |
| 943 | 2023-03-01 14:58:28 | Neil Potter |
| 945 | 2023-03-14 10:03:32 | Georgia Henning |
| 947 | 2023-02-20 19:07:51 | B L |
| 948 | 2023-03-03 18:59:19 | Robert Clements |
| 949 | 2023-03-01 12:39:54 | Ashley Willdigg |
| 950 | 2023-03-10 16:21:27 | Hermon Gosling |
| 951 | 2023-02-21 11:56:05 | Marie Tucker |
| 952 | 2023-03-13 00:50:37 | Chelsea Bishop |
| 953 | 2023-02-28 13:31:21 | Toni Brady |
| 954 | 2023-03-06 16:06:40 | Ben Stocker |
| 955 | 2023-03-01 15:37:58 | Dayne Jones |
| 956 | 2023-03-02 15:00:26 | Tash Wright |
| 959 | 2023-02-20 23:01:51 | R Osben |
| 962 | 2023-03-14 18:27:22 | Jodie Ellis |
| 963 | 2023-02-20 20:16:17 | Shelly Eames-Doddrell |
| 964 | 2023-03-14 16:34:28 | Lisa Roberts |
| 965 | 2023-03-04 11:28:40 | Jordan Caple |
| 967 | 2023-03-02 17:10:15 | Marie Tucker |
| 969 | 2023-03-01 11:15:44 | Nikki Wickenden |
| 970 | 2023-02-23 19:56:11 | Pamela Bradshaw |
| 972 | 2023-02-21 13:53:18 | Ella Devereux |
| 973 | 2023-03-01 16:57:10 | Sharelle Shaw |
| 974 | 2023-02-20 22:08:00 | Donna Marie |
| 975 | 2023-03-03 16:40:55 | Natalie Milner |
| 976 | 2023-02-20 21:48:18 | Rebekka Lucas |
| 977 | 2023-02-28 19:35:18 | Shelly Smith |
| 978 | 2023-03-06 15:46:17 | Zako D |
| 979 | 2023-02-23 17:39:29 | Daniel Matthews |
| 982 | 2023-02-20 20:21:16 | Donna Marie |
| 983 | 2023-03-03 20:12:47 | Jordan Edgecombe |
| 984 | 2023-02-20 23:12:56 | Lyndsey Davies |
| 985 | 2023-02-24 12:46:41 | Emma Potter |
| 986 | 2023-02-21 11:05:54 | Chloe W |
| 987 | 2023-03-02 12:29:22 | Darrell Horton |
| 988 | 2023-02-20 19:35:09 | Daniel Adams |
| 989 | 2023-03-20 13:37:16 | Lauren Jones |
| 990 | 2023-03-06 19:28:47 | Natalie Osborn |
| 991 | 2023-02-21 16:06:06 | Nicola Green |
| 993 | 2023-03-11 06:44:56 | Hayley Macdonald-Brooks |
| 994 | 2023-02-23 10:47:26 | R Osben |
| 995 | 2023-02-24 13:06:34 | K W |
| 996 | 2023-02-23 07:35:43 | K W |
| 997 | 2023-03-01 18:51:31 | Kimberly Swinscoe |
| 1000 | 2023-02-27 09:55:14 | Samantha Wilding |
| 1003 | 2023-03-16 11:26:06 | Chris Carr |
| 1004 | 2023-02-28 16:14:20 | Yasmin O'Hare |
| 1005 | 2023-03-14 14:33:43 | Helen Cottrell |
| 1006 | 2023-03-19 13:31:07 | R PM |
| 1008 | 2023-03-19 16:14:42 | Emma Potter |
| 1009 | 2023-02-20 18:57:28 | Tara Lambell |
| 1010 | 2023-02-20 23:07:34 | R Osben |
| 1011 | 2023-03-04 23:56:06 | Lauren cattermole |
| 1012 | 2023-03-11 19:49:20 | Jasmin Rockey |
| 1013 | 2023-03-13 23:31:40 | Chris Carr |
| 1014 | 2023-02-21 11:43:48 | Gemma Gale |
| 1015 | 2023-02-21 19:00:12 | Donna Marie |
| 1016 | 2023-03-15 12:52:07 | Jeffery Moseley |
| 1017 | 2023-02-20 18:44:18 | Tia Potter |
| 1018 | 2023-03-21 12:52:06 | Alison Graham |
| 1020 | 2023-03-02 14:59:08 | Darryl Waters |
| 1021 | 2023-02-26 07:52:50 | J m Blackmore |
| 1022 | 2023-03-23 17:00:40 | Jared Baker |
| 1023 | 2023-02-22 09:22:11 | Owen Debrincat |
| 1024 | 2023-02-23 09:32:25 | N P |
| 1025 | 2023-03-06 15:08:55 | Maria Day |
| 1026 | 2023-02-23 12:19:50 | Shauna Fitzsimmons |
| 1027 | 2023-02-26 05:19:44 | Rebecca Wood |
| 1028 | 2023-03-03 16:19:09 | Jacky Birch |
| 1031 | 2023-02-25 10:12:08 | Samantha c |
| 1032 | 2023-02-23 17:46:23 | Laura Hall |
| 1034 | 2023-02-25 18:46:56 | Tia Potter |
| 1036 | 2023-03-18 20:10:52 | Lauren stone |
| 1037 | 2023-02-20 18:53:31 | Katherine Parker |
| 1038 | 2023-02-20 20:18:15 | Joe Keirle |
| 1039 | 2023-03-04 19:17:05 | Gemma Gale |
| 1040 | 2023-03-11 19:40:24 | Sarah Billington |
| 1042 | 2023-02-21 22:04:19 | C W |
| 1043 | 2023-03-05 08:49:42 | Marie Sandford |
| 1045 | 2023-02-28 12:45:08 | Tia Potter |
| 1046 | 2023-03-12 10:34:01 | Lenka Rowsell |
| 1047 | 2023-02-21 07:51:47 | Fletcher Charlotte |
| 1048 | 2023-03-06 12:07:24 | Sarah jane Glover |
| 1050 | 2023-02-20 19:25:06 | Emma Potter |
| 1051 | 2023-03-02 20:41:37 | michelle wallis |
| 1052 | 2023-02-28 10:28:57 | Sarah Jason ryan |
| 1054 | 2023-02-28 11:55:19 | Emma Reeve |
| 1055 | 2023-03-18 19:38:19 | Cassie Golding |
| 1056 | 2023-02-26 18:23:04 | Justyn King |
| 1057 | 2023-02-28 14:11:30 | Lisa Roberts |
| 1058 | 2023-02-23 17:36:07 | Katie Medler |
| 1061 | 2023-02-21 22:30:14 | Teresa Oreilly |
| 1063 | 2023-03-23 15:40:05 | Hannah Thomson |
| 1065 | 2023-02-24 20:02:32 | Shauna Fitzsimmons |
| 1067 | 2023-03-10 01:39:32 | Hermon Gosling |
| 1068 | 2023-03-09 21:15:25 | Kiri Woodd |
| 1070 | 2023-03-01 11:32:48 | Emma Reeve |
| 1071 | 2023-03-06 15:51:38 | Hermon Gosling |
| 1073 | 2023-02-21 12:48:36 | Natalie Milner |
| 1075 | 2023-02-21 09:34:47 | Louisa Butler |
| 1076 | 2023-03-06 19:54:27 | Lauren cattermole |
| 1078 | 2023-02-20 19:44:26 | Carl Sharrock |
| 1079 | 2023-02-21 21:31:32 | R Osben |
| 1080 | 2023-02-20 23:54:15 | Amy Beresford |
| 1081 | 2023-02-21 11:24:41 | Gemma Evans |
| 1083 | 2023-03-01 15:37:58 | Neil Weston |
| 1084 | 2023-02-20 21:04:41 | Sam Hicks |
| 1085 | 2023-03-01 14:58:28 | Neil Potter |
| 1086 | 2023-03-22 10:21:21 | Trina Chaney |
| 1087 | 2023-02-21 19:00:12 | Donna Marie |
| 1089 | 2023-03-01 00:48:22 | Hayley Macdonald-Brooks |
| 1090 | 2023-03-11 21:06:28 | Kelly Tucker |
| 1092 | 2023-03-07 16:20:20 | Hermon Gosling |
| 1094 | 2023-02-24 21:49:08 | Kayleigh Gibbons |
| 1095 | 2023-03-02 14:26:47 | Paul Matthews |
| 1098 | 2023-02-28 18:08:30 | Jennifer Waye |
| 1100 | 2023-03-21 13:37:24 | Kerry Straight |
| 1101 | 2023-03-23 09:06:46 | Jessica Tose |
| 1102 | 2023-03-03 18:33:54 | Suzanne Riddock |
| 1103 | 2023-03-16 14:56:42 | Linda Beer |
| 1104 | 2023-03-22 19:14:02 | Ben Knapton |
| 1106 | 2023-02-21 07:31:42 | Stephanie Hartnoll |
| 1107 | 2023-03-01 12:23:55 | Gemma Chick |
| 1108 | 2023-02-21 10:47:12 | S W |
| 1109 | 2023-03-17 20:59:11 | Lee Mills |
| 1110 | 2023-02-20 21:49:44 | Paige Ellis |
| 1111 | 2023-03-04 09:42:50 | Fran Dongworth |
| 1112 | 2023-02-26 10:45:50 | Emma Sanders |
| 1113 | 2023-02-20 22:47:02 | Andy Hawkins |
| 1114 | 2023-02-21 08:16:37 | Megan Jones |
| 1115 | 2023-02-23 23:27:59 | Donna Marie |
| 1117 | 2023-02-20 19:00:21 | Richard Higham |
| 1119 | 2023-03-03 21:18:04 | James Osben |
| 1120 | 2023-02-21 21:44:31 | Linda Beer |
| 1122 | 2023-02-22 01:09:26 | R Osben |
| 1123 | 2023-02-27 10:02:08 | Samantha Wilding |
| 1125 | 2023-03-15 16:46:12 | Lauren Charlesworth |
| 1126 | 2023-02-22 00:50:06 | shelley browning |
| 1127 | 2023-03-11 09:38:16 | Deb Jones |
| 1128 | 2023-03-16 23:10:04 | Rhys Hook |
| 1129 | 2023-02-21 13:22:18 | ali b |
| 1130 | 2023-02-21 18:22:23 | Chris Carr |
| 1135 | 2023-02-20 20:32:25 | Jodie Mills |
| 1136 | 2023-02-21 13:06:06 | Mels T |
| 1137 | 2023-02-22 11:15:22 | N P |
| 1138 | 2023-02-21 17:09:38 | Chris Carr |
| 1139 | 2023-03-23 17:03:40 | Darryl Nichols |
| 1140 | 2023-02-21 17:18:03 | Zoe Speed |
| 1142 | 2023-02-21 07:20:15 | Karen look Reed |
| 1143 | 2023-02-20 18:54:53 | Danni Laffey |
| 1144 | 2023-02-21 19:18:48 | N P |
| 1145 | 2023-02-23 22:55:38 | Harry Martin |
| 1146 | 2023-03-22 16:50:06 | Suzanne Brailey |
| 1148 | 2023-02-21 13:05:16 | Trish Mcculloch |
| 1149 | 2023-02-26 10:38:53 | Kayleigh Gibbons |
| 1150 | 2023-02-28 09:43:38 | Sarah Jason ryan |
| 1152 | 2023-03-02 19:21:07 | M Rowles |
| 1153 | 2023-02-21 19:44:33 | Kelly Mason |
| 1155 | 2023-03-04 17:03:06 | Ray Burgess |
| 1156 | 2023-03-01 08:29:28 | charli sims |
| 1157 | 2023-02-21 14:24:23 | N P |
| 1158 | 2023-03-19 16:35:30 | Emma Potter |
| 1159 | 2023-03-04 17:45:13 | Rebecca Fraser |
| 1160 | 2023-03-05 10:23:54 | Mels T |
| 1161 | 2023-02-24 10:15:52 | Sami Knott |
| 1162 | 2023-03-09 16:45:29 | Hermon Gosling |
| 1163 | 2023-03-19 14:08:59 | Sami Knott |
| 1164 | 2023-02-20 23:05:30 | Holly Griffith |
| 1165 | 2023-03-01 16:18:23 | Trinity Blundell |
| 1167 | 2023-03-03 16:36:32 | Rebekka Lucas |
| 1168 | 2023-02-27 22:00:09 | Tia Potter |
| 1169 | 2023-03-06 12:25:42 | Lauren Bareford |
| 1170 | 2023-03-22 20:31:53 | Tanya Horswill |
| 1172 | 2023-03-04 21:46:37 | Claire Symons |
| 1173 | 2023-02-21 20:28:54 | N P |
| 1174 | 2023-02-24 16:32:04 | Nicole Stapleton |
| 1175 | 2023-03-06 19:27:02 | Paul Crane |
| 1176 | 2023-02-22 10:31:02 | N P |
| 1177 | 2023-02-22 18:24:59 | Madeleine King |
| 1178 | 2023-02-24 20:30:02 | Scott Barton |
| 1179 | 2023-02-24 01:34:43 | Caroline Taylor |
| 1180 | 2023-02-20 19:02:12 | Abigail Pugh |
| 1181 | 2023-02-20 23:44:41 | Katie Tully |
| 1182 | 2023-02-21 04:48:51 | Holly Ring |
| 1183 | 2023-02-28 07:47:57 | M KM |
| 1184 | 2023-02-24 14:36:08 | Rhys Hook |
| 1185 | 2023-02-28 08:32:56 | Lily-Belle Thornton |
| 1186 | 2023-02-28 00:48:40 | Miss T |
| 1187 | 2023-02-21 23:38:30 | R Osben |
| 1189 | 2023-02-21 13:23:30 | Nicole White |
| 1190 | 2023-02-21 12:44:48 | Kim Loosemore |
| 1191 | 2023-03-23 18:00:55 | David Farr |
| 1192 | 2023-03-22 14:58:42 | Hannah Wilson |
| 1193 | 2023-03-20 12:19:50 | Ashley Commins |
| 1194 | 2023-03-22 10:53:15 | Hannah Huxtable |
| 1195 | 2023-02-28 14:07:57 | Katie Medler |
| 1197 | 2023-02-23 19:29:35 | K W |
| 1200 | 2023-03-18 15:32:03 | Emma Potter |
| 1201 | 2023-02-21 07:20:15 | Karen look Reed |
| 1202 | 2023-03-04 15:39:47 | Suzanne Riddock |
| 1204 | 2023-03-01 16:55:24 | Jodie Baker |
| 1205 | 2023-03-01 11:29:08 | Holly Wood |
| 1206 | 2023-03-05 14:35:45 | Claire Symons |
| 1207 | 2023-02-20 20:42:46 | Abi Parnell |
| 1208 | 2023-03-18 20:56:51 | Lauren stone |
| 1210 | 2023-03-06 13:06:25 | Katie Medler |
| 1211 | 2023-02-24 11:50:36 | Shavanna Woon |
| 1212 | 2023-02-21 07:45:08 | Debra Hall |
| 1213 | 2023-02-20 17:13:03 | Anika Warnes |
| 1215 | 2023-03-04 15:52:35 | Pamela Bradshaw |
| 1216 | 2023-02-22 13:20:31 | Anna Majka |
| 1217 | 2023-02-28 20:28:35 | Ali baba The second |
| 1218 | 2023-03-20 14:25:52 | Hayleigh Cook |
| 1219 | 2023-03-05 21:12:08 | Sian Platt |
| 1220 | 2023-02-20 19:22:36 | Darren Martin |
| 1223 | 2023-02-21 11:14:06 | Joanne Harman |
| 1224 | 2023-02-20 19:34:13 | Loren Cox |
| 1225 | 2023-03-17 16:24:15 | Chrssie Honey |
| 1226 | 2023-02-24 13:19:53 | J K |
| 1228 | 2023-03-01 08:29:42 | Amy Hardware |
| 1229 | 2023-03-19 18:35:05 | Danny Grice |
| 1230 | 2023-03-02 12:56:57 | Dean Watt |
| 1231 | 2023-03-17 10:19:25 | Emma Reeve |
| 1232 | 2023-02-20 18:47:36 | Seany Barratt |
| 1233 | 2023-03-19 16:11:01 | Emma Potter |
| 1234 | 2023-03-04 20:46:34 | Claire Symons |
| 1235 | 2023-03-02 16:32:58 | Stephanie Wilkinson |
| 1237 | 2023-03-12 21:53:57 | Abbie Leonard |
| 1238 | 2023-02-28 19:35:00 | Leah Phipps |
| 1240 | 2023-03-09 20:09:32 | Amy C |
| 1242 | 2023-03-05 11:35:36 | Rebecca Foot |
| 1243 | 2023-02-20 21:11:34 | Andy Hawkins |
| 1244 | 2023-03-12 01:02:14 | Jenn ifer |
| 1245 | 2023-03-10 22:56:32 | Crystal Corbiere |
| 1246 | 2023-03-21 15:39:34 | Emma Mitchell |
| 1247 | 2023-03-01 17:39:16 | D L |
| 1248 | 2023-03-06 12:43:59 | Darryl Gumbrill |
| 1249 | 2023-03-01 11:50:23 | Leyannder Porter |
| 1250 | 2023-02-27 09:57:20 | Samantha Wilding |
| 1251 | 2023-03-08 03:24:48 | Suzanne Riddock |
| 1252 | 2023-03-19 18:16:22 | Joshua Hughes |
| 1254 | 2023-02-21 10:43:16 | Leah Ashton |
| 1255 | 2023-02-21 13:19:34 | Sally Smith |
| 1257 | 2023-03-20 22:17:35 | Russell Stemp |
| 1258 | 2023-03-01 14:44:41 | Chrssie Honey |
| 1259 | 2023-03-16 19:29:57 | Alex Norman |
| 1260 | 2023-02-28 14:23:44 | Katie Medler |
| 1261 | 2023-03-20 11:18:28 | Donna leroy |
| 1262 | 2023-02-20 18:55:56 | Kelly Williams |
| 1265 | 2023-03-03 21:31:55 | Paula Horrocks |
| 1267 | 2023-03-19 22:08:13 | Emma White |
| 1269 | 2023-03-21 12:34:15 | James Osben |
| 1270 | 2023-03-21 19:21:06 | charlotte walker |
| 1272 | 2023-02-28 15:05:48 | Emily Sellars |
| 1273 | 2023-03-01 13:04:32 | Lou Lister |
| 1274 | 2023-02-22 18:33:50 | Mels T |
| 1275 | 2023-02-20 19:27:27 | Doreen Williams |
| 1276 | 2023-02-20 22:00:20 | Jade Hopkins |
| 1278 | 2023-02-21 20:45:50 | Mark Lowe |
| 1279 | 2023-03-03 19:24:52 | Hannah Cook |
| 1280 | 2023-03-22 00:48:02 | Chris Carr |
| 1281 | 2023-02-22 01:09:26 | R Osben |
| 1283 | 2023-03-23 12:15:53 | Alysia Bates |
| 1284 | 2023-03-01 00:18:40 | demir mahmoud |
| 1285 | 2023-03-19 09:27:35 | Loretta Robson |
| 1287 | 2023-02-20 18:51:18 | Sophie Temple |
| 1288 | 2023-03-17 15:31:31 | Sharon White |
| 1289 | 2023-02-21 08:16:05 | Megan Shearing |
| 1290 | 2023-03-11 11:09:24 | Kiri Woodd |
| 1291 | 2023-02-22 13:46:28 | Louise Street |
| 1292 | 2023-03-11 11:47:03 | Chris Carr |
| 1294 | 2023-02-21 15:06:43 | Vicky McCormack |
| 1295 | 2023-02-21 17:29:59 | Jodie Southwell |
| 1296 | 2023-02-20 19:56:17 | Emma Bush |
| 1297 | 2023-03-02 18:28:58 | Mia Hay |
| 1298 | 2023-03-14 15:42:20 | Chelsie Smith |
| 1299 | 2023-02-23 09:45:40 | N P |
| 1303 | 2023-02-26 10:55:22 | Shauna Fitzsimmons |
| 1304 | 2023-03-16 20:08:18 | Jordan Edgecombe |
| 1305 | 2023-02-23 18:27:02 | Sarah Jason ryan |
| 1306 | 2023-03-01 16:16:31 | Sophie Morgan |
| 1307 | 2023-02-23 16:41:58 | Harriet Webber |
| 1309 | 2023-03-17 15:14:13 | Kristina Cousins |
| 1310 | 2023-03-06 07:08:15 | Laura Williams |
| 1311 | 2023-02-28 15:52:26 | Tiffany Boughen |
| 1312 | 2023-02-20 19:34:06 | Bradley Cartwright |
| 1316 | 2023-03-18 11:38:49 | Bryony Rice |
| 1317 | 2023-03-12 11:41:30 | Sian Beer |
| 1318 | 2023-03-19 19:08:47 | Marny Stocker |
| 1319 | 2023-02-21 19:46:03 | Mark Lowe |
| 1320 | 2023-03-04 16:28:58 | Claire Symons |
| 1321 | 2023-03-19 01:35:28 | Mark Lowe |
| 1322 | 2023-03-02 16:53:34 | Crystal Taylor |
| 1323 | 2023-03-22 19:00:42 | Gemma Wright |
| 1325 | 2023-02-23 10:54:45 | Emma White |
| 1326 | 2023-02-28 08:49:47 | Samantha c |
| 1328 | 2023-02-28 08:20:21 | Lily-Belle Thornton |
| 1329 | 2023-02-21 13:10:46 | Emma Jones |
| 1330 | 2023-03-01 16:59:41 | Ryan Watkins |
| 1332 | 2023-02-27 18:12:21 | Zoe Gill |
| 1333 | 2023-02-23 21:01:10 | Emily Lewis-Clarke |
| 1334 | 2023-02-23 09:32:25 | N P |
| 1335 | 2023-03-13 21:14:34 | Elliott Bryant |
| 1336 | 2023-03-22 21:46:26 | Elizabeth Williams |
| 1338 | 2023-02-25 09:51:33 | Tara Evans |
| 1339 | 2023-02-28 21:16:38 | Martin Mills |
| 1341 | 2023-02-21 20:23:38 | Paige Briton |
| 1344 | 2023-02-20 22:26:16 | Andy Hawkins |
| 1345 | 2023-02-27 17:51:37 | Lauren Bowditch |
| 1346 | 2023-03-21 19:53:32 | Bex Dimmick |
| 1347 | 2023-02-24 13:31:20 | J K |
| 1348 | 2023-02-28 15:56:19 | Elisha Lane |
| 1349 | 2023-02-20 21:14:29 | Lauren Mckimm |
| 1350 | 2023-03-08 02:07:42 | Hermon Gosling |
| 1351 | 2023-03-06 10:22:19 | Rachi B |
| 1352 | 2023-03-06 14:25:51 | Linda Grimshaw |
| 1353 | 2023-03-06 15:50:24 | Leah Knowles |
| 1354 | 2023-03-05 16:09:56 | C H |
| 1359 | 2023-02-28 12:16:17 | Mia Nightingale |
| 1360 | 2023-03-13 16:24:26 | Chris Carr |
| 1361 | 2023-03-21 19:21:06 | charlotte walker |
| 1362 | 2023-02-23 15:28:30 | Lucy Elphick |
| 1363 | 2023-03-16 20:14:20 | Jane Clements |
| 1364 | 2023-03-01 17:00:51 | Craig Griffiths |
| 1366 | 2023-02-21 10:40:31 | Emma Reeve |
| 1367 | 2023-02-20 20:41:12 | Sami Knott |
| 1368 | 2023-03-21 18:23:05 | Ricky Lattimer |
| 1370 | 2023-02-20 23:16:20 | Carl Hoare |
| 1372 | 2023-03-02 14:09:37 | Nicci Taylor |
| 1374 | 2023-03-12 00:18:20 | Alison Brown |
| 1375 | 2023-03-19 12:46:03 | Maia Bhatia |
| 1376 | 2023-03-21 02:11:47 | Christine Swift |
| 1377 | 2023-02-22 10:31:02 | N P |
| 1378 | 2023-03-01 12:42:47 | Paige Walker |
| 1379 | 2023-03-22 07:25:55 | Miss T |
| 1380 | 2023-02-28 18:16:13 | Gemma Johnson |
| 1381 | 2023-02-23 19:11:19 | Fliss Wright |
| 1383 | 2023-02-20 22:10:10 | Crystal Muskett |
| 1384 | 2023-03-08 00:22:33 | Michael Deescofet |
| 1385 | 2023-02-20 20:11:23 | Sareena Martin |
| 1386 | 2023-03-05 16:58:02 | Dawn Crawford |
| 1387 | 2023-02-28 14:52:57 | Kristoffer bradley |
| 1389 | 2023-03-16 20:32:27 | Georgia Dilling |
| 1390 | 2023-02-24 06:54:50 | Emma Louise |
| 1391 | 2023-03-22 19:02:32 | Emma Whittaker |
| 1392 | 2023-02-22 12:32:07 | Jaydee Walmsley |
| 1393 | 2023-02-27 15:55:24 | Tidey Gemma |
| 1394 | 2023-03-01 19:20:45 | Helen Cottrell |
| 1396 | 2023-03-06 21:22:22 | Sami Knott |
| 1397 | 2023-03-21 21:57:49 | Joseymay Sanderson |
| 1398 | 2023-02-27 12:40:57 | Mels T |
| 1399 | 2023-03-01 19:16:00 | K W |
| 1400 | 2023-02-20 20:32:00 | Craig Lomas |
| 1401 | 2023-03-20 01:51:01 | Pamela Forester |
| 1402 | 2023-03-01 07:57:12 | Amy Hardware |
| 1404 | 2023-03-04 12:58:10 | Sarah Jason ryan |
| 1405 | 2023-02-20 18:55:57 | Demi-lee Parker |
| 1407 | 2023-02-22 10:54:58 | Libby Lewis |
| 1408 | 2023-02-21 14:45:21 | Grahame Bullen |
| 1409 | 2023-02-20 19:31:58 | Jack Andrieux |
| 1410 | 2023-02-22 17:00:37 | J K |
| 1412 | 2023-02-21 06:25:09 | Amanda Crask |
| 1413 | 2023-03-19 21:36:14 | Sharon Alderson |
| 1415 | 2023-02-21 07:16:06 | Claire French |
| 1418 | 2023-03-14 14:10:27 | Chris Carr |
| 1419 | 2023-02-20 18:43:15 | Staci Bolt |
| 1420 | 2023-03-03 01:32:06 | Hayley Matthews |
| 1422 | 2023-03-10 10:31:01 | Lisa Roberts |
| 1423 | 2023-02-22 12:13:42 | Tegan Vinnicombe |
| 1427 | 2023-03-18 20:08:40 | Doreen Williams |
| 1428 | 2023-02-24 12:59:20 | Miss T |
| 1429 | 2023-02-22 14:40:50 | Emma Lane |
| 1430 | 2023-02-28 15:52:26 | Tiffany Boughen |
| 1431 | 2023-03-18 20:59:03 | Veronica Hard |
| 1432 | 2023-02-28 18:48:21 | Kayleigh Gibbons |
| 1433 | 2023-02-21 20:38:35 | Jessica Thomas |
| 1434 | 2023-02-21 21:17:43 | Amanda Logue |
| 1435 | 2023-02-21 16:44:33 | Sophie Tozer |
| 1437 | 2023-03-07 14:52:08 | Emily Southall |
| 1438 | 2023-02-21 14:11:50 | Tracy Mills |
| 1439 | 2023-03-03 20:27:23 | M H |
| 1440 | 2023-02-22 16:57:04 | Pamela Bradshaw |
| 1441 | 2023-03-16 14:51:52 | Shannon Mcloughlin |
| 1443 | 2023-03-05 15:53:41 | Tash Wright |
| 1444 | 2023-02-21 12:16:19 | Tracy Jones |
| 1445 | 2023-03-05 21:14:29 | Nicola Black |
| 1446 | 2023-02-21 17:58:09 | sarah phillimore |
| 1447 | 2023-03-03 17:28:29 | Michael Richards |
| 1448 | 2023-02-21 20:44:07 | Mark Lowe |
| 1449 | 2023-02-28 15:43:09 | Neil Potter |
| 1450 | 2023-03-04 09:56:38 | Sarah Gove |
| 1451 | 2023-03-03 11:29:04 | Hannah Bartley |
| 1452 | 2023-02-21 04:58:45 | Rebecca Burns |
| 1453 | 2023-02-28 10:24:25 | Ellesha Carney |
| 1454 | 2023-03-08 12:29:30 | Gemma caple |
| 1457 | 2023-02-21 13:16:55 | Neil Potter |
| 1458 | 2023-03-03 22:01:11 | Emma Jones |
| 1459 | 2023-03-18 20:38:59 | Lauren stone |
| 1460 | 2023-02-21 17:14:48 | Hannah Drinkwater |
| 1461 | 2023-02-26 18:44:29 | Gemma Harrison |
| 1463 | 2023-02-27 14:04:37 | Hayley Macdonald-Brooks |
| 1466 | 2023-02-28 12:45:08 | Tia Potter |
| 1467 | 2023-02-25 07:49:17 | Courtney Messenger |
| 1468 | 2023-02-23 15:32:26 | Suzanne Riddock |
| 1469 | 2023-02-20 21:48:43 | Hannah Wilks |
| 1470 | 2023-03-02 09:31:17 | M KM |
| 1471 | 2023-02-24 19:08:59 | Leon Raymont |
| 1472 | 2023-02-25 16:21:58 | Sarah Jason ryan |
| 1473 | 2023-03-11 19:28:07 | Sarah Billington |
| 1477 | 2023-02-24 03:16:03 | Kayleigh Gibbons |
| 1478 | 2023-03-02 21:20:07 | Daisy Self |
| 1479 | 2023-02-23 20:32:30 | Amy Phillips |
| 1480 | 2023-02-22 10:27:31 | N P |
| 1481 | 2023-03-06 13:11:48 | Katie Medler |
| 1482 | 2023-03-02 12:56:57 | Dean Watt |
| 1484 | 2023-02-22 11:09:38 | Danielle Redpath |
| 1485 | 2023-03-03 08:42:31 | Stacey Dymond |
| 1486 | 2023-03-20 12:32:01 | Ellie Radford |
| 1487 | 2023-02-28 13:54:34 | Ellie Martin |
| 1488 | 2023-02-21 03:17:03 | Holly Ring |
| 1489 | 2023-03-04 14:47:50 | Samantha Payne |
| 1490 | 2023-03-04 22:31:37 | Sophie Morgan |
| 1491 | 2023-03-13 00:50:37 | Chelsea Bishop |
| 1493 | 2023-03-02 13:01:42 | Louisa Feaver |
| 1494 | 2023-02-21 22:08:37 | Jodie Ellis |
| 1495 | 2023-02-24 15:39:02 | Emma Reeve |
| 1496 | 2023-03-01 16:26:23 | Jeanette Anderson |
| 1497 | 2023-03-15 21:49:35 | Christy Betts |
| 1498 | 2023-02-21 04:29:21 | Kelly Mason |
| 1501 | 2023-02-23 19:27:02 | Sophie Scott |
| 1502 | 2023-02-28 18:52:57 | Ashley White |
| 1503 | 2023-02-28 12:38:17 | Marie Sandford |
| 1504 | 2023-03-08 03:24:48 | Suzanne Riddock |
| 1505 | 2023-02-27 23:07:27 | Jason Crockett |
| 1506 | 2023-03-22 16:23:22 | ali b |
| 1508 | 2023-03-22 20:22:22 | Hollie Hawkins |
| 1509 | 2023-02-24 18:11:26 | Tracy Mills |
| 1511 | 2023-02-21 20:23:19 | Shelly Eames-Doddrell |
| 1512 | 2023-03-01 14:33:19 | Laura Riley |
| 1514 | 2023-03-05 23:54:14 | Joseymay Sanderson |
| 1515 | 2023-03-03 20:57:44 | Lee Mills |
| 1516 | 2023-03-11 07:50:22 | Kiri Woodd |
| 1517 | 2023-02-21 16:42:40 | Jonathan Haddon |
| 1518 | 2023-03-23 15:59:17 | Rachel Orford |
| 1519 | 2023-03-02 00:56:16 | Miss T |
| 1520 | 2023-03-18 13:52:27 | Ali baba The second |
| 1524 | 2023-03-04 10:41:21 | Ben Chown |
| 1525 | 2023-02-20 21:59:28 | Tia Potter |
| 1526 | 2023-03-16 15:23:16 | Zako D |
| 1527 | 2023-02-21 09:11:26 | Tara Evans |
| 1529 | 2023-03-03 23:29:09 | LJ Storer no |
| 1530 | 2023-02-21 13:56:37 | Jasmine Saunders |
| 1531 | 2023-02-28 20:17:59 | Debbie Styles |
| 1532 | 2023-03-18 15:20:41 | Kayleigh Garrett |
| 1536 | 2023-02-20 21:48:14 | Stephanie Sparks |
| 1537 | 2023-03-20 21:36:55 | Eleni Cottrell |
| 1538 | 2023-03-09 16:25:20 | Louisa Feaver |
| 1539 | 2023-02-28 14:07:57 | Katie Medler |
| 1540 | 2023-02-20 19:59:57 | Gemma Chick |
| 1542 | 2023-03-04 13:11:14 | Laura Valavicius |
| 1543 | 2023-03-06 19:06:09 | Barbara Mansell |
| 1544 | 2023-02-21 16:59:08 | Elle Treveil |
| 1545 | 2023-03-03 17:13:46 | Sian Platt |
| 1546 | 2023-02-20 19:08:08 | Jem V |
| 1547 | 2023-03-16 07:35:37 | Katy Mosley |
| 1549 | 2023-02-28 19:41:04 | Jazmine Pidwell |
| 1550 | 2023-02-20 19:07:33 | ali b |
| 1551 | 2023-02-22 13:32:42 | Pamela Bradshaw |
| 1552 | 2023-02-21 13:16:55 | Neil Potter |
| 1553 | 2023-02-20 19:01:08 | Tamzin Hurrell |
| 1555 | 2023-02-24 14:21:13 | N P |
| 1556 | 2023-03-06 17:51:32 | Julie Botley |
| 1557 | 2023-02-21 02:39:52 | Holly Ring |
| 1559 | 2023-02-23 15:46:17 | Shauna Fitzsimmons |
| 1560 | 2023-03-14 10:55:10 | Chris Carr |
| 1561 | 2023-02-22 19:04:20 | C W |
| 1562 | 2023-03-02 22:16:04 | Sonia Townshend |
| 1563 | 2023-02-21 01:06:55 | Suzi Gooding |
| 1564 | 2023-03-02 16:00:23 | Carla Hames |
| 1565 | 2023-03-04 19:50:29 | Paula Horrocks |
| 1566 | 2023-02-20 18:57:15 | Samantha Lindsay-lee |
| 1567 | 2023-02-26 07:47:26 | Neil Potter |
| 1568 | 2023-03-11 02:55:30 | Hermon Gosling |
| 1569 | 2023-03-20 19:59:28 | Jemma Probert |
| 1571 | 2023-02-24 00:26:47 | Leo Pitman |
| 1572 | 2023-02-22 17:51:02 | Tanya Roberts |
| 1573 | 2023-03-14 10:55:10 | Chris Carr |
| 1574 | 2023-03-01 13:15:18 | Roxy P |
| 1576 | 2023-03-01 19:44:54 | Kye Bress |
| 1577 | 2023-02-26 13:47:44 | Mels T |
| 1578 | 2023-02-20 23:34:56 | Melissa Bailey |
| 1580 | 2023-03-02 10:27:57 | Miss T |
| 1581 | 2023-02-21 13:48:00 | Carlos Rodriguez-Perez |
| 1582 | 2023-03-20 21:36:55 | Eleni Cottrell |
| 1584 | 2023-02-25 13:33:46 | K W |
| 1585 | 2023-03-03 16:17:29 | Emily Hatt |
| 1586 | 2023-02-24 16:50:28 | Katie Bosworth |
| 1587 | 2023-02-20 22:09:05 | Tiegan Mills |
| 1588 | 2023-02-20 18:42:29 | Suzette Dodson-Rouse |
| 1589 | 2023-03-04 08:28:59 | Holly Griffith |
| 1590 | 2023-03-01 12:32:19 | Sarah Jason ryan |
| 1591 | 2023-02-21 19:44:28 | Mike H |
| 1592 | 2023-02-20 19:57:44 | M N |
| 1593 | 2023-03-08 20:59:29 | Shelley mills |
| 1594 | 2023-02-22 09:51:36 | Daniel Paddington |
| 1595 | 2023-03-03 19:46:07 | Sarah Jason ryan |
| 1596 | 2023-02-20 18:47:27 | Sarah Cooper |
| 1597 | 2023-02-21 13:40:47 | Nicole Saunders |
| 1598 | 2023-02-20 20:35:58 | Jade Pook |
| 1599 | 2023-03-21 13:11:56 | Ceylone Fletcher |
| 1601 | 2023-02-21 13:41:20 | Rachel Pearce |
| 1602 | 2023-03-22 17:47:31 | Stacey Dymond |
| 1603 | 2023-02-20 19:32:34 | Chelsey Lindsay |
| 1604 | 2023-02-24 16:58:56 | James Harrison |
| 1605 | 2023-02-22 21:06:06 | Becka Wafer |
| 1606 | 2023-02-28 15:03:20 | Kayleigh Gibbons |
| 1607 | 2023-03-01 15:15:20 | Charlotte Parr |
| 1608 | 2023-03-15 22:14:50 | Gemma Syms |
| 1609 | 2023-03-21 17:06:39 | Zoe Troup |
| 1610 | 2023-03-01 09:35:32 | Michael Castle |
| 1615 | 2023-03-11 14:45:21 | Sarah jane Glover |
| 1616 | 2023-02-24 16:01:54 | Nicole Stapleton |
| 1617 | 2023-02-28 08:13:50 | Sarah Brickland |
| 1618 | 2023-03-15 22:14:50 | Gemma Syms |
| 1620 | 2023-02-20 19:55:47 | Carl Sharrock |
| 1621 | 2023-02-23 10:36:49 | R Osben |
| 1622 | 2023-03-01 23:18:06 | Stacey Williamson |
| 1623 | 2023-02-20 20:25:11 | Jo Barratt |
| 1624 | 2023-02-22 18:11:54 | Lucinda Massey |
| 1625 | 2023-03-21 21:47:12 | Sarah Barlow |
| 1626 | 2023-03-15 15:51:29 | Clive Mitchell |
| 1628 | 2023-02-21 06:12:05 | Amanda Crask |
| 1629 | 2023-03-09 20:21:47 | LJ Storer no |
| 1631 | 2023-02-21 11:52:33 | Lisa Childs |
| 1632 | 2023-02-21 13:35:54 | Emma Jones |
| 1634 | 2023-03-22 09:02:34 | Emma Jones |
| 1635 | 2023-03-05 19:12:39 | Chantal Athanasiou |
| 1636 | 2023-03-01 12:04:49 | Vicky Heeley |
| 1637 | 2023-03-18 14:20:09 | Sabrina Gill |
| 1638 | 2023-03-20 02:19:49 | Hannah Drinkwater |
| 1640 | 2023-02-28 16:19:43 | Rachel Scott |
| 1641 | 2023-02-20 19:30:50 | Sonya Flack |
| 1642 | 2023-02-22 16:24:05 | Mels T |
| 1643 | 2023-03-06 00:43:36 | Lauren Jones |
| 1644 | 2023-03-05 15:08:24 | Carl Hoare |
| 1645 | 2023-03-01 21:37:37 | Libby Lewis |
| 1646 | 2023-03-03 09:26:22 | James McArthur |
| 1648 | 2023-03-17 12:01:24 | Sophie Worthington |
| 1650 | 2023-02-20 20:40:18 | Joanne Poll |
| 1651 | 2023-02-23 09:06:42 | Miss T |
| 1652 | 2023-03-20 21:01:29 | Elizabeth Moxon |
| 1653 | 2023-03-01 11:47:48 | Clair Smiddy |
| 1654 | 2023-02-22 10:16:11 | Hayley B |
| 1655 | 2023-03-04 20:26:07 | Clare Grant |
| 1656 | 2023-03-01 13:43:08 | Samantha Elliott |
| 1658 | 2023-03-02 22:01:55 | K W |
| 1659 | 2023-02-28 10:28:57 | Sarah Jason ryan |
| 1660 | 2023-02-21 17:59:39 | Julie Whittaker |
| 1661 | 2023-02-26 07:20:29 | Brandon Hodge |
| 1662 | 2023-02-21 15:37:07 | Emma Stronach |
| 1663 | 2023-02-20 23:14:06 | Harriet Clarke |
| 1665 | 2023-02-21 15:43:06 | Dan van Kuyk |
| 1666 | 2023-02-20 19:33:43 | ali b |
| 1667 | 2023-03-10 02:09:53 | Eri Hall |
| 1668 | 2023-03-12 09:39:38 | Jacqueline Wines |
| 1670 | 2023-03-20 10:39:04 | Sami Knott |
| 1671 | 2023-03-20 22:46:31 | Chris Carr |
| 1672 | 2023-03-01 12:09:49 | Daniel Paddington |
| 1673 | 2023-02-20 21:35:41 | Ashley Rideout |
| 1674 | 2023-03-21 17:19:59 | Cam Parle |
| 1675 | 2023-03-17 02:31:46 | Emma Reeve |
| 1676 | 2023-02-20 18:54:06 | N P |
| 1679 | 2023-03-21 16:52:12 | Rhys Hook |
| 1680 | 2023-03-01 20:05:43 | Sam Pride |
| 1681 | 2023-02-28 14:26:22 | Katie Medler |
| 1683 | 2023-03-07 17:50:11 | Helen Cottrell |
| 1685 | 2023-02-20 22:50:48 | Donna Marie |
| 1686 | 2023-03-13 16:29:48 | Lee Mills |
| 1687 | 2023-03-04 17:20:50 | Tory Sinclair |
| 1689 | 2023-03-10 21:49:35 | Peaches Fowler |
| 1690 | 2023-02-23 22:49:11 | Lisa Burgess |
| 1691 | 2023-02-22 12:57:29 | Miss T |
| 1692 | 2023-02-20 19:26:12 | Sophie Scott |
| 1693 | 2023-03-03 18:43:56 | Ben Dyer |
| 1694 | 2023-03-11 08:30:20 | Linda Beer |
| 1695 | 2023-02-23 23:31:39 | Donna Marie |
| 1696 | 2023-03-02 20:39:43 | Laura Creane |
| 1698 | 2023-03-23 12:16:25 | Shannon Izod |
| 1699 | 2023-02-22 13:45:59 | Janice Parker-Done |
| 1701 | 2023-02-28 20:58:11 | Chloe Fallows |
| 1702 | 2023-02-24 00:30:03 | Georgina Aggett |
| 1703 | 2023-02-21 19:34:14 | Jay Jay |
| 1704 | 2023-02-20 19:07:53 | Jennie Morris |
| 1705 | 2023-03-19 21:49:58 | Destiny Nolan |
| 1706 | 2023-03-02 13:10:50 | Lisa Glover |
| 1707 | 2023-03-17 22:43:29 | Emily Parsons |
| 1708 | 2023-02-20 20:08:47 | Cerys Symonds |
| 1709 | 2023-02-28 22:34:25 | M KM |
| 1710 | 2023-02-20 22:26:16 | Andy Hawkins |
| 1714 | 2023-02-20 21:26:26 | Sarah Jason ryan |
| 1715 | 2023-03-21 20:25:15 | Jordan Amor |
| 1716 | 2023-03-11 21:38:33 | Libby Lewis |
| 1718 | 2023-02-20 19:25:05 | Claire Lou |
| 1719 | 2023-03-21 09:10:04 | Amy Pierce |
| 1721 | 2023-02-28 20:32:55 | Ali baba The second |
| 1723 | 2023-02-21 18:07:11 | N P |
| 1726 | 2023-02-21 19:27:24 | Emma Potter |
| 1727 | 2023-02-28 19:24:26 | Emma Brown |
| 1728 | 2023-02-24 20:24:44 | Tara Enticknap |
| 1730 | 2023-03-15 22:12:48 | Hannah Light |
| 1731 | 2023-02-25 18:08:14 | Lynne Jeary |
| 1732 | 2023-02-21 10:23:30 | Sian Newnham Finch |
| 1733 | 2023-03-20 14:50:08 | Cassandra Lauridsen |
| 1734 | 2023-02-21 10:45:44 | S W |
| 1735 | 2023-02-24 18:51:42 | Mcdermott Louise |
| 1736 | 2023-02-24 21:35:51 | Chloe Fallows |
| 1737 | 2023-03-01 14:14:18 | M KM |
| 1738 | 2023-03-20 19:29:27 | Zoe Croft |
| 1739 | 2023-02-21 19:11:57 | N P |
| 1740 | 2023-02-20 19:04:31 | marina bell |
| 1741 | 2023-02-20 18:49:46 | Alex Alex |
| 1742 | 2023-03-11 18:05:46 | Kia Carroll |
| 1743 | 2023-03-02 19:08:45 | Shereen Baldwin |
| 1744 | 2023-03-02 09:39:54 | M KM |
| 1745 | 2023-03-20 12:45:55 | stephanie dale |
| 1746 | 2023-02-20 23:17:48 | Jessica Chalk |
| 1748 | 2023-02-23 21:02:27 | Jared Baker |
| 1749 | 2023-02-26 18:18:36 | Kristoffer Bradley |
| 1750 | 2023-03-20 12:25:14 | Ella Hart |
| 1751 | 2023-02-23 11:09:12 | Fliss Wright |
| 1753 | 2023-03-02 21:50:37 | LJ Storer no |
| 1754 | 2023-03-04 08:09:29 | Lauren Andrews |
| 1755 | 2023-02-20 23:48:20 | Emma Potter |
| 1756 | 2023-03-04 19:17:05 | Gemma Gale |
| 1757 | 2023-02-20 18:53:40 | Cal Ward |
| 1758 | 2023-02-21 21:20:55 | Mels T |
| 1759 | 2023-03-04 21:41:50 | Claire Symons |
| 1761 | 2023-03-01 12:20:18 | Katy Geake |
| 1763 | 2023-02-20 19:03:43 | Rachael Strawford |
| 1765 | 2023-03-13 00:39:41 | Chelsea Bishop |
| 1767 | 2023-02-23 21:01:21 | Tia Potter |
| 1768 | 2023-03-06 15:43:52 | Hermon Gosling |
| 1769 | 2023-02-24 03:34:15 | Kayleigh Gibbons |
| 1771 | 2023-02-28 14:05:23 | Emma Reeve |
| 1772 | 2023-03-18 09:18:06 | Karolina Szymonowicz |
| 1773 | 2023-02-20 19:51:42 | Emilie Docherty |
| 1775 | 2023-03-06 07:50:32 | Jo Barlow |
| 1776 | 2023-02-20 20:11:17 | Amber Probyn |
| 1778 | 2023-03-01 13:57:34 | Adam Shaw |
| 1779 | 2023-02-20 22:55:49 | Andy Hawkins |
| 1780 | 2023-03-14 14:33:43 | Helen Cottrell |
| 1781 | 2023-02-20 18:44:18 | Tia Potter |
| 1782 | 2023-02-25 23:07:15 | Gronagh Hegarty |
| 1784 | 2023-03-16 20:46:12 | H W |
| 1787 | 2023-03-04 14:32:12 | Lauren Charlesworth |
| 1788 | 2023-03-11 19:00:35 | Kiri Johnson |
| 1789 | 2023-03-13 16:22:32 | Lee Mills |
| 1790 | 2023-03-16 15:05:43 | Zako D |
| 1791 | 2023-02-20 19:47:52 | Emma Bush |
| 1792 | 2023-02-25 10:24:42 | Stacey Dymond |
| 1793 | 2023-02-23 12:26:10 | Shauna Fitzsimmons |
| 1794 | 2023-02-25 02:54:03 | Laura Jane |
| 1795 | 2023-03-05 18:01:38 | Lindsey Evans |
| 1796 | 2023-03-04 22:39:56 | Libby Lewis |
| 1797 | 2023-03-18 11:38:49 | Bryony Rice |
| 1798 | 2023-03-02 18:19:48 | Rebecca Fraser |
| 1800 | 2023-03-02 14:29:13 | Tia Potter |
| 1802 | 2023-02-23 16:51:15 | Jodie Richards |
| 1804 | 2023-03-20 10:37:47 | Lisa Howarth-podesta |
| 1805 | 2023-03-20 16:26:01 | Patricia Hinkley |
| 1806 | 2023-03-02 20:53:35 | Tegan Wilkins |
| 1808 | 2023-02-21 21:38:54 | Doreen Williams |
| 1810 | 2023-03-21 17:15:45 | Cam Parle |
| 1811 | 2023-02-25 08:04:46 | Samantha Wilding |
| 1813 | 2023-02-25 16:51:41 | Pamela Bradshaw |
| 1814 | 2023-03-22 22:59:30 | Mr Peter Beal |
| 1816 | 2023-03-01 06:21:15 | Jade Saunders |
| 1817 | 2023-03-04 09:47:58 | LJ Storer no |
| 1818 | 2023-02-24 15:01:40 | Rhys Hook |
| 1819 | 2023-02-28 16:53:47 | Chloe marie Dawson |
| 1821 | 2023-02-28 20:56:24 | Ali baba The second |
| 1822 | 2023-02-20 21:46:08 | Jo Kersey |
| 1823 | 2023-03-04 10:41:21 | Ben Chown |
| 1824 | 2023-03-02 14:29:13 | Tia Potter |
| 1825 | 2023-02-21 01:11:42 | Helen Cottrell |
| 1826 | 2023-02-21 17:26:29 | Sarah Frost |
| 1827 | 2023-03-15 10:05:31 | Lucy M |
| 1828 | 2023-02-20 19:57:52 | Lea Painter |
| 1831 | 2023-02-25 20:21:20 | Staci Bolt |
| 1832 | 2023-03-22 20:11:39 | Stephen Rohan |
| 1833 | 2023-02-26 19:07:31 | Niki Rowles |
| 1834 | 2023-03-19 14:14:05 | Sami Knott |
| 1835 | 2023-02-23 20:11:12 | Rhys Hook |
| 1836 | 2023-03-21 05:52:11 | Chris Bryant |
| 1838 | 2023-03-18 13:25:39 | Joshua Hughes |
| 1839 | 2023-02-20 18:48:02 | |
| 1840 | 2023-02-21 09:49:36 | Andy Hawkins |
| 1842 | 2023-03-04 08:51:22 | Kirstie Hope |
| 1843 | 2023-03-10 23:13:03 | Rachel Drake |
| 1845 | 2023-03-01 16:43:54 | T S |
| 1846 | 2023-03-22 12:26:05 | Charlotte Parr |
| 1847 | 2023-03-01 08:21:14 | Amy Hardware |
| 1849 | 2023-03-19 20:05:55 | John Huteson |
| 1851 | 2023-02-28 14:07:57 | Katie Medler |
| 1852 | 2023-02-28 20:55:18 | Bradley Elliott |
| 1854 | 2023-02-20 19:38:41 | ali b |
| 1856 | 2023-03-19 13:32:37 | Cheryl Hole |
| 1857 | 2023-02-21 15:53:26 | Carly Squires |
| 1858 | 2023-03-16 10:25:04 | Roxanne Hill |
| 1859 | 2023-03-09 23:29:10 | Travis W |
| 1861 | 2023-02-26 19:20:54 | Sarah Jason ryan |
| 1865 | 2023-02-22 21:46:16 | Holly Kemp |
| 1866 | 2023-02-20 19:00:18 | Shannon Taylor |
| 1867 | 2023-02-23 22:29:02 | Mels T |
| 1868 | 2023-03-18 22:55:36 | Katie Wesson |
| 1870 | 2023-03-01 13:12:41 | LJ Storer no |
| 1871 | 2023-02-20 20:01:47 | Lucy King |
| 1873 | 2023-03-14 14:37:59 | Helen Cottrell |
| 1874 | 2023-03-02 10:09:04 | Hi Patricia Clarkson |
| 1875 | 2023-03-22 21:40:08 | Libby Lewis |
| 1876 | 2023-03-15 22:16:03 | Sahera Sheikh |
| 1877 | 2023-02-27 09:57:20 | Samantha Wilding |
| 1878 | 2023-03-01 08:18:27 | Amy Hardware |
| 1880 | 2023-03-03 10:11:14 | Nicole Franklin |
| 1881 | 2023-03-09 23:49:00 | H Watts |
| 1883 | 2023-03-10 02:03:56 | Hermon Gosling |
| 1885 | 2023-03-01 13:30:37 | Deana Bristow |
| 1886 | 2023-02-28 00:53:21 | M KM |
| 1887 | 2023-03-04 14:52:35 | Samantha Payne |
| 1889 | 2023-02-21 12:48:36 | Natalie Milner |
| 1890 | 2023-03-04 09:45:10 | Lauren phelps |
| 1891 | 2023-02-20 19:47:25 | Katy Roberts |
| 1892 | 2023-03-13 14:07:57 | Louisa Feaver |
| 1893 | 2023-02-27 09:57:20 | Samantha Wilding |
| 1894 | 2023-03-10 02:09:53 | Eri Hall |
| 1896 | 2023-03-21 10:24:24 | Elizabeth Green |
| 1897 | 2023-02-24 17:47:03 | Victoria PritchardDavies |
| 1898 | 2023-02-21 21:43:43 | Emily Andrews |
| 1899 | 2023-02-28 15:43:09 | Neil Potter |
| 1900 | 2023-03-15 23:23:01 | Faye Turner |
| 1901 | 2023-02-21 13:08:40 | sue fogarty |
| 1902 | 2023-03-10 21:08:56 | James Spence |
| 1903 | 2023-02-24 15:04:49 | Michelle Searles |
| 1904 | 2023-02-24 18:33:17 | Denise Barry |
| 1905 | 2023-02-20 23:37:50 | C W |
| 1906 | 2023-03-21 14:14:56 | Jenny Taylor |
| 1908 | 2023-02-21 18:25:10 | Sarah Jason ryan |
| 1909 | 2023-02-28 21:18:08 | Zoe Paterson |
| 1910 | 2023-02-20 18:42:06 | Gemma Gale |
| 1911 | 2023-02-20 19:05:52 | Donna Marie |
| 1912 | 2023-02-24 22:53:19 | CRAIG Lea |
| 1913 | 2023-02-20 21:13:13 | Alex Alex |
| 1914 | 2023-02-28 07:19:32 | Samantha Wilding |
| 1915 | 2023-02-24 05:39:31 | Charmaine Lee |
| 1916 | 2023-02-21 19:16:39 | R Osben |
| 1918 | 2023-02-20 20:13:04 | N P |
| 1919 | 2023-03-06 15:22:39 | Lucy Shappcott |
| 1920 | 2023-03-03 22:24:57 | Maria Cox |
| 1921 | 2023-03-03 03:51:26 | Nicola Farley |
| 1922 | 2023-03-11 14:48:10 | Hannah Drinkwater |
| 1923 | 2023-02-20 23:18:49 | Carl Hoare |
| 1924 | 2023-03-11 07:47:21 | Kiri Woodd |
| 1925 | 2023-03-04 09:27:48 | Gemma Hallett |
| 1926 | 2023-03-04 12:58:10 | Sarah Jason ryan |
| 1927 | 2023-02-23 09:14:48 | N P |
| 1928 | 2023-02-20 18:33:23 | Lisa Bigg |
| 1930 | 2023-02-28 08:45:27 | Kayleigh Gibbons |
| 1931 | 2023-03-01 09:41:23 | Samantha Head |
| 1932 | 2023-03-01 18:12:06 | Jemma Moore |
| 1933 | 2023-03-14 08:38:40 | Lee Mills |
| 1936 | 2023-02-25 20:19:32 | Zennen Stephen |
| 1937 | 2023-03-17 23:07:46 | Chris Carr |
| 1938 | 2023-03-15 20:19:02 | Carol Joyce |
| 1940 | 2023-03-13 07:36:22 | Kiri Woodd |
| 1941 | 2023-02-22 10:46:19 | N P |
| 1942 | 2023-03-02 11:28:51 | Trish Mcculloch |
| 1943 | 2023-02-28 07:17:14 | Samantha Wilding |
| 1944 | 2023-03-21 09:55:04 | Julie Hawley |
| 1945 | 2023-02-20 20:35:58 | Jade Pook |
| 1946 | 2023-02-20 19:55:52 | Charlotte Ott |
| 1947 | 2023-02-27 22:00:09 | Tia Potter |
| 1948 | 2023-02-25 10:16:34 | Tara Evans |
| 1949 | 2023-02-21 23:46:54 | R Osben |
| 1951 | 2023-03-04 09:31:48 | Leah Moore |
| 1952 | 2023-02-28 14:10:34 | Kerry Roberts |
| 1953 | 2023-03-19 19:43:15 | Victoria Kirk |
| 1956 | 2023-03-06 12:27:43 | Vicki White |
| 1957 | 2023-03-19 02:11:43 | Mark Lowe |
| 1958 | 2023-02-21 18:22:50 | N P |
| 1959 | 2023-02-22 07:36:00 | Karen look Reed |
| 1960 | 2023-02-20 17:46:14 | Emma Pullen |
| 1962 | 2023-02-24 10:13:50 | Kirsty Bush |
| 1963 | 2023-02-21 06:43:09 | Donna Marie |
| 1965 | 2023-03-01 12:33:34 | Samantha c |
| 1968 | 2023-03-13 00:18:37 | Chris Carr |
| 1969 | 2023-03-03 23:32:36 | Melissa Broadbent |
| 1970 | 2023-02-23 12:19:50 | Shauna Fitzsimmons |
| 1972 | 2023-03-19 22:08:19 | Kallie Davies |
| 1973 | 2023-02-25 13:28:56 | K W |
| 1974 | 2023-02-20 18:50:11 | Danielle Tallamy |
| 1975 | 2023-02-21 07:23:17 | Becca Hawkins |
| 1976 | 2023-02-26 09:54:08 | Mels T |
| 1977 | 2023-02-23 11:01:51 | N P |
| 1978 | 2023-03-06 13:07:55 | Emma Reeve |
| 1979 | 2023-03-02 20:22:08 | emma west |
| 1980 | 2023-03-07 17:27:43 | Andrew Dilkes |
| 1981 | 2023-02-24 07:10:49 | Samantha Wilding |
| 1982 | 2023-03-01 10:40:42 | James Shaw |
| 1983 | 2023-03-18 11:27:59 | Rachel Beattie |
| 1984 | 2023-03-01 17:45:06 | Abi Parnell |
| 1987 | 2023-02-20 19:00:21 | Richard Higham |
| 1988 | 2023-02-20 19:18:21 | Sarah Frost |
| 1989 | 2023-03-01 16:17:00 | Alysha Ward |
| 1990 | 2023-03-02 14:45:53 | Victoria Paddon |
| 1991 | 2023-02-25 00:50:50 | Holly Ring |
| 1992 | 2023-03-06 17:38:42 | Marie Tucker |
| 1994 | 2023-03-23 14:55:39 | Hannah Huteson |
| 1996 | 2023-03-01 12:20:05 | Sian Smith |
| 1998 | 2023-02-21 01:06:55 | Suzi Gooding |
| 1999 | 2023-03-19 16:45:52 | Emma Potter |
| 2000 | 2023-02-28 10:28:57 | Sarah Jason ryan |
| 2001 | 2023-02-20 19:33:43 | ali b |
| 2002 | 2023-02-24 11:34:23 | Kayleigh Gibbons |
| 2005 | 2023-03-21 17:15:45 | Cam Parle |
| 2007 | 2023-02-22 11:32:31 | N P |
| 2009 | 2023-02-21 10:06:21 | Gemma Gorringe |
| 2010 | 2023-02-20 18:55:05 | Kiri Leanne |
| 2011 | 2023-03-06 15:19:59 | Victoria Stentiford-crook |
| 2013 | 2023-03-23 10:23:37 | Zako D |
| 2014 | 2023-02-28 16:48:51 | M KM |
| 2015 | 2023-03-05 19:44:09 | Deb Smith |
| 2016 | 2023-02-20 18:47:27 | Sarah Cooper |
| 2017 | 2023-02-20 21:07:30 | Ashley Houston |
| 2018 | 2023-02-20 19:00:15 | Donna Marie |
| 2019 | 2023-02-21 13:10:46 | Emma Jones |
| 2020 | 2023-02-21 19:16:39 | R Osben |
| 2021 | 2023-02-22 16:52:18 | Mels T |
| 2022 | 2023-02-28 15:15:13 | Simon Soper |
| 2023 | 2023-03-03 19:55:26 | LJ Storer no |
| 2024 | 2023-03-01 16:00:30 | Brad Rowitt |
| 2025 | 2023-03-12 21:44:35 | Lisa Johnston |
| 2026 | 2023-02-27 15:55:24 | Tidey Gemma |
| 2027 | 2023-02-24 07:15:47 | Eri Hall |
| 2028 | 2023-02-24 07:58:43 | Dean Watt |
| 2030 | 2023-03-01 07:00:35 | Samantha Wilding |
| 2031 | 2023-02-23 09:20:56 | Faye Bristow |
| 2032 | 2023-02-28 20:11:29 | Debbie Styles |
| 2033 | 2023-03-01 19:59:14 | Jess Shephard |
| 2034 | 2023-03-01 12:16:31 | Rachel Drake |
| 2036 | 2023-03-18 20:52:09 | Paige Briton |
| 2037 | 2023-03-04 16:17:04 | Gemma Chick |
| 2038 | 2023-02-21 19:38:33 | Mandie Harris |
| 2039 | 2023-03-13 18:48:34 | Carl Hoare |
| 2040 | 2023-02-22 08:26:41 | Shauna Fitzsimmons |
| 2042 | 2023-03-13 21:14:34 | Elliott Bryant |
| 2043 | 2023-03-23 17:25:14 | Miss T |
| 2044 | 2023-03-15 14:08:22 | Lauren Charlesworth |
| 2045 | 2023-03-20 22:38:31 | Molly Spence |
| 2046 | 2023-03-01 09:25:30 | Sammi Dore |
| 2047 | 2023-02-21 04:48:51 | Holly Ring |
| 2048 | 2023-03-20 10:13:22 | Emma Potter |
| 2049 | 2023-02-23 17:51:53 | Daniel Dyer |
| 2051 | 2023-02-21 22:57:15 | Jay Jay |
| 2052 | 2023-03-14 14:37:59 | Helen Cottrell |
| 2053 | 2023-03-21 19:40:27 | Esmé Kershaw. |
| 2056 | 2023-02-20 22:07:18 | Trudi Kim |
| 2057 | 2023-02-24 11:37:21 | J K |
| 2060 | 2023-02-25 00:31:20 | Holly Ring |
| 2061 | 2023-03-02 16:16:30 | Philip Eddy |
| 2063 | 2023-02-21 10:39:52 | David Pearcey |
| 2064 | 2023-02-20 20:33:17 | Mary Kavanagh |
| 2065 | 2023-02-23 20:03:10 | Sarah Jason ryan |
| 2067 | 2023-02-22 17:55:54 | Darren Bruce |
| 2068 | 2023-02-28 09:16:17 | M KM |
| 2069 | 2023-03-04 09:01:02 | Sharron Birds |
| 2070 | 2023-03-10 21:24:49 | Abigail Macneice |
| 2071 | 2023-02-21 07:45:39 | Victoria PritchardDavies |
| 2074 | 2023-03-03 13:52:41 | Catherine Golden |
| 2079 | 2023-02-20 19:25:00 | Claire Adams |
| 2080 | 2023-03-05 10:24:51 | Mels T |
| 2081 | 2023-02-20 23:33:08 | Callum Breach |
| 2083 | 2023-02-20 20:35:18 | Emily Fleming |
| 2084 | 2023-02-23 04:43:06 | Miss T |
| 2085 | 2023-03-16 23:16:41 | Chris Carr |
| 2086 | 2023-03-19 22:57:03 | Lisa Quinn |
| 2087 | 2023-02-20 23:42:27 | C W |
| 2088 | 2023-02-24 11:23:32 | Kayleigh Gibbons |
| 2090 | 2023-02-21 13:39:41 | Gemma Squires |
| 2092 | 2023-03-16 18:43:12 | Tracey Yeldham |
| 2093 | 2023-02-20 20:36:43 | Becky H |
| 2094 | 2023-03-01 12:39:54 | Ashley Willdigg |
| 2095 | 2023-03-03 15:37:43 | Rachel S Long |
| 2096 | 2023-02-20 19:27:05 | james sutherland |
| 2097 | 2023-03-04 11:24:49 | James Bennellick |
| 2098 | 2023-03-21 17:19:59 | Cam Parle |
| 2101 | 2023-03-20 13:21:14 | Lilly Wick |
| 2102 | 2023-02-21 14:56:56 | Emma Reeve |
| 2103 | 2023-03-20 18:49:24 | Joanne Ison |
| 2104 | 2023-03-22 10:31:35 | Sarah Barlow |
| 2105 | 2023-02-20 18:45:47 | Naomi Johnson |
| 2109 | 2023-02-20 20:23:04 | Holly Ring |
| 2111 | 2023-02-23 11:13:13 | R Osben |
| 2112 | 2023-02-21 10:14:58 | Melissa davidson |
| 2113 | 2023-03-02 21:56:05 | LJ Storer no |
| 2114 | 2023-03-09 20:21:47 | LJ Storer no |
| 2115 | 2023-03-19 01:46:44 | Mark Lowe |
| 2116 | 2023-03-03 16:39:12 | Bradley Brentnall |
| 2118 | 2023-02-20 22:12:36 | Scott Haddon |
| 2119 | 2023-02-20 22:49:25 | Rachel Gilbert |
| 2120 | 2023-03-11 18:24:33 | Sarah Billington |
| 2121 | 2023-03-06 12:56:47 | Roxanne Hill |
| 2122 | 2023-02-20 19:30:25 | Kelly Radmore |
| 2123 | 2023-02-20 19:02:19 | Imogen Dilworth |
| 2124 | 2023-03-05 20:22:02 | LJ Storer no |
| 2125 | 2023-02-27 21:57:10 | Holly Macgregor |
| 2126 | 2023-03-21 18:35:34 | Susan Langford |
| 2127 | 2023-02-20 20:14:01 | Amanda CB |
| 2128 | 2023-02-21 02:08:59 | Marie Sandford |
| 2129 | 2023-03-11 06:41:14 | Hayley Macdonald-Brooks |
| 2130 | 2023-02-20 17:34:42 | Emma Pullen |
| 2132 | 2023-03-01 20:34:28 | Lisa Freer |
| 2133 | 2023-03-22 11:18:35 | Lisa L |
| 2134 | 2023-03-10 10:30:23 | Mark Lowe |
| 2136 | 2023-02-25 18:09:36 | Emma Page |
| 2137 | 2023-03-07 20:47:25 | Sarah Widdop |
| 2138 | 2023-02-23 22:46:13 | Lucy hek |
| 2139 | 2023-02-22 00:50:12 | R Osben |
| 2140 | 2023-03-18 20:05:42 | Joshua Hughes |
| 2141 | 2023-02-28 10:36:22 | Ellesha Carney |
| 2142 | 2023-02-20 19:35:23 | Sarah Jason ryan |
| 2144 | 2023-02-28 17:35:10 | LADY Trina |
| 2145 | 2023-03-04 09:19:55 | Vicki White |
| 2148 | 2023-03-22 19:19:17 | Elise Watling |
| 2149 | 2023-02-26 13:55:32 | Gemma Harrison |
| 2150 | 2023-02-23 18:23:05 | Natasha Langford |
| 2152 | 2023-03-22 22:27:17 | Glyn Wellings |
| 2153 | 2023-02-28 17:52:40 | Rhiannon Martin |
| 2155 | 2023-02-23 08:30:28 | Chloe Withyman |
| 2157 | 2023-03-01 14:53:51 | Sami Knott |
| 2158 | 2023-03-18 15:29:29 | Emma Potter |
| 2159 | 2023-03-04 11:25:06 | Miss T |
| 2161 | 2023-02-24 08:29:04 | Mels T |
| 2164 | 2023-02-23 16:22:58 | Emma Davies |
| 2165 | 2023-03-03 10:51:59 | Sarah Jason ryan |
| 2166 | 2023-03-20 11:24:49 | Megan Thornhill |
| 2168 | 2023-02-28 20:17:27 | Kayleigh Gibbons |
| 2169 | 2023-03-17 21:05:58 | Esmé M |
| 2171 | 2023-03-01 12:12:49 | Laura Baker |
| 2173 | 2023-02-27 22:48:00 | Holly Kemp |
| 2174 | 2023-02-26 15:49:45 | Hayley Macdonald-Brooks |
| 2175 | 2023-02-21 08:08:57 | Kerry Westcott |
| 2176 | 2023-03-01 12:16:31 | Rachel Drake |
| 2180 | 2023-02-24 05:37:46 | Charmaine Lee |
| 2181 | 2023-03-20 14:41:03 | Debbie Hands Hands |
| 2182 | 2023-03-02 20:16:00 | Janice Parker-Done |
| 2183 | 2023-03-08 10:18:52 | Tash Wright |
| 2184 | 2023-02-21 11:14:49 | emma west |
| 2187 | 2023-03-05 13:27:01 | Kate Cornish |
| 2189 | 2023-02-25 10:24:42 | Stacey Dymond |
| 2190 | 2023-03-22 09:38:04 | Rachel Orford |
| 2191 | 2023-02-20 18:54:43 | Carolynne Hollinshed |
| 2192 | 2023-03-09 16:45:29 | Hermon Gosling |
| 2193 | 2023-02-28 13:56:16 | Sarah Dare |
| 2194 | 2023-02-23 04:47:50 | Miss T |
| 2195 | 2023-03-11 18:24:33 | Sarah Billington |
| 2196 | 2023-03-20 11:56:59 | Ninny Noo |
| 2197 | 2023-02-24 20:02:00 | Marie Sandford |
| 2198 | 2023-02-28 16:17:06 | Nicki Rivers |
| 2199 | 2023-02-20 21:24:01 | Tom Hobson |
| 2200 | 2023-02-20 18:39:46 | Jessie Mole |
| 2201 | 2023-03-20 19:42:32 | Ricky gale |
| 2202 | 2023-02-24 22:15:04 | Katie Medler |
| 2203 | 2023-03-04 13:05:33 | Bradley Harris |
| 2204 | 2023-02-25 19:49:46 | Tom Sharrock |
| 2206 | 2023-02-20 23:43:15 | Emma Potter |
| 2207 | 2023-03-22 19:35:58 | Jay Jay |
| 2210 | 2023-03-01 19:51:17 | ben drinkwater |
| 2211 | 2023-03-19 23:55:59 | Kirsty Ledger |
| 2212 | 2023-03-21 11:17:55 | Sarah Otoole |
| 2213 | 2023-02-28 18:36:26 | Mels T |
| 2214 | 2023-03-02 17:00:18 | Doreen Williams |
| 2215 | 2023-03-01 09:42:24 | Pennie Peacock |
| 2216 | 2023-03-11 22:23:52 | Daniel Paddington |
| 2218 | 2023-02-28 09:05:48 | Kayleigh Gibbons |
| 2220 | 2023-03-16 15:07:48 | Emily D |
| 2222 | 2023-02-22 19:04:32 | Warren Kenny |
| 2223 | 2023-03-05 15:19:13 | Sarah Kallmeier |
| 2224 | 2023-02-20 19:07:33 | ali b |
| 2225 | 2023-02-20 21:21:13 | Michaela Nodwell |
| 2227 | 2023-03-05 18:18:55 | Abi Parnell |
| 2230 | 2023-03-01 08:37:16 | Amy Hardware |
| 2231 | 2023-03-18 22:26:40 | Carolyn Chapple |
| 2232 | 2023-02-25 10:57:42 | Claire Read |
| 2233 | 2023-02-22 16:19:30 | Mels T |
| 2234 | 2023-02-22 20:08:25 | Katie Medler |
| 2235 | 2023-02-21 11:12:32 | Nicci Taylor |
| 2236 | 2023-02-23 16:51:15 | Jodie Richards |
| 2237 | 2023-02-20 22:40:09 | Sammy Morphey |
| 2239 | 2023-03-17 21:01:24 | Samantha Reed |
| 2240 | 2023-03-03 16:35:38 | Emily7 Hibberd |
| 2241 | 2023-03-17 22:32:45 | Bryony Rice |
| 2242 | 2023-03-03 09:33:48 | James Rendle |
| 2243 | 2023-03-22 20:41:46 | Lilly Wick |
| 2244 | 2023-02-20 19:19:56 | Staci Bolt |
| 2245 | 2023-02-20 18:46:57 | Mike Tout |
| 2246 | 2023-03-18 19:01:45 | Gem G |
| 2247 | 2023-03-09 09:19:54 | Rachel Hayes |
| 2248 | 2023-03-01 11:40:49 | Elizabeth Mills |
| 2249 | 2023-03-20 14:25:47 | Cheyenne Parrott |
| 2251 | 2023-02-23 04:52:32 | Miss T |
| 2252 | 2023-02-22 10:43:14 | Jessica Faye |
| 2253 | 2023-02-21 11:29:08 | Charlene Kendall |
| 2254 | 2023-03-03 12:54:39 | Sam Dorrall |
| 2255 | 2023-03-20 07:52:04 | Zoe Reynolds |
| 2256 | 2023-02-21 12:16:52 | Eri Hall |
| 2257 | 2023-02-20 22:16:54 | Steph Elston |
| 2258 | 2023-03-23 10:56:01 | Emma Jones |
| 2259 | 2023-02-20 19:06:44 | Shelby Isaacs |
| 2261 | 2023-02-23 20:34:29 | Daniel Paddington |
| 2263 | 2023-02-20 19:07:40 | Amy Smith |
| 2264 | 2023-02-28 20:23:21 | Katie Medler |
| 2265 | 2023-02-21 17:16:50 | Trudie Broom |
| 2267 | 2023-03-18 20:12:43 | Lauren stone |
| 2268 | 2023-03-01 06:56:13 | Samantha Wilding |
| 2269 | 2023-02-21 12:26:46 | R Osben |
| 2271 | 2023-03-05 10:10:42 | S W |
| 2272 | 2023-02-28 19:52:51 | Alison Enticknap |
| 2274 | 2023-03-03 10:41:36 | Lauren Charlesworth |
| 2276 | 2023-03-21 02:20:54 | Chelsea Bishop |
| 2277 | 2023-02-21 18:05:54 | Mels T |
| 2279 | 2023-02-21 06:51:06 | K P |
| 2282 | 2023-03-04 19:38:07 | Mansfield Stacey |
| 2283 | 2023-03-03 09:11:50 | Neil Western |
| 2284 | 2023-03-03 21:17:59 | Clare Bastin |
| 2285 | 2023-02-22 00:39:01 | R Osben |
| 2286 | 2023-03-14 05:22:06 | Lisa Hutchings |
| 2287 | 2023-03-03 14:29:03 | Michelle Burton |
| 2289 | 2023-02-20 19:32:57 | Kirsty Lockyear |
| 2290 | 2023-02-23 23:35:38 | Donna Marie |
| 2291 | 2023-02-20 19:17:33 | |
| 2292 | 2023-03-11 19:30:27 | Jamie Cannon |
| 2293 | 2023-02-20 19:12:57 | Donna Marie |
| 2294 | 2023-03-11 16:32:26 | Emily Cole |
| 2295 | 2023-03-01 10:08:29 | Jeffery Moseley |
| 2296 | 2023-03-08 12:06:12 | Lisa Hutchings |
| 2297 | 2023-02-25 02:56:44 | Hayley Macdonald-Brooks |
| 2298 | 2023-02-24 15:04:29 | Rhys Hook |
| 2299 | 2023-02-21 14:37:06 | Rachel Nicholson |
| 2300 | 2023-03-05 18:37:10 | Lucy Cronk |
| 2301 | 2023-03-04 13:59:20 | Paul Crane |
| 2302 | 2023-02-20 19:54:43 | Emily Ayres |
| 2303 | 2023-02-28 16:21:29 | Charlotte King |
| 2305 | 2023-02-21 06:42:41 | Soraya Murray |
| 2307 | 2023-02-28 10:52:38 | Sarah Jason ryan |
| 2310 | 2023-03-10 09:35:05 | Hayley Macdonald-Brooks |
| 2311 | 2023-03-11 19:00:35 | Kiri Johnson |
| 2312 | 2023-02-28 14:51:49 | Katie Medler |
| 2313 | 2023-03-21 18:28:41 | Sara Grafton |
| 2314 | 2023-02-20 21:39:44 | Tara Bouch |
| 2315 | 2023-03-05 14:38:11 | Lorraine Driscoll |
| 2316 | 2023-02-20 18:52:51 | Megan Coyne |
| 2317 | 2023-03-22 21:17:33 | Danielle Luxton |
| 2318 | 2023-03-11 21:06:28 | Kelly Tucker |
| 2319 | 2023-02-22 17:22:01 | Pamela Bradshaw |
| 2320 | 2023-03-20 20:53:16 | Nichola Jordan |
| 2322 | 2023-02-21 07:21:53 | Richard Williams |
| 2323 | 2023-02-24 00:17:13 | Helen Cottrell |
| 2324 | 2023-02-23 23:21:11 | louise Davis |
| 2325 | 2023-02-23 21:46:47 | Shauna Fitzsimmons |
| 2327 | 2023-03-03 09:26:13 | Tara Evans |
| 2328 | 2023-03-03 07:14:09 | Spencer Troth |
| 2330 | 2023-03-18 15:48:44 | Emma Potter |
| 2332 | 2023-02-20 19:31:06 | Amara Baxter |
| 2336 | 2023-02-20 18:44:31 | Terri Hurren |
| 2337 | 2023-02-28 10:34:18 | Ellesha Carney |
| 2339 | 2023-02-20 18:57:05 | Jessica Stephens |
| 2340 | 2023-02-28 14:27:25 | Kyah Steele |
| 2341 | 2023-03-03 10:41:36 | Lauren Charlesworth |
| 2342 | 2023-03-18 20:41:54 | Jade Pook |
| 2343 | 2023-02-22 09:21:24 | Warren Kenny |
| 2344 | 2023-03-20 14:59:20 | Lucy Shappcott |
| 2345 | 2023-03-22 17:17:25 | Nicola Naylor |
| 2346 | 2023-03-02 15:54:38 | Yasmin O'Hare |
| 2347 | 2023-02-22 16:56:21 | Lisa Burgess |
| 2348 | 2023-02-20 19:10:11 | Nikki Swann |
| 2349 | 2023-02-20 18:57:15 | Samantha Lindsay-lee |
| 2350 | 2023-03-07 22:43:51 | Lisa Roberts |
| 2352 | 2023-03-01 17:40:34 | Steve Hornby |
| 2353 | 2023-02-21 09:27:03 | Harvey Harrington |
| 2355 | 2023-02-21 10:24:38 | Kristina Rhodes |
| 2356 | 2023-03-16 17:22:47 | Sarah Barlow |
| 2357 | 2023-03-07 12:42:20 | Julie Major |
| 2358 | 2023-03-19 12:21:02 | Emma Jones |
| 2360 | 2023-03-11 23:59:36 | Chantel Cowley |
| 2363 | 2023-03-11 21:06:28 | Kelly Tucker |
| 2364 | 2023-03-02 12:04:28 | Jade Legg |
| 2365 | 2023-03-04 10:06:45 | Lucy Cronk |
| 2366 | 2023-03-02 10:30:00 | Jasmine Penza |
| 2368 | 2023-02-20 21:56:01 | Mark Lowe |
| 2369 | 2023-02-28 13:57:24 | Kerry Roberts |
| 2370 | 2023-02-23 04:52:32 | Miss T |
| 2372 | 2023-03-06 16:47:53 | ali b |
| 2373 | 2023-02-28 01:01:49 | M KM |
| 2374 | 2023-03-19 21:29:09 | Chris Carr |
| 2375 | 2023-03-02 19:23:00 | Hermon Gosling |
| 2376 | 2023-02-20 23:56:36 | Sunnita Snell |
| 2377 | 2023-03-06 20:48:45 | Lauren Charlesworth |
| 2379 | 2023-02-20 19:10:01 | Lorna Noble |
| 2380 | 2023-03-02 11:27:26 | Samantha Lauren |
| 2382 | 2023-02-21 11:32:03 | Charlene Kendall |
| 2383 | 2023-03-18 21:12:45 | Steve Bryant |
| 2384 | 2023-02-20 21:38:40 | Kellie Ridout |
| 2385 | 2023-02-20 21:13:13 | Alex Alex |
| 2386 | 2023-02-20 18:47:12 | Gary Thompson |
| 2387 | 2023-02-20 19:27:12 | Hannah Long |
| 2388 | 2023-02-21 10:08:11 | Chelsey Lindsay |
| 2389 | 2023-03-19 18:31:45 | Joshua Hughes |
| 2390 | 2023-02-20 20:36:43 | Laura Flay |
| 2391 | 2023-03-21 21:19:09 | Mason Percival |
| 2392 | 2023-03-01 18:48:55 | Andrew Gardiner |
| 2393 | 2023-03-05 06:36:48 | Daniel Hartley |
| 2394 | 2023-03-17 21:09:28 | Chloe Walker |
| 2395 | 2023-03-06 15:33:24 | Christy Betts |
| 2396 | 2023-03-23 18:20:00 | Mansfield Stacey |
| 2397 | 2023-03-02 09:40:37 | M KM |
| 2398 | 2023-02-21 07:00:32 | Fox Sabella |
| 2401 | 2023-02-21 10:34:18 | Paige Collins |
| 2402 | 2023-03-19 11:32:06 | Ew Mc |
| 2404 | 2023-03-11 10:55:50 | Kiri Woodd |
| 2405 | 2023-02-20 18:54:06 | N P |
| 2406 | 2023-02-24 18:03:53 | Emily Dyke |
| 2407 | 2023-03-03 04:35:08 | Jodie Simms |
| 2408 | 2023-02-23 11:59:36 | K W |
| 2409 | 2023-03-03 21:49:54 | Courtney Johnson |
| 2410 | 2023-03-01 17:45:54 | Roxanne Stevenson |
| 2411 | 2023-03-20 02:14:40 | Miss T |
| 2413 | 2023-02-26 17:49:38 | Gemma Gorringe |
| 2414 | 2023-03-07 09:17:04 | Debs H |
| 2415 | 2023-03-22 15:06:19 | Gemma Rose |
| 2416 | 2023-03-04 20:03:12 | Emma Jones |
| 2417 | 2023-03-23 14:51:55 | Jeanette Anderson |
| 2418 | 2023-02-20 18:47:12 | Gary Thompson |
| 2420 | 2023-02-20 19:03:22 | Lorna Noble |
| 2421 | 2023-02-22 17:07:20 | Mark Lowe |
| 2422 | 2023-02-20 19:31:58 | Donna Marie |
| 2423 | 2023-02-22 11:09:38 | Danielle Redpath |
| 2425 | 2023-03-03 07:13:12 | Stacey Dymond |
| 2426 | 2023-02-24 21:38:01 | Joyce Cunliffe |
| 2427 | 2023-02-20 19:38:27 | Morag Crichton |
| 2430 | 2023-03-01 15:40:38 | Abi Parnell |
| 2433 | 2023-02-20 19:34:43 | Tash Wright |
| 2435 | 2023-02-20 19:07:51 | B L |
| 2437 | 2023-03-20 21:46:11 | Emma White |
| 2438 | 2023-02-23 17:39:29 | Daniel Matthews |
| 2439 | 2023-02-21 14:29:17 | Megan Coyne |
| 2440 | 2023-03-07 17:43:14 | Kerry Roberts |
| 2441 | 2023-03-01 19:09:23 | Jade Ward |
| 2442 | 2023-03-02 22:23:36 | Jasmine Stevenson |
| 2443 | 2023-03-06 19:27:02 | Paul Crane |
| 2445 | 2023-02-28 09:40:00 | Sarah Jason ryan |
| 2447 | 2023-02-27 23:03:46 | Jason Crockett |
| 2448 | 2023-03-20 13:55:12 | Spencer Troth |
| 2451 | 2023-03-05 11:35:26 | Ben Large |
| 2452 | 2023-03-19 18:00:50 | Nicky Jennings |
| 2453 | 2023-02-28 15:03:20 | Kayleigh Gibbons |
| 2454 | 2023-02-28 14:54:11 | Katie Medler |
| 2456 | 2023-02-28 04:45:48 | Emma Jones |
| 2457 | 2023-03-03 14:24:47 | Helen Stallard |
| 2458 | 2023-03-19 16:31:39 | Emma Potter |
| 2459 | 2023-02-20 19:12:54 | Bonnie Van Beek |
| 2460 | 2023-03-03 03:27:53 | Julie Fells |
| 2462 | 2023-02-23 00:38:46 | Miss T |
| 2463 | 2023-03-18 13:41:55 | Ali baba The second |
| 2465 | 2023-03-01 12:48:45 | Lee Sandey |
| 2466 | 2023-02-24 21:49:08 | Kayleigh Gibbons |
| 2468 | 2023-03-11 10:55:50 | Kiri Woodd |
| 2469 | 2023-02-21 09:46:14 | Andy Hawkins |
| 2470 | 2023-02-23 18:43:14 | Michelle Wykes |
| 2471 | 2023-03-22 17:07:28 | Nicola Naylor |
| 2472 | 2023-02-20 23:08:59 | Michelle Martin |
| 2473 | 2023-02-20 18:51:59 | Jade O'Loughlin |
| 2474 | 2023-03-11 08:26:38 | Sian Beer |
| 2476 | 2023-03-19 20:27:53 | Jodie Southwell |
| 2478 | 2023-02-27 22:03:03 | Holly Kemp |
| 2479 | 2023-03-23 11:13:27 | Katie John |
| 2480 | 2023-03-17 12:39:44 | Zako D |
| 2481 | 2023-02-28 10:28:57 | Sarah Jason ryan |
| 2482 | 2023-03-17 07:15:53 | Katie Medler |
| 2483 | 2023-03-22 17:39:56 | Jasmin Beaulah |
| 2484 | 2023-02-20 20:07:06 | Esmé Kershaw. |
| 2485 | 2023-02-21 19:40:09 | Daniel Paddington |
| 2486 | 2023-03-01 16:49:43 | Agnes Padua |
| 2487 | 2023-03-15 12:52:07 | Jeffery Moseley |
| 2488 | 2023-02-26 10:49:49 | Shauna Fitzsimmons |
| 2490 | 2023-03-20 18:15:28 | Daisy Self |
| 2495 | 2023-03-11 12:24:02 | Sally Willdigg |
| 2496 | 2023-03-11 09:41:01 | Lukasz Pierzchala |
| 2497 | 2023-02-23 15:42:26 | Shauna Fitzsimmons |
| 2499 | 2023-03-02 13:42:02 | Tanya Neal |
| 2500 | 2023-03-19 01:49:53 | Mark Lowe |
| 2501 | 2023-03-02 18:09:05 | Joe Khan |
| 2502 | 2023-02-21 10:13:55 | Jodie Baker |
| 2505 | 2023-03-19 20:53:11 | Joshua Hughes |
| 2506 | 2023-02-27 23:13:57 | James Myers |
| 2507 | 2023-02-26 07:23:48 | Brandon Hodge |
| 2508 | 2023-02-24 12:59:20 | Miss T |
| 2510 | 2023-02-20 19:32:10 | Daniel Paddington |
| 2511 | 2023-02-21 08:46:50 | John Huteson |
| 2512 | 2023-02-24 01:11:43 | Grace Marshall |
| 2513 | 2023-02-27 17:03:30 | Jordan Edgecombe |
| 2514 | 2023-03-10 14:31:14 | Ray Burgess |
| 2519 | 2023-02-24 10:17:25 | Emma Ormrod |
| 2520 | 2023-03-19 19:38:34 | Emily D |
| 2521 | 2023-03-22 12:31:42 | Sian Platt |
| 2522 | 2023-03-04 09:02:19 | Otilie Evans |
| 2523 | 2023-02-25 09:08:34 | Siann Davies |
| 2524 | 2023-03-20 14:55:18 | hannah campling |
| 2527 | 2023-03-22 11:37:24 | Amy Percival |
| 2528 | 2023-03-06 19:52:15 | Janine Taylor-Bartle |
| 2531 | 2023-02-25 15:42:54 | Mark Harvey |
| 2533 | 2023-03-18 13:05:14 | Tabatha Krafft |
| 2534 | 2023-02-20 21:51:12 | Mark Lowe |
| 2535 | 2023-03-01 08:06:48 | Amy Hardware |
| 2536 | 2023-03-22 06:52:54 | Charlotte Corbett |
| 2539 | 2023-03-11 09:05:59 | Nicola Clark |
| 2540 | 2023-02-23 15:18:17 | Suzette Dodson-Rouse |
| 2541 | 2023-02-21 13:41:59 | Lauren Quigley |
| 2542 | 2023-02-20 18:42:37 | Chloe Courtney |
| 2543 | 2023-02-20 19:58:26 | Bev O'Connor |
| 2545 | 2023-02-25 10:06:02 | Tara Evans |
| 2546 | 2023-02-24 16:39:44 | Rhys Hook |
| 2548 | 2023-03-04 11:54:26 | Sian Platt |
| 2549 | 2023-02-21 02:39:52 | Holly Ring |
| 2550 | 2023-02-21 11:32:56 | ryan grenfell |
| 2551 | 2023-02-20 23:01:51 | R Osben |
| 2553 | 2023-03-01 19:37:56 | Rebekka Lucas |
| 2554 | 2023-02-23 19:26:10 | Karen Hogg |
| 2555 | 2023-03-01 16:19:34 | Matt Jay |
| 2556 | 2023-03-02 21:01:19 | Richard Higham |
| 2558 | 2023-02-28 08:58:20 | Kayleigh Gibbons |
| 2559 | 2023-02-25 03:37:33 | Faye Turner |
| 2561 | 2023-02-23 00:08:52 | Miss T |
| 2562 | 2023-03-01 08:17:21 | Miss T |
| 2563 | 2023-02-21 06:43:09 | Donna Marie |
| 2564 | 2023-02-25 13:10:19 | John Huteson |
| 2566 | 2023-02-24 05:57:58 | Samantha Wilding |
| 2567 | 2023-03-19 12:32:44 | Esmé M |
| 2568 | 2023-02-21 10:39:52 | David Pearcey |
| 2569 | 2023-02-28 09:50:14 | Lois Lovering |
| 2570 | 2023-02-28 14:14:57 | Katie Medler |
| 2572 | 2023-03-09 21:15:13 | melanie hook |
| 2573 | 2023-02-24 13:34:08 | J K |
| 2574 | 2023-03-19 23:57:15 | Kirsty Ledger |
| 2575 | 2023-02-28 08:50:20 | Kayleigh Gibbons |
| 2577 | 2023-02-24 11:34:23 | Kayleigh Gibbons |
| 2578 | 2023-02-20 21:56:36 | Amy Dommett |
| 2579 | 2023-03-21 14:26:12 | Carl Hoare |
| 2580 | 2023-03-18 11:23:32 | Samantha c |
| 2581 | 2023-03-02 14:53:53 | Libby Lewis |
| 2582 | 2023-03-11 19:34:56 | Helen Cottrell |
| 2583 | 2023-03-19 20:12:44 | Ali baba The second |
| 2585 | 2023-02-21 02:18:55 | Tara Willis |
| 2586 | 2023-03-21 18:39:57 | Rowan Mayfield |
| 2589 | 2023-03-20 16:11:15 | Hayleigh Cook |
| 2590 | 2023-03-01 17:04:33 | Ann Hall |
| 2591 | 2023-03-01 12:37:21 | Mels T |
| 2592 | 2023-03-21 18:37:44 | Sarah jane Glover |
| 2593 | 2023-03-02 11:30:53 | Leah Ashton |
| 2594 | 2023-02-28 10:58:03 | Ellesha Carney |
| 2595 | 2023-02-21 13:47:32 | Alex Clarke |
| 2596 | 2023-02-20 21:14:29 | Lauren Mckimm |
| 2602 | 2023-03-13 14:34:12 | Libby Lewis |
| 2603 | 2023-03-22 11:37:24 | Amy Percival |
| 2606 | 2023-02-21 14:01:36 | Shauna Fitzsimmons |
| 2607 | 2023-02-20 23:25:40 | K Westy |
| 2610 | 2023-03-23 10:14:38 | Tia Potter |
| 2612 | 2023-03-01 17:29:39 | Lydia Watkiss |
| 2614 | 2023-02-25 16:40:05 | Mark Lowe |
| 2616 | 2023-03-01 03:05:06 | Shane Seldon |
| 2617 | 2023-02-21 10:54:44 | Emma Potter |
| 2618 | 2023-03-04 06:54:18 | Erika Webber |
| 2619 | 2023-03-11 07:54:02 | Kiri Woodd |
| 2620 | 2023-03-03 17:54:25 | Charlotte Avery |
| 2621 | 2023-02-28 09:41:38 | N P |
| 2622 | 2023-02-20 20:13:04 | N P |
| 2623 | 2023-03-04 16:43:44 | Michael Kirton |
| 2626 | 2023-03-15 14:47:47 | Linda Beer |
| 2627 | 2023-03-04 17:00:55 | Emma White |
| 2628 | 2023-02-24 00:40:49 | Shannon Teague |
| 2629 | 2023-02-24 22:50:49 | Lee Fairclough |
| 2630 | 2023-02-22 12:26:49 | Shavanna Woon |
| 2632 | 2023-02-25 08:04:46 | Samantha Wilding |
| 2634 | 2023-02-25 00:21:30 | claire-louise flanagan |
| 2635 | 2023-03-03 17:59:31 | Miss T |
| 2636 | 2023-03-02 23:33:44 | Simone Grose |
| 2637 | 2023-02-22 13:43:48 | Tom Sharrock |
| 2638 | 2023-03-22 22:38:37 | Emma Chinnici |
| 2639 | 2023-03-18 19:16:15 | Lucy Edney |
| 2640 | 2023-02-20 18:46:21 | Rebecca Harwood |
| 2642 | 2023-03-03 21:14:46 | Tom Cooper |
| 2643 | 2023-02-20 20:13:32 | Joe Khan |
| 2644 | 2023-03-03 17:17:21 | Jolene Collings |
| 2645 | 2023-02-21 18:50:18 | Aim P |
| 2646 | 2023-02-20 18:43:13 | ali b |
| 2647 | 2023-03-02 17:36:36 | Karen Lee |
| 2648 | 2023-02-28 14:01:13 | Katie Medler |
| 2650 | 2023-02-23 21:46:47 | Shauna Fitzsimmons |
| 2651 | 2023-02-24 16:37:29 | Rhys Hook |
| 2652 | 2023-03-07 19:43:47 | Vicky Griffin |
| 2654 | 2023-02-26 16:43:24 | James Crafer |
| 2655 | 2023-03-11 19:40:24 | Sarah Billington |
| 2656 | 2023-02-21 16:53:46 | Michelle Newcombe |
| 2658 | 2023-03-01 10:39:14 | James Shaw |
| 2659 | 2023-03-22 19:04:14 | Graeme Anderson |
| 2660 | 2023-03-06 20:48:45 | Lauren Charlesworth |
| 2661 | 2023-03-11 19:42:31 | Emma White |
| 2663 | 2023-02-21 09:19:26 | Tia Potter |
| 2664 | 2023-03-18 18:34:34 | Nicola Walker |
| 2666 | 2023-02-23 19:17:50 | Carl Hoare |
| 2667 | 2023-03-15 11:48:34 | Sarah jane Glover |
| 2669 | 2023-02-20 18:51:18 | Sarah Highbury |
| 2671 | 2023-03-04 20:52:10 | Libby Lewis |
| 2672 | 2023-02-21 10:51:50 | James Shaw |
| 2673 | 2023-03-03 12:48:04 | Paul Matthews |
| 2675 | 2023-02-20 22:07:19 | Andy Hawkins |
| 2676 | 2023-03-06 18:46:21 | Samantha Bailey |
| 2677 | 2023-02-20 20:44:56 | Sam Hicks |
| 2678 | 2023-03-21 20:03:31 | Gemma Gale |
| 2679 | 2023-03-21 20:09:39 | Zoe Perry |
| 2680 | 2023-03-01 11:47:49 | Matt Drew |
| 2681 | 2023-02-20 19:16:50 | Kim Ellis |
| 2682 | 2023-03-06 19:47:55 | Emma Reeve |
| 2683 | 2023-02-28 14:40:22 | Kayleigh Gibbons |
| 2685 | 2023-03-04 08:09:29 | Lauren Andrews |
| 2686 | 2023-03-01 11:47:20 | David Pearcey |
| 2688 | 2023-03-02 13:40:19 | Shannon Williams |
| 2689 | 2023-02-24 18:15:40 | Kelly Wilmott |
| 2690 | 2023-02-23 16:19:06 | Brogan Sandercock |
| 2692 | 2023-03-01 00:48:22 | Hayley Macdonald-Brooks |
| 2694 | 2023-02-20 19:12:02 | Richard Higham |
| 2695 | 2023-03-01 06:56:13 | Samantha Wilding |
| 2696 | 2023-02-26 15:59:54 | Samantha Wilding |
| 2697 | 2023-02-27 10:04:53 | Samantha Wilding |
| 2698 | 2023-02-20 19:03:34 | Eleanor Rossiter |
| 2699 | 2023-03-02 17:41:07 | Dominic Packer |
| 2700 | 2023-02-20 19:37:35 | Victoria Franklin |
| 2701 | 2023-02-21 10:54:57 | Sarah Read |
| 2702 | 2023-02-20 19:57:43 | Sapphire Salvador |
| 2703 | 2023-03-21 10:01:49 | Christina Gilley |
| 2705 | 2023-02-20 19:10:36 | Georgia Wright |
| 2706 | 2023-03-02 15:00:26 | Tash Wright |
| 2707 | 2023-02-21 12:43:31 | Tina Hill |
| 2708 | 2023-03-11 01:55:51 | Kiri Woodd |
| 2709 | 2023-02-23 09:01:18 | R Osben |
| 2710 | 2023-03-05 19:11:17 | Leanne Merry |
| 2712 | 2023-02-20 19:49:57 | Emma Bayliss |
| 2713 | 2023-03-01 12:24:17 | Ami Donovan |
| 2714 | 2023-02-28 16:09:19 | M KM |
| 2715 | 2023-03-11 22:57:59 | Ricky Lattimer |
| 2716 | 2023-03-19 11:27:32 | Natasha Hollingsworth |
| 2717 | 2023-02-20 19:24:45 | SL M |
| 2718 | 2023-03-20 19:39:16 | Kerri Batchelor |
| 2721 | 2023-02-28 08:56:40 | Kayleigh Gibbons |
| 2722 | 2023-03-19 19:57:14 | Darren Locke |
| 2723 | 2023-03-20 10:59:15 | Annaka Hollingworth |
| 2724 | 2023-03-03 22:21:34 | Mels T |
| 2725 | 2023-03-04 15:07:44 | Pamela Bradshaw |
| 2726 | 2023-02-22 12:13:42 | Tegan Vinnicombe |
| 2728 | 2023-02-20 21:16:26 | James Davies |
| 2729 | 2023-02-20 21:41:10 | Michaela Nodwell |
| 2730 | 2023-02-21 06:59:42 | Sophie Loman |
| 2731 | 2023-03-01 14:58:04 | Natalie Horton |
| 2732 | 2023-02-20 19:12:42 | Jessica Rida |
| 2733 | 2023-03-23 18:16:27 | Lee Brown |
| 2734 | 2023-03-01 23:00:14 | Zaneta Jezewska |
| 2735 | 2023-02-22 18:34:40 | Natalie Maple |
| 2736 | 2023-02-23 09:15:17 | Nicholas Golden |
| 2737 | 2023-02-27 23:07:27 | Jason Crockett |
| 2738 | 2023-03-10 21:32:39 | Laura Jane |
| 2739 | 2023-02-24 13:21:18 | Marie Sandford |
| 2741 | 2023-02-23 14:04:17 | Jodie Ellis |
| 2743 | 2023-02-24 20:40:54 | Helen Cottrell |
| 2744 | 2023-02-21 20:27:54 | Ian Craig |
| 2745 | 2023-02-20 20:18:50 | Nicola Clark |
| 2746 | 2023-03-19 09:06:19 | Jessica Hine |
| 2748 | 2023-02-20 21:43:51 | Thomas Simmons |
| 2750 | 2023-02-20 20:01:13 | Ken Cheung |
| 2752 | 2023-02-21 12:53:06 | Laura Amos |
| 2753 | 2023-02-21 18:15:27 | Mels T |
| 2755 | 2023-03-22 13:47:04 | Alison Williams |
| 2756 | 2023-03-03 14:01:11 | Sarah Asplen |
| 2757 | 2023-02-23 09:29:30 | K W |
| 2759 | 2023-03-17 21:48:28 | Rachael Kenny |
| 2760 | 2023-03-17 15:32:23 | Lucy Shappcott |
| 2762 | 2023-03-03 18:38:38 | Jessica Jones |
| 2763 | 2023-03-22 19:41:07 | Chris Lockyear |
| 2765 | 2023-02-23 19:54:05 | S W |
| 2766 | 2023-02-20 18:51:23 | Emma & lee |
| 2767 | 2023-03-16 09:53:47 | Rebecca Brueton |
| 2768 | 2023-02-26 17:34:04 | Samantha Wilding |
| 2769 | 2023-03-23 11:00:56 | Taylor Jones |
| 2771 | 2023-02-21 13:02:48 | Marie Sandford |
| 2772 | 2023-02-25 18:08:29 | Helen Cottrell |
| 2773 | 2023-03-12 08:35:25 | Sian Beer |
| 2774 | 2023-02-23 23:43:31 | Donna Marie |
| 2775 | 2023-02-21 20:45:50 | Mark Lowe |
| 2776 | 2023-03-02 10:27:57 | Miss T |
| 2777 | 2023-02-21 07:23:52 | J m Blackmore |
| 2778 | 2023-03-11 17:55:21 | lucy edge-beer |
| 2780 | 2023-02-22 13:17:52 | Catherine Marsh |
| 2781 | 2023-02-23 13:12:17 | R Osben |
| 2782 | 2023-03-19 20:04:16 | Joshua Hughes |
| 2783 | 2023-03-17 10:24:34 | Martyna Pop |
| 2787 | 2023-03-13 01:13:57 | Chelsea Bishop |
| 2789 | 2023-02-28 18:48:26 | daniel kelly |
| 2790 | 2023-02-24 18:10:45 | Chris Braund |
| 2791 | 2023-03-06 19:32:27 | Shazzy Mazzy |
| 2792 | 2023-02-20 22:48:02 | Donna Marie |
| 2794 | 2023-02-26 18:48:28 | Amy Pierce |
| 2795 | 2023-02-22 00:50:12 | R Osben |
| 2796 | 2023-02-21 09:28:01 | Harvey Harrington |
| 2797 | 2023-02-20 19:29:22 | Leah Berriman |
| 2799 | 2023-03-08 15:21:58 | Rachel chalk |
| 2801 | 2023-03-20 14:27:39 | Cheyenne Parrott |
| 2802 | 2023-03-19 20:05:56 | Cheyenne Parrott |
| 2804 | 2023-03-03 10:41:53 | Toni Brady |
| 2805 | 2023-02-28 10:31:22 | Sarah Jason ryan |
| 2806 | 2023-02-20 18:42:44 | Louise White |
| 2807 | 2023-02-21 17:32:43 | Rachel Nicholson |
| 2808 | 2023-02-20 20:58:28 | Andrew Mcinnes |
| 2810 | 2023-02-22 16:55:55 | Kate Sheriff |
| 2811 | 2023-03-03 12:03:31 | Hannah Drinkwater |
| 2812 | 2023-03-03 07:09:53 | Stacey Dymond |
| 2815 | 2023-03-18 19:52:46 | Joshua Hughes |
| 2816 | 2023-03-18 11:23:32 | Samantha c |
| 2817 | 2023-02-21 18:20:46 | Holly Ring |
| 2822 | 2023-02-21 11:33:12 | Kelly Aston |
| 2823 | 2023-02-25 12:38:16 | Clive Mitchell |
| 2824 | 2023-03-18 13:47:49 | Ali baba The second |
| 2825 | 2023-02-20 20:07:06 | Esmé Kershaw. |
| 2827 | 2023-03-02 19:43:32 | Gemma Gale |
| 2829 | 2023-03-19 18:16:22 | Joshua Hughes |
| 2830 | 2023-02-20 22:42:24 | Andy Hawkins |
| 2831 | 2023-03-16 17:48:04 | Rachel harris |
| 2832 | 2023-02-20 20:05:57 | Samantha Thorne |
| 2834 | 2023-02-20 18:40:30 | Linda Jones |
| 2836 | 2023-03-01 20:54:19 | Katie Cattermole |
| 2838 | 2023-03-13 10:14:36 | Linda Beer |
| 2839 | 2023-03-02 12:56:13 | Ellesha Carney |
| 2840 | 2023-02-28 09:16:17 | M KM |
| 2842 | 2023-02-21 20:47:37 | Mark Lowe |
| 2843 | 2023-03-21 20:54:04 | Mason Percival |
| 2844 | 2023-02-22 05:23:02 | Catherine Roberts |
| 2845 | 2023-02-22 10:46:19 | N P |
| 2847 | 2023-03-02 18:41:35 | Ellesha Carney |
| 2848 | 2023-02-23 18:55:32 | Jordan Hellier |
| 2850 | 2023-03-02 18:50:40 | Paul Abbot |
| 2852 | 2023-03-19 20:40:42 | Joshua Hughes |
| 2855 | 2023-02-28 08:52:49 | Miss T |
| 2856 | 2023-03-16 22:34:25 | Naomi Turner |
| 2858 | 2023-02-28 10:28:44 | Tia Potter |
| 2859 | 2023-02-24 17:46:54 | K W |
| 2860 | 2023-02-21 19:08:01 | Donna Marie |
| 2862 | 2023-02-21 15:01:29 | Sabrina Campbell |
| 2864 | 2023-03-04 09:33:59 | Claire Adams |
| 2865 | 2023-03-11 20:42:33 | Sidrah Ahmed |
| 2866 | 2023-02-28 16:41:02 | Hayley Macdonald-Brooks |
| 2867 | 2023-03-15 14:12:58 | Lauren Charlesworth |
| 2869 | 2023-02-21 17:15:17 | Sophie Wood |
| 2870 | 2023-02-20 20:16:01 | Holly Ring |
| 2871 | 2023-03-03 20:19:07 | LJ Storer no |
| 2872 | 2023-03-17 11:52:37 | Hannah Drinkwater |
| 2874 | 2023-03-19 22:08:13 | Emma White |
| 2876 | 2023-02-21 18:15:27 | Mels T |
| 2877 | 2023-02-28 10:12:15 | Ellesha Carney |
| 2878 | 2023-03-23 15:10:55 | Sally Smith |
| 2879 | 2023-02-21 09:40:14 | Freya B |
| 2880 | 2023-03-13 00:14:48 | Chris Carr |
| 2881 | 2023-02-21 16:04:10 | Rebecca Ogden |
| 2882 | 2023-02-21 18:57:08 | Aim P |
| 2884 | 2023-02-23 10:41:21 | R Osben |
| 2885 | 2023-03-03 08:45:44 | Stacey Dymond |
| 2888 | 2023-03-04 12:26:22 | Tidey Gemma |
| 2890 | 2023-03-18 20:21:04 | Holly Kemp |
| 2891 | 2023-03-18 08:22:34 | Sophie Sayer-Poll |
| 2892 | 2023-02-21 22:39:41 | Charlotte Hitching |
| 2894 | 2023-02-21 06:11:33 | Emma Reeve |
| 2895 | 2023-02-21 11:14:49 | emma west |
| 2897 | 2023-02-20 19:07:46 | Katie Bosworth |
| 2898 | 2023-03-03 00:20:37 | Jade Legg |
| 2899 | 2023-03-11 22:51:40 | Tyler Baker |
| 2900 | 2023-02-20 19:55:37 | Kelly Radmore |
| 2904 | 2023-02-21 15:33:36 | Darryl Gumbrill |
| 2905 | 2023-03-06 20:48:45 | Lauren Charlesworth |
| 2906 | 2023-03-22 17:45:00 | Stacey Dymond |
| 2907 | 2023-03-11 09:55:14 | Kiri Woodd |
| 2908 | 2023-02-24 15:54:11 | Holly Kemp |
| 2909 | 2023-03-20 16:59:05 | Layla Simpson |
| 2910 | 2023-03-03 10:10:48 | Jessica Matthews |
| 2911 | 2023-03-05 06:48:22 | Adele Da'vid |
| 2912 | 2023-02-22 12:34:17 | Charmaine Jarvis |
| 2914 | 2023-03-03 18:40:10 | Jess Spratley |
| 2915 | 2023-02-20 22:36:05 | Andy Hawkins |
| 2916 | 2023-02-20 18:46:44 | Sarah Highbury |
| 2918 | 2023-03-04 16:06:55 | Leanne Jordan |
| 2919 | 2023-02-20 19:07:03 | Glenn Bowden |
| 2920 | 2023-03-22 14:32:09 | Maariyah Sharif |
| 2922 | 2023-03-08 11:57:03 | Lisa Hutchings |
| 2924 | 2023-02-20 22:36:05 | Andy Hawkins |
| 2926 | 2023-02-28 10:34:18 | Ellesha Carney |
| 2928 | 2023-03-20 15:52:01 | Kelly Howells |
| 2929 | 2023-02-28 14:37:33 | Katie Medler |
| 2930 | 2023-03-07 22:43:51 | Lisa Roberts |
| 2931 | 2023-03-01 13:18:14 | Sian Platt |
| 2933 | 2023-03-20 21:01:29 | Elizabeth Moxon |
| 2934 | 2023-02-21 20:26:26 | Tia Potter |
| 2935 | 2023-02-21 13:19:44 | Nicole White |
| 2937 | 2023-03-02 19:58:54 | Charlotte Burgess |
| 2939 | 2023-03-22 18:41:22 | Hope Williams |
| 2940 | 2023-02-20 22:26:16 | Andy Hawkins |
| 2941 | 2023-02-21 07:47:49 | Mrs DJ Eaton |
| 2942 | 2023-03-04 09:34:43 | Gemma Bridle |
| 2943 | 2023-02-23 20:02:53 | Rhys Hook |
| 2944 | 2023-02-20 20:00:19 | Carla Taylor |
| 2946 | 2023-03-01 18:46:08 | Jade-louise Foster |
| 2947 | 2023-03-03 21:05:13 | Courtney Johnson |
| 2948 | 2023-03-03 20:12:47 | Jordan Edgecombe |
| 2949 | 2023-02-22 11:19:14 | Lisa Hutchings |
| 2950 | 2023-02-20 21:41:17 | Katy Geake |
| 2951 | 2023-03-02 10:24:43 | Julie Roberts |
| 2953 | 2023-02-28 18:31:19 | Mels T |
| 2954 | 2023-03-06 17:18:34 | Gemma Sayer |
| 2955 | 2023-03-19 13:29:15 | Michaela Nodwell |
| 2956 | 2023-02-26 17:04:47 | Mels T |
| 2957 | 2023-02-28 13:42:22 | Kelvin Courtenay |
| 2958 | 2023-03-05 19:27:17 | Pamela Bradshaw |
| 2960 | 2023-03-04 16:11:29 | Rebekka Lucas |
| 2962 | 2023-03-11 18:39:22 | Nathan Belcher |
| 2965 | 2023-02-27 10:02:08 | Samantha Wilding |
| 2968 | 2023-02-25 20:29:13 | Deb Smith |
| 2969 | 2023-02-20 18:53:13 | ILizzie Deam |
| 2970 | 2023-02-22 13:36:04 | Darryl Gumbrill |
| 2971 | 2023-02-20 19:21:51 | Katie Rushton |
| 2972 | 2023-03-22 18:50:22 | Gemma Kerswell-King |
| 2973 | 2023-03-18 20:15:12 | Autumn Bain |
| 2974 | 2023-02-21 06:11:33 | Emma Reeve |
| 2975 | 2023-02-21 04:41:32 | Diane Trott |
| 2976 | 2023-03-19 18:16:22 | Joshua Hughes |
| 2977 | 2023-02-22 10:27:31 | N P |
| 2978 | 2023-03-02 01:10:38 | Kim White |
| 2979 | 2023-02-21 10:40:37 | Melissa Sellick |
| 2982 | 2023-03-06 15:23:42 | Claire Symons |
| 2983 | 2023-03-03 07:28:16 | Denise Caddy |
| 2984 | 2023-03-02 17:42:19 | Kiri Woodd |
| 2985 | 2023-03-22 06:06:18 | Joshua Hughes |
| 2986 | 2023-02-28 14:01:13 | Katie Medler |
| 2988 | 2023-03-02 15:06:47 | Katy Roberts |
| 2990 | 2023-02-20 21:41:10 | Michaela Nodwell |
| 2992 | 2023-02-25 10:56:31 | Allison Harby |
| 2993 | 2023-02-20 18:45:47 | Naomi Johnson |
| 2994 | 2023-02-21 16:19:24 | M Rowles |
| 2995 | 2023-02-28 10:16:16 | Ellesha Carney |
| 2996 | 2023-02-23 15:47:10 | Ashley Houston |
| 2997 | 2023-02-20 19:18:57 | Darryl Waters |
| 2998 | 2023-03-11 08:04:20 | Jacqueline Wines |
| 2999 | 2023-02-21 15:35:06 | J B |
| 3000 | 2023-02-22 19:56:12 | Lauren Bareford |
| 3001 | 2023-02-24 07:51:17 | Trish Mcculloch |
| 3003 | 2023-02-22 13:55:42 | Wayne Stevens |
| 3004 | 2023-03-14 04:44:55 | Andrew Mcinnes |
| 3005 | 2023-03-04 20:50:11 | Claire Symons |
| 3006 | 2023-02-23 20:16:45 | Gail Anderson |
| 3007 | 2023-02-28 11:50:51 | Samantha Wilding |
| 3008 | 2023-02-21 07:25:47 | Jade Hill |
| 3009 | 2023-02-21 11:56:05 | Marie Tucker |
| 3010 | 2023-03-11 19:52:37 | Jessica Mcveigh |
| 3011 | 2023-03-01 12:11:36 | Layla O'brien |
| 3012 | 2023-03-21 00:02:01 | Matt Drew |
| 3014 | 2023-02-25 16:00:45 | Jordan Edgecombe |
| 3015 | 2023-03-06 19:54:40 | Samantha Sweeney |
| 3016 | 2023-02-28 06:05:59 | Tia Potter |
| 3018 | 2023-02-20 18:51:29 | Heather Heale |
| 3020 | 2023-02-20 22:55:18 | Fliss Wright |
| 3021 | 2023-02-28 14:37:33 | Katie Medler |
| 3022 | 2023-03-21 18:22:50 | Cassandra Lauridsen |
| 3023 | 2023-03-18 18:27:55 | Hannah Huxtable |
| 3024 | 2023-02-21 00:38:36 | melanie Burnay |
| 3025 | 2023-03-17 00:10:07 | Keeley Jay Quaintance |
| 3026 | 2023-03-01 13:05:00 | Damian Cole |
| 3027 | 2023-03-12 15:13:00 | Rachel Whitehouse |
| 3028 | 2023-02-28 10:28:44 | Tia Potter |
| 3029 | 2023-02-20 20:46:58 | Daniel Wadling |
| 3030 | 2023-03-13 09:50:07 | Darryl Waters |
| 3031 | 2023-03-03 13:36:18 | Simon Dare |
| 3032 | 2023-03-04 20:07:59 | Stacey Dymond |
| 3033 | 2023-02-20 18:37:00 | Bonnie Van Beek |
| 3034 | 2023-03-20 10:34:00 | Emma Potter |
| 3035 | 2023-02-20 19:33:21 | Kirsty Bush |
| 3036 | 2023-02-21 09:11:28 | Claire Beagley |
| 3038 | 2023-02-23 20:24:09 | Sarah Jason ryan |
| 3039 | 2023-03-02 07:17:19 | Chelsey Lawson |
| 3041 | 2023-02-20 18:56:01 | Gem T |
| 3042 | 2023-03-19 19:56:03 | Joshua Hughes |
| 3043 | 2023-03-21 20:11:38 | Deb Smith |
| 3044 | 2023-03-22 11:33:53 | Vienna Tucker |
| 3045 | 2023-03-21 21:11:24 | Ben Harris |
| 3046 | 2023-02-21 14:05:42 | Grace addisson |
| 3048 | 2023-02-23 17:44:24 | Jordan Edgecombe |
| 3049 | 2023-03-23 12:59:05 | Wendy Kelsall |
| 3050 | 2023-03-21 21:00:30 | Chelsie Smith |
| 3051 | 2023-02-21 10:01:04 | Rachel Hayes |
| 3052 | 2023-03-20 19:51:04 | Kerry Chittock |
| 3053 | 2023-03-14 23:09:56 | M H |
| 3054 | 2023-02-20 21:00:46 | James Hole |
| 3055 | 2023-02-28 09:41:38 | N P |
| 3056 | 2023-03-18 17:27:30 | Julie Botley |
| 3057 | 2023-03-01 13:08:07 | Roxy P |
| 3058 | 2023-02-21 07:23:33 | Stephanie Hartnoll |
| 3060 | 2023-03-04 21:46:37 | Claire Symons |
| 3061 | 2023-03-19 22:22:49 | Sophie Hodge |
| 3062 | 2023-03-03 23:59:47 | Lucy M |
| 3064 | 2023-03-03 15:56:47 | Sarah Jason ryan |
| 3065 | 2023-03-21 17:12:32 | charlotte Cooper |
| 3066 | 2023-02-27 14:57:41 | Spencer Thomas |
| 3067 | 2023-03-09 19:50:56 | Lisa Roberts |
| 3068 | 2023-03-04 15:03:56 | Pamela Bradshaw |
| 3069 | 2023-03-02 07:28:40 | Alex Parrott |
| 3070 | 2023-02-20 22:19:22 | Luke Warren |
| 3071 | 2023-03-14 17:13:42 | Jeanette Glynn |
| 3073 | 2023-02-20 22:34:58 | Lauren Carruthers |
| 3075 | 2023-02-20 19:31:58 | Jack Andrieux |
| 3076 | 2023-02-21 13:19:59 | Emma Jones |
| 3078 | 2023-02-20 19:14:59 | Stacey Hodgkins |
| 3079 | 2023-02-22 17:33:56 | Pamela Bradshaw |
| 3082 | 2023-02-20 18:54:25 | ali b |
| 3084 | 2023-03-06 20:51:44 | Lauren Charlesworth |
| 3085 | 2023-02-28 15:58:55 | M KM |
| 3086 | 2023-02-20 18:15:48 | Kaili Osborn |
| 3087 | 2023-03-05 23:54:14 | Joseymay Sanderson |
| 3089 | 2023-03-01 11:46:04 | K Slater |
| 3091 | 2023-03-19 18:35:11 | Eric Marsdon |
| 3093 | 2023-03-11 11:31:20 | Savannah Lee |
| 3094 | 2023-03-03 17:21:06 | Livi Newton |
| 3095 | 2023-02-21 11:55:18 | Dannii mae Ward |
| 3096 | 2023-02-23 20:34:29 | Daniel Paddington |
| 3097 | 2023-03-20 19:38:24 | Ari Donoghue |
| 3098 | 2023-02-21 01:11:42 | Helen Cottrell |
| 3099 | 2023-02-20 19:49:15 | Sophie Tozer |
| 3100 | 2023-02-26 09:24:11 | Shauna Fitzsimmons |
| 3101 | 2023-03-05 18:18:55 | Abi Parnell |
| 3102 | 2023-03-01 22:34:36 | Nora Nunez |
| 3104 | 2023-03-11 18:38:54 | Sarah Billington |
| 3107 | 2023-03-11 10:56:43 | Sebastian Hesom |
| 3108 | 2023-02-20 19:06:04 | Bethan Poppe |
| 3109 | 2023-02-28 10:28:44 | Tia Potter |
| 3110 | 2023-02-21 06:59:23 | Donna Marie |
| 3112 | 2023-02-21 00:51:36 | Teri-louise Gray |
| 3113 | 2023-02-21 20:11:29 | Alisha Avery |
| 3114 | 2023-03-01 08:10:36 | Amy Hardware |
| 3115 | 2023-03-01 12:13:07 | Rhys Hook |
| 3116 | 2023-02-21 00:05:23 | Amy Hardware |
| 3117 | 2023-02-21 19:10:49 | R Osben |
| 3118 | 2023-03-03 04:44:38 | Emma White |
| 3119 | 2023-02-28 16:27:46 | Katie Medler |
| 3120 | 2023-03-14 11:12:21 | Maria Martin |
| 3121 | 2023-02-20 21:04:44 | Jamie Speight |
| 3122 | 2023-03-18 19:40:23 | Rachel Davis |
| 3124 | 2023-02-27 18:26:05 | Samantha Wilding |
| 3126 | 2023-03-11 06:41:14 | Hayley Macdonald-Brooks |
| 3127 | 2023-03-04 08:12:20 | Jade Willis |
| 3129 | 2023-02-23 07:03:43 | Lauren Henley |
| 3130 | 2023-02-28 13:56:44 | Ellie Martin |
| 3131 | 2023-03-16 20:13:34 | Jordan Edgecombe |
| 3133 | 2023-03-18 21:42:41 | Cheryl Delbridge |
| 3137 | 2023-02-20 19:36:27 | Katie Medler |
| 3138 | 2023-02-28 14:41:42 | Linda Wells |
| 3139 | 2023-03-22 18:40:48 | Karen Collins |
| 3140 | 2023-02-22 18:01:58 | Sam Hicks |
| 3142 | 2023-02-20 19:15:08 | Chloe Obrien |
| 3144 | 2023-03-20 10:51:19 | Clare Jason-Ryan |
| 3145 | 2023-02-20 22:51:43 | Tyrone Small |
| 3148 | 2023-02-22 13:36:04 | Darryl Gumbrill |
| 3149 | 2023-02-20 23:53:05 | Andre Lambert |
| 3151 | 2023-02-24 20:40:54 | Helen Cottrell |
| 3153 | 2023-02-28 18:57:26 | Katherine Stone |
| 3154 | 2023-03-17 21:02:07 | Lee Mills |
| 3155 | 2023-03-19 19:25:22 | Michelle Alcock |
| 3158 | 2023-03-22 14:22:44 | owen Bolt |
| 3159 | 2023-02-27 08:23:09 | Shauna Fitzsimmons |
| 3160 | 2023-02-23 19:59:21 | Sarah Jason ryan |
| 3161 | 2023-02-21 22:41:25 | Morag Crichton |
| 3162 | 2023-02-21 08:14:52 | Donna Cox |
| 3163 | 2023-02-22 20:04:10 | Simon Prentice |
| 3164 | 2023-03-03 21:49:54 | Courtney Johnson |
| 3165 | 2023-03-04 11:45:22 | Hayley Hurd |
| 3166 | 2023-03-11 10:39:25 | Kiri Woodd |
| 3167 | 2023-02-28 11:00:36 | Ellesha Carney |
| 3168 | 2023-03-07 19:51:51 | Hermon Gosling |
| 3169 | 2023-03-19 12:21:02 | Emma Jones |
| 3170 | 2023-02-21 09:49:23 | Nicola Farley |
| 3171 | 2023-03-19 23:57:15 | Kirsty Ledger |
| 3173 | 2023-02-21 07:55:57 | Melonie Jeffery |
| 3174 | 2023-03-18 09:58:30 | Sharon Hobday |
| 3175 | 2023-03-05 15:19:33 | Zako D |
| 3176 | 2023-02-28 20:43:06 | Ali baba The second |
| 3177 | 2023-02-23 11:07:38 | N P |
| 3178 | 2023-03-19 16:45:52 | Emma Potter |
| 3180 | 2023-03-07 17:44:42 | Daniel Carpenter |
| 3181 | 2023-02-24 16:42:36 | Marie Sandford |
| 3182 | 2023-03-01 12:49:39 | Z E |
| 3183 | 2023-02-24 19:22:11 | Alex Parrott |
| 3184 | 2023-02-23 18:29:36 | K W |
| 3185 | 2023-02-21 11:50:27 | Charlotte Plain |
| 3186 | 2023-02-20 23:21:16 | Charlotte Crispin |
| 3187 | 2023-03-01 12:13:07 | Rhys Hook |
| 3190 | 2023-02-21 08:01:43 | Donna Marie |
| 3192 | 2023-03-11 18:43:48 | Haley Whiteman |
| 3193 | 2023-03-02 22:53:27 | Sian Platt |
| 3194 | 2023-02-28 09:24:57 | Jodie Ellis |
| 3195 | 2023-03-05 11:07:14 | Lucy M |
| 3196 | 2023-02-22 14:32:16 | Nicholas Warnes |
| 3197 | 2023-03-11 18:24:33 | Rebecca Lis |
| 3198 | 2023-03-22 23:04:43 | Shannon Bentham |
| 3200 | 2023-03-01 07:57:12 | Amy Hardware |
| 3201 | 2023-02-24 22:04:03 | Jay Jay |
| 3202 | 2023-02-20 20:12:56 | Danielle Cripps |
| 3203 | 2023-02-20 21:50:24 | Kris Bowen |
| 3204 | 2023-02-24 01:00:51 | Fliss Wright |
| 3205 | 2023-03-13 08:19:29 | S W |
| 3206 | 2023-02-21 10:07:10 | Stacey Hodgkins |
| 3207 | 2023-02-20 20:55:29 | Vicky Wesson |
| 3208 | 2023-02-21 23:38:30 | R Osben |
| 3209 | 2023-02-24 01:39:47 | Roxanne Hill |
| 3211 | 2023-02-28 11:57:08 | Emma Reeve |
| 3212 | 2023-02-25 12:07:46 | Lee Sandey |
| 3213 | 2023-02-25 10:18:24 | Stacey Dymond |
| 3215 | 2023-02-24 09:40:03 | Emma Reeve |
| 3216 | 2023-02-28 08:04:28 | Zoe Blaney |
| 3217 | 2023-02-20 20:24:54 | Victoria Wells |
| 3218 | 2023-03-16 11:53:44 | Hannah Copp |
| 3219 | 2023-02-28 20:56:24 | Ali baba The second |
| 3220 | 2023-02-20 18:46:13 | Jade Ashton |
| 3221 | 2023-03-04 11:23:04 | Helen Cottrell |
| 3222 | 2023-03-01 19:33:22 | Dee Payne |
| 3223 | 2023-03-01 14:06:49 | Becci Vayle |
| 3224 | 2023-03-11 21:12:19 | Emma Glover |
| 3226 | 2023-02-28 21:31:38 | Kelly Rose |
| 3228 | 2023-02-21 20:40:58 | Aaron Mills |
| 3229 | 2023-03-23 12:46:31 | John Huteson |
| 3231 | 2023-03-02 14:19:00 | Saxon Hadland |
| 3232 | 2023-03-01 13:30:37 | Deana Bristow |
| 3234 | 2023-02-21 09:49:36 | Andy Hawkins |
| 3235 | 2023-03-03 21:36:08 | connor wren |
| 3236 | 2023-02-20 19:14:18 | Kerry Eldred |
| 3237 | 2023-02-20 22:47:06 | Charlotte Whittingham |
| 3238 | 2023-03-02 00:14:34 | Jason Crockett |
| 3239 | 2023-03-02 16:55:20 | Charlotte Ager |
| 3242 | 2023-03-01 07:33:46 | M KM |
| 3245 | 2023-02-24 14:15:17 | Tia Potter |
| 3246 | 2023-03-19 22:34:21 | Nicky Jennings |
| 3248 | 2023-03-13 11:50:09 | Chris Carr |
| 3250 | 2023-02-24 16:25:21 | Suzanne Riddock |
| 3251 | 2023-02-28 10:07:54 | Ellesha Carney |
| 3252 | 2023-03-06 20:13:10 | Graeme Archer |
| 3253 | 2023-02-23 10:49:00 | Joshua Yates |
| 3254 | 2023-02-28 07:44:52 | Emma Pullen |
| 3255 | 2023-03-16 00:15:45 | Tina Frazer |
| 3256 | 2023-02-24 07:15:47 | Eri Hall |
| 3257 | 2023-02-28 10:28:21 | Ellesha Carney |
| 3258 | 2023-03-06 19:12:02 | Faye Watts |
| 3259 | 2023-02-21 12:26:59 | Chris Birt |
| 3260 | 2023-02-20 19:00:55 | Caroline Williams |
| 3261 | 2023-02-21 10:43:58 | Philip Eddy |
| 3262 | 2023-02-22 16:47:29 | Miss T |
| 3263 | 2023-02-28 09:33:17 | Hannah Keeley |
| 3265 | 2023-02-24 19:43:50 | Cassie Furness |
| 3266 | 2023-02-23 16:35:56 | David Maddocks |
| 3268 | 2023-02-28 20:39:12 | Ali baba The second |
| 3269 | 2023-03-01 19:30:12 | Sian Stephens |
| 3270 | 2023-02-26 00:47:28 | S W |
| 3271 | 2023-02-26 07:45:35 | Sacha Burt |
| 3272 | 2023-02-23 06:01:52 | Emma Jones |
| 3273 | 2023-02-21 18:15:34 | N P |
| 3274 | 2023-02-24 14:11:08 | J K |
| 3275 | 2023-02-20 20:51:19 | Harriet Cummings |
| 3276 | 2023-03-11 22:58:10 | Victoria Johnston |
| 3277 | 2023-02-25 20:13:25 | Zennen Stephen |
| 3278 | 2023-02-24 13:42:44 | Stacey Williamson |
| 3279 | 2023-03-20 13:55:12 | Spencer Troth |
| 3280 | 2023-02-24 19:05:38 | Lucy Hobbs |
| 3282 | 2023-03-20 02:25:10 | Miss T |
| 3283 | 2023-03-11 19:28:07 | Sarah Billington |
| 3284 | 2023-03-03 22:07:39 | Carl Hoare |
| 3285 | 2023-02-21 21:48:03 | Shauna Fitzsimmons |
| 3287 | 2023-02-20 18:44:56 | Elle Treveil |
| 3288 | 2023-03-17 09:55:18 | Helen Moore |
| 3289 | 2023-02-28 17:45:34 | ali b |
| 3293 | 2023-03-01 14:51:43 | Abbie Leonard |
| 3294 | 2023-02-21 10:22:22 | S W |
| 3295 | 2023-02-28 10:58:03 | Ellesha Carney |
| 3296 | 2023-02-23 09:45:40 | N P |
| 3297 | 2023-02-21 00:07:46 | Emma & lee |
| 3299 | 2023-02-28 11:29:27 | Emma Reeve |
| 3300 | 2023-03-01 17:39:16 | D L |
| 3301 | 2023-02-25 17:10:33 | Pamela Bradshaw |
| 3302 | 2023-03-10 15:40:24 | Hermon Gosling |
| 3303 | 2023-03-23 18:04:53 | Katrina Trotta |
| 3304 | 2023-03-05 07:59:10 | Jordan Edgecombe |
| 3305 | 2023-02-24 15:59:17 | Daniel Dyer |
| 3306 | 2023-02-28 12:55:20 | Emma White |
| 3307 | 2023-03-01 21:29:52 | K W |
| 3308 | 2023-02-25 13:02:00 | Esmé Kershaw. |
| 3309 | 2023-02-28 20:10:12 | Lucy Cromwell |
| 3310 | 2023-03-02 14:17:01 | Saxon Hadland |
| 3311 | 2023-02-28 10:07:54 | Ellesha Carney |
| 3312 | 2023-02-21 16:55:43 | Debbie Nichols |
| 3313 | 2023-02-20 21:20:25 | Kayleigh Williams |
| 3314 | 2023-02-23 21:54:27 | Mels T |
| 3317 | 2023-02-28 22:19:40 | Jade Anderson |
| 3318 | 2023-03-20 14:50:08 | Cassandra Lauridsen |
| 3319 | 2023-02-20 20:23:04 | Holly Ring |
| 3320 | 2023-02-28 18:31:47 | Lee Mills |
| 3323 | 2023-03-03 12:32:44 | Rebecca Spettigue |
| 3325 | 2023-02-20 21:40:00 | Andy Hawkins |
| 3327 | 2023-02-20 20:59:51 | Amy Wilton |
| 3328 | 2023-03-04 11:38:59 | Tia Potter |
| 3330 | 2023-02-27 21:13:17 | Louise Street |
| 3331 | 2023-02-27 06:58:16 | Samantha Wilding |
| 3332 | 2023-03-19 15:46:53 | Emma Potter |
| 3334 | 2023-02-21 11:07:13 | Leanne Truscott |
| 3337 | 2023-03-01 13:35:27 | Kiri Johnson |
| 3338 | 2023-02-20 19:55:37 | Kelly Radmore |
| 3339 | 2023-03-06 15:51:38 | Hermon Gosling |
| 3340 | 2023-03-05 11:35:26 | Ben Large |
| 3341 | 2023-02-20 20:14:35 | Joanna Jo Shakesheave |
| 3342 | 2023-02-22 17:14:14 | Pamela Bradshaw |
| 3343 | 2023-02-24 00:12:49 | Helen Cottrell |
| 3344 | 2023-03-01 08:37:16 | Amy Hardware |
| 3345 | 2023-02-28 10:02:47 | Taylor Jones |
| 3347 | 2023-03-20 17:39:32 | Melanie Dodd |
| 3348 | 2023-02-25 19:52:19 | Emma Louise |
| 3349 | 2023-02-24 08:41:15 | Katie Frost |
| 3351 | 2023-03-23 16:57:16 | Sarah Barlow |
| 3352 | 2023-03-08 21:43:11 | Libby Lewis |
| 3354 | 2023-03-01 12:25:20 | Layla O'brien |
| 3355 | 2023-02-20 18:53:32 | Lewis Ware |
| 3356 | 2023-03-20 21:48:18 | Otilie Evans |
| 3357 | 2023-02-21 12:53:06 | Laura Amos |
| 3358 | 2023-02-25 07:32:08 | Sophie Temple |
| 3359 | 2023-03-01 23:29:16 | Amy Matthews |
| 3360 | 2023-02-20 18:36:41 | Sam Harper |
| 3361 | 2023-03-11 20:48:05 | E E |
| 3362 | 2023-02-20 18:55:57 | Demi-lee Parker |
| 3363 | 2023-03-14 14:28:09 | Levanna Baxter |
| 3364 | 2023-02-21 16:18:19 | Chris Carr |
| 3366 | 2023-03-19 12:22:47 | Emma Jones |
| 3367 | 2023-03-21 06:19:36 | Jo Williams |
| 3368 | 2023-02-21 18:36:19 | Thomas Battye |
| 3369 | 2023-03-17 21:51:23 | Declan Vincent |
| 3370 | 2023-03-22 14:27:14 | Maariyah Sharif |
| 3371 | 2023-02-20 19:24:45 | Emily Southall |
| 3372 | 2023-03-20 11:28:29 | Zoe Taylor |
| 3373 | 2023-02-23 11:14:34 | Sarah Jason ryan |
| 3374 | 2023-02-22 12:09:59 | Jodie Baker |
| 3375 | 2023-02-20 19:41:10 | Nicholas Warnes |
| 3378 | 2023-02-20 22:36:05 | Andy Hawkins |
| 3379 | 2023-02-22 17:32:01 | Pamela Bradshaw |
| 3380 | 2023-03-19 15:07:51 | Nicola Naylor |
| 3382 | 2023-02-22 11:26:17 | Raveena Saini |
| 3384 | 2023-02-26 07:52:50 | J m Blackmore |
| 3385 | 2023-02-20 20:09:06 | Otis Watkins |
| 3386 | 2023-03-20 19:25:05 | Paula Horrocks |
| 3387 | 2023-03-04 17:10:02 | David Chalkley |
| 3388 | 2023-03-21 16:55:45 | Cam Parle |
| 3389 | 2023-02-22 19:12:57 | Matt Caine |
| 3391 | 2023-03-22 18:42:03 | Sally Smith |
| 3392 | 2023-03-01 12:26:36 | Stacey bridger |
| 3393 | 2023-03-13 21:14:34 | Elliott Bryant |
| 3394 | 2023-02-28 13:02:20 | Daniel Tyler |
| 3395 | 2023-02-20 21:10:20 | Ryan kirby |
| 3397 | 2023-02-24 12:07:05 | Kayleigh Gibbons |
| 3399 | 2023-02-22 20:51:08 | Lionel Sutton |
| 3400 | 2023-03-03 22:09:30 | Marie Sandford |
| 3402 | 2023-03-15 22:07:56 | Mandy Cove |
| 3404 | 2023-03-21 16:05:26 | Christy Betts |
| 3405 | 2023-03-01 19:51:13 | Joe Rabone |
| 3407 | 2023-02-21 04:06:19 | Joanne Warner |
| 3408 | 2023-02-21 10:26:34 | Doreen Williams |
| 3409 | 2023-03-01 15:10:28 | Charlotte Parr |
| 3410 | 2023-02-24 22:15:04 | Katie Medler |
| 3411 | 2023-02-20 20:27:48 | Laura Williams |
| 3412 | 2023-03-17 21:49:42 | Kaylie T |
| 3416 | 2023-02-21 11:20:48 | Kayleigh Carr |
| 3417 | 2023-03-04 15:00:22 | Pamela Bradshaw |
| 3418 | 2023-03-21 10:23:29 | sophie oconnor |
| 3419 | 2023-03-20 17:11:20 | Steven Winter |
| 3420 | 2023-03-04 09:11:56 | Abigail Clark |
| 3421 | 2023-03-05 11:57:29 | Jordan Moore |
| 3423 | 2023-02-20 21:35:41 | Ashley Rideout |
| 3424 | 2023-03-11 14:45:22 | Ellesha Carney |
| 3425 | 2023-02-21 13:19:59 | Emma Jones |
| 3427 | 2023-03-01 14:21:03 | Kieran Pyne |
| 3428 | 2023-03-04 15:52:35 | Pamela Bradshaw |
| 3429 | 2023-02-28 19:02:29 | Connor Dunn |
| 3430 | 2023-03-19 19:07:35 | Joshua Hughes |
| 3431 | 2023-02-21 02:39:52 | Holly Ring |
| 3432 | 2023-03-19 12:29:06 | Kay James |
| 3433 | 2023-02-21 10:38:50 | Levanna Baxter |
| 3434 | 2023-02-26 08:33:30 | Nicole White |
| 3435 | 2023-02-23 15:42:26 | Shauna Fitzsimmons |
| 3437 | 2023-02-24 17:40:11 | Stacey Williamson |
| 3438 | 2023-02-24 22:15:04 | Katie Medler |
| 3439 | 2023-02-28 14:07:57 | Katie Medler |
| 3440 | 2023-02-28 19:35:26 | Lea Painter |
| 3446 | 2023-02-23 11:22:38 | Sam Hicks |
| 3448 | 2023-03-02 22:40:21 | Nicole Meaklim |
| 3449 | 2023-03-19 09:11:50 | Verity Bath |
| 3450 | 2023-03-03 08:52:02 | Stacey Dymond |
| 3451 | 2023-02-27 10:07:20 | Samantha Wilding |
| 3452 | 2023-03-01 18:57:17 | Robbie Cann |
| 3453 | 2023-03-20 18:15:28 | Daisy Self |
| 3454 | 2023-02-20 23:27:01 | Nicole Saunders |
| 3455 | 2023-02-23 08:42:54 | Sarah Jason ryan |
| 3456 | 2023-02-21 15:02:39 | Caroline Taylor |
| 3460 | 2023-02-20 20:27:29 | Emma Potter |
| 3461 | 2023-02-28 20:32:55 | Ali baba The second |
| 3462 | 2023-02-28 08:50:20 | Kayleigh Gibbons |
| 3463 | 2023-03-13 11:52:41 | Rachel chalk |
| 3464 | 2023-03-06 15:47:53 | Karl Riddell |
| 3465 | 2023-02-24 08:30:47 | Paige Collins |
| 3467 | 2023-02-20 21:59:28 | Tia Potter |
| 3469 | 2023-03-08 10:10:24 | ali b |
| 3470 | 2023-02-20 19:34:15 | Anna-marie Lofthouse |
| 3471 | 2023-02-20 19:23:12 | Christine Schneider |
| 3472 | 2023-02-24 07:10:49 | Samantha Wilding |
| 3473 | 2023-03-13 16:14:59 | S W |
| 3474 | 2023-03-01 08:14:36 | Amy Hardware |
| 3475 | 2023-03-02 21:00:29 | Mels T |
| 3476 | 2023-02-22 09:57:02 | M N |
| 3478 | 2023-03-17 20:11:16 | Elizabeth Williams |
| 3479 | 2023-02-20 21:47:18 | Jodie Mills |
| 3480 | 2023-02-23 10:51:59 | Courtney Yates |
| 3481 | 2023-03-19 18:31:45 | Joshua Hughes |
| 3482 | 2023-02-22 01:43:27 | Suzanne Riddock |
| 3483 | 2023-03-04 09:55:59 | Morgan Samuels |
| 3484 | 2023-03-03 10:36:06 | Lauren Charlesworth |
| 3485 | 2023-03-14 07:54:09 | Emma Potter |
| 3486 | 2023-02-24 00:46:36 | Eri Hall |
| 3487 | 2023-03-02 23:37:40 | Ayesha Davies |
| 3489 | 2023-02-21 01:13:10 | Kayley Belue |
| 3490 | 2023-02-24 21:32:11 | Will Irwin |
| 3492 | 2023-02-20 20:00:53 | S D |
| 3494 | 2023-02-20 20:38:26 | Eliza May |
| 3497 | 2023-02-21 12:13:02 | Tracy Jones |
| 3498 | 2023-03-22 20:31:13 | Helen Cottrell |
| 3499 | 2023-03-12 08:39:24 | Sian Beer |
| 3503 | 2023-02-25 18:46:56 | Tia Potter |
| 3504 | 2023-03-10 23:31:26 | Emma Reeve |
| 3505 | 2023-03-19 20:59:07 | Chloe Walker |
| 3507 | 2023-03-01 14:59:15 | M KM |
| 3508 | 2023-02-21 11:32:50 | Sally Smith |
| 3509 | 2023-03-16 15:05:43 | Zako D |
| 3510 | 2023-02-20 21:15:36 | Claire Thomas |
| 3511 | 2023-02-22 17:57:10 | Victoria Wells |
| 3512 | 2023-02-20 20:24:37 | Kathleen Roberts |
| 3513 | 2023-03-01 15:05:11 | Kelly Wagstaff |
| 3514 | 2023-02-28 22:14:10 | Luke Hayman |
| 3516 | 2023-03-08 10:36:10 | Sally Smith |
| 3518 | 2023-03-11 21:26:29 | Chloe Ellis |
| 3519 | 2023-02-28 11:59:03 | Samantha Wilding |
| 3521 | 2023-02-20 19:07:32 | Natalie Roberts |
| 3522 | 2023-02-28 09:30:37 | Hannah Keeley |
| 3524 | 2023-03-20 12:16:13 | Jennifer White |
| 3525 | 2023-02-28 19:54:58 | Jodie Leaman |
| 3526 | 2023-03-03 15:44:14 | Lucy M |
| 3527 | 2023-02-21 15:37:18 | Darryl Gumbrill |
| 3528 | 2023-03-19 12:56:57 | Charlotte Horton |
| 3529 | 2023-03-10 02:03:56 | Hermon Gosling |
| 3530 | 2023-03-06 13:40:02 | Claire Symons |
| 3532 | 2023-03-01 10:32:03 | Lisa Cannon |
| 3533 | 2023-03-04 15:33:40 | Suzanne Riddock |
| 3534 | 2023-02-20 19:01:48 | Nathan White |
| 3537 | 2023-03-02 13:22:15 | Emily Dyke |
| 3538 | 2023-02-20 18:56:12 | Sarah Highbury |
| 3539 | 2023-03-09 04:02:02 | Lisa Roberts |
| 3540 | 2023-03-20 11:10:43 | Dale Stephenson |
| 3544 | 2023-02-20 19:54:34 | N P |
| 3545 | 2023-02-21 12:12:53 | Laura Amos |
| 3546 | 2023-03-04 10:39:28 | Ellie Thuell |
| 3547 | 2023-03-20 20:08:14 | Fleur Egington |
| 3548 | 2023-02-22 04:51:55 | Emma Jones |
| 3549 | 2023-03-22 19:05:43 | Ali baba The second |
| 3551 | 2023-03-01 17:21:03 | Sinah Kroeger |
| 3552 | 2023-03-06 12:51:57 | Cora Grove |
| 3553 | 2023-03-21 06:37:24 | Ruth Keen |
| 3555 | 2023-02-20 22:34:09 | Simone Grose |
| 3556 | 2023-03-18 11:09:11 | Karla Bradshaw |
| 3557 | 2023-02-20 19:34:06 | Bradley Cartwright |
| 3558 | 2023-03-11 16:25:04 | Amy Daniel |
| 3559 | 2023-03-19 10:12:46 | Brooke Cheesmond |
| 3561 | 2023-03-05 09:04:23 | Vicki White |
| 3562 | 2023-02-20 19:10:11 | Nikki Swann |
| 3563 | 2023-02-21 13:26:19 | Emma Jones |
| 3564 | 2023-02-21 11:52:23 | Emma Kemp |
| 3565 | 2023-02-24 21:42:25 | Spencer Troth |
| 3566 | 2023-03-01 20:49:30 | Tia Sparkes |
| 3567 | 2023-03-13 10:30:59 | Helen Cottrell |
| 3568 | 2023-03-01 15:26:15 | Georgia Thomas |
| 3569 | 2023-03-04 15:30:23 | george Horton |
| 3570 | 2023-03-06 20:43:31 | Lauren Charlesworth |
| 3573 | 2023-02-21 10:26:46 | Joe Rabone |
| 3575 | 2023-03-22 19:44:56 | Lisa Bannister |
| 3577 | 2023-02-24 10:04:24 | Emma Reeve |
| 3578 | 2023-03-02 17:07:59 | Doreen Williams |
| 3579 | 2023-03-13 22:14:12 | Chris Carr |
| 3581 | 2023-03-22 09:18:58 | Sian Platt |
| 3582 | 2023-02-26 18:46:36 | LADY Trina |
| 3583 | 2023-02-22 20:31:53 | Louise Riley |
| 3584 | 2023-02-23 10:13:10 | Sarah Jason ryan |
| 3585 | 2023-03-01 12:38:00 | Daniella Cann |
| 3586 | 2023-03-20 19:20:00 | Amanda Bowden |
| 3587 | 2023-03-01 13:04:35 | Helen Cottrell |
| 3588 | 2023-03-03 18:44:43 | Tara Ray |
| 3590 | 2023-02-20 20:21:04 | Sam Matthews |
| 3591 | 2023-03-14 08:38:40 | Lee Mills |
| 3592 | 2023-03-19 22:08:13 | Emma White |
| 3594 | 2023-02-22 09:01:54 | Kim Loosemore |
| 3595 | 2023-02-23 20:00:25 | Rhys Hook |
| 3596 | 2023-03-02 21:41:10 | Kim Arnold |
| 3598 | 2023-02-20 16:58:57 | Ellie Donald |
| 3600 | 2023-03-18 15:26:42 | Emma Potter |
| 3601 | 2023-03-02 20:56:24 | Teela Woodgates |
| 3602 | 2023-02-21 15:37:32 | J B |
| 3604 | 2023-02-25 09:51:33 | Tara Evans |
| 3605 | 2023-02-21 00:09:01 | jan blackler |
| 3606 | 2023-02-21 18:59:53 | N P |
| 3608 | 2023-02-23 14:01:37 | Sarah Jason ryan |
| 3609 | 2023-03-01 07:43:15 | Amanda collins |
| 3610 | 2023-02-28 19:02:29 | Connor Dunn |
| 3612 | 2023-02-20 19:14:29 | Kallie Davies |
| 3613 | 2023-03-20 10:30:55 | Jade Pook |
| 3614 | 2023-03-09 20:17:13 | Lisa Roberts |
| 3615 | 2023-02-22 20:54:13 | Annabell Breslan |
| 3617 | 2023-02-24 07:15:47 | Eri Hall |
| 3618 | 2023-03-03 22:00:06 | Shannon O'connell |
| 3619 | 2023-03-20 20:06:23 | Shannon Mcloughlin |
| 3620 | 2023-02-20 21:29:03 | Kayleigh Williams |
| 3621 | 2023-03-05 12:19:29 | Sharon Hobday |
| 3622 | 2023-03-02 12:33:39 | Sarah Gove |
| 3623 | 2023-03-04 15:02:06 | Pamela Bradshaw |
| 3625 | 2023-02-28 19:18:58 | LADY Trina |
| 3626 | 2023-02-24 12:52:23 | Kelly Holter |
| 3627 | 2023-02-21 16:58:51 | Rosie Griffiths |
| 3628 | 2023-03-10 23:12:11 | Rachel Drake |
| 3631 | 2023-03-04 22:29:15 | karen Davey |
| 3634 | 2023-02-20 22:13:57 | Jodie Mills |
| 3636 | 2023-03-11 19:40:24 | Sarah Billington |
| 3637 | 2023-02-22 11:18:50 | N P |
| 3638 | 2023-03-03 21:36:08 | connor wren |
| 3641 | 2023-03-04 08:28:59 | Holly Griffith |
| 3642 | 2023-03-03 10:44:05 | Lauren Charlesworth |
| 3643 | 2023-03-03 18:41:03 | Victoria Bishop |
| 3644 | 2023-03-06 16:52:50 | Clare Johnson |
| 3645 | 2023-03-03 21:25:16 | Katie Powell |
| 3647 | 2023-02-21 10:37:41 | Michelle Leek |
| 3648 | 2023-03-03 21:24:51 | Jacqueline Sandford |
| 3650 | 2023-02-22 12:22:51 | Chloe Timms |
| 3651 | 2023-03-18 22:58:06 | Natalie cremin |
| 3653 | 2023-03-09 03:57:15 | Lisa Roberts |
| 3654 | 2023-03-20 19:11:40 | Rees Sam |
| 3655 | 2023-03-04 19:53:43 | Michelle Flood |
| 3657 | 2023-03-01 19:20:45 | Helen Cottrell |
| 3658 | 2023-03-20 21:50:35 | Otilie Evans |
| 3659 | 2023-03-18 11:23:32 | Samantha c |
| 3661 | 2023-03-02 12:56:13 | Ellesha Carney |
| 3663 | 2023-03-18 16:57:08 | Sian Rees |
| 3664 | 2023-03-19 14:52:52 | John Wright |
| 3665 | 2023-03-14 09:11:44 | Leanne Steward |
| 3666 | 2023-02-20 20:14:58 | Michael Harvey |
| 3667 | 2023-02-20 18:43:22 | Matthew Davey |
| 3668 | 2023-03-02 14:31:00 | Stacey Miller |
| 3670 | 2023-03-22 19:15:50 | Jadie Jones |
| 3674 | 2023-02-25 16:11:05 | Jordan Edgecombe |
| 3676 | 2023-02-20 19:29:18 | David Smith |
| 3677 | 2023-03-12 09:11:18 | Clare Matthews |
| 3678 | 2023-02-21 04:29:21 | Kelly Mason |
| 3679 | 2023-02-21 20:27:54 | Ian Craig |
| 3682 | 2023-02-21 21:48:03 | Shauna Fitzsimmons |
| 3683 | 2023-03-16 09:49:07 | Martyna Pop |
| 3684 | 2023-02-24 15:25:33 | Tegan Harris |
| 3685 | 2023-03-03 17:16:28 | Rebecca Skinner |
| 3686 | 2023-02-20 20:56:34 | Louis Bergin |
| 3687 | 2023-02-24 14:01:27 | Sarah jennings |
| 3688 | 2023-03-07 17:17:32 | S W |
| 3690 | 2023-02-20 19:34:13 | Loren Cox |
| 3692 | 2023-02-21 19:45:43 | Emma Jones |
| 3693 | 2023-02-23 18:43:40 | Ross Kalli |
| 3694 | 2023-02-20 19:27:05 | james sutherland |
| 3695 | 2023-03-02 14:17:01 | Saxon Hadland |
| 3696 | 2023-03-05 09:52:07 | Emma Ormrod |
| 3697 | 2023-02-20 20:23:38 | Tash Wright |
| 3698 | 2023-02-24 08:37:47 | Jessica Goodman |
| 3699 | 2023-03-15 22:59:35 | Chris Carr |
| 3700 | 2023-02-20 19:36:24 | Chris Penny |
| 3703 | 2023-02-20 18:54:25 | ali b |
| 3704 | 2023-02-20 19:31:58 | Donna Marie |
| 3705 | 2023-03-03 08:44:13 | Stacey Dymond |
| 3706 | 2023-03-13 10:30:59 | Helen Cottrell |
| 3707 | 2023-03-01 00:35:14 | Ellie Martin |
| 3708 | 2023-02-20 22:26:16 | Andy Hawkins |
| 3709 | 2023-02-20 19:21:07 | Ryan Dodd |
| 3710 | 2023-02-21 08:04:31 | Claire Cockram |
| 3711 | 2023-02-27 21:49:22 | LADY Trina |
| 3712 | 2023-03-18 09:19:12 | Matthew Nickels |
| 3713 | 2023-03-06 13:40:02 | Claire Symons |
| 3714 | 2023-03-04 15:20:58 | Pamela Bradshaw |
| 3715 | 2023-03-21 07:18:02 | Jessica Thomas |
| 3716 | 2023-02-20 19:36:51 | Amy C |
| 3717 | 2023-03-11 17:27:33 | Nadine Smallridge |
| 3719 | 2023-03-04 09:44:22 | Morgan Samuels |
| 3720 | 2023-02-23 22:49:11 | Lisa Burgess |
| 3721 | 2023-03-03 20:05:28 | Jordan Edgecombe |
| 3722 | 2023-02-28 14:34:14 | Cheryl Meek |
| 3725 | 2023-03-01 16:28:04 | M KM |
| 3729 | 2023-03-03 07:27:11 | Nicolle Pearce |
| 3730 | 2023-03-06 18:07:24 | Ann Hall |
| 3732 | 2023-03-20 00:12:37 | Kirsty Ledger |
| 3733 | 2023-03-12 23:17:09 | Kiri Woodd |
| 3735 | 2023-03-03 08:55:25 | Steve King |
| 3736 | 2023-02-26 17:54:37 | Helen Cottrell |
| 3737 | 2023-03-01 08:14:36 | Amy Hardware |
| 3738 | 2023-03-01 20:13:00 | Emma C |
| 3739 | 2023-03-16 01:17:20 | Elizabeth Williams |
| 3740 | 2023-02-20 18:48:16 | Terri Hurren |
| 3741 | 2023-02-27 17:37:24 | David rogerson |
| 3742 | 2023-02-28 22:46:37 | M KM |
| 3743 | 2023-02-22 10:27:31 | N P |
| 3744 | 2023-02-20 20:04:14 | Zoe West |
| 3745 | 2023-03-03 21:52:59 | Suzanne Riddock |
| 3746 | 2023-02-27 23:07:27 | Jason Crockett |
| 3748 | 2023-02-21 10:48:43 | Courtney Campbell |
| 3749 | 2023-02-22 04:48:14 | Stephanie Bush |
| 3750 | 2023-02-21 12:48:36 | Natalie Milner |
| 3751 | 2023-02-22 14:59:27 | Shauna Fitzsimmons |
| 3752 | 2023-03-23 18:05:29 | Sharon marie Williams |
| 3753 | 2023-03-21 00:40:13 | S W |
| 3755 | 2023-02-22 16:47:29 | Miss T |
| 3756 | 2023-03-23 17:19:28 | Taylor Jones |
| 3757 | 2023-02-27 19:54:01 | Sarah Jason ryan |
| 3760 | 2023-02-20 20:41:12 | Sami Knott |
| 3761 | 2023-02-20 18:49:22 | Steven Branch |
| 3762 | 2023-03-19 20:01:35 | Cheyenne Parrott |
| 3763 | 2023-02-21 11:05:54 | Chloe W |
| 3764 | 2023-03-22 14:35:36 | Kerry Roach |
| 3765 | 2023-03-01 22:00:44 | K W |
| 3767 | 2023-03-03 18:12:27 | Autumn Bain |
| 3769 | 2023-03-04 21:46:37 | Claire Symons |
| 3771 | 2023-03-02 18:22:40 | Kayleigh Gibbons |
| 3775 | 2023-02-28 15:05:48 | Emily Sellars |
| 3776 | 2023-02-21 11:25:45 | Shauna Fitzsimmons |
| 3778 | 2023-03-04 13:05:33 | Bradley Harris |
| 3779 | 2023-03-11 22:19:19 | Kiri Woodd |
| 3782 | 2023-02-20 18:43:13 | ali b |
| 3783 | 2023-03-18 15:48:51 | Laura Upton |
| 3784 | 2023-03-06 18:34:47 | Nina Henton-Waller |
| 3785 | 2023-03-06 16:47:53 | ali b |
| 3786 | 2023-03-01 09:32:33 | Amy Hardware |
| 3787 | 2023-02-24 20:03:14 | Joyce Cunliffe |
| 3788 | 2023-02-20 19:02:59 | Kirsty Rutland |
| 3789 | 2023-02-21 10:56:32 | Kassi Holding |
| 3791 | 2023-03-21 06:52:22 | Claire Wilton |
| 3792 | 2023-03-11 19:29:47 | Susan Woods |
| 3793 | 2023-03-13 21:48:59 | Jacqueline Sandford |
| 3794 | 2023-03-01 18:51:31 | Kimberly Swinscoe |
| 3795 | 2023-03-02 19:13:08 | Ellesha Carney |
| 3796 | 2023-03-21 21:25:32 | Alex Shannon |
| 3797 | 2023-02-20 19:03:22 | Lorna Noble |
| 3798 | 2023-03-20 16:05:02 | Tracey Brown |
| 3801 | 2023-02-20 20:59:51 | Amy Wilton |
| 3802 | 2023-02-20 20:07:33 | Victoria Paddon |
| 3803 | 2023-03-15 20:53:34 | David Smith |
| 3804 | 2023-03-03 05:27:52 | Hermon Gosling |
| 3806 | 2023-03-02 18:12:08 | Carey Watts |
| 3807 | 2023-03-18 15:21:32 | Emma Potter |
| 3808 | 2023-03-10 11:22:39 | LJ Storer no |
| 3809 | 2023-03-02 12:52:41 | Ellesha Carney |
| 3810 | 2023-03-11 18:43:48 | Haley Whiteman |
| 3811 | 2023-03-19 20:53:11 | Joshua Hughes |
| 3813 | 2023-02-23 15:50:33 | Shauna Fitzsimmons |
| 3814 | 2023-02-22 13:33:50 | Pamela Bradshaw |
| 3815 | 2023-02-28 13:20:55 | J m Blackmore |
| 3816 | 2023-03-05 14:50:41 | Katie Lacey |
| 3817 | 2023-02-28 14:26:22 | Katie Medler |
| 3818 | 2023-03-01 19:52:58 | Marlena Bowden |
| 3819 | 2023-02-28 13:36:20 | dariusz Gumny |
| 3820 | 2023-03-23 09:50:32 | Clare Good |
| 3821 | 2023-03-01 13:29:50 | Sophie Harriman |
| 3823 | 2023-03-20 10:57:56 | Rachael Derbe |
| 3824 | 2023-03-01 20:19:30 | Staceyy C |
| 3825 | 2023-02-25 18:15:05 | Rebekka Lucas |
| 3826 | 2023-02-20 21:07:08 | Kelly A Russell |
| 3827 | 2023-03-15 22:14:50 | Gemma Syms |
| 3828 | 2023-03-14 17:29:52 | Daniel Paddington |
| 3829 | 2023-02-25 13:14:23 | Emma Potter |
| 3830 | 2023-02-28 14:12:18 | Katie Medler |
| 3831 | 2023-02-21 10:54:44 | Emma Potter |
| 3832 | 2023-03-05 10:56:36 | Michelle Fewings |
| 3834 | 2023-03-02 22:35:10 | Lizzy Vaid |
| 3835 | 2023-02-25 10:15:09 | Stacey Dymond |
| 3836 | 2023-02-20 23:25:25 | Donna Marie |
| 3837 | 2023-02-20 23:57:37 | Jordan Bowen |
| 3839 | 2023-03-03 22:07:39 | Carl Hoare |
| 3840 | 2023-03-19 13:31:32 | Esmé Kershaw. |
| 3842 | 2023-03-12 09:15:12 | Jade Hill |
| 3845 | 2023-02-21 15:37:32 | J B |
| 3846 | 2023-02-21 14:33:39 | Caroline Taylor |
| 3848 | 2023-03-22 17:42:51 | Stacey Dymond |
| 3853 | 2023-02-24 12:36:03 | Mark Lowe |
| 3854 | 2023-03-04 17:19:22 | Victoria Short |
| 3855 | 2023-03-20 20:08:14 | Fleur Egington |
| 3856 | 2023-02-21 11:36:26 | Andrea Sikorjakova |
| 3857 | 2023-02-23 22:28:18 | Sarah Davies |
| 3858 | 2023-02-21 12:01:19 | Carl Hoare |
| 3859 | 2023-03-13 11:58:08 | Rachel chalk |
| 3860 | 2023-03-02 15:40:14 | Stacey Hamilton |
| 3861 | 2023-02-23 21:01:21 | Tia Potter |
| 3862 | 2023-02-21 17:09:38 | Chris Carr |
| 3863 | 2023-03-22 20:27:28 | Joanna Squires |
| 3864 | 2023-03-10 12:11:52 | Lisa Roberts |
| 3865 | 2023-02-20 22:15:01 | Linda Beer |
| 3866 | 2023-02-28 21:12:28 | Rachel Barnard |
| 3867 | 2023-02-23 08:52:35 | Richard Higham |
| 3868 | 2023-03-01 14:59:59 | M KM |
| 3869 | 2023-03-20 20:36:08 | Chantelle Bonser |
| 3870 | 2023-02-20 20:11:12 | Shelly Eames-Doddrell |
| 3871 | 2023-02-20 20:02:06 | Holly Ring |
| 3872 | 2023-03-13 14:57:52 | Emily D |
| 3874 | 2023-03-07 00:15:25 | Katie Cattermole |
| 3875 | 2023-02-20 18:44:25 | Nick Stevens |
| 3876 | 2023-03-18 13:45:16 | Ali baba The second |
| 3878 | 2023-02-25 23:19:06 | Helen Cottrell |
| 3879 | 2023-02-24 21:49:08 | Kayleigh Gibbons |
| 3880 | 2023-03-22 20:57:45 | Chantel Ring |
| 3881 | 2023-02-23 20:34:29 | Daniel Paddington |
| 3883 | 2023-03-22 21:05:49 | Kelly Knight |
| 3885 | 2023-02-20 18:51:21 | Claire Westwood |
| 3886 | 2023-02-21 08:55:56 | Steve Archer |
| 3888 | 2023-02-24 10:25:30 | Emma Jones |
| 3889 | 2023-02-21 10:33:39 | S W |
| 3890 | 2023-02-21 16:19:59 | Conor Rodrigues |
| 3891 | 2023-03-04 16:23:33 | Lauren Charlesworth |
| 3893 | 2023-03-11 13:01:31 | Chris Carr |
| 3894 | 2023-03-03 17:28:35 | Amber Millen |
| 3896 | 2023-03-22 20:21:13 | Graeme Archer |
| 3897 | 2023-03-19 19:31:09 | Joshua Hughes |
| 3900 | 2023-02-21 13:24:45 | Fliss Wright |
| 3901 | 2023-02-20 23:34:57 | Callum Breach |
| 3902 | 2023-03-17 03:03:32 | Emma Reeve |
| 3903 | 2023-03-01 22:48:32 | Niki Rowles |
| 3906 | 2023-03-21 16:57:53 | Danielle Challice |
| 3907 | 2023-02-28 14:14:57 | Katie Medler |
| 3909 | 2023-03-03 07:16:03 | Jo Butcher |
| 3910 | 2023-02-28 16:30:22 | Miss T |
| 3911 | 2023-03-04 19:10:44 | Lisa Roberts |
| 3912 | 2023-02-21 12:12:25 | Kayleigh Gibbons |
| 3914 | 2023-02-20 20:33:35 | Helen Cottrell |
| 3916 | 2023-03-17 23:24:46 | Sharna Yeowell |
| 3917 | 2023-03-04 13:27:17 | Jodie Richards |
| 3918 | 2023-02-26 21:19:27 | Jordan Taylor |
| 3919 | 2023-02-20 19:35:06 | Peter Mann |
| 3920 | 2023-03-23 13:36:40 | Hugh Parker |
| 3922 | 2023-02-24 19:24:18 | Jasmine Davies |
| 3923 | 2023-03-06 02:54:38 | Nicola Farley |
| 3924 | 2023-03-06 16:57:37 | ali b |
| 3925 | 2023-03-04 18:25:33 | Andy S |
| 3926 | 2023-03-03 09:33:48 | James Rendle |
| 3927 | 2023-03-20 19:10:25 | Lea Painter |
| 3928 | 2023-03-17 13:35:31 | Emma Reeve |
| 3930 | 2023-02-20 20:25:03 | Emma Risbridger |
| 3931 | 2023-02-20 20:38:50 | bergin Lynsey |
| 3932 | 2023-02-23 21:27:20 | Emily Hatfield |
| 3933 | 2023-03-06 20:09:36 | Jeremy Bowen |
| 3934 | 2023-02-28 10:05:47 | Taylor Jones |
| 3935 | 2023-03-05 20:11:37 | Ashley Rideout |
| 3936 | 2023-02-28 10:20:55 | Jessica Spence |
| 3937 | 2023-03-04 13:58:01 | Marnie Brown |
| 3938 | 2023-03-21 09:38:12 | Joshua Hughes |
| 3940 | 2023-02-26 21:08:37 | Shauna Fitzsimmons |
| 3941 | 2023-03-16 13:00:52 | Teresa Tose |
| 3942 | 2023-03-21 02:37:13 | Chelsea Bishop |
| 3943 | 2023-02-21 10:12:09 | Rosie Hippolyte |
| 3944 | 2023-02-22 17:52:44 | Yvette Goldsmith |
| 3945 | 2023-02-21 14:24:56 | Brittany Blair |
| 3946 | 2023-03-01 15:40:38 | Abi Parnell |
| 3947 | 2023-03-16 02:06:11 | Mandy Lydster |
| 3948 | 2023-03-01 07:12:25 | Michael Head |
| 3949 | 2023-03-06 00:43:36 | Lauren Jones |
| 3952 | 2023-02-25 12:00:52 | Daniel Wadling |
| 3953 | 2023-02-26 17:51:29 | Emma Berryman |
| 3954 | 2023-02-20 18:51:42 | Tiffany Boughen |
| 3956 | 2023-03-17 14:50:03 | LJ Storer no |
| 3957 | 2023-03-03 18:05:32 | Tanya Neal |
| 3959 | 2023-03-21 09:14:13 | Laura Potts |
| 3960 | 2023-02-20 18:50:52 | Michelle Weller |
| 3961 | 2023-03-03 17:30:11 | Tabatha Krafft |
| 3962 | 2023-03-04 14:32:28 | Nikki Jones |
| 3963 | 2023-03-19 07:25:54 | Wendy Thompsett |
| 3964 | 2023-03-11 20:02:00 | Kiri Woodd |
| 3967 | 2023-02-22 10:59:04 | Paige Collins |
| 3968 | 2023-03-11 06:44:56 | Hayley Macdonald-Brooks |
| 3969 | 2023-03-01 15:14:32 | Ellesha Carney |
| 3970 | 2023-03-01 16:53:43 | Simone Robinson |
| 3971 | 2023-03-11 13:51:02 | Kiri Woodd |
| 3972 | 2023-03-13 19:14:30 | Ashley Chidgey |
| 3973 | 2023-03-01 13:07:46 | Alison Brooks |
| 3975 | 2023-03-02 21:10:48 | Courtney Johnson |
| 3976 | 2023-03-02 10:40:57 | William Harris |
| 3977 | 2023-03-20 09:09:33 | Elizabeth Stevens |
| 3979 | 2023-03-01 12:27:10 | Sarah Jason ryan |
| 3980 | 2023-03-04 10:14:45 | Suzanne Brailey |
| 3981 | 2023-02-23 17:39:44 | Dean Watt |
| 3982 | 2023-02-27 09:34:19 | Samantha Wilding |
| 3983 | 2023-03-06 18:13:14 | Ann Hall |
| 3985 | 2023-03-11 08:34:28 | Leah Searle |
| 3987 | 2023-03-01 07:57:12 | Amy Hardware |
| 3988 | 2023-02-21 23:10:53 | Sami Knott |
| 3989 | 2023-02-21 14:50:47 | Tina Tootell |
| 3990 | 2023-03-04 13:58:01 | Marnie Brown |
| 3991 | 2023-03-01 20:21:06 | Shazzy Mazzy |
| 3992 | 2023-03-03 15:41:31 | Clive Mitchell |
| 3993 | 2023-02-22 17:47:05 | J K |
| 3994 | 2023-03-20 03:42:14 | Miss T |
| 3995 | 2023-03-12 00:49:27 | Kirsty Smith |
| 3997 | 2023-03-03 07:14:09 | Spencer Troth |
| 3998 | 2023-02-23 21:39:30 | Baron Dorgan |
| 3999 | 2023-03-19 16:42:54 | Emma Potter |
| 4002 | 2023-03-10 15:40:24 | Hermon Gosling |
| 4003 | 2023-02-21 11:22:33 | Greg Manley |
| 4004 | 2023-02-25 13:14:21 | Emily Dyke |
| 4005 | 2023-02-20 20:36:41 | Linda Lugg |
| 4006 | 2023-03-19 16:45:52 | Emma Potter |
| 4007 | 2023-02-20 19:34:34 | Kirsten Pearce |
| 4009 | 2023-03-02 17:32:54 | Chelsea Walton |
| 4010 | 2023-03-04 09:39:27 | Joanna Cannings |
| 4012 | 2023-03-01 08:18:27 | Amy Hardware |
| 4013 | 2023-03-06 17:11:02 | Farrah Goodwin |
| 4014 | 2023-02-21 10:55:06 | Sally Smith |
| 4015 | 2023-02-22 00:56:54 | R Osben |
| 4016 | 2023-02-21 14:33:39 | Caroline Taylor |
| 4017 | 2023-03-19 16:21:11 | Emma Potter |
| 4018 | 2023-03-15 22:30:32 | Nancy stevens |
| 4019 | 2023-03-20 07:19:25 | Sarah Barlow |
| 4020 | 2023-02-26 16:39:51 | James Crafer |
| 4021 | 2023-02-20 23:30:40 | kim watson |
| 4022 | 2023-02-23 20:07:09 | Maariyah Sharif |
| 4024 | 2023-03-08 19:13:14 | Lauren Charlesworth |
| 4025 | 2023-03-18 20:24:10 | Lauren stone |
| 4026 | 2023-03-03 16:39:10 | Karen Lee |
| 4028 | 2023-03-14 08:42:20 | Lee Mills |
| 4029 | 2023-02-20 19:07:58 | Alice Hendon |
| 4030 | 2023-02-28 16:27:46 | Katie Medler |
| 4031 | 2023-03-05 14:38:29 | Katie Lacey |
| 4032 | 2023-03-03 21:52:59 | Suzanne Riddock |
| 4034 | 2023-02-21 21:34:37 | Stephanie Sparks |
| 4035 | 2023-02-22 17:01:42 | J K |
| 4036 | 2023-02-24 00:46:36 | Eri Hall |
| 4037 | 2023-03-11 10:36:29 | Kiri Woodd |
| 4038 | 2023-03-22 19:48:28 | Suzanne Hart |
| 4039 | 2023-02-23 15:47:10 | Ashley Houston |
| 4040 | 2023-02-23 10:18:34 | Harry T |
| 4041 | 2023-03-02 16:42:59 | Susan Seaman |
| 4042 | 2023-02-20 21:34:53 | Michelle Searles |
| 4043 | 2023-03-04 15:07:50 | Lisa Roberts |
| 4044 | 2023-03-17 21:37:47 | Mike Lee |
| 4045 | 2023-02-23 20:35:22 | Chantel Ring |
| 4046 | 2023-02-20 19:27:05 | james sutherland |
| 4047 | 2023-02-27 22:12:23 | Emma Pullen |
| 4049 | 2023-02-21 10:28:22 | Charlotte Ager |
| 4050 | 2023-02-28 03:17:39 | Tara Evans |
| 4051 | 2023-03-19 22:22:49 | Sophie Hodge |
| 4052 | 2023-03-11 19:40:24 | Sarah Billington |
| 4053 | 2023-02-20 19:32:15 | Luke Rossiter |
| 4055 | 2023-02-21 10:28:22 | Charlotte Ager |
| 4058 | 2023-02-21 11:18:25 | Kayleigh Gibbons |
| 4059 | 2023-02-25 00:31:20 | Holly Ring |
| 4060 | 2023-03-19 01:51:28 | Kathleen Collett |
| 4061 | 2023-02-21 11:20:48 | Kayleigh Carr |
| 4062 | 2023-03-04 14:57:00 | Ryan Budd |
| 4063 | 2023-03-22 18:40:15 | rebecca harrison |
| 4064 | 2023-03-18 15:32:39 | DEBORAH PARNELL (collins) |
| 4065 | 2023-02-21 20:41:32 | G B |
| 4066 | 2023-02-28 19:48:56 | Leah Knowles |
| 4067 | 2023-02-24 06:29:17 | J K |
| 4068 | 2023-03-11 07:25:46 | Kiri Woodd |
| 4069 | 2023-02-28 01:01:49 | M KM |
| 4070 | 2023-03-11 20:00:28 | Demi Broome |
| 4071 | 2023-03-05 13:21:27 | Emily7 Hibberd |
| 4073 | 2023-03-20 19:20:59 | Conor Mallen |
| 4074 | 2023-03-23 11:13:52 | Sian Liquorish |
| 4075 | 2023-02-21 17:44:27 | Tanya Sherlock |
| 4076 | 2023-03-04 14:48:59 | Lauren Charlesworth |
| 4078 | 2023-02-23 20:34:29 | Daniel Paddington |
| 4079 | 2023-02-20 20:05:10 | Ricky Walters |
| 4080 | 2023-03-22 19:20:37 | Jessica Thompson |
| 4081 | 2023-03-19 22:25:22 | Nicky Jennings |
| 4082 | 2023-02-20 18:55:30 | N K |
| 4083 | 2023-03-17 07:15:53 | Katie Medler |
| 4084 | 2023-02-28 07:31:19 | Samantha Wilding |
| 4085 | 2023-02-22 10:31:02 | N P |
| 4086 | 2023-03-01 17:26:13 | James Bennellick |
| 4087 | 2023-03-07 13:12:03 | Sam Fitzsimmons |
| 4089 | 2023-02-24 07:15:47 | Eri Hall |
| 4091 | 2023-03-19 21:36:14 | Sharon Alderson |
| 4093 | 2023-02-22 12:01:32 | Amie Manley |
| 4094 | 2023-02-23 14:04:07 | Danielle Leddie |
| 4095 | 2023-03-17 12:39:23 | Andrew Dilkes |
| 4096 | 2023-03-01 09:35:32 | Michael Castle |
| 4097 | 2023-03-20 20:21:36 | Emma Burton |
| 4099 | 2023-02-23 20:06:26 | Angelika Harvey |
| 4100 | 2023-03-02 10:04:21 | James Osben |
| 4101 | 2023-03-18 13:31:44 | Ali baba The second |
| 4102 | 2023-02-20 19:07:38 | Millie Hamer |
| 4103 | 2023-02-27 23:03:46 | Jason Crockett |
| 4105 | 2023-02-21 14:35:33 | Jodie Mills |
| 4108 | 2023-03-04 14:49:19 | Harry Templeman |
| 4109 | 2023-02-28 15:29:57 | M H |
| 4111 | 2023-02-23 11:01:51 | N P |
| 4112 | 2023-03-02 17:00:18 | Doreen Williams |
| 4113 | 2023-02-21 10:05:34 | Lynsey Trowell |
| 4114 | 2023-02-23 21:01:10 | Emily Lewis-Clarke |
| 4116 | 2023-02-23 07:14:47 | N P |
| 4117 | 2023-02-28 16:56:15 | Nicola Fusco |
| 4118 | 2023-03-13 16:24:26 | Chris Carr |
| 4120 | 2023-03-04 11:03:05 | Clare Rowe |
| 4121 | 2023-02-23 15:19:24 | Julie Watson |
| 4124 | 2023-03-21 13:42:44 | LJ Storer no |
| 4125 | 2023-02-22 14:21:22 | N P |
| 4126 | 2023-02-20 22:44:31 | Christina Williams |
| 4128 | 2023-03-20 17:20:49 | Hannah Willis |
| 4129 | 2023-02-21 06:50:17 | Donna Marie |
| 4130 | 2023-02-21 06:52:55 | Charlotte Horton |
| 4131 | 2023-03-21 13:43:41 | stephanie dale |
| 4132 | 2023-03-03 09:11:50 | Neil Western |
| 4133 | 2023-03-04 10:00:25 | Tanya Sherlock |
| 4135 | 2023-03-02 13:34:20 | Kate Osmond |
| 4136 | 2023-03-05 13:46:30 | Nathan Taylor |
| 4139 | 2023-02-21 06:30:16 | Leah Phillips |
| 4141 | 2023-02-28 16:08:49 | Jane Netherway |
| 4146 | 2023-03-01 12:20:41 | James Thorne |
| 4147 | 2023-03-10 16:14:05 | Hermon Gosling |
| 4148 | 2023-03-01 15:57:42 | Richard Mahon |
| 4149 | 2023-02-24 08:41:15 | Kayleigh Gibbons |
| 4150 | 2023-02-27 15:48:13 | Tidey Gemma |
| 4151 | 2023-03-01 07:02:29 | Samantha Wilding |
| 4152 | 2023-02-28 09:27:55 | M KM |
| 4154 | 2023-02-21 10:52:45 | S W |
| 4155 | 2023-02-20 19:53:49 | Ellie Wilkins |
| 4158 | 2023-03-11 16:17:09 | Kiri Woodd |
| 4159 | 2023-02-20 19:35:45 | Karl Green |
| 4160 | 2023-02-28 21:16:12 | Laura Williams |
| 4161 | 2023-02-20 21:11:28 | Penny Bartlett |
| 4163 | 2023-03-15 13:57:13 | Denise Barry |
| 4165 | 2023-02-21 12:22:38 | R Osben |
| 4166 | 2023-03-01 08:14:36 | Amy Hardware |
| 4169 | 2023-02-21 10:54:44 | Emma Potter |
| 4171 | 2023-03-21 12:38:50 | Rachel Whitehouse |
| 4172 | 2023-02-20 17:43:34 | Emma Pullen |
| 4173 | 2023-02-24 07:45:48 | Shauna Fitzsimmons |
| 4174 | 2023-02-28 05:56:22 | Michael Gibbons |
| 4175 | 2023-03-04 16:28:58 | Claire Symons |
| 4177 | 2023-03-04 22:38:14 | Jemma Bentham |
| 4178 | 2023-03-08 01:40:20 | Hermon Gosling |
| 4179 | 2023-03-20 19:16:20 | Zoe Rowsell |
| 4180 | 2023-03-07 15:01:39 | Pamela Bradshaw |
| 4181 | 2023-03-21 20:03:58 | Linda Grimshaw |
| 4183 | 2023-03-23 18:27:14 | Helen Cottrell |
| 4184 | 2023-02-20 22:28:57 | Lauren Carruthers |
| 4185 | 2023-02-20 18:52:25 | Jodi Parker pierce |
| 4186 | 2023-03-03 20:26:01 | David Smith |
| 4187 | 2023-03-17 18:59:36 | Katie Medler |
| 4188 | 2023-03-20 18:53:48 | Danielle Kinsella |
| 4189 | 2023-02-21 18:24:06 | Mia Verney |
| 4190 | 2023-02-20 18:56:06 | Malcolm Ross |
| 4191 | 2023-03-04 03:43:38 | Leanne Veal |
| 4193 | 2023-02-27 10:07:20 | Samantha Wilding |
| 4194 | 2023-02-24 21:46:03 | Kayleigh Gibbons |
| 4195 | 2023-03-18 00:29:28 | Molly Elnaugh |
| 4196 | 2023-03-01 14:53:36 | Leanne Steward |
| 4197 | 2023-02-21 10:39:41 | Darryl Gumbrill |
| 4198 | 2023-03-20 15:44:49 | Angela Macey |
| 4200 | 2023-03-01 17:44:58 | Terri Samways |
| 4201 | 2023-02-21 01:08:24 | Nicole Saunders |
| 4202 | 2023-03-04 14:34:00 | Clive Mitchell |
| 4203 | 2023-02-21 13:02:27 | Tia Potter |
| 4207 | 2023-02-22 11:20:38 | LADY Trina |
| 4208 | 2023-02-20 21:35:53 | Libby Lewis |
| 4209 | 2023-02-28 19:27:04 | Taylor Lackenby |
| 4211 | 2023-03-20 16:19:31 | Cheyenne Parrott |
| 4212 | 2023-02-20 19:17:45 | Jade Hopkins |
| 4213 | 2023-02-25 10:06:02 | Tara Evans |
| 4214 | 2023-02-20 18:56:05 | Denise Barry |
| 4215 | 2023-03-01 10:40:32 | Stephanie Pullinger |
| 4216 | 2023-03-03 12:21:54 | Hannah Drinkwater |
| 4217 | 2023-02-20 22:48:02 | Donna Marie |
| 4218 | 2023-02-24 06:54:50 | Emma Louise |
| 4219 | 2023-03-14 10:29:14 | John Huteson |
| 4220 | 2023-03-21 16:05:06 | Neil Potter |
| 4221 | 2023-03-11 20:22:26 | Sami Knott |
| 4222 | 2023-03-04 19:47:57 | Courtney Johnson |
| 4223 | 2023-03-20 00:07:22 | Alison Moore |
| 4226 | 2023-02-26 10:23:25 | Shauna Fitzsimmons |
| 4227 | 2023-02-21 06:24:18 | Emma Reeve |
| 4228 | 2023-03-14 12:26:00 | Cerys Symonds |
| 4230 | 2023-02-21 06:07:01 | Emma Reeve |
| 4231 | 2023-02-20 19:31:58 | Jack Andrieux |
| 4232 | 2023-02-21 00:23:34 | Liberty Kenneford |
| 4233 | 2023-02-26 16:49:08 | Mels T |
| 4235 | 2023-02-22 00:50:12 | R Osben |
| 4236 | 2023-03-01 12:30:41 | Naomi Censi |
| 4237 | 2023-02-20 21:16:34 | Ashley Rideout |
| 4238 | 2023-02-20 18:49:42 | Cy Lee |