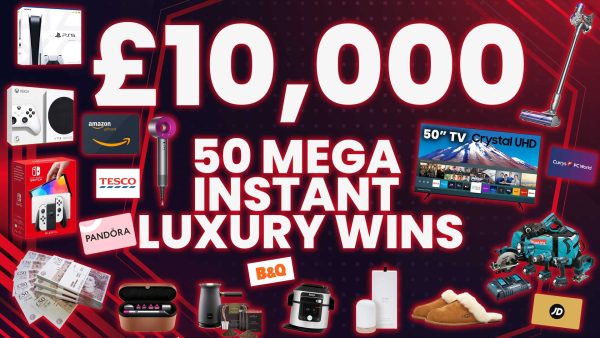 WIN £10,000 JACKPOT PLUS 50 MEGA INSTANT LUXURY WINS UP FOR GRABS #40
Description
WIN £10,000 JACKPOT PLUS 50 MEGA INSTANT LUXURY WINS UP FOR GRABS #40
DESCRIPTION
WIN £10,000 JACKPOT PLUS 50 MEGA INSTANT LUXURY WINS UP FOR GRABS
One winner will win £10,000 tax free cash ( everyone will be entered into this, regardless if you win any instant wins!
Simply enter the raffle and you will be randomly allocated your tickets. If your tickets match one of the numbers in the description below, you will win that prize instantly!
Ticket numbers are allocated randomly to every order.
If your ticket number (s) match then you win the prize next to it.
IF YOU WISH TO EXCHANGE FOR CASH ALT ON ALL PRIZES ( EXCEPT FOR CASH PRIZES) IT WILL BE 80% OF THE PRIZE VALUE.
Instant Wins
| Ticket | Prize | Winner |
| --- | --- | --- |
| 67 | Ninja AF100 | Kayleigh Gibbons |
| 129 | XBOX S | Danielle Cottell |
| 243 | SMEG KETTLE AND TOASTER | Robbie Sherratt |
| 287 | £100 ASDA GIFT CARD | Samuel Conway |
| 353 | £100 SCRATCH CARDS | |
| 474 | £100 THE IVY GIFT CARD | |
| 549 | £100 TESCO GIFT CARD | Kerry McLean |
| 677 | UGG SLIPPERS | |
| 762 | HENRY QUICK VAC | Richard Legge |
| 839 | £100 CASH | Emma Pride |
| 966 | DYSON AIRWRAP | |
| 1131 | DARTS FARM MEAT HAMPER | |
| 1193 | NINTENDO SWITCH OLED | Joanne Ison |
| 1261 | £100 AMAZON VOUCHER | Simon Clark |
| 1308 | £100 SUPERMARKET GIFT CARD | David Edward |
| 1356 | £100 B&Q GIFT CARD | Daniel Lillico |
| 1439 | GHD ORGINAL | |
| 1573 | SAMSUNG 50″ TV | |
| 1639 | £200 M&S GIFT CARD | |
| 1684 | Makita DLX2180TJ | |
| 1776 | £200 JOHN LEWIS GIFT CARD | |
| 1791 | £100 SUPERMARKET | Jessica Pellens |
| 1898 | AU VODKA BUNDLE | Laura Hall |
| 1973 | £200 CASH | JMS S |
| 2029 | £100 Pandora gift card | |
| 2065 | £500 GOLF VOUCHER | Tracy Brown |
| 2121 | CHANEL HIS AND HERS fragrance | Steph E |
| 2283 | £200 CASH | |
| 2465 | HOTEL CHOCOLAT VELVETISER | Michelle W |
| 2688 | Whitley Neill Gin Bundle | Jason Matthews |
| 2827 | £100 PRIMARK GIFT CARD | T W |
| 3190 | DYSON AIRWRAP | JOSEPH PARTINGTON |
| 3610 | £400 NEXT GIFT CARD | Kelly Farley |
| 3724 | £50 SITE CREDIT | Lauren Johnstone |
| 4309 | £200 ONE FOR ALL GIFT CARD | |
| 4787 | £200 SAINSBURYS GIFT CARD | |
| 5325 | Neom Organics London Wellbeing Pod | Emma White |
| 5481 | £200 CURRYS GIFT CARD | Marie Taylor |
| 5896 | £200 PRIMARK GIFT CARD | richard williams |
| 5913 | £100 JD SPORTS | Lisa Lee |
| 6771 | OODIE | Steph E |
| 6798 | £150 DR MARTENS GIFT CARD | A.T W. |
| 6860 | £100 SUPERMARKET GIFT CARD | |
| 7252 | GUCCI BEE TRAINERS | |
| 7483 | HOTEL CHOCOLAT VELVETISER | |
| 7526 | £100 M&S Gift card | Bridget Wedlake |
| 7917 | £500 TESCO GIFT CARD | Rachael Bury |
| 8400 | XBOX X | Darren Mclean |
| 8775 | PS5 Disc Edition | |
| 8888 | £100 M&S GIFT CARD | T W |
| Winner Name | Ticket Number | Draw Date |
| --- | --- | --- |
| Lee Gable | 4899 | 20/11/2023 |
1-1000
1001-2000
2001-3000
3001-4000
4001-5000
5001-6000
6001-7000
7001-8000
8001-9000
| Ticket Number | Date | Name |
| --- | --- | --- |
| 2 | 2023-11-17 13:09:55 | Emma Tabrah |
| 3 | 2023-11-20 19:28:15 | Kirsty Mortimore |
| 4 | 2023-11-15 14:28:13 | Tracey Milne |
| 5 | 2023-11-20 20:57:27 | Susan Pike |
| 6 | 2023-11-16 21:05:56 | Sam Pride |
| 7 | 2023-11-18 11:55:29 | Bianca Billett |
| 9 | 2023-11-18 12:03:13 | James Rendle |
| 10 | 2023-11-20 19:46:04 | Alexander Ross |
| 11 | 2023-11-20 19:58:05 | Glenn Bowden |
| 12 | 2023-11-20 17:29:51 | Bex. L. |
| 13 | 2023-11-19 17:18:10 | Chloe Cox |
| 14 | 2023-11-18 17:51:35 | Roseanne Wills |
| 15 | 2023-11-20 18:19:40 | Kieran Brown |
| 18 | 2023-11-17 18:06:13 | Kay N |
| 19 | 2023-11-20 11:45:56 | James Rendle |
| 20 | 2023-11-20 20:27:43 | John Willoughby |
| 21 | 2023-11-20 17:54:01 | Julie Stoyle |
| 22 | 2023-11-20 19:49:15 | Jade Pook |
| 24 | 2023-11-19 23:51:47 | LL BB |
| 25 | 2023-11-19 16:07:45 | Destiny Nolan |
| 26 | 2023-11-18 12:49:27 | Jake McMullan |
| 28 | 2023-11-20 17:28:28 | Izzy Eveson |
| 29 | 2023-11-19 23:53:10 | LL BB |
| 30 | 2023-11-20 00:42:13 | Anna Feria Marie - Khan's |
| 31 | 2023-11-19 05:35:35 | n m |
| 33 | 2023-11-20 18:53:25 | Laura Upton |
| 34 | 2023-11-20 20:58:32 | Joanna Peters |
| 35 | 2023-11-20 07:17:39 | Oliver Harris |
| 36 | 2023-11-20 11:13:34 | Anna Feria Marie - Khan's |
| 37 | 2023-11-20 20:23:35 | Patrick Wilton |
| 38 | 2023-11-19 21:44:05 | Jessica Pellens |
| 39 | 2023-11-20 17:30:23 | Carly Trebilcock |
| 40 | 2023-11-20 13:01:21 | Sophie Borrie |
| 42 | 2023-11-20 17:13:13 | Nichola Brown |
| 43 | 2023-11-19 15:20:30 | Matt Miller |
| 44 | 2023-11-20 19:04:19 | Emily Cobb |
| 46 | 2023-11-20 20:25:09 | Eric Marsdon |
| 47 | 2023-11-20 20:28:17 | Keeley Bush |
| 48 | 2023-11-20 20:52:56 | Emma Pride |
| 49 | 2023-11-20 19:18:40 | Wayne Mills |
| 50 | 2023-11-20 20:28:44 | Sallyann Walker |
| 53 | 2023-11-19 16:18:22 | Rosie Reynolds |
| 54 | 2023-11-20 20:25:19 | Rachel Brewer |
| 55 | 2023-11-20 20:56:14 | Lucie Hilder |
| 56 | 2023-11-19 23:01:01 | Mark Wilson |
| 57 | 2023-11-19 09:51:02 | Louise Williams |
| 58 | 2023-11-20 09:56:15 | Natalie Carey |
| 59 | 2023-11-15 10:50:59 | Ellie Black |
| 60 | 2023-11-20 20:53:23 | Caitlyn Hobbs |
| 61 | 2023-11-20 18:50:14 | Jessica Pellens |
| 62 | 2023-11-20 20:40:31 | Amanda Macdonald-Brown |
| 63 | 2023-11-20 18:29:44 | Eleni Cottrell |
| 64 | 2023-11-20 18:48:27 | Meg L |
| 65 | 2023-11-20 18:42:52 | Daniella Williams |
| 66 | 2023-11-15 22:46:07 | Cameron Thompson |
| 67 | 2023-11-20 19:43:25 | Kayleigh Gibbons |
| 69 | 2023-11-20 19:50:05 | Mike M |
| 71 | 2023-11-19 23:26:37 | Anna Feria Marie - Khan's |
| 72 | 2023-11-17 17:47:12 | Jessica Pellens |
| 73 | 2023-11-20 18:04:47 | Kate Sheriff |
| 74 | 2023-11-20 19:02:00 | Tayler Bradley |
| 75 | 2023-11-20 19:20:17 | Pip Oliver |
| 80 | 2023-11-20 20:13:41 | richard williams |
| 81 | 2023-11-18 12:44:20 | Lorna Hooper |
| 82 | 2023-11-20 20:39:19 | Sean Farr |
| 85 | 2023-11-20 19:13:28 | David Adkins |
| 86 | 2023-11-18 22:22:45 | Natalie Carey |
| 87 | 2023-11-20 19:19:40 | Sadie Madge |
| 89 | 2023-11-19 19:31:15 | Jessica Palfrey |
| 90 | 2023-11-20 20:51:54 | G B |
| 92 | 2023-11-19 20:41:37 | Claire Beagley |
| 93 | 2023-11-20 18:52:01 | Jodie Purcell |
| 95 | 2023-11-20 13:26:49 | rafał janas |
| 96 | 2023-11-18 09:25:25 | Martyna Pop |
| 97 | 2023-11-20 19:38:47 | Donna Graham |
| 98 | 2023-11-19 14:10:10 | LL BB |
| 99 | 2023-11-20 20:52:32 | Kelly Davies |
| 100 | 2023-11-20 19:21:14 | Abi Edwards |
| 102 | 2023-11-20 17:38:47 | Cameron Mackay |
| 103 | 2023-11-20 19:44:48 | C S |
| 104 | 2023-11-20 18:17:16 | Danielle Cottell |
| 105 | 2023-11-20 10:01:48 | Sami Knott |
| 107 | 2023-11-20 18:27:18 | Hayley Jackson |
| 108 | 2023-11-20 19:17:41 | Darren Mclean |
| 109 | 2023-11-19 13:07:51 | Laura Beddows |
| 110 | 2023-11-20 20:03:42 | Jem V |
| 111 | 2023-11-18 20:23:46 | Bill Danks |
| 112 | 2023-11-16 00:38:14 | Liam Chard-maple |
| 113 | 2023-11-20 18:26:07 | Sarah Widdop |
| 114 | 2023-11-20 11:47:56 | Jane Hasni |
| 115 | 2023-11-20 18:12:08 | Michael White |
| 116 | 2023-11-20 20:55:28 | Amelia Summers |
| 117 | 2023-11-17 23:58:38 | JMS S |
| 118 | 2023-11-20 20:52:50 | Danielle Kinsella |
| 119 | 2023-11-19 05:04:18 | Anthony Rose |
| 120 | 2023-11-18 16:58:12 | Donna Sollis |
| 121 | 2023-11-19 11:37:09 | Amy Tracey |
| 123 | 2023-11-20 19:59:38 | Becky Smith |
| 127 | 2023-11-20 18:42:09 | alana ogilvie |
| 129 | 2023-11-20 18:18:20 | Danielle Cottell |
| 130 | 2023-11-20 18:17:53 | Rachel Orford |
| 131 | 2023-11-18 19:59:48 | Andrew Gillen |
| 133 | 2023-11-20 19:17:39 | Candy Light |
| 135 | 2023-11-19 20:30:51 | Rebecca Skinner |
| 137 | 2023-11-19 13:45:32 | Cameron Thompson |
| 138 | 2023-11-18 16:54:55 | Alison Hennessey |
| 139 | 2023-11-15 10:53:27 | Darryl Nichols |
| 142 | 2023-11-20 20:28:12 | Sarah Penny |
| 143 | 2023-11-20 09:30:51 | Polly Ferguson-Carruthers |
| 144 | 2023-11-18 13:40:17 | Anamarie Chidgey |
| 145 | 2023-11-20 20:38:23 | Shona Barton |
| 146 | 2023-11-18 22:17:33 | Jo Disley |
| 147 | 2023-11-19 17:37:59 | Georgia Brown |
| 148 | 2023-11-20 19:30:20 | C R |
| 149 | 2023-11-19 21:55:33 | Sam Pride |
| 150 | 2023-11-20 13:30:24 | Emma & lee |
| 151 | 2023-11-19 19:28:32 | Lucy Taylor |
| 152 | 2023-11-15 17:30:31 | Lauren Charlesworth |
| 153 | 2023-11-20 19:54:17 | Sas D |
| 154 | 2023-11-18 13:44:42 | Anamarie Chidgey |
| 156 | 2023-11-20 19:17:41 | Darren Mclean |
| 157 | 2023-11-20 20:27:31 | Amy C |
| 158 | 2023-11-20 17:38:47 | Cameron Mackay |
| 159 | 2023-11-20 16:44:33 | Charlotte Nolan |
| 160 | 2023-11-20 19:19:45 | Kelly Hack |
| 161 | 2023-11-16 06:07:28 | Vicki Brace |
| 162 | 2023-11-20 18:43:36 | Harry Snell |
| 163 | 2023-11-20 19:09:16 | Steph E |
| 164 | 2023-11-19 21:05:10 | Lana Houghton |
| 165 | 2023-11-20 19:59:21 | Casey Aggett |
| 166 | 2023-11-20 13:10:24 | Tania Johns |
| 167 | 2023-11-20 19:30:11 | Charlie Watts |
| 170 | 2023-11-20 18:22:36 | Nancy steer |
| 171 | 2023-11-18 10:56:18 | Vikki Laws |
| 172 | 2023-11-19 20:01:52 | glen hemmings |
| 173 | 2023-11-20 18:35:39 | Rebecca Leonard |
| 174 | 2023-11-19 07:21:44 | Rachael Walton |
| 175 | 2023-11-20 08:40:31 | Liane Keenan |
| 176 | 2023-11-20 17:05:07 | Devon Mckenzie |
| 178 | 2023-11-19 17:42:42 | Ian Stone |
| 179 | 2023-11-19 17:04:08 | JMS S |
| 180 | 2023-11-19 23:17:23 | Anna Feria Marie - Khan's |
| 181 | 2023-11-19 06:54:55 | Rachi B |
| 184 | 2023-11-18 22:36:24 | JMS S |
| 185 | 2023-11-20 19:43:47 | Karen Mclean |
| 186 | 2023-11-20 19:20:00 | Steph E |
| 187 | 2023-11-18 12:25:50 | Sophie Corbett |
| 188 | 2023-11-20 20:56:17 | Brandon Hodge |
| 189 | 2023-11-20 18:17:53 | Rachel Orford |
| 190 | 2023-11-20 14:34:20 | Raymond James |
| 191 | 2023-11-20 20:37:29 | Tia Simmons |
| 193 | 2023-11-20 19:51:13 | Sam Fitzgerald |
| 194 | 2023-11-16 00:53:15 | Liam Chard-maple |
| 195 | 2023-11-20 21:01:18 | M C |
| 197 | 2023-11-20 21:07:27 | Christopher Harris |
| 198 | 2023-11-20 19:20:00 | Kelly Johnson |
| 199 | 2023-11-18 17:22:41 | Emma Mitchell |
| 200 | 2023-11-20 18:48:50 | Verity Dechan |
| 202 | 2023-11-18 20:04:47 | Jonny Boy |
| 203 | 2023-11-16 17:19:49 | Jeanette Glynn |
| 205 | 2023-11-19 23:13:18 | Darren Mclean |
| 206 | 2023-11-18 21:44:01 | Dean Brown |
| 207 | 2023-11-20 19:50:05 | Mike M |
| 208 | 2023-11-20 20:26:54 | Jemima Hember |
| 210 | 2023-11-20 17:54:59 | Blake Connolly |
| 211 | 2023-11-20 10:09:12 | J R |
| 212 | 2023-11-20 19:06:47 | Paige Walker |
| 213 | 2023-11-19 05:49:15 | Jason Matthews |
| 215 | 2023-11-20 18:51:59 | Shona Hatch |
| 218 | 2023-11-20 20:21:19 | Joanna Fawke |
| 219 | 2023-11-19 18:32:29 | Samantha Avery |
| 221 | 2023-11-20 19:22:35 | Joshua Rowland |
| 222 | 2023-11-15 16:51:30 | Anthony Boult |
| 223 | 2023-11-18 20:23:46 | Bill Danks |
| 224 | 2023-11-15 10:51:19 | Brooke Dolbear |
| 226 | 2023-11-20 19:26:40 | Charlie Watts |
| 227 | 2023-11-17 23:26:32 | JMS S |
| 228 | 2023-11-20 20:37:22 | Eleni Demetriou |
| 229 | 2023-11-19 23:12:30 | Emma Boatwright |
| 230 | 2023-11-20 20:18:46 | M P |
| 231 | 2023-11-19 09:19:20 | Rie Cobley |
| 232 | 2023-11-19 23:20:45 | Carlie Gilbert |
| 233 | 2023-11-19 18:49:35 | Nathan Belcher |
| 236 | 2023-11-18 21:49:26 | Richard Arnold |
| 237 | 2023-11-20 15:10:11 | Rebecca Chatburn |
| 238 | 2023-11-20 20:47:55 | A.T W. |
| 239 | 2023-11-20 20:41:36 | Sophie Fisher |
| 240 | 2023-11-18 18:43:06 | Dominic Packer |
| 241 | 2023-11-20 15:11:19 | Gary King |
| 242 | 2023-11-20 20:37:42 | Donna Norman |
| 243 | 2023-11-20 18:48:43 | Robbie Sherratt |
| 244 | 2023-11-20 10:49:06 | abbie vinnicombe |
| 245 | 2023-11-19 07:32:39 | Carly Full |
| 246 | 2023-11-20 20:00:54 | Caroline McGuire |
| 247 | 2023-11-15 14:28:13 | Tracey Milne |
| 248 | 2023-11-16 08:08:56 | Rachel Smith |
| 249 | 2023-11-19 16:01:53 | Heather Turnstill |
| 250 | 2023-11-19 16:34:36 | Abbie Williams |
| 251 | 2023-11-20 19:16:01 | Kerry Doolan |
| 252 | 2023-11-20 18:18:20 | Danielle Cottell |
| 253 | 2023-11-20 18:26:16 | Natalie Carey |
| 254 | 2023-11-18 16:35:53 | Emma P |
| 256 | 2023-11-20 20:44:30 | Alex Devaney |
| 257 | 2023-11-20 19:28:59 | Sarah Murray |
| 259 | 2023-11-20 13:06:42 | Danielle Wright |
| 260 | 2023-11-20 19:17:44 | Tiffany Gibson |
| 261 | 2023-11-20 09:56:15 | Natalie Carey |
| 262 | 2023-11-18 21:49:26 | Richard Arnold |
| 263 | 2023-11-19 20:34:06 | Rebecca Binmore |
| 264 | 2023-11-20 20:14:04 | Anise Page |
| 265 | 2023-11-18 22:22:45 | Natalie Carey |
| 267 | 2023-11-20 19:07:01 | Natalie Webb |
| 268 | 2023-11-19 18:35:12 | Tyne Pollard |
| 269 | 2023-11-20 11:47:47 | Jeffery Moseley |
| 270 | 2023-11-20 20:00:59 | Colin Kneeshaw |
| 271 | 2023-11-18 21:49:26 | Richard Arnold |
| 272 | 2023-11-20 10:01:48 | Sami Knott |
| 273 | 2023-11-18 17:39:10 | Sophia-Louise Parrott |
| 274 | 2023-11-20 09:48:59 | Georgina Bourne |
| 275 | 2023-11-20 19:23:40 | Harriet Lightfoot |
| 276 | 2023-11-20 20:01:57 | Gemma Cartell |
| 277 | 2023-11-19 00:20:01 | Anna Feria Marie - Khan's |
| 278 | 2023-11-16 21:01:31 | Natalie Maple |
| 279 | 2023-11-18 21:49:26 | Richard Arnold |
| 280 | 2023-11-20 19:37:25 | Jolene D |
| 281 | 2023-11-20 11:32:34 | Kelly Samuels |
| 282 | 2023-11-17 21:41:38 | Jennifer Greenham |
| 283 | 2023-11-18 17:55:43 | Adam Window |
| 284 | 2023-11-20 21:02:19 | Sam Pride |
| 285 | 2023-11-19 16:48:39 | Sara Al-Aadhami |
| 286 | 2023-11-19 18:32:29 | Samantha Avery |
| 287 | 2023-11-20 11:06:21 | Samuel Conway |
| 288 | 2023-11-19 03:26:10 | Jason Matthews |
| 289 | 2023-11-20 16:57:17 | A E MacDonald |
| 290 | 2023-11-20 19:17:06 | Sharon marie Williams |
| 291 | 2023-11-20 20:14:27 | Kaylie T |
| 292 | 2023-11-20 19:16:37 | Emily Byrne |
| 293 | 2023-11-18 21:49:26 | Richard Arnold |
| 294 | 2023-11-18 13:15:38 | Reece Bailey-Fone |
| 295 | 2023-11-20 19:40:56 | Carly Mason |
| 296 | 2023-11-20 18:19:13 | Natasha Rimell |
| 297 | 2023-11-20 10:11:07 | H L |
| 298 | 2023-11-18 17:32:59 | James Yearling |
| 301 | 2023-11-20 19:20:00 | Kelly Johnson |
| 302 | 2023-11-16 23:37:59 | Mandie Loxley |
| 303 | 2023-11-20 21:06:49 | Sam Pride |
| 304 | 2023-11-19 15:00:05 | James Rendle |
| 305 | 2023-11-19 23:27:39 | Alice Marchena Stanciu |
| 306 | 2023-11-20 19:05:09 | Tia Potter |
| 307 | 2023-11-20 18:44:38 | Tidey Gemma |
| 308 | 2023-11-18 11:44:43 | Darren Eddy Eddy |
| 309 | 2023-11-15 10:51:20 | Chloe Sweatland |
| 310 | 2023-11-20 20:30:08 | Demi Jones |
| 312 | 2023-11-20 19:45:53 | Ken Ferguson |
| 313 | 2023-11-20 20:29:37 | Chelsea Bastone |
| 314 | 2023-11-18 13:20:34 | Rachael Bury |
| 315 | 2023-11-20 19:03:13 | Lisa Glover |
| 316 | 2023-11-18 16:04:24 | Michelle Wallace |
| 317 | 2023-11-20 16:22:56 | Alison Collins |
| 318 | 2023-11-20 17:33:24 | David Taylor |
| 319 | 2023-11-19 19:57:36 | Andrew Clarke |
| 322 | 2023-11-19 18:27:34 | Elliot White |
| 323 | 2023-11-20 10:01:48 | Sami Knott |
| 324 | 2023-11-20 19:22:54 | Steph E |
| 326 | 2023-11-20 00:37:57 | D T |
| 328 | 2023-11-20 01:02:50 | Tia Long |
| 329 | 2023-11-20 20:57:00 | Jennie Barnard |
| 330 | 2023-11-20 20:39:45 | Gail. Gilbert. |
| 331 | 2023-11-20 18:41:25 | Tidey Gemma |
| 332 | 2023-11-20 19:48:14 | Emma Vann-sawicka |
| 333 | 2023-11-20 20:39:45 | Gail. Gilbert. |
| 334 | 2023-11-19 19:01:16 | John Huteson |
| 335 | 2023-11-19 16:48:42 | Emma Potter |
| 336 | 2023-11-20 16:00:35 | richard williams |
| 337 | 2023-11-20 20:13:24 | rafał janas |
| 338 | 2023-11-19 08:39:26 | Kim White |
| 339 | 2023-11-20 19:19:40 | Sadie Madge |
| 340 | 2023-11-16 20:35:36 | Diana Greensmith |
| 342 | 2023-11-17 14:20:00 | Jessica Pellens |
| 343 | 2023-11-20 19:28:43 | Andrea Johnston |
| 344 | 2023-11-20 18:24:24 | Jasmine Harrison |
| 345 | 2023-11-20 18:04:16 | LL BB |
| 346 | 2023-11-20 18:41:25 | Tidey Gemma |
| 347 | 2023-11-20 20:32:06 | Wendy Thompsett |
| 348 | 2023-11-19 17:27:00 | James cartwright |
| 349 | 2023-11-20 18:40:08 | Andrew Squelch |
| 350 | 2023-11-18 19:43:52 | A MM |
| 351 | 2023-11-15 11:40:04 | Anthony Boult |
| 352 | 2023-11-20 20:19:09 | Susan Pike |
| 355 | 2023-11-16 11:02:05 | Beth Wheeler |
| 356 | 2023-11-20 20:15:51 | C A |
| 357 | 2023-11-19 18:30:07 | D T |
| 358 | 2023-11-19 20:53:49 | Carolyne Harper |
| 361 | 2023-11-18 14:42:37 | Chaz P J |
| 363 | 2023-11-20 19:42:55 | Chloe W |
| 365 | 2023-11-19 22:28:45 | Anna Feria Marie - Khan's |
| 366 | 2023-11-19 15:27:11 | Claire Leworthy |
| 367 | 2023-11-20 19:37:56 | James Osben |
| 368 | 2023-11-20 16:06:01 | Vicki Kershaw |
| 369 | 2023-11-16 11:49:46 | Rachael Bury |
| 370 | 2023-11-20 20:55:17 | Joanna Peters |
| 371 | 2023-11-20 20:37:56 | Fiona Gillon |
| 372 | 2023-11-18 12:03:13 | James Rendle |
| 373 | 2023-11-20 18:23:29 | John CHALK |
| 374 | 2023-11-20 15:48:55 | Jade Haley |
| 375 | 2023-11-20 19:39:58 | Stephanie Robinson |
| 376 | 2023-11-18 13:14:55 | martyn palmer |
| 377 | 2023-11-20 20:32:16 | Sallyann Walker |
| 378 | 2023-11-18 15:13:18 | Cassandra Lewis |
| 379 | 2023-11-17 23:26:55 | Tristan wynne |
| 380 | 2023-11-20 19:46:01 | Sophie Trotter |
| 381 | 2023-11-20 15:46:17 | Vikki Knee |
| 382 | 2023-11-19 19:40:52 | Daniele Evans |
| 383 | 2023-11-19 21:37:59 | Charlotte Setchfield |
| 385 | 2023-11-20 00:07:44 | JMS S |
| 386 | 2023-11-20 19:39:41 | Melissa Bailey |
| 388 | 2023-11-20 20:27:59 | Esmé Kershaw |
| 389 | 2023-11-17 23:26:55 | Tristan wynne |
| 390 | 2023-11-20 00:28:24 | Suzanne Riddock |
| 392 | 2023-11-20 20:06:44 | Kerry Shenton |
| 394 | 2023-11-15 19:54:20 | Gemma Nimroozi |
| 395 | 2023-11-18 21:36:10 | Ross Couch |
| 396 | 2023-11-20 20:03:52 | Becky Edge |
| 398 | 2023-11-18 13:46:43 | Amanda Chalk |
| 399 | 2023-11-20 18:26:16 | Natalie Carey |
| 400 | 2023-11-20 18:47:55 | Joanne Rodwell |
| 401 | 2023-11-20 18:46:25 | Kim Briggs |
| 402 | 2023-11-18 17:18:55 | Chris Harnett |
| 403 | 2023-11-16 23:56:53 | Alice French |
| 405 | 2023-11-20 20:19:40 | Shaun Gillard |
| 406 | 2023-11-19 18:28:30 | D T |
| 408 | 2023-11-20 19:19:37 | Darren Martin |
| 412 | 2023-11-19 23:12:30 | Emma Boatwright |
| 413 | 2023-11-18 11:00:59 | Tyne Pollard |
| 414 | 2023-11-20 13:27:10 | Kenneth Alquirez |
| 415 | 2023-11-20 19:04:09 | Rie Cobley |
| 416 | 2023-11-17 14:04:01 | Natasha Mason |
| 417 | 2023-11-20 20:35:57 | Wendy Thompsett |
| 418 | 2023-11-20 17:29:51 | Bex. L. |
| 419 | 2023-11-20 18:32:18 | Michelle Garner |
| 420 | 2023-11-20 14:17:09 | J R |
| 421 | 2023-11-20 14:37:10 | Susan James |
| 422 | 2023-11-20 20:13:38 | Charlotte Barker |
| 424 | 2023-11-20 19:06:56 | Emma Wellings |
| 425 | 2023-11-20 18:43:32 | Mia Owens |
| 426 | 2023-11-20 07:44:31 | Jasmin Etches |
| 427 | 2023-11-20 19:58:15 | Verity Waldron |
| 428 | 2023-11-20 20:50:29 | Calvin Hughes |
| 429 | 2023-11-20 19:07:37 | Darren Mclean |
| 430 | 2023-11-20 18:43:36 | Harry Snell |
| 434 | 2023-11-20 20:19:15 | Kirsty Hook |
| 436 | 2023-11-17 10:40:31 | M B |
| 438 | 2023-11-19 11:02:24 | LL BB |
| 439 | 2023-11-20 20:10:58 | Mrs B |
| 440 | 2023-11-16 19:53:44 | Charlotte Paver |
| 441 | 2023-11-16 21:42:27 | Mike Furness |
| 442 | 2023-11-15 10:54:13 | Kelly Stephens |
| 443 | 2023-11-20 13:41:05 | Karla Bradshaw |
| 444 | 2023-11-20 15:43:45 | Emma & lee |
| 445 | 2023-11-20 20:00:58 | J A Dove |
| 446 | 2023-11-20 11:37:11 | sara hewitt |
| 448 | 2023-11-20 20:03:45 | Kerry Shenton |
| 450 | 2023-11-19 10:15:41 | Kerry McLean |
| 451 | 2023-11-20 08:54:40 | Dawn Prendergast |
| 452 | 2023-11-20 18:19:22 | Charlene Crawford |
| 453 | 2023-11-20 19:21:45 | Gemma Lilley |
| 455 | 2023-11-19 08:49:28 | Maxine Claxton |
| 456 | 2023-11-18 13:49:38 | Amanda Chalk |
| 457 | 2023-11-20 20:53:21 | Brad Ellis |
| 458 | 2023-11-20 19:46:41 | Jade Pook |
| 459 | 2023-11-20 18:29:30 | Chris Penny |
| 460 | 2023-11-20 18:38:59 | M M |
| 461 | 2023-11-20 19:46:41 | Lucy M |
| 463 | 2023-11-20 19:25:25 | Laura Beeson |
| 464 | 2023-11-20 11:20:14 | Jason Parker |
| 465 | 2023-11-18 19:59:48 | Andrew Gillen |
| 466 | 2023-11-18 17:38:05 | Emma Ormrod |
| 467 | 2023-11-20 19:28:11 | Victoria Wort |
| 468 | 2023-11-20 18:13:38 | Nicola Copley |
| 469 | 2023-11-20 18:46:25 | Sam Grinnol |
| 471 | 2023-11-20 11:44:16 | Claire King |
| 472 | 2023-11-16 09:12:30 | Marie Sandford |
| 475 | 2023-11-20 17:33:13 | Zachary Selvey |
| 477 | 2023-11-20 19:16:34 | Lisa Lee |
| 478 | 2023-11-20 16:41:03 | John Sutton |
| 479 | 2023-11-20 15:23:51 | Pat Turner |
| 480 | 2023-11-20 11:50:12 | Naomi Berriman |
| 481 | 2023-11-20 20:32:08 | Jean Winser |
| 482 | 2023-11-20 20:13:36 | Rachel richļĺ |
| 483 | 2023-11-18 21:49:26 | Richard Arnold |
| 484 | 2023-11-20 20:17:06 | Jessica Pellens |
| 485 | 2023-11-20 08:40:31 | Liane Keenan |
| 486 | 2023-11-18 20:02:52 | Kelly Russell |
| 487 | 2023-11-20 00:45:03 | Anna Feria Marie - Khan's |
| 488 | 2023-11-19 09:28:34 | David Taylor |
| 489 | 2023-11-20 18:43:36 | Harry Snell |
| 491 | 2023-11-18 15:36:51 | Julie Woodmore |
| 492 | 2023-11-20 16:31:01 | Michelle Harvey |
| 494 | 2023-11-20 20:59:28 | Kerri Batchelor |
| 495 | 2023-11-20 17:53:53 | Natasha Mason |
| 496 | 2023-11-19 15:15:20 | Elaine Perkins |
| 497 | 2023-11-20 11:37:38 | Stevie Williams |
| 498 | 2023-11-19 20:01:14 | Devon Mckenzie |
| 500 | 2023-11-20 13:08:54 | Tia Potter |
| 501 | 2023-11-20 20:33:43 | India Isaac |
| 504 | 2023-11-20 10:57:25 | Hayley Leaman |
| 505 | 2023-11-20 11:37:11 | sara hewitt |
| 506 | 2023-11-20 18:21:34 | Sinah Kroeger |
| 507 | 2023-11-19 11:02:24 | LL BB |
| 508 | 2023-11-20 18:26:16 | Natalie Carey |
| 509 | 2023-11-18 19:46:39 | Lauren Dillon (O'Mara) |
| 510 | 2023-11-19 11:39:34 | Natasha Mason |
| 511 | 2023-11-20 10:16:59 | Anna Feria Marie - Khan's |
| 512 | 2023-11-16 00:47:41 | Liam Chard-maple |
| 513 | 2023-11-20 21:02:02 | Jeanette Anderson |
| 514 | 2023-11-20 09:10:25 | Jessica Palfrey |
| 515 | 2023-11-18 11:05:20 | Tyne Pollard |
| 516 | 2023-11-16 17:49:04 | Hannah Wilson |
| 517 | 2023-11-18 16:05:12 | Jill Vowden |
| 519 | 2023-11-20 19:28:16 | Paige MacDonald |
| 520 | 2023-11-19 10:26:51 | Kerry McLean |
| 521 | 2023-11-20 19:54:26 | Sarah Randall |
| 522 | 2023-11-18 18:30:59 | Daniel Kneeshaw |
| 524 | 2023-11-20 19:17:58 | Danni Laffey |
| 525 | 2023-11-20 20:33:43 | India Isaac |
| 526 | 2023-11-20 19:37:08 | Jessica Pellens |
| 527 | 2023-11-20 20:25:09 | Eric Marsdon |
| 530 | 2023-11-20 19:27:10 | Helen Harris |
| 531 | 2023-11-20 18:49:30 | Richard Legge |
| 532 | 2023-11-19 11:52:23 | Pamela Mcilveen |
| 534 | 2023-11-20 18:56:48 | avalon parkes-barton |
| 535 | 2023-11-20 16:18:38 | Aim P |
| 536 | 2023-11-20 06:43:27 | d k J |
| 537 | 2023-11-20 20:18:47 | D T |
| 538 | 2023-11-20 19:40:48 | Jade Ashton |
| 539 | 2023-11-20 19:24:23 | Rachael Walton |
| 540 | 2023-11-16 14:54:14 | Iain Thomas |
| 541 | 2023-11-20 20:27:23 | Steph E |
| 542 | 2023-11-18 15:11:10 | Robert Mucklow |
| 543 | 2023-11-18 17:48:01 | Sarah Kallmeier |
| 544 | 2023-11-16 00:49:20 | Liam Chard-maple |
| 546 | 2023-11-20 18:34:28 | Jamie dipple |
| 547 | 2023-11-20 09:56:15 | Natalie Carey |
| 548 | 2023-11-18 14:19:16 | Samantha Bailey |
| 549 | 2023-11-19 10:26:51 | Kerry McLean |
| 550 | 2023-11-17 20:14:45 | Victoria Lang |
| 551 | 2023-11-15 12:44:03 | Antonia Wilson |
| 552 | 2023-11-20 19:37:46 | Linda Scott |
| 553 | 2023-11-20 18:36:02 | Naomi Stockton |
| 554 | 2023-11-20 15:11:19 | Lee Gable |
| 555 | 2023-11-20 19:00:59 | Richard Legge |
| 557 | 2023-11-20 21:04:01 | Sam Pride |
| 558 | 2023-11-20 12:40:41 | Liz Morrison |
| 559 | 2023-11-20 20:15:54 | Danielle Tennant |
| 560 | 2023-11-20 20:35:34 | Fay Lees |
| 561 | 2023-11-19 14:56:22 | Dolly Davis |
| 562 | 2023-11-20 19:19:48 | Laurette Howard |
| 563 | 2023-11-19 21:52:00 | Libby Comley |
| 565 | 2023-11-20 19:46:41 | Jade Pook |
| 567 | 2023-11-20 20:24:28 | Nicola Mclean |
| 568 | 2023-11-16 19:33:04 | Kylie reeves |
| 569 | 2023-11-20 20:30:05 | Mark Higham |
| 570 | 2023-11-20 21:06:49 | Sam Pride |
| 571 | 2023-11-20 16:34:01 | Georgina Marshall |
| 572 | 2023-11-20 19:22:03 | Stephanie Morton |
| 573 | 2023-11-19 03:57:44 | Jason Matthews |
| 574 | 2023-11-19 17:48:10 | Steph E |
| 575 | 2023-11-18 15:08:29 | Laura Roche |
| 576 | 2023-11-20 21:00:05 | Victor Chappell |
| 577 | 2023-11-20 15:41:18 | Anika Warnes |
| 579 | 2023-11-20 20:40:31 | Amanda Macdonald-Brown |
| 580 | 2023-11-20 20:29:39 | Kelie Haines |
| 581 | 2023-11-20 19:50:05 | Mike M |
| 582 | 2023-11-20 12:54:46 | Mark Frost |
| 583 | 2023-11-20 20:07:38 | Danielle Benn |
| 585 | 2023-11-20 20:14:27 | Kaylie T |
| 586 | 2023-11-20 20:30:52 | A M |
| 588 | 2023-11-19 13:42:36 | Emma King |
| 589 | 2023-11-16 21:00:29 | Sam Heath |
| 590 | 2023-11-19 19:11:39 | C B |
| 591 | 2023-11-20 20:33:21 | Steph E |
| 592 | 2023-11-20 20:14:36 | Libby H |
| 593 | 2023-11-20 15:12:02 | Shazzy Mazzy |
| 598 | 2023-11-20 18:23:12 | Stuart Urquhart |
| 599 | 2023-11-15 20:37:10 | Ryan kirby |
| 600 | 2023-11-18 09:49:27 | P C |
| 601 | 2023-11-20 20:44:30 | Alex Devaney |
| 602 | 2023-11-20 00:56:31 | Anna Feria Marie - Khan's |
| 605 | 2023-11-19 18:05:03 | A.T W. |
| 606 | 2023-11-20 19:45:53 | Ken Ferguson |
| 607 | 2023-11-20 19:03:12 | Charlotte Shaw |
| 608 | 2023-11-20 10:51:30 | Claire Bolton |
| 609 | 2023-11-18 17:59:19 | Sarah Durham |
| 610 | 2023-11-19 15:44:28 | Domenic Meffe |
| 611 | 2023-11-20 19:17:41 | Darren Mclean |
| 612 | 2023-11-20 16:26:00 | J R |
| 613 | 2023-11-20 19:22:19 | Jenna Flower |
| 614 | 2023-11-20 18:50:14 | Jessica Pellens |
| 615 | 2023-11-20 18:39:21 | Emma Henning |
| 616 | 2023-11-20 20:53:19 | Nicola Bowyer |
| 618 | 2023-11-20 00:37:57 | D T |
| 619 | 2023-11-20 18:01:49 | Victor Chappell |
| 620 | 2023-11-20 19:16:25 | Stephen Adshead |
| 622 | 2023-11-17 03:46:22 | Laila Schofield |
| 623 | 2023-11-18 17:39:43 | Emma Ormrod |
| 624 | 2023-11-20 19:17:41 | Darren Mclean |
| 625 | 2023-11-16 11:56:27 | Jessica Pellens |
| 626 | 2023-11-20 19:38:00 | Jade Ashton |
| 627 | 2023-11-20 13:51:23 | Claire Darby |
| 629 | 2023-11-16 21:42:27 | Mike Furness |
| 630 | 2023-11-20 16:47:16 | Sian Littlechild |
| 631 | 2023-11-20 19:53:02 | Laura Holtby |
| 632 | 2023-11-20 19:49:24 | Chloe Cox |
| 633 | 2023-11-20 18:52:13 | Victoria Bose |
| 634 | 2023-11-19 17:25:19 | Jessica Pellens |
| 635 | 2023-11-20 19:16:25 | Stephen Adshead |
| 636 | 2023-11-20 19:02:18 | R McCabe |
| 638 | 2023-11-20 20:45:16 | Sam Pride |
| 639 | 2023-11-20 19:39:58 | Stephanie Robinson |
| 640 | 2023-11-19 14:43:38 | Stephen Knight |
| 641 | 2023-11-20 13:11:23 | Bianca Billett |
| 642 | 2023-11-18 20:48:40 | Kaylee Enevoldsen |
| 643 | 2023-11-20 19:04:50 | Daniel Paddington |
| 646 | 2023-11-20 20:52:14 | Danielle Beavis |
| 647 | 2023-11-20 19:45:33 | Lily McAdam |
| 649 | 2023-11-18 21:14:28 | Claire Beagley |
| 650 | 2023-11-19 18:16:02 | Tara Evans |
| 654 | 2023-11-19 16:05:38 | Heather Turnstill |
| 655 | 2023-11-20 18:29:30 | Chris Penny |
| 656 | 2023-11-20 19:55:12 | Suzi Gooding |
| 657 | 2023-11-18 21:49:26 | Richard Arnold |
| 658 | 2023-11-18 18:43:06 | Dominic Packer |
| 659 | 2023-11-20 19:17:30 | Claire Tompkinson |
| 660 | 2023-11-18 02:54:50 | Brooke Cheesmond |
| 661 | 2023-11-20 19:43:21 | Craig Kendall |
| 663 | 2023-11-18 13:34:11 | Jade Hook |
| 664 | 2023-11-15 11:10:58 | Jeffery Moseley |
| 666 | 2023-11-18 17:35:05 | Paige Mathers |
| 667 | 2023-11-20 19:37:40 | Lucy Cronk |
| 669 | 2023-11-20 20:15:11 | Bill Danks |
| 670 | 2023-11-18 10:28:34 | Tanya Horswill |
| 672 | 2023-11-20 08:53:26 | Lauren Stevens |
| 673 | 2023-11-20 18:33:29 | Sally-Ann Poole |
| 674 | 2023-11-20 20:24:42 | M H |
| 675 | 2023-11-15 14:43:10 | Janaken Thavanessan |
| 676 | 2023-11-15 22:04:23 | Natalie Carey |
| 678 | 2023-11-20 18:54:27 | Sophie Smith |
| 679 | 2023-11-19 04:58:14 | Jason Matthews |
| 680 | 2023-11-20 18:45:44 | Alison Jeffries |
| 681 | 2023-11-20 14:31:34 | Maisie Stoddard Turvey |
| 682 | 2023-11-20 17:53:53 | Natasha Mason |
| 683 | 2023-11-20 18:06:08 | Kelly Russell |
| 684 | 2023-11-20 17:15:10 | Gary King |
| 686 | 2023-11-20 14:16:25 | JMS S |
| 687 | 2023-11-19 08:51:26 | S S |
| 689 | 2023-11-20 16:31:01 | Michelle Harvey |
| 690 | 2023-11-20 20:13:41 | richard williams |
| 691 | 2023-11-18 17:50:13 | Jessica Palfrey |
| 692 | 2023-11-20 21:02:38 | Joanna Peters |
| 693 | 2023-11-20 20:58:38 | Victor Chappell |
| 694 | 2023-11-20 20:17:30 | Viviane Letchford |
| 695 | 2023-11-16 11:36:17 | JMS S |
| 696 | 2023-11-16 17:43:32 | Sharon Saunders |
| 697 | 2023-11-18 17:58:43 | Aaron Carpenter |
| 698 | 2023-11-20 19:52:50 | Steve Wright |
| 702 | 2023-11-20 19:33:46 | Terell Moon |
| 703 | 2023-11-19 20:10:32 | Harriet Bellchambers |
| 704 | 2023-11-18 20:30:19 | Nick Bartlett |
| 707 | 2023-11-20 18:12:09 | Nicola Copley |
| 710 | 2023-11-20 18:19:25 | Jenna Wadling |
| 711 | 2023-11-20 18:18:22 | Aimee Thompson |
| 712 | 2023-11-15 10:51:46 | Hannah Charnley |
| 714 | 2023-11-19 19:01:16 | John Huteson |
| 715 | 2023-11-20 20:27:43 | John Willoughby |
| 716 | 2023-11-18 13:40:17 | Anamarie Chidgey |
| 720 | 2023-11-18 10:12:04 | Darryl Nichols |
| 721 | 2023-11-15 21:53:50 | Mandie Loxley |
| 722 | 2023-11-20 20:06:14 | Steven Newton |
| 724 | 2023-11-20 20:11:50 | Elaine Perkins |
| 725 | 2023-11-20 20:39:02 | Shirley Field |
| 726 | 2023-11-19 04:16:19 | Jason Matthews |
| 727 | 2023-11-19 20:32:20 | Kayleigh Stewart |
| 728 | 2023-11-20 20:24:42 | M H |
| 729 | 2023-11-20 13:44:14 | Sam Oneill |
| 730 | 2023-11-20 18:52:44 | Robyn Bennett |
| 731 | 2023-11-18 10:46:03 | Christopher Priest |
| 732 | 2023-11-20 18:58:46 | Tracey Grant |
| 733 | 2023-11-17 23:42:48 | JMS S |
| 734 | 2023-11-18 20:35:47 | Stephanie Holdford |
| 735 | 2023-11-18 22:23:36 | Kerry Westcott |
| 736 | 2023-11-20 17:59:43 | Jade Clark |
| 738 | 2023-11-18 14:24:35 | Verity Dechan |
| 739 | 2023-11-18 14:14:21 | Janice Parker-Done |
| 740 | 2023-11-20 18:48:43 | Robbie Sherratt |
| 741 | 2023-11-18 23:15:13 | Abi Parnell |
| 742 | 2023-11-19 16:54:28 | Andy Nolan |
| 743 | 2023-11-18 14:42:24 | James Rendle |
| 744 | 2023-11-18 20:17:18 | Josh Patterson |
| 746 | 2023-11-20 19:02:00 | Tayler Bradley |
| 748 | 2023-11-20 20:23:47 | Ashleigh Avery |
| 749 | 2023-11-20 19:55:12 | Suzi Gooding |
| 750 | 2023-11-20 18:14:21 | Krzysztof Bakalarz |
| 754 | 2023-11-20 20:10:39 | Gemma Lambeth |
| 755 | 2023-11-16 16:01:47 | Thea Warren |
| 756 | 2023-11-20 19:09:03 | Jess Ellis |
| 757 | 2023-11-20 13:08:54 | Tia Potter |
| 758 | 2023-11-20 19:04:15 | Richard Legge |
| 762 | 2023-11-20 19:04:15 | Richard Legge |
| 764 | 2023-11-20 12:57:39 | Charlotte Briggs |
| 765 | 2023-11-20 19:04:15 | Richard Legge |
| 766 | 2023-11-19 20:46:37 | JMS S |
| 767 | 2023-11-19 09:32:53 | Amy Cheung |
| 768 | 2023-11-20 15:23:51 | Pat Turner |
| 769 | 2023-11-20 18:26:07 | Sarah Widdop |
| 770 | 2023-11-19 21:08:40 | Jamie Hassan |
| 771 | 2023-11-15 17:27:31 | Lauren Charlesworth |
| 772 | 2023-11-19 09:52:00 | Kerry Thompson |
| 773 | 2023-11-20 18:53:14 | Gem Roe |
| 774 | 2023-11-20 20:07:45 | Jade Bassett |
| 775 | 2023-11-20 20:41:39 | Archie Dodge |
| 777 | 2023-11-17 17:47:12 | Jessica Pellens |
| 779 | 2023-11-18 23:20:45 | Wai YEUNG |
| 780 | 2023-11-19 22:03:14 | Christie Richards |
| 781 | 2023-11-20 20:10:49 | Sadie Steadman |
| 782 | 2023-11-18 11:00:59 | Tyne Pollard |
| 784 | 2023-11-16 11:49:46 | Rachael Bury |
| 785 | 2023-11-20 18:28:08 | Sadie Vicary |
| 788 | 2023-11-19 17:00:12 | Claire Hannah |
| 789 | 2023-11-20 15:54:53 | Lauren Wigggett |
| 790 | 2023-11-20 20:26:07 | Jessica Pellens |
| 792 | 2023-11-19 13:31:22 | Becci Vayle |
| 793 | 2023-11-18 20:41:59 | Jamie Hext |
| 795 | 2023-11-20 19:19:24 | Camilla Greenan |
| 796 | 2023-11-18 12:59:14 | Helen Gudgin |
| 797 | 2023-11-20 17:19:49 | Daniel Lillico |
| 798 | 2023-11-20 21:04:06 | T S |
| 799 | 2023-11-18 13:14:55 | martyn palmer |
| 800 | 2023-11-20 11:50:12 | Naomi Berriman |
| 802 | 2023-11-20 20:20:48 | Joanne Stewart |
| 803 | 2023-11-20 18:26:52 | Dominic French |
| 805 | 2023-11-20 19:49:10 | Jessica Pellens |
| 806 | 2023-11-20 19:01:24 | Liam West |
| 807 | 2023-11-15 16:27:41 | Mel knight |
| 808 | 2023-11-18 19:17:48 | Michelle Henry |
| 810 | 2023-11-19 10:42:19 | Verity Dechan |
| 812 | 2023-11-20 20:51:54 | G B |
| 813 | 2023-11-19 19:23:50 | Richard Celli |
| 814 | 2023-11-20 18:27:18 | Hayley Jackson |
| 815 | 2023-11-20 17:05:07 | Devon Mckenzie |
| 817 | 2023-11-20 19:41:50 | Steph E |
| 818 | 2023-11-20 20:36:14 | Claire Watts |
| 819 | 2023-11-19 20:29:39 | Lucy Hobbs |
| 820 | 2023-11-20 13:35:56 | Rachi B |
| 821 | 2023-11-19 23:53:10 | LL BB |
| 822 | 2023-11-20 19:15:47 | David Holloway |
| 823 | 2023-11-20 18:05:17 | Hannah Jones |
| 824 | 2023-11-20 20:54:28 | Ashley Herron |
| 825 | 2023-11-20 00:58:15 | Suzanne Riddock |
| 826 | 2023-11-19 17:05:38 | Fliss Wright |
| 827 | 2023-11-20 13:42:02 | Chelsea Bradbury |
| 829 | 2023-11-20 18:54:37 | Jade Bolsworth |
| 831 | 2023-11-18 20:56:46 | Levi Crutchley |
| 832 | 2023-11-20 20:13:41 | richard williams |
| 834 | 2023-11-19 18:35:12 | Tyne Pollard |
| 835 | 2023-11-19 21:34:53 | Susan Y |
| 836 | 2023-11-19 17:49:50 | Tracey Bennett |
| 837 | 2023-11-18 22:55:01 | Mr Egon Longish |
| 838 | 2023-11-20 19:42:55 | Chloe W |
| 839 | 2023-11-20 20:52:56 | Emma Pride |
| 840 | 2023-11-20 00:28:24 | Suzanne Riddock |
| 842 | 2023-11-20 18:47:19 | Kirsty Sanderson |
| 843 | 2023-11-20 20:42:53 | Paul George |
| 844 | 2023-11-20 11:18:05 | Philip Eddy |
| 845 | 2023-11-20 19:06:47 | Paige Walker |
| 846 | 2023-11-18 17:06:36 | Ryan kirby |
| 847 | 2023-11-20 18:40:08 | Lauren Mountjoy |
| 848 | 2023-11-20 19:51:22 | Siobhan Ward |
| 849 | 2023-11-15 19:27:47 | Katrina OConnor |
| 851 | 2023-11-18 13:44:42 | Anamarie Chidgey |
| 852 | 2023-11-15 11:02:53 | matthew glover |
| 853 | 2023-11-20 20:11:07 | Wahida Sussex |
| 854 | 2023-11-15 10:51:51 | Thomas Mcbride |
| 855 | 2023-11-20 21:03:28 | Jenna Finch |
| 856 | 2023-11-15 18:59:28 | Jeffery Moseley |
| 858 | 2023-11-20 20:18:31 | Jemma Harrison |
| 859 | 2023-11-20 20:34:18 | Jessica Pellens |
| 860 | 2023-11-18 17:11:52 | Stuart Mowatt |
| 862 | 2023-11-20 19:41:49 | Rachel Paine |
| 864 | 2023-11-16 13:14:48 | S E H |
| 867 | 2023-11-18 20:04:47 | Jonny Boy |
| 868 | 2023-11-19 08:36:41 | Nicole Whitehead |
| 869 | 2023-11-20 14:26:57 | Emma Wills |
| 870 | 2023-11-18 13:00:42 | Chris Allen |
| 871 | 2023-11-18 20:04:35 | Liam Chard-maple |
| 872 | 2023-11-18 20:29:32 | Jem V |
| 874 | 2023-11-20 19:24:45 | Katherine Povey |
| 875 | 2023-11-20 19:30:46 | Lucy Burridge |
| 876 | 2023-11-20 18:49:49 | Tracy Mills |
| 877 | 2023-11-20 17:37:26 | Chantelle Adams |
| 878 | 2023-11-19 15:00:05 | James Rendle |
| 879 | 2023-11-18 09:05:08 | Lee Horswill |
| 880 | 2023-11-20 20:06:46 | Georgia Harvey |
| 881 | 2023-11-16 00:38:14 | Liam Chard-maple |
| 882 | 2023-11-20 16:39:20 | Brian John |
| 883 | 2023-11-20 19:57:46 | Carrie Froom |
| 884 | 2023-11-20 09:56:15 | Natalie Carey |
| 886 | 2023-11-16 21:27:29 | Julie Woodmore |
| 887 | 2023-11-20 17:52:27 | Emily Joyce |
| 888 | 2023-11-20 18:36:53 | Ashley Metcalfe |
| 889 | 2023-11-20 18:49:11 | Mark Lowe |
| 892 | 2023-11-16 20:11:59 | R P |
| 893 | 2023-11-20 19:15:47 | David Holloway |
| 894 | 2023-11-20 19:54:25 | Luke Parr |
| 895 | 2023-11-20 20:40:52 | T P |
| 896 | 2023-11-20 19:39:58 | Stephanie Robinson |
| 898 | 2023-11-19 21:09:53 | Holly Kemp |
| 899 | 2023-11-19 20:44:26 | Simon Smale |
| 900 | 2023-11-20 19:50:05 | Mike M |
| 901 | 2023-11-20 08:44:15 | Victor Chappell |
| 902 | 2023-11-20 05:35:45 | E L |
| 903 | 2023-11-18 17:21:02 | James Yearling |
| 904 | 2023-11-20 20:42:41 | Rebecca Davies |
| 905 | 2023-11-20 20:51:41 | Steph E |
| 906 | 2023-11-20 18:12:02 | Roxanne Cane |
| 907 | 2023-11-20 04:59:48 | Johnathan Bury |
| 908 | 2023-11-18 13:47:41 | Emma Louise |
| 909 | 2023-11-20 19:17:41 | Darren Mclean |
| 910 | 2023-11-20 18:49:04 | Steve Price |
| 911 | 2023-11-19 09:17:38 | Christopher Priest |
| 913 | 2023-11-18 11:30:27 | Alexander Ross |
| 914 | 2023-11-20 13:13:17 | Rachel Green |
| 915 | 2023-11-20 18:30:46 | Laura Wathes |
| 916 | 2023-11-18 14:07:18 | Leah Sheehan |
| 917 | 2023-11-19 18:16:02 | Tara Evans |
| 918 | 2023-11-19 18:49:19 | Sally Laing |
| 919 | 2023-11-20 20:13:24 | rafał janas |
| 920 | 2023-11-18 17:35:05 | Paige Mathers |
| 921 | 2023-11-20 20:14:10 | Linda Hazlewood |
| 922 | 2023-11-18 16:31:18 | Jodie Bird |
| 923 | 2023-11-20 19:09:24 | Natasha Hollingsworth |
| 924 | 2023-11-20 19:06:56 | Emma Wellings |
| 925 | 2023-11-20 17:29:51 | Bex. L. |
| 926 | 2023-11-20 20:23:29 | Chris Gibbons |
| 927 | 2023-11-20 19:24:45 | Katherine Povey |
| 928 | 2023-11-15 10:53:27 | Darryl Nichols |
| 929 | 2023-11-18 20:48:40 | Kaylee Enevoldsen |
| 930 | 2023-11-19 21:20:07 | Kim Briggs |
| 931 | 2023-11-20 18:02:37 | John Beardon |
| 933 | 2023-11-20 20:41:56 | Kirsty Beckett |
| 934 | 2023-11-15 10:51:16 | Simon Paris |
| 938 | 2023-11-20 17:28:11 | Susie watt |
| 939 | 2023-11-20 11:50:12 | Naomi Berriman |
| 940 | 2023-11-20 10:16:59 | Anna Feria Marie - Khan's |
| 941 | 2023-11-18 20:32:58 | Michael Stamper |
| 942 | 2023-11-20 19:22:22 | Sophie Borrie |
| 943 | 2023-11-19 09:17:38 | Christopher Priest |
| 944 | 2023-11-20 20:35:55 | Jo Pennington |
| 946 | 2023-11-19 22:28:45 | Anna Feria Marie - Khan's |
| 947 | 2023-11-19 00:20:01 | Anna Feria Marie - Khan's |
| 949 | 2023-11-20 11:47:47 | Jeffery Moseley |
| 950 | 2023-11-18 22:23:36 | Kerry Westcott |
| 951 | 2023-11-16 21:42:27 | Mike Furness |
| 952 | 2023-11-19 22:32:04 | Lottie Howitt |
| 953 | 2023-11-19 13:20:14 | Ma Roberts |
| 955 | 2023-11-19 16:09:14 | A.T W. |
| 957 | 2023-11-20 20:27:14 | Roxanne Hobbs |
| 958 | 2023-11-18 10:42:17 | Steven Teed |
| 963 | 2023-11-16 13:24:20 | Sarah Pridmore |
| 965 | 2023-11-20 18:41:25 | Tidey Gemma |
| 967 | 2023-11-20 19:47:21 | Simon Dare |
| 968 | 2023-11-20 20:26:19 | David Fitzsimmons |
| 969 | 2023-11-19 23:21:58 | Elaine Perkins |
| 970 | 2023-11-20 21:04:30 | Michaela Nodwell |
| 971 | 2023-11-18 18:44:18 | Lauren Wigggett |
| 972 | 2023-11-18 18:58:37 | Michael King |
| 973 | 2023-11-20 19:00:59 | Richard Legge |
| 974 | 2023-11-20 19:25:09 | Crystal Taylor |
| 975 | 2023-11-17 09:09:31 | Sarah Crook |
| 977 | 2023-11-20 18:56:02 | Nicola Walker |
| 978 | 2023-11-20 18:57:56 | Holly Ring |
| 979 | 2023-11-20 20:12:11 | Marie Day |
| 980 | 2023-11-20 19:50:05 | Mike M |
| 982 | 2023-11-19 17:42:42 | Ian Stone |
| 983 | 2023-11-19 20:00:25 | Kathryn Bush |
| 985 | 2023-11-20 19:12:30 | Jon Moss |
| 987 | 2023-11-20 20:58:50 | Ian O'Connor |
| 988 | 2023-11-20 19:24:32 | Robbie Sherratt |
| 989 | 2023-11-20 19:10:43 | Jared Baker |
| 992 | 2023-11-20 19:08:40 | Tracy Crocker |
| 993 | 2023-11-20 19:09:12 | Laura Ware |
| 994 | 2023-11-18 18:49:13 | Garnsworthy Toni |
| 995 | 2023-11-20 19:15:47 | David Holloway |
| 996 | 2023-11-19 15:03:00 | Nadine Galliford |
| 997 | 2023-11-20 20:15:27 | Diana Clough |
| 998 | 2023-11-18 14:24:35 | Verity Dechan |
| 1000 | 2023-11-20 19:30:20 | C R |