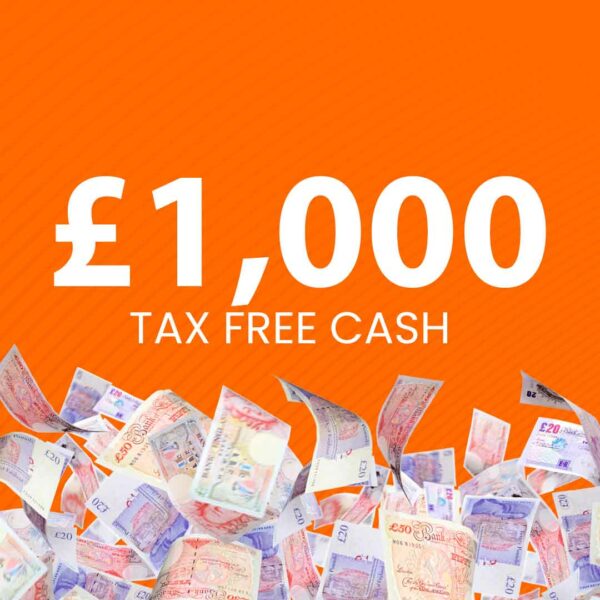 WIN £1000 TAX FREE CASH!!! BONUS £50 INSTANT WIN PRIZE
Description
WIN £1000 CASH FOR ONLY £1.49!
£1000 Cash!
Tickets just £1.49!
Great Odds!
100% guaranteed draw, no rollovers,
PLUS – FIND THE BONUS TICKET AND INSTANTLY WIN £50!
Buy your tickets for this competition and check your ticket numbers. If you have this week's Bonus Ticket number, you will instantly win £50!
This week's BONUS Ticket number is 663
All ticket numbers are generated at random by the system.
| Winner Name | Ticket Number | Draw Date |
| --- | --- | --- |
| Lenka Rowsell | 807 | 22/04/2022 |
1-100
101-200
201-300
301-400
401-500
501-600
601-700
701-800
801-900
901-1000
1001-1100
| Ticket Number | Date | Name |
| --- | --- | --- |
| 1 | 2022-04-22 18:05:01 | Ellie Booth |
| 2 | 2022-04-21 19:46:09 | Julie Wright |
| 3 | 2022-04-19 10:49:24 | Alison Kennard |
| 4 | 2022-04-22 15:23:57 | Jenny Baskerville |
| 5 | 2022-04-22 07:41:18 | Melanie Standfast |
| 6 | 2022-04-22 07:44:15 | Regina Phalange |
| 7 | 2022-04-22 09:17:30 | Sonia Holden |
| 8 | 2022-04-22 13:30:15 | Roxanne Frayne |
| 9 | 2022-04-22 12:04:40 | Megan Chapple |
| 10 | 2022-04-21 21:36:24 | Sam Harper |
| 11 | 2022-04-22 18:19:25 | Lesley Foy |
| 12 | 2022-04-22 18:48:30 | Victoria Paddon |
| 13 | 2022-04-22 02:33:43 | Heather Mee |
| 14 | 2022-04-22 09:23:34 | Rachael Young |
| 15 | 2022-04-22 17:27:18 | Yvonne Mabry |
| 16 | 2022-04-22 13:15:31 | Ian Anslow |
| 17 | 2022-04-22 12:40:55 | Charlotte Osborne |
| 18 | 2022-04-21 07:26:41 | Sarah Fox |
| 19 | 2022-04-22 06:12:28 | Matt Parsons |
| 20 | 2022-04-20 08:58:37 | jan blackler |
| 21 | 2022-04-22 18:29:30 | Alisha Hackman |
| 22 | 2022-04-19 10:54:18 | Steph Cude |
| 23 | 2022-04-20 12:44:32 | June Hooton |
| 24 | 2022-04-22 08:05:08 | Joanne Pennington |
| 25 | 2022-04-22 18:39:01 | Victoria Morris |
| 26 | 2022-04-22 19:02:24 | Laura Baker |
| 27 | 2022-04-22 09:24:19 | Ben Petherick |
| 28 | 2022-04-22 17:25:35 | Lynda Buswell89 |
| 29 | 2022-04-19 11:41:36 | Chantal Caton |
| 30 | 2022-04-19 13:35:10 | Elizabeth Merrett |
| 31 | 2022-04-22 18:45:17 | Ian Bennett |
| 32 | 2022-04-21 21:33:03 | Amy Rowland |
| 33 | 2022-04-21 20:27:49 | Sharon marie Williams |
| 34 | 2022-04-22 18:46:20 | Tanya Sumner |
| 35 | 2022-04-20 17:30:46 | Hannah Elliott |
| 36 | 2022-04-22 13:15:31 | Ian Anslow |
| 37 | 2022-04-22 18:04:37 | Chloe Anning |
| 38 | 2022-04-22 08:34:54 | Marie Sandford |
| 39 | 2022-04-22 08:30:58 | Staceyy Clack |
| 40 | 2022-04-21 14:07:52 | Chloe Warren |
| 41 | 2022-04-20 11:24:24 | Sharon White |
| 42 | 2022-04-22 18:27:39 | Rebecca Cronin |
| 43 | 2022-04-20 21:51:01 | Amanda Gerry-O'Connor |
| 44 | 2022-04-22 14:51:19 | Karen Collins |
| 45 | 2022-04-22 18:49:01 | Catherine Johnson |
| 46 | 2022-04-19 11:50:10 | Elle Lockhart |
| 47 | 2022-04-21 22:25:04 | Philippa Smith |
| 48 | 2022-04-22 18:39:26 | Lucy Barrett |
| 49 | 2022-04-22 18:28:49 | Kayleigh Skinner |
| 50 | 2022-04-22 10:04:07 | Natasha Allen |
| 51 | 2022-04-22 18:24:56 | Mark Lofthouse |
| 52 | 2022-04-20 21:01:14 | 9louise steer |
| 53 | 2022-04-21 17:48:57 | Caroline Godfrey |
| 54 | 2022-04-22 18:53:11 | Sharron Birds |
| 55 | 2022-04-19 18:37:44 | Laura Paton |
| 56 | 2022-04-22 19:03:19 | Louise Dymond-Tooze |
| 57 | 2022-04-21 12:03:03 | Jess Ellis |
| 58 | 2022-04-22 18:19:22 | Christine Hodgson |
| 59 | 2022-04-22 12:20:37 | Kayleigh Bridges |
| 60 | 2022-04-22 17:41:35 | Fiona turnbull |
| 61 | 2022-04-22 18:24:56 | Mark Lofthouse |
| 62 | 2022-04-22 15:35:55 | Beth Heard |
| 63 | 2022-04-22 13:38:41 | Chantel Whitford |
| 64 | 2022-04-22 16:13:30 | Emma L |
| 65 | 2022-04-21 20:52:13 | Shannon Walsh |
| 66 | 2022-04-19 19:24:41 | Emma Uden |
| 67 | 2022-04-22 13:53:44 | Susan Langford |
| 68 | 2022-04-22 18:41:15 | Debbie Bradshaw |
| 69 | 2022-04-20 11:24:53 | Emma Jones |
| 70 | 2022-04-22 17:27:18 | Yvonne Mabry |
| 71 | 2022-04-22 18:30:02 | Tom Smart |
| 72 | 2022-04-21 19:43:40 | Sarah Faulkner-lloyd |
| 73 | 2022-04-22 15:23:57 | Jenny Baskerville |
| 74 | 2022-04-21 22:15:28 | Chelsie Smith |
| 75 | 2022-04-19 11:03:02 | Chris Wills |
| 76 | 2022-04-22 09:14:23 | Michael O'connor |
| 77 | 2022-04-19 10:24:17 | Deborah Talbot |
| 78 | 2022-04-19 18:37:44 | Laura Paton |
| 79 | 2022-04-21 12:45:21 | MARK HAMILTON |
| 80 | 2022-04-20 00:35:57 | Nicola Hamilton |
| 81 | 2022-04-22 06:12:28 | Matt Parsons |
| 82 | 2022-04-22 18:40:45 | Tracey Beer |
| 83 | 2022-04-22 09:00:28 | Matt Bowden |
| 84 | 2022-04-22 18:56:20 | Toby BAMSEY |
| 85 | 2022-04-20 22:05:54 | Alison Cass |
| 86 | 2022-04-22 16:32:04 | Becca Hirst |
| 87 | 2022-04-20 21:40:08 | Alicia Sandercock |
| 88 | 2022-04-22 19:03:19 | Louise Dymond-Tooze |
| 89 | 2022-04-22 07:07:39 | Louise Nickels |
| 90 | 2022-04-22 16:28:45 | Yasmine Driscoll |
| 91 | 2022-04-22 11:23:21 | Penny Wickham |
| 92 | 2022-04-22 15:33:28 | Megan Lee |
| 93 | 2022-04-22 19:10:55 | Chris Barnwell |
| 94 | 2022-04-22 19:09:51 | Paula Horrocks |
| 95 | 2022-04-22 18:48:00 | Stephanie Mayo |
| 96 | 2022-04-20 13:32:53 | Sarah Dennis |
| 97 | 2022-04-22 02:33:43 | Heather Mee |
| 98 | 2022-04-22 19:08:52 | Natasha Parnell |
| 99 | 2022-04-22 16:13:30 | Emma L |
| 100 | 2022-04-22 15:59:52 | Hannah Harrison-scott |