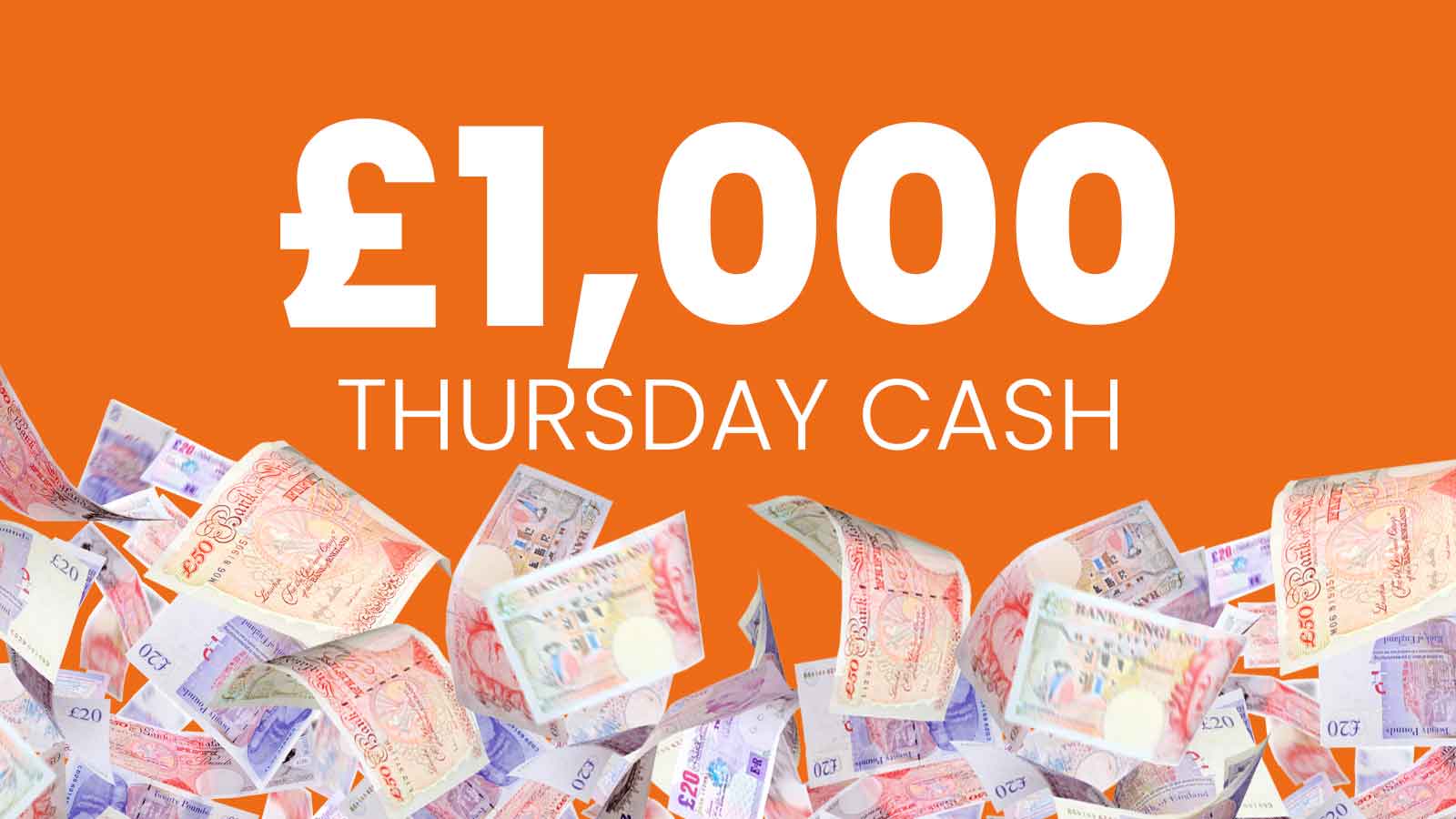 WIN £1,000 ON THURSDAY FOR £1.49 – 4/8
Description
How do you fancy getting £1,000 richer? One lucky winner will be receiving £1,000 cash straight into their bank from a £1,49 ticket.
What would you spend your win on? New car? Holiday? New clothes? A night out? Well, it's up to you. All you have to do is win first.
Good luck you beauty.
| Winner Name | Ticket Number | Draw Date |
| --- | --- | --- |
| Elliott Bryant | 324 | 04/08/2022 |
1-200
201-400
401-600
601-800
801-1000
1001-1200
| Ticket Number | Date | Name |
| --- | --- | --- |
| 1 | 2022-08-04 05:20:25 | Stevielee Moseley |
| 2 | 2022-08-04 10:11:11 | Tilly Davey |
| 3 | 2022-08-04 09:18:05 | Jade Haley |
| 4 | 2022-08-03 21:04:59 | Chelsea Mills |
| 5 | 2022-07-30 16:39:55 | Shanice Shepherd |
| 6 | 2022-08-03 21:04:59 | Chelsea Mills |
| 7 | 2022-08-03 20:51:04 | Alison Binnie |
| 8 | 2022-08-03 21:33:29 | Rachel Salloway |
| 9 | 2022-08-02 22:29:32 | Mark Pease |
| 10 | 2022-08-03 11:24:13 | Kelly Cornish |
| 11 | 2022-08-03 14:37:53 | Kerry Roach |
| 12 | 2022-08-03 23:09:37 | Joanna Johnson-laird |
| 13 | 2022-08-03 17:30:00 | Cally Fraser |
| 14 | 2022-08-03 07:45:58 | Hannah Wall |
| 15 | 2022-08-03 20:17:52 | Kate Nicholas |
| 16 | 2022-08-03 21:04:59 | Chelsea Mills |
| 17 | 2022-08-03 22:36:27 | Charlotte Steel |
| 18 | 2022-07-29 12:16:48 | Chris Birt |
| 19 | 2022-07-31 11:20:53 | Sharron Nevins |
| 20 | 2022-08-04 12:22:13 | Michael t O'connor |
| 21 | 2022-07-30 21:49:08 | Lisa Roberts |
| 22 | 2022-08-04 16:35:56 | Elliott Bryant |
| 23 | 2022-08-03 22:05:11 | Lucy Mulligan |
| 24 | 2022-08-01 00:44:47 | Emma Louise |
| 25 | 2022-08-04 08:19:49 | Debs Hamilton |
| 26 | 2022-08-04 11:18:19 | Rachel Scott |
| 27 | 2022-08-02 22:29:32 | Mark Pease |
| 28 | 2022-08-02 22:29:32 | Mark Pease |
| 29 | 2022-08-03 17:30:00 | Cally Fraser |
| 30 | 2022-08-03 20:51:04 | Alison Binnie |
| 31 | 2022-08-04 17:09:56 | Amanda Ruddenham |
| 32 | 2022-08-02 22:29:32 | Mark Pease |
| 33 | 2022-08-04 13:28:35 | Kerry Roach |
| 34 | 2022-08-04 08:20:29 | jan blackler |
| 35 | 2022-08-04 11:15:12 | Rachel Scott |
| 36 | 2022-08-04 17:02:45 | Sarah Durham |
| 37 | 2022-08-04 08:17:45 | Jenna Bott |
| 38 | 2022-08-01 20:37:00 | Amy Mitchelmore |
| 39 | 2022-08-03 10:10:56 | Aaron Robinson |
| 40 | 2022-08-03 21:18:47 | Dudley Rae |
| 41 | 2022-08-04 11:15:12 | Rachel Scott |
| 42 | 2022-08-04 18:09:01 | Rebecca Enyioko |
| 43 | 2022-08-04 08:18:11 | Charlotte Tucker |
| 44 | 2022-08-04 15:17:45 | marie winnard |
| 45 | 2022-08-04 11:18:19 | Rachel Scott |
| 46 | 2022-08-04 16:54:30 | Amy Mitchelmore |
| 47 | 2022-08-04 09:38:05 | Stephanie Mayo |
| 48 | 2022-08-04 08:19:49 | Debs Hamilton |
| 49 | 2022-08-04 15:25:03 | Emma Lewis |
| 50 | 2022-08-04 14:55:53 | Sophie Woodman |
| 51 | 2022-08-04 15:59:56 | Joanne osborne |
| 52 | 2022-08-04 19:07:01 | Joanna Johnson-laird |
| 53 | 2022-08-04 19:54:15 | Jodie Webb |
| 54 | 2022-08-04 09:29:45 | Lisa Burgess |
| 55 | 2022-08-04 18:09:01 | Rebecca Enyioko |
| 56 | 2022-08-02 22:29:32 | Mark Pease |
| 57 | 2022-08-03 21:33:29 | Rachel Salloway |
| 58 | 2022-08-04 20:10:33 | Mark Lofthouse |
| 59 | 2022-08-04 09:17:31 | Jane Hasni |
| 60 | 2022-08-04 16:07:08 | Sonia Holden |
| 61 | 2022-08-03 21:39:55 | Chris Birt |
| 62 | 2022-08-04 20:16:31 | Nathan Summer |
| 63 | 2022-08-04 09:38:42 | Courtney Mallen |
| 64 | 2022-08-03 21:19:59 | Lori Callow |
| 65 | 2022-08-04 11:40:05 | Claire Lou |
| 66 | 2022-08-04 17:41:21 | Natasha Allen |
| 67 | 2022-08-04 11:46:07 | Rebecca Shaw |
| 68 | 2022-08-04 14:27:56 | Julie Mcglinchey |
| 69 | 2022-08-03 07:18:40 | Karen Cook |
| 70 | 2022-08-04 19:07:01 | Joanna Johnson-laird |
| 71 | 2022-08-04 12:21:45 | Ashley Evans |
| 72 | 2022-08-04 16:54:30 | Amy Mitchelmore |
| 73 | 2022-08-04 10:29:16 | Deborah Talbot |
| 74 | 2022-08-04 10:17:56 | DANIEL STONELAKE |
| 75 | 2022-08-04 19:23:35 | Brooke Cheesmond |
| 76 | 2022-08-04 16:53:04 | Laura Hopkinson-Cross |
| 77 | 2022-08-03 21:33:29 | Rachel Salloway |
| 78 | 2022-08-04 16:49:27 | Joseph Clifford |
| 79 | 2022-08-04 12:21:45 | Ashley Evans |
| 80 | 2022-08-04 17:36:26 | Lauren Charlesworth |
| 81 | 2022-08-04 07:49:23 | Shannon Deathe |
| 82 | 2022-08-04 20:45:15 | Cristina Prior |
| 83 | 2022-08-04 17:09:56 | Amanda Ruddenham |
| 84 | 2022-07-30 14:34:36 | Gemma Norgate |
| 85 | 2022-08-03 22:36:27 | Charlotte Steel |
| 86 | 2022-08-02 22:29:32 | Mark Pease |
| 87 | 2022-08-04 09:08:35 | Philippa Smith |
| 88 | 2022-08-04 12:13:38 | Amy Howse |
| 89 | 2022-08-04 13:26:36 | Di Hodge |
| 90 | 2022-08-03 20:17:41 | David Smith |
| 91 | 2022-08-03 14:37:53 | Kerry Roach |
| 92 | 2022-08-04 08:25:54 | Becca Hawkins |
| 93 | 2022-08-04 20:15:27 | Tammie Isaacs |
| 94 | 2022-08-04 14:21:30 | Sharron Birds |
| 95 | 2022-08-03 22:36:27 | Charlotte Steel |
| 96 | 2022-08-04 18:34:21 | Nicola Naylor |
| 97 | 2022-08-03 21:16:23 | Gemma King |
| 98 | 2022-08-03 18:49:34 | Talia Tucker |
| 99 | 2022-08-04 17:36:26 | Lauren Charlesworth |
| 100 | 2022-08-04 08:04:56 | Anita Passmore |
| 101 | 2022-08-04 15:33:25 | Lauren Facey |
| 102 | 2022-08-04 17:10:29 | jeanette rich |
| 103 | 2022-08-03 14:37:53 | Kerry Roach |
| 104 | 2022-08-03 21:33:29 | Rachel Salloway |
| 105 | 2022-08-04 07:41:48 | Natalie D |
| 106 | 2022-08-04 20:13:12 | Lisa Roberts |
| 107 | 2022-08-04 13:39:07 | Nikki Keetch |
| 108 | 2022-08-04 20:10:33 | Mark Lofthouse |
| 109 | 2022-08-03 21:33:29 | Rachel Salloway |
| 110 | 2022-08-04 19:25:42 | Lea Painter |
| 111 | 2022-08-04 10:29:16 | Deborah Talbot |
| 112 | 2022-08-04 10:55:20 | Maxine Claxton |
| 113 | 2022-08-03 10:52:18 | Jen Reid |
| 114 | 2022-07-29 12:16:48 | Chris Birt |
| 115 | 2022-08-04 20:14:48 | Hall Lauren |
| 116 | 2022-08-04 16:14:14 | Tracy Langridge |
| 117 | 2022-08-04 11:40:05 | Claire Lou |
| 118 | 2022-08-01 13:45:48 | Di Hodge |
| 119 | 2022-08-04 20:38:42 | Caroline Stemp |
| 120 | 2022-08-04 20:04:31 | Emma Woodgate |
| 121 | 2022-08-04 16:28:09 | Chloe Raisey |
| 122 | 2022-08-04 19:04:37 | Melanie Allday |
| 123 | 2022-08-04 14:29:42 | Ann Hall |
| 124 | 2022-08-04 17:36:26 | Lauren Charlesworth |
| 125 | 2022-08-04 20:40:44 | Zachary Thomas |
| 126 | 2022-08-04 08:18:11 | Charlotte Tucker |
| 127 | 2022-08-03 18:58:07 | Brittany Dixon |
| 128 | 2022-08-04 19:04:37 | Melanie Allday |
| 129 | 2022-08-01 16:50:31 | Aaron Robinson |
| 130 | 2022-08-04 14:08:15 | Callum Mills |
| 131 | 2022-08-04 15:18:17 | Stacey Lindley |
| 132 | 2022-08-04 18:26:33 | Ken Ferguson |
| 133 | 2022-08-04 20:29:00 | Yasmine Driscoll |
| 134 | 2022-08-04 18:48:13 | Ann Hall |
| 135 | 2022-08-04 20:39:13 | Emma Jones |
| 136 | 2022-08-03 21:33:29 | Rachel Salloway |
| 137 | 2022-08-03 14:37:53 | Kerry Roach |
| 138 | 2022-08-04 18:30:25 | Helen Simpson |
| 139 | 2022-08-04 16:57:37 | Terri Hurren |
| 140 | 2022-08-04 14:40:57 | Steve Hornby |
| 141 | 2022-08-04 18:22:39 | Justin Lashley |
| 142 | 2022-07-30 21:14:59 | Gabby Bellamy |
| 143 | 2022-08-04 19:19:19 | Amanda Sullivan |
| 144 | 2022-08-03 14:37:53 | Kerry Roach |
| 145 | 2022-08-04 16:57:37 | Terri Hurren |
| 146 | 2022-08-03 21:18:47 | Dudley Rae |
| 147 | 2022-08-03 12:19:37 | Chris Birt |
| 148 | 2022-08-04 15:54:24 | Tammie Isaacs |
| 149 | 2022-08-04 17:02:45 | Sarah Durham |
| 150 | 2022-08-03 19:17:20 | Gary kempsell |
| 151 | 2022-08-04 19:55:26 | Joanne osborne |
| 152 | 2022-08-04 19:23:17 | Aaron Robinson |
| 153 | 2022-08-03 19:14:28 | Roxanne Hill |
| 154 | 2022-08-03 09:31:54 | Zoe Egan |
| 155 | 2022-08-03 18:26:42 | Hayley Baker |
| 156 | 2022-08-04 13:24:38 | Alicia Crabtree |
| 157 | 2022-08-04 19:52:22 | David Smith |
| 158 | 2022-08-04 19:23:17 | Aaron Robinson |
| 159 | 2022-08-04 19:20:34 | Matt Haywood |
| 160 | 2022-08-04 18:34:21 | Nicola Naylor |
| 161 | 2022-08-04 00:25:34 | Elliot White |
| 162 | 2022-08-04 20:29:40 | Bridget Wedlake |
| 163 | 2022-08-04 19:47:40 | Katie Pile |
| 164 | 2022-08-04 19:57:51 | Rachel chalk |
| 165 | 2022-08-04 18:03:52 | Trina Branch |
| 166 | 2022-08-04 20:02:26 | Gemma wills |
| 167 | 2022-08-02 11:15:57 | Stephanie Heal |
| 168 | 2022-08-04 13:13:28 | Victoria Sealey |
| 169 | 2022-08-03 14:37:53 | Kerry Roach |
| 170 | 2022-08-04 20:42:53 | Ray Burgess |
| 171 | 2022-08-02 16:18:22 | Ugne Terentjevaite |
| 172 | 2022-08-04 08:02:23 | Joanne Campbell |
| 173 | 2022-08-03 01:19:56 | Matt Caine |
| 174 | 2022-08-03 08:56:16 | Maia Roberts |
| 175 | 2022-08-04 17:02:45 | Sarah Durham |
| 176 | 2022-08-04 18:01:57 | Gale Jordan |
| 177 | 2022-08-04 12:21:45 | Ashley Evans |
| 178 | 2022-07-30 11:05:53 | Jessica Scullard |
| 179 | 2022-08-04 20:39:13 | Emma Jones |
| 180 | 2022-08-04 20:43:55 | Tyler Baker |
| 181 | 2022-08-04 20:42:52 | Nicola Hamilton |
| 182 | 2022-08-04 20:09:58 | GARETH Lloyd |
| 183 | 2022-08-04 08:21:37 | phyllis steer |
| 184 | 2022-08-03 21:33:29 | Rachel Salloway |
| 185 | 2022-08-04 15:54:24 | Tammie Isaacs |
| 186 | 2022-08-04 17:27:50 | Sam Perrin |
| 187 | 2022-08-04 19:23:17 | Aaron Robinson |
| 188 | 2022-08-04 14:08:15 | Callum Mills |
| 189 | 2022-08-04 07:03:17 | Stacey Preston |
| 190 | 2022-08-04 11:04:48 | Penny Bartlett |
| 191 | 2022-08-03 14:37:53 | Kerry Roach |
| 192 | 2022-08-04 20:21:39 | Amy Wheeler |
| 193 | 2022-08-04 19:22:21 | Esmé Kershaw |
| 194 | 2022-08-03 20:04:23 | Emily Deeley |
| 195 | 2022-08-04 16:28:09 | Chloe Raisey |
| 196 | 2022-08-03 22:32:57 | Nicola Lucas |
| 197 | 2022-08-04 19:23:17 | Aaron Robinson |
| 198 | 2022-08-04 11:09:04 | Gemma Pelley |
| 199 | 2022-08-04 20:26:17 | Gemma Dix |
| 200 | 2022-08-04 20:50:18 | Jennifer Daniels |