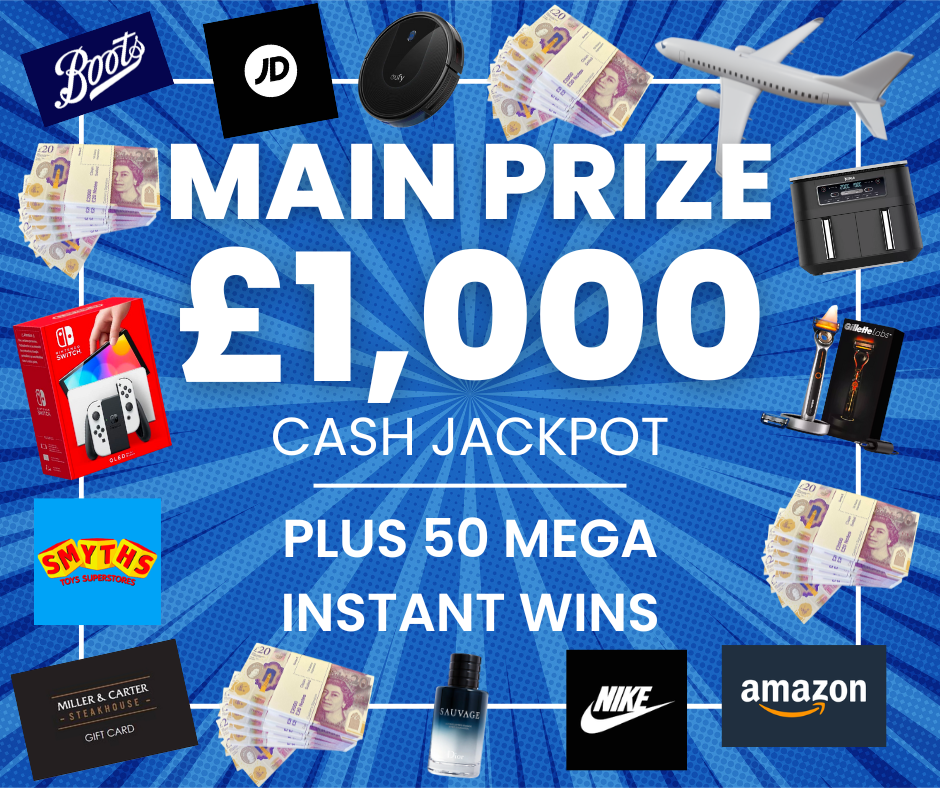 WIN £1000 CASH JACKPOT +50 MEGA INSTANT WINS UP FOR GRABS
Description
WIN £1000 CASH JACKPOT +50 MEGA INSTANT WINS UP FOR GRABS
DESCRIPTION
WIN £1000 JACKPOT PLUS 50 MEGA INSTANT  WINS UP FOR GRABS
One winner will win £1000 tax free cash ( everyone will be entered into this, regardless if you win any instant wins!
Simply enter the raffle and you will be randomly allocated your tickets. If your tickets match one of the numbers in the description below, you will win that prize instantly!
Ticket numbers are allocated randomly to every order.
If you are lucky, contact us on our Facebook Page or email to claim your winnings – We will mark prizes off as they're claimed!Even if you don't contact us, you've still won, we'll contact you  
If your ticket number (s) match then you win the prize next to it.
Claimed prizes will be updated every several hours
NUMBER 
PRIZE
WINNER

67

Pair of Christian Louboutin shoes- up to the value of £700

Callum Clarke

129

£200 tattoo voucher

K W

243

Nike 

Air Jordan 1 Low

Caroline White

287

£100 CASH

Scott Haddon

353

Pandora Bracelet & 2 Charms 
Beckie Anderson

474

£100 THE IVY GIFT CARD

Michelle Stanyon

549

£100 TESCO GIFT CARD

Mike Furness

677

Ninja Foodi AF300UK Dual Zone Air Fryer

Nicole White

762

Holiday to Iceland

Lisa Roberts

839

£100 CASH

Demi Broome

966

Eufy by anker RoboVac 30C

Andy Brown

1131

3-Tier Heated Indoor Clothes Airer

J Kay

1193

NINTENDO SWITCH OLED 

Julie Botley

1261

£100 AMAZON VOUCHER

Lee Sandey

1308

SMARTECH

Heated Razor Kit

Thomas Wilson

1356

£200 SPA VOUCHER

Chloe Obrien

1439

£500 TUI VOUCHER

Nicola Hudson

1573

£1000 CASH

Tia Potter

1599

£100 CASH

E E

1684

£100 M&S Gift Card

Victoria Short

1776

 £200 CASH

Michelle Searles

 

1791

£100 Miller and Carter Gift Card

Samantha Bailey

1898

£100 Scratch Cards

Emma White

1973

£200 CASH

David Pearcey

2029

£100 Pandora gift card

Erica Sargeant

2065

£500 CASH

Aaron Mills

2121

 CHANEL Chance Perfume

Vicky Albinson

2283

£100 CASH

Hannah Wilson

2465

HOTEL CHOCOLAT VELVETISER 

Samantha Head

2688

Dior Sauvage Aftershave

Amy Hardware

2776

£100 PRIMARK GIFT CARD 

Laura Jane

3190

£100 Sainburys Gift Card

Jem V

3500

£100 Boots GIFT CARD

Tanya Roberts

3724

£100 SITE CREDIT

Erica Sargeant

4309

INSTAX CAMERA

Jessica Foster

5000

£100 CASH

Julie Johnson

5325

OLAPLEX GIFT SET

Cora Grove

5481

DRY ROBE

Elisha Lane

5896

£200 JD GIFT CARD

M Rowles

5913

£100 NIKE SPORTS GIFT CARD

Elisha Lane

6771

EMMA BRIDGEWATER HEART CHILLYS BOTTLE

Caroline White

6798

HOTEL CHOCOLATE VELVETISER 

Trina Branch

6860

£100 SUPERMARKET GIFT CARD

Kayleigh Gibbons

7252

£100 CASH

Kelly Howells

7483

HOTEL CHOCOLAT VELVETISER

Amy Hardware

7526

£100 M&S Gift card

Neil Potter

7917

£100 cash

Georgina Aggett

8400

£100 CLARKS SHOE GIFT CARD

Jamela Bousaida

8775

£100 SMYTHS GIFT CARD

Erica Sargeant

8882

UGG SLIPPERS

joanna wolska
| Winner Name | Ticket Number | Draw Date |
| --- | --- | --- |
| Jo Disley | 5127 | 06/02/2023 |
1-1000
1001-2000
2001-3000
3001-4000
4001-5000
5001-6000
6001-7000
7001-8000
8001-9000
| Ticket Number | Date | Name |
| --- | --- | --- |
| 1 | 2023-01-29 21:03:33 | Marion Baker |
| 2 | 2023-01-28 12:32:36 | Claire Symons |
| 3 | 2023-01-27 15:50:16 | Taylor Lackenby |
| 4 | 2023-01-31 16:12:40 | Victoria Short |
| 5 | 2023-01-30 07:02:39 | Tracey Milne |
| 6 | 2023-01-29 20:31:45 | Michael O'connor |
| 7 | 2023-01-31 19:20:29 | Thomas Wilson |
| 8 | 2023-01-28 18:52:51 | Kayleigh Lear |
| 9 | 2023-01-28 19:59:35 | Ben Dyer |
| 10 | 2023-01-30 13:25:02 | Hope Richards |
| 11 | 2023-01-28 15:27:29 | Gemma Ohanyelu |
| 12 | 2023-01-31 12:51:12 | Jade O'Loughlin |
| 13 | 2023-01-29 20:07:50 | Nicola Hudson |
| 14 | 2023-01-30 21:42:09 | Hannah Ross |
| 15 | 2023-01-28 18:33:19 | Jolene Collings |
| 16 | 2023-01-29 00:31:32 | Mark Lowe |
| 17 | 2023-01-28 19:56:24 | Tina Frazer |
| 18 | 2023-01-28 16:47:01 | Karla Perry |
| 19 | 2023-01-29 11:46:32 | Laura Williams |
| 20 | 2023-01-31 11:40:11 | Soph E |
| 21 | 2023-01-27 17:34:17 | Lisa Freer |
| 22 | 2023-01-29 15:03:43 | Holly Kemp |
| 23 | 2023-01-28 19:01:48 | Abi Parnell |
| 24 | 2023-01-30 11:08:57 | Amy Hardware |
| 25 | 2023-02-01 19:47:04 | David Pearcey |
| 26 | 2023-01-28 20:06:41 | Stephanie Raddon |
| 27 | 2023-01-31 10:58:32 | Katy Mosley |
| 28 | 2023-01-29 21:33:45 | Georgina Aggett |
| 29 | 2023-01-27 22:37:08 | Tia Potter |
| 30 | 2023-01-27 15:59:58 | Laura Baker |
| 31 | 2023-01-30 19:03:50 | Nicola Joyce |
| 32 | 2023-01-29 19:25:06 | Lucy Zmaczynski |
| 33 | 2023-01-31 23:38:16 | Layla Ferguson |
| 34 | 2023-01-29 12:33:45 | Natalie Bond |
| 35 | 2023-01-30 15:17:31 | Charlotte Whittingham |
| 36 | 2023-01-29 14:13:18 | Carly Balsdon |
| 37 | 2023-01-30 15:39:35 | Julie Botley |
| 38 | 2023-01-28 12:18:14 | Ugne Terentjevaite |
| 39 | 2023-01-29 16:24:18 | Jason Crockett |
| 40 | 2023-01-29 04:22:14 | Emma White |
| 41 | 2023-02-06 16:26:05 | Kiri Leanne |
| 42 | 2023-01-27 18:46:20 | J K |
| 43 | 2023-01-29 11:35:27 | Luci Bennett |
| 44 | 2023-01-30 20:24:19 | Michelle Weller |
| 45 | 2023-01-28 16:02:29 | Nicole Paige Barnett |
| 46 | 2023-01-29 07:13:41 | Samantha Wilding |
| 47 | 2023-01-29 19:22:49 | Jack Stiff |
| 48 | 2023-01-28 23:49:33 | Claire Symons |
| 49 | 2023-01-29 20:18:00 | Jamie Gilmour |
| 50 | 2023-01-30 21:44:37 | Rebecca Seabrook |
| 51 | 2023-02-01 12:35:46 | Shelley mills |
| 52 | 2023-01-30 20:39:18 | AMY WRIGHT |
| 53 | 2023-01-28 03:13:30 | Jason Crockett |
| 54 | 2023-01-31 06:56:32 | Samantha c |
| 55 | 2023-01-27 19:43:14 | Holly Bradshaw |
| 56 | 2023-01-30 13:37:36 | Jade Pook |
| 57 | 2023-01-28 23:49:33 | Claire Symons |
| 58 | 2023-01-28 13:15:19 | Claire Symons |
| 59 | 2023-01-28 15:46:33 | J K |
| 60 | 2023-01-31 15:13:54 | Sarah Webb |
| 61 | 2023-01-29 16:27:22 | Aiden Salter |
| 62 | 2023-01-29 04:05:18 | Peter Escubio |
| 63 | 2023-01-29 17:44:54 | Roxanne Cane |
| 64 | 2023-01-29 23:15:08 | Paraskevoula papanicolaou |
| 65 | 2023-01-29 09:08:42 | Rachel chalk |
| 66 | 2023-01-28 08:11:38 | Charlene Mufford |
| 67 | 2023-01-29 17:39:52 | Callum Clarke |
| 68 | 2023-01-29 00:14:18 | Matt Wilson |
| 69 | 2023-01-29 04:30:36 | Elisha Lane |
| 70 | 2023-01-30 09:34:41 | Michelle Stanyon |
| 71 | 2023-01-28 18:08:55 | Samantha Wilding |
| 72 | 2023-01-27 18:11:03 | Shaun Douglas |
| 73 | 2023-01-28 14:02:51 | Eri Hall |
| 74 | 2023-01-30 03:34:16 | Chelsea Bishop |
| 75 | 2023-01-31 21:03:13 | M P |
| 76 | 2023-01-27 23:35:16 | Sami Knott |
| 77 | 2023-01-29 19:26:08 | K W |
| 78 | 2023-01-30 21:42:09 | Hannah Ross |
| 79 | 2023-01-29 11:48:07 | Laura Williams |
| 80 | 2023-02-01 15:00:28 | K W |
| 81 | 2023-01-30 12:58:47 | Kirsty Bushell |
| 82 | 2023-01-29 21:03:33 | Marion Baker |
| 83 | 2023-01-29 17:29:22 | K W |
| 84 | 2023-01-29 07:23:25 | demir mahmoud |
| 85 | 2023-01-29 19:45:11 | Karen Roberts |
| 86 | 2023-01-30 00:24:47 | D T |
| 87 | 2023-01-28 11:42:31 | Rachel Osborne |
| 88 | 2023-02-01 11:05:30 | Holly Kemp |
| 89 | 2023-01-29 17:09:19 | Tia Potter |
| 90 | 2023-01-28 18:05:34 | Louisa Feaver |
| 91 | 2023-01-29 20:29:01 | Richard Whatman |
| 92 | 2023-01-28 18:52:35 | Nicole White |
| 93 | 2023-02-01 19:07:33 | Charlotte Wells |
| 94 | 2023-01-29 14:36:14 | Christopher Prior |
| 95 | 2023-01-30 13:57:06 | Amber Lake |
| 96 | 2023-01-27 16:44:02 | Naomi Cox |
| 97 | 2023-01-28 20:59:04 | Amy Wilson |
| 98 | 2023-02-01 14:59:46 | K W |
| 99 | 2023-01-29 16:08:06 | K W |
| 100 | 2023-01-29 19:56:54 | Chantelle Amphlett |
| 101 | 2023-01-28 21:04:58 | Caroline Pottinger |
| 102 | 2023-01-31 12:57:24 | Lisa Brown |
| 103 | 2023-01-28 19:01:48 | Abi Parnell |
| 104 | 2023-02-01 19:47:04 | David Pearcey |
| 105 | 2023-01-29 07:01:24 | Samantha Wilding |
| 106 | 2023-01-28 15:37:53 | Sadie Mulgrue |
| 107 | 2023-01-30 03:22:41 | Caitlin Mitchell |
| 108 | 2023-01-28 20:16:03 | Loren Cox |
| 109 | 2023-02-01 19:47:04 | David Pearcey |
| 110 | 2023-01-30 11:39:30 | Wendy Kelsall |
| 111 | 2023-01-27 20:35:26 | Eri Hall |
| 112 | 2023-01-29 07:07:31 | Samantha Wilding |
| 113 | 2023-01-29 21:53:27 | Ben Willetts |
| 114 | 2023-02-01 15:56:21 | Gillian Smith |
| 115 | 2023-01-27 22:06:40 | Kerry Eldred |
| 116 | 2023-01-27 22:44:23 | Carley Warren-aldworth |
| 117 | 2023-01-29 07:19:23 | Samantha Wilding |
| 118 | 2023-01-29 13:06:26 | Pamela Bradshaw |
| 119 | 2023-01-28 08:34:55 | Kayleigh Gibbons |
| 120 | 2023-01-29 17:42:01 | C W |
| 121 | 2023-02-01 16:04:32 | Michelle Searles |
| 122 | 2023-01-27 16:06:02 | Cora Grove |
| 123 | 2023-01-29 12:16:46 | Sophie Leckie |
| 124 | 2023-01-29 06:07:31 | Elisha Lane |
| 125 | 2023-01-28 07:36:28 | Marie Sandford |
| 126 | 2023-01-29 22:13:08 | Linda Beer |
| 127 | 2023-01-28 21:49:40 | Mrs M |
| 128 | 2023-02-01 20:30:55 | Amanda Moore |
| 129 | 2023-02-01 15:00:28 | K W |
| 130 | 2023-01-29 16:20:35 | Helen Cottrell |
| 131 | 2023-01-29 09:04:57 | Kayleigh Gibbons |
| 132 | 2023-01-29 17:09:19 | Tia Potter |
| 133 | 2023-01-30 00:22:31 | Sarah Wills |
| 134 | 2023-01-29 13:49:49 | Mark Allford |
| 135 | 2023-01-28 18:34:33 | Samantha Wilding |
| 136 | 2023-01-28 18:04:38 | Samantha Wilding |
| 137 | 2023-01-27 16:06:02 | Cora Grove |
| 138 | 2023-01-31 00:55:50 | C W |
| 139 | 2023-01-28 18:45:53 | Jeanette Anderson |
| 140 | 2023-01-29 10:04:30 | Kelly Bradford |
| 141 | 2023-01-30 09:48:40 | claire-louise flanagan |
| 142 | 2023-01-28 20:42:19 | Kathryn Hathaway |
| 143 | 2023-01-30 09:23:11 | Megan Thornhill |
| 144 | 2023-01-28 20:39:13 | Nicola Hudson |
| 145 | 2023-01-31 00:58:09 | Emma Jones |
| 146 | 2023-01-28 13:09:58 | Claire Symons |
| 147 | 2023-01-29 19:08:28 | Belinda Lawford |
| 148 | 2023-01-31 18:43:38 | Samantha Sedgbeer |
| 149 | 2023-01-28 12:33:17 | Becky H |
| 150 | 2023-01-27 17:36:32 | Hermon Gosling |
| 151 | 2023-01-30 22:40:25 | Jade Hulme |
| 152 | 2023-01-29 19:50:15 | J m Blackmore |
| 153 | 2023-01-28 12:17:31 | Eri Hall |
| 154 | 2023-02-01 19:56:10 | Suzette Dodson-Rouse |
| 155 | 2023-01-29 07:07:31 | Samantha Wilding |
| 156 | 2023-01-28 09:18:35 | Michael O'connor |
| 157 | 2023-01-29 13:23:24 | Luci Bennett |
| 158 | 2023-01-31 22:31:15 | Nancy stevens |
| 159 | 2023-01-30 10:43:15 | Michelle Searles |
| 160 | 2023-01-29 06:07:31 | Elisha Lane |
| 161 | 2023-01-29 20:34:54 | Aaron Mills |
| 162 | 2023-01-29 15:23:56 | Tia Potter |
| 163 | 2023-01-28 13:28:57 | Jordan Simpson |
| 164 | 2023-01-31 15:47:35 | Gemma Bonney |
| 165 | 2023-01-28 19:27:15 | Jake Liley |
| 166 | 2023-01-28 12:35:52 | Chris Carr |
| 167 | 2023-02-01 13:10:43 | Siobhan Wilcock |
| 168 | 2023-01-29 21:42:22 | Megan A |
| 169 | 2023-01-30 16:13:30 | Louise Hooper |
| 170 | 2023-01-29 15:53:06 | Chloe Withyman |
| 171 | 2023-01-29 07:19:23 | Samantha Wilding |
| 172 | 2023-02-01 19:49:45 | David Pearcey |
| 173 | 2023-01-29 20:55:57 | Neil Potter |
| 174 | 2023-01-28 21:29:15 | Ben Rook |
| 175 | 2023-01-28 20:39:13 | Nicola Hudson |
| 176 | 2023-01-28 15:35:38 | Ashley Metcalfe |
| 177 | 2023-01-30 17:16:11 | Chloe Mcnulty |
| 178 | 2023-01-28 13:15:19 | Claire Symons |
| 179 | 2023-01-28 14:29:54 | Holly Kemp |
| 180 | 2023-01-29 14:12:03 | Nichola Jordan |
| 181 | 2023-01-31 10:50:02 | Samantha Underwood |
| 182 | 2023-01-29 22:55:51 | Katie Moss |
| 183 | 2023-01-28 03:13:30 | Jason Crockett |
| 184 | 2023-02-01 20:16:33 | Donna Marie |
| 185 | 2023-02-01 18:56:04 | Janine Kurtovic |
| 186 | 2023-01-30 03:38:12 | Ollie Keeler |
| 187 | 2023-01-28 00:04:44 | C W |
| 188 | 2023-01-27 19:19:32 | Tidey Gemma |
| 189 | 2023-01-31 00:16:05 | D T |
| 190 | 2023-02-01 17:30:36 | Holly Macgregor |
| 191 | 2023-01-29 16:07:15 | Laura Tyrrell |
| 192 | 2023-01-28 19:12:15 | Suzanne Oliver |
| 193 | 2023-01-28 14:02:51 | Eri Hall |
| 194 | 2023-01-31 18:45:16 | Samantha Sedgbeer |
| 195 | 2023-01-28 17:04:19 | Sally-ann Aplin |
| 196 | 2023-01-28 17:01:59 | Andrea Sikorjakova |
| 197 | 2023-02-01 21:56:04 | Clare Matthews |
| 198 | 2023-01-31 00:06:30 | Lisa Hutchings |
| 199 | 2023-01-28 18:22:40 | Samantha Wilding |
| 200 | 2023-01-29 15:23:56 | Tia Potter |
| 201 | 2023-01-29 00:54:45 | Vicky Wesson |
| 202 | 2023-01-27 15:52:58 | Julie Botley |
| 203 | 2023-01-31 17:38:55 | Emma Reeve |
| 204 | 2023-01-28 08:15:12 | Andrea Wharton |
| 205 | 2023-01-29 17:15:15 | Donna Marie |
| 206 | 2023-01-27 15:52:44 | Leyann Meldrum |
| 207 | 2023-01-29 20:56:29 | Beth Aggett |
| 208 | 2023-01-28 19:07:17 | Kayleigh Lear |
| 209 | 2023-01-30 10:51:56 | Mike Furness |
| 210 | 2023-01-28 06:27:08 | Tia Potter |
| 211 | 2023-01-29 16:24:18 | Jason Crockett |
| 212 | 2023-02-01 18:29:23 | Julie Botley |
| 213 | 2023-02-01 10:47:04 | Sean Kane |
| 214 | 2023-01-28 12:43:20 | Phoenix Griffiths |
| 215 | 2023-01-28 19:36:12 | C W |
| 216 | 2023-01-28 14:07:44 | Eri Hall |
| 217 | 2023-01-30 07:12:47 | Gemma Alford |
| 218 | 2023-01-29 16:00:44 | K W |
| 219 | 2023-01-30 12:58:47 | Kirsty Bushell |
| 220 | 2023-01-30 19:05:50 | Matthew Nickels |
| 221 | 2023-01-27 23:10:02 | Suzanne Riddock |
| 222 | 2023-02-01 19:48:43 | Tia Potter |
| 223 | 2023-01-27 22:59:09 | Sharon Fowler |
| 224 | 2023-01-29 22:03:56 | Amber Ley |
| 225 | 2023-01-27 15:51:32 | Kelly Mason |
| 226 | 2023-02-01 12:58:38 | Amy Hardware |
| 227 | 2023-01-29 20:58:58 | J K |
| 228 | 2023-01-30 10:37:16 | Rachel Pike |
| 229 | 2023-01-28 21:10:33 | Amara Baxter |
| 230 | 2023-01-30 17:54:14 | Chloe Cooksey |
| 231 | 2023-01-27 16:45:11 | Daniel Wadling |
| 232 | 2023-01-28 23:00:18 | Pamela Forester |
| 233 | 2023-01-29 04:26:38 | Elisha Lane |
| 234 | 2023-01-31 22:13:13 | Keeley Bush |
| 235 | 2023-01-30 03:22:41 | Caitlin Mitchell |
| 236 | 2023-01-28 22:10:12 | daniel kelly |
| 237 | 2023-01-29 10:04:49 | Kim Loosemore |
| 238 | 2023-01-30 03:22:41 | Caitlin Mitchell |
| 239 | 2023-01-29 04:45:44 | Elisha Lane |
| 240 | 2023-01-28 17:05:58 | Gemma Gorringe |
| 241 | 2023-01-29 18:43:22 | Beckie ⁸Mangan |
| 242 | 2023-01-29 18:31:49 | Emma Oconnor |
| 243 | 2023-01-29 17:23:08 | C W |
| 244 | 2023-01-30 21:06:20 | Stacey Dymond |
| 245 | 2023-01-30 22:25:06 | Holly Kemp |
| 246 | 2023-01-31 20:46:31 | Lisa Burgess |
| 247 | 2023-01-29 15:18:35 | Chloe Cox |
| 248 | 2023-01-31 09:08:01 | Mrs M |
| 249 | 2023-01-28 20:36:52 | Jamie Hoare |
| 250 | 2023-01-27 23:07:40 | Mrs M |
| 251 | 2023-02-01 13:41:51 | Z E |
| 252 | 2023-01-27 16:17:56 | Fliss Wright |
| 253 | 2023-01-27 22:37:08 | Tia Potter |
| 254 | 2023-01-29 18:17:56 | Maxine Webber |
| 255 | 2023-01-30 08:12:48 | Amy Hardware |
| 256 | 2023-01-31 23:46:17 | Kate Rampling |
| 257 | 2023-01-31 20:50:58 | Grace Marshall |
| 258 | 2023-01-29 18:05:26 | Kaylie northcott |
| 259 | 2023-01-30 15:39:35 | Julie Botley |
| 260 | 2023-02-01 19:49:45 | David Pearcey |
| 261 | 2023-01-29 23:54:42 | Stacey Williamson |
| 262 | 2023-01-28 15:50:20 | Samantha Sanders |
| 263 | 2023-01-27 19:18:39 | Jeanette Glynn |
| 264 | 2023-01-29 15:52:12 | Sarah Wills |
| 265 | 2023-01-27 20:35:26 | Eri Hall |
| 266 | 2023-01-31 15:22:03 | Stacey Williamson |
| 267 | 2023-01-31 20:46:31 | Lisa Burgess |
| 268 | 2023-01-30 11:53:18 | Amy Hardware |
| 269 | 2023-01-29 19:37:33 | Stacey Oakley |
| 270 | 2023-01-28 14:05:32 | Dean Beaufoy |
| 271 | 2023-01-29 18:25:58 | Joanne Wilson |
| 272 | 2023-01-28 20:45:39 | Stacey Dymond |
| 273 | 2023-01-28 19:30:14 | Nicole White |
| 274 | 2023-02-01 17:42:03 | Emma Pullen |
| 275 | 2023-01-29 15:46:20 | Jane Hasni |
| 276 | 2023-01-29 16:22:42 | Nicole White |
| 277 | 2023-02-01 19:32:09 | Elaine Lipscombe |
| 278 | 2023-01-29 17:05:54 | Louise Gourley |
| 279 | 2023-01-29 18:17:36 | Katie Cattermole |
| 280 | 2023-01-28 17:04:17 | Mike Furness |
| 281 | 2023-01-31 17:30:43 | Jordan Crook |
| 282 | 2023-01-28 12:13:47 | Carly Stanton |
| 283 | 2023-01-29 12:29:32 | Fern Blake |
| 284 | 2023-01-29 21:53:27 | Michael t O'connor |
| 285 | 2023-01-31 17:42:59 | Sarah Wills |
| 286 | 2023-01-30 17:26:31 | Lisa Loizides |
| 287 | 2023-01-29 22:52:05 | Scott Haddon |
| 288 | 2023-01-27 23:10:02 | Suzanne Riddock |
| 289 | 2023-01-28 14:53:25 | Sami Knott |
| 290 | 2023-01-27 21:20:30 | Michael t O'connor |
| 291 | 2023-01-31 12:18:55 | Dawn Nelis |
| 292 | 2023-01-28 13:15:19 | Claire Symons |
| 293 | 2023-01-28 19:13:52 | Alison Hack |
| 294 | 2023-01-27 22:37:08 | Tia Potter |
| 295 | 2023-01-29 18:48:26 | Jake Gardner |
| 296 | 2023-01-31 11:48:11 | Stacey La'moon |
| 297 | 2023-01-27 16:06:06 | Amber Ley |
| 298 | 2023-01-29 17:59:20 | K W |
| 299 | 2023-01-29 17:19:21 | Donna Parker |
| 300 | 2023-01-29 21:21:08 | Jacqueline Sandford |
| 301 | 2023-01-31 12:30:32 | Luke Heard |
| 302 | 2023-01-30 14:20:36 | Charlotte Wells |
| 303 | 2023-01-30 22:50:05 | LJ Storer no |
| 304 | 2023-01-29 17:28:47 | Joseymay Sanderson |
| 305 | 2023-01-29 14:14:23 | Sara Holloway |
| 306 | 2023-01-30 22:50:05 | LJ Storer no |
| 307 | 2023-01-30 08:12:48 | Amy Hardware |
| 308 | 2023-02-01 13:24:20 | Darryl Gumbrill |
| 309 | 2023-01-28 18:27:06 | Zarina Michaels |
| 310 | 2023-01-28 15:29:45 | Will Moyle |
| 311 | 2023-01-29 07:10:59 | Kayleigh Gibbons |
| 312 | 2023-01-27 21:53:11 | Ashley Evans |
| 313 | 2023-01-29 19:57:00 | Mrs M |
| 314 | 2023-01-29 15:22:36 | Toby Collis |
| 315 | 2023-01-29 14:38:21 | Paul Goodenough |
| 316 | 2023-01-27 21:53:11 | Ashley Evans |
| 317 | 2023-01-29 19:51:05 | Lisa Burgess |
| 318 | 2023-01-29 20:34:54 | Aaron Mills |
| 319 | 2023-01-29 16:55:14 | Wayne KERRY |
| 320 | 2023-01-31 14:05:09 | Melissa Leicester |
| 321 | 2023-01-28 13:02:14 | Kelly Adair |
| 322 | 2023-01-30 22:27:35 | Britney Gonthier |
| 323 | 2023-01-28 20:14:06 | LJ Storer no |
| 324 | 2023-01-29 20:43:08 | Gemma Bush |
| 325 | 2023-01-28 19:38:01 | Jordan Caple |
| 326 | 2023-01-28 18:50:33 | Nicole White |
| 327 | 2023-01-30 12:15:09 | Chris Carr |
| 328 | 2023-01-30 10:26:17 | Clive Mitchell |
| 329 | 2023-01-29 08:22:46 | Matt Wilson |
| 330 | 2023-01-30 09:29:27 | Emma White |
| 331 | 2023-01-28 23:49:33 | Claire Symons |
| 332 | 2023-01-28 18:45:28 | Nicole White |
| 333 | 2023-01-29 07:25:01 | Samantha Wilding |
| 334 | 2023-01-27 19:49:38 | S S |
| 335 | 2023-01-29 10:54:12 | Martin Scrimgeour |
| 336 | 2023-01-28 00:07:42 | C W |
| 337 | 2023-01-29 08:35:52 | Melanie Standfast |
| 338 | 2023-01-27 21:48:16 | J K |
| 339 | 2023-01-30 13:31:36 | Lesley Jones |
| 340 | 2023-01-31 20:34:13 | Bartholomew Caitlin |
| 341 | 2023-01-29 18:33:24 | Jackie Western |
| 342 | 2023-01-29 06:59:10 | Samantha Wilding |
| 343 | 2023-01-29 19:14:33 | Candice Carrington |
| 344 | 2023-01-28 18:25:29 | Stephen Bourne |
| 345 | 2023-01-28 12:52:51 | Sally Thompson . Clarke |
| 346 | 2023-02-01 18:04:28 | Samantha c |
| 347 | 2023-01-28 12:12:37 | Carly Stanton |
| 348 | 2023-01-28 19:37:00 | Kimberley Escott |
| 349 | 2023-02-06 16:16:37 | Lisa Hutchings |
| 350 | 2023-01-31 12:25:34 | Nick Wright |
| 351 | 2023-01-28 23:15:03 | Emma Smith |
| 352 | 2023-01-29 16:16:43 | Holly Kemp |
| 353 | 2023-01-31 21:35:27 | Beckie Anderson |
| 354 | 2023-01-29 13:49:49 | Mark Allford |
| 355 | 2023-02-01 19:49:45 | David Pearcey |
| 356 | 2023-01-29 19:59:52 | Lewis Holmes |
| 357 | 2023-01-30 17:55:41 | Naomi Lang |
| 358 | 2023-01-29 17:02:44 | Victoria Franklin |
| 359 | 2023-01-30 08:20:29 | Emma Reeve |
| 360 | 2023-01-28 20:00:00 | Ayla Billinghurst |
| 361 | 2023-01-29 18:17:47 | Courtney Campbell |
| 362 | 2023-01-30 23:35:47 | Faye Drury |
| 363 | 2023-01-29 18:11:56 | Julie Botley |
| 364 | 2023-01-28 00:02:05 | C W |
| 365 | 2023-01-29 07:21:55 | Samantha Wilding |
| 366 | 2023-01-27 22:00:31 | LJ Storer no |
| 367 | 2023-01-30 14:13:48 | Rebecca Burns |
| 368 | 2023-01-28 10:10:18 | Samantha c |
| 369 | 2023-01-28 12:10:14 | Wendy Swindells |
| 370 | 2023-01-27 15:51:36 | Julie Botley |
| 371 | 2023-01-28 09:39:41 | Tidey Gemma |
| 372 | 2023-02-06 16:11:22 | Aschanti Peters |
| 373 | 2023-01-28 13:28:33 | Zoe Troup |
| 374 | 2023-01-28 23:49:33 | Claire Symons |
| 375 | 2023-01-29 15:53:06 | Chloe Withyman |
| 376 | 2023-01-30 23:35:47 | Faye Drury |
| 377 | 2023-01-28 17:35:29 | CRAIG Lea |
| 378 | 2023-02-01 20:14:10 | Danielle Bagley |
| 379 | 2023-01-29 12:06:17 | Jemma Lavercombe |
| 380 | 2023-01-28 12:43:02 | Mrs M |
| 381 | 2023-01-30 00:33:21 | D T |
| 382 | 2023-01-29 21:37:23 | Hannah Allpress |
| 383 | 2023-01-29 17:31:59 | Jess Ellis |
| 384 | 2023-02-06 16:46:06 | Michael Richards |
| 385 | 2023-02-01 12:37:43 | Amy Hardware |
| 386 | 2023-02-01 15:58:17 | Gillian Smith |
| 387 | 2023-01-27 16:06:06 | Amber Ley |
| 388 | 2023-01-28 12:32:36 | Claire Symons |
| 389 | 2023-01-31 13:06:48 | Leia Tiar |
| 390 | 2023-02-01 20:30:21 | Hannah Ross |
| 391 | 2023-01-29 04:22:14 | Emma White |
| 392 | 2023-01-30 12:43:56 | Steve Lewis |
| 393 | 2023-01-28 18:25:54 | samantha hoare |
| 394 | 2023-01-29 08:36:58 | Melanie Standfast |
| 395 | 2023-01-29 08:20:40 | Gary King |
| 396 | 2023-01-30 17:14:35 | Kelvin Courtenay |
| 397 | 2023-01-28 12:54:17 | Tia Potter |
| 398 | 2023-01-30 06:22:28 | Lewis Holmes |
| 399 | 2023-01-28 17:01:29 | Mike Furness |
| 400 | 2023-01-30 12:32:58 | M KM |
| 401 | 2023-01-30 11:01:33 | Amy Hardware |
| 402 | 2023-01-31 08:09:26 | Jacob James-Graham |
| 403 | 2023-01-28 13:54:28 | Kamila Szalowska |
| 404 | 2023-01-30 21:42:09 | Hannah Ross |
| 405 | 2023-01-30 20:16:05 | Julie Botley |
| 406 | 2023-01-27 22:13:37 | Donna Marie |
| 407 | 2023-01-28 16:52:27 | G B |
| 408 | 2023-01-30 10:51:56 | Mike Furness |
| 409 | 2023-01-29 19:37:33 | Stacey Oakley |
| 410 | 2023-01-28 15:39:48 | J K |
| 411 | 2023-01-28 19:49:42 | Aaron Mills |
| 412 | 2023-01-29 00:31:32 | Mark Lowe |
| 413 | 2023-01-28 09:38:12 | Tidey Gemma |
| 414 | 2023-01-29 17:23:08 | C W |
| 415 | 2023-01-28 20:51:26 | mandy bowen |
| 416 | 2023-01-28 19:56:30 | Robert Cox |
| 417 | 2023-01-28 01:32:29 | David Harrison |
| 418 | 2023-01-29 21:01:37 | Ellesha Carney |
| 419 | 2023-01-28 19:36:12 | C W |
| 420 | 2023-01-28 13:36:44 | Kelly Bramford |
| 421 | 2023-02-01 18:01:51 | Samantha c |
| 422 | 2023-01-29 21:38:26 | Chloe Lambert-Earley |
| 423 | 2023-01-28 19:48:22 | J K |
| 424 | 2023-02-01 12:38:59 | Simon Soper |
| 425 | 2023-01-30 14:18:24 | Leigh-anne Preston |
| 426 | 2023-01-30 10:51:56 | Mike Furness |
| 427 | 2023-01-28 21:45:42 | Anna Finnemore |
| 428 | 2023-01-30 08:59:41 | Dale Lumber |
| 429 | 2023-01-31 15:55:09 | Ebony Richardson |
| 430 | 2023-01-30 15:43:14 | A V |
| 431 | 2023-01-27 19:43:14 | Holly Bradshaw |
| 432 | 2023-01-29 15:38:53 | Tia Potter |
| 433 | 2023-01-28 11:19:45 | Sami Knott |
| 434 | 2023-01-29 06:57:13 | Samantha Wilding |
| 435 | 2023-01-28 14:26:30 | C E |
| 436 | 2023-01-29 17:26:10 | Daniel Paddington |
| 437 | 2023-01-28 15:28:14 | Zaneta Jezewska |
| 438 | 2023-01-29 19:25:50 | Jeanette Anderson |
| 439 | 2023-02-01 18:45:14 | Kelly Storer |
| 440 | 2023-01-29 17:12:25 | Kelly Mason |
| 441 | 2023-01-29 13:10:30 | Pamela Bradshaw |
| 442 | 2023-01-29 15:56:49 | Nicole White |
| 443 | 2023-01-28 11:27:50 | Jacob Cole |
| 444 | 2023-01-28 06:27:08 | Tia Potter |
| 445 | 2023-01-31 23:46:17 | Kate Rampling |
| 446 | 2023-01-31 09:00:35 | Natasha Hollingsworth |
| 447 | 2023-01-29 18:35:46 | Danielle Kinsella |
| 448 | 2023-01-28 18:54:44 | Hayley Jackson |
| 449 | 2023-01-29 16:47:08 | Andrew Wells |
| 450 | 2023-01-28 15:45:03 | J K |
| 451 | 2023-01-28 05:25:52 | Taylor Lackenby |
| 452 | 2023-01-28 17:11:56 | Charlotte Alford |
| 453 | 2023-01-30 01:17:04 | Chelsea Bishop |
| 454 | 2023-01-29 13:11:07 | Lucia James |
| 455 | 2023-01-30 10:29:26 | Nicole White |
| 456 | 2023-01-28 18:32:00 | Samantha Wilding |
| 457 | 2023-02-01 18:25:04 | Chloe Milden |
| 458 | 2023-01-30 16:53:32 | Lea Painter |
| 459 | 2023-01-29 14:33:05 | Gemma Milnes |
| 460 | 2023-02-01 10:49:27 | Louise Whapham |
| 461 | 2023-01-28 10:54:53 | Katie May |
| 462 | 2023-01-27 17:34:17 | Lisa Freer |
| 463 | 2023-01-31 13:37:33 | T Jones |
| 464 | 2023-01-28 18:09:29 | Kelsey Herriott |
| 465 | 2023-01-28 19:49:42 | Aaron Mills |
| 466 | 2023-01-28 19:49:42 | Aaron Mills |
| 467 | 2023-01-29 18:25:58 | Joanne Wilson |
| 468 | 2023-01-30 03:48:15 | Rachel chalk |
| 469 | 2023-01-29 08:24:02 | Matt Wilson |
| 470 | 2023-01-29 18:30:18 | Susan Langford |
| 471 | 2023-01-28 12:17:31 | Eri Hall |
| 472 | 2023-01-30 10:43:15 | Michelle Searles |
| 473 | 2023-02-01 18:30:19 | K W |
| 474 | 2023-01-30 09:34:41 | Michelle Stanyon |
| 475 | 2023-01-27 15:52:58 | Julie Botley |
| 476 | 2023-01-30 07:59:56 | C W |
| 477 | 2023-01-29 17:12:39 | Courtney Ross |
| 478 | 2023-01-29 17:43:42 | Sophie Leckie |
| 479 | 2023-01-29 00:40:39 | Mark Lowe |
| 480 | 2023-01-28 20:44:20 | Kathryn Hathaway |
| 481 | 2023-01-28 16:57:56 | Terri Briddock |
| 482 | 2023-01-28 18:49:57 | Nicole White |
| 483 | 2023-01-31 22:03:55 | Nicole Meaklim |
| 484 | 2023-01-31 16:29:59 | DIANA OSBORNE |
| 485 | 2023-02-01 20:15:47 | T S |
| 486 | 2023-01-31 20:31:18 | Hannah Harrison-scott |
| 487 | 2023-01-28 19:39:14 | Vicci Del-Pizzo |
| 488 | 2023-02-01 18:27:08 | Nicky Winter |
| 489 | 2023-02-01 20:09:21 | Emma White |
| 490 | 2023-01-29 00:36:08 | Mark Lowe |
| 491 | 2023-01-28 13:09:58 | Claire Symons |
| 492 | 2023-01-27 17:02:36 | Suzanne Riddock |
| 493 | 2023-01-30 19:00:32 | K W |
| 494 | 2023-01-30 14:20:36 | Charlotte Wells |
| 495 | 2023-01-28 10:10:18 | Samantha c |
| 496 | 2023-01-29 17:25:49 | Tracey Yates |
| 497 | 2023-01-27 22:18:42 | Gemma Dix |
| 498 | 2023-02-01 16:08:58 | Victoria Short |
| 499 | 2023-01-28 18:40:57 | Karen Jones |
| 500 | 2023-01-29 17:16:54 | Kirsty Bushell |
| 501 | 2023-01-31 11:48:11 | Stacey La'moon |
| 502 | 2023-01-28 19:20:34 | Stephen Badcock |
| 503 | 2023-01-27 15:59:56 | Vicky Harrison |
| 504 | 2023-01-31 17:46:11 | Emma Reeve |
| 505 | 2023-01-29 16:54:29 | marion clark |
| 506 | 2023-01-29 04:16:14 | Elisha Lane |
| 507 | 2023-01-30 20:16:05 | Julie Botley |
| 508 | 2023-01-28 16:23:14 | Nicola Farley |
| 509 | 2023-01-28 16:23:14 | Nicola Farley |
| 510 | 2023-02-01 20:25:26 | Bethan Poppe |
| 511 | 2023-01-27 19:43:14 | Holly Bradshaw |
| 512 | 2023-01-27 23:54:31 | Emma White |
| 513 | 2023-01-28 14:04:07 | Shereen Baldwin |
| 514 | 2023-01-27 20:51:01 | Joanne Wilson |
| 515 | 2023-02-01 20:15:47 | T S |
| 516 | 2023-02-01 19:49:45 | David Pearcey |
| 517 | 2023-01-29 01:07:17 | Mark Lowe |
| 518 | 2023-01-27 18:44:36 | J K |
| 519 | 2023-01-30 11:21:21 | Chloe White |
| 520 | 2023-02-01 00:25:34 | D T |
| 521 | 2023-01-28 18:36:42 | Emma White |
| 522 | 2023-01-28 18:56:41 | Nicole White |
| 523 | 2023-01-28 18:27:06 | Zarina Michaels |
| 524 | 2023-01-31 17:46:11 | Emma Reeve |
| 525 | 2023-01-28 11:50:49 | Nadine Smallridge |
| 526 | 2023-01-28 17:01:29 | Mike Furness |
| 527 | 2023-01-29 15:38:53 | Tia Potter |
| 528 | 2023-01-27 19:43:59 | C B |
| 529 | 2023-01-31 11:48:11 | Stacey La'moon |
| 530 | 2023-01-29 16:04:00 | K W |
| 531 | 2023-01-31 20:17:19 | Hayley Jackson |
| 532 | 2023-01-28 18:06:05 | C W |
| 533 | 2023-01-29 15:03:43 | Holly Kemp |
| 534 | 2023-01-29 21:25:41 | Debbie Styles |
| 535 | 2023-01-31 07:33:37 | Mike Furness |
| 536 | 2023-01-29 19:15:44 | Donna Shute |
| 537 | 2023-01-30 17:14:35 | Kelvin Courtenay |
| 538 | 2023-01-28 13:34:35 | Liam PArker |
| 539 | 2023-01-28 15:27:29 | Gemma Ohanyelu |
| 540 | 2023-01-27 15:58:56 | Laurence Dent |
| 541 | 2023-01-28 09:43:39 | Katie Foley |
| 542 | 2023-01-28 09:54:49 | Nicole Stapleton |
| 543 | 2023-01-29 04:45:44 | Elisha Lane |
| 544 | 2023-01-31 20:49:23 | Samantha Sedgbeer |
| 545 | 2023-01-28 20:14:40 | Loren Cox |
| 546 | 2023-01-30 10:51:56 | Mike Furness |
| 547 | 2023-01-28 12:34:32 | Claire Symons |
| 548 | 2023-01-27 22:13:37 | Donna Marie |
| 549 | 2023-01-28 17:01:29 | Mike Furness |
| 550 | 2023-01-31 13:16:01 | Sarah Wills |
| 551 | 2023-01-30 07:36:01 | Nicole White |
| 552 | 2023-01-28 14:02:16 | Suzanne Pike |
| 553 | 2023-01-28 12:54:17 | Tia Potter |
| 554 | 2023-01-31 14:27:49 | Jemma Vinnicombe |
| 555 | 2023-01-28 23:18:27 | Suzi Gooding |
| 556 | 2023-01-28 12:34:49 | Becky H |
| 557 | 2023-02-01 19:47:04 | David Pearcey |
| 558 | 2023-01-29 19:57:12 | Ashley Lune |
| 559 | 2023-01-30 08:55:47 | Stacey Dymond |
| 560 | 2023-01-30 00:24:47 | D T |
| 561 | 2023-01-31 15:02:18 | Chloe Carter |
| 562 | 2023-01-29 15:06:30 | Andy S |
| 563 | 2023-01-28 20:12:59 | Charlotte Mills |
| 564 | 2023-01-28 14:56:49 | Lisa Burgess |
| 565 | 2023-01-30 07:27:17 | Nicole White |
| 566 | 2023-01-28 13:43:33 | Jayne Hodgson |
| 567 | 2023-01-28 14:05:32 | Dean Beaufoy |
| 568 | 2023-01-29 13:16:21 | Tahlia Cook |
| 569 | 2023-01-29 16:34:44 | Natasha Bourne |
| 570 | 2023-01-28 18:38:37 | Angela Marchant |
| 571 | 2023-01-28 14:33:49 | Amy Daniel |
| 572 | 2023-02-01 15:48:23 | Catrina Gorman |
| 573 | 2023-01-30 11:58:27 | Samantha Bailey |
| 574 | 2023-01-28 14:11:50 | Gary Phillips |
| 575 | 2023-01-27 16:24:24 | Caroline Taylor |
| 576 | 2023-01-31 15:28:07 | Linda Beer |
| 577 | 2023-02-01 18:57:05 | Jack Andrieux |
| 578 | 2023-01-29 00:31:32 | Mark Lowe |
| 579 | 2023-01-30 01:34:10 | Donna Blundell |
| 580 | 2023-01-28 18:08:23 | Kelsey Herriott |
| 581 | 2023-01-29 09:45:05 | Rachel chalk |
| 582 | 2023-02-01 07:38:46 | Rachel chalk |
| 583 | 2023-01-29 19:06:01 | Cheryl Wright |
| 584 | 2023-01-28 14:51:54 | Natalie Milner |
| 585 | 2023-01-29 18:48:26 | Jake Gardner |
| 586 | 2023-01-30 09:15:03 | J m Blackmore |
| 587 | 2023-01-29 15:57:50 | Nicole White |
| 588 | 2023-01-29 19:38:28 | Emma Ormrod |
| 589 | 2023-01-29 07:19:23 | Samantha Wilding |
| 590 | 2023-02-06 10:37:34 | Sami Knott |
| 591 | 2023-01-29 17:11:25 | C W |
| 592 | 2023-01-28 23:20:51 | T S |
| 593 | 2023-01-29 14:53:32 | Neil Potter |
| 594 | 2023-01-28 13:14:25 | Joyce Cunliffe |
| 595 | 2023-01-31 17:46:11 | Emma Reeve |
| 596 | 2023-01-31 17:42:59 | Sarah Wills |
| 597 | 2023-01-28 16:47:23 | nicola o'rourke |
| 598 | 2023-01-31 11:12:40 | Katy Mosley |
| 599 | 2023-01-30 17:58:33 | Antonia Shackleton |
| 600 | 2023-01-27 18:29:23 | Helen Holloway |
| 601 | 2023-01-31 13:17:51 | Wendy Kelsall |
| 602 | 2023-02-01 12:47:30 | Sophie Morgan |
| 603 | 2023-01-29 01:07:17 | Mark Lowe |
| 604 | 2023-01-30 11:08:57 | Amy Hardware |
| 605 | 2023-01-29 19:10:43 | Vicky Albinson |
| 606 | 2023-02-01 18:08:08 | Katherine Povey |
| 607 | 2023-01-29 10:46:59 | Nicola Bennett |
| 608 | 2023-01-29 15:38:53 | Tia Potter |
| 609 | 2023-01-28 17:20:11 | Sophie Leckie |
| 610 | 2023-01-29 15:42:21 | Tai Chung |
| 611 | 2023-02-01 19:48:43 | Tia Potter |
| 612 | 2023-01-31 12:00:10 | Lauren Turner |
| 613 | 2023-01-27 23:06:18 | Suzanne Riddock |
| 614 | 2023-01-31 11:11:19 | Katy Mosley |
| 615 | 2023-01-28 12:32:14 | Aim P |
| 616 | 2023-01-28 18:11:38 | Leanne D |
| 617 | 2023-01-29 17:09:19 | Tia Potter |
| 618 | 2023-01-30 04:19:45 | Kamila Szalowska |
| 619 | 2023-01-31 21:37:42 | Stephanie Hartnoll |
| 620 | 2023-01-29 19:12:25 | Robert Cox |
| 621 | 2023-01-29 17:39:52 | Callum Clarke |
| 622 | 2023-01-31 11:48:11 | Stacey La'moon |
| 623 | 2023-01-30 07:34:19 | Nicole White |
| 624 | 2023-01-28 17:37:52 | Mark Allford |
| 625 | 2023-02-01 18:50:52 | Nora Nunez |
| 626 | 2023-01-29 19:18:48 | Laura Jayne |
| 627 | 2023-01-28 10:26:04 | Tracy Langridge |
| 628 | 2023-01-28 14:06:12 | Kayleigh Williams |
| 629 | 2023-01-30 08:21:34 | C W |
| 630 | 2023-01-28 19:47:55 | Claire Baker |
| 631 | 2023-01-31 22:07:55 | Jodie Ellis |
| 632 | 2023-01-28 15:48:32 | J K |
| 633 | 2023-01-28 13:33:18 | T S |
| 634 | 2023-01-28 17:04:17 | Mike Furness |
| 635 | 2023-01-28 13:59:56 | Samantha Bailey |
| 636 | 2023-02-01 19:47:04 | David Pearcey |
| 637 | 2023-01-29 07:05:29 | Samantha Wilding |
| 638 | 2023-01-31 11:36:31 | Karen Roberts |
| 639 | 2023-01-30 16:39:59 | Daniel Illman |
| 640 | 2023-01-29 16:17:15 | Nicole Ellis |
| 641 | 2023-01-28 14:16:07 | Kate Sheriff |
| 642 | 2023-01-28 18:27:37 | Samantha Wilding |
| 643 | 2023-01-28 11:32:13 | Amanda Nickels |
| 644 | 2023-01-27 16:00:32 | Lewis Holmes |
| 645 | 2023-01-28 18:32:00 | Samantha Wilding |
| 646 | 2023-01-31 20:26:04 | Emma Lievesley |
| 647 | 2023-01-28 17:57:59 | Kalim Choudhury |
| 648 | 2023-01-29 17:17:10 | Donna Marie |
| 649 | 2023-01-30 09:58:01 | Becca Hawkins |
| 650 | 2023-01-30 00:11:18 | D T |
| 651 | 2023-01-31 10:38:11 | Stacey Carpanini |
| 652 | 2023-01-30 20:34:51 | Bradley Hervin |
| 653 | 2023-02-06 11:47:59 | Charlie Martin |
| 654 | 2023-01-29 15:59:30 | K W |
| 655 | 2023-01-29 20:42:57 | Natalie Anderson |
| 656 | 2023-01-31 13:32:36 | Courtney Johnson |
| 657 | 2023-01-28 09:53:08 | Nicole Stapleton |
| 658 | 2023-01-31 23:10:04 | Michelle Flood |
| 659 | 2023-01-30 00:22:26 | Rachel Gilbert |
| 660 | 2023-01-29 19:32:49 | S S |
| 661 | 2023-01-27 23:54:31 | Emma White |
| 662 | 2023-01-28 23:12:52 | Nicole Meaklim |
| 663 | 2023-01-29 14:06:15 | GARETH Lloyd |
| 664 | 2023-01-27 17:38:33 | S S |
| 665 | 2023-02-06 16:21:24 | Elizabeth Mullenger |
| 666 | 2023-01-28 14:02:16 | Suzanne Pike |
| 667 | 2023-01-31 20:49:23 | Samantha Sedgbeer |
| 668 | 2023-01-27 18:49:22 | J K |
| 669 | 2023-01-30 05:21:28 | Darren Bailey |
| 670 | 2023-02-01 12:29:38 | Staceyy C |
| 671 | 2023-01-28 13:15:19 | Claire Symons |
| 672 | 2023-02-01 19:20:44 | Chris Wills |
| 673 | 2023-02-01 12:58:38 | Amy Hardware |
| 674 | 2023-01-28 23:18:27 | Suzi Gooding |
| 675 | 2023-01-29 19:46:15 | Gemma Robinson |
| 676 | 2023-01-30 19:22:13 | Jordan Edwards |
| 677 | 2023-01-29 16:27:08 | Nicole White |
| 678 | 2023-01-28 23:49:33 | Claire Symons |
| 679 | 2023-01-29 06:59:10 | Samantha Wilding |
| 680 | 2023-01-29 17:18:12 | Marc Baker |
| 681 | 2023-01-29 04:28:25 | Emma White |
| 682 | 2023-02-01 09:28:18 | John Huteson |
| 683 | 2023-01-30 17:36:29 | Maggie Keenan |
| 684 | 2023-01-30 11:01:33 | Amy Hardware |
| 685 | 2023-01-29 19:58:31 | Nicola L |
| 686 | 2023-01-29 22:08:19 | Shazzy Mazzy |
| 687 | 2023-01-29 18:47:56 | Rosie Reynolds |
| 688 | 2023-01-29 20:42:03 | Natalie Anderson |
| 689 | 2023-01-30 13:27:28 | Amy Hutchings |
| 690 | 2023-01-29 16:15:31 | S M |
| 691 | 2023-01-30 00:34:44 | D T |
| 692 | 2023-01-29 19:38:10 | Miss Louise Wilson |
| 693 | 2023-01-30 14:55:41 | Sophie Morgan |
| 694 | 2023-01-28 13:33:18 | T S |
| 695 | 2023-02-01 18:01:51 | Samantha c |
| 696 | 2023-01-31 12:54:31 | Lisa Brown |
| 697 | 2023-02-06 12:55:27 | Jo Butcher |
| 698 | 2023-01-30 10:51:56 | Mike Furness |
| 699 | 2023-01-29 17:09:19 | Tia Potter |
| 700 | 2023-01-29 00:27:18 | Mark Lowe |
| 701 | 2023-01-30 00:05:08 | John Sproston |
| 702 | 2023-01-28 19:55:25 | Robert Cox |
| 703 | 2023-01-28 17:01:29 | Mike Furness |
| 704 | 2023-01-28 17:46:54 | Corey Pace |
| 705 | 2023-01-30 00:33:42 | Eri Hall |
| 706 | 2023-01-29 13:45:38 | Quinton Williams |
| 707 | 2023-01-29 17:26:10 | Daniel Paddington |
| 708 | 2023-01-31 14:23:19 | Nadine Smallridge |
| 709 | 2023-01-30 20:43:04 | Sam Pascoe |
| 710 | 2023-01-29 20:20:38 | Chloe Lee-Rivers |
| 711 | 2023-01-28 14:02:51 | Eri Hall |
| 712 | 2023-01-28 13:09:58 | Claire Symons |
| 713 | 2023-01-28 19:52:56 | J K |
| 714 | 2023-01-29 23:26:23 | Jodie Ellis |
| 715 | 2023-02-01 20:17:43 | Kayleigh Skinner |
| 716 | 2023-01-29 16:05:55 | Nicole White |
| 717 | 2023-01-28 11:42:31 | Rachel Osborne |
| 718 | 2023-01-29 17:17:10 | Donna Marie |
| 719 | 2023-01-28 12:31:45 | Becky H |
| 720 | 2023-01-27 16:35:24 | Helen Holloway |
| 721 | 2023-01-29 21:53:27 | Michael t O'connor |
| 722 | 2023-01-28 12:13:47 | Carly Stanton |
| 723 | 2023-02-01 00:45:41 | D T |
| 724 | 2023-01-29 16:20:56 | Kaitlin Gowing |
| 725 | 2023-01-31 00:18:47 | D T |
| 726 | 2023-01-29 04:43:44 | Elisha Lane |
| 727 | 2023-02-01 19:18:37 | C B |
| 728 | 2023-01-28 19:55:25 | Robert Cox |
| 729 | 2023-01-31 18:01:58 | Diane Deeprose |
| 730 | 2023-01-28 18:39:06 | Justine Buckley |
| 731 | 2023-01-28 14:07:44 | Eri Hall |
| 732 | 2023-01-30 07:25:02 | Nicole White |
| 733 | 2023-02-01 19:47:04 | David Pearcey |
| 734 | 2023-01-30 07:49:48 | Chloe Mcnulty |
| 735 | 2023-01-28 19:48:27 | Emma White |
| 736 | 2023-01-28 11:58:39 | Mark Lowe |
| 737 | 2023-01-29 07:25:01 | Samantha Wilding |
| 738 | 2023-01-27 21:32:36 | Tidey Gemma |
| 739 | 2023-01-28 19:20:18 | Sophie Leckie |
| 740 | 2023-02-01 07:43:46 | Bethan Poppe |
| 741 | 2023-01-28 18:19:09 | Natasha England |
| 742 | 2023-01-31 11:12:40 | Katy Mosley |
| 743 | 2023-01-29 19:46:00 | Danielle Forester |
| 744 | 2023-01-28 20:19:17 | Caroline Cattermole |
| 745 | 2023-01-29 15:23:56 | Tia Potter |
| 746 | 2023-01-29 00:36:08 | Mark Lowe |
| 747 | 2023-01-30 03:35:40 | Ollie Keeler |
| 748 | 2023-01-29 19:08:13 | Lucy Daughtry |
| 749 | 2023-01-29 20:34:54 | Aaron Mills |
| 750 | 2023-01-27 16:14:17 | Eri Hall |
| 751 | 2023-01-29 19:25:50 | Jeanette Anderson |
| 752 | 2023-01-28 19:56:30 | Robert Cox |
| 753 | 2023-02-01 13:24:20 | Darryl Gumbrill |
| 754 | 2023-01-29 19:35:37 | Karen McCabe |
| 755 | 2023-01-27 19:01:44 | Sam Ashelford |
| 756 | 2023-02-01 19:49:45 | David Pearcey |
| 757 | 2023-01-28 13:09:58 | Claire Symons |
| 758 | 2023-02-01 17:46:19 | Zoe Miller |
| 759 | 2023-01-30 07:31:29 | Nicole White |
| 760 | 2023-01-28 19:49:42 | Aaron Mills |
| 761 | 2023-01-30 13:49:08 | Kayley Stoneman |
| 762 | 2023-01-30 13:37:12 | Lisa Roberts |
| 763 | 2023-01-30 13:53:43 | Adele Turnstill |
| 764 | 2023-01-29 20:43:08 | Gemma Bush |
| 765 | 2023-01-29 12:03:11 | Jemma Lavercombe |
| 766 | 2023-01-28 18:21:11 | Tia Potter |
| 767 | 2023-01-30 10:28:09 | Louise Cleave |
| 768 | 2023-02-01 10:56:42 | Shannon Shaw |
| 769 | 2023-01-30 08:24:21 | Emma Reeve |
| 770 | 2023-02-01 12:50:28 | Amy Hardware |
| 771 | 2023-01-28 22:15:19 | Charlotte Harry |
| 772 | 2023-02-01 19:49:45 | David Pearcey |
| 773 | 2023-01-29 23:53:06 | Emma Boatwright |
| 774 | 2023-02-04 13:05:13 | Janice Parker-Done |
| 775 | 2023-01-29 14:53:32 | Neil Potter |
| 776 | 2023-01-30 19:59:48 | Lucy Wootton |
| 777 | 2023-01-28 18:11:34 | C W |
| 778 | 2023-01-30 11:53:18 | Amy Hardware |
| 779 | 2023-01-29 10:27:29 | K W |
| 780 | 2023-01-28 19:49:42 | Aaron Mills |
| 781 | 2023-01-27 22:18:42 | Gemma Dix |
| 782 | 2023-01-28 14:46:46 | Sami Knott |
| 783 | 2023-01-27 16:12:59 | Catherine Lush |
| 784 | 2023-01-30 04:43:57 | Rachel chalk |
| 785 | 2023-01-30 13:31:59 | Lisa Roberts |
| 786 | 2023-01-29 17:28:53 | C W |
| 787 | 2023-01-28 13:09:58 | Claire Symons |
| 788 | 2023-01-28 14:35:37 | Sarah jane Glover |
| 789 | 2023-01-29 16:48:05 | Thomas Ellis |
| 790 | 2023-01-27 15:54:13 | Julie Botley |
| 791 | 2023-01-28 21:04:58 | Caroline Pottinger |
| 792 | 2023-01-31 12:18:55 | Dawn Nelis |
| 793 | 2023-01-28 11:52:59 | Jade Hopkins |
| 794 | 2023-01-27 16:46:05 | Soph E |
| 795 | 2023-01-30 23:33:50 | Diane Fox |
| 796 | 2023-01-28 18:31:08 | Jolene Collings |
| 797 | 2023-02-01 07:34:51 | Amy Hardware |
| 798 | 2023-01-29 06:10:04 | Elisha Lane |
| 799 | 2023-01-28 16:16:40 | Sarah Ashton |
| 800 | 2023-01-29 07:36:32 | Kayleigh Gibbons |
| 801 | 2023-01-29 15:00:12 | Sophie Davies |
| 802 | 2023-01-28 23:22:55 | Suzi Gooding |
| 803 | 2023-01-27 23:24:26 | Jeanette Glynn |
| 804 | 2023-01-30 20:03:19 | Tegan Wilkins |
| 805 | 2023-01-29 22:51:27 | Samantha Head |
| 806 | 2023-01-30 11:53:18 | Amy Hardware |
| 807 | 2023-01-29 19:46:07 | Joanne Wilson |
| 808 | 2023-02-01 13:34:32 | Charlotte Harry |
| 809 | 2023-02-01 19:18:37 | C B |
| 810 | 2023-01-29 13:04:35 | Pamela Bradshaw |
| 811 | 2023-01-31 10:44:10 | Sarah French |
| 812 | 2023-01-28 18:22:40 | Samantha Wilding |
| 813 | 2023-01-28 14:29:10 | Darryl Parker |
| 814 | 2023-01-27 19:21:54 | Tidey Gemma |
| 815 | 2023-01-27 23:54:31 | Emma White |
| 816 | 2023-01-28 14:54:31 | Lisa Burgess |
| 817 | 2023-01-29 00:17:55 | C W |
| 818 | 2023-01-27 19:07:32 | Tidey Gemma |
| 819 | 2023-02-01 17:22:38 | Terri Samways |
| 820 | 2023-01-31 19:20:29 | Thomas Wilson |
| 821 | 2023-01-29 16:23:56 | Connor Coombes |
| 822 | 2023-01-29 19:55:38 | Stacey Oakley |
| 823 | 2023-01-30 23:31:33 | Thomas Wilson |
| 824 | 2023-01-31 14:09:04 | Marlena Bowden |
| 825 | 2023-01-28 19:03:24 | Kayleigh Lear |
| 826 | 2023-02-01 13:22:09 | Amy Hardware |
| 827 | 2023-01-30 08:55:47 | Stacey Dymond |
| 828 | 2023-01-28 09:40:49 | Tidey Gemma |
| 829 | 2023-01-28 20:54:10 | Emma Nott |
| 830 | 2023-01-27 23:24:26 | Jeanette Glynn |
| 831 | 2023-01-29 07:13:56 | Nicola Hudson |
| 832 | 2023-01-28 13:58:07 | Liz Authers-Ward |
| 833 | 2023-01-29 16:45:11 | Nicole White |
| 834 | 2023-01-29 20:34:54 | Aaron Mills |
| 835 | 2023-01-31 03:40:55 | Suzanne Riddock |
| 836 | 2023-01-28 18:51:47 | Nicole White |
| 837 | 2023-01-27 21:37:15 | Carla Taylor |
| 838 | 2023-01-27 16:23:53 | Brogan Marshall |
| 839 | 2023-01-30 21:13:05 | Demi Broome |
| 840 | 2023-01-27 22:55:26 | S Swinhoe |
| 841 | 2023-01-29 22:16:36 | Sarah Tritton |
| 842 | 2023-01-29 07:03:10 | Samantha Wilding |
| 843 | 2023-01-31 17:49:10 | Danielle Danielle |
| 844 | 2023-02-01 12:28:56 | Amy Hardware |
| 845 | 2023-01-28 14:53:39 | Jane Netherway |
| 846 | 2023-01-29 00:45:05 | Mark Lowe |
| 847 | 2023-02-06 12:58:14 | Lorraine Mchugh |
| 848 | 2023-01-30 23:33:50 | Diane Fox |
| 849 | 2023-01-31 00:52:09 | Suzanne Riddock |
| 850 | 2023-02-01 17:46:19 | Zoe Miller |
| 851 | 2023-02-01 13:28:51 | Sam Fitzsimmons |
| 852 | 2023-01-29 14:05:14 | Hi Patricia Clarkson |
| 853 | 2023-01-29 00:17:36 | Matt Wilson |
| 854 | 2023-01-28 18:27:37 | Samantha Wilding |
| 855 | 2023-01-29 16:32:28 | Nicole White |
| 856 | 2023-01-31 11:08:33 | Katy Mosley |
| 857 | 2023-01-31 18:34:48 | D T |
| 858 | 2023-01-28 19:49:42 | Aaron Mills |
| 859 | 2023-01-28 17:57:59 | Kalim Choudhury |
| 860 | 2023-01-31 16:20:19 | Charlie West |
| 861 | 2023-01-28 22:51:55 | Tiffany Spear |
| 862 | 2023-01-28 13:09:58 | Claire Symons |
| 863 | 2023-01-29 08:27:15 | Amy Farrington |
| 864 | 2023-01-29 00:36:08 | Mark Lowe |
| 865 | 2023-01-28 12:31:14 | Gillian Ronchetti |
| 866 | 2023-01-29 04:18:50 | Elisha Lane |
| 867 | 2023-01-27 22:10:15 | Beckii-Claire Ames |
| 868 | 2023-01-31 18:47:58 | Tara Finn |
| 869 | 2023-01-31 17:40:42 | Sarah Wills |
| 870 | 2023-01-30 19:53:55 | Natalie Lord |
| 871 | 2023-01-31 08:38:26 | Kerry Shenton |
| 872 | 2023-02-01 15:23:21 | Deborah Carling |
| 873 | 2023-01-30 09:02:02 | Stacey Dymond |
| 874 | 2023-01-29 04:30:36 | Elisha Lane |
| 875 | 2023-02-01 13:24:20 | Darryl Gumbrill |
| 876 | 2023-01-28 18:05:54 | Samantha Wilding |
| 877 | 2023-01-27 15:51:01 | Theresa Copsey |
| 878 | 2023-02-01 17:24:44 | Natalie Bond |
| 879 | 2023-02-01 19:42:20 | Rebecca Marshall |
| 880 | 2023-01-28 18:53:34 | Nicole White |
| 881 | 2023-01-29 08:39:24 | Tia Potter |
| 882 | 2023-01-31 17:30:43 | Jordan Crook |
| 883 | 2023-01-28 23:35:48 | Emma White |
| 884 | 2023-01-29 19:37:33 | Stacey Oakley |
| 885 | 2023-01-29 17:06:55 | Kris Foss |
| 886 | 2023-01-28 12:15:18 | Julie Bickerstaffe |
| 887 | 2023-01-27 23:54:31 | Emma White |
| 888 | 2023-01-30 14:30:56 | Charmaine Tape |
| 889 | 2023-01-30 19:14:13 | Jennifer Waye |
| 890 | 2023-01-31 07:33:37 | Mike Furness |
| 891 | 2023-01-30 21:14:48 | Stockton Ben |
| 892 | 2023-01-28 20:45:39 | Stacey Dymond |
| 893 | 2023-01-30 20:16:05 | Julie Botley |
| 894 | 2023-01-28 16:02:23 | Grace Marshall |
| 895 | 2023-01-28 20:28:40 | samantha hoare |
| 896 | 2023-02-01 18:57:05 | Jack Andrieux |
| 897 | 2023-01-28 15:48:32 | J K |
| 898 | 2023-01-28 13:09:58 | Claire Symons |
| 899 | 2023-01-30 09:33:03 | Liam Short |
| 900 | 2023-01-28 12:30:19 | Claire Symons |
| 901 | 2023-01-28 14:04:07 | Shereen Baldwin |
| 902 | 2023-01-28 13:08:13 | Alison Hill |
| 903 | 2023-01-27 22:44:23 | Carley Warren-aldworth |
| 904 | 2023-01-29 04:45:44 | Elisha Lane |
| 905 | 2023-01-28 00:07:42 | Mark Lowe |
| 906 | 2023-01-29 17:46:00 | Holly Ring |
| 907 | 2023-01-29 08:23:10 | T S |
| 908 | 2023-02-06 10:37:34 | Sami Knott |
| 909 | 2023-02-06 17:00:42 | Endicott Louise |
| 910 | 2023-01-30 23:32:31 | Charlotte Harry |
| 911 | 2023-01-27 18:11:03 | Shaun Douglas |
| 912 | 2023-01-28 19:44:42 | C W |
| 913 | 2023-01-27 17:43:11 | Suzanne Riddock |
| 914 | 2023-01-28 18:35:04 | Angela Marchant |
| 915 | 2023-01-29 16:07:15 | Laura Tyrrell |
| 916 | 2023-01-27 21:53:11 | Ashley Evans |
| 917 | 2023-01-29 20:33:49 | kelly Knapton |
| 918 | 2023-01-30 12:29:05 | M KM |
| 919 | 2023-01-28 14:38:35 | T L |
| 920 | 2023-01-31 19:19:53 | Serena West |
| 921 | 2023-01-29 18:09:24 | Amara Baxter |
| 922 | 2023-01-28 13:15:19 | Claire Symons |
| 923 | 2023-02-01 15:52:01 | Gillian Smith |
| 924 | 2023-01-29 18:00:28 | K W |
| 925 | 2023-01-29 07:01:24 | Samantha Wilding |
| 926 | 2023-01-27 22:13:37 | Donna Marie |
| 927 | 2023-01-28 19:47:27 | Daniel Paddington |
| 928 | 2023-01-27 15:51:32 | Kelly Mason |
| 929 | 2023-02-01 14:39:52 | Natasha Roche |
| 930 | 2023-01-31 09:11:04 | Steve Archer |
| 931 | 2023-01-28 19:49:42 | Aaron Mills |
| 932 | 2023-02-01 16:04:32 | Michelle Searles |
| 933 | 2023-02-01 19:07:33 | Charlotte Wells |
| 934 | 2023-01-30 20:18:09 | Lauren Turner |
| 935 | 2023-01-28 15:06:29 | Amanda Warner |
| 936 | 2023-01-29 21:22:28 | Jacqueline Sandford |
| 937 | 2023-01-30 14:04:38 | Ben Rook |
| 938 | 2023-01-28 15:48:32 | J K |
| 939 | 2023-01-28 19:20:18 | Ian Oliver |
| 940 | 2023-02-06 13:07:35 | Fliss Wright |
| 941 | 2023-01-28 18:17:59 | Samantha Wilding |
| 942 | 2023-02-06 16:32:27 | Kelly Dart |
| 943 | 2023-01-31 21:22:42 | C W |
| 944 | 2023-01-29 20:34:54 | Aaron Mills |
| 945 | 2023-01-28 16:02:23 | Grace Marshall |
| 946 | 2023-01-29 16:59:44 | Jodie Ellis |
| 947 | 2023-01-30 03:46:27 | Rachel chalk |
| 948 | 2023-02-06 16:26:05 | Kiri Leanne |
| 949 | 2023-01-28 15:07:50 | M W |
| 950 | 2023-01-28 12:39:58 | Lauren Mckimm |
| 951 | 2023-01-28 05:25:52 | Taylor Lackenby |
| 952 | 2023-01-27 15:50:39 | Jo Disley |
| 953 | 2023-01-31 10:48:49 | Sarah French |
| 954 | 2023-01-29 20:55:57 | Neil Potter |
| 955 | 2023-01-28 17:02:45 | Gary Bond |
| 956 | 2023-01-30 13:36:00 | Heather Jenkins |
| 957 | 2023-01-30 06:28:14 | Alex Parrott |
| 958 | 2023-01-30 10:43:15 | Michelle Searles |
| 959 | 2023-01-29 22:50:10 | Samantha Head |
| 960 | 2023-01-28 08:56:02 | Zoe Mitchell |
| 961 | 2023-01-29 14:51:57 | Rachel Nicholson |
| 962 | 2023-02-01 07:34:51 | Amy Hardware |
| 963 | 2023-01-28 14:56:27 | Charlie West |
| 964 | 2023-01-30 19:00:28 | Vicky McCormack |
| 965 | 2023-01-31 17:30:43 | Jordan Crook |
| 966 | 2023-01-31 14:32:22 | Andy Brown |
| 967 | 2023-02-01 14:52:33 | Mandy Hayman |
| 968 | 2023-01-28 12:26:40 | G B |
| 969 | 2023-01-30 08:01:37 | Karen Roberts |
| 970 | 2023-01-27 21:32:36 | Tidey Gemma |
| 971 | 2023-01-29 00:36:08 | Mark Lowe |
| 972 | 2023-01-28 19:19:25 | Kayleigh Williams |
| 973 | 2023-01-29 18:18:37 | James Shaw |
| 974 | 2023-01-27 19:45:46 | C B |
| 975 | 2023-01-31 00:50:52 | Emma Jones |
| 976 | 2023-01-29 12:41:43 | Mrs M |
| 977 | 2023-02-01 10:05:30 | Roxanne Hill |
| 978 | 2023-01-31 20:06:42 | Gee Bee |
| 979 | 2023-01-29 18:32:51 | Susan Langford |
| 980 | 2023-01-30 20:12:54 | Charlotte Pollitt |
| 981 | 2023-01-28 18:38:37 | Angela Marchant |
| 982 | 2023-01-28 15:51:23 | J K |
| 983 | 2023-02-06 17:36:53 | Michael Harvey |
| 984 | 2023-01-27 22:13:37 | Donna Marie |
| 985 | 2023-01-28 13:09:58 | Claire Symons |
| 986 | 2023-01-27 21:37:15 | Carla Taylor |
| 987 | 2023-02-01 19:47:04 | David Pearcey |
| 988 | 2023-01-27 23:37:29 | Sami Knott |
| 989 | 2023-01-28 15:18:29 | Nancy stevens |
| 990 | 2023-01-28 21:28:05 | Ben Rook |
| 991 | 2023-02-01 20:26:13 | Mark Hamm |
| 992 | 2023-01-29 04:22:14 | Emma White |
| 993 | 2023-01-28 22:42:37 | Charlotte Harry |
| 994 | 2023-01-27 21:53:11 | Ashley Evans |
| 995 | 2023-02-01 20:28:21 | Hermon Gosling |
| 996 | 2023-01-31 17:06:34 | Claire Drury |
| 997 | 2023-01-28 14:38:36 | Meg Barnes |
| 998 | 2023-01-28 17:15:52 | Julie Botley |
| 999 | 2023-01-29 14:10:58 | Stacey Neale |
| 1000 | 2023-01-27 23:06:18 | Suzanne Riddock |