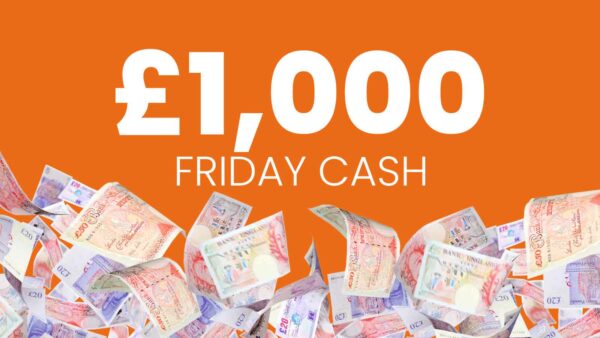 WIN £1000 CASH – FRIDAY 23/9
Description
How do you fancy winning £1000 cash? What's even better is the £3.00 ticket price.
Once all the tickets are sold or the timer runs out (whichever happens first) then a winner is randomly selected on the live draw, no matter how many tickets are sold.
The winner will be contacted after the live draw.
Good luck.
Don't forget to follow our facebook group and page for draw updates:
| Winner Name | Ticket Number | Draw Date |
| --- | --- | --- |
| Darren Willis | 360 | 23/09/2022 |
1-100
101-200
201-300
301-400
401-500
501-600
| Ticket Number | Date | Name |
| --- | --- | --- |
| 1 | 2022-09-23 00:23:16 | Riddock Suzanne |
| 2 | 2022-09-23 13:51:31 | colin hunter |
| 3 | 2022-09-23 12:26:32 | charlotte parnell |
| 4 | 2022-09-23 11:57:26 | Danielle Trow |
| 5 | 2022-09-23 10:50:28 | faye Willicott |
| 6 | 2022-09-23 00:23:16 | Riddock Suzanne |
| 7 | 2022-09-23 10:06:58 | Gemma Milnes |
| 8 | 2022-09-23 11:12:28 | Claire Allen |
| 9 | 2022-09-23 08:45:56 | Tahlia Cook |
| 10 | 2022-09-23 11:27:54 | Thyme Robbins |
| 11 | 2022-09-22 21:34:48 | Neil Beasley |
| 12 | 2022-09-23 11:11:36 | Lauren Kenny |
| 13 | 2022-09-22 21:49:31 | Maria Rawlings |
| 14 | 2022-09-23 12:21:45 | Wendy Swindells |
| 15 | 2022-09-23 14:33:05 | Wendy Wells |
| 16 | 2022-09-23 08:28:46 | Jade Harris |
| 17 | 2022-09-22 22:34:02 | Jayne Lofthouse |
| 18 | 2022-09-23 11:32:48 | Lucy Cook |
| 19 | 2022-09-23 00:23:16 | Riddock Suzanne |
| 20 | 2022-09-23 17:15:13 | L Coysh |
| 21 | 2022-09-23 08:04:26 | Debs Hamilton |
| 22 | 2022-09-23 01:57:15 | jasmin humphrey |
| 23 | 2022-09-23 13:42:58 | Lisa Roberts |
| 24 | 2022-09-22 20:37:24 | Anna Benney |
| 25 | 2022-09-23 16:52:56 | rita lockett |
| 26 | 2022-09-23 06:15:16 | Virginia Archer |
| 27 | 2022-09-23 12:26:32 | charlotte parnell |
| 28 | 2022-09-23 10:42:59 | Tammie Isaacs |
| 29 | 2022-09-23 14:33:05 | Wendy Wells |
| 30 | 2022-09-23 11:20:35 | Jennie Barnett |
| 31 | 2022-09-22 22:22:38 | Katie Channing |
| 32 | 2022-09-23 04:15:32 | Kaydee West |
| 33 | 2022-09-22 22:46:04 | Marc Baker |
| 34 | 2022-09-23 08:53:28 | jan blackler |
| 35 | 2022-09-23 09:54:56 | Jodie Ellis |
| 36 | 2022-09-23 09:54:56 | Jodie Ellis |
| 37 | 2022-09-23 14:49:58 | Linda Beer |
| 38 | 2022-09-23 15:25:57 | Jaclyn Pile |
| 39 | 2022-09-23 08:23:55 | Aaron Robinson |
| 40 | 2022-09-23 10:57:55 | mclellan Paul |
| 41 | 2022-09-22 21:32:30 | kamila laskowska |
| 42 | 2022-09-23 06:57:50 | Lucie Dobeer |
| 43 | 2022-09-23 08:51:57 | Amanda Sullivan |
| 44 | 2022-09-23 16:22:20 | Mrs Linda Grimshaw |
| 45 | 2022-09-23 10:32:07 | Emily Roberts |
| 46 | 2022-09-23 06:29:59 | Ann Hall |
| 47 | 2022-09-23 16:32:14 | Tammie Isaacs |
| 48 | 2022-09-23 17:32:06 | Chris Wills |
| 49 | 2022-09-23 17:01:52 | Sian Stead |
| 50 | 2022-09-23 11:33:50 | Chloe Walker |
| 51 | 2022-09-23 15:12:00 | David Hart |
| 52 | 2022-09-23 18:25:02 | Toby BAMSEY |
| 53 | 2022-09-23 09:50:46 | Lee Williams |
| 54 | 2022-09-23 15:36:37 | Josh Pender |
| 55 | 2022-09-23 14:33:05 | Wendy Wells |
| 56 | 2022-09-23 08:11:35 | Heather Turnstill |
| 57 | 2022-09-22 21:18:27 | Emma-louise Duckling |
| 58 | 2022-09-23 18:11:43 | Jones Natasha |
| 59 | 2022-09-23 09:10:19 | Bryan Gunstone |
| 60 | 2022-09-23 11:31:48 | Laura Willdigg |
| 61 | 2022-09-23 10:27:40 | Heather Hingston |
| 62 | 2022-09-23 09:48:26 | Cat F |
| 63 | 2022-09-22 21:22:45 | Samantha Jordan |
| 64 | 2022-09-23 16:43:56 | Rachel Salloway |
| 65 | 2022-09-23 11:31:48 | Laura Willdigg |
| 66 | 2022-09-23 10:56:00 | Jade Hopkins |
| 67 | 2022-09-23 17:12:59 | Nicola Naylor |
| 68 | 2022-09-23 12:57:58 | Danielle Hooper |
| 69 | 2022-09-22 22:22:38 | Katie Channing |
| 70 | 2022-09-23 08:22:47 | Joanne Warner |
| 71 | 2022-09-23 11:12:15 | Laura Lee |
| 72 | 2022-09-23 12:16:19 | Sonia Holden |
| 73 | 2022-09-23 14:57:28 | Jodie C |
| 74 | 2022-09-23 12:41:10 | Diane Framingham |
| 75 | 2022-09-23 17:32:52 | Stacey Jary |
| 76 | 2022-09-23 14:32:49 | Jo Butcher |
| 77 | 2022-09-23 12:38:21 | Emma Lewis |
| 78 | 2022-09-23 03:21:53 | Becca Hawkins |
| 79 | 2022-09-23 08:23:55 | Aaron Robinson |
| 80 | 2022-09-23 12:26:32 | charlotte parnell |
| 81 | 2022-09-23 17:01:52 | Sian Stead |
| 82 | 2022-09-23 18:08:37 | Stephanie Pickford |
| 83 | 2022-09-23 17:07:08 | Linda Bowman |
| 84 | 2022-09-23 15:42:55 | Ruth Norris |
| 85 | 2022-09-23 18:13:53 | Craig Moran |
| 86 | 2022-09-23 11:10:40 | Mandy Moore |
| 87 | 2022-09-23 15:36:50 | Rachel Scott |
| 88 | 2022-09-23 08:12:51 | Naomi Davis |
| 89 | 2022-09-23 18:01:33 | Nicola Walker |
| 90 | 2022-09-23 15:44:23 | Esme Kershaw |
| 91 | 2022-09-23 12:16:19 | Sonia Holden |
| 92 | 2022-09-23 17:11:36 | Charlotte Ager |
| 93 | 2022-09-23 11:19:26 | Kitty Cat |
| 94 | 2022-09-23 18:11:43 | Jones Natasha |
| 95 | 2022-09-23 17:32:06 | Chris Wills |
| 96 | 2022-09-23 16:16:15 | Jess Wickham |
| 97 | 2022-09-23 11:20:35 | Jennie Barnett |
| 98 | 2022-09-23 09:35:27 | Alicia Sandercock |
| 99 | 2022-09-22 21:32:30 | kamila laskowska |
| 100 | 2022-09-23 07:31:30 | Lizzie Deam |