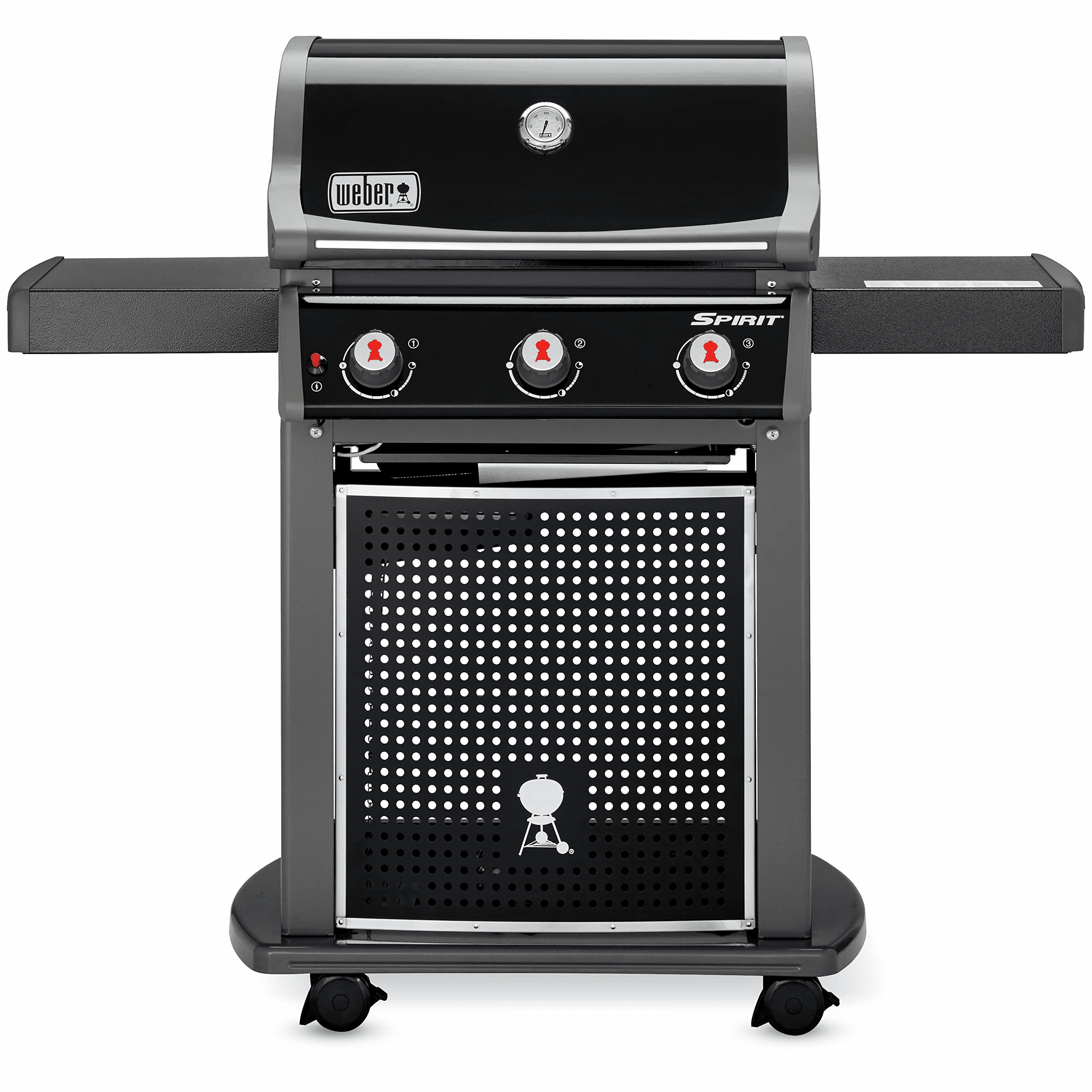 Weber Spirit Classic E-310 3-Burner Gas BBQ
Description
Weber Spirit Classic E-310 3-Burner Gas BBQ
Weber's Spirit Classic E310 gas barbecue is a great all-round model with 3 stainless steel burners to give you plenty of cooking space, along with an additional warming rack.
Hooks for 6 tools let you baste, turn and griddle with ease and you can keep skewers and condiments to hand on one of the 2 side tables. The enclosed front also gives you added storage space beneath the cart.
Porcelain-enamelled Flavourizer bars give you the perfect barbecue taste and protect the burners from fat and juices, while the cooking grate and removable grease tray, which are also porcelain-enamelled, make the barbecue easy to clean and maintain.
The 5kg Patio Gas bottle can be used within the cart. The larger sized 13kg Patio Gas bottles will need to stand under the side table when grilling with the hose going into the barbecue through the hole on the barbecue side.
Key features:
3 burners with temperature controls
Side shelves with utensil hooks
Quick and easy electronic ignition
Porcelain-enamelled Flavourizer bars create BBQ flavours
Rust-proof porcelain-enamelled lid with built-in thermometer
Warming rack
Transporter wheels for easy moving
| Winner Name | Ticket Number | Draw Date |
| --- | --- | --- |
| Tara Evans | 88 | 18/07/2022 |
1-100
101-200
201-300
301-400
401-500
501-600
601-700
701-800
801-900
| Ticket Number | Date | Name |
| --- | --- | --- |
| 1 | 2022-07-18 18:58:23 | Suzi Gooding |
| 2 | 2022-07-18 18:58:23 | Suzi Gooding |
| 3 | 2022-07-18 17:34:54 | Louise White |
| 4 | 2022-07-18 19:22:06 | Katie-Louise Chalk |
| 5 | 2022-07-18 17:38:45 | Louise Powell |
| 6 | 2022-07-18 12:29:08 | Joanne Pennington |
| 7 | 2022-07-18 18:58:23 | Suzi Gooding |
| 8 | 2022-07-18 17:38:45 | Louise Powell |
| 10 | 2022-07-18 20:32:53 | Jill Higham |
| 13 | 2022-07-18 16:32:27 | Tara Evans |
| 14 | 2022-07-18 13:35:51 | Juliet Phillips |
| 15 | 2022-07-18 20:49:01 | Stacey Smith |
| 17 | 2022-07-18 13:54:08 | Faye Laukkanen |
| 18 | 2022-07-18 17:38:45 | Louise Powell |
| 19 | 2022-07-18 17:05:48 | Samantha White |
| 20 | 2022-07-18 12:35:18 | Dean O'Connor |
| 21 | 2022-07-18 10:33:39 | Siobhan Wilcock |
| 22 | 2022-07-18 20:48:33 | Jenny King |
| 23 | 2022-07-18 18:58:23 | Suzi Gooding |
| 24 | 2022-07-18 15:19:42 | Emma Louise |
| 26 | 2022-07-18 15:15:05 | Amy Moss |
| 27 | 2022-07-18 17:05:48 | Samantha White |
| 28 | 2022-07-18 19:34:58 | Joanne Pursey |
| 29 | 2022-07-18 13:23:46 | Tanya Dennis |
| 31 | 2022-07-18 19:56:22 | Louise Riley |
| 33 | 2022-07-18 19:29:16 | Liam Webb |
| 34 | 2022-07-18 20:16:03 | Karen Duncanson |
| 35 | 2022-07-18 15:14:48 | Ben Melsome |
| 36 | 2022-07-18 20:06:32 | Elliot White |
| 37 | 2022-07-18 17:34:54 | Louise White |
| 39 | 2022-07-18 20:25:30 | Tia potter |
| 40 | 2022-07-18 19:50:31 | Dudley Rae |
| 42 | 2022-07-18 11:23:53 | Leah Hamilton |
| 43 | 2022-07-18 19:51:12 | Damian Cole |
| 47 | 2022-07-18 17:10:00 | Mark Pease |
| 51 | 2022-07-18 17:12:49 | Staceyy Clack |
| 52 | 2022-07-18 17:05:48 | Samantha White |
| 54 | 2022-07-18 18:51:24 | Jade Jago |
| 55 | 2022-07-18 18:50:04 | Mandy Cove |
| 56 | 2022-07-18 20:06:32 | Elliot White |
| 57 | 2022-07-18 20:16:03 | Karen Duncanson |
| 62 | 2022-07-18 20:03:47 | Julie Bouskill |
| 63 | 2022-07-18 19:53:26 | Kevin Hayes |
| 64 | 2022-07-18 20:47:53 | Stephanie Gove |
| 65 | 2022-07-18 17:46:44 | Emma Davies |
| 66 | 2022-07-18 19:26:02 | Erin Giles |
| 72 | 2022-07-18 20:16:03 | Karen Duncanson |
| 75 | 2022-07-18 20:06:32 | Elliot White |
| 76 | 2022-07-18 19:47:36 | Ron4 Ayres |
| 77 | 2022-07-18 16:32:27 | Tara Evans |
| 78 | 2022-07-18 17:31:03 | Deb Wiltshire |
| 80 | 2022-07-18 20:29:20 | Amy Crompton |
| 81 | 2022-07-18 19:50:27 | Emma Bathard |
| 82 | 2022-07-18 20:13:05 | Emma Berryman |
| 85 | 2022-07-18 18:10:17 | Lekel North |
| 87 | 2022-07-18 20:08:46 | Karen Duncanson |
| 88 | 2022-07-18 16:32:27 | Tara Evans |
| 89 | 2022-07-18 20:36:20 | Tanya Bridger |
| 91 | 2022-07-18 20:47:45 | Carley Down |
| 96 | 2022-07-18 19:37:44 | Steph Sutherland |
| 98 | 2022-07-18 19:24:26 | Tracy Smith |
| 99 | 2022-07-18 17:10:00 | Mark Pease |
| 100 | 2022-07-18 16:32:27 | Tara Evans |