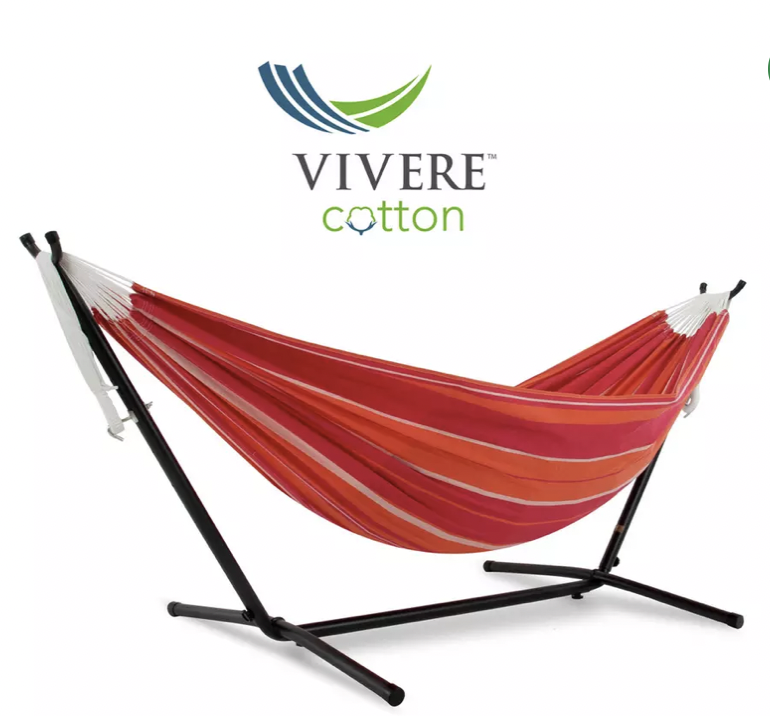 Vivere Mimosa Hammock with Metal Stand
Description
Vivere Mimosa Hammock with Metal Stand
Hammock is 100% cotton, tightly woven and richly coloured Space-saving 8-foot stand is constructed of heavy duty steel and assembles in minutes without any tools Carrying case is included Hammock bed is 83 x 59 inches, with a total length of 120 inches; accommodates two adults, 450 pound capacity.
Vivere Double Hammock with Space-Saving Stand The Vivere hammock combo comes with a space-saving steel stand and a double hammock in cotton fabric.
Made from powder coated steel.
Fabric made from cotton.
Cushions not included.
Dimensions:
Size H105, W110, D280cm.
Weight 12kg.
Package Dimensions:
Package 1 dimensions: H18, W23, D120cm.
Package 1 weight:14kg.
General information:
Self-assembly.
Store hammock inside when not in use.
Frame easily dismantles for storage.
Cover or store inside in winter months to prolong life of the product.
| Winner Name | Ticket Number | Draw Date |
| --- | --- | --- |
| jeanette rich | 2 | 21/03/2023 |
| Ticket Number | Date | Name |
| --- | --- | --- |
| 1 | 2023-03-21 20:09:38 | Dannii mae Ward |
| 2 | 2023-03-21 13:59:56 | jeanette rich |
| 3 | 2023-03-17 19:14:51 | Tracey Chalk |
| 4 | 2023-03-20 21:35:06 | Sharon Smith |
| 5 | 2023-03-21 07:12:54 | Anne Langford |
| 6 | 2023-03-20 12:36:45 | Vicky Griffin |
| 7 | 2023-03-21 19:41:53 | Natalie Gillmore |
| 8 | 2023-03-21 15:11:05 | stephanie dale |
| 9 | 2023-03-21 08:57:43 | Ashley Commins |
| 10 | 2023-03-21 12:31:09 | Tia Potter |
| 11 | 2023-03-20 20:21:39 | Paula Jayne Johnson |
| 12 | 2023-03-20 12:43:04 | Lewis Holmes |
| 13 | 2023-03-20 23:27:42 | Emily Eddowes |
| 14 | 2023-03-20 23:27:42 | Emily Eddowes |
| 15 | 2023-03-20 20:43:46 | Louise Martin |
| 16 | 2023-03-19 13:46:56 | Carla Taylor |
| 17 | 2023-03-20 08:26:49 | Sharon Foster |
| 18 | 2023-03-18 10:08:44 | NIcola Saffin Scholes |
| 20 | 2023-03-21 20:44:32 | Gemma Gale |
| 21 | 2023-03-20 06:14:25 | emma mccauley |
| 22 | 2023-03-21 18:34:46 | Emma & lee |
| 23 | 2023-03-21 20:04:03 | Alan Underhill |
| 24 | 2023-03-18 20:54:08 | Emma Louise |
| 26 | 2023-03-21 10:40:05 | Kaye Lowden |
| 27 | 2023-03-21 07:12:54 | Anne Langford |
| 28 | 2023-03-21 16:54:30 | Ann Herd |
| 29 | 2023-03-20 10:52:35 | Allana Parr |
| 30 | 2023-03-20 21:30:14 | Heidi Wetherall |
| 32 | 2023-03-21 20:31:19 | Lisa Darragh |
| 33 | 2023-03-21 07:12:54 | Anne Langford |
| 35 | 2023-03-20 21:35:06 | Sharon Smith |
| 38 | 2023-03-21 20:31:19 | Lisa Darragh |
| 39 | 2023-03-21 12:57:01 | Sarah Barlow |
| 40 | 2023-03-21 07:12:54 | Anne Langford |
| 43 | 2023-03-21 19:27:19 | emma mccauley |
| 46 | 2023-03-18 19:23:28 | Jules Wilkins |
| 47 | 2023-03-21 14:38:20 | Terri Enever |
| 48 | 2023-03-20 14:41:03 | Debbie Hands Hands |
| 49 | 2023-03-20 21:30:35 | Cheryl Brown |
| 50 | 2023-03-20 12:43:04 | Lewis Holmes |
| 51 | 2023-03-21 16:45:32 | Franky Boy |
| 54 | 2023-03-21 20:31:19 | Lisa Darragh |
| 55 | 2023-03-21 20:19:13 | Caley Racher |
| 56 | 2023-03-21 19:44:56 | Chantelle Amphlett |
| 58 | 2023-03-21 11:35:42 | Amber Ley |
| 59 | 2023-03-21 19:23:17 | Mandy Matthews |
| 60 | 2023-03-21 07:12:54 | Anne Langford |
| 61 | 2023-03-21 11:35:42 | Amber Ley |
| 64 | 2023-03-21 18:56:27 | ABIGAILi Freeth0 |
| 65 | 2023-03-21 17:13:25 | Jolene D |
| 67 | 2023-03-20 17:28:47 | Elaine Perkins |
| 68 | 2023-03-19 18:20:18 | Michala Jane |
| 69 | 2023-03-21 19:27:19 | emma mccauley |
| 70 | 2023-03-21 20:48:08 | Fay Lees |
| 72 | 2023-03-21 19:41:53 | Natalie Gillmore |
| 73 | 2023-03-21 20:18:58 | Louise Gourley |
| 74 | 2023-03-17 14:53:35 | Holly Gawrel |
| 75 | 2023-03-21 17:04:18 | Amber Ley |
| 76 | 2023-03-21 06:24:43 | Kaya Glendinning |
| 78 | 2023-03-21 20:18:58 | Louise Gourley |
| 80 | 2023-03-21 20:55:20 | Emma-Marie Lakin |
| 81 | 2023-03-21 07:12:54 | Anne Langford |
| 83 | 2023-03-21 12:31:09 | Tia Potter |
| 84 | 2023-03-21 16:28:38 | Natasha Bourne |
| 87 | 2023-03-20 21:59:54 | Richard Higham |
| 89 | 2023-03-21 20:05:50 | Lynda Carew |
| 91 | 2023-03-21 14:34:00 | Adam Cheeseworth |
| 92 | 2023-03-21 16:42:30 | Nicola Holland |
| 95 | 2023-03-20 20:21:39 | Paula Jayne Johnson |
| 96 | 2023-03-19 22:51:01 | Kayleigh Duckett |
| 99 | 2023-03-20 21:30:14 | Heidi Wetherall |
| 100 | 2023-03-20 23:27:42 | Emily Eddowes |