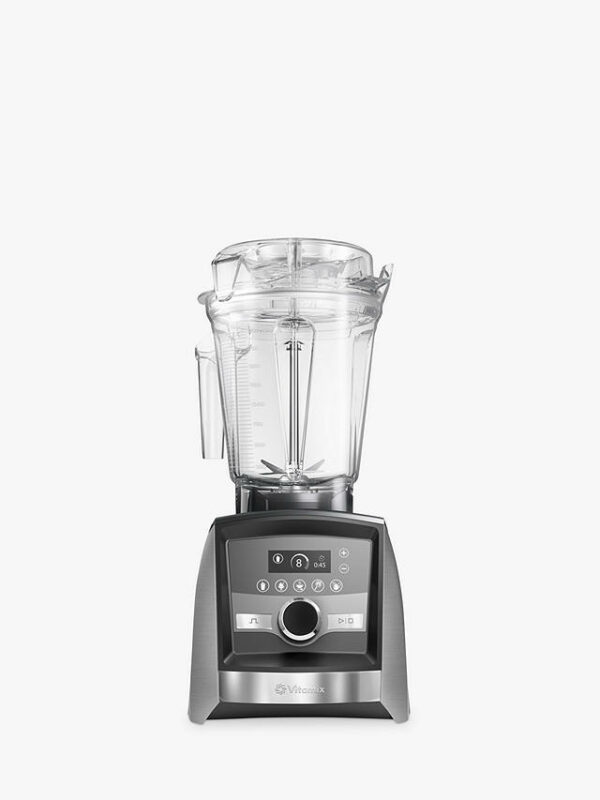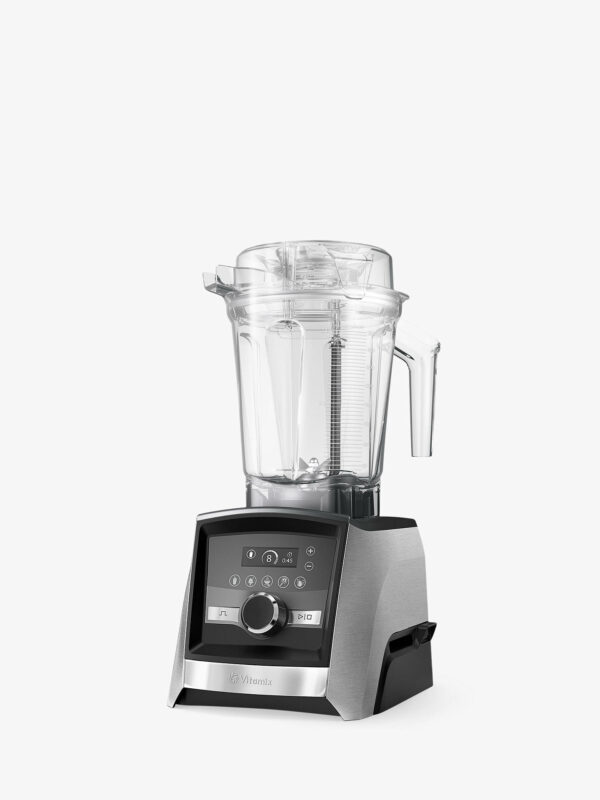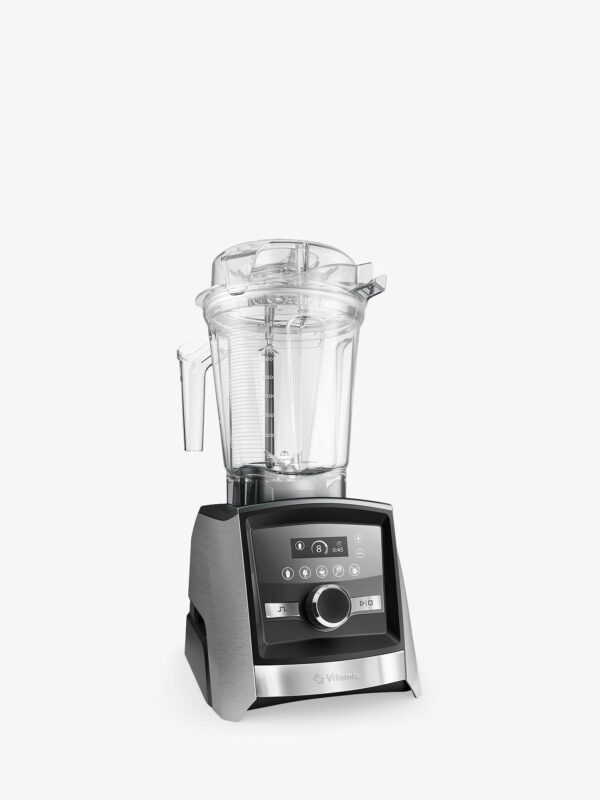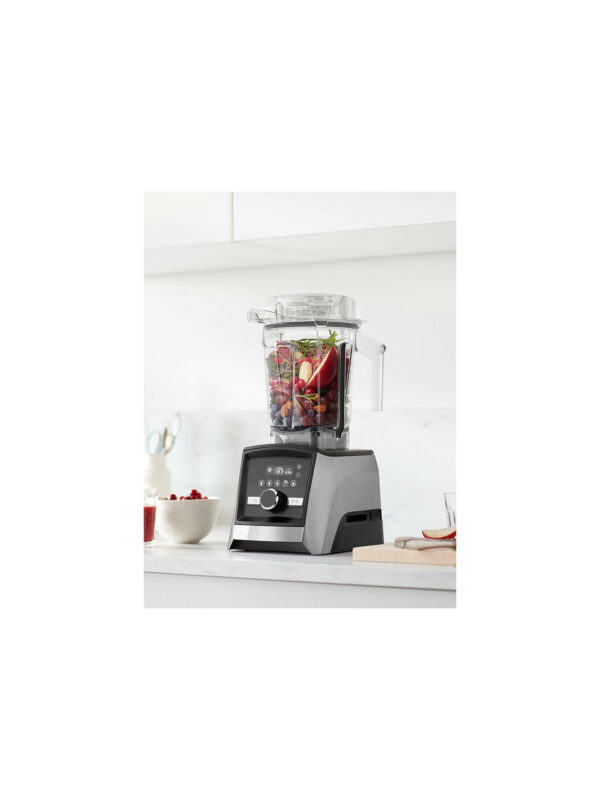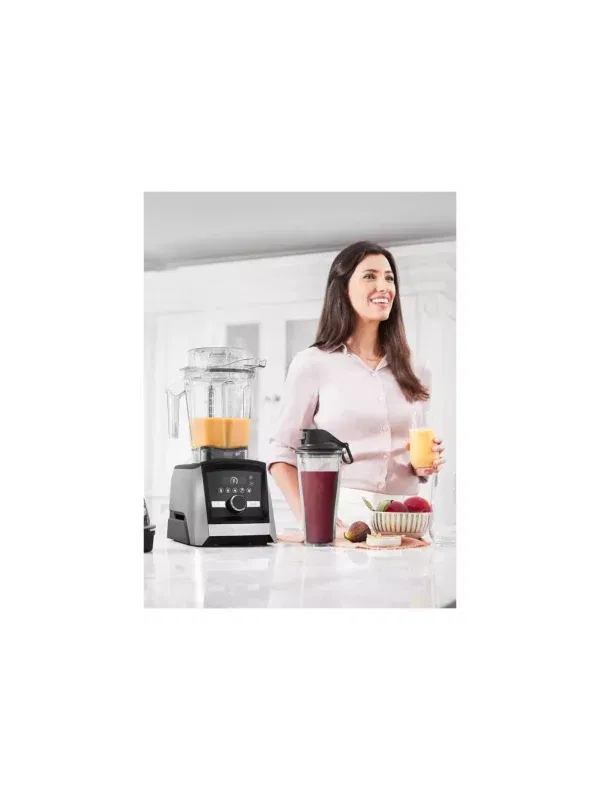 Vitamix A3500i Ascent Series Blender, Silver
Description
Vitamix A3500i Ascent Series Blender, Silver
Sleek and powerful, the Vitamix A3500i Ascent Series Blender lets you create exciting recipes in different sized batches and quantities with a single machine, to store, serve, or take to go.
Compatible with a new collection of self-detect containers, the A3500i comes with a choice of 5 programs that automatically adjust the time and speed to suit the container you've selected. Once the cycle is complete, the blender will stop automatically for added ease when multitasking.
The programmable timer offers total control by displaying how long your blend has been running as well as the time remaining, before automatically shutting off once the program has finished.
What's more, the tamper helps push thick and frozen mixtures towards the blades, so there's no need to scrape the sides of the container halfway through the cycle. Once the blend is finished, you can simply wash the container in the dishwasher for an effortless clean-up.
| Winner Name | Ticket Number | Draw Date |
| --- | --- | --- |
| Stacey Clack | 619 | 13/06/2022 |
1-100
101-200
201-300
301-400
401-500
501-600
601-700
701-800
801-900
901-1000
1001-1100
1101-1200
1201-1300
| Ticket Number | Date | Name |
| --- | --- | --- |
| 1 | 2022-06-13 20:58:52 | Lee Mayo |
| 2 | 2022-06-13 19:59:14 | Carol Jones |
| 3 | 2022-06-13 20:58:05 | Lisa Sayers |
| 5 | 2022-06-13 19:37:18 | Lewis Murray |
| 6 | 2022-06-13 20:08:23 | Vikki Forward |
| 7 | 2022-06-13 20:22:43 | fiona yelland |
| 10 | 2022-06-13 19:54:05 | Sharon Holmes |
| 11 | 2022-06-13 19:59:14 | Carol Jones |
| 12 | 2022-06-13 15:02:23 | Gail Gilbert |
| 13 | 2022-06-08 20:01:10 | Julie Webb |
| 14 | 2022-06-13 20:08:23 | Vikki Forward |
| 16 | 2022-06-13 19:59:14 | Carol Jones |
| 22 | 2022-06-13 19:54:05 | Sharon Holmes |
| 26 | 2022-06-13 08:15:55 | Steve Rowley |
| 27 | 2022-06-08 20:01:10 | Julie Webb |
| 28 | 2022-06-12 22:29:18 | Joanna Johnson-laird |
| 32 | 2022-06-13 20:02:18 | Gary Foster |
| 33 | 2022-06-13 20:41:16 | Daniel Westlake |
| 37 | 2022-06-13 20:11:27 | MICHAEL DOYLE |
| 43 | 2022-06-13 19:28:24 | Miranda King |
| 44 | 2022-06-13 20:46:31 | Miranda King |
| 49 | 2022-06-13 19:37:18 | Lewis Murray |
| 52 | 2022-06-08 19:27:12 | Marie West |
| 53 | 2022-06-13 20:16:05 | Kelly Reed |
| 69 | 2022-06-13 20:40:51 | Gary Wilson |
| 76 | 2022-06-13 19:26:42 | Megan Barratt |
| 77 | 2022-06-13 20:40:51 | Gary Wilson |
| 79 | 2022-06-13 20:19:27 | Erin Giles |
| 84 | 2022-06-13 08:15:55 | Steve Rowley |
| 94 | 2022-06-13 19:37:18 | Lewis Murray |
| 95 | 2022-06-13 20:48:02 | Emma Jones |