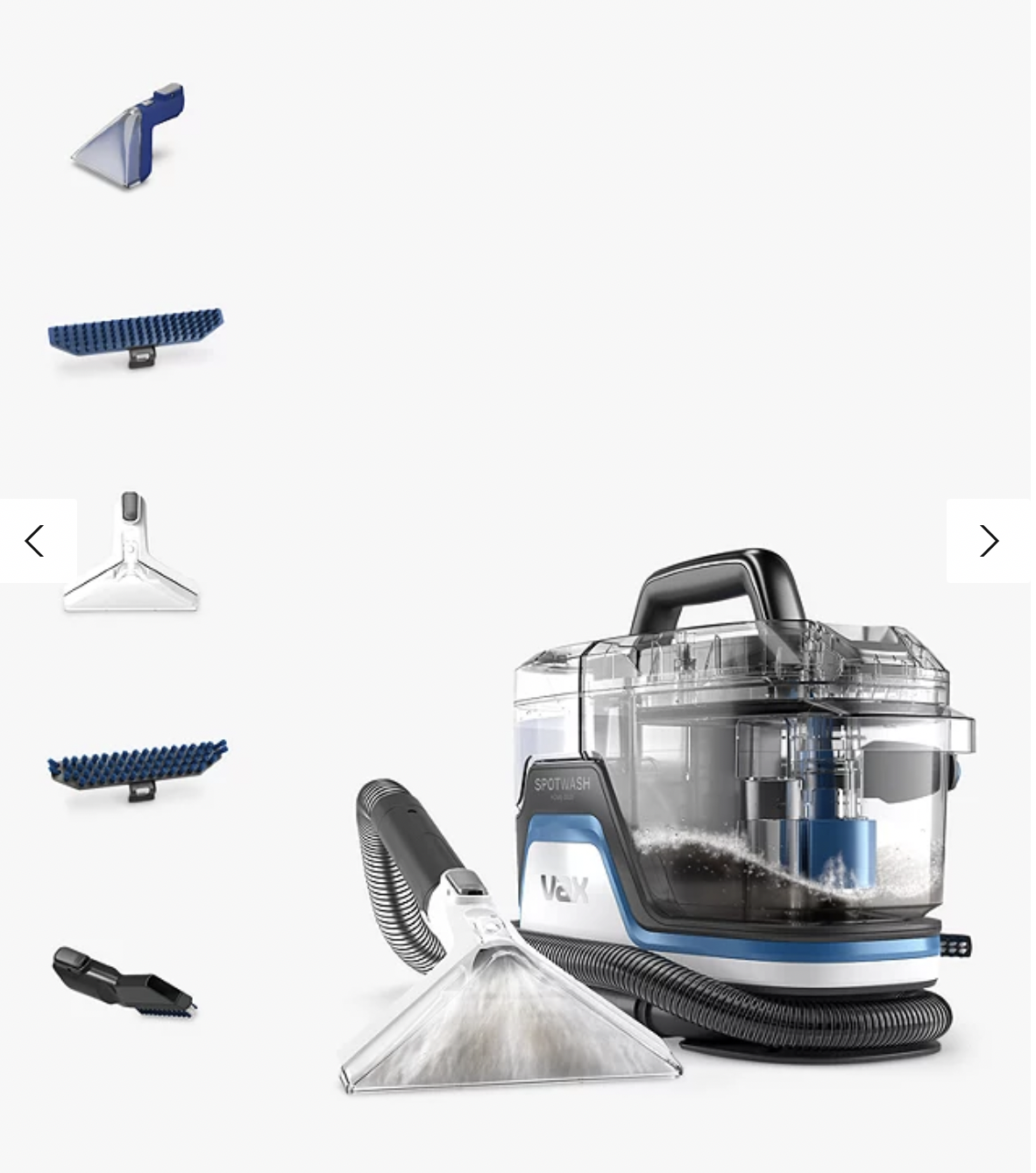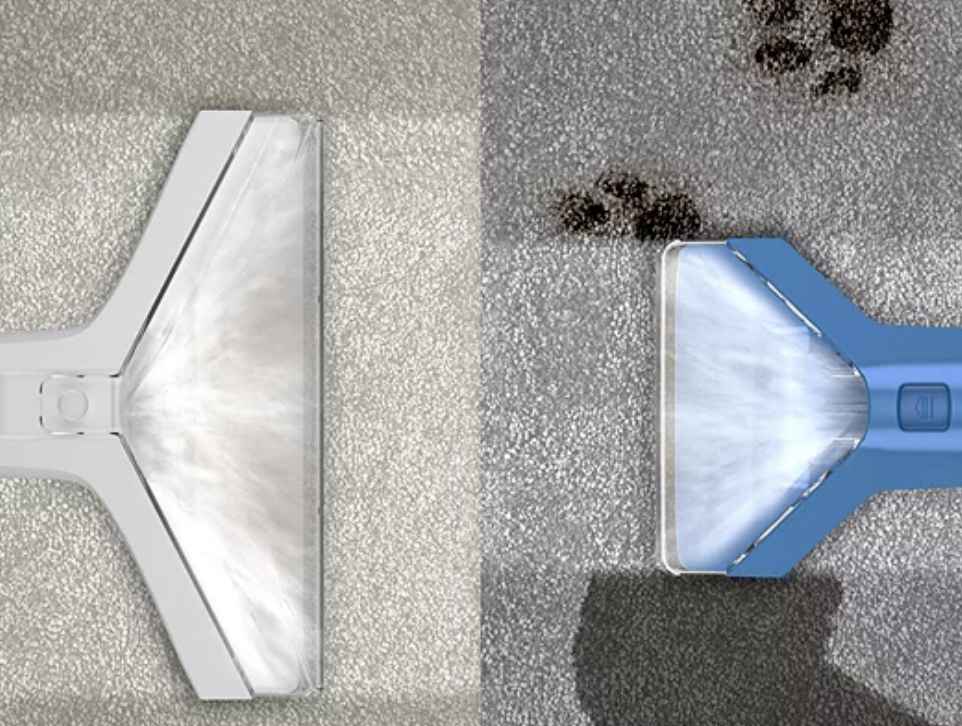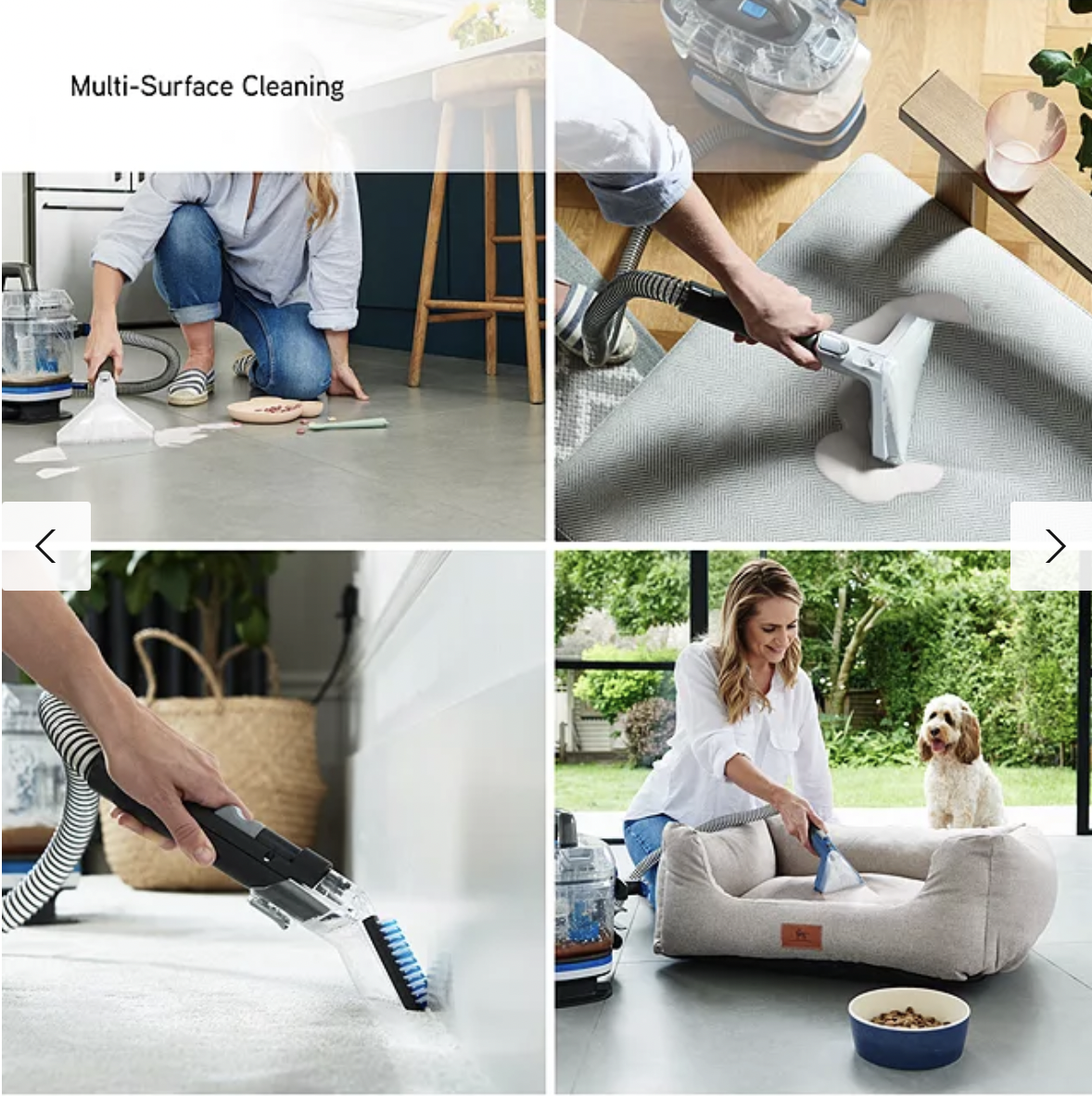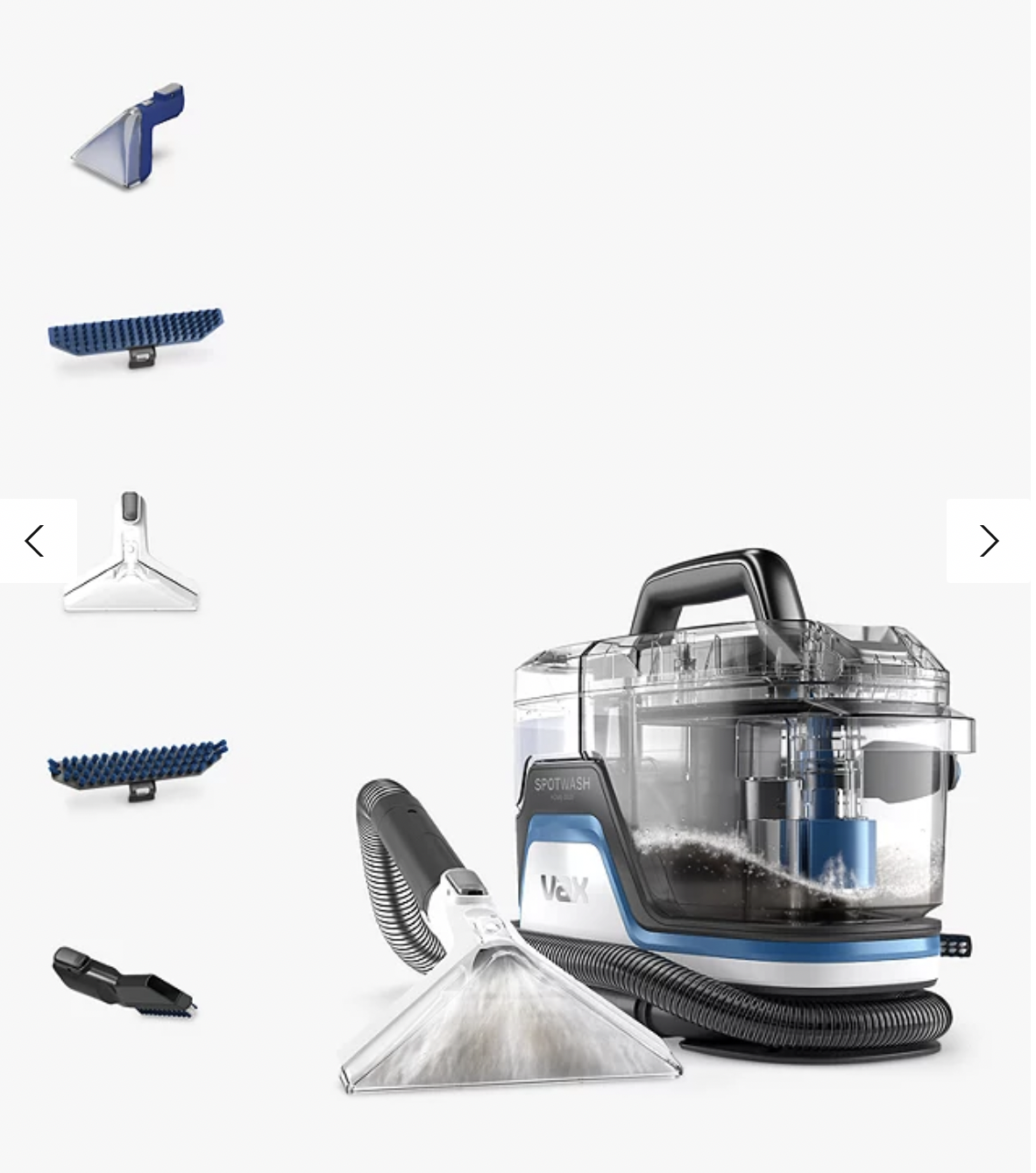 Vax Spotwash Home Duo Carpet Cleaner, Grey/White – 22/02
Description
Vax Spotwash Home Duo Carpet Cleaner, Grey/White – 22/02
The must have cleaning companion: remove spills, stains and pet messes in the home and car. With dedicated cleaning tools and antimicrobial protection for a reassuring clean. Perfect for busy homes with kids and pets, the effective and versatile VAX SpotWash Home Duo has been conveniently designed for a wide range of spot and multi-surface cleaning tasks including stain rescue and reviving upholstery.
Never worry about spots or spills again. Whether a glass is split on your carpet, or there are muddy footprints on your kitchen tiles, wherever you need to clean, the VAX SpotWash Home Duo can tackle messes on a multitude of surfaces. Avoid cross-contamination with the separate tools. Ideal for households with pets, you can keep unhygienic accidents separate from everyday cleaning with the dedicated Messy Clean Up Tool. All cleaning attachments are coated with an antimicrobial treatment, which helps to protect against the growth of bacteria and fungi.
Includes Extra Wide 2-in-1 Was Tool, Messy Clean Up Tool, Carpet Cleaning and Hard Floor Cleaning Attachments (for the Extra Wide 2-in-1 Wash Tool, Carpet Cleaning Attachment (for the Messy Clean Up Tool), Crevice Tool and a 250ml bottle of Spot Washer Antibacterial Cleaning Solution.
| Winner Name | Ticket Number | Draw Date |
| --- | --- | --- |
| Marie Tucker | 245 | 22/03/2023 |
| Ticket Number | Date | Name |
| --- | --- | --- |
| 1 | 2023-03-22 13:33:23 | Dean Hepburn |
| 2 | 2023-03-22 07:20:43 | Gemma Gorringe |
| 3 | 2023-03-21 22:35:34 | Esmé M |
| 4 | 2023-03-22 14:11:53 | W A |
| 5 | 2023-03-21 22:35:34 | Esmé M |
| 6 | 2023-03-22 12:49:12 | Madeline Rowlands |
| 7 | 2023-03-21 11:28:15 | Jenna Daniels |
| 8 | 2023-03-18 14:39:50 | Helen Holloway |
| 9 | 2023-03-21 22:35:34 | Esmé M |
| 10 | 2023-03-22 19:37:03 | Jennifer Gould |
| 11 | 2023-03-22 14:02:48 | Stacey Simons |
| 12 | 2023-03-22 11:06:40 | Alicia Baxtrem |
| 13 | 2023-03-22 08:58:53 | Debs H |
| 14 | 2023-03-20 11:31:37 | Emily7 Hibberd |
| 15 | 2023-03-21 11:28:15 | Jenna Daniels |
| 16 | 2023-03-21 11:28:15 | Jenna Daniels |
| 17 | 2023-03-22 12:42:16 | emma mccauley |
| 18 | 2023-03-21 11:28:15 | Jenna Daniels |
| 19 | 2023-03-22 08:12:39 | Natalie D |
| 20 | 2023-03-22 17:13:34 | Tina Leather |
| 21 | 2023-03-22 12:38:49 | Tiffany Adams |
| 22 | 2023-03-20 21:48:06 | Autumn Bain |
| 23 | 2023-03-22 09:19:06 | Deana Bristow |
| 24 | 2023-03-18 20:54:08 | Emma Louise |
| 25 | 2023-03-20 10:24:38 | Acacia Bodhi |
| 26 | 2023-03-22 12:49:12 | Madeline Rowlands |
| 27 | 2023-03-18 20:05:38 | Kelly Bradford |
| 28 | 2023-03-22 09:56:33 | Jasmin Rockey |
| 29 | 2023-03-22 14:29:08 | Louise Threlfall |
| 30 | 2023-03-20 11:31:37 | Emily7 Hibberd |
| 31 | 2023-03-22 19:10:42 | Christine Swift |
| 32 | 2023-03-20 14:50:23 | Sue Stevens |
| 33 | 2023-03-22 18:24:07 | Colin Andrews |
| 34 | 2023-03-22 20:18:07 | Clive Wall-Palmer |
| 35 | 2023-03-22 12:55:14 | Samantha Thorne |
| 36 | 2023-03-18 20:20:13 | Sarah Warren |
| 37 | 2023-03-19 20:27:36 | Geraldine Carr |
| 38 | 2023-03-22 19:43:16 | Stacey Hamilton |
| 39 | 2023-03-22 19:27:53 | Kim Bisgrove |
| 40 | 2023-03-22 07:21:04 | Rachel chalk |
| 41 | 2023-03-22 13:11:56 | Jeffery Moseley |
| 42 | 2023-03-22 07:52:42 | Alison Thomson |
| 43 | 2023-03-22 11:14:33 | Dawn Bearne |
| 44 | 2023-03-22 20:06:33 | Ciara Gilson |
| 45 | 2023-03-22 20:06:33 | Ciara Gilson |
| 46 | 2023-03-22 16:34:08 | Marie Tucker |
| 47 | 2023-03-22 19:04:40 | Claire Horrell |
| 48 | 2023-03-20 23:32:32 | Stephanie Pickford |
| 49 | 2023-03-21 22:35:34 | Esmé M |
| 50 | 2023-03-19 09:15:42 | Jarred Crawley-boon |
| 51 | 2023-03-22 19:19:46 | LADY Trina |
| 52 | 2023-03-22 13:33:23 | Dean Hepburn |
| 53 | 2023-03-19 14:49:49 | Nicole Ball |
| 54 | 2023-03-21 14:54:02 | Bethany marshall |
| 55 | 2023-03-21 11:28:15 | Jenna Daniels |
| 56 | 2023-03-21 11:28:15 | Jenna Daniels |
| 57 | 2023-03-22 11:10:33 | Lorraine Shipp |
| 58 | 2023-03-19 09:24:44 | Mrs S Padden |
| 59 | 2023-03-21 22:35:34 | Esmé M |
| 60 | 2023-03-22 19:50:16 | T Jones |
| 61 | 2023-03-22 19:03:49 | Chris Carr |
| 62 | 2023-03-22 19:36:43 | Cameron Thompson |
| 63 | 2023-03-22 13:33:23 | Dean Hepburn |
| 64 | 2023-03-22 15:25:31 | Elise Fullylove |
| 65 | 2023-03-22 18:57:41 | Charlotte Jenkins |
| 66 | 2023-03-21 22:27:33 | Gary King |
| 67 | 2023-03-22 17:06:42 | Kirsty Cant |
| 68 | 2023-03-22 14:51:09 | Cheryl White |
| 69 | 2023-03-22 19:03:49 | Chris Carr |
| 70 | 2023-03-22 16:31:57 | Adam Cheeseworth |
| 71 | 2023-03-22 13:33:23 | Dean Hepburn |
| 72 | 2023-03-22 20:08:43 | Danielle Redpath |
| 73 | 2023-03-22 19:03:49 | Chris Carr |
| 74 | 2023-03-22 11:52:33 | Hayley Bewsher |
| 75 | 2023-03-22 18:38:54 | Toni Smith |
| 76 | 2023-03-20 11:31:37 | Emily7 Hibberd |
| 77 | 2023-03-22 18:12:41 | Karen Fitzgerald |
| 78 | 2023-03-22 20:08:42 | Nazia Hussain |
| 79 | 2023-03-22 00:27:22 | Donna Shute |
| 80 | 2023-03-21 11:28:15 | Jenna Daniels |
| 81 | 2023-03-18 20:20:13 | Sarah Warren |
| 82 | 2023-03-22 20:09:39 | Shara Wells |
| 83 | 2023-03-22 19:18:42 | Hayley Miller |
| 84 | 2023-03-22 14:39:32 | Charlotte Avery |
| 85 | 2023-03-22 19:03:49 | Chris Carr |
| 86 | 2023-03-21 11:28:15 | Jenna Daniels |
| 87 | 2023-03-21 11:28:15 | Jenna Daniels |
| 88 | 2023-03-21 06:47:41 | Claire Wilton |
| 89 | 2023-03-20 21:30:35 | Cheryl Brown |
| 90 | 2023-03-22 19:34:51 | Keith Archer |
| 91 | 2023-03-22 14:02:48 | Stacey Simons |
| 92 | 2023-03-22 19:51:59 | Gemma Banham |
| 93 | 2023-03-21 22:35:34 | Esmé M |
| 94 | 2023-03-22 18:17:54 | Linda Grimshaw |
| 95 | 2023-03-22 16:34:08 | Marie Tucker |
| 96 | 2023-03-20 22:03:18 | Abby-rose Davison |
| 97 | 2023-03-22 19:13:28 | Aaron Luscombe |
| 98 | 2023-03-18 20:20:13 | Sarah Warren |
| 99 | 2023-03-22 11:02:47 | Claire Adams |
| 100 | 2023-03-22 13:33:23 | Dean Hepburn |