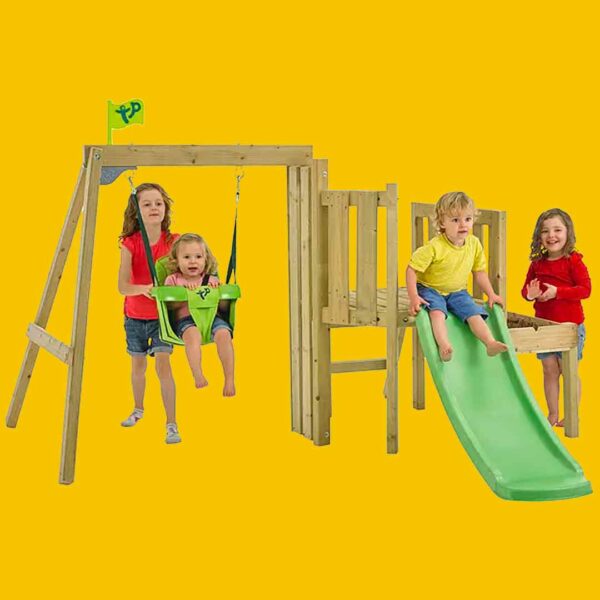 TP Toys Early Fun Play Centre #2
Description
TP Toys Early Fun Play Centre #2
TP Toys Early Fun Play Centre
Swing, slide, climb and dig with this fantastic play centre! The TP Early Fun Play Centre comes complete with the comfy all fabric foldaway swing seat, fun lime slide & table sandpit with all wood cover to keep the sand clean.
Supplied with ground stakes, the TP timber is pressure-treated with an environmentally friendly preservative so TP's performance guarantees don't rely on yearly application of a stain to the surface of the wood – piece of mind for you!
This sustainable set is ideal for providing hours of fun in the garden for kids from 6 months onward.
| Winner Name | Ticket Number | Draw Date |
| --- | --- | --- |
| Gail. Gilbert. | 106 | 05/05/2022 |
1-100
101-200
201-300
301-400
| Ticket Number | Date | Name |
| --- | --- | --- |
| 2 | 2022-05-05 17:54:17 | Mary Knights |
| 3 | 2022-05-05 19:24:53 | Katrina IķStevens |
| 4 | 2022-05-05 20:12:23 | Kimberley Lobb |
| 6 | 2022-05-05 15:37:25 | Sarah Dennis |
| 7 | 2022-05-05 20:02:46 | Kerry Jones |
| 8 | 2022-05-03 14:31:26 | Gail Gilbert |
| 14 | 2022-05-05 10:36:08 | Juliet Phillips |
| 15 | 2022-05-05 20:27:42 | Samantha sedgbeer |
| 16 | 2022-05-05 20:11:14 | Debra Gouldthorpe |
| 18 | 2022-05-05 20:09:09 | Deanne Lovell |
| 20 | 2022-05-05 05:31:03 | Esme L |
| 23 | 2022-04-29 20:54:48 | Suzanne mace |
| 24 | 2022-05-05 20:09:09 | Deanne Lovell |
| 25 | 2022-05-05 20:26:40 | Lisa Darragh |
| 26 | 2022-05-02 12:32:17 | Lisa Head |
| 29 | 2022-05-05 10:01:13 | Hannah Del-pizzo |
| 31 | 2022-05-05 17:54:17 | Mary Knights |
| 41 | 2022-05-05 15:24:08 | Alison Hack |
| 42 | 2022-04-29 20:54:48 | Suzanne mace |
| 44 | 2022-05-05 19:38:48 | Sammie Toms |
| 47 | 2022-05-03 14:31:26 | Gail Gilbert |
| 49 | 2022-05-05 19:38:48 | Sammie Toms |
| 53 | 2022-05-05 15:37:25 | Sarah Dennis |
| 57 | 2022-05-05 19:42:19 | Leanne Gerring |
| 60 | 2022-05-05 20:24:53 | Jeanette Anderson |
| 62 | 2022-05-05 09:25:00 | Sarah Dennis |
| 64 | 2022-05-05 20:17:49 | Jane Sharland |
| 70 | 2022-05-05 15:01:06 | Tyler Ward |
| 71 | 2022-05-05 15:50:03 | Tanna Desousa |
| 72 | 2022-05-05 11:29:53 | Gail Gilbert |
| 75 | 2022-05-05 17:16:26 | charlotte allen |
| 78 | 2022-04-29 07:49:00 | Chloe Tait |
| 81 | 2022-05-05 19:30:57 | Jamie Mitchell |
| 83 | 2022-04-29 20:15:14 | sharon nott |
| 85 | 2022-04-29 19:26:36 | Donna Spicer |
| 86 | 2022-04-29 09:37:06 | Bianca Gonzales Savage |
| 88 | 2022-05-05 16:51:45 | Gail Gilbert |
| 93 | 2022-05-05 13:42:15 | Lauren Charlesworth |
| 94 | 2022-05-05 11:29:53 | Gail Gilbert |
| 96 | 2022-05-05 18:04:06 | Susan Allen |
| 98 | 2022-05-05 15:24:08 | Alison Hack |