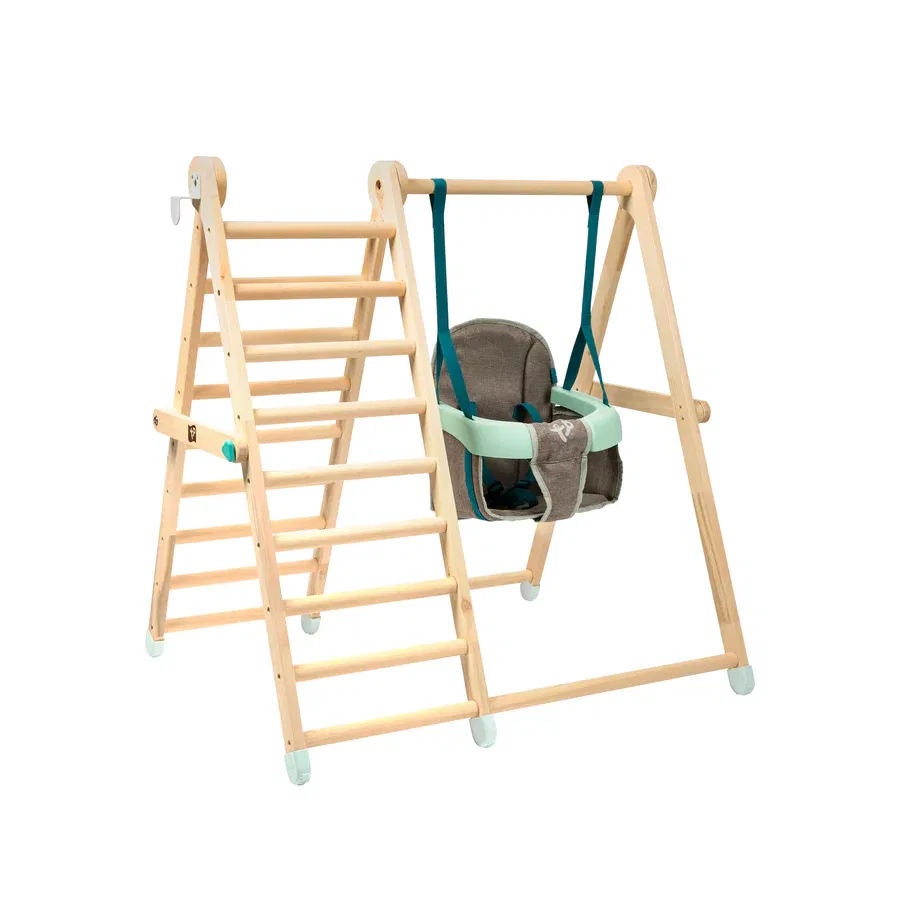 Tp Active-Tots Pikler Style Wooden Climb And Swing – Fsc® Certified – 16/06
Description
Tp Active-Tots Pikler Style Wooden Climb And Swing – Fsc® Certified – 16/06
The TP Wooden Climb and Swing is a compact, foldable swing and climb frame designed for your toddler to enjoy and develop their skills, building strength from an early age.
This frame includes the much-loved TP Foldaway Swing Seat, soft, comfortable and supportive for those 6 months and above. As well as a climbing ladder, encouraging your toddler to stand and climb as they tackle the Wooden Climb and Swing FSC® at their own pace.
The Wooden Climb and Swing will inspire confidence, stability and improve strength from an early age all while enhancing gross motor development.
Transform your child's indoor space with the beautiful TP Active-Tots Wooden Climb and Swing
Simple locking handles for easy folding
Anti-slip rubber feet provide improved stability and protect floors
Includes folding TP Folding Swing seat
Made from FSC® certified wood
Must be fixed to a wall
Beautifully simple aesthetic
Robust frame construction
Swing Suitable for 6+ months
Climbing Frame suitable for 18+ months
Built dimensions: L101 x W83.5 x H101 cm
For domestic use only
| Winner Name | Ticket Number | Draw Date |
| --- | --- | --- |
| Julie Cornford | 91 | 16/06/2023 |
| Ticket Number | Date | Name |
| --- | --- | --- |
| 1 | 2023-06-16 11:28:40 | Jem V |
| 2 | 2023-06-16 20:38:39 | Thomas Batchelor |
| 3 | 2023-06-16 18:26:55 | Clare Butcher |
| 7 | 2023-06-16 19:37:48 | Sheila Love |
| 8 | 2023-06-15 22:20:49 | Jason Pickersgill |
| 10 | 2023-06-11 18:25:04 | Julie Howman |
| 11 | 2023-06-16 20:53:27 | Samantha Bailey |
| 13 | 2023-06-16 08:40:47 | Michael O'connor |
| 14 | 2023-06-16 20:24:16 | Shirley Smith |
| 16 | 2023-06-16 20:23:01 | Benjamin Shill |
| 17 | 2023-06-16 20:23:01 | Benjamin Shill |
| 18 | 2023-06-16 10:48:42 | Lucy Bristow |
| 19 | 2023-06-16 20:39:26 | Thomas Batchelor |
| 20 | 2023-06-16 18:50:59 | Lee Evans |
| 21 | 2023-06-15 22:20:49 | Jason Pickersgill |
| 22 | 2023-06-16 20:23:53 | Claire Adams |
| 23 | 2023-06-16 20:44:06 | Julie Cornford |
| 24 | 2023-06-16 20:23:01 | Benjamin Shill |
| 25 | 2023-06-13 21:43:13 | S M |
| 26 | 2023-06-15 23:47:33 | Kellie Leyman |
| 27 | 2023-06-15 19:06:31 | Amy Argyle |
| 29 | 2023-06-16 20:53:27 | Samantha Bailey |
| 35 | 2023-06-16 11:28:40 | Jem V |
| 36 | 2023-06-15 18:00:44 | Claire Gray |
| 38 | 2023-06-16 19:10:39 | Jade Pook |
| 39 | 2023-06-16 20:27:05 | Barry Woods |
| 44 | 2023-06-16 20:40:06 | Thomas Batchelor |
| 45 | 2023-06-16 10:42:00 | Katie Lundie |
| 49 | 2023-06-16 18:26:55 | Clare Butcher |
| 51 | 2023-06-16 20:58:13 | Barry Woods |
| 55 | 2023-06-16 18:28:50 | Heidi Richards |
| 59 | 2023-06-16 11:28:40 | Jem V |
| 60 | 2023-06-16 20:54:08 | Lauren cattermole |
| 63 | 2023-06-16 19:37:48 | Sheila Love |
| 69 | 2023-06-16 11:28:40 | Jem V |
| 70 | 2023-06-16 20:24:16 | Shirley Smith |
| 71 | 2023-06-16 18:38:36 | Cathryn Lane |
| 78 | 2023-06-16 20:50:27 | Laura Lee |
| 82 | 2023-06-16 19:11:09 | Nicole Whitters |
| 83 | 2023-06-16 11:28:40 | Jem V |
| 91 | 2023-06-16 20:44:06 | Julie Cornford |
| 99 | 2023-06-15 21:47:54 | Bethan Bennett |
| 105 | 2023-06-16 18:26:55 | Clare Butcher |
| 106 | 2023-06-15 18:00:44 | Claire Gray |
| 108 | 2023-06-16 18:26:55 | Clare Butcher |
| 111 | 2023-06-16 18:26:55 | Clare Butcher |
| 117 | 2023-06-16 12:27:09 | Rebecca Slater |
| 118 | 2023-06-16 18:50:59 | Lee Evans |
| 128 | 2023-06-16 20:42:06 | Laurence Pearcey |
| 129 | 2023-06-16 20:40:06 | Thomas Batchelor |
| 133 | 2023-06-16 18:43:21 | Kathryn Lane |
| 134 | 2023-06-16 19:06:11 | Susan Munt |
| 138 | 2023-06-16 20:54:08 | Lauren cattermole |
| 139 | 2023-06-16 18:43:21 | Kathryn Lane |
| 140 | 2023-06-16 12:27:09 | Rebecca Slater |
| 145 | 2023-06-16 18:50:59 | Lee Evans |
| 149 | 2023-06-16 18:50:59 | Lee Evans |
| 152 | 2023-06-16 20:53:49 | Ayesha Davies |
| 155 | 2023-06-16 11:47:10 | Emma & lee |
| 157 | 2023-06-16 18:50:59 | Lee Evans |
| 159 | 2023-06-16 11:28:40 | Jem V |
| 163 | 2023-06-16 18:22:55 | Trudi Aitken |
| 165 | 2023-06-16 12:34:00 | James Beety |
| 168 | 2023-06-16 20:08:48 | Morgan Parsons |
| 170 | 2023-06-16 11:46:35 | Laura Tindall |
| 182 | 2023-06-16 01:39:08 | Chelsea Bishop |
| 183 | 2023-06-16 20:53:49 | Ayesha Davies |
| 185 | 2023-06-11 18:25:04 | Julie Howman |
| 186 | 2023-06-15 20:26:29 | Bethan Bennett |
| 190 | 2023-06-16 16:42:55 | Elizabeth Williams |
| 193 | 2023-06-16 13:31:16 | Laura Lee |
| 194 | 2023-06-16 18:38:36 | Cathryn Lane |
| 197 | 2023-06-16 20:40:06 | Thomas Batchelor |
| 198 | 2023-06-16 19:09:19 | Ben Southam |
| 199 | 2023-06-16 16:42:55 | Elizabeth Williams |