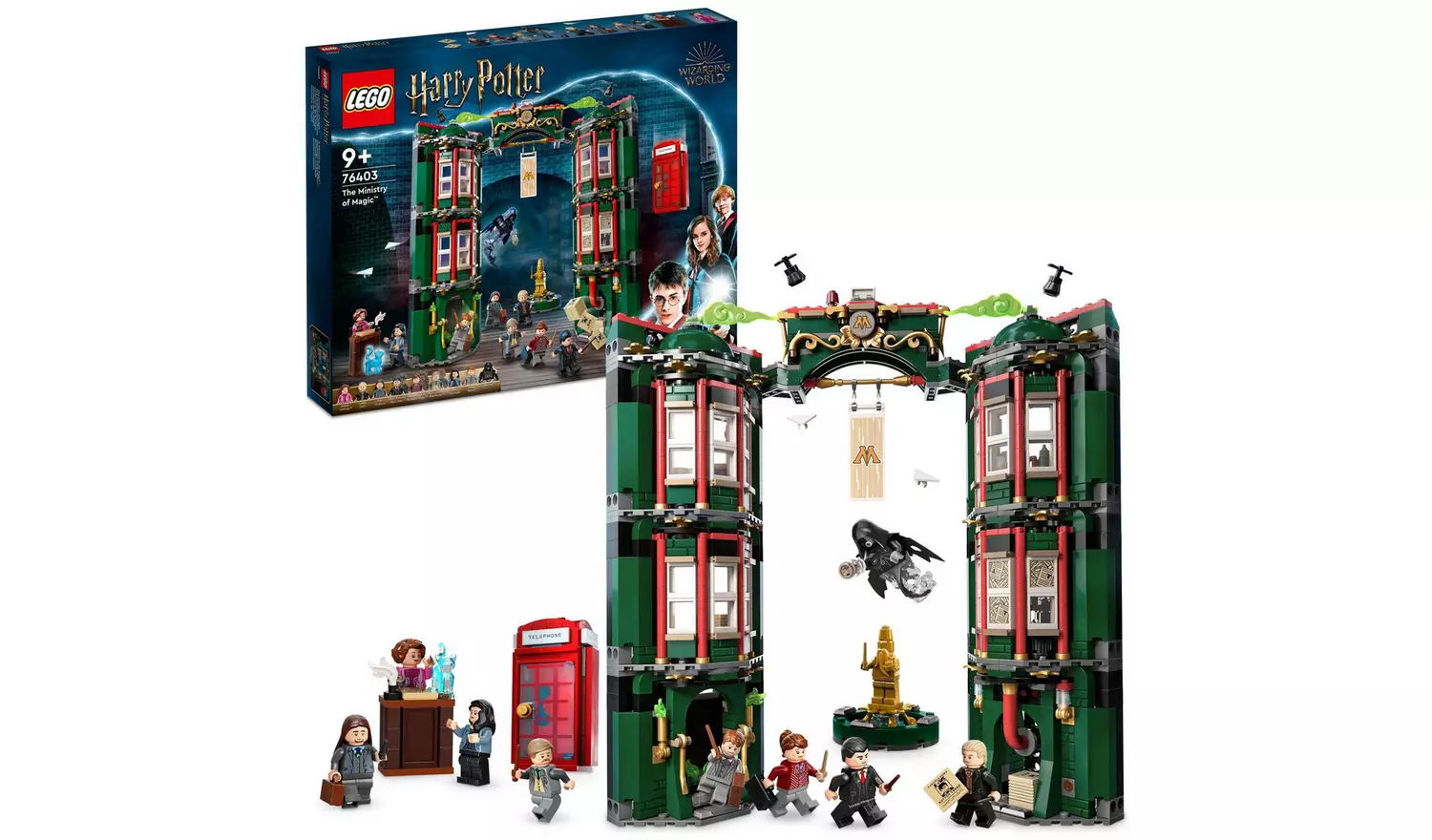 TOY DAY- AUTO WIN -LEGO 76403 Harry Potter The Ministry of Magic Modular Set
Description
TOY DAY- AUTO WIN -LEGO 76403 Harry Potter The Ministry of Magic Modular Set
1x Harry Potter LEGO 76402 Ministry of Magic Modular Set
Contains 990 pieces
12x Minifigures: Harry Potter, Hermione Granger, Ron Weasley, Albert Runcorn, Mafalda Hopkirk, Reg & Mary Cattermole, Arthur Weasley, Dolores Umbridge, Pius Thicknesse, Corban Yaxley, Dementor
Measures over 31 cm high, 21 cm wide and 21 cm deep
The first LEGO Harry Potter set to recreate the bustling Ministry of Magic
Authentic accessories include the Daily Prophet and the Slytherin locket
Reconfigure the modular design for endless new adventures
Free LEGO Building Instructions app lets kids zoom and rotate as they build
Part of an extensive range of LEGO Harry Potter playsets
Product Description
Delight Harry Potter fans of all ages with this LEGO Harry Potter set, detailing a modular version of The Ministry of Magic! It's the first LEGO set to feature the magical headquarters in such accurate detail.
Detailed Harry Potter LEGO Set
With this LEGO Harry Potter collectable kit, you can join Harry, Ron and Hermione on a mission to enter the Ministry of Magic and steal the Slytherin locket from Dolores Umbridge. Use the Polyjuice potion to change the way the three friends look. Search through Umbridge's office, Arthur Weasley's office, the Hall of Prophecy and the Floo Network atrium without being caught by Yaxley, Pius and the Dementor! Will they escape with the Horcrux?
LEGO Harry Potter Minifigures
This set includes 12 minifigures, with 3 that transform with a turn of the head – with Polyjuice Potion, of course! Other familiar authentic elements in this Harry Potter LEGO set include a red phone box, stacks of the Daily Prophet newspaper, Umbridge's Patronus cat, 2 decoy detonators and the Slytherin locket Horcrux.
Buildable Ministry of Magic
This multistorey Harry Potter LEGO modular set captures the full scale and scope of the Ministry of Magic's activities. It also comes with the free LEGO Building Instructions app that lets kids view, zoom and rotate the model as they build.
| Winner Name | Ticket Number | Draw Date |
| --- | --- | --- |
| Tia Potter | 38 | 25/09/2022 |
| Ticket Number | Date | Name |
| --- | --- | --- |
| 1 | 2022-09-24 01:18:02 | Sharon Longbottom |
| 2 | 2022-09-20 11:02:05 | Danielle Benn |
| 3 | 2022-09-16 17:47:31 | Jenny King |
| 4 | 2022-09-24 15:54:08 | Ria Pullen |
| 5 | 2022-09-16 18:05:18 | Ian Specter |
| 6 | 2022-09-24 19:29:13 | L G M |
| 7 | 2022-09-17 20:01:56 | Joshua Coles |
| 8 | 2022-09-17 20:01:56 | Joshua Coles |
| 9 | 2022-09-23 12:15:36 | Jenny King |
| 10 | 2022-09-16 21:23:40 | Jeanette Anderson |
| 11 | 2022-09-16 21:23:40 | Jeanette Anderson |
| 12 | 2022-09-24 20:35:44 | Jade Clayton Fletcher |
| 13 | 2022-09-25 08:01:40 | J m Blackmore |
| 14 | 2022-09-16 17:47:31 | Jenny King |
| 15 | 2022-09-23 18:33:55 | Philippa Blair |
| 16 | 2022-09-16 21:23:40 | Jeanette Anderson |
| 17 | 2022-09-20 10:45:37 | Chelsea Quaintance |
| 18 | 2022-09-17 20:01:56 | Joshua Coles |
| 19 | 2022-09-24 22:20:55 | Tia potter |
| 20 | 2022-09-25 08:01:40 | J m Blackmore |
| 21 | 2022-09-16 11:00:58 | Lisa Roberts |
| 22 | 2022-09-16 17:47:31 | Jenny King |
| 23 | 2022-09-19 21:18:48 | Chloe Yeoman |
| 24 | 2022-09-24 20:35:44 | Jade Clayton Fletcher |
| 25 | 2022-09-24 20:35:44 | Jade Clayton Fletcher |
| 26 | 2022-09-25 08:01:40 | J m Blackmore |
| 27 | 2022-09-24 22:20:55 | Tia potter |
| 28 | 2022-09-17 20:42:24 | Rebecca Foot |
| 29 | 2022-09-25 08:01:40 | J m Blackmore |
| 30 | 2022-09-25 08:58:36 | Laura Buckingham |
| 31 | 2022-09-16 10:23:50 | Danielle Lindsay |
| 32 | 2022-09-17 20:01:56 | Joshua Coles |
| 33 | 2022-09-18 10:15:26 | Stephanie Heal |
| 34 | 2022-09-16 16:47:03 | Emily Neno |
| 35 | 2022-09-24 15:54:08 | Ria Pullen |
| 36 | 2022-09-17 20:42:24 | Rebecca Foot |
| 37 | 2022-09-24 08:54:08 | Kay Ainslie |
| 38 | 2022-09-24 22:20:55 | Tia potter |
| 39 | 2022-09-22 11:00:25 | Annamai Martinot |
| 40 | 2022-09-24 22:20:55 | Tia potter |
| 41 | 2022-09-24 22:20:55 | Tia potter |
| 42 | 2022-09-23 23:59:58 | Kim Morris |
| 43 | 2022-09-24 15:54:08 | Ria Pullen |
| 44 | 2022-09-22 22:49:20 | Jenny King |
| 45 | 2022-09-25 09:30:53 | Lucy Roberts |
| 46 | 2022-09-20 12:10:37 | Jazmin Johns |
| 47 | 2022-09-17 18:59:26 | Tracy Veal |
| 48 | 2022-09-24 17:00:48 | Emma Davies |
| 49 | 2022-09-24 08:29:11 | Janice Parker-Done |
| 50 | 2022-09-24 15:54:08 | Ria Pullen |
| 51 | 2022-09-23 22:50:26 | Jeanette Glynn |
| 52 | 2022-09-23 23:59:58 | Kim Morris |
| 53 | 2022-09-19 12:30:25 | Emily Joyce |
| 54 | 2022-09-24 15:54:08 | Ria Pullen |
| 55 | 2022-09-23 11:50:27 | Sabrina Campbell |
| 56 | 2022-09-25 08:01:40 | J m Blackmore |
| 57 | 2022-09-25 08:01:40 | J m Blackmore |
| 58 | 2022-09-25 08:16:06 | Donna Cox |
| 59 | 2022-09-16 19:25:32 | Jeanette Glynn |
| 60 | 2022-09-25 07:55:08 | Jenny King |
| 61 | 2022-09-16 18:05:18 | Ian Specter |
| 62 | 2022-09-17 20:01:56 | Joshua Coles |
| 63 | 2022-09-24 08:29:11 | Janice Parker-Done |
| 64 | 2022-09-16 14:15:03 | Philippa Blair |
| 65 | 2022-09-18 18:03:16 | Stephanie Pickford |
| 66 | 2022-09-18 12:03:23 | Dawn Gillingwater |
| 67 | 2022-09-20 09:05:40 | Farrnoosh Worden |
| 68 | 2022-09-17 20:01:56 | Joshua Coles |
| 69 | 2022-09-23 23:59:58 | Kim Morris |
| 70 | 2022-09-17 20:01:56 | Joshua Coles |
| 71 | 2022-09-24 22:20:55 | Tia potter |
| 72 | 2022-09-21 14:12:44 | Nicole Bowman |
| 73 | 2022-09-25 08:01:40 | J m Blackmore |
| 74 | 2022-09-23 09:42:46 | Jazmin Johns |
| 75 | 2022-09-24 00:22:18 | Sami Knott |
| 76 | 2022-09-19 17:05:59 | Tracey Lear |
| 77 | 2022-09-20 12:55:59 | Emily Neno |
| 78 | 2022-09-23 20:27:46 | Emma Spears |
| 79 | 2022-09-17 12:02:54 | Jane Hasni |
| 80 | 2022-09-25 09:42:03 | Jodie Southwell |
| 81 | 2022-09-21 19:22:32 | Hayley Jelley |
| 82 | 2022-09-23 22:50:26 | Jeanette Glynn |
| 83 | 2022-09-24 22:20:55 | Tia potter |
| 84 | 2022-09-23 23:59:58 | Kim Morris |
| 85 | 2022-09-16 19:25:32 | Jeanette Glynn |
| 86 | 2022-09-22 16:12:27 | Talia Tucker |
| 87 | 2022-09-24 15:54:08 | Ria Pullen |
| 88 | 2022-09-17 20:01:56 | Joshua Coles |
| 89 | 2022-09-24 15:54:08 | Ria Pullen |
| 90 | 2022-09-24 08:54:08 | Kay Ainslie |
| 91 | 2022-09-24 23:47:14 | Wendy Bowman |
| 92 | 2022-09-19 12:32:26 | Tina Joyce |
| 93 | 2022-09-24 22:20:55 | Tia potter |
| 94 | 2022-09-24 12:38:13 | Melanie Duncan |
| 95 | 2022-09-17 12:02:54 | Jane Hasni |
| 96 | 2022-09-25 08:01:40 | J m Blackmore |
| 97 | 2022-09-17 20:42:24 | Rebecca Foot |
| 98 | 2022-09-24 10:49:33 | Jazmin Johns |
| 99 | 2022-09-25 08:53:06 | Sam Fitzsimmons |
| 100 | 2022-09-17 20:01:56 | Joshua Coles |
| 101 | 2022-09-23 22:50:26 | Jeanette Glynn |
| 102 | 2022-09-17 17:27:22 | Lianne Abercrombie |
| 103 | 2022-09-25 07:30:23 | Kimberley Hallett |
| 104 | 2022-09-17 20:42:24 | Rebecca Foot |
| 105 | 2022-09-16 19:25:32 | Jeanette Glynn |
| 106 | 2022-09-25 09:34:14 | erin beer |
| 107 | 2022-09-17 09:23:09 | Kyle Jago |
| 108 | 2022-09-17 13:36:58 | Paula Horrocks |
| 109 | 2022-09-23 18:42:40 | Alan Clarke |
| 110 | 2022-09-22 21:00:36 | Michelle Weller |
| 111 | 2022-09-16 16:46:36 | Melanie Bussell |
| 112 | 2022-09-23 09:16:45 | Samantha Head |
| 113 | 2022-09-23 11:11:33 | Jess Whitney |
| 114 | 2022-09-25 09:01:53 | Jeanette Anderson |
| 115 | 2022-09-19 12:30:25 | Emily Joyce |
| 116 | 2022-09-17 20:01:56 | Joshua Coles |
| 117 | 2022-09-24 15:54:08 | Ria Pullen |
| 118 | 2022-09-24 22:20:55 | Tia potter |
| 119 | 2022-09-22 19:49:24 | Katie Reddaway |
| 120 | 2022-09-24 15:54:08 | Ria Pullen |
| 121 | 2022-09-18 09:58:16 | Megan Barratt |
| 122 | 2022-09-24 23:09:30 | Eve Holleran |
| 123 | 2022-09-19 12:32:26 | Tina Joyce |
| 124 | 2022-09-23 23:59:58 | Kim Morris |
| 125 | 2022-09-23 18:34:07 | Sharon White |
| 126 | 2022-09-17 13:40:04 | Mathew Whitney |
| 127 | 2022-09-23 22:50:26 | Jeanette Glynn |
| 128 | 2022-09-25 08:01:40 | J m Blackmore |
| 129 | 2022-09-24 00:22:18 | Sami Knott |
| 130 | 2022-09-20 09:05:40 | Farrnoosh Worden |
| 131 | 2022-09-24 22:20:55 | Tia potter |
| 132 | 2022-09-23 19:09:28 | Chantelle Amphlett |
| 133 | 2022-09-25 09:01:53 | Jeanette Anderson |
| 134 | 2022-09-18 12:03:23 | Dawn Gillingwater |
| 135 | 2022-09-24 14:02:31 | Emma Davies |
| 136 | 2022-09-24 15:54:08 | Ria Pullen |
| 137 | 2022-09-23 00:56:37 | Alicia Barnett |
| 138 | 2022-09-24 20:00:27 | Donna Ward |
| 139 | 2022-09-25 08:01:40 | J m Blackmore |
| 140 | 2022-09-23 18:34:07 | Sharon White |