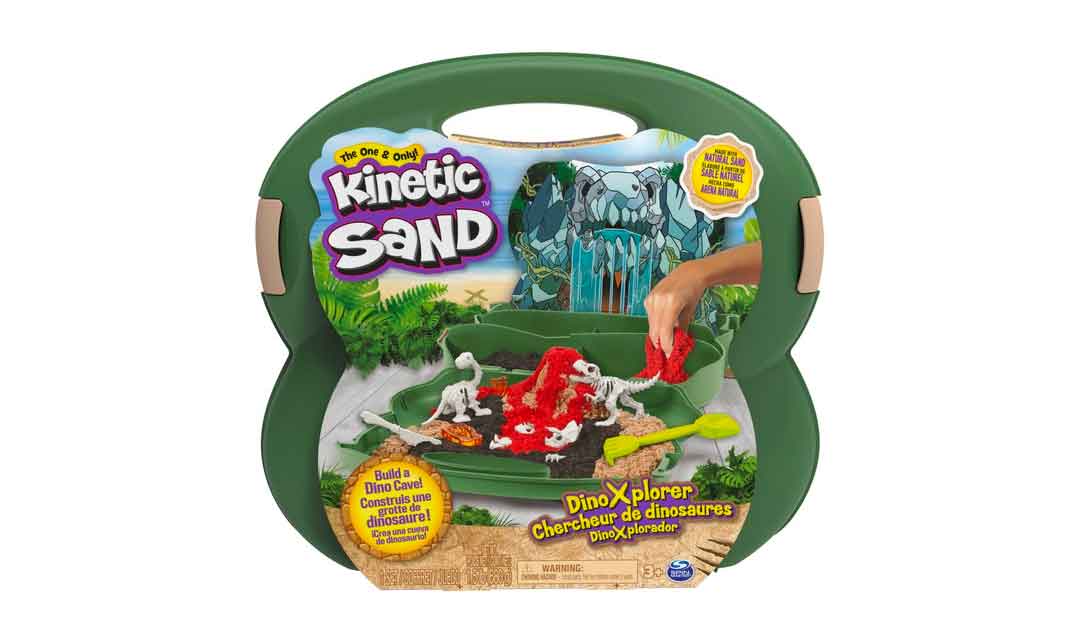 TOY DAY- AUTO WIN- Kinetic Sand Dino Xplorer
Description
TOY DAY- AUTO WIN- Kinetic Sand Dino Xplorer
Contents: 1x reusable case, 3x dinosaur bone sets, 1x rake, 1x fossil knife, 2x amber fossil tools, 4x scene punch-outs, 1x packaging scene & 680g of Kinetic sand.
The Kinetic Sand contents consist of 453g of beach sand, 113g of black sand and 113g of red sand
Build your dino world and dig and discover dino bones
Build out your very own ancient dinosaur cave with the 2 tools and 2 amber fossil moulds
There are 3 dinos to uncover and build using the Kinetic Sand tools
Kinetic Sand for kids develops creative and sensory skills and lets them create anything they can imagine
Dimensions: 32.24L x 26.45W x 32.24H cm
Product Description
Become a palaeontologist with the Kinetic Sand Dino Xplorer, with which you can dig and discover dinosaur bones and prehistoric treasure!
This playset features a total of 680g of Kinetic Sand, including beach sand, black sand and red sand. Mix these sands together to discover new colours or layer for mesmerising creations. Use the included rake and knife to build out your own ancient dinosaur cave. Imprint fossils using the amber fossil mould. Uncover dinosaur bones and put it together to reveal 3 dinosaurs.
Kinetic Sand is the original magical, mouldable and mesmerising play sand. Better than arts and crafts modelling clay, this sensory sand never dries out, so you can play with Kinetic Sand for hours of tactile independent play. It's a great addition to sensory bins. Let it flow through your hands – it's so satisfying, you won't be able to put it down.
Kinetic Sand is made with natural sand and is non-toxic and hypoallergenic. It magically sticks together and cleans up so easily. Kinetic Sand Dino Xplorer includes a reusable storage case to keep your sand contained for easy storage and clean up.
AUTO WIN – NO LIVE DRAW
| Winner Name | Ticket Number | Draw Date |
| --- | --- | --- |
| Jodie Ellis | 71 | 25/09/2022 |
| Ticket Number | Date | Name |
| --- | --- | --- |
| 1 | 2022-09-24 01:18:02 | Sharon Longbottom |
| 2 | 2022-09-24 21:29:00 | Bradley Cartwright |
| 3 | 2022-09-25 00:22:11 | Jazmine Williams |
| 4 | 2022-09-25 19:53:19 | Stacey Harris |
| 5 | 2022-09-24 23:01:43 | Ciar O'Connor |
| 6 | 2022-09-25 16:34:48 | Diane Rainbird |
| 7 | 2022-09-25 10:12:12 | Moira stokes |
| 8 | 2022-09-24 00:27:10 | Kelly Call |
| 9 | 2022-09-16 11:47:56 | Emma Reeve |
| 10 | 2022-09-25 18:04:03 | Danielle Benn |
| 11 | 2022-09-17 17:27:22 | Lianne Abercrombie |
| 12 | 2022-09-25 12:32:39 | Antonia Shackleton |
| 13 | 2022-09-24 08:22:59 | Holly Bradshaw |
| 14 | 2022-09-25 18:04:03 | Danielle Benn |
| 15 | 2022-09-17 17:27:22 | Lianne Abercrombie |
| 16 | 2022-09-20 11:02:05 | Danielle Benn |
| 17 | 2022-09-25 14:54:25 | Tinker Bell |
| 18 | 2022-09-16 11:20:31 | Ben Stocker |
| 19 | 2022-09-23 15:46:53 | Natalie Mogg |
| 20 | 2022-09-24 21:29:00 | Bradley Cartwright |
| 21 | 2022-09-16 11:00:58 | Lisa Roberts |
| 22 | 2022-09-16 11:00:58 | Lisa Roberts |
| 23 | 2022-09-16 11:00:58 | Lisa Roberts |
| 24 | 2022-09-25 15:52:35 | Mandy Cove |
| 25 | 2022-09-25 00:22:11 | Jazmine Williams |
| 26 | 2022-09-24 18:24:14 | Holly Mills |
| 27 | 2022-09-25 12:36:34 | Andy Pitty |
| 28 | 2022-09-17 11:22:57 | Sarah Pridmore |
| 29 | 2022-09-22 18:12:22 | Luck Please |
| 30 | 2022-09-17 08:51:20 | Hannah Cook |
| 31 | 2022-09-24 23:17:32 | Marc Baker |
| 32 | 2022-09-24 18:24:14 | Holly Mills |
| 33 | 2022-09-17 10:47:20 | Lizzie Storer |
| 34 | 2022-09-25 18:33:39 | Rachel Caulkin |
| 35 | 2022-09-24 19:00:37 | Vanessa Hibble |
| 36 | 2022-09-24 14:50:20 | Gerry Blue |
| 37 | 2022-09-25 19:47:31 | Jodie Ellis |
| 38 | 2022-09-25 12:59:56 | Tanya Roberts |
| 39 | 2022-09-25 18:03:32 | Nicola Naylor |
| 40 | 2022-09-24 21:29:00 | Bradley Cartwright |
| 41 | 2022-09-25 00:22:11 | Jazmine Williams |
| 42 | 2022-09-24 23:27:17 | Rose Barlow |
| 43 | 2022-09-24 21:29:00 | Bradley Cartwright |
| 44 | 2022-09-25 17:41:55 | Adele Turnstill |
| 45 | 2022-09-25 17:18:19 | Kitty Cat |
| 46 | 2022-09-24 08:22:59 | Holly Bradshaw |
| 47 | 2022-09-25 09:55:26 | Jayne Harris |
| 48 | 2022-09-24 14:13:19 | Kelly Parker |
| 49 | 2022-09-20 20:32:56 | Natalie Mogg |
| 50 | 2022-09-25 15:53:51 | Tinker Bell |
| 51 | 2022-09-24 08:22:59 | Holly Bradshaw |
| 52 | 2022-09-25 08:35:04 | Emily Dyke |
| 53 | 2022-09-19 03:25:14 | Jodie Ellis |
| 54 | 2022-09-24 21:29:00 | Bradley Cartwright |
| 55 | 2022-09-25 13:42:10 | Tyler Ward |
| 56 | 2022-09-25 19:07:01 | Donna Spicer |
| 57 | 2022-09-25 00:22:11 | Jazmine Williams |
| 58 | 2022-09-25 19:16:23 | Michelle Rowles |
| 59 | 2022-09-25 14:54:25 | Tinker Bell |
| 60 | 2022-09-20 20:32:56 | Natalie Mogg |
| 61 | 2022-09-16 11:49:12 | Michelle Whatty |
| 62 | 2022-09-20 11:02:05 | Danielle Benn |
| 63 | 2022-09-17 12:02:54 | Jane Hasni |
| 64 | 2022-09-25 15:53:51 | Tinker Bell |
| 65 | 2022-09-25 18:33:39 | Rachel Caulkin |
| 66 | 2022-09-25 19:16:23 | Michelle Rowles |
| 67 | 2022-09-19 03:25:14 | Jodie Ellis |
| 68 | 2022-09-16 11:15:57 | Stacey Roberts |
| 69 | 2022-09-17 12:02:54 | Jane Hasni |
| 70 | 2022-09-25 00:22:11 | Jazmine Williams |
| 71 | 2022-09-25 19:47:31 | Jodie Ellis |
| 72 | 2022-09-17 22:03:51 | Richanne Grove |
| 73 | 2022-09-25 14:54:25 | Tinker Bell |
| 74 | 2022-09-17 11:04:31 | Leah Back |
| 75 | 2022-09-25 19:45:42 | Jane Clarke |
| 76 | 2022-09-25 11:03:26 | Keely Cooper |
| 77 | 2022-09-20 11:02:05 | Danielle Benn |
| 78 | 2022-09-25 19:07:01 | Donna Spicer |
| 79 | 2022-09-23 18:52:17 | Claire Allen |
| 80 | 2022-09-23 08:54:09 | Elizabeth Halfyard |