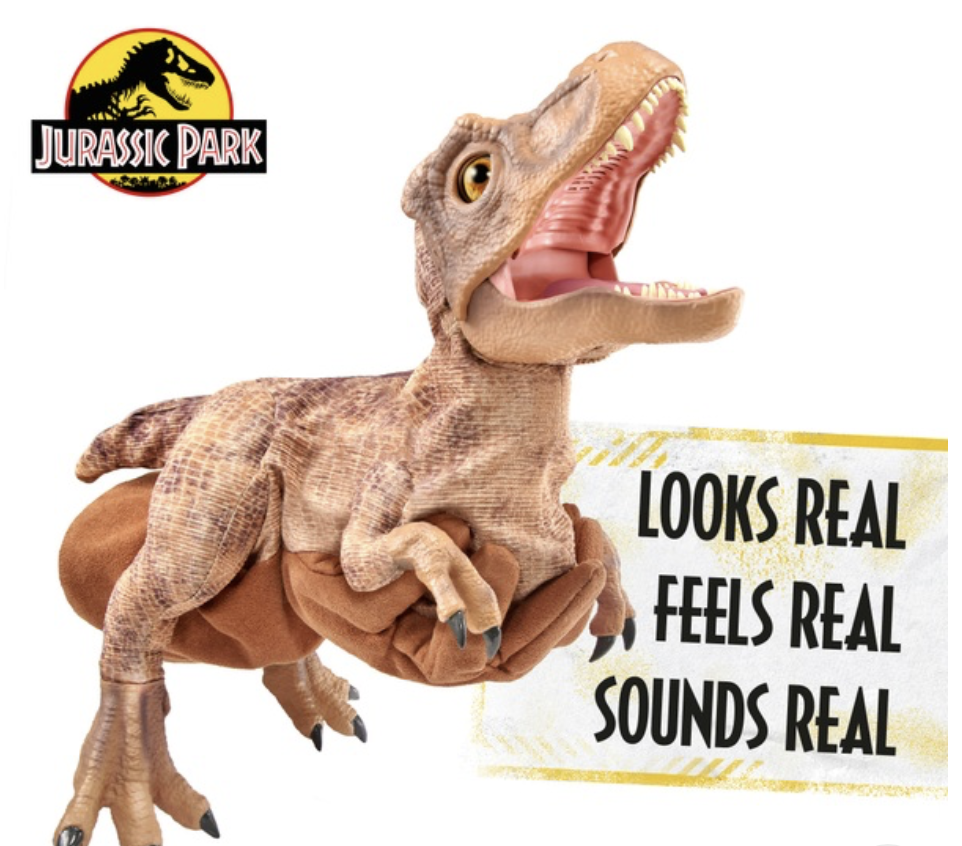 TOY DAY! AUTO WIN – Jurassic Park Real FX T-Rex with 35 + Actions and Sound Effects -18/11
Description
TOY DAY! AUTO WIN – Jurassic Park Real FX T-Rex with 35 + Actions and Sound Effects -18/11
AUTO WIN – NO LIVE DRAW – WINNER WILL BE CONTACTED WITHIN 24 HOURS
A movie-scale 'life size' baby dinosaur, she has a built-in RealFX pistol grip controller mechanism concealed by an authentic Rangers faux leather handling glove! The controller allows you to bring her to life in multiple ways. No one will know how she has come to life, but they will believe she has!
T.REX is a true icon that helped the Jurassic Park movie set new records for a movie theatrical release 30 years ago! T.Rex is probably the most famous and dangerous dinosaur to have walked the earth many millions of years ago.
This full-scale baby dino comes to life in your hand like no remote- control toy ever could! RealFX Baby T.REX bites, lunges, growls, roars, sniffs and ultimately protects its owner. She includes more than 20 sounds directly from T.REX in the Jurassic Park and Jurassic World movies!
| Winner Name | Ticket Number | Draw Date |
| --- | --- | --- |
| Kaylie T | 10 | 18/11/2023 |
| Ticket Number | Date | Name |
| --- | --- | --- |
| 3 | 2023-11-16 22:00:07 | Kaylie T |
| 4 | 2023-11-18 12:48:37 | Gary Teague |
| 5 | 2023-11-17 21:30:46 | Clare Keating |
| 6 | 2023-11-16 22:00:07 | Kaylie T |
| 9 | 2023-11-18 10:45:52 | Stephanie Mccandless |
| 10 | 2023-11-16 22:00:07 | Kaylie T |
| 11 | 2023-11-17 22:11:27 | Jeanette Anderson |
| 13 | 2023-11-18 12:47:01 | Samuel Bullen |
| 14 | 2023-11-17 22:11:27 | Jeanette Anderson |
| 15 | 2023-11-18 11:39:28 | Jeanette Anderson |
| 16 | 2023-11-17 22:11:27 | Jeanette Anderson |
| 17 | 2023-11-17 21:30:46 | Clare Keating |
| 19 | 2023-11-18 08:52:54 | Helen Hamilton |
| 20 | 2023-11-18 10:07:48 | Sharon Smith |
| 21 | 2023-11-17 21:33:25 | Shiobhan Westcott |
| 23 | 2023-11-17 22:30:57 | Natalie Carey |
| 24 | 2023-11-17 13:58:14 | Aimee Cadle |
| 25 | 2023-11-18 01:49:20 | Amy Galley |
| 26 | 2023-11-17 21:11:28 | Rhianna Smith |
| 28 | 2023-11-18 09:13:05 | Lorna Stimpson |
| 29 | 2023-11-18 12:22:42 | Stacey B |
| 31 | 2023-11-18 01:49:20 | Amy Galley |
| 32 | 2023-11-17 23:08:10 | Kelly Snape |
| 35 | 2023-11-18 00:11:51 | Emma & lee |
| 39 | 2023-11-18 12:36:25 | Sharon Archer |
| 42 | 2023-11-17 21:30:46 | Clare Keating |
| 44 | 2023-11-17 13:58:14 | Aimee Cadle |
| 45 | 2023-11-17 23:08:10 | Kelly Snape |
| 50 | 2023-11-18 12:36:21 | Kate Chmykhalo |
| 51 | 2023-11-18 10:07:48 | Sharon Smith |
| 55 | 2023-11-16 18:39:29 | Tracy Owen |
| 56 | 2023-11-17 12:16:59 | Charlotte Brookbank |
| 60 | 2023-11-18 12:16:46 | Toni Bolsworth |
| 61 | 2023-11-17 22:11:27 | Jeanette Anderson |
| 62 | 2023-11-16 22:00:07 | Kaylie T |
| 63 | 2023-11-17 22:11:27 | Jeanette Anderson |
| 65 | 2023-11-18 09:40:41 | Claire King |
| 68 | 2023-11-18 09:54:42 | Natasha Bourne |
| 69 | 2023-11-18 11:06:53 | Carla Taylor |
| 75 | 2023-11-17 13:58:14 | Aimee Cadle |
| 78 | 2023-11-18 12:36:21 | Kate Chmykhalo |
| 88 | 2023-11-17 21:11:28 | Rhianna Smith |
| 90 | 2023-11-18 09:44:52 | Lucinda Massey |
| 97 | 2023-11-16 18:39:29 | Tracy Owen |