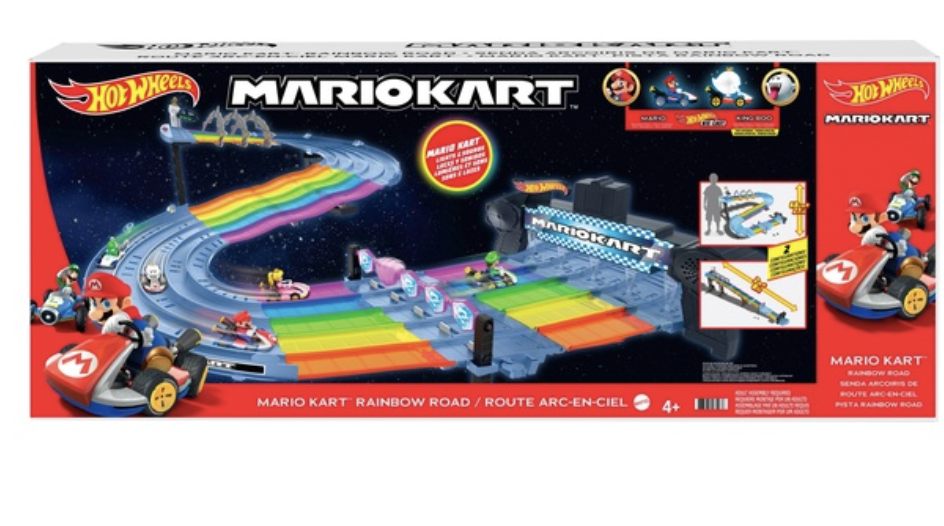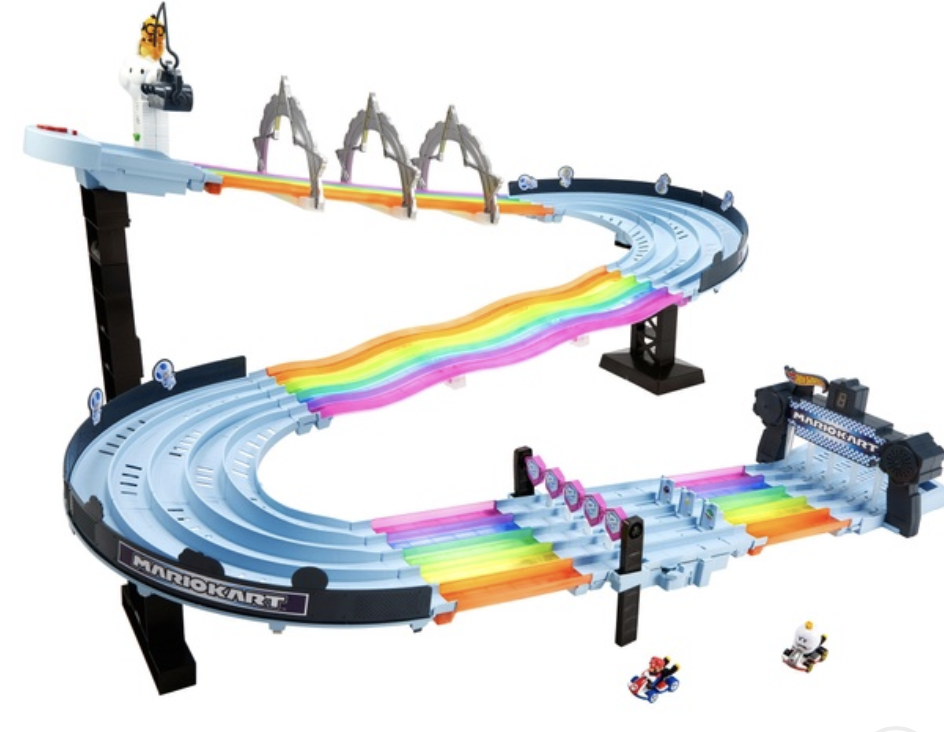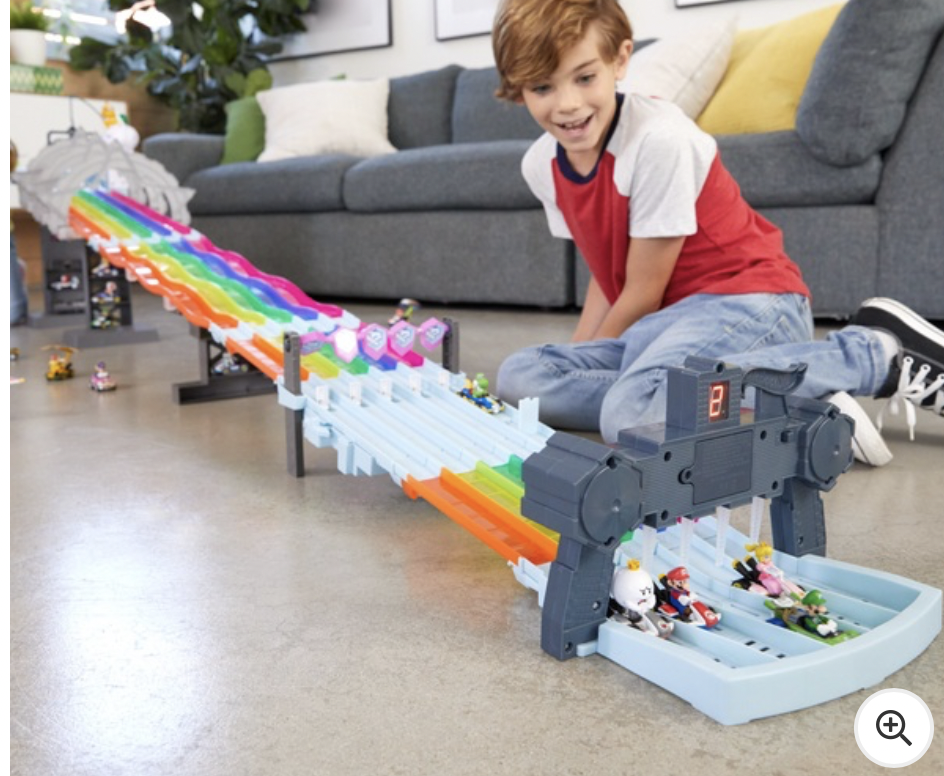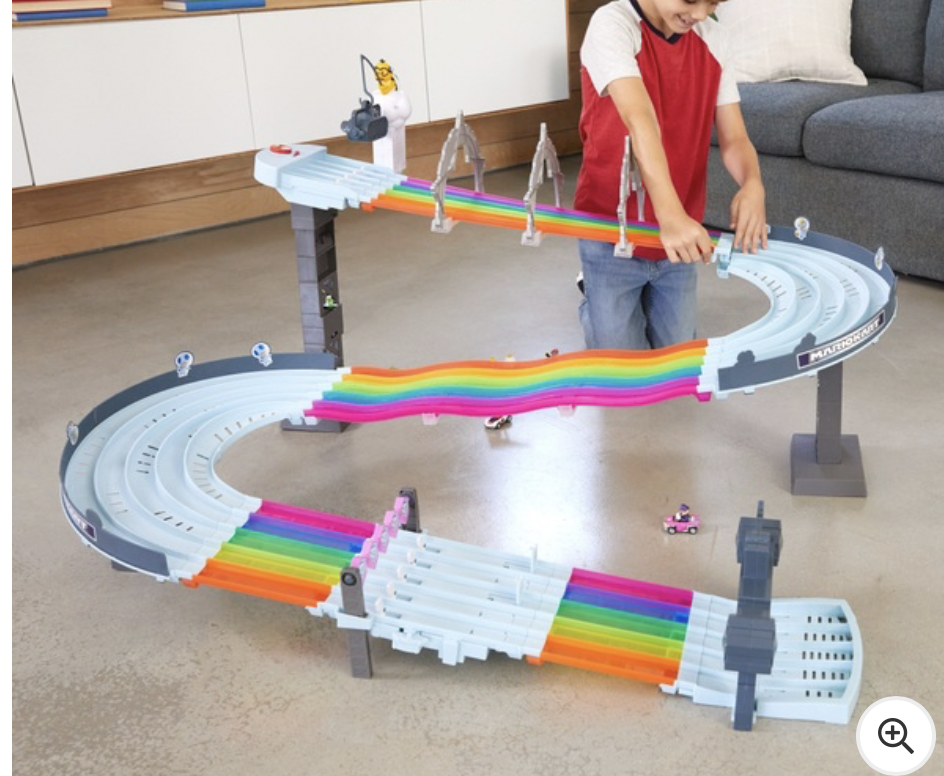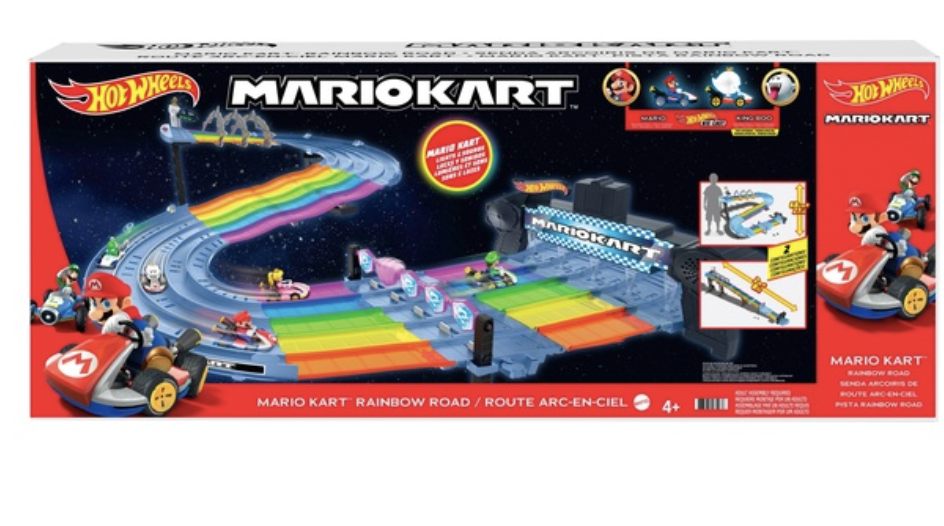 TOY DAY! AUTO WIN – Hot Wheels Mario Kart Rainbow Road Playset with Vehicles – 18/11
Description
TOY DAY! AUTO WIN – Hot Wheels Mario Kart Rainbow Road Playset with Vehicles – 18/11
AUTO WIN – NO LIVE DRAW – WINNER WILL BE CONTACTED WITHIN 24 HOURS
Hot Wheels and Mario Kart bring a dramatic video game level to life with the most iconic and final course in the franchise – Rainbow Road! The 8-foot-long track has five translucent rainbow-coloured race lanes that can be configured straight or curved.
Start Your Engines…
Use the electronic start gate to get ready! You can race up to five favourite Mario Kart 1:64 scale die-cast karts on this track.
Die-Cast Karts
The Super Mario track set comes with two vehicles: an exclusive King Boo and Mario. Once the karts get racing, they may face banked turns or a wavy road and must pass through the Item Box randomizer to win! Lights and sounds announce the winner at the finish gate.
A Must-Have for Super Mario Fans
Makes a great gift for kids ages 4 years and older, especially fans of Mario Kart! Colours and decorations may vary.
| Winner Name | Ticket Number | Draw Date |
| --- | --- | --- |
| Elizabeth Sansom | 17 | 18/11/2023 |
| Ticket Number | Date | Name |
| --- | --- | --- |
| 3 | 2023-11-17 19:41:20 | Marnie Griffiths |
| 4 | 2023-11-18 11:32:54 | Amy Lou |
| 5 | 2023-11-18 15:54:09 | Claire Leworthy |
| 6 | 2023-11-18 15:07:42 | Emma Randall |
| 7 | 2023-11-18 16:35:48 | Kim Murrell |
| 10 | 2023-11-18 15:07:42 | Emma Randall |
| 11 | 2023-11-18 01:06:37 | Lee Gable |
| 12 | 2023-11-18 16:17:26 | Hayley Jackson |
| 13 | 2023-11-18 14:10:06 | LL BB |
| 14 | 2023-11-17 21:41:07 | Jade Hulme |
| 16 | 2023-11-18 00:46:10 | Kym Dalziel |
| 17 | 2023-11-18 11:16:46 | Elizabeth Sansom |
| 19 | 2023-11-16 01:41:43 | Alan Clarke |
| 20 | 2023-11-18 16:54:08 | Richard Legge |
| 21 | 2023-11-14 12:35:06 | LJ Storer no |
| 22 | 2023-11-18 13:44:58 | Pauline Brown |
| 23 | 2023-11-18 14:28:42 | LJ Storer no |
| 24 | 2023-11-18 13:11:28 | R P |
| 26 | 2023-11-18 16:35:48 | Kim Murrell |
| 27 | 2023-11-17 21:11:28 | Rhianna Smith |
| 30 | 2023-11-18 16:50:44 | Jade Martin |
| 32 | 2023-11-17 12:36:45 | Tara Hawthorn |
| 33 | 2023-11-18 15:28:33 | Leanne Pearce |
| 34 | 2023-11-16 07:56:43 | Maxine Mcaleer |
| 35 | 2023-11-18 16:50:44 | Jade Martin |
| 36 | 2023-11-18 07:20:41 | Caroline Dreesden |
| 38 | 2023-11-18 16:31:02 | Gem A |
| 39 | 2023-11-18 11:32:34 | Stacey David |
| 40 | 2023-11-18 11:46:15 | Laura Hall |
| 43 | 2023-11-18 12:41:29 | Jacqueline Wines |
| 45 | 2023-11-17 17:24:37 | Sarah Pring |
| 47 | 2023-11-16 07:56:43 | Maxine Mcaleer |
| 50 | 2023-11-18 16:52:03 | Emma Randall |
| 51 | 2023-11-18 12:41:29 | Jacqueline Wines |
| 54 | 2023-11-18 16:35:48 | Kim Murrell |
| 55 | 2023-11-18 16:50:44 | Jade Martin |
| 58 | 2023-11-18 13:11:28 | R P |
| 59 | 2023-11-18 13:51:21 | Mandy Adams |
| 61 | 2023-11-18 11:57:50 | Elizabeth Halfyard |
| 63 | 2023-11-18 15:28:33 | Leanne Pearce |
| 64 | 2023-11-18 00:46:10 | Kym Dalziel |
| 66 | 2023-11-18 16:46:47 | Darren Ricketts |
| 68 | 2023-11-18 11:32:34 | Stacey David |
| 71 | 2023-11-18 16:35:48 | Kim Murrell |
| 72 | 2023-11-18 13:11:28 | R P |
| 74 | 2023-11-18 11:32:54 | Amy Lou |
| 75 | 2023-11-18 15:19:42 | Diane Sekjer |
| 76 | 2023-11-18 13:11:28 | R P |
| 78 | 2023-11-18 11:51:57 | marion clark |
| 79 | 2023-11-18 09:33:34 | Emma & lee |
| 82 | 2023-11-18 16:31:02 | Gem A |
| 83 | 2023-11-18 15:55:04 | Caroline Dreesden |
| 85 | 2023-11-18 16:42:12 | Lekel North |
| 88 | 2023-11-17 21:53:30 | Rebecca Brewer |
| 90 | 2023-11-18 16:54:08 | Richard Legge |
| 92 | 2023-11-18 10:07:56 | Jane Hasni |
| 93 | 2023-11-18 16:54:08 | Richard Legge |
| 96 | 2023-11-17 19:41:20 | Marnie Griffiths |
| 97 | 2023-11-18 11:32:34 | Stacey David |
| 98 | 2023-11-18 13:44:58 | Pauline Brown |
| 99 | 2023-11-18 16:35:48 | Kim Murrell |
| 102 | 2023-11-18 16:45:51 | Rhiannon Clarke |
| 104 | 2023-11-18 11:32:34 | Stacey David |
| 106 | 2023-11-18 16:54:08 | Richard Legge |
| 108 | 2023-11-18 16:54:08 | Richard Legge |
| 109 | 2023-11-18 12:20:58 | Danielle Kinsella |
| 110 | 2023-11-18 11:32:34 | Stacey David |
| 111 | 2023-11-18 13:11:28 | R P |
| 113 | 2023-11-16 07:56:43 | Maxine Mcaleer |
| 117 | 2023-11-18 16:57:27 | Tracy Mills |
| 119 | 2023-11-17 22:53:12 | Ma Roberts |