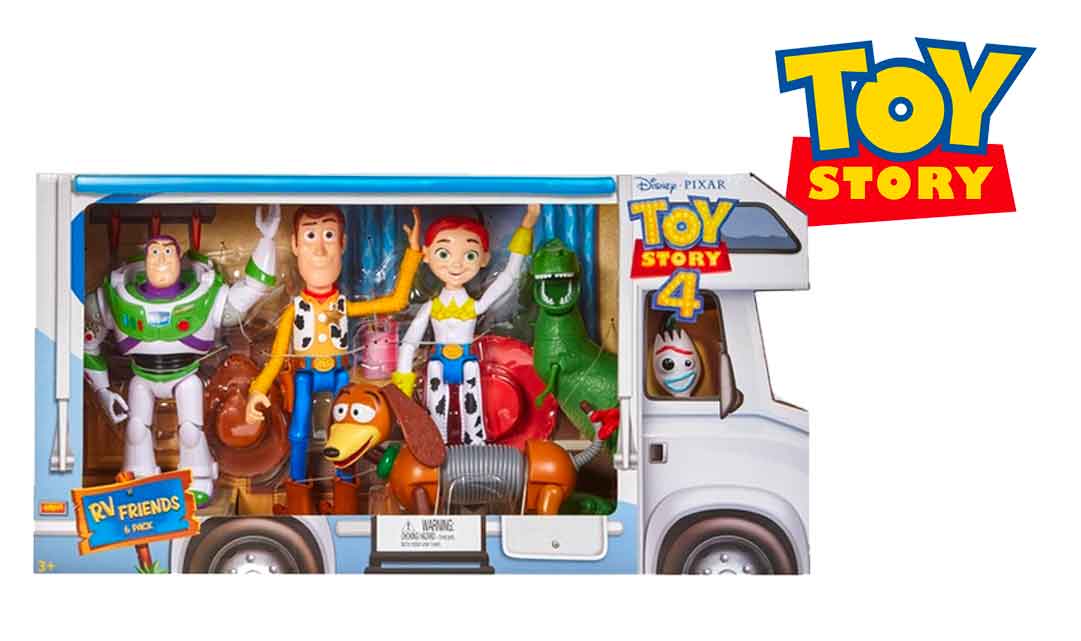 TOY DAY- AUTO WIN-Disney Pixar Toy Story RV Friends 6-Pack Figures
Description
TOY DAY- AUTO WIN-Disney Pixar Toy Story RV Friends 6-Pack Figures
1x Disney Pixar Toy Story Friends 6-Pack Figures in RV packagi
Includes 1x Buzz, 1x Woody, 1x Jessie, 1x Slinky, 1x Rex, and 1x Forky
Variety pack of six Disney and Pixar's Toy Story characters for storytelling adventures
Special RV road trip packaging!
Makes an instant collection and special kids' birthday gift
Product Description
Recreate Disney Pixar Toy Story adventures with six action figures together. This fun character collection of road trip friends includes Woody, Buzz Lightyear, Rex, Slinky, Jessie and Forky in movie-inspired relative scale.
Detailed Toy Story Playset
With Buzz, Woody, and Jessie, Toy Story adventures have never felt more fun or realistic! This gift set makes a special present for your favourite Toy Story fans. Comes in true-to-movie RV packaging. Colours and decorations may vary.
Pose and Play
Each figure is highly posable for big action play! Recreate the movie's scenes at home and on your next holiday. In Toy Story, Rex is a playful T-Rex. Now, you can pose him as he plays with the rest of his friends – including his best friend, Slinky!
AUTO WIN- NO LIVE DRAW 
| Winner Name | Ticket Number | Draw Date |
| --- | --- | --- |
| Wendy Wells | 142 | 24/09/2022 |
| Ticket Number | Date | Name |
| --- | --- | --- |
| 1 | 2022-09-21 14:57:23 | Michelle Darke |
| 2 | 2022-09-23 10:03:07 | Sarah Webster |
| 3 | 2022-09-16 12:02:29 | Lisa mayhew-edwards |
| 4 | 2022-09-16 17:28:20 | Jacqueline Wines |
| 5 | 2022-09-22 10:26:54 | Amy Summers |
| 6 | 2022-09-20 07:34:45 | Sarah Heal |
| 7 | 2022-09-20 13:06:47 | Sarah Hatfield |
| 8 | 2022-09-22 09:48:56 | Constance Mason |
| 9 | 2022-09-18 18:46:24 | claire-louise flanagan |
| 10 | 2022-09-23 20:08:27 | Sarah jennings |
| 11 | 2022-09-23 04:25:02 | Jeanette Anderson |
| 12 | 2022-09-23 19:05:22 | Paula Horrocks |
| 13 | 2022-09-22 22:32:32 | Layla O'brien |
| 14 | 2022-09-17 18:38:55 | Heidi Rose |
| 15 | 2022-09-23 04:25:02 | Jeanette Anderson |
| 16 | 2022-09-23 04:25:02 | Jeanette Anderson |
| 17 | 2022-09-20 08:54:53 | Kerry Jacobs |
| 18 | 2022-09-16 12:02:29 | Lisa mayhew-edwards |
| 19 | 2022-09-17 21:09:05 | Katie Powell |
| 20 | 2022-09-22 12:05:28 | Sian Beer |
| 21 | 2022-09-16 11:00:58 | Lisa Roberts |
| 22 | 2022-09-23 18:15:40 | Martyn Down |
| 23 | 2022-09-24 08:54:56 | Georgia Samuel |
| 24 | 2022-09-24 11:35:25 | Lisa Chamberlain |
| 25 | 2022-09-20 10:16:27 | Natasha Hollingsworth |
| 26 | 2022-09-16 21:45:04 | Kerrie Parker |
| 27 | 2022-09-22 08:52:29 | Adele Young |
| 28 | 2022-09-21 11:47:24 | Kerry Jacobs |
| 29 | 2022-09-19 09:03:56 | Natalie Parkes |
| 30 | 2022-09-22 20:07:05 | KIM SMITH |
| 31 | 2022-09-24 08:54:56 | Georgia Samuel |
| 32 | 2022-09-19 21:25:23 | melanie Burnay |
| 33 | 2022-09-23 14:40:36 | Tara Finn |
| 34 | 2022-09-22 22:05:42 | Dawn SOLECKI |
| 35 | 2022-09-16 20:07:33 | Madison Childs |
| 36 | 2022-09-17 21:09:05 | Katie Powell |
| 37 | 2022-09-24 03:11:53 | Millie Hamer |
| 38 | 2022-09-22 12:05:28 | Sian Beer |
| 39 | 2022-09-22 16:06:20 | Amy Leslie |
| 40 | 2022-09-17 17:34:38 | Lisa Roberts |
| 41 | 2022-09-22 12:05:28 | Sian Beer |
| 42 | 2022-09-20 09:15:37 | Kerry Jacobs |
| 43 | 2022-09-23 10:03:07 | Sarah Webster |
| 44 | 2022-09-24 11:36:46 | Steven Brown |
| 45 | 2022-09-18 09:51:05 | Michelle Weller |
| 46 | 2022-09-22 12:05:28 | Sian Beer |
| 47 | 2022-09-17 09:31:32 | Steve Rowley |
| 48 | 2022-09-24 08:54:56 | Georgia Samuel |
| 49 | 2022-09-24 11:36:46 | Steven Brown |
| 50 | 2022-09-22 19:41:44 | Nicola Cobain |
| 51 | 2022-09-23 19:04:35 | Lisa Donoghue |
| 52 | 2022-09-24 12:53:41 | Sophie Hodge |
| 53 | 2022-09-19 09:03:56 | Natalie Parkes |
| 54 | 2022-09-22 19:41:44 | Nicola Cobain |
| 55 | 2022-09-23 10:50:28 | faye Willicott |
| 56 | 2022-09-20 08:54:53 | Kerry Jacobs |
| 57 | 2022-09-23 18:15:40 | Martyn Down |
| 58 | 2022-09-23 21:30:37 | Amanda Warner |
| 59 | 2022-09-24 12:37:18 | Chloe Rainbow |
| 60 | 2022-09-24 11:36:46 | Steven Brown |
| 61 | 2022-09-24 12:58:10 | Hannah Wilks |
| 62 | 2022-09-19 03:25:14 | Jodie Ellis |
| 63 | 2022-09-23 10:23:00 | Jade Ward |
| 64 | 2022-09-23 19:45:46 | Sharon Evans |
| 65 | 2022-09-23 10:03:07 | Sarah Webster |
| 66 | 2022-09-24 12:53:41 | Sophie Hodge |
| 67 | 2022-09-22 09:48:56 | Constance Mason |
| 68 | 2022-09-23 14:37:30 | Wendy Wells |
| 69 | 2022-09-20 15:56:43 | Rebecca Randoll |
| 70 | 2022-09-23 21:30:37 | Amanda Warner |
| 71 | 2022-09-18 09:39:40 | Carla Drake |
| 72 | 2022-09-22 10:26:54 | Amy Summers |
| 73 | 2022-09-22 19:37:14 | Lynne Deeley |
| 74 | 2022-09-17 18:38:55 | Heidi Rose |
| 75 | 2022-09-24 12:14:57 | Beth Mason |
| 76 | 2022-09-23 20:08:27 | Sarah jennings |
| 77 | 2022-09-21 11:51:47 | Kerry Jacobs |
| 78 | 2022-09-24 08:43:55 | Rose Barlow |
| 79 | 2022-09-24 08:43:55 | Rose Barlow |
| 80 | 2022-09-22 12:05:28 | Sian Beer |
| 81 | 2022-09-24 03:11:53 | Millie Hamer |
| 82 | 2022-09-24 08:54:56 | Georgia Samuel |
| 83 | 2022-09-23 10:03:07 | Sarah Webster |
| 84 | 2022-09-20 11:57:12 | Ashley Franke |
| 85 | 2022-09-24 12:37:18 | Chloe Rainbow |
| 86 | 2022-09-24 03:11:53 | Millie Hamer |
| 87 | 2022-09-16 17:10:10 | Natasha Hollingsworth |
| 88 | 2022-09-24 11:36:46 | Steven Brown |
| 89 | 2022-09-22 09:19:13 | kerry b |
| 90 | 2022-09-24 03:11:53 | Millie Hamer |
| 91 | 2022-09-16 12:02:29 | Lisa mayhew-edwards |
| 92 | 2022-09-16 12:02:29 | Lisa mayhew-edwards |
| 93 | 2022-09-16 12:02:29 | Lisa mayhew-edwards |
| 94 | 2022-09-16 12:02:29 | Lisa mayhew-edwards |
| 95 | 2022-09-23 04:25:02 | Jeanette Anderson |
| 96 | 2022-09-19 09:03:56 | Natalie Parkes |
| 97 | 2022-09-17 09:31:32 | Steve Rowley |
| 98 | 2022-09-23 18:15:40 | Martyn Down |
| 99 | 2022-09-19 21:25:23 | melanie Burnay |
| 100 | 2022-09-23 19:09:28 | Chantelle Amphlett |
| 101 | 2022-09-18 22:32:53 | Kimberley Patchett |
| 102 | 2022-09-20 23:05:17 | Tracy Veal |
| 103 | 2022-09-20 18:57:44 | Jacqueline Wines |
| 104 | 2022-09-24 08:45:18 | Kay Ainslie |
| 105 | 2022-09-24 07:27:26 | Jeanette Anderson |
| 106 | 2022-09-24 08:54:56 | Georgia Samuel |
| 107 | 2022-09-23 10:03:07 | Sarah Webster |
| 108 | 2022-09-23 21:30:37 | Amanda Warner |
| 109 | 2022-09-23 04:25:02 | Jeanette Anderson |
| 110 | 2022-09-24 08:54:56 | Georgia Samuel |
| 111 | 2022-09-23 10:50:28 | faye Willicott |
| 112 | 2022-09-22 08:32:30 | Keira Bradford-jones |
| 113 | 2022-09-24 12:37:18 | Chloe Rainbow |
| 114 | 2022-09-24 12:53:41 | Sophie Hodge |
| 115 | 2022-09-23 23:16:35 | Jan Loffel |
| 116 | 2022-09-23 19:05:22 | Paula Horrocks |
| 117 | 2022-09-21 11:51:47 | Kerry Jacobs |
| 118 | 2022-09-23 04:25:02 | Jeanette Anderson |
| 119 | 2022-09-24 07:11:06 | g Mv |
| 120 | 2022-09-22 21:55:50 | Zoe Worth |
| 121 | 2022-09-22 17:33:45 | Tanya Roberts |
| 122 | 2022-09-23 10:03:07 | Sarah Webster |
| 123 | 2022-09-24 00:12:48 | Michaela Pearson |
| 124 | 2022-09-22 21:44:30 | Natasha Hollingsworth |
| 125 | 2022-09-24 11:19:12 | Jane Knight |