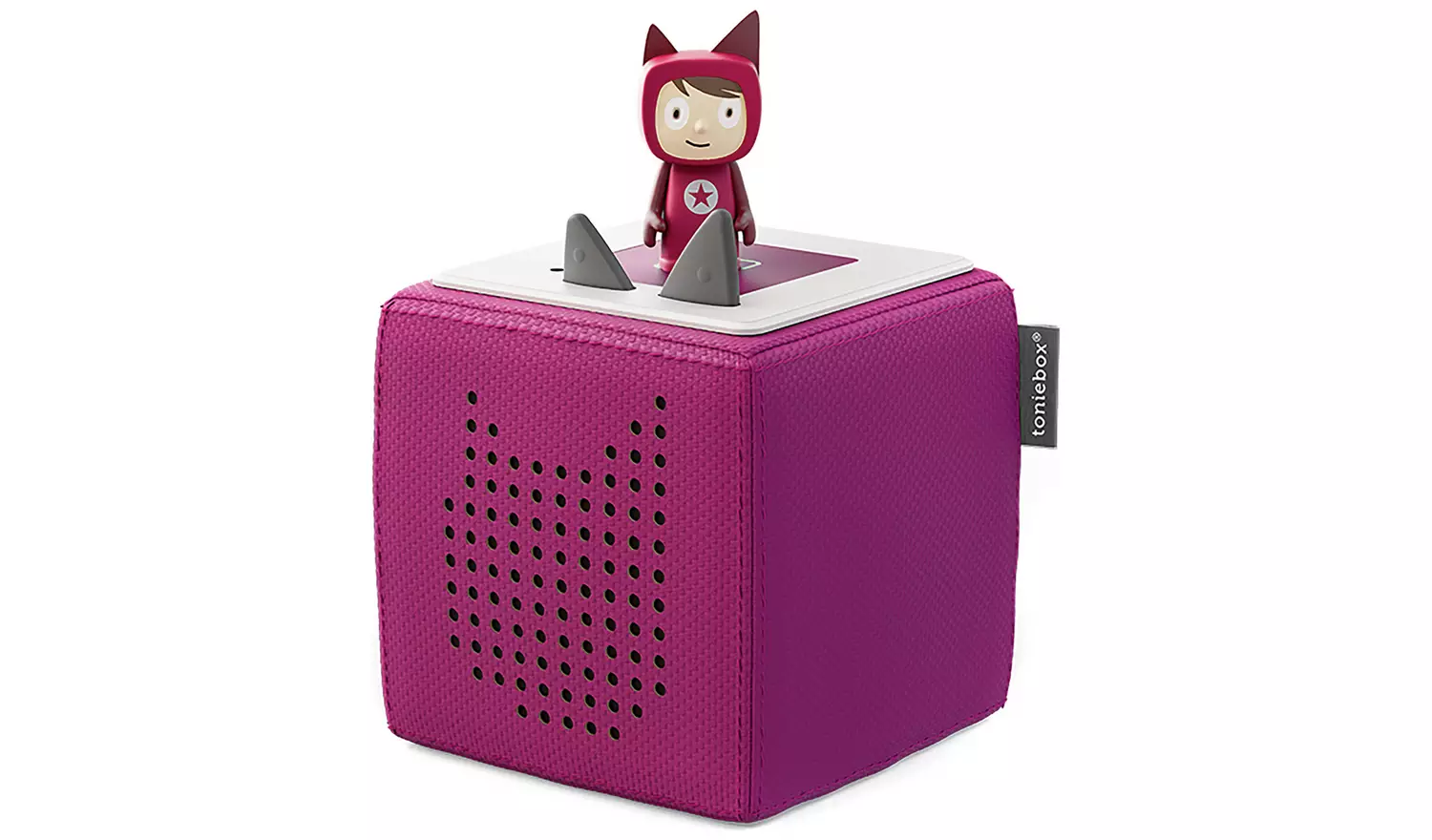 Tonies Starter Set TonieBox – Purple
Description
Tonies Starter Set TonieBox – Purple
Meet the Toniebox – the new audio system for little listeners. Turn it on, pop a Tonie on top, and let the audio adventure begin. Includes a Creative-Tonie to give you up to 90 minutes of custom content storage. You can upload your favourite songs, audiobooks, or even narrate your own stories. This set also includes a charging station, with a standard UK plug, to charge your Toniebox battery and easy-to-understand instructions.
Snuggable + durable for hands-on kids.
One-time, simple setup for quick play.
Safe and secure with parental settings.
Headphone jack for quiet time.
Sleep time for winding down.
Size H18, W18, D18cm.
Batteries required: 1 x rechargeable .
137 assorted characters to collect – 1 supplied.
For ages 3 years and over.
| Winner Name | Ticket Number | Draw Date |
| --- | --- | --- |
| Kathryn Dewing | 68 | 06/09/2022 |
| Ticket Number | Date | Name |
| --- | --- | --- |
| 1 | 2022-09-05 16:35:48 | Moira stokes |
| 2 | 2022-09-02 08:14:16 | Michelle Stanyon |
| 3 | 2022-09-04 16:36:32 | Leanne Gunn |
| 4 | 2022-09-04 16:40:46 | Rachel Salloway |
| 5 | 2022-09-06 13:03:47 | Jo Butcher |
| 6 | 2022-09-02 21:29:08 | Leanne Gunn |
| 7 | 2022-09-05 16:29:32 | Hayley Baxter |
| 8 | 2022-09-05 12:54:49 | Laura cloke |
| 9 | 2022-09-06 08:55:03 | Emma Davies |
| 10 | 2022-09-01 14:32:51 | clare farr |
| 11 | 2022-09-04 16:36:32 | Leanne Gunn |
| 12 | 2022-09-05 16:29:32 | Hayley Baxter |
| 13 | 2022-09-05 19:15:05 | Alex Harding |
| 14 | 2022-09-05 11:31:50 | Natalie Parkes |
| 15 | 2022-09-06 09:19:10 | Emma-lee Wilson |
| 16 | 2022-09-04 08:39:35 | Rachel Gilbert |
| 17 | 2022-08-30 20:57:15 | g Mv |
| 18 | 2022-09-05 11:31:50 | Natalie Parkes |
| 19 | 2022-09-05 20:20:38 | Katie Kelly |
| 20 | 2022-09-03 19:52:19 | Natalie Laska |
| 21 | 2022-09-05 12:04:22 | Lisa Roberts |
| 22 | 2022-09-04 07:31:05 | Natalie Laska |
| 23 | 2022-09-05 16:29:32 | Hayley Baxter |
| 24 | 2022-09-02 21:29:08 | Leanne Gunn |
| 25 | 2022-09-05 16:29:32 | Hayley Baxter |
| 26 | 2022-08-30 20:57:15 | g Mv |
| 27 | 2022-09-02 19:56:21 | Katie Kelly |
| 28 | 2022-08-30 20:57:15 | g Mv |
| 29 | 2022-08-31 20:17:08 | Holly Gawrel |
| 30 | 2022-09-05 20:07:35 | David Orrey |
| 31 | 2022-08-30 20:57:15 | g Mv |
| 32 | 2022-09-05 19:15:05 | Alex Harding |
| 33 | 2022-09-06 12:36:18 | Rebecca Fletcher |
| 34 | 2022-09-02 08:14:16 | Michelle Stanyon |
| 35 | 2022-09-02 08:48:33 | Catherine Moslehi |
| 36 | 2022-09-01 14:32:51 | clare farr |
| 37 | 2022-09-04 07:39:05 | Alice Hackett |
| 38 | 2022-08-30 20:31:11 | Stacey Roberts |
| 39 | 2022-09-06 12:36:18 | Rebecca Fletcher |
| 40 | 2022-09-06 12:56:12 | Kelly Hack |
| 41 | 2022-09-05 19:29:49 | Kathryn Dewing |
| 42 | 2022-09-02 08:14:16 | Michelle Stanyon |
| 43 | 2022-09-06 10:12:37 | Kelvin Courtenay |
| 44 | 2022-09-06 13:03:47 | Jo Butcher |
| 45 | 2022-09-05 19:15:05 | Alex Harding |
| 46 | 2022-09-05 20:07:35 | David Orrey |
| 47 | 2022-09-02 08:14:16 | Michelle Stanyon |
| 48 | 2022-09-05 19:15:05 | Alex Harding |
| 49 | 2022-09-06 12:36:18 | Rebecca Fletcher |
| 50 | 2022-09-06 12:36:18 | Rebecca Fletcher |
| 51 | 2022-09-04 18:38:59 | Lindsey Boothroyd |
| 52 | 2022-09-06 07:51:39 | Chloe Rabone |
| 53 | 2022-09-06 12:56:12 | Kelly Hack |
| 54 | 2022-08-31 17:10:28 | Joseph Clifford |
| 55 | 2022-09-05 21:58:25 | Stacey Roberts |
| 56 | 2022-09-03 20:44:24 | Fern Brealy |
| 57 | 2022-09-06 12:07:31 | Jodie Ellis |
| 58 | 2022-09-06 07:44:04 | Clare Jamieson |
| 59 | 2022-09-05 20:09:27 | Claire Bailey |
| 60 | 2022-09-05 12:54:49 | Laura cloke |
| 61 | 2022-09-06 13:37:35 | clare farr |
| 62 | 2022-09-05 19:21:39 | Jane Knight |
| 63 | 2022-09-06 13:31:32 | Stacey Roberts |
| 64 | 2022-09-02 08:14:16 | Michelle Stanyon |
| 65 | 2022-09-06 13:03:47 | Jo Butcher |
| 66 | 2022-09-06 13:03:47 | Jo Butcher |
| 67 | 2022-08-30 20:32:24 | Ray Roberts |
| 68 | 2022-09-05 19:29:49 | Kathryn Dewing |
| 69 | 2022-09-03 16:43:11 | Laura-jayne Mortimer |
| 70 | 2022-09-05 20:27:12 | Kirsty Haughton |
| 71 | 2022-09-06 12:50:25 | Laura Willdigg |
| 72 | 2022-09-06 13:37:35 | clare farr |
| 73 | 2022-09-06 13:03:47 | Jo Butcher |
| 74 | 2022-09-05 18:16:22 | Ryan kirby |
| 75 | 2022-09-05 13:16:53 | Jemma Vinnicombe |
| 76 | 2022-09-06 12:54:32 | Constance Mason |
| 77 | 2022-09-05 16:29:32 | Hayley Baxter |
| 78 | 2022-08-30 20:57:15 | g Mv |
| 79 | 2022-09-02 08:48:33 | Catherine Moslehi |
| 80 | 2022-09-03 20:44:24 | Fern Brealy |