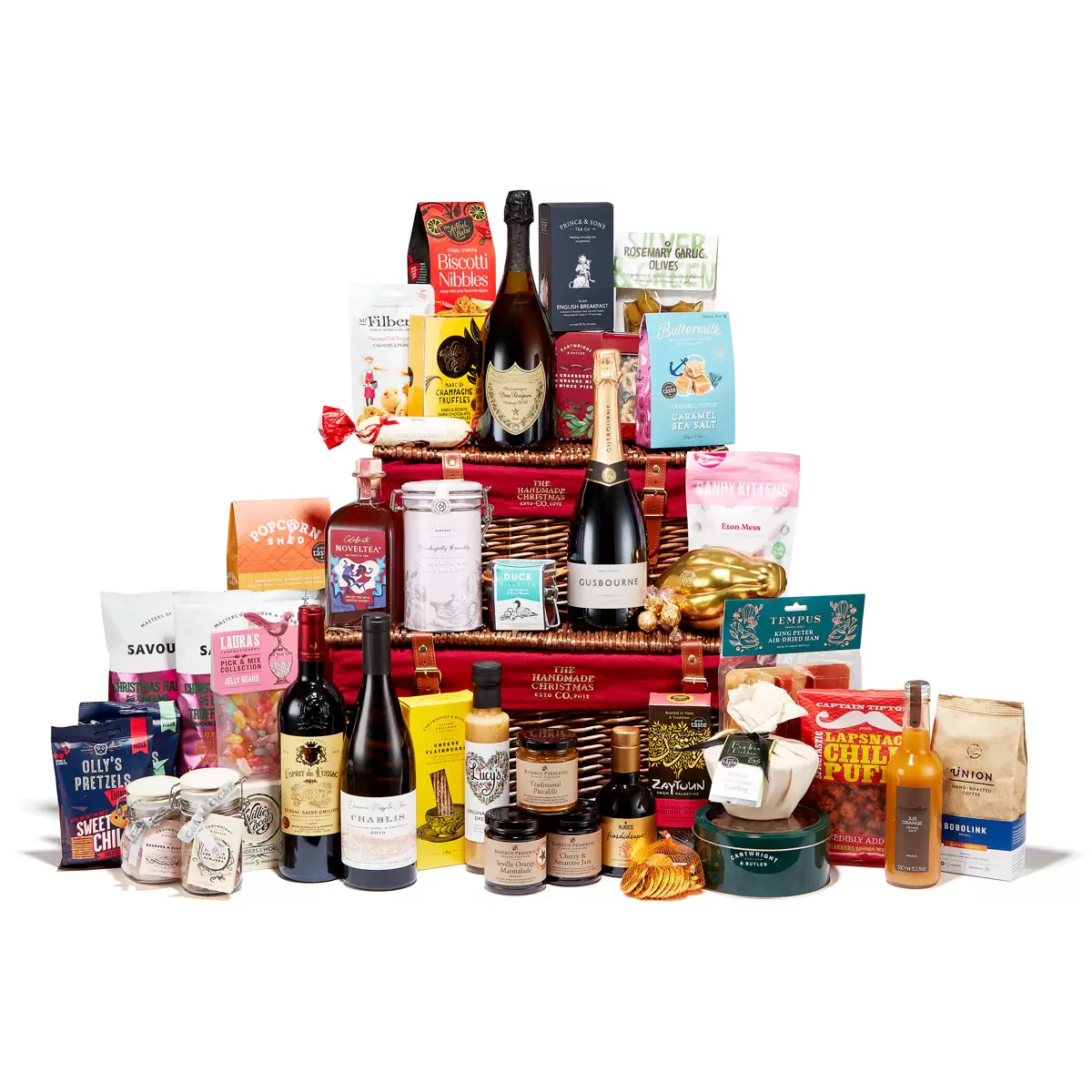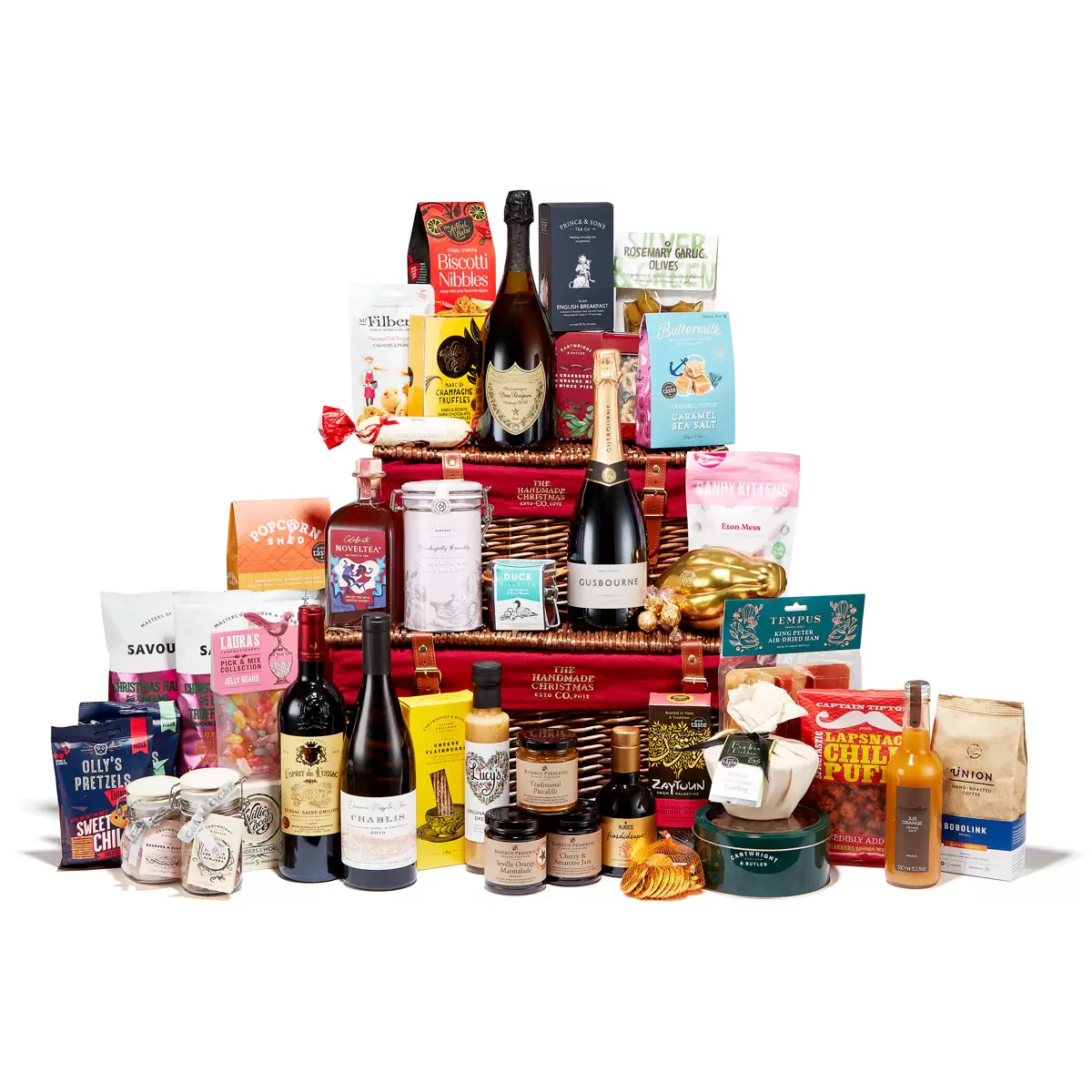 The Christmas Spectacular Hamper
Description
The Christmas Spectacular Hamper
This Christmas hamper has been filled to the brim with a broad selection of the most discerning tipples and scrumptious treats across our range. With Alain Milliat – Jus d'Orange Blonde, perfect for making Christmas morning mimosas to Noveltea's special Christmas blend of alcoholic tea, and a bottle of Dom Perignon Vintage Champagne – The Christmas Spectacular Hamper has a range of drinks to celebrate over the holidays and see in the New Year!
Afternoon tea time is taken to the next level with Prince & Sons tea and Bobolink Coffee, both of which can be sipped and savoured with one of the delicious cakes that you'll find nestled within the wicker. An abundance of premium chocolates, confectionary and sweet delights are also in this special hamper, satisfying the sweet tooth.
Savoury sensations are plentiful, from duck rillette to Sweet Thai Chilli & Lime Biscotti. The Christmas Spectacular Hamper will create smiles all round, there truly is something for everyone.
Carefully packaged in not one, but two of our handmade cotton lined wicker baskets.
Includes:
Dom Pérignon Vintage Champagne (12.50%), 75cl
Gusbourne Brut Reserve (12%), 75cl
Esprit de Lussac Lussac Saint-Émilion (13%), 75cl
Domaine Passy Le Clou Chablis (12.50%), 75cl
Cartwright & Butler Cherry & Almond Round Tin Cake, 700g
Burtree Christmas Pudding, 450g
Savor Smiths Christmas Ham & Umami Truffle Glaze, 2 x 150g
Alain Milliat Jus De Orange Blonde, 330ml
Goccia Nera IGP FC, 250ml
Lucy's Honey & Mustard Dressing, 250ml
Willies Cacao Wonders of the World Box, 250g
Zaytoun Dates, 250g
Rosebud Preserves Cherry & Amaretto Jam, 227g
Rosebud Preserves Seville Orange Marmalade, 227g
Rosemary & Garlic Olives Pouch, 220g
Cafetiere Grind Coffee Bobolink Brazil, 200g
Cartwright & Butler Cranberry Rolled Oats Tin, 200g
Rosebud Preserves Traditional Piccalilli, 198g
Cartwright & Butler Rhubarb & Custard, 190g
Chilli Puffs Olives et al Lapsnack, 151g
Buttermilk  Caramel Sea Salt Fudge Carton, 150g
Cartwright & Butler Sea Salted Caramel Almonds Milk Chocolate, 150g
Laura's Confectionery Sweet Pouch, 150g
Candy Kittens Eton Mess, 140g
Cartwright & Butler Cheese Flatbreads, 130g
Cornish Charcuterie Duck Rillette, 125g
Willies Cacao The Golden Pod, 125g
Cartwright & Butler Cranberry and Orange Mini Mince Pie Tin, 115g
Willie's Cacao Marc De Champagne Truffles, 110g
Mr Filberts Pink Peppercorn Cashews & Peanuts, 100g
The Artful Baker Sweet Thai Chilli and Lime Biscotti, 100g
Zentis Marzipan Brote Bars 100g
Popcorn Shed Cookies & Cream Popcorn, 80g
Hancocks Chocolate Coins, 75g
Novel Tea Christmas Blend, 70cl
Prince & Sons English Breakfast Tea, 52g
Tempus King Peter Dried Ham, 50g
Indie Bay Pretzel Thins, 2 x 24g
Gusbourne Vineyard Tour for Two
Medium Wicker Basket with Cotton Lining
Large Wicker Basket with Cotton Lining
| Winner Name | Ticket Number | Draw Date |
| --- | --- | --- |
| Holly Kemp | 765 | 20/09/2022 |
1-200
201-400
401-600
601-800
801-1000
| Ticket Number | Date | Name |
| --- | --- | --- |
| 1 | 2022-09-20 10:40:42 | Jane Sharland |
| 2 | 2022-09-19 07:49:54 | Dana Mills |
| 3 | 2022-09-16 20:26:33 | Kaylie northcott |
| 4 | 2022-09-16 19:57:34 | David Smith |
| 5 | 2022-09-20 16:13:17 | Philippa Blair |
| 6 | 2022-09-14 09:01:04 | Lucy Houghton |
| 7 | 2022-09-18 08:51:30 | Amy Thomas |
| 8 | 2022-09-16 20:56:34 | Helen Holloway |
| 9 | 2022-09-17 13:11:53 | Joeanne O'connor |
| 10 | 2022-09-17 18:25:01 | Louise Bradley |
| 11 | 2022-09-20 09:42:54 | Claire dipple |
| 12 | 2022-09-19 17:30:15 | Donna Sollis |
| 13 | 2022-09-15 17:09:06 | Ann McManus |
| 14 | 2022-09-14 09:43:14 | Emma Wills |
| 15 | 2022-09-20 07:33:42 | valerie Parnell |
| 16 | 2022-09-20 13:48:27 | Michelle Eveson |
| 17 | 2022-09-18 23:50:53 | Carl Rowsell |
| 18 | 2022-09-20 11:45:25 | charlotte higman |
| 19 | 2022-09-17 09:06:30 | Lucie Dobeer |
| 20 | 2022-09-14 09:43:14 | Emma Wills |
| 21 | 2022-09-14 23:22:03 | Lisa Roberts |
| 22 | 2022-09-20 11:16:02 | Emma Davies |
| 23 | 2022-09-19 07:49:54 | Dana Mills |
| 24 | 2022-09-14 20:25:40 | Danger mouse |
| 25 | 2022-09-20 17:53:51 | Da Ni |
| 26 | 2022-09-20 18:56:40 | Joanne Pennington |
| 27 | 2022-09-19 18:31:37 | Suzanne mace |
| 28 | 2022-09-16 20:56:34 | Helen Holloway |
| 29 | 2022-09-20 15:09:03 | Denise Kennedy |
| 30 | 2022-09-16 20:56:34 | Helen Holloway |
| 32 | 2022-09-20 20:00:29 | Tia Potter |
| 33 | 2022-09-19 04:19:09 | KIM SMITH |
| 34 | 2022-09-16 21:14:01 | Kirsty Haughton |
| 35 | 2022-09-20 17:06:12 | Rachel Scott |
| 37 | 2022-09-16 10:46:13 | Vanessa Dunn |
| 38 | 2022-09-20 08:49:13 | jan blackler |
| 39 | 2022-09-20 13:47:52 | Sue Barltrop |
| 42 | 2022-09-20 20:37:20 | Nicola Walker |
| 43 | 2022-09-20 12:37:53 | Lloyd Minear |
| 44 | 2022-09-20 09:32:01 | Marie Raistrick-Taylor |
| 45 | 2022-09-20 18:32:50 | Emma Flahive |
| 46 | 2022-09-20 17:31:33 | Lisa Chamberlain |
| 47 | 2022-09-20 20:12:36 | Charlotte Ager |
| 50 | 2022-09-17 20:43:36 | Rose Harvey |
| 51 | 2022-09-20 20:37:20 | Nicola Walker |
| 52 | 2022-09-19 22:39:40 | Darren Jolly |
| 53 | 2022-09-20 11:27:45 | Maria Rawlings |
| 54 | 2022-09-19 22:09:37 | Kayleigh Kelly |
| 55 | 2022-09-20 20:40:07 | Tia Richardson |
| 56 | 2022-09-20 13:47:52 | Sue Barltrop |
| 57 | 2022-09-18 00:13:36 | Joanne Livermore |
| 58 | 2022-09-19 06:59:32 | Nicola Farley |
| 59 | 2022-09-20 20:00:29 | Tia Potter |
| 60 | 2022-09-19 06:36:17 | Danielle Benn |
| 61 | 2022-09-20 12:37:53 | Lloyd Minear |
| 62 | 2022-09-19 06:36:17 | Danielle Benn |
| 63 | 2022-09-19 06:36:17 | Danielle Benn |
| 64 | 2022-09-18 22:45:16 | Kirsty Darke |
| 66 | 2022-09-20 20:09:30 | Charlotte Ager |
| 67 | 2022-09-14 22:03:26 | Hannah Trigg |
| 68 | 2022-09-20 10:27:48 | Constance Mason |
| 69 | 2022-09-18 19:26:02 | Thomas Keeling |
| 70 | 2022-09-20 19:27:40 | marion clark |
| 71 | 2022-09-20 20:13:12 | Jacqueline Wines |
| 72 | 2022-09-20 19:27:40 | marion clark |
| 73 | 2022-09-20 16:59:49 | Esme Kershaw |
| 74 | 2022-09-20 16:46:36 | Gordon Macleod |
| 76 | 2022-09-20 20:00:29 | Tia Potter |
| 77 | 2022-09-15 20:45:55 | Shiv Siobhan Kirk |
| 78 | 2022-09-18 08:51:30 | Amy Thomas |
| 82 | 2022-09-20 08:47:14 | Sharon ROGERS |
| 84 | 2022-09-20 17:40:23 | Keith Moore |
| 85 | 2022-09-20 11:32:16 | Chantelle Amphlett |
| 87 | 2022-09-19 06:36:17 | Danielle Benn |
| 88 | 2022-09-16 20:56:34 | Helen Holloway |
| 92 | 2022-09-20 17:06:12 | Rachel Scott |
| 93 | 2022-09-17 13:26:58 | Mandy Morris |
| 94 | 2022-09-20 17:31:57 | Jodie England |
| 95 | 2022-09-16 12:17:19 | Lloyd Minear |
| 96 | 2022-09-19 10:08:24 | AP A |
| 97 | 2022-09-20 12:34:04 | Samantha Sedgbeer |
| 100 | 2022-09-20 17:57:22 | Nicola Naylor |
| 101 | 2022-09-20 10:40:42 | Jane Sharland |
| 102 | 2022-09-20 18:45:52 | Thomas White |
| 104 | 2022-09-20 11:02:05 | Danielle Benn |
| 106 | 2022-09-20 20:41:00 | Sam Westacott-cook |
| 107 | 2022-09-17 17:20:21 | g Mv |
| 110 | 2022-09-20 20:12:36 | Charlotte Ager |
| 112 | 2022-09-20 18:33:42 | Rosie Reynolds |
| 113 | 2022-09-20 13:47:52 | Sue Barltrop |
| 114 | 2022-09-18 21:44:38 | Jess Ellis |
| 115 | 2022-09-14 15:41:03 | Bex Heal |
| 118 | 2022-09-20 13:47:52 | Sue Barltrop |
| 119 | 2022-09-20 20:09:30 | Charlotte Ager |
| 121 | 2022-09-20 17:03:09 | Elizabeth Stevens |
| 122 | 2022-09-20 10:45:14 | Ann Fowler |
| 123 | 2022-09-16 17:07:40 | Hannah Wall |
| 124 | 2022-09-20 13:47:52 | Sue Barltrop |
| 126 | 2022-09-17 09:33:22 | Hannah Skinner |
| 127 | 2022-09-19 07:49:54 | Dana Mills |
| 128 | 2022-09-20 11:07:41 | jackie dawkins |
| 133 | 2022-09-19 15:46:23 | Kitty Cat |
| 134 | 2022-09-20 09:42:54 | Claire dipple |
| 136 | 2022-09-20 19:35:58 | Joanna Cannings |
| 137 | 2022-09-20 10:52:51 | Patricia Clarkson |
| 138 | 2022-09-17 21:01:59 | phyllis steer |
| 139 | 2022-09-19 18:18:09 | Lisa Curnow |
| 140 | 2022-09-16 19:57:34 | David Smith |
| 142 | 2022-09-20 12:59:58 | S T L |
| 144 | 2022-09-18 19:26:02 | Thomas Keeling |
| 147 | 2022-09-18 08:51:30 | Amy Thomas |
| 148 | 2022-09-20 17:40:23 | Keith Moore |
| 149 | 2022-09-17 09:06:30 | Lucie Dobeer |
| 151 | 2022-09-17 10:22:28 | Lisa Soper |
| 152 | 2022-09-20 19:18:11 | Caroline Cattermole |
| 154 | 2022-09-20 15:10:37 | Aaron Robinson |
| 156 | 2022-09-17 19:23:12 | Paul Hoskin |
| 158 | 2022-09-19 07:49:54 | Dana Mills |
| 159 | 2022-09-15 15:33:15 | Mark Hughes |
| 160 | 2022-09-20 20:37:41 | Jodie Southwell |
| 161 | 2022-09-20 20:10:58 | Maria Piggford |
| 162 | 2022-09-20 08:26:50 | Gemma Gorringe |
| 163 | 2022-09-20 16:25:32 | Deborah Carling |
| 164 | 2022-09-20 18:50:03 | Lisa Burgess |
| 165 | 2022-09-18 21:16:39 | Maria Andrews |
| 166 | 2022-09-15 22:22:43 | Jodie Cullum |
| 167 | 2022-09-20 18:36:11 | Clare Jason-Ryan |
| 168 | 2022-09-20 09:15:47 | Lynda Buswell89 |
| 169 | 2022-09-20 17:49:20 | Trina Branch |
| 170 | 2022-09-20 19:13:34 | Nicole Chalmers |
| 171 | 2022-09-20 11:48:50 | c P |
| 172 | 2022-09-18 09:39:40 | Carla Drake |
| 173 | 2022-09-20 12:22:55 | Joanne Kirk |
| 174 | 2022-09-16 22:53:23 | Emily Dixon |
| 175 | 2022-09-20 12:31:40 | Elaine Lipscombe |
| 179 | 2022-09-17 14:23:19 | Lynsey Sinanaj |
| 180 | 2022-09-20 20:38:05 | Jane Netherway |
| 181 | 2022-09-17 22:02:25 | Jodie Ravenhill |
| 182 | 2022-09-20 11:32:16 | Chantelle Amphlett |
| 186 | 2022-09-20 19:34:25 | Sarah Ross |
| 187 | 2022-09-20 08:17:13 | Sarah Moran9 |
| 188 | 2022-09-19 07:49:54 | Dana Mills |
| 190 | 2022-09-19 19:48:15 | Emmeline Shields |
| 191 | 2022-09-20 20:44:11 | Ria Ayshford |
| 192 | 2022-09-20 15:09:03 | Denise Kennedy |
| 193 | 2022-09-17 13:26:58 | Mandy Morris |
| 194 | 2022-09-20 12:08:08 | Cherie Johns |
| 196 | 2022-09-20 11:48:50 | c P |
| 197 | 2022-09-16 19:57:54 | Joseph Young |
| 198 | 2022-09-19 06:59:32 | Nicola Farley |
| 199 | 2022-09-18 19:26:02 | Thomas Keeling |