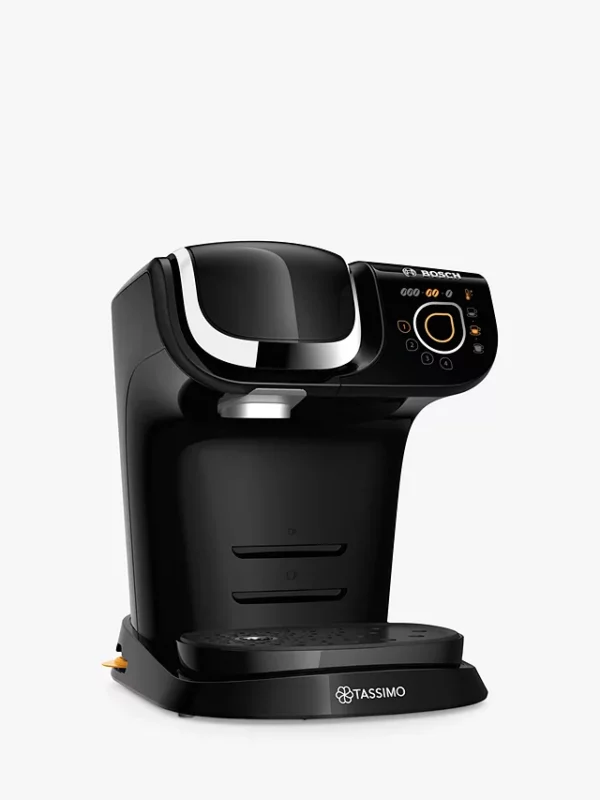 Tassimo by Bosch TAS6502GB MY WAY 2 Pod Coffee Machine, Black
Description
Tassimo by Bosch TAS6502GB MY WAY 2 Pod Coffee Machine, Black
Indulge in your favourite Costa coffee or relax with a tasty Cadbury's hot chocolate. The TASSIMO MYWAY 2 will make drinks quickly and perfectly prepared every time. With simple one-button operation, the TASSIMO MY WAY 2 makes your drinks automatically while the compact size means the TASSIMO MYWAY 2 fits easily on any kitchen work top and the adjustable cup stand ensures different cup sizes are easily accommodated. One-button operation means you only have to pop in a TASSIMO pod, close the lid and press start. The TASSIMO MYWAY 2 will automatically do the rest for you quickly and precisely.
Choose your morning Americano a little bigger, your after-dinner espresso a little stronger or your hot chocolate a little less hot. With TASSIMO MY WAY 2, enjoy the freedom to personalise your drink according to temperature, volume and intensity by using the intuitive sensor-touch controls. The TASSIMO MY WAY 2 caters to everyone's tastes. And next time you want your favourite drink, just store your four profiles with the MY WAY's memory function, to make drinks at the touch of a button the way you want them.
Whether you want to enjoy a latte, cappuccino or hot chocolate; with the unique TASSIMO INTELLIBREW™ system each drink is perfectly made every time. Simply pop your chosen drink pod in to the TASSIMO MYWAY 2 , press start and the TASSIMO MYWAY 2 reads the drink's unique barcode. This ensures the MYWAY 2 creates the drink perfectly with the correct amount of water, heat and brewing time. Once complete, the MYWAY 2 automatically stops and runs the auto-clean function ready for the next drink.
| Winner Name | Ticket Number | Draw Date |
| --- | --- | --- |
| Gary Thompson | 188 | 11/07/2022 |
| Ticket Number | Date | Name |
| --- | --- | --- |
| 1 | 2022-07-10 00:17:46 | Kayleigh Nowell |
| 2 | 2022-07-11 11:34:35 | Jasmin Etches |
| 3 | 2022-07-11 11:34:35 | Jasmin Etches |
| 4 | 2022-07-11 18:01:01 | Michael O'connor |
| 5 | 2022-07-10 19:54:44 | claire-louise flanagan |
| 6 | 2022-07-06 08:40:36 | Mandy Shobbrook |
| 7 | 2022-07-10 19:54:44 | claire-louise flanagan |
| 8 | 2022-07-09 15:06:59 | Kevin Hayes |
| 9 | 2022-07-11 18:01:01 | Michael O'connor |
| 11 | 2022-07-11 18:51:04 | Jonathan Holloway |
| 12 | 2022-07-10 00:17:46 | Kayleigh Nowell |
| 14 | 2022-07-06 09:00:19 | phyllis steer |
| 19 | 2022-07-11 17:08:58 | Debbie Jones |
| 20 | 2022-07-05 22:34:44 | Dean O'Connor |
| 21 | 2022-07-11 18:01:01 | Michael O'connor |
| 22 | 2022-07-11 12:19:35 | Emma Davies |
| 23 | 2022-07-11 15:10:45 | Heather Jerrard |
| 24 | 2022-07-11 17:25:28 | Dean O'Connor |
| 26 | 2022-07-10 15:01:16 | Dean O'Connor |
| 27 | 2022-07-05 22:34:44 | Dean O'Connor |
| 28 | 2022-07-08 17:20:28 | Lesley Jones |
| 29 | 2022-07-10 15:01:16 | Dean O'Connor |
| 31 | 2022-07-10 20:39:40 | Kirsty Westy |
| 33 | 2022-07-11 12:52:13 | Sarah Barton |
| 35 | 2022-07-06 09:00:19 | phyllis steer |
| 36 | 2022-07-09 06:40:56 | Elizabeth Tyson |
| 39 | 2022-07-05 22:34:44 | Dean O'Connor |
| 41 | 2022-07-11 09:12:23 | Zoeyy Jane |
| 42 | 2022-07-11 20:33:48 | Amanda Crask |
| 46 | 2022-07-11 15:14:19 | Justin Lashley |
| 48 | 2022-07-11 19:33:07 | Adam OConnor |
| 49 | 2022-07-11 17:17:40 | Fern Jackson |
| 50 | 2022-07-11 19:33:07 | Adam OConnor |
| 52 | 2022-07-11 17:11:02 | Paul winzer |
| 55 | 2022-07-11 14:31:43 | Samantha Head |
| 57 | 2022-07-11 19:33:07 | Adam OConnor |
| 59 | 2022-07-11 09:12:23 | Zoeyy Jane |
| 62 | 2022-07-11 19:01:53 | Joseph Clifford |
| 63 | 2022-07-11 18:01:01 | Michael O'connor |
| 64 | 2022-07-08 14:59:55 | Imogen Howes |
| 72 | 2022-07-11 17:08:58 | Debbie Jones |
| 73 | 2022-07-11 20:27:14 | Cristina Evans |
| 81 | 2022-07-11 20:42:11 | Jenny King |
| 84 | 2022-07-10 20:15:43 | Lisa Dockree |
| 86 | 2022-07-08 20:41:38 | Carly Meaden |
| 90 | 2022-07-10 15:01:16 | Dean O'Connor |
| 91 | 2022-07-11 13:37:22 | Suzanne Couch |
| 92 | 2022-07-11 12:22:59 | Karen Howell |
| 93 | 2022-07-11 17:08:58 | Debbie Jones |
| 96 | 2022-07-11 18:26:03 | Susan Norton turner |
| 97 | 2022-07-10 19:54:44 | claire-louise flanagan |
| 98 | 2022-07-11 20:44:14 | Jasmin Etches |
| 99 | 2022-07-11 20:33:48 | Amanda Crask |