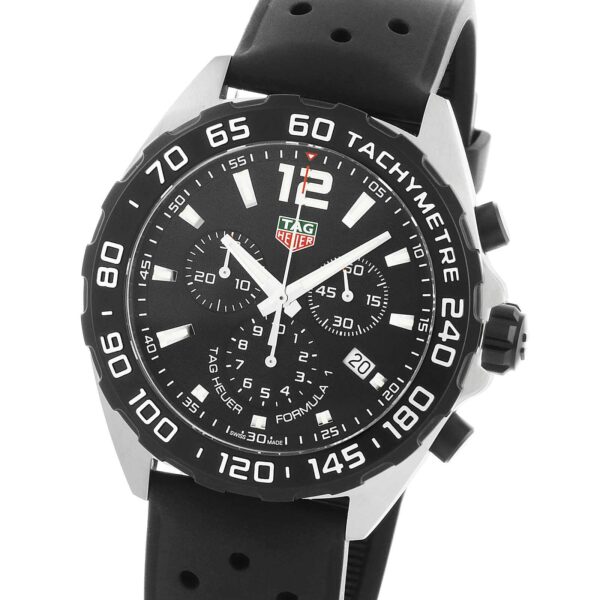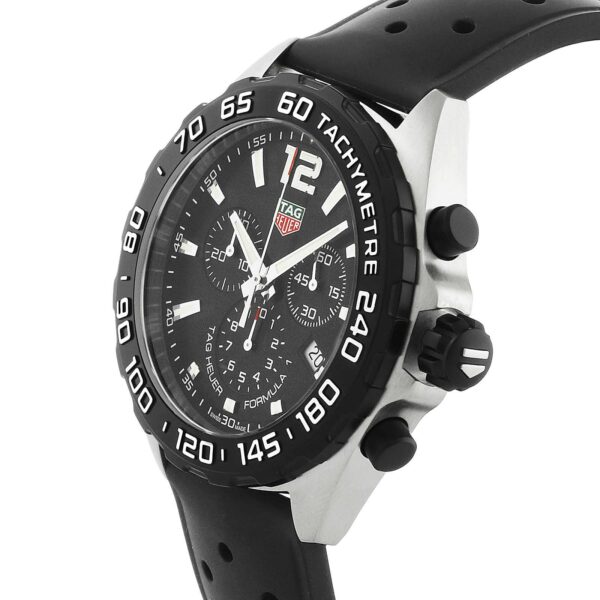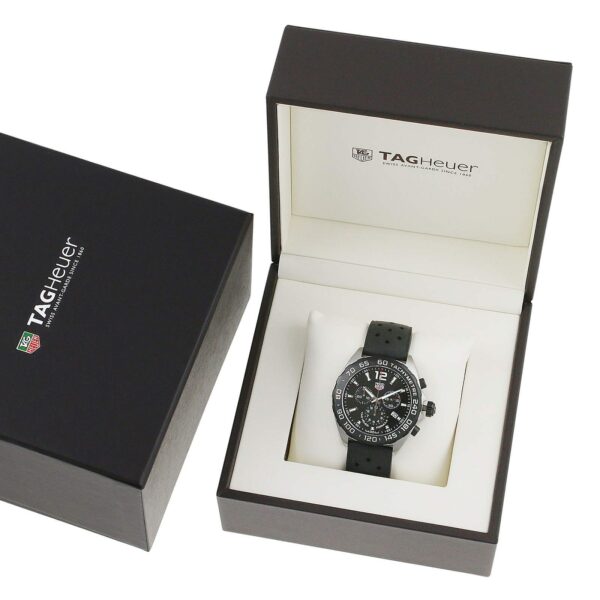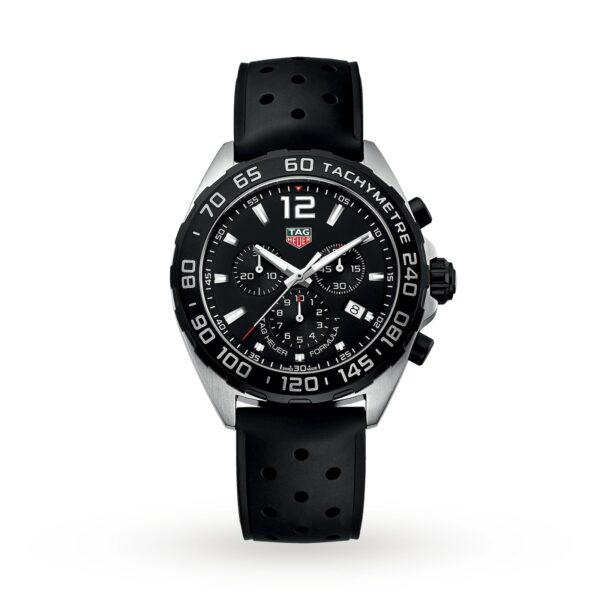 Tag Formula 1
Description
Tag Formula 1
Win a TAG Formula 1 watch for just £4.99!
DESCRIPTION
Presented within a 43mm stainless steel case, this confident TAG Heuer Formula 1 Men's Watch features a bold black dial, equipped with three chronograph sub-dials, displaying the time in hours, minutes and seconds, as well as red-tipped hands for optimum visibility.
Driven by a reliable quartz movement, this performance-focussed timepiece boasts a fixed black titanium carbide-coated stainless steel bezel with a raised, fine-brushed tachymeter scale, and a bold, black perforated rubber strap.
Designed for life in the fast lane, speed up your daily performance with the TAG Heuer Formula 1 range. Utilising advanced technology these high power sports watches push boundaries with unrivalled innovative features, cutting edge materials and stylish aesthetics. Discover the collection.
This timepiece is also water resistant to 200 metres.
Quartz Movement: Our Quartz movements are manufactured in Switzerland. Powered by a battery that will last several years, they don't need to be wound. Tag Heuer's Quartz movements display perfect accuracy for years (a difference of only a few seconds per month, thanks to the battery).
Case Size
43mm
Thickness
12.4mm
Lugs Distance
21.5mm
Water Resistance
200 Metres
Case Material
Steel Fine-Brushed
Bezel
Fixed Bezel Steel Black PVD
Crown
Screw-down Black PVD Coated Steel
Caseback
Plain – Steel
Band Material
Rubber
Buckle
Pin Buckle – Fine Brushed Steel
Caliber
Quartz
Functions
Hours, Minutes, Seconds, Chronograph: 1/10 Second, Seconds, 30 Minutes Counter, Date
| Winner Name | Ticket Number | Draw Date |
| --- | --- | --- |
| Wendy Bowman | 164 | 17/06/2022 |
1-100
101-200
201-300
301-400
| Ticket Number | Date | Name |
| --- | --- | --- |
| 1 | 2022-06-13 13:36:21 | Tracy Langridge |
| 3 | 2022-06-17 19:53:37 | John Sproston |
| 6 | 2022-06-17 19:45:00 | Adele Terry |
| 7 | 2022-06-13 12:22:41 | Colin Brown |
| 8 | 2022-06-17 19:18:16 | ronny Kallmeier |
| 9 | 2022-06-14 11:49:03 | Emma & lee |
| 10 | 2022-06-17 18:49:35 | Lee Mayo |
| 11 | 2022-06-17 12:22:41 | Clive Mitchell |
| 12 | 2022-06-17 18:57:37 | Emma Louise |
| 14 | 2022-06-17 20:26:50 | Andy S |
| 15 | 2022-06-17 20:50:23 | jackie dawkins |
| 16 | 2022-06-13 12:22:41 | Colin Brown |
| 17 | 2022-06-13 19:20:22 | Sharon Harvey |
| 19 | 2022-06-17 20:50:00 | Lee Mayo |
| 20 | 2022-06-13 12:22:41 | Colin Brown |
| 21 | 2022-06-13 13:36:21 | Tracy Langridge |
| 22 | 2022-06-13 21:15:29 | Emma & lee |
| 23 | 2022-06-17 18:44:08 | Charlotte Barker |
| 24 | 2022-06-13 11:54:46 | Emma Louise |
| 25 | 2022-06-17 16:37:11 | MH C |
| 26 | 2022-06-14 00:52:08 | Emma & lee |
| 28 | 2022-06-17 08:22:25 | Emma & lee |
| 29 | 2022-06-13 12:34:39 | Chris Birt |
| 31 | 2022-06-16 19:49:43 | Tia Potter |
| 32 | 2022-06-16 18:56:26 | Jodie Southwell |
| 33 | 2022-06-17 19:52:46 | Helen Cottrell |
| 35 | 2022-06-13 12:34:39 | Chris Birt |
| 38 | 2022-06-15 09:37:04 | Lucy Booth |
| 39 | 2022-06-17 18:49:35 | Lee Mayo |
| 40 | 2022-06-17 12:54:40 | Aim P |
| 43 | 2022-06-13 15:47:02 | Clare Toms |
| 46 | 2022-06-17 20:31:01 | Robert Harman |
| 50 | 2022-06-17 19:22:29 | Jamie Radmore |
| 53 | 2022-06-17 19:55:16 | Matt Wrench |
| 55 | 2022-06-17 19:20:25 | James Spence |
| 56 | 2022-06-13 13:36:21 | Tracy Langridge |
| 57 | 2022-06-16 19:49:43 | Tia Potter |
| 59 | 2022-06-17 18:49:35 | Lee Mayo |
| 60 | 2022-06-17 20:50:00 | Lee Mayo |
| 61 | 2022-06-17 19:53:37 | John Sproston |
| 62 | 2022-06-17 20:17:19 | E L |
| 63 | 2022-06-17 19:27:52 | Graham Rabbitts |
| 65 | 2022-06-17 19:53:37 | John Sproston |
| 67 | 2022-06-17 09:07:07 | Sharon Harvey |
| 69 | 2022-06-13 13:36:21 | Tracy Langridge |
| 70 | 2022-06-17 20:56:21 | Jodie Southwell |
| 71 | 2022-06-17 20:48:25 | John Fishacre |
| 72 | 2022-06-17 20:24:56 | Emma Yeomans |
| 77 | 2022-06-17 09:38:32 | Elaine Lipscombe |
| 78 | 2022-06-17 20:02:57 | Tim Strugnell |
| 79 | 2022-06-17 20:16:41 | Clive Moxhay |
| 80 | 2022-06-13 15:47:02 | Clare Toms |
| 84 | 2022-06-17 20:48:29 | Emma Louise |
| 85 | 2022-06-17 19:52:12 | Lekel North |
| 86 | 2022-06-17 18:49:35 | Lee Mayo |
| 88 | 2022-06-17 16:20:23 | Phillip Drew |
| 89 | 2022-06-13 13:36:21 | Tracy Langridge |
| 90 | 2022-06-17 00:37:39 | Roxanne Hill |
| 91 | 2022-06-17 20:28:54 | Clive Mitchell |
| 92 | 2022-06-17 19:23:03 | Kelly Reed |
| 93 | 2022-06-17 20:31:01 | Robert Harman |
| 94 | 2022-06-17 20:48:25 | John Fishacre |
| 96 | 2022-06-17 20:50:00 | Lee Mayo |
| 98 | 2022-06-17 13:22:48 | Andrew Macleod |
| 99 | 2022-06-17 20:31:01 | Robert Harman |
| 100 | 2022-06-17 20:32:36 | Holly Ring |