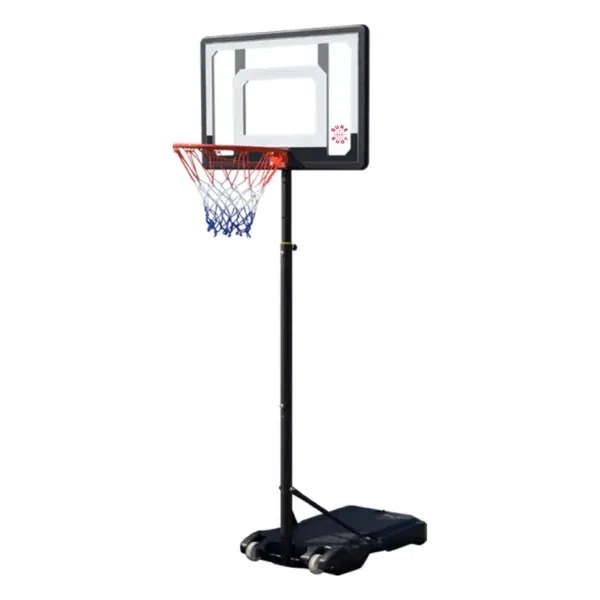 SURE SHOT HOME SHOT BASKETBALL HOOP
Description
SURE SHOT HOME SHOT BASKETBALL HOOP
The Sure Shot Home Shot Basketball Hoop and Stand – an ideal starter unit for young children aged 4+ with a telescopic height adjustment system.
The unit includes a telescopic pole design that allows the height of the backboard and ring to be adjusted between 5' to the height of 7' (1.55m to 2.1m) – with pre-set height increments of 15cm allowing the unit to be set at heights of 155cm, 170cm, 185cm, 200cm and a final increment of 10cm to 210cm. With a simple and convenient hand lift to adjust the height to the desired level – with a secure locking system to secure in place once adjusted.
The Home Shot unit includes a durable acrylic backboard measuring at 32" x 23" (80cm x 58cm) with grey trim and shooters square. The model includes a 15" (38cm) steel ring suitable for both junior and full size basketballs.
The backboard and ring are set on a sturdy 3-piece steel pole. The unit includes a moulded base that requires water or sand for stability when is use – with two wheels included for easy movement.
Backboard Material: Durable acrylic backboard (on PE Frame)
Backboard size: 32" x 23" (80cm x 58cm)
Backboard Colour: Clear with Grey Target and Edge
Ring: 15" Steel ring (38cm) with 16mm diameter steel.
Height: 1.55m to 2.1m
Adjustment: Telescopic system
Pole: 3-piece steel (45mm diameter)
Base: Blow Moulded PE to be filled with water / sand (35KG Required)
Wheels: Yes
| Winner Name | Ticket Number | Draw Date |
| --- | --- | --- |
| John Huteson | 19 | 24/05/2022 |
| Ticket Number | Date | Name |
| --- | --- | --- |
| 2 | 2022-05-23 10:32:07 | Stephen Jones |
| 3 | 2022-05-24 09:42:13 | Amy Collier |
| 10 | 2022-05-24 17:03:45 | Danielle Benn |
| 11 | 2022-05-24 17:03:45 | Danielle Benn |
| 12 | 2022-05-21 16:09:37 | John Huteson |
| 13 | 2022-05-23 22:33:22 | Lucie Dobeer |
| 14 | 2022-05-23 12:33:39 | Elizabeth Halfyard |
| 15 | 2022-05-23 22:33:22 | Lucie Dobeer |
| 18 | 2022-05-24 20:13:57 | Ellen Coggins |
| 19 | 2022-05-21 16:09:37 | John Huteson |
| 20 | 2022-05-24 16:46:00 | steven Hammacott |
| 21 | 2022-05-24 20:13:36 | Paige Ellis |
| 25 | 2022-05-24 11:29:54 | Sophie Hodge |
| 34 | 2022-05-20 23:39:20 | terri Sullivan |
| 35 | 2022-05-24 20:37:42 | Lou Lister |
| 36 | 2022-05-24 20:04:17 | Jem V |
| 37 | 2022-05-23 15:19:29 | Danielle Lindsay |
| 39 | 2022-05-22 21:54:34 | John Huteson |
| 42 | 2022-05-24 18:53:56 | Chelsea Quaintance |
| 43 | 2022-05-23 19:05:18 | Eve Holleran |
| 46 | 2022-05-23 19:05:18 | Eve Holleran |
| 47 | 2022-05-24 16:46:00 | steven Hammacott |
| 48 | 2022-05-24 09:44:09 | Alison Proud |
| 49 | 2022-05-24 19:44:12 | John Huteson |
| 50 | 2022-05-23 19:03:33 | Jessica Foster |
| 51 | 2022-05-24 11:29:54 | Sophie Hodge |
| 52 | 2022-05-24 16:46:00 | steven Hammacott |
| 54 | 2022-05-24 19:52:46 | Chris Carr |
| 55 | 2022-05-23 21:22:08 | Mandy Cove |
| 58 | 2022-05-24 19:44:12 | John Huteson |
| 59 | 2022-05-22 22:17:13 | Shelley Travers |
| 60 | 2022-05-24 10:51:27 | Danielle H |
| 64 | 2022-05-24 16:46:00 | steven Hammacott |
| 65 | 2022-05-24 19:42:57 | Gemma Herrington |
| 71 | 2022-05-24 20:04:17 | Jem V |
| 73 | 2022-05-24 13:47:59 | Lauren cattermole |
| 74 | 2022-05-24 12:21:12 | Lekel North |
| 75 | 2022-05-20 23:39:20 | terri Sullivan |
| 77 | 2022-05-21 07:16:24 | Jane Hasni |
| 78 | 2022-05-24 14:45:22 | Gareth Codd |
| 80 | 2022-05-24 19:04:25 | GARY THOMPSON |
| 81 | 2022-05-24 12:41:14 | Hannah Day |
| 82 | 2022-05-24 16:46:00 | steven Hammacott |
| 83 | 2022-05-24 00:06:37 | Emma & lee |
| 85 | 2022-05-22 19:46:23 | Lekel North |
| 87 | 2022-05-24 19:52:45 | David Curnow |
| 89 | 2022-05-24 15:55:28 | Hannah Del-pizzo |
| 90 | 2022-05-24 20:04:17 | Jem V |
| 91 | 2022-05-21 16:09:37 | John Huteson |
| 92 | 2022-05-24 20:13:36 | Paige Ellis |
| 93 | 2022-05-20 23:39:20 | terri Sullivan |
| 94 | 2022-05-24 19:44:12 | John Huteson |
| 96 | 2022-05-23 12:33:39 | Elizabeth Halfyard |
| 98 | 2022-05-24 12:43:33 | Nicola Copley |
| 100 | 2022-05-24 16:46:00 | steven Hammacott |
| 101 | 2022-05-24 10:51:27 | Danielle H |
| 102 | 2022-05-24 16:46:00 | steven Hammacott |
| 104 | 2022-05-20 23:39:20 | terri Sullivan |
| 105 | 2022-05-22 21:54:34 | John Huteson |
| 107 | 2022-05-24 19:50:12 | David Curnow |
| 111 | 2022-05-22 20:07:33 | Jackie Staines |
| 117 | 2022-05-20 23:39:20 | terri Sullivan |
| 118 | 2022-05-20 23:39:20 | terri Sullivan |
| 125 | 2022-05-24 16:46:00 | steven Hammacott |
| 127 | 2022-05-24 17:03:45 | Danielle Benn |
| 128 | 2022-05-24 16:46:00 | steven Hammacott |
| 130 | 2022-05-24 19:52:46 | Chris Carr |
| 135 | 2022-05-24 19:32:24 | Vanessa Gale |
| 136 | 2022-05-24 20:37:42 | Lou Lister |
| 139 | 2022-05-24 11:29:54 | Sophie Hodge |
| 141 | 2022-05-22 21:54:34 | John Huteson |
| 142 | 2022-05-24 12:52:58 | Jade Blight |
| 144 | 2022-05-24 11:29:54 | Sophie Hodge |
| 145 | 2022-05-24 11:29:54 | Sophie Hodge |
| 147 | 2022-05-24 16:46:00 | steven Hammacott |