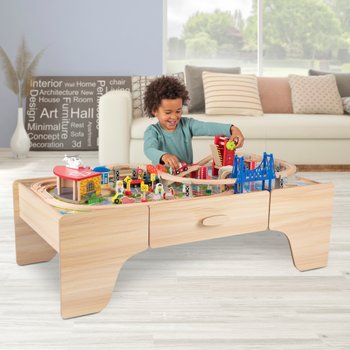 Squirrel Play 100-Piece Wooden Train Set & Table
Description
Squirrel Play 100-Piece Wooden Train Set & Table
Squirrel Play 100-Piece Wooden Train Set & Table
The Squirrel Play 100-Piece Wooden Train Set and Table is the perfect height for play, with 100 wooden pieces to bring your bustling town to life. This wooden toy for kids is made for small world play.
Piece together the wooden track pieces to form new layouts, placing railway bridges over the roads and rivers below. Push the wooden toy train over the viaduct, or turn the gears of the suspension bridge to raise the track and let the boat sail by. Putting the pieces together helps support problem solving and fine motor skills, introducing concepts like over, under, left and right.
The Squirrel Play 100-Piece Wooden Train Set and Table comes with wooden toy figures, animals, vehicles and signposts for city and countryside stories. Store the buildable track and wooden toys in the drawer to transform the set into a colourful play table printed with road and rivers. For hours of fun, just add imagination.
Sensory Play
Wooden toys for kids introduce your little one to wonderful sensory elements with their unique smell and texture. This sensory toy fosters pretend play, communication and sequencing skills to support your child's development.
Contents: Wooden Train Set and Table with 100 play pieces
Piece together the wooden train track pieces
Create a world with bridges, tunnels and buildings
Wooden vehicles and figures for storytelling play
Central train station with helipad
Large storage drawer
Dimensions: L126.5xW62.5xH39.5cm
| Winner Name | Ticket Number | Draw Date |
| --- | --- | --- |
| Emma Reeve | 218 | 14/09/2022 |
| Ticket Number | Date | Name |
| --- | --- | --- |
| 1 | 2022-09-05 13:25:28 | g Mv |
| 2 | 2022-09-06 11:53:24 | Joeanne O'connor |
| 4 | 2022-09-06 11:43:45 | Kelly Parker |
| 5 | 2022-09-14 19:17:41 | Lauren Rogers |
| 6 | 2022-09-14 20:23:18 | Craig Andrews |
| 7 | 2022-09-14 10:43:26 | Shirley Lumley |
| 8 | 2022-09-06 19:51:04 | Lucy Wallis |
| 9 | 2022-09-06 11:53:24 | Joeanne O'connor |
| 10 | 2022-09-11 22:03:49 | Louise Wagstaff |
| 11 | 2022-09-14 19:32:40 | Emma Reeve |
| 12 | 2022-09-14 19:56:24 | Sandra Stevens |
| 13 | 2022-09-13 09:14:20 | Linda Beer |
| 14 | 2022-09-07 20:05:02 | Juliet Phillips |
| 16 | 2022-09-14 03:10:17 | Gemma Syms |
| 17 | 2022-09-11 08:53:25 | Lisa Middleweek |
| 18 | 2022-09-12 16:40:35 | Juliet Phillips |
| 20 | 2022-09-06 11:53:24 | Joeanne O'connor |
| 21 | 2022-09-14 19:05:21 | g Mv |
| 23 | 2022-09-14 10:41:39 | Angelika Harvey |
| 25 | 2022-09-11 22:03:49 | Louise Wagstaff |
| 26 | 2022-09-14 10:43:26 | Shirley Lumley |
| 28 | 2022-09-12 19:52:34 | Rosie Huggins |
| 29 | 2022-09-08 12:26:26 | ZARA-ROSE WALTERS |
| 31 | 2022-09-12 19:52:34 | Rosie Huggins |
| 34 | 2022-09-14 18:43:51 | Nicola Bird |
| 35 | 2022-09-05 14:15:51 | Chloe Milbank |
| 36 | 2022-09-14 20:22:36 | Kealy Stalley |
| 37 | 2022-09-14 19:05:21 | g Mv |
| 38 | 2022-09-14 10:43:26 | Shirley Lumley |
| 39 | 2022-09-14 20:17:19 | David Mccandless |
| 41 | 2022-09-11 22:03:49 | Louise Wagstaff |
| 42 | 2022-09-12 12:03:54 | Tanya O'Reilly |
| 43 | 2022-09-14 20:50:05 | Katherine Parker |
| 44 | 2022-09-05 13:25:28 | g Mv |
| 46 | 2022-09-14 08:12:35 | Emily Franke |
| 50 | 2022-09-14 10:19:11 | Trina Branch |
| 51 | 2022-09-14 14:57:34 | Chloe Kershaw |
| 53 | 2022-09-14 19:49:56 | Emily James |
| 55 | 2022-09-14 20:22:36 | Kealy Stalley |
| 56 | 2022-09-12 21:43:14 | Claire Jopson |
| 57 | 2022-09-12 21:32:06 | Rachael Rowlands |
| 60 | 2022-09-14 12:32:59 | Meisha Williams |
| 61 | 2022-09-12 21:43:14 | Claire Jopson |
| 62 | 2022-09-14 10:43:26 | Shirley Lumley |
| 63 | 2022-09-11 10:50:19 | Michael O'connor |
| 64 | 2022-09-09 11:54:06 | Sandra Stevens |
| 67 | 2022-09-10 21:09:55 | g Mv |
| 68 | 2022-09-14 16:05:39 | Natasha Bourne |
| 70 | 2022-09-14 12:51:53 | Matthew Nickels |
| 71 | 2022-09-14 11:41:04 | Yasmine Driscoll |
| 72 | 2022-09-14 20:06:48 | Sylvia Lum |
| 73 | 2022-09-05 13:18:13 | Grace Birchill-Studdy |
| 74 | 2022-09-14 16:32:10 | Gemma Rebecca |
| 75 | 2022-09-14 19:12:37 | Samantha Hodge |
| 76 | 2022-09-14 17:33:04 | Joseph Clifford |
| 78 | 2022-09-13 18:04:11 | Linda Browse |
| 79 | 2022-09-14 19:55:39 | Olivia Patchett |
| 81 | 2022-09-06 19:51:04 | Lucy Wallis |
| 82 | 2022-09-14 19:55:39 | Olivia Patchett |
| 84 | 2022-09-14 20:33:28 | Danielle Hooper |
| 86 | 2022-09-14 19:17:41 | Lauren Rogers |
| 87 | 2022-09-13 19:46:34 | Maya Ireson |
| 89 | 2022-09-14 04:08:28 | Danielle Hooper |
| 91 | 2022-09-07 07:47:30 | Joeanne O'connor |
| 93 | 2022-09-14 20:33:30 | Kerry Wright |
| 94 | 2022-09-14 10:19:11 | Trina Branch |
| 95 | 2022-09-11 22:03:49 | Louise Wagstaff |
| 99 | 2022-09-14 20:53:15 | L D |
| 100 | 2022-09-14 20:54:03 | Lucy Wallis |
| 101 | 2022-09-14 18:56:12 | Deanne Lovell |
| 102 | 2022-09-09 20:28:52 | Lez Coldrick |
| 104 | 2022-09-07 17:49:27 | Gemma Gorringe |
| 105 | 2022-09-11 19:13:11 | g Mv |
| 106 | 2022-09-05 16:34:59 | Alice Tate |
| 107 | 2022-09-14 20:53:15 | L D |
| 108 | 2022-09-14 10:19:11 | Trina Branch |
| 109 | 2022-09-14 19:04:12 | Nicole Lock-Denny |
| 110 | 2022-09-14 19:05:21 | g Mv |