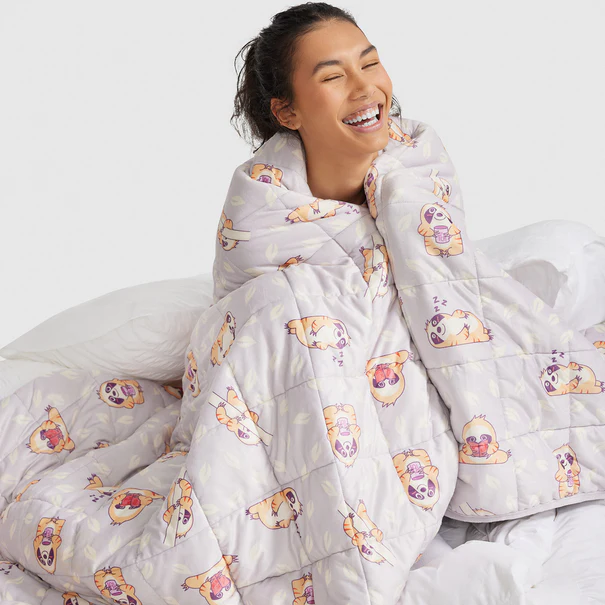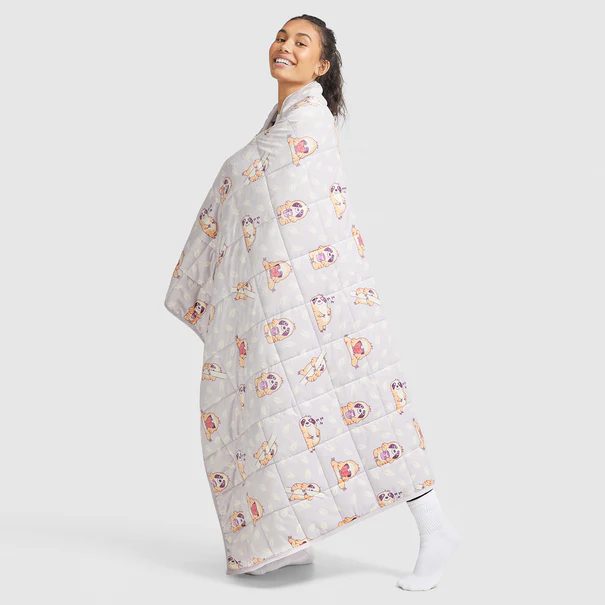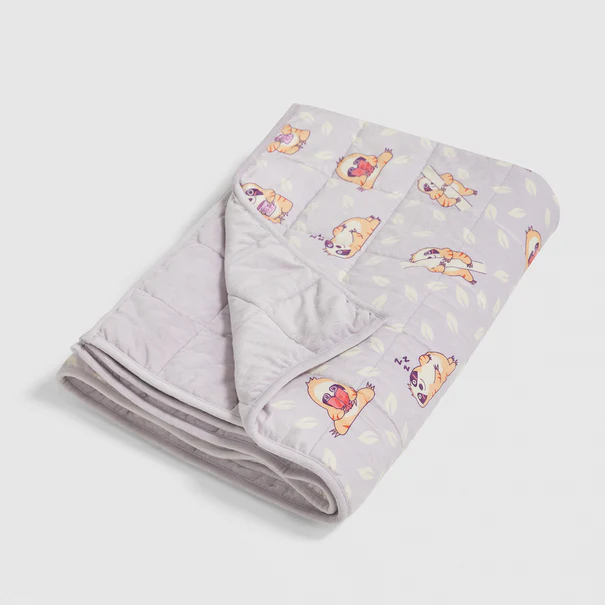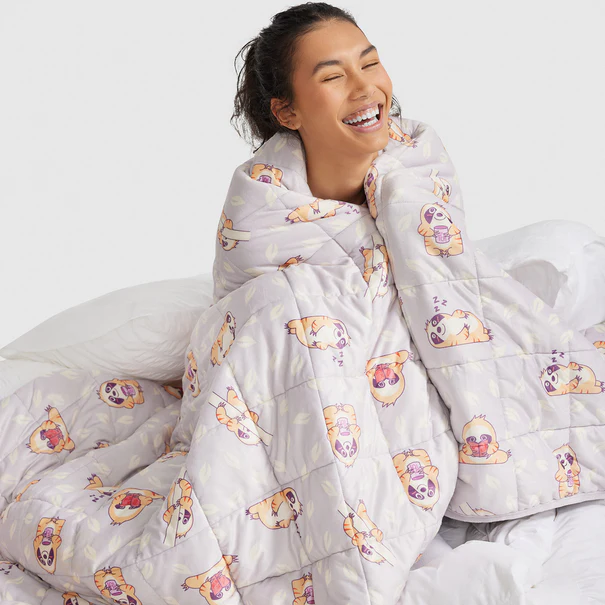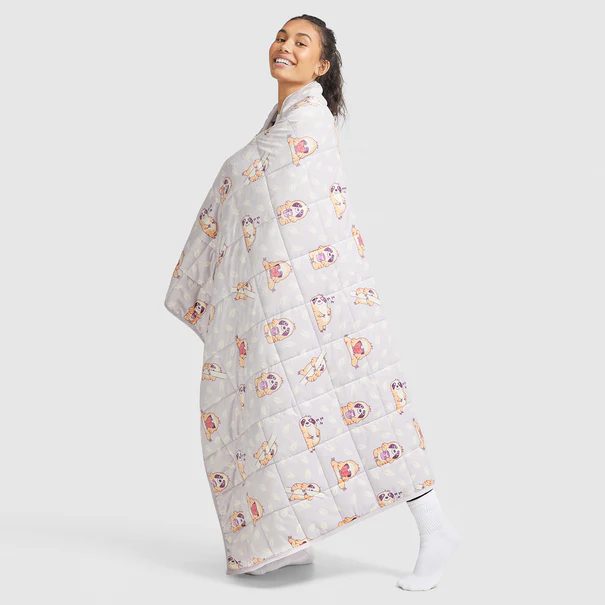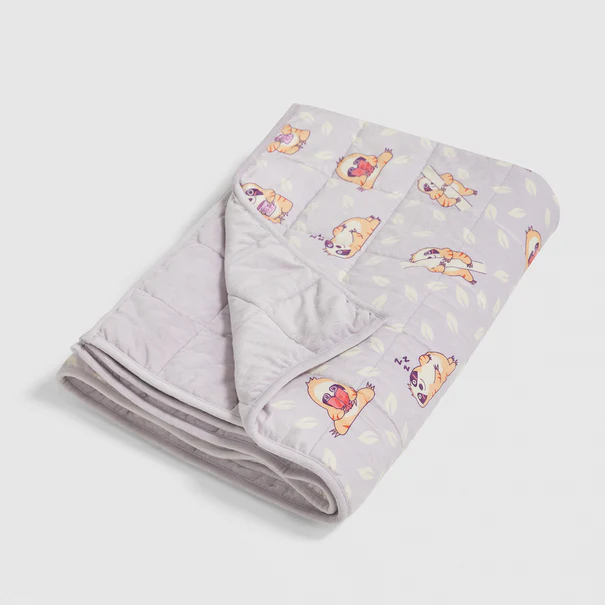 Sloth Oodie Weighted Blanket
Description
Sloth Oodie Weighted Blanket – You won't be able to resist this utterly buttery, cloud-like weighted blanket! Based on scientific principles, the dreamy Sloth Weighted Blanket soothes with its perfect weight distribution.
– The Sloth Oodie Weighted Blanket is like a big hug that helps with sleep and anxiousness. Using the relaxation principles behind deep pressure stimulation therapy, the Oodie Weighted Blanket can help take your sleep to the next level.
– Our premium Weighted Blankets are made with non-toxic glass beads, separately sewn pockets and are hand washable.
– Measuring in at 198x122cm, we suggest one Weighted Blanket per person for optimal weight distribution.
– Which weight should I choose? Aim for around 10% of your body weight. If you weigh 25kg-49kg then select a 4.5kg blanket or 50kg+ select a 9.0kg blanket.
| Winner Name | Ticket Number | Draw Date |
| --- | --- | --- |
| L C | 13 | 25/08/2022 |
| Ticket Number | Date | Name |
| --- | --- | --- |
| 1 | 2022-08-25 18:06:34 | Gemma Syms |
| 2 | 2022-08-25 20:41:09 | Suzi Gooding |
| 3 | 2022-08-25 10:14:18 | Rachel Scott |
| 4 | 2022-08-25 15:23:48 | Tanya Sumner |
| 5 | 2022-08-25 16:46:46 | Emma Davies |
| 6 | 2022-08-25 20:01:06 | Debbie Burnitt |
| 7 | 2022-08-21 21:37:20 | Hollie Kew |
| 8 | 2022-08-25 19:36:01 | Rachel Gilbert |
| 10 | 2022-08-25 10:41:03 | Teela Woodgates |
| 11 | 2022-08-23 13:20:33 | g Mv |
| 13 | 2022-08-23 19:57:38 | L C |
| 14 | 2022-08-21 22:35:46 | Jeanette Anderson |
| 15 | 2022-08-22 11:10:12 | L C |
| 16 | 2022-08-21 22:35:46 | Jeanette Anderson |
| 17 | 2022-08-25 17:58:33 | Jayne Lofthouse |
| 18 | 2022-08-23 12:32:08 | Robert Cox |
| 19 | 2022-08-24 10:37:08 | Rachel Gilbert |
| 20 | 2022-08-25 10:41:03 | Teela Woodgates |
| 21 | 2022-08-23 22:22:02 | Tracey Yates |
| 23 | 2022-08-25 20:41:09 | Suzi Gooding |
| 24 | 2022-08-25 10:47:34 | Jane Hasni |
| 25 | 2022-08-25 20:39:54 | Michelle Sweeney |
| 26 | 2022-08-25 17:15:30 | Michelle Tomlinson |
| 28 | 2022-08-23 13:20:33 | g Mv |
| 29 | 2022-08-22 11:10:12 | L C |
| 30 | 2022-08-25 19:38:31 | g Mv |
| 31 | 2022-08-25 13:06:43 | Tinker Bell |
| 33 | 2022-08-24 21:46:12 | Emma Cunningham |
| 36 | 2022-08-23 12:32:08 | Robert Cox |
| 37 | 2022-08-25 10:41:03 | Teela Woodgates |
| 38 | 2022-08-25 10:45:40 | Jodie Ellis |
| 39 | 2022-08-22 20:54:05 | Rosie Byron |
| 40 | 2022-08-23 22:54:36 | Michelle Mason |
| 41 | 2022-08-23 22:54:36 | Michelle Mason |
| 42 | 2022-08-25 05:39:08 | Rachel Gilbert |
| 43 | 2022-08-22 11:10:12 | L C |
| 44 | 2022-08-21 22:52:11 | Melissa Whittle |
| 45 | 2022-08-25 20:36:19 | Jess Ellis |
| 46 | 2022-08-25 11:36:42 | Jodie Ellis |
| 47 | 2022-08-23 22:54:36 | Michelle Mason |
| 48 | 2022-08-24 20:39:08 | Lindsey Lake |
| 49 | 2022-08-24 02:35:14 | Helen Walsh |
| 50 | 2022-08-25 08:57:20 | Kelly Campbell |
| 51 | 2022-08-25 09:43:40 | Kirsty Worthington |
| 52 | 2022-08-25 10:41:03 | Teela Woodgates |
| 53 | 2022-08-25 10:47:34 | Jane Hasni |
| 54 | 2022-08-25 10:47:34 | Jane Hasni |
| 55 | 2022-08-24 01:22:29 | Stacey Anderson |
| 57 | 2022-08-22 11:10:12 | L C |
| 58 | 2022-08-25 17:48:40 | James McArthur |
| 59 | 2022-08-23 08:51:13 | Stephanie Heal |
| 60 | 2022-08-25 10:47:34 | Jane Hasni |
| 63 | 2022-08-25 15:02:08 | Becca Hirst |
| 64 | 2022-08-23 19:57:38 | L C |
| 65 | 2022-08-23 18:54:28 | Donna Mears |
| 66 | 2022-08-25 19:38:31 | g Mv |
| 67 | 2022-08-25 13:06:43 | Tinker Bell |
| 69 | 2022-08-25 17:03:50 | Natalie Grose |
| 70 | 2022-08-25 09:39:04 | Laurence Dent |
| 71 | 2022-08-25 20:36:26 | Nicola Naylor |
| 72 | 2022-08-22 20:31:13 | Diane Fox |
| 73 | 2022-08-25 15:23:48 | Tanya Sumner |
| 75 | 2022-08-25 11:38:47 | Lucy Runham |
| 79 | 2022-08-25 09:39:04 | Laurence Dent |
| 80 | 2022-08-24 21:58:11 | Lesley Jones |
| 81 | 2022-08-25 09:39:04 | Laurence Dent |
| 84 | 2022-08-25 09:47:09 | Samantha Head |
| 85 | 2022-08-25 14:48:27 | Lekel North |
| 86 | 2022-08-23 18:26:30 | charlotte higman |
| 87 | 2022-08-25 13:06:43 | Tinker Bell |
| 88 | 2022-08-21 23:35:18 | Leia Tiar |
| 89 | 2022-08-25 20:27:24 | Michelle Harvey |
| 90 | 2022-08-21 23:21:00 | Rachel Gilbert |
| 91 | 2022-08-25 12:50:52 | Leah Gove |
| 92 | 2022-08-22 06:13:17 | Emma-lee Wilson |
| 93 | 2022-08-25 17:15:30 | Michelle Tomlinson |
| 94 | 2022-08-24 21:22:53 | Rachel Salloway |
| 95 | 2022-08-25 11:38:47 | Lucy Runham |
| 96 | 2022-08-25 11:36:42 | Jodie Ellis |
| 97 | 2022-08-25 09:39:04 | Laurence Dent |
| 98 | 2022-08-25 09:39:04 | Laurence Dent |
| 102 | 2022-08-21 21:37:20 | Hollie Kew |
| 103 | 2022-08-25 10:41:03 | Teela Woodgates |
| 104 | 2022-08-25 17:03:50 | Natalie Grose |
| 105 | 2022-08-24 21:28:39 | Christina Doyle |
| 108 | 2022-08-25 11:36:42 | Jodie Ellis |
| 109 | 2022-08-25 17:05:06 | Samantha Sedgbeer |
| 110 | 2022-08-25 11:05:27 | Melissa West |
| 111 | 2022-08-25 09:54:48 | Danielle Hooper |
| 112 | 2022-08-25 10:47:34 | Jane Hasni |
| 114 | 2022-08-25 10:45:40 | Jodie Ellis |