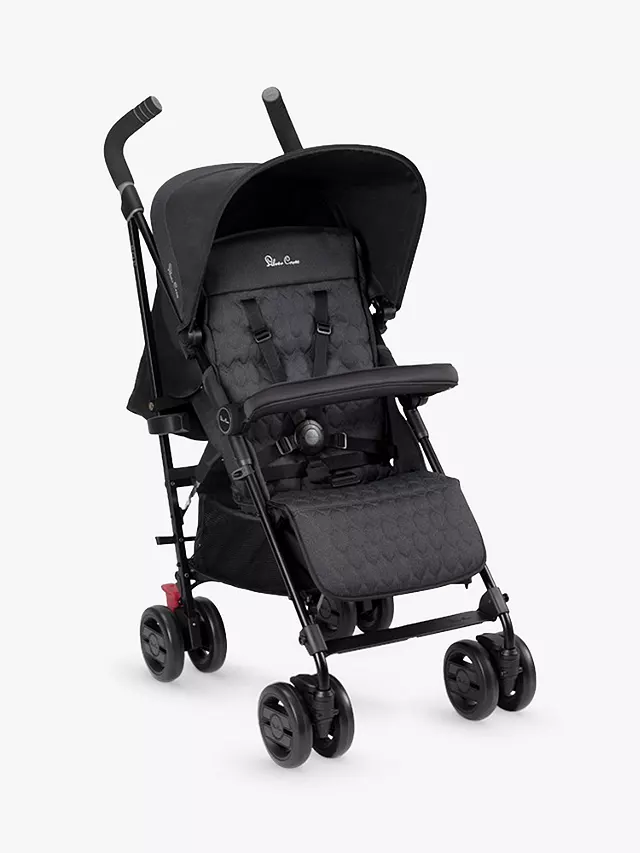 Silver Cross Pop Pushchair, Black
Description
Silver Cross Pop Pushchair, Black
Suitable from newborn to toddler, the Silver Cross Pop is your ultimate everyday pushchair. With a lie-flat recline, adjustable calf-support and deep-quilted seat, Pop offers a smooth and comfortable ride for your baby.
The lie-flat seat means Pop can be used from birth up to 22kg (approximately four years) plus the one-hand, drawstring recline lets you find the most comfortable position for your little one and adjust the seating position without disturbing their nap. The quilted seat offers extra comfort for baby, while the soft-cushioned bumper bar is finished in coordinating leatherette. The extendable UPF 50+ hood keeps your little one shaded on sunny days, while the zip-out air-flow mesh panel keeps them cool and dry.
Practical for parents too, Pop features a handy under-seat basket with a 5kg capacity. Additionally, the cushioned handles make it comfortable to push, while the quick, one-motion fold and built-in carry handle make folding and storage simple.
Key Features:
Suitable from birth to 22kg
Adjustable calf-support and deep-quilted seat
One-hand, drawstring recline
Comfortable quilted seat reclines to a lie-flat position
5kg capacity under-seat storage basket
Extendable hood offers UPF50+ protection, with air flow ventilation
Five-point safety harness
| Winner Name | Ticket Number | Draw Date |
| --- | --- | --- |
| Candy Light | 53 | 22/09/2022 |
| Ticket Number | Date | Name |
| --- | --- | --- |
| 1 | 2022-09-20 15:14:32 | Aimee Povey |
| 2 | 2022-09-22 10:32:54 | Tara Evans |
| 3 | 2022-09-22 12:16:33 | Jessica Faye |
| 4 | 2022-09-22 10:32:54 | Tara Evans |
| 5 | 2022-09-20 15:16:16 | Aimee Povey |
| 6 | 2022-09-22 19:23:56 | Tatman Japan |
| 7 | 2022-09-22 13:33:57 | S S |
| 8 | 2022-09-21 16:57:18 | Joanne Pennington |
| 9 | 2022-09-22 10:32:54 | Tara Evans |
| 10 | 2022-09-22 20:39:40 | Rachel Mayle |
| 11 | 2022-09-22 09:49:49 | Lauren Fox |
| 12 | 2022-09-22 09:51:23 | Rebecca Wood |
| 13 | 2022-09-22 11:06:26 | Candy Light |
| 14 | 2022-09-22 20:50:26 | Aimee Povey |
| 15 | 2022-09-22 12:16:05 | Mandy Cove |
| 16 | 2022-09-22 04:16:03 | Sonia Holden |
| 17 | 2022-09-22 11:24:28 | Joanne Pennington |
| 18 | 2022-09-22 10:32:54 | Tara Evans |
| 19 | 2022-09-22 11:06:26 | Candy Light |
| 20 | 2022-09-22 13:41:19 | Emma Chinnici |
| 21 | 2022-09-21 20:56:08 | Kelly Edwards |
| 22 | 2022-09-22 09:49:49 | Lauren Fox |
| 24 | 2022-09-22 17:26:49 | Lisa Chamberlain |
| 25 | 2022-09-21 22:49:22 | Rachel Williams |
| 26 | 2022-09-21 16:57:18 | Joanne Pennington |
| 27 | 2022-09-22 13:32:19 | daisy underhill |
| 28 | 2022-09-20 15:16:16 | Aimee Povey |
| 29 | 2022-09-21 16:57:18 | Joanne Pennington |
| 30 | 2022-09-21 21:45:49 | Nicola Bird |
| 32 | 2022-09-22 12:55:51 | Hannah Maddison |
| 33 | 2022-09-22 04:16:03 | Sonia Holden |
| 34 | 2022-09-22 14:33:11 | Amy Barr |
| 35 | 2022-09-22 09:52:43 | Mandy Smith8o |
| 36 | 2022-09-22 13:32:19 | daisy underhill |
| 37 | 2022-09-22 10:01:57 | Beth Freeman |
| 39 | 2022-09-20 15:24:17 | J L |
| 40 | 2022-09-22 10:32:54 | Tara Evans |
| 41 | 2022-09-22 10:32:54 | Tara Evans |
| 43 | 2022-09-20 15:24:17 | J L |
| 45 | 2022-09-22 07:53:28 | Aimee Povey |
| 46 | 2022-09-22 16:04:33 | Aaron Leslie |
| 47 | 2022-09-20 15:16:16 | Aimee Povey |
| 48 | 2022-09-22 20:23:09 | ima.robot . |
| 49 | 2022-09-22 09:14:01 | Jazmin Johns |
| 50 | 2022-09-20 17:03:43 | Natalie Maple |
| 51 | 2022-09-22 20:41:10 | T T D |
| 53 | 2022-09-22 17:46:57 | Candy Light |
| 54 | 2022-09-20 15:16:16 | Aimee Povey |
| 55 | 2022-09-21 16:57:18 | Joanne Pennington |
| 56 | 2022-09-22 17:51:53 | Nick Stevens |
| 57 | 2022-09-22 11:06:26 | Candy Light |
| 58 | 2022-09-22 04:16:03 | Sonia Holden |
| 59 | 2022-09-22 10:32:54 | Tara Evans |
| 60 | 2022-09-22 10:32:54 | Tara Evans |
| 61 | 2022-09-22 09:00:36 | Abbie Cook |
| 62 | 2022-09-22 17:12:05 | ima.robot . |
| 63 | 2022-09-20 15:24:17 | J L |
| 64 | 2022-09-21 20:45:31 | Hannah Riley |
| 66 | 2022-09-22 13:32:19 | daisy underhill |
| 67 | 2022-09-20 17:03:43 | Natalie Maple |
| 68 | 2022-09-22 10:32:54 | Tara Evans |
| 69 | 2022-09-22 10:32:54 | Tara Evans |
| 70 | 2022-09-20 15:14:32 | Aimee Povey |
| 71 | 2022-09-22 19:27:05 | Trina Chaney |
| 72 | 2022-09-22 11:54:53 | Usher Prowse |
| 74 | 2022-09-22 00:47:37 | Kirsty Westy |
| 75 | 2022-09-20 15:17:43 | Aimee Povey |
| 76 | 2022-09-20 15:24:17 | J L |
| 77 | 2022-09-22 14:27:15 | Thalia Heard |
| 78 | 2022-09-22 16:51:38 | Sheri kane |
| 79 | 2022-09-22 20:22:13 | Alisha Rooke |
| 80 | 2022-09-22 13:36:46 | Claire Allen |
| 81 | 2022-09-22 19:27:05 | Trina Chaney |
| 82 | 2022-09-22 14:32:27 | Naomi Davis |
| 83 | 2022-09-22 11:54:53 | Usher Prowse |
| 86 | 2022-09-21 20:23:49 | Sarah Woodman |
| 87 | 2022-09-22 04:16:03 | Sonia Holden |
| 88 | 2022-09-22 20:35:43 | kelly donnelly |
| 89 | 2022-09-21 16:57:18 | Joanne Pennington |
| 90 | 2022-09-22 10:32:54 | Tara Evans |
| 91 | 2022-09-22 17:02:48 | Lauren Slater |
| 93 | 2022-09-22 19:23:56 | Tatman Japan |
| 94 | 2022-09-22 20:51:32 | Agnes Newman |
| 95 | 2022-09-22 16:11:00 | lucy webber |
| 96 | 2022-09-22 20:39:40 | Rachel Mayle |
| 97 | 2022-09-22 10:32:54 | Tara Evans |
| 98 | 2022-09-22 10:32:54 | Tara Evans |
| 99 | 2022-09-22 17:26:49 | Lisa Chamberlain |
| 100 | 2022-09-22 10:42:28 | Aimee Povey |