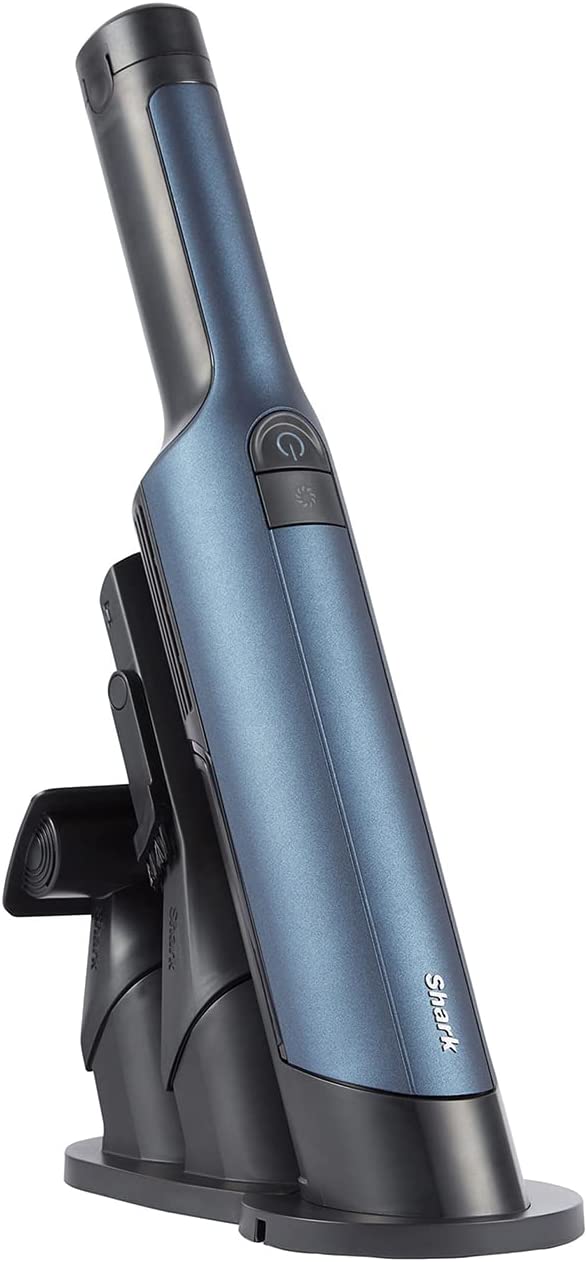 Shark WV270UK Handheld Vacuum Cleaner
Description
Shark WV270UK Handheld Vacuum Cleaner
Discover the next generation of quick clean-ups with the sleek, powerful Shark WandVac 2.0, engineered with a high-efficiency motor to deliver more power and more suction*.
Power in the palm of your hand
From kitchen counters and tabletops to sofas, corners and inside the car, simply grab this slim, lightweight handheld vacuum to instantly tackle quick clean-ups all around your home. Switch between 2 suction modes to suit every task, including Boost for an extra shot of power when you need it.
Includes 2 attachments
Easily clean up crumbs and dry food spills from kitchen worktops and tables, and quickly remove dust, debris and pet hair from sofas, stairs, surfaces, in the car and more. Vacuum a variety of soft furnishings and hard-to-reach places with 2 included attachments – a Duster Crevice Tool and Multi-Surface Pet Tool.
Charges while stored
Always charging while stored on the streamlined base, simply grab and go for up to 15 minutes run-time**. Designed to be displayed, keep the streamlined base unit within reach on the worktop and you'll always have cleaning power at your fingertips. The slim design makes a stylish addition to any home.
Lightweight at just under 700g***
This compact, lightweight silhouette is perfect for busy homes and families with children or pets.
Easy to use and clean
The easy-empty dust cup opens at the touch of a button for mess-free debris disposal, while the washable filter is easy to remove and clean to keep performance optimum.
| Winner Name | Ticket Number | Draw Date |
| --- | --- | --- |
| PYHLLIS STEER | 80 | 28/07/2022 |
| Ticket Number | Date | Name |
| --- | --- | --- |
| 1 | 2022-07-28 16:58:38 | Katrina Bennett |
| 2 | 2022-07-28 11:06:18 | Emma Lievesley |
| 3 | 2022-07-28 13:20:31 | Joanne Stewart |
| 4 | 2022-07-21 10:59:44 | Bren Last |
| 5 | 2022-07-28 09:51:18 | phyllis steer |
| 6 | 2022-07-28 15:31:08 | Tarah Courtenay |
| 7 | 2022-07-22 18:33:37 | |
| 8 | 2022-07-28 17:58:49 | Katie Pile |
| 9 | 2022-07-28 12:31:28 | Karen Bailey |
| 10 | 2022-07-27 21:19:06 | Mike Bray |
| 11 | 2022-07-28 09:22:55 | Amy Roberts |
| 12 | 2022-07-28 08:58:50 | Emma Flahive |
| 13 | 2022-07-28 08:06:44 | Lauren Finnemore |
| 14 | 2022-07-27 21:29:53 | Sharon Hobday |
| 15 | 2022-07-27 19:11:18 | Sophie Skinner |
| 16 | 2022-07-21 13:36:18 | phyllis steer |
| 17 | 2022-07-27 21:09:20 | Josh Bouskill |
| 18 | 2022-07-27 19:11:18 | Sophie Skinner |
| 19 | 2022-07-25 06:53:59 | Dawn James |
| 20 | 2022-07-26 21:56:23 | Laura Bouskill |
| 21 | 2022-07-27 23:41:26 | Lisa Roberts |
| 22 | 2022-07-27 16:31:38 | Deanne Lovell |
| 23 | 2022-07-27 21:29:53 | Sharon Hobday |
| 24 | 2022-07-28 09:35:31 | Paige Gibson |
| 25 | 2022-07-27 19:11:18 | Sophie Skinner |
| 26 | 2022-07-27 21:32:00 | Lindsey Cackett |
| 27 | 2022-07-26 19:24:30 | Kelly Clarke-booth |
| 28 | 2022-07-22 18:33:37 | |
| 29 | 2022-07-28 09:43:46 | Gordon Macleod |
| 30 | 2022-07-28 12:23:14 | Andrew Willcocks |
| 31 | 2022-07-28 13:03:12 | Lauren Hawkins |
| 32 | 2022-07-26 18:50:51 | Sarah Widdop |
| 33 | 2022-07-28 15:14:13 | Lisa Dockree |
| 34 | 2022-07-24 10:37:38 | Ciara Gilson |
| 35 | 2022-07-26 18:43:09 | Rachael Paull |
| 36 | 2022-07-22 08:42:44 | Brittny Taylor |
| 37 | 2022-07-28 15:31:08 | Tarah Courtenay |
| 38 | 2022-07-28 17:24:26 | Tina Jones |
| 39 | 2022-07-26 00:00:56 | Karen Shinner |
| 40 | 2022-07-28 13:19:24 | Holly Ring |
| 41 | 2022-07-28 18:38:03 | Lisa Burgess |
| 42 | 2022-07-24 20:03:07 | Lesley Hale |
| 43 | 2022-07-27 23:06:36 | michaela avery |
| 44 | 2022-07-26 01:55:08 | Helen Bryant |
| 45 | 2022-07-28 10:02:56 | Richard Broadbank |
| 46 | 2022-07-28 12:23:14 | Andrew Willcocks |
| 47 | 2022-07-25 19:08:58 | Cheyenne Egan |
| 48 | 2022-07-26 10:51:05 | Neil Weston |
| 49 | 2022-07-28 12:48:52 | Aimee Povey |
| 50 | 2022-07-26 15:22:46 | Trudi Parnell |
| 51 | 2022-07-28 12:48:52 | Aimee Povey |
| 52 | 2022-07-25 06:18:51 | Maria Piggford |
| 53 | 2022-07-28 10:02:17 | Amanda Bird Bird |
| 54 | 2022-07-24 19:14:45 | Lisa Dockree |
| 55 | 2022-07-28 00:00:39 | Kim Phillips |
| 56 | 2022-07-28 13:20:31 | Joanne Stewart |
| 57 | 2022-07-28 09:09:07 | g Mv |
| 58 | 2022-07-24 19:14:45 | Lisa Dockree |
| 59 | 2022-07-28 14:49:58 | Alan Cross |
| 60 | 2022-07-21 13:36:18 | phyllis steer |
| 61 | 2022-07-26 18:50:51 | Sarah Widdop |
| 62 | 2022-07-28 12:23:14 | Andrew Willcocks |
| 63 | 2022-07-25 19:08:58 | Cheyenne Egan |
| 64 | 2022-07-28 17:17:57 | Daniel Smith |
| 65 | 2022-07-28 11:21:09 | Abby Taylor |
| 66 | 2022-07-22 09:34:56 | Lucie Dobeer |
| 67 | 2022-07-28 11:24:59 | Tia Richardson |
| 68 | 2022-07-28 12:23:14 | Andrew Willcocks |
| 69 | 2022-07-26 19:24:30 | Kelly Clarke-booth |
| 70 | 2022-07-26 19:24:30 | Kelly Clarke-booth |
| 71 | 2022-07-28 16:06:27 | Tanna Desousa |
| 72 | 2022-07-28 12:05:59 | Ally Vallance |
| 73 | 2022-07-28 11:13:50 | Lucy Burridge |
| 74 | 2022-07-28 09:43:46 | Gordon Macleod |
| 75 | 2022-07-28 10:22:45 | Rachael Mcdonald |
| 76 | 2022-07-27 13:10:41 | Joseph Clifford |
| 77 | 2022-07-28 17:17:57 | Daniel Smith |
| 78 | 2022-07-28 11:29:02 | Danielle Hooper |
| 79 | 2022-07-28 09:22:55 | Amy Roberts |
| 80 | 2022-07-28 09:51:18 | phyllis steer |
| 81 | 2022-07-28 11:01:17 | Sarah Bell |
| 82 | 2022-07-28 13:20:31 | Joanne Stewart |
| 83 | 2022-07-27 17:24:54 | Vicky Stoddart |
| 84 | 2022-07-25 22:13:20 | Samantha Walker |
| 85 | 2022-07-28 15:31:08 | Tarah Courtenay |
| 86 | 2022-07-25 19:08:58 | Cheyenne Egan |
| 87 | 2022-07-28 18:04:38 | Lekel North |
| 88 | 2022-07-28 17:11:14 | Patricia Clarkson |
| 89 | 2022-07-28 12:23:14 | Andrew Willcocks |
| 90 | 2022-07-27 19:28:07 | Becca Wilmot |
| 91 | 2022-07-27 21:32:00 | Lindsey Cackett |
| 92 | 2022-07-28 17:09:33 | Caroline Stemp |
| 93 | 2022-07-28 09:43:51 | Olivia Patchett |
| 94 | 2022-07-27 22:43:40 | Hannah Light |
| 95 | 2022-07-28 13:47:55 | Melanie jackson Jackson |
| 96 | 2022-07-27 23:45:25 | Amy Howse |
| 97 | 2022-07-28 16:06:27 | Tanna Desousa |
| 98 | 2022-07-25 19:08:58 | Cheyenne Egan |
| 99 | 2022-07-28 15:12:27 | Kayleigh Skinner |
| 100 | 2022-07-28 12:48:52 | Aimee Povey |
| 101 | 2022-07-27 23:04:27 | Sharon Smith |
| 102 | 2022-07-28 15:24:35 | Karen Tait |
| 103 | 2022-07-28 18:15:01 | Emma-lee Wilson |
| 104 | 2022-07-20 21:00:19 | Nancy stevens |
| 105 | 2022-07-28 10:05:24 | Marie Leat |
| 106 | 2022-07-20 21:00:19 | Nancy stevens |
| 107 | 2022-07-28 17:17:52 | Lauren Kilner |
| 108 | 2022-07-28 16:06:27 | Tanna Desousa |
| 109 | 2022-07-27 18:29:29 | Gemma Syms |
| 110 | 2022-07-28 16:46:54 | Zoe Sparke |
| 111 | 2022-07-28 17:17:57 | Daniel Smith |
| 112 | 2022-07-27 22:22:28 | Sally Moorghen |
| 113 | 2022-07-28 17:17:52 | Lauren Kilner |
| 114 | 2022-07-28 12:48:52 | Aimee Povey |
| 115 | 2022-07-28 17:54:46 | Andy Pitty |
| 116 | 2022-07-28 13:07:57 | Elaine Lipscombe |
| 117 | 2022-07-28 13:02:22 | Wendy Kelsall |
| 118 | 2022-07-28 15:24:35 | Karen Tait |
| 119 | 2022-07-28 09:59:27 | Claire Porter |
| 120 | 2022-07-23 09:01:42 | Trudi Parnell |