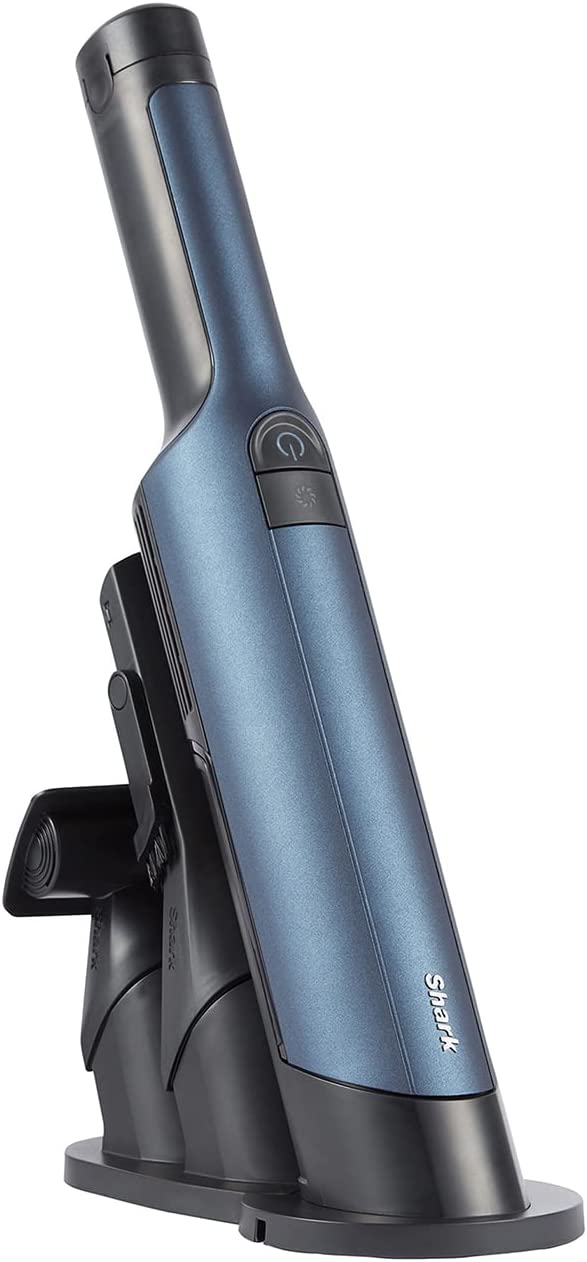 Shark WV270UK Handheld Vacuum Cleaner
Description
Shark WV270UK Handheld Vacuum Cleaner
More power, more suction – Lightweight cordless handheld vacuum, ideal for quick clean-ups (vs. Shark WandVac WV200UK.)

Up to 15 minutes run-time (In standard mode) – 2 Power modes

Designed to be displayed – Charges while stored on sleek charging storage base

Includes Duster Crevice Tool and Multi-Surface Pet Tool. One-touch easy empty dust cup.
| Winner Name | Ticket Number | Draw Date |
| --- | --- | --- |
| Katie Strachan | 53 | 10/08/2022 |
| Ticket Number | Date | Name |
| --- | --- | --- |
| 1 | 2022-08-10 14:15:56 | jemma Vooght |
| 2 | 2022-08-09 23:37:42 | Emma Davies |
| 3 | 2022-08-09 15:06:59 | Kathryn Reeves |
| 4 | 2022-08-08 09:10:39 | Lisa Donoghue |
| 5 | 2022-08-04 15:38:48 | Suzanne Hart |
| 6 | 2022-08-09 23:27:43 | Tia potter |
| 7 | 2022-08-08 15:21:11 | Karen Fitzgerald |
| 8 | 2022-08-09 15:06:59 | Kathryn Reeves |
| 9 | 2022-08-09 20:11:27 | Donna Mault |
| 10 | 2022-08-09 17:56:53 | Katie Strachan |
| 11 | 2022-08-05 19:02:36 | Lou Lister |
| 12 | 2022-08-10 07:26:57 | Terri Samways |
| 13 | 2022-08-07 11:03:51 | Amy B |
| 14 | 2022-08-07 11:03:51 | Amy B |
| 15 | 2022-08-08 15:21:11 | Karen Fitzgerald |
| 16 | 2022-08-10 16:13:46 | Joseph Clifford |
| 17 | 2022-08-05 19:02:36 | Lou Lister |
| 18 | 2022-08-05 06:04:29 | Karen Fitzgerald |
| 19 | 2022-08-10 19:46:44 | Aimee Povey |
| 20 | 2022-08-10 10:08:00 | Kelvin Courtenay |
| 21 | 2022-08-10 19:47:21 | Amy Domm |
| 22 | 2022-08-10 08:59:06 | Darren Willis |
| 23 | 2022-08-10 17:57:11 | Nicola Naylor |
| 24 | 2022-08-10 19:51:29 | Charlotte Ager |
| 25 | 2022-08-10 03:05:50 | Katie Pile |
| 26 | 2022-08-09 22:05:27 | Tanya Roberts |
| 27 | 2022-08-07 11:03:51 | Amy B |
| 28 | 2022-08-10 15:44:01 | Kathryn Dewing |
| 29 | 2022-08-10 15:26:00 | Philippa Smith |
| 30 | 2022-08-10 10:15:39 | Katrina Percival |
| 31 | 2022-08-10 19:42:06 | Paul cox |
| 32 | 2022-08-10 06:30:02 | Kirsty Gates |
| 33 | 2022-08-10 11:35:21 | Bethan Williams |
| 34 | 2022-08-10 13:49:34 | Kirsty Westy |
| 35 | 2022-08-09 12:44:54 | Clive Moxhay |
| 36 | 2022-08-10 11:35:21 | Bethan Williams |
| 37 | 2022-08-09 23:27:43 | Tia potter |
| 38 | 2022-08-06 07:10:17 | Rebecca Merrett |
| 39 | 2022-08-09 18:11:08 | Sarah jane Glover |
| 40 | 2022-08-10 07:00:19 | Dudley Rae |
| 41 | 2022-08-10 10:08:00 | Kelvin Courtenay |
| 42 | 2022-08-10 14:17:33 | Mrs Trudi Snee |
| 43 | 2022-08-08 09:10:39 | Lisa Donoghue |
| 44 | 2022-08-09 23:27:43 | Tia potter |
| 45 | 2022-08-08 19:24:57 | Abby Taylor |
| 46 | 2022-08-10 08:59:06 | Darren Willis |
| 47 | 2022-08-05 20:07:50 | Amy Lee |
| 48 | 2022-08-07 20:18:52 | Sophie Radford |
| 49 | 2022-08-09 23:27:43 | Tia potter |
| 50 | 2022-08-09 22:02:54 | Elizabeth Halfyard |
| 51 | 2022-08-10 15:44:01 | Kathryn Dewing |
| 52 | 2022-08-10 08:59:06 | Darren Willis |
| 53 | 2022-08-09 17:56:53 | Katie Strachan |
| 54 | 2022-08-10 10:08:00 | Kelvin Courtenay |
| 55 | 2022-08-08 20:43:07 | Claire Thomas |
| 56 | 2022-08-07 22:02:16 | Sarah Widdop |
| 57 | 2022-08-09 22:20:06 | Rebekah Sanders |
| 58 | 2022-08-10 19:42:06 | Paul cox |
| 59 | 2022-08-10 19:46:44 | Aimee Povey |
| 60 | 2022-08-10 02:16:47 | Stephie Jones |
| 61 | 2022-08-09 09:35:31 | Emma Chinnici |
| 62 | 2022-08-10 11:30:54 | Kelly Clarke-booth |
| 63 | 2022-08-10 11:35:21 | Bethan Williams |
| 64 | 2022-08-10 08:59:06 | Darren Willis |
| 65 | 2022-08-08 21:41:02 | Amanda Bowden |
| 66 | 2022-08-09 22:05:27 | Tanya Roberts |
| 67 | 2022-08-10 11:35:21 | Bethan Williams |
| 68 | 2022-08-09 23:25:11 | Lisa Donoghue |
| 69 | 2022-08-08 17:07:09 | Vicki sandford |
| 70 | 2022-08-09 17:56:21 | Kirsty Gates |
| 71 | 2022-08-08 19:19:18 | Elizabeth Halfyard |
| 72 | 2022-08-09 18:11:08 | Sarah jane Glover |
| 73 | 2022-08-10 18:31:36 | Janine Aziz |
| 74 | 2022-08-07 14:51:51 | Ian Lipscombe |
| 75 | 2022-08-07 22:02:16 | Sarah Widdop |
| 76 | 2022-08-10 08:59:06 | Darren Willis |
| 77 | 2022-08-10 19:46:44 | Aimee Povey |
| 78 | 2022-08-08 19:58:24 | Natasha Cleave |
| 79 | 2022-08-10 07:42:59 | Daniel Mcmullan |
| 80 | 2022-08-10 10:08:00 | Kelvin Courtenay |
| 81 | 2022-08-10 15:13:44 | Elaine Lipscombe |
| 82 | 2022-08-10 17:26:51 | Tarah Courtenay |
| 83 | 2022-08-10 19:59:34 | Sharon Hobday |
| 84 | 2022-08-10 18:04:49 | Michelle Spencer-Smith |
| 85 | 2022-08-10 08:59:06 | Darren Willis |
| 86 | 2022-08-10 18:14:51 | Amy Wright |
| 87 | 2022-08-09 20:46:42 | Samantha Bennett |
| 88 | 2022-08-06 06:31:25 | Zoey-Anne Marr-Hayes |
| 89 | 2022-08-09 17:56:53 | Katie Strachan |
| 90 | 2022-08-10 03:05:50 | Katie Pile |
| 91 | 2022-08-09 18:11:08 | Sarah jane Glover |
| 92 | 2022-08-09 09:22:43 | Rebekah Sanders |
| 93 | 2022-08-08 21:09:47 | Grant Asher |
| 94 | 2022-08-10 19:56:34 | Lucy Mulligan |
| 95 | 2022-08-09 17:56:53 | Katie Strachan |
| 96 | 2022-08-10 17:26:51 | Tarah Courtenay |
| 97 | 2022-08-10 14:15:56 | jemma Vooght |
| 98 | 2022-08-10 08:59:06 | Darren Willis |
| 99 | 2022-08-10 18:56:43 | Julie Cleave |
| 100 | 2022-08-10 16:22:17 | Shellie Pouladdej |
| 101 | 2022-08-10 11:50:35 | Sophie Skinner |
| 102 | 2022-08-09 17:56:53 | Katie Strachan |
| 103 | 2022-08-06 14:42:07 | Zsarina Melluish |
| 104 | 2022-08-10 08:59:06 | Darren Willis |
| 105 | 2022-08-09 23:27:43 | Tia potter |
| 106 | 2022-08-10 13:05:28 | Dannie Flynn |
| 107 | 2022-08-10 11:35:21 | Bethan Williams |
| 108 | 2022-08-04 22:34:19 | Lou Lister |
| 109 | 2022-08-08 15:43:15 | Kirsty Unwin |
| 110 | 2022-08-06 13:32:21 | Elaine Lipscombe |
| 111 | 2022-08-09 21:27:49 | Amy Wright |
| 112 | 2022-08-04 17:05:45 | Tania Cassidy |
| 113 | 2022-08-10 10:08:00 | Kelvin Courtenay |
| 114 | 2022-08-09 09:52:33 | Linda Bowen |
| 115 | 2022-08-10 08:59:06 | Darren Willis |
| 116 | 2022-08-08 21:09:47 | Grant Asher |
| 117 | 2022-08-10 08:25:51 | Clare Jamieson |
| 118 | 2022-08-08 12:35:40 | Kay Turner |
| 119 | 2022-08-10 19:28:58 | Roxanne Hill |
| 120 | 2022-08-10 19:51:29 | Charlotte Ager |
| 121 | 2022-08-10 15:24:50 | Natalie Harris |
| 122 | 2022-08-10 19:08:33 | Dave Sadler |
| 123 | 2022-08-10 19:32:37 | g Mv |
| 124 | 2022-08-09 18:11:08 | Sarah jane Glover |
| 125 | 2022-08-06 17:33:32 | Grant Asher |
| 126 | 2022-08-09 20:46:42 | Samantha Bennett |
| 127 | 2022-08-10 17:26:51 | Tarah Courtenay |
| 128 | 2022-08-09 18:22:47 | Charlotte Lannigan |
| 129 | 2022-08-10 11:50:35 | Sophie Skinner |
| 130 | 2022-08-10 08:59:06 | Darren Willis |