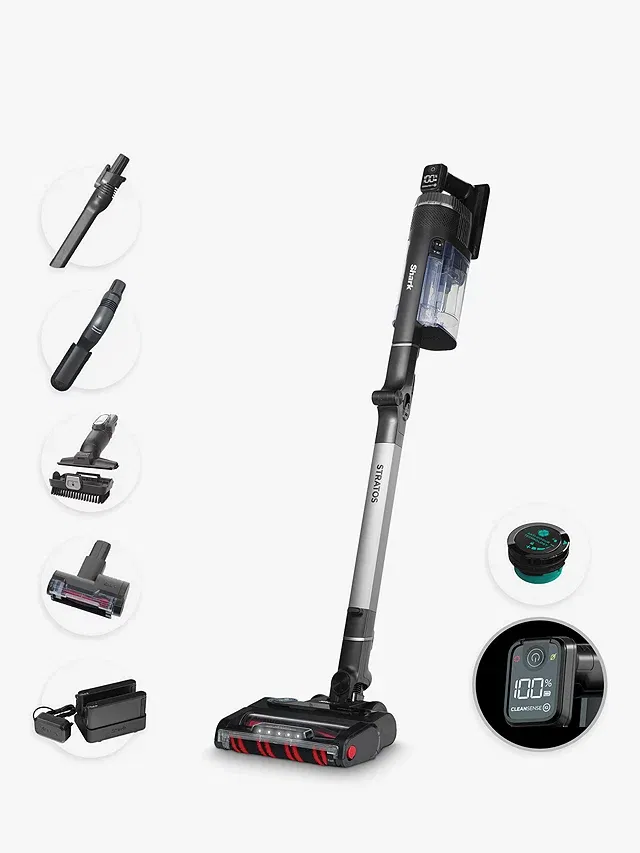 Shark Stratos Cordless Stick Vacuum Cleaner with Anti Hair Wrap Plus & Clean Sense IQ, Mid Grey
Description
Shark Stratos IZ420UKT Pet Pro Model Cordless Stick Vacuum Cleaner with Anti Hair Wrap Plus & Clean Sense IQ, Mid Grey
Introducing the ultimate cordless vacuum cleaner for homes with pets from Shark's Stratos collection. Enjoy Shark's best ever hair pick-up with Anti Hair Wrap Plus.
Tired of removing tangled hair from your brush-roll? Anti Hair Wrap Plus removes long, short and pet hair from the brush-roll as you clean so you don't have to.
Perfect for all floor types: The DuoClean floorhead glides from carpets to hard floors with two motorised brush-rolls working together in one floorhead – the Anti Hair Wrap Plus brush-roll cleans deep into carpets, drawing out embedded dirt and picking up hair, while a soft front brush-roll draws in debris and lifts stuck-on dust from hard floors. LED headlights in the floorhead illuminate hidden dust.
Clean Sense IQ: Senses the dirt you can't see and auto-adjusts cleaning power for up to 50% more dirt pick-up*. An intelligent indicator in the floorhead illuminates as the suction automatically increases to meet a cleaning challenge and decreases again when the dirt is cleared.
Anti-Odour Technology: Protects against bad odours inside the vacuum for a fresher-smelling home. A unique cartridge system guards against dust cup odours commonly caused by hair, dust and dander.
Flexology bends so you don't have to: At the touch of a button, this flexible wand bends to reach and clean underneath low-lying furniture. When you've finished cleaning, fold down for compact, freestanding storage and charging.
Twin battery model: Enjoy up to 120 minutes of run-time**. The removable batteries can be charged on or off the vacuum, wherever suits you – you can even charge both batteries at once in the Dual Charging Dock.
Transform into a cordless handheld vacuum cleaner: Perfect for cleaning stairs, soft furnishings, in the car and reaching up high with the wand. This Pet Pro model includes a Multi-Surface Tool, Anti-Allergen Brush, 12" Crevice Tool and Motorised Pet Tool, purposefully designed to remove embedded hair from upholstery. You also get a handy Accessory Bag to store all your attachments.
Anti-Allergen Complete Seal: Captures and traps 99.9% of dust and allergens inside the vacuum, not releasing them back into the air you breathe***
Easy to use: The LED Smart Display shows battery status and suction level. Intuitive controls are conveniently placed on the handle, including Boost for extra power.
| Winner Name | Ticket Number | Draw Date |
| --- | --- | --- |
| Sharon Smith | 441 | 08/11/2023 |
1-200
201-400
401-600
601-800
| Ticket Number | Date | Name |
| --- | --- | --- |
| 1 | 2023-11-06 15:51:48 | Shiralee Ward |
| 2 | 2023-11-07 16:35:42 | Karen Matthews |
| 3 | 2023-11-07 09:48:14 | Kelly Wegner |
| 4 | 2023-11-07 16:35:42 | Karen Matthews |
| 5 | 2023-11-08 14:28:49 | No Christine Scarbrough |
| 6 | 2023-11-03 07:40:47 | Sarah Heal |
| 7 | 2023-11-07 16:35:42 | Karen Matthews |
| 8 | 2023-11-07 15:42:52 | Sophie Purkiss |
| 9 | 2023-11-03 14:04:58 | Lianne Hill |
| 10 | 2023-11-01 14:18:24 | Jill Higham |
| 11 | 2023-11-08 11:14:36 | Jade Neville |
| 12 | 2023-11-08 15:47:36 | Amy Binnie |
| 13 | 2023-11-03 22:57:46 | Hayley Leaman |
| 14 | 2023-11-08 16:23:02 | Jodi Rogers |
| 15 | 2023-11-08 17:08:10 | Caroline carpenter |
| 16 | 2023-11-01 14:25:17 | Oliver Lucas |
| 17 | 2023-11-07 10:13:43 | Mary Screech |
| 18 | 2023-11-05 21:52:06 | Jill Higham |
| 19 | 2023-11-08 21:05:47 | Leighanna Launchbury |
| 20 | 2023-11-08 19:34:30 | Danny Lampard |
| 21 | 2023-11-08 11:11:24 | LJ Storer no |
| 22 | 2023-11-08 11:57:45 | Sarah Frost |
| 23 | 2023-11-08 16:19:42 | AJ B |
| 24 | 2023-11-08 16:19:42 | AJ B |
| 25 | 2023-11-08 17:22:53 | Kealey Whitbread |
| 26 | 2023-11-08 18:57:31 | Hayley Woodhouse |
| 27 | 2023-11-01 14:25:17 | Oliver Lucas |
| 28 | 2023-11-06 11:00:27 | Stacey Hawtin |
| 29 | 2023-11-01 21:37:03 | Sasha Tucker |
| 30 | 2023-11-08 15:47:36 | Amy Binnie |
| 31 | 2023-11-08 16:28:00 | Miss Kimberley Sharman |
| 32 | 2023-11-08 17:11:18 | Donna lloyd |
| 33 | 2023-11-02 07:06:43 | Sam Rea |
| 34 | 2023-11-06 22:02:24 | Cherie Colley |
| 35 | 2023-11-08 18:47:51 | Lois Cole |
| 36 | 2023-11-03 14:04:58 | Lianne Hill |
| 37 | 2023-11-08 20:17:43 | Khadine Coyle |
| 39 | 2023-11-08 19:52:00 | ALEXANDER CLELAND |
| 40 | 2023-11-08 19:48:41 | Jade Hulme |
| 41 | 2023-11-08 20:33:11 | Tania Smith |
| 42 | 2023-11-08 16:36:07 | Hannah Charnley |
| 43 | 2023-11-08 20:39:39 | JOSEPH PARTINGTON |
| 46 | 2023-11-08 19:48:15 | Barbara Maull |
| 47 | 2023-11-08 17:17:52 | Sarah Frost |
| 48 | 2023-11-08 19:41:26 | Grahame Bullen |
| 49 | 2023-11-08 20:10:13 | Anita Passmore |
| 50 | 2023-11-08 19:05:42 | Julie Frayne |
| 51 | 2023-11-07 07:46:44 | Charlotte Steel |
| 52 | 2023-11-08 17:11:18 | Donna lloyd |
| 54 | 2023-11-08 18:17:28 | Nikki COOMBES |
| 55 | 2023-11-06 18:48:44 | Lesley Cairns |
| 56 | 2023-11-03 15:06:49 | Kennedy Rory |
| 57 | 2023-11-08 17:29:21 | DHLB W |
| 58 | 2023-11-08 19:10:02 | Rachael Morton |
| 59 | 2023-11-08 18:57:54 | Phillip Drew |
| 61 | 2023-11-05 21:37:02 | Megan Shillabeer |
| 62 | 2023-11-08 20:52:49 | Mark Seal |
| 63 | 2023-11-08 18:56:41 | Gloria Fisher |
| 64 | 2023-11-08 19:24:36 | Jackie Mellor |
| 65 | 2023-11-08 19:38:36 | Wayne Darby |
| 66 | 2023-11-03 14:12:07 | Emma Harris |
| 67 | 2023-11-08 20:04:18 | Destiny Nolan |
| 68 | 2023-11-08 19:53:32 | Jennifer Preston |
| 69 | 2023-11-08 16:20:22 | D T |
| 73 | 2023-11-08 20:48:34 | Sarah Burnard |
| 74 | 2023-11-08 19:44:41 | Andrew James |
| 76 | 2023-11-08 20:48:34 | Sarah Burnard |
| 77 | 2023-11-08 14:54:18 | emma brazenell |
| 78 | 2023-11-08 20:32:44 | Megan Thompson |
| 79 | 2023-11-08 20:42:11 | Lisa Bailey |
| 80 | 2023-11-08 16:46:22 | Jane Armstrong |
| 81 | 2023-11-02 09:47:26 | Karen Alder |
| 82 | 2023-11-08 19:34:30 | Danny Lampard |
| 83 | 2023-11-03 08:28:19 | Andrew Kennard |
| 84 | 2023-11-08 08:44:04 | Richard Higham |
| 86 | 2023-11-08 09:45:54 | Aneta Mikolajczyk |
| 87 | 2023-11-08 14:54:18 | emma brazenell |
| 88 | 2023-11-08 20:51:05 | Elizabeth Williams |
| 89 | 2023-11-08 19:48:41 | Jade Hulme |
| 90 | 2023-11-08 20:52:54 | Quinton Williams |
| 91 | 2023-11-08 16:46:22 | Jane Armstrong |
| 92 | 2023-11-08 14:22:48 | Amanda Hamilton |
| 94 | 2023-11-08 16:46:22 | Jane Armstrong |
| 95 | 2023-11-08 20:26:24 | Marie Sandford |
| 96 | 2023-11-08 18:47:51 | Mickey R |
| 97 | 2023-11-08 20:51:38 | Chloe Driscoll |
| 98 | 2023-11-08 19:59:59 | Cheryl Fletcher |
| 99 | 2023-11-08 20:05:59 | Alexander Ross |
| 100 | 2023-11-03 09:37:46 | Gemma Harrison |
| 101 | 2023-11-08 16:20:22 | D T |
| 102 | 2023-11-08 14:17:06 | Leah Hamilton |
| 103 | 2023-11-06 21:54:54 | Gemma Wilson |
| 104 | 2023-11-08 19:26:44 | makayla Snell |
| 105 | 2023-11-08 20:48:34 | Sarah Burnard |
| 106 | 2023-11-08 20:48:34 | Sarah Burnard |
| 107 | 2023-11-08 15:37:20 | Maja Smith |
| 109 | 2023-11-08 16:19:42 | AJ B |
| 110 | 2023-11-08 20:33:11 | Tania Smith |
| 111 | 2023-11-08 20:26:25 | Julie Soper |
| 112 | 2023-11-05 12:23:36 | Natasha Palmer |
| 113 | 2023-11-06 18:48:44 | Lesley Cairns |
| 114 | 2023-11-08 21:02:54 | S E H |
| 115 | 2023-11-08 20:48:34 | Sarah Burnard |
| 117 | 2023-11-08 08:04:32 | Rachael Burns |
| 119 | 2023-11-08 19:38:44 | Graham Vittles |
| 120 | 2023-11-08 19:36:26 | Kate Beverley |
| 121 | 2023-11-08 20:33:09 | Elizabeth Myatt |
| 123 | 2023-11-08 21:08:07 | C B |
| 124 | 2023-11-08 19:26:44 | makayla Snell |
| 125 | 2023-11-08 18:59:33 | Sharon Smith |
| 126 | 2023-11-07 21:36:12 | charlotte proctor |
| 127 | 2023-11-08 19:41:26 | Grahame Bullen |
| 130 | 2023-11-08 13:51:00 | Jennie Barnard |
| 131 | 2023-11-08 20:28:49 | Tracy Crocker |
| 132 | 2023-11-08 19:53:32 | Jennifer Preston |
| 134 | 2023-11-08 18:57:31 | Hayley Woodhouse |
| 135 | 2023-11-08 18:01:20 | Alana Williams |
| 136 | 2023-11-08 20:48:34 | Sarah Burnard |
| 138 | 2023-11-08 20:52:49 | Mark Seal |
| 140 | 2023-11-08 17:01:40 | Elise bradford |
| 142 | 2023-11-08 20:48:34 | Sarah Burnard |
| 143 | 2023-11-08 20:01:17 | Sadie thomas |
| 144 | 2023-11-08 21:04:36 | Ma Roberts |
| 146 | 2023-11-08 17:16:43 | Kas S |
| 147 | 2023-11-08 12:50:27 | Leanne Jordan |
| 148 | 2023-11-08 20:28:38 | lisa Cunningham |
| 150 | 2023-11-08 21:02:54 | S E H |
| 151 | 2023-11-07 09:48:14 | Kelly Wegner |
| 154 | 2023-11-08 18:11:59 | Kerry Twaites |
| 155 | 2023-11-06 23:05:55 | Jodie Pearson |
| 156 | 2023-11-08 20:23:13 | Emily Vine |
| 157 | 2023-11-08 17:29:21 | DHLB W |
| 158 | 2023-11-08 18:17:28 | Nikki COOMBES |
| 159 | 2023-11-07 16:59:04 | Daniel Dale |
| 161 | 2023-11-08 20:26:40 | Natalie Mogg |
| 163 | 2023-11-08 20:48:34 | Sarah Burnard |
| 164 | 2023-11-08 19:07:31 | Fiona Lakeman |
| 166 | 2023-11-08 20:51:05 | Elizabeth Williams |
| 167 | 2023-11-08 13:51:00 | Jennie Barnard |
| 168 | 2023-11-08 20:51:05 | Elizabeth Williams |
| 169 | 2023-11-08 13:38:50 | Lauren Jeffery |
| 170 | 2023-11-05 08:53:41 | Bernise Clark |
| 171 | 2023-11-08 18:26:52 | Angela Short |
| 174 | 2023-11-08 18:50:29 | Hollie Lang |
| 175 | 2023-11-08 19:03:08 | Stephie Jones |
| 177 | 2023-11-05 19:48:00 | Samantha Upton |
| 178 | 2023-11-08 14:17:06 | Leah Hamilton |
| 179 | 2023-11-08 20:50:31 | Laura Strong |
| 180 | 2023-11-08 08:04:32 | Rachael Burns |
| 183 | 2023-11-08 20:20:50 | Lori Jacobsen |
| 184 | 2023-11-04 20:55:14 | Morgan Samuels |
| 185 | 2023-11-08 19:53:32 | Jennifer Preston |
| 186 | 2023-11-08 19:37:23 | Trudi Stoyle |
| 187 | 2023-11-08 20:48:34 | Sarah Burnard |
| 188 | 2023-11-08 17:20:44 | Kayleigh Garrett |
| 189 | 2023-11-08 20:32:03 | Kirsty Redmile |
| 190 | 2023-11-08 13:21:28 | Sharon White |
| 191 | 2023-11-01 14:34:37 | Bj M |
| 192 | 2023-11-04 21:24:18 | Victoria Moroney |
| 193 | 2023-11-08 20:09:21 | Fern Cornish |
| 194 | 2023-11-08 20:48:34 | Sarah Burnard |
| 195 | 2023-11-07 19:43:58 | Sarah Deakin |
| 196 | 2023-11-08 20:26:25 | Julie Soper |
| 197 | 2023-11-08 17:29:41 | Michele Savva |
| 198 | 2023-11-08 20:48:34 | Sarah Burnard |
| 200 | 2023-11-08 19:48:15 | Barbara Maull |