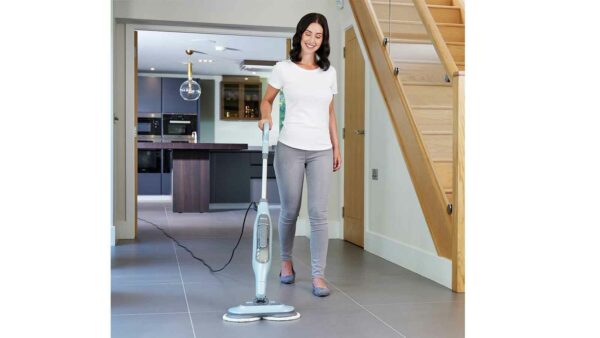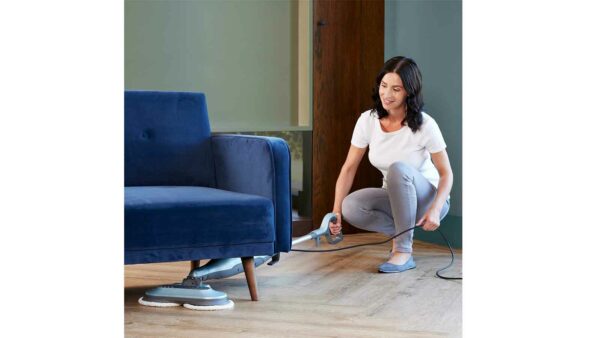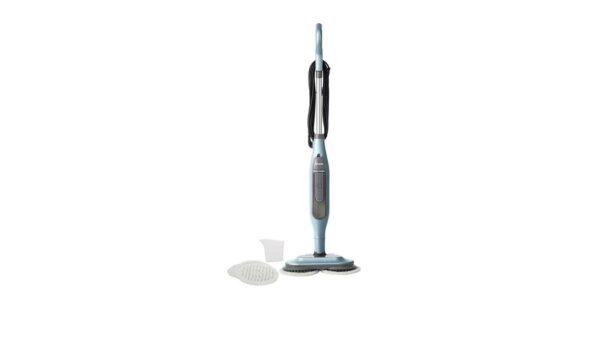 Shark Steam & Scrub Automatic Steam Mop
Description
Shark Steam & Scrub Automatic Steam Mop
Scrub and sanitise your floors at the same time with the Shark Steam & Scrub S6002UK Steam Mop. It cleans all sealed surfaces, including tiles, marble, hard wood or stone.
Steam cleaning
The mop gets rid of bacteria using steam only. This means that you don't need to use any harmful chemicals, so there's no need to worry when your little ones sit on the floor to play.
Powerful cleaning pads
Two cleaning pads rotate 150 times per minute, gently scrubbing, lifting and removing stuck-on dirt and bacteria. And when you're finished, simply throw the pads in the washing machine.
Handy features
Switch between two steam settings at the touch of a button. And the 8-metre long power cord gives you freedom to move from room to room.
| Winner Name | Ticket Number | Draw Date |
| --- | --- | --- |
| Mary Knights | 222 | 05/05/2022 |
1-30
31-60
61-90
91-120
121-150
151-180
181-210
211-240
241-270
| Ticket Number | Date | Name |
| --- | --- | --- |
| 1 | 2022-05-05 06:48:02 | Melanie Standfast |
| 2 | 2022-05-04 21:46:09 | Alison Cass |
| 3 | 2022-05-03 18:40:41 | Stephanie Gallant |
| 4 | 2022-05-05 15:18:12 | Staceyy C |
| 5 | 2022-05-05 19:55:29 | Nicola Bird |
| 6 | 2022-05-05 19:42:37 | Melissa Hockings |
| 7 | 2022-05-04 10:29:53 | Maxine Williams |
| 8 | 2022-05-04 16:22:38 | Izzy Eveson |
| 9 | 2022-05-05 17:11:35 | Jackie Staines |
| 11 | 2022-05-04 16:22:38 | Izzy Eveson |
| 12 | 2022-05-04 16:22:38 | Izzy Eveson |
| 13 | 2022-05-03 11:42:44 | Julie Webb |
| 14 | 2022-05-04 16:22:38 | Izzy Eveson |
| 15 | 2022-05-03 02:44:37 | Jodie Marsh |
| 16 | 2022-05-05 17:40:25 | Micha walshe |
| 17 | 2022-05-04 16:22:38 | Izzy Eveson |
| 18 | 2022-05-05 14:55:59 | Sharron Birds |
| 19 | 2022-05-03 09:11:07 | Shannon Deane |
| 21 | 2022-05-03 02:44:37 | Jodie Marsh |
| 22 | 2022-05-04 18:39:15 | Sharron Birds |
| 23 | 2022-05-05 18:34:06 | K Mills |
| 24 | 2022-05-04 21:46:09 | Alison Cass |
| 25 | 2022-05-04 10:58:44 | Stacey McCabe |
| 26 | 2022-05-02 13:19:40 | Kerri Del-Pizzo |
| 27 | 2022-05-03 11:42:44 | Julie Webb |
| 28 | 2022-05-04 18:49:27 | Teresa norman |
| 29 | 2022-05-05 18:34:06 | K Mills |
| 30 | 2022-05-04 10:29:53 | Maxine Williams |