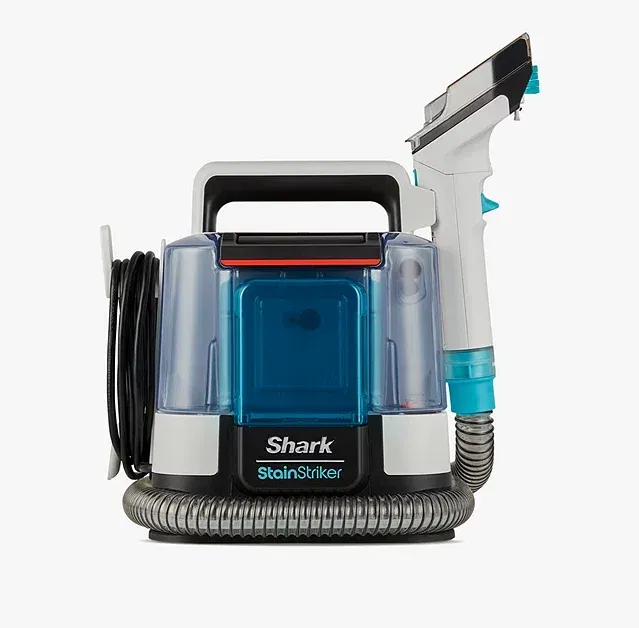 Shark StainStriker Pet Carpet Cleaner, Rotator White
Description
Shark StainStriker Pet Carpet Cleaner, Rotator White
Introducing Shark StainStriker Pet – the best stubborn stain remover*. Perfect for homes with pets, this compact, powerful spot cleaner delivers supercharged pet stain and odour removal anywhere in your home. Easily tackle spills and stains on carpets and rugs, stairs, sofas and upholstery, car interiors, pet beds, and more.
20x more stain-striking power**:
No need to pre-treat stains – Shark's dual-activated cleaning solution combines two unique formulas which mix together and activate on contact inside the handheld StainStriker tool to double down on stains and odours. CarpetXpert Deep Clean Pro formula removes layers of ground-in dirt and grime, while StainStriker Oxy Multiplier formula lifts and extracts stubborn stains and odours, unleashing the power of OXY to eliminate tough stains.
Cleaning results you can see:
A high-pressure spray penetrates deep into carpet and upholstery fibres, evenly distributing water and cleaning solution, without oversoaking. Shark's powerful suction then extracts dirt and liquid, removing layers of dirt and grime, and drying quickly.
Compact & portable:
Clean anywhere with the flexible hose and handheld attachments: large and regular Tough Stain Tools, an Integrated Crevice Tool and a Pet Stain Trapping Tool which keeps hair, debris and dirty liquid in a separate compartment, stopping larger debris and solids from entering the hose and main unit. There's also a Hose-Cleaning Tool for easy maintenance. The hose clips to the unit for tidy storage. It's lightweight and easy to carry around your home with a comfortable handle and long power cord.
| Winner Name | Ticket Number | Draw Date |
| --- | --- | --- |
| Darren Mclean | 124 | 23/11/2023 |
| Ticket Number | Date | Name |
| --- | --- | --- |
| 1 | 2023-11-23 09:39:04 | Viki Cook |
| 2 | 2023-11-22 18:55:21 | Jack Smeaton |
| 3 | 2023-11-23 09:39:04 | Viki Cook |
| 4 | 2023-11-23 19:22:32 | Laura Smith |
| 5 | 2023-11-23 11:58:28 | C M |
| 6 | 2023-11-22 18:26:01 | Sarah Handoll |
| 7 | 2023-11-22 21:58:12 | Elizabeth Glover |
| 8 | 2023-11-23 14:42:13 | Darren Mclean |
| 9 | 2023-11-23 12:48:10 | Ferrett Pearson |
| 10 | 2023-11-23 19:03:31 | Darren Mclean |
| 11 | 2023-11-23 09:44:47 | d k J |
| 12 | 2023-11-20 18:36:32 | JMS S |
| 13 | 2023-11-23 19:03:31 | Darren Mclean |
| 14 | 2023-11-23 15:46:13 | Michael Straughan |
| 15 | 2023-11-23 05:56:26 | Sarah Woodes |
| 16 | 2023-11-23 14:12:49 | d k J |
| 17 | 2023-11-23 12:48:13 | Skippy Radmore |
| 18 | 2023-11-23 14:42:13 | Darren Mclean |
| 19 | 2023-11-23 20:24:00 | Matthew Launchbury |
| 20 | 2023-11-23 14:07:24 | Caroline Williams |
| 21 | 2023-11-23 14:03:49 | Cheryl White |
| 22 | 2023-11-23 17:15:13 | Ann Marie Radmore |
| 23 | 2023-11-22 17:02:55 | Dianne H |
| 24 | 2023-11-23 20:32:36 | Barry Brewer |
| 25 | 2023-11-23 19:47:46 | Jolene D |
| 26 | 2023-11-23 14:02:10 | Alison Gibson |
| 27 | 2023-11-22 18:26:01 | Sarah Handoll |
| 28 | 2023-11-23 18:48:54 | P C |
| 29 | 2023-11-23 20:42:36 | Jordan Dobbin |
| 30 | 2023-11-23 14:43:04 | Emma Jordan |
| 31 | 2023-11-23 19:03:31 | Darren Mclean |
| 32 | 2023-11-22 18:26:01 | Sarah Handoll |
| 33 | 2023-11-23 14:42:13 | Darren Mclean |
| 34 | 2023-11-22 18:26:01 | Sarah Handoll |
| 35 | 2023-11-23 18:11:28 | Jo Kestell |
| 36 | 2023-11-23 07:12:45 | G W |
| 37 | 2023-11-23 12:48:10 | Ferrett Pearson |
| 38 | 2023-11-23 17:55:16 | Matthew Pow |
| 39 | 2023-11-23 18:52:44 | Cameron Thompson |
| 40 | 2023-11-22 18:26:01 | Sarah Handoll |
| 41 | 2023-11-23 19:34:26 | Marcus Grant |
| 42 | 2023-11-23 19:00:05 | Karen Mclean |
| 43 | 2023-11-23 14:42:13 | Darren Mclean |
| 44 | 2023-11-23 12:48:13 | Skippy Radmore |
| 45 | 2023-11-22 17:02:55 | Dianne H |
| 46 | 2023-11-23 17:21:08 | Jamie Jones |
| 47 | 2023-11-22 21:58:12 | Elizabeth Glover |
| 48 | 2023-11-23 17:21:08 | Jamie Jones |
| 49 | 2023-11-22 18:26:01 | Sarah Handoll |
| 50 | 2023-11-23 14:54:56 | Dianne H |
| 51 | 2023-11-23 20:49:41 | Agnieszka Wzal |
| 52 | 2023-11-23 20:34:54 | Sandra Smith |
| 53 | 2023-11-23 10:20:06 | Rachael Morton |
| 54 | 2023-11-23 12:48:13 | Skippy Radmore |
| 55 | 2023-11-22 18:26:01 | Sarah Handoll |
| 56 | 2023-11-23 20:56:55 | Richard Higham |
| 57 | 2023-11-23 09:08:49 | Helen Grayson |
| 58 | 2023-11-23 20:02:55 | Jay Ricketts |
| 59 | 2023-11-23 20:58:07 | Corrina Trundle |
| 60 | 2023-11-23 19:31:51 | Gareth Bovington |
| 61 | 2023-11-23 14:12:49 | d k J |
| 62 | 2023-11-23 14:30:21 | Stacey Easter |
| 63 | 2023-11-23 20:36:59 | Rachel Shoreman |
| 64 | 2023-11-23 19:52:40 | Chanel Goodwin |
| 65 | 2023-11-23 20:45:23 | Carolyne Harper |
| 66 | 2023-11-23 18:17:17 | JOSEPH PARTINGTON |
| 67 | 2023-11-23 09:39:04 | Viki Cook |
| 68 | 2023-11-23 20:26:46 | Amy C |
| 69 | 2023-11-23 12:48:13 | Skippy Radmore |
| 70 | 2023-11-23 18:28:26 | Tom Speed |
| 71 | 2023-11-23 14:42:13 | Darren Mclean |
| 72 | 2023-11-23 20:32:28 | Jennie Judge |
| 73 | 2023-11-22 21:40:06 | Mary Screech |
| 74 | 2023-11-23 20:13:12 | Kerry Davies |
| 75 | 2023-11-22 20:19:26 | Juliette King |
| 76 | 2023-11-23 17:15:13 | Ann Marie Radmore |
| 77 | 2023-11-23 14:03:34 | Xavier Marchena Stanciu |
| 78 | 2023-11-23 14:31:09 | Kerry McLean |
| 79 | 2023-11-23 10:59:23 | Amanda Royal |
| 80 | 2023-11-23 20:13:12 | Kerry Davies |
| 81 | 2023-11-22 23:40:15 | Nicola Larder |
| 82 | 2023-11-23 20:20:09 | Jason Brown |
| 83 | 2023-11-23 17:33:28 | Leanne Metcalfe |
| 84 | 2023-11-23 20:05:29 | Lorraine Shipp |
| 85 | 2023-11-23 18:48:36 | Helen Cottrell |
| 86 | 2023-11-23 20:20:09 | Jason Brown |
| 87 | 2023-11-22 18:26:01 | Sarah Handoll |
| 88 | 2023-11-23 14:02:10 | Alison Gibson |
| 89 | 2023-11-23 19:00:05 | Karen Mclean |
| 90 | 2023-11-23 20:13:12 | Kerry Davies |
| 91 | 2023-11-21 19:11:49 | Kendra Brain |
| 92 | 2023-11-23 19:53:48 | P C |
| 93 | 2023-11-23 16:26:20 | Gary King |
| 94 | 2023-11-23 20:39:42 | Sharon Symons |
| 95 | 2023-11-22 21:16:10 | Alison Thomson |
| 97 | 2023-11-22 12:54:15 | Kim Dowrick |
| 98 | 2023-11-23 10:20:06 | Rachael Morton |
| 99 | 2023-11-22 20:55:25 | Amelia Summers |
| 100 | 2023-11-23 20:01:49 | Stephie Jones |
| 101 | 2023-11-23 19:00:05 | Karen Mclean |
| 102 | 2023-11-23 16:04:54 | Jayne Wood |
| 103 | 2023-11-23 17:33:28 | Leanne Metcalfe |
| 104 | 2023-11-23 10:30:38 | lisa Cunningham |
| 105 | 2023-11-23 19:00:05 | Karen Mclean |
| 106 | 2023-11-23 17:15:13 | Ann Marie Radmore |
| 107 | 2023-11-23 12:54:23 | Lee Gable |
| 108 | 2023-11-23 20:45:47 | Joanna Bevan |
| 109 | 2023-11-23 17:24:02 | Linda Grimshaw |
| 110 | 2023-11-23 12:48:13 | Skippy Radmore |
| 111 | 2023-11-23 17:36:11 | Jasmin Bourne |
| 112 | 2023-11-23 14:10:27 | Nicola B |
| 113 | 2023-11-22 18:26:01 | Sarah Handoll |
| 115 | 2023-11-23 18:48:36 | Helen Cottrell |
| 116 | 2023-11-23 14:30:21 | Stacey Easter |
| 117 | 2023-11-23 15:14:47 | Emma & lee |
| 119 | 2023-11-23 17:55:48 | Caroline Dreesden |
| 120 | 2023-11-23 20:39:42 | Sharon Symons |
| 121 | 2023-11-23 14:42:13 | Darren Mclean |
| 122 | 2023-11-23 19:53:48 | P C |
| 123 | 2023-11-22 21:48:30 | Laurie Widdicombe |
| 124 | 2023-11-23 19:03:31 | Darren Mclean |
| 125 | 2023-11-23 20:53:50 | Jamie Jones |
| 126 | 2023-11-22 20:12:41 | Shaun Gillard |
| 127 | 2023-11-23 17:22:53 | Kate Beverley |
| 128 | 2023-11-23 19:52:40 | Chanel Goodwin |
| 129 | 2023-11-23 00:35:03 | P C |
| 130 | 2023-11-23 20:34:50 | Kerri-Jayne Ladd |
| 132 | 2023-11-23 19:51:58 | Daniel Case |
| 133 | 2023-11-23 18:12:03 | Stephanie Mcbirney |
| 134 | 2023-11-23 17:24:02 | Linda Grimshaw |
| 135 | 2023-11-23 20:52:26 | Jessica Pellens |
| 136 | 2023-11-22 18:26:01 | Sarah Handoll |
| 137 | 2023-11-23 20:32:36 | Barry Brewer |
| 138 | 2023-11-23 14:31:09 | Kerry McLean |
| 139 | 2023-11-23 18:53:20 | Nicole Walsh |
| 142 | 2023-11-23 19:57:49 | Claire Mackirdy |
| 143 | 2023-11-23 17:15:13 | Ann Marie Radmore |
| 144 | 2023-11-21 19:51:30 | Jessica Pellens |
| 145 | 2023-11-23 20:13:39 | Karen Alder |
| 146 | 2023-11-23 20:02:49 | Jessica Walton |
| 147 | 2023-11-23 17:15:13 | Ann Marie Radmore |
| 148 | 2023-11-23 20:40:48 | Kim Briggs |
| 149 | 2023-11-23 20:13:12 | Kerry Davies |
| 150 | 2023-11-23 17:24:02 | Linda Grimshaw |