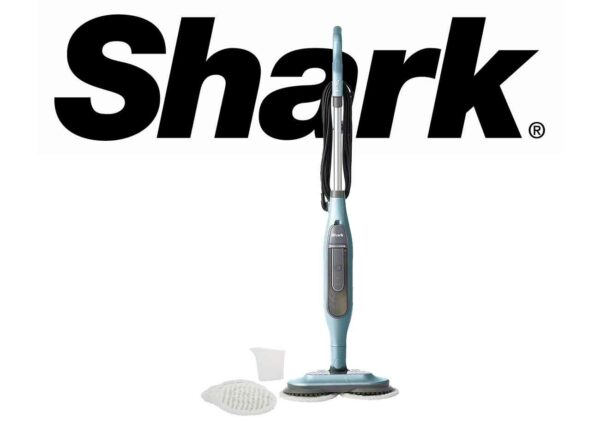 Shark S6002UK Steam & Scrub Automatic Steam Mop
Description
Shark S6002UK Steam & Scrub Automatic Steam Mop
Gentle on floors, tough on stains. The Shark Steam & Scrub Automatic Steam Mop scrubs and sanitises* at the same time, cleaning all sealed hard floors with the power of steam – including tiles, marble, hard wood and stone.
Up to 2 x better stain removal**
Two specially designed Power Pads rotate 150 times per minute as you glide across sealed hard floors, gently scrubbing, lifting and removing stuck-on dirt, surface dust, grease, grime and bacteria.
Machine washable pads
The cleaning pads are reusable, machine washable and quick drying – simply throw them in the washing machine. With 4 pads included in the box, you'll always have a fresh pair ready to go.
Clean with the power of steam
Clean and sanitise 99.9%* of household bacteria using water alone – no harsh chemicals. Perfect for homes with children and pets. Steam channels evenly throughout the mop head for consistent cleaning and a streak-free finish.
2 Steam Settings
Switch between 2 automatic steam settings at the touch of a button with Intelligent Steam Control. Perfect for removing light everyday dirt and powering through tough, stubborn messes. Easily move from room to room with a long 8m power cord.
| Winner Name | Ticket Number | Draw Date |
| --- | --- | --- |
| Jemma Rivers | 27 | 11/07/2022 |
| Ticket Number | Date | Name |
| --- | --- | --- |
| 1 | 2022-07-11 15:13:09 | Michelle Teague |
| 2 | 2022-07-06 11:53:54 | Jemma Rivers |
| 3 | 2022-07-11 20:40:26 | Lisa Darragh |
| 4 | 2022-07-11 20:40:56 | Emma Jones |
| 5 | 2022-07-07 18:21:39 | Claire Thomas |
| 6 | 2022-07-11 06:44:12 | Claire Allen |
| 8 | 2022-07-06 11:53:54 | Jemma Rivers |
| 9 | 2022-07-07 18:21:39 | Claire Thomas |
| 10 | 2022-07-09 08:24:52 | Chantelle Osman |
| 11 | 2022-07-11 19:21:37 | Lisa Roberts |
| 12 | 2022-07-11 07:13:46 | Katrina Bennett |
| 13 | 2022-07-07 19:44:06 | Julie Webb |
| 14 | 2022-07-10 09:57:39 | Tara Marks |
| 15 | 2022-07-07 18:21:39 | Claire Thomas |
| 16 | 2022-07-11 19:13:54 | Leanne Cackett |
| 17 | 2022-07-11 18:27:57 | Nicola Cobain |
| 18 | 2022-07-06 11:53:54 | Jemma Rivers |
| 19 | 2022-07-11 17:08:58 | Debbie Jones |
| 21 | 2022-07-11 17:40:49 | Laura Currie |
| 22 | 2022-07-11 19:11:08 | jeanette rich |
| 23 | 2022-07-11 19:56:08 | Jake Coley |
| 24 | 2022-07-11 19:56:08 | Jake Coley |
| 26 | 2022-07-11 07:47:23 | Kirsty Kilkenny |
| 27 | 2022-07-06 11:53:54 | Jemma Rivers |
| 28 | 2022-07-06 11:53:54 | Jemma Rivers |
| 30 | 2022-07-11 18:27:57 | Nicola Cobain |
| 31 | 2022-07-09 12:16:14 | Linda Beer |
| 33 | 2022-07-10 00:17:46 | Kayleigh Nowell |
| 36 | 2022-07-08 19:25:19 | Anna Benney |
| 37 | 2022-07-07 18:21:39 | Claire Thomas |
| 38 | 2022-07-08 19:25:19 | Anna Benney |
| 39 | 2022-07-11 16:31:20 | Shannon Williams |
| 40 | 2022-07-11 19:56:08 | Jake Coley |
| 41 | 2022-07-09 01:02:57 | Kelly Walsh |
| 42 | 2022-07-11 09:10:30 | Emma Jones |
| 44 | 2022-07-11 16:41:38 | Nicola Bird |
| 45 | 2022-07-11 17:37:49 | Samantha Sedgbeer |
| 46 | 2022-07-11 15:20:55 | Kerri Del-Pizzo |
| 47 | 2022-07-11 15:04:22 | Jodie Webb |
| 48 | 2022-07-06 08:28:07 | Debs Hamilton |
| 50 | 2022-07-08 23:13:00 | Agnes Newman |
| 51 | 2022-07-11 19:56:50 | Amanda Bowden |
| 53 | 2022-07-11 09:23:46 | Jodie Ellis |
| 54 | 2022-07-06 16:39:37 | Lucie Dobeer |
| 57 | 2022-07-11 14:43:40 | Nicky Winter |
| 58 | 2022-07-09 06:40:56 | Elizabeth Tyson |
| 60 | 2022-07-11 18:24:25 | Jason brown Brown |
| 61 | 2022-07-11 20:08:11 | Jodie Ellis |
| 62 | 2022-07-11 08:39:03 | Thomas Whirton |
| 65 | 2022-07-09 11:48:51 | Holly Ring |
| 68 | 2022-07-07 19:44:06 | Julie Webb |
| 69 | 2022-07-07 19:44:06 | Julie Webb |
| 71 | 2022-07-08 06:44:23 | Lucie Dobeer |
| 72 | 2022-07-08 16:14:08 | Deanne Lovell |
| 73 | 2022-07-11 15:40:53 | Kirsty Gates |
| 74 | 2022-07-06 16:39:37 | Lucie Dobeer |
| 77 | 2022-07-09 15:41:39 | Nicola Lant |
| 79 | 2022-07-07 18:21:39 | Claire Thomas |
| 80 | 2022-07-11 15:29:03 | Jodie Ellis |
| 81 | 2022-07-10 10:09:04 | Tricia Barratt |
| 82 | 2022-07-11 16:31:20 | Shannon Williams |
| 83 | 2022-07-11 14:58:21 | Kelly Clarke-booth |
| 84 | 2022-07-11 19:49:47 | Amber Rice |
| 85 | 2022-07-11 20:40:26 | Lisa Darragh |
| 87 | 2022-07-11 18:27:57 | Nicola Cobain |
| 89 | 2022-07-11 18:53:43 | Emma Jones |
| 91 | 2022-07-09 06:45:01 | Virginia Peachey |
| 93 | 2022-07-11 17:08:58 | Debbie Jones |
| 94 | 2022-07-11 18:03:05 | Deborah Carling |
| 97 | 2022-07-11 20:40:26 | Lisa Darragh |
| 100 | 2022-07-11 19:11:08 | jeanette rich |
| 101 | 2022-07-11 17:37:49 | Samantha Sedgbeer |
| 102 | 2022-07-11 20:06:49 | Ryan Watkins |
| 104 | 2022-07-11 19:27:02 | Lisa Hynes |
| 105 | 2022-07-11 08:39:03 | Thomas Whirton |
| 106 | 2022-07-11 07:13:46 | Katrina Bennett |
| 107 | 2022-07-08 19:25:19 | Anna Benney |
| 109 | 2022-07-06 16:39:37 | Lucie Dobeer |
| 110 | 2022-07-11 13:14:42 | Michelle Harvey |
| 111 | 2022-07-11 16:06:25 | Ian Garner |
| 112 | 2022-07-08 12:47:41 | Nancy stevens |
| 113 | 2022-07-11 10:49:05 | Amy Howse |
| 114 | 2022-07-11 19:11:08 | jeanette rich |
| 116 | 2022-07-11 19:51:22 | Sarah Dennis |
| 117 | 2022-07-11 20:44:13 | Nicola Cobain |
| 118 | 2022-07-11 17:37:34 | Anna Benney |
| 119 | 2022-07-11 14:38:07 | Sarah White |
| 120 | 2022-07-09 13:44:25 | Kayleigh Leicester |
| 121 | 2022-07-11 18:12:03 | Sharon Holmes |
| 123 | 2022-07-11 18:27:57 | Nicola Cobain |
| 124 | 2022-07-11 09:10:30 | Emma Jones |
| 127 | 2022-07-11 20:06:49 | Ryan Watkins |
| 129 | 2022-07-11 17:37:34 | Anna Benney |
| 130 | 2022-07-11 15:40:53 | Kirsty Gates |
| 133 | 2022-07-11 09:23:46 | Jodie Ellis |
| 135 | 2022-07-11 19:49:47 | Amber Rice |
| 136 | 2022-07-11 19:26:23 | Kate Mills |
| 140 | 2022-07-08 12:47:41 | Nancy stevens |
| 142 | 2022-07-11 20:40:26 | Lisa Darragh |
| 143 | 2022-07-11 17:21:43 | Joanne Warner |
| 144 | 2022-07-11 12:23:42 | Laura Godfrey |
| 145 | 2022-07-11 12:59:07 | Kelly Powell |
| 146 | 2022-07-11 15:12:07 | Neil Morris |
| 148 | 2022-07-11 19:29:22 | Joshua Highton |
| 150 | 2022-07-11 09:23:46 | Jodie Ellis |