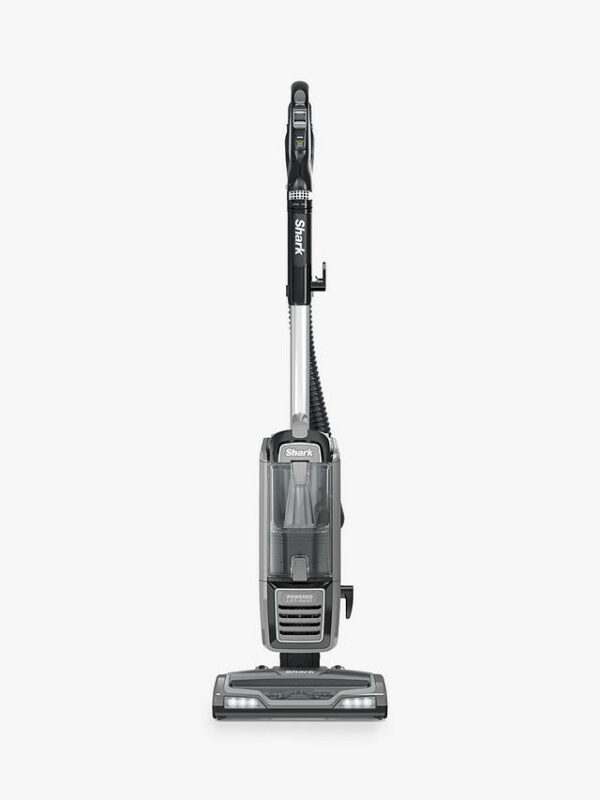 Shark NV620UKT Corded Pet Upright with Powered Lift-Away Vacuum Cleaner
Description
Shark NV620UKT Corded Pet Upright with Powered Lift-Away Vacuum Cleaner
Purposefully designed for homes with pets, this versatile upright vacuum cleaner instantly switches between carpet and hard floor modes. Not just for floors, easily clean stairs, up high and underneath furniture with Shark's signature Powered Lift-Away Technology.
2 Floor Settings
Easily switch between carpet and hard floor settings at the touch of a button with convenient hand controls.
Go portable with Powered Lift-Away
Instantly transform this versatile upright into a portable vacuum. Simply lift the main unit away from the wand to comfortably clean stairs, up high and underneath furniture. The powered brush-roll continues rotating even in portable mode, drawing in dirt for a consistent clean under furniture.
Whole-Home Cleaning
Easily clean soft furnishings and hard-to-reach areas with the included Crevice Tool, Multi-Surface Tool and Pet Tool – purposefully designed to remove embedded pet hair from upholstery. You can also attach the wand in portable mode to reach up high, easily cleaning ceilings, light fittings and more.
Anti-Allergen Complete Seal
Offering reassurance for allergy sufferers and homes with pets, Shark's Anti-Allergen Complete Seal captures and traps 99.9% of dust and allergens inside the vacuum, not releasing them back into the air you breathe.*
Easy to Use
Move freely between rooms with a long 8m power cord. LED headlights in the floorhead help to illuminate hidden dust and pet hair underneath furniture.
| Winner Name | Ticket Number | Draw Date |
| --- | --- | --- |
| Samantha White | 153 | 08/05/2022 |
| Ticket Number | Date | Name |
| --- | --- | --- |
| 4 | 2022-05-08 19:15:33 | Samantha White |
| 5 | 2022-05-08 16:27:18 | Jasmin Etches |
| 7 | 2022-05-08 20:43:30 | Chloe HAYMAN |
| 10 | 2022-05-08 20:01:48 | Kayleigh Leicester |
| 11 | 2022-05-08 10:31:05 | Angel Fowler |
| 12 | 2022-05-08 14:04:18 | Kelly Walsh |
| 14 | 2022-05-08 09:36:37 | maxine menhennett |
| 16 | 2022-05-08 18:07:33 | Laura Crawley |
| 17 | 2022-05-08 20:41:36 | Scott Parnell |
| 20 | 2022-05-08 19:15:33 | Samantha White |
| 21 | 2022-05-08 20:33:18 | Alice Webb |
| 22 | 2022-05-08 13:26:09 | Lesley Jones |
| 24 | 2022-05-08 10:34:08 | Chloe Cheese |
| 26 | 2022-05-08 16:06:36 | Tegan Vinnicombe |
| 28 | 2022-05-08 10:31:05 | Angel Fowler |
| 29 | 2022-05-08 20:11:29 | Brogan Sandercock |
| 31 | 2022-05-08 16:17:45 | Susan Rowe |
| 32 | 2022-05-08 16:17:14 | Sarah Dennis |
| 33 | 2022-05-08 11:09:09 | Ann Hall |
| 34 | 2022-05-08 10:11:23 | Mandi Maclening |
| 35 | 2022-05-08 16:40:02 | Rachel Scott |
| 38 | 2022-05-08 17:59:37 | Maia Roberts |
| 40 | 2022-05-08 18:39:19 | Ann Hall |
| 41 | 2022-05-08 10:28:56 | Ceri Hall |
| 43 | 2022-05-08 18:22:10 | Gemma Johnson |
| 45 | 2022-05-08 20:43:12 | Marcus Bays |
| 46 | 2022-05-08 20:16:34 | Aimee Povey |
| 47 | 2022-05-08 20:33:18 | Alice Webb |
| 48 | 2022-05-08 16:07:12 | Viv Munslow |
| 49 | 2022-05-08 16:16:10 | Kelly N |
| 52 | 2022-05-08 20:11:29 | Brogan Sandercock |
| 53 | 2022-05-08 18:53:50 | Danielle Kelly |
| 56 | 2022-05-08 17:02:11 | Sarah Kallmeier |
| 57 | 2022-05-08 15:09:58 | Samantha sedgbeer |
| 60 | 2022-05-08 20:04:07 | Ugne Terentjevaite |
| 61 | 2022-05-08 10:09:44 | Acacia Bodhi |
| 62 | 2022-05-08 09:54:40 | Matt Joyce |
| 63 | 2022-05-08 20:43:12 | Marcus Bays |
| 65 | 2022-05-08 17:59:37 | Maia Roberts |
| 66 | 2022-05-08 20:34:12 | Jenkins Rebecca |
| 67 | 2022-05-08 18:22:10 | Gemma Johnson |
| 68 | 2022-05-08 18:22:10 | Gemma Johnson |
| 70 | 2022-05-08 10:01:58 | Nicola Copley |
| 76 | 2022-05-08 11:09:09 | Ann Hall |
| 77 | 2022-05-08 20:13:09 | Kate Sheriff |
| 78 | 2022-05-08 18:39:19 | Ann Hall |
| 79 | 2022-05-08 13:04:17 | Jodie C |
| 80 | 2022-05-08 20:43:12 | Marcus Bays |
| 81 | 2022-05-08 14:04:18 | Kelly Walsh |
| 82 | 2022-05-08 20:12:57 | Marny Stocker |
| 83 | 2022-05-08 20:38:51 | Chloe Kershaw |
| 84 | 2022-05-08 18:38:18 | Laura Paton |
| 86 | 2022-05-08 17:41:45 | Michelle Fewings |
| 87 | 2022-05-08 14:54:05 | Tanya Bridger |
| 88 | 2022-05-08 14:54:05 | Tanya Bridger |
| 89 | 2022-05-08 10:53:09 | Julie Cleave |
| 90 | 2022-05-08 18:40:50 | Victoria Johnston |
| 91 | 2022-05-08 13:40:41 | KIM SMITH |
| 92 | 2022-05-08 19:15:33 | Samantha White |
| 93 | 2022-05-08 19:15:33 | Samantha White |
| 94 | 2022-05-08 20:35:30 | Julie Cleave |
| 96 | 2022-05-08 17:57:13 | Mrs Louise Weyman |
| 97 | 2022-05-08 19:57:55 | Mary Knights |
| 99 | 2022-05-08 19:15:33 | Samantha White |