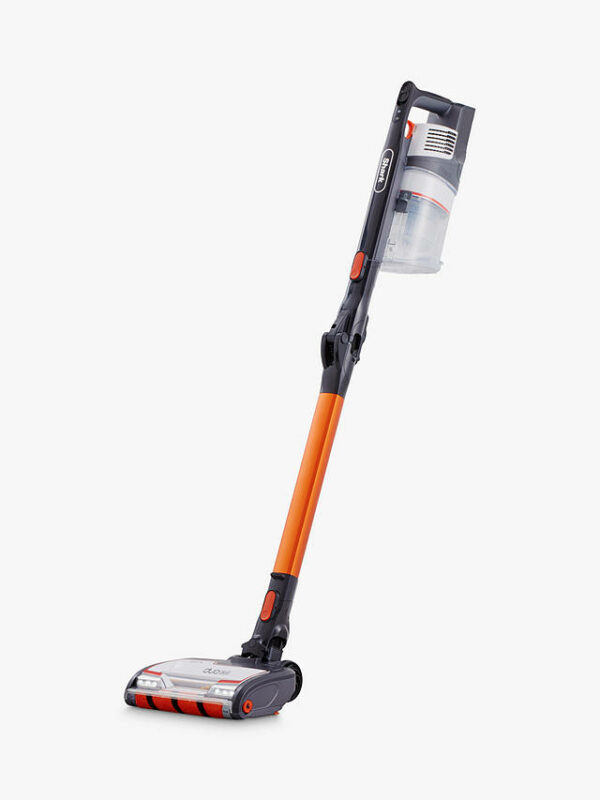 Shark IZ201UK Anti Hair Wrap Cordless Vacuum Cleaner
Description
Shark IZ201UK Anti Hair Wrap Cordless Vacuum Cleaner
Bring ease to your cleaning routine with this flexible cordless stick vacuum cleaner from Shark. Glide between carpets and hard floors with the twin tech floorhead, combining Shark's signature DuoClean two brush-roll design with Anti Hair Wrap Technology, actively removing hair from the bristle brush-roll as you clean.
Up to 40 minutes of run-time*
Perfect for quick clean-ups and deep cleans alike. Charge the removable Lithium-Ion battery pack on or off the vacuum, wherever suits you.
DuoClean Technology
Glide from carpets to hard floors without stopping. Two brush-rolls work together in one floorhead – a bristle brush cleans deep into the carpet pile, while a soft, front brush-roll actively draws in large debris, small particles and lifts fine dust from hard floors.
Anti Hair Wrap Technology
Shark's unique bristle-guard and comb actively separate and remove hair from the bristle brush-roll as you clean, helping to leave it tangle-free.
Flexology
Reach, charge and store anywhere. The flexible wand bends so you don't have to, easily cleaning underneath furniture and folding down for compact, freestanding storage.
Transform into a handheld vacuum
At the touch of a button, go handheld to easily clean stairs, soft furnishings and surfaces with the included attachments. Simply attach the wand in handheld mode to reach up high.
Anti-Allergen Complete Seal
Anti-Allergen Complete Seal captures and traps 99.9%** of dust and allergens inside the vacuum, not releasing them back into the air you breathe.
Easy to Use
Easily move around corners and furniture with swivel steering and a slim stick silhouette. Signature LED lights illuminate hidden dust underneath furniture.
| Winner Name | Ticket Number | Draw Date |
| --- | --- | --- |
| Beatrice Pinfold | 237 | 11/05/2022 |
| Ticket Number | Date | Name |
| --- | --- | --- |
| 1 | 2022-05-08 13:40:41 | KIM SMITH |
| 2 | 2022-05-11 16:16:05 | Lowri Adams |
| 3 | 2022-05-11 19:05:13 | Jasmin Etches |
| 4 | 2022-05-11 18:06:03 | Tracey Lear |
| 6 | 2022-05-11 20:13:06 | Lorraine Tandy |
| 7 | 2022-05-11 17:06:55 | Laura Jarvis |
| 8 | 2022-05-11 18:15:29 | Aimee Ringer |
| 9 | 2022-05-11 19:51:37 | Rachael Kenny |
| 10 | 2022-05-10 16:45:26 | Gina Pepperrell |
| 11 | 2022-05-11 19:40:48 | Jemma Trevelyan |
| 12 | 2022-05-11 19:40:48 | Jemma Trevelyan |
| 13 | 2022-05-11 16:05:52 | Tracy Daniell |
| 14 | 2022-05-11 19:53:01 | Staceyy Clack |
| 15 | 2022-05-11 18:22:16 | Kayleigh Barnard |
| 16 | 2022-05-11 14:11:26 | G D |
| 17 | 2022-05-08 09:07:08 | Joanne Pennington |
| 18 | 2022-05-11 19:50:00 | Kelly Richards |
| 21 | 2022-05-08 22:03:29 | Michaela Tunstall |
| 22 | 2022-05-09 19:00:30 | Jemma Cunliffe |
| 23 | 2022-05-11 16:19:37 | Lucy Jackson |
| 24 | 2022-05-11 18:03:20 | Lorraine ward |
| 26 | 2022-05-11 19:50:00 | Kelly Richards |
| 27 | 2022-05-10 14:14:45 | Nicola Cobain |
| 28 | 2022-05-08 21:13:15 | Lorraine Reeves |
| 29 | 2022-05-09 17:04:02 | Sarah Heal |
| 30 | 2022-05-10 16:45:26 | Gina Pepperrell |
| 31 | 2022-05-11 19:45:15 | Sonia Littlewood |
| 33 | 2022-05-10 01:09:54 | Marc Baker |
| 34 | 2022-05-06 21:19:18 | Claire Thomas |
| 35 | 2022-05-11 16:49:02 | Chelsie Smith |
| 36 | 2022-05-08 22:03:29 | Michaela Tunstall |
| 37 | 2022-05-11 20:16:26 | Sharon Hobday |
| 38 | 2022-05-11 16:50:57 | Nathan Scott |
| 40 | 2022-05-09 17:59:46 | Lynda Buswell89 |
| 41 | 2022-05-11 19:06:40 | Ashley Rideout |
| 42 | 2022-05-05 15:04:21 | Chris B |
| 43 | 2022-05-11 16:33:37 | Angel Fowler |
| 45 | 2022-05-11 19:41:43 | Danielle Hern |
| 47 | 2022-05-11 19:14:06 | Elise Budd |
| 48 | 2022-05-11 20:11:06 | Charlotte Alford |
| 49 | 2022-05-11 15:11:05 | Sharon Carr |
| 50 | 2022-05-11 15:41:43 | Ellie Wilkins |
| 52 | 2022-05-11 16:33:37 | Angel Fowler |
| 53 | 2022-05-11 19:05:13 | Jasmin Etches |
| 55 | 2022-05-11 15:33:19 | Kirsty Woohoo |
| 56 | 2022-05-11 18:24:12 | Daniel Cobain |
| 57 | 2022-05-11 19:34:33 | Mark Pengilly |
| 58 | 2022-05-11 20:28:25 | Georgia Samuel |
| 60 | 2022-05-11 15:41:43 | Ellie Wilkins |
| 61 | 2022-05-10 22:02:06 | Charlotte Ager |
| 62 | 2022-05-05 15:04:21 | Chris B |
| 63 | 2022-05-11 19:21:28 | Liam Webb |
| 65 | 2022-05-11 18:45:41 | Shareen Flynn |
| 66 | 2022-05-11 18:41:38 | Richanne Grove |
| 69 | 2022-05-08 09:07:08 | Joanne Pennington |
| 70 | 2022-05-11 17:14:03 | Steve Bryant |
| 71 | 2022-05-11 20:40:34 | Craig Griffiths |
| 72 | 2022-05-11 15:42:38 | Ellie Wilkins |
| 74 | 2022-05-10 15:56:20 | Kim Ayres |
| 75 | 2022-05-11 19:57:31 | Suzanne Couch |
| 76 | 2022-05-11 16:32:00 | Philippa Smith |
| 77 | 2022-05-11 16:16:05 | Lowri Adams |
| 78 | 2022-05-09 19:00:30 | Jemma Cunliffe |
| 79 | 2022-05-09 13:22:12 | Jodie Joyce |
| 80 | 2022-05-11 16:16:05 | Lowri Adams |
| 81 | 2022-05-11 15:11:05 | Sharon Carr |
| 82 | 2022-05-11 16:16:05 | Lowri Adams |
| 83 | 2022-05-11 20:35:09 | Lisa Head |
| 84 | 2022-05-11 12:23:38 | Viv Munslow |
| 85 | 2022-05-11 12:16:10 | Lekel North |
| 86 | 2022-05-11 15:57:42 | Lucy Houghton |
| 87 | 2022-05-11 20:28:13 | Lesley Hale |
| 88 | 2022-05-11 18:37:46 | Tanya Bridger |
| 89 | 2022-05-11 15:41:43 | Ellie Wilkins |
| 90 | 2022-05-11 17:13:20 | Suzi Gooding |
| 91 | 2022-05-11 17:34:55 | Julie Cleave |
| 92 | 2022-05-11 18:03:20 | Lorraine ward |
| 93 | 2022-05-06 17:13:38 | Michelle Howard |
| 94 | 2022-05-09 12:04:57 | Kelly Clarke-booth |
| 95 | 2022-05-11 19:14:07 | Kelly Campbell |
| 96 | 2022-05-11 10:54:58 | Stephanie Endacott |
| 97 | 2022-05-11 18:25:34 | Anna Hart |
| 99 | 2022-05-11 18:36:47 | Martine Williams |
| 100 | 2022-05-10 15:56:20 | Kim Ayres |