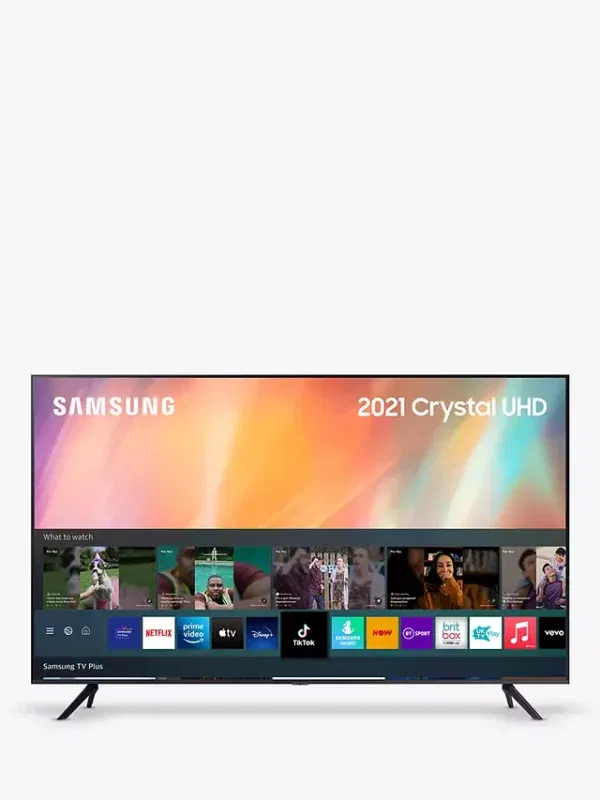 Samsung TV, 75 inch with TVPlus
Description
Samsung UE75AU7100 (2021) HDR 4K Ultra HD Smart TV, 75 inch with TVPlus, Black
The near bezel-less screen of the AU7100 leaves you with only a beautiful 4K HDR picture. It adapts to optimise both picture and sound, so you see stunning detail in every scene, just as the creators intended. Control all compatible devices with its One Remote, you can access a world of online entertainment and handy home apps via Samsung's Smart platform, and it works with compatible Bixby, Google Assistant and Alexa devices..

4K UHD resolution with HDR
This screen has four times the number of pixels than Full HD TVs, delivering stunning realism, natural motion and incredible detail. High Dynamic Range expands light, dark, and every colour in between for a picture that's closer to real life. With HDR10+, colour, contrast and detail are precisely optimised.

Features:

Crystal Processor 4K: adapts to give you an optimised 4K picture and targeted sound.
Adaptive Sound: sound adapts to the type of content you're watching, for perfectly-suited audio.
Gaming TV: get the gaming edge with Motion Xcelerator and Auto Low Latency Mode.
Contrast Enhancer: enjoy enhanced depth and colour contrast for a more immersive view.
PurColour: improves the quality of any image, uncovers hidden details, and helps show the true colours of what you're watching.
Boundless Screen: enjoy a beautiful picture on a near bezel-less screen.
One Remote Control: control all of your compatible devices and content with one universal remote control.
Samsung Health: turn your home into a personal gym with the Samsung Health app, letting you enjoy classes, wellness routines and family challenges.

Samsung Smart TV and Apps
Powered by Tizen, Samsung's smart platform is superbly intuitive. It gives you access to a huge collection of 4K content, and all your catch-up TV apps including Netflix, Amazon Prime Video, Disney+, Apple TV, NOW TV and BT Sport, all in one place at the touch of a button.** Quickly set up your TV using your smart phone (SmartThings mobile app required), and you can watch TV whilst commenting on social media or browsing the internet via Wi-Fi. Samsung's Universal Guide lets you discover great content with tailored recommendations just for you.

Works with smart devices
This TV works with compatible smart home devices and appliances from Bixby, Alexa, Google Assistant and connects through Smart Things (compatible phone and app required. Exact functionality may change at any time and be withdrawn from the product without notice).

Samsung TVPlus
Experience easy access to the latest movies via your TV guide in addition to all your traditional TV channels. Whether you're browsing for the latest Hollywood blockbuster or trying to find Ultra HD content, expand your viewing options through a wealth of additional Smart channels with Samsung TV Plus. Watch subscription free content with on-air and catch-up services including BBC iPlayer, ITV Hub, All 4 and My5. Charges apply for premium on-demand content.
| Winner Name | Ticket Number | Draw Date |
| --- | --- | --- |
| anna heard | 121 | 12/05/2022 |
1-100
101-200
201-300
301-400
401-500
501-600
601-700
701-800
801-900
901-1000
1001-1100
1101-1200
| Ticket Number | Date | Name |
| --- | --- | --- |
| 1 | 2022-05-11 19:16:51 | Nancy steer |
| 2 | 2022-05-10 08:03:33 | Alison Cass |
| 3 | 2022-05-11 18:10:47 | Chelsea Blackwell |
| 4 | 2022-05-07 07:36:11 | David Smith |
| 5 | 2022-05-05 23:12:00 | Sam Walsh |
| 6 | 2022-05-06 13:02:13 | Imogen Howes |
| 7 | 2022-05-09 07:20:01 | Michelle Archer |
| 8 | 2022-05-11 12:27:48 | Heather Baker |
| 9 | 2022-05-12 11:39:47 | Lee Rae |
| 10 | 2022-05-12 18:38:46 | Mark Lofthouse |
| 11 | 2022-05-10 08:03:33 | Alison Cass |
| 12 | 2022-05-05 19:26:35 | Kirstie Darragh |
| 13 | 2022-05-08 19:00:27 | Esteeonna Howard |
| 14 | 2022-05-12 16:13:22 | Taylor cooper Cooper |
| 15 | 2022-05-11 11:13:10 | Raymond Burgess |
| 16 | 2022-05-12 00:37:56 | Alex Norman |
| 17 | 2022-05-12 10:05:28 | Emma Jones |
| 18 | 2022-05-06 13:02:13 | Imogen Howes |
| 19 | 2022-05-11 19:16:51 | Nancy steer |
| 20 | 2022-05-05 23:00:52 | Caroline Stemp |
| 21 | 2022-05-12 15:02:27 | Kelly Clarke-booth |
| 22 | 2022-05-11 10:13:41 | Karen Atkins |
| 23 | 2022-05-12 18:35:49 | Lisa Sayers |
| 24 | 2022-05-05 20:11:39 | Jon Passmore |
| 25 | 2022-05-10 22:11:10 | Zoe Walmsley |
| 26 | 2022-05-12 13:29:42 | Lisa Pollard |
| 27 | 2022-05-09 15:58:37 | Karen Harding |
| 28 | 2022-05-11 20:25:49 | Sue Johnson |
| 29 | 2022-05-08 09:20:31 | Sharon Avery |
| 30 | 2022-05-12 17:33:31 | Ian Garner |
| 31 | 2022-05-05 23:12:00 | Sam Walsh |
| 32 | 2022-05-12 18:39:20 | Reece coles |
| 33 | 2022-05-09 18:51:03 | Marc Baker |
| 34 | 2022-05-12 13:27:41 | Jenny Baskerville |
| 35 | 2022-05-12 07:15:54 | Rachel Scott |
| 36 | 2022-05-12 19:48:17 | Nathan Scott |
| 37 | 2022-05-12 13:23:46 | Louise Nickels |
| 38 | 2022-05-06 19:45:29 | Baboucarr Drammeh |
| 39 | 2022-05-12 07:31:53 | Raymond Burgess |
| 40 | 2022-05-08 17:08:37 | james sutherland |
| 41 | 2022-05-12 15:11:11 | Joanna Brailsford-Dunn |
| 42 | 2022-05-12 11:17:40 | Chloe Brock |
| 43 | 2022-05-12 16:26:26 | JordanAdele Beresford |
| 44 | 2022-05-05 20:59:05 | Jodie Webb |
| 45 | 2022-05-10 08:03:33 | Alison Cass |
| 46 | 2022-05-12 19:48:17 | Nathan Scott |
| 47 | 2022-05-11 18:35:20 | Heather McBain |
| 48 | 2022-05-12 03:20:15 | Kim Dudley |
| 49 | 2022-05-12 19:04:52 | Jo Cannings |
| 50 | 2022-05-09 10:45:36 | Fiona turnbull |
| 51 | 2022-05-12 17:21:12 | Katrina IķStevens |
| 52 | 2022-05-12 13:59:16 | Gary Guard |
| 53 | 2022-05-12 13:21:13 | Jake Carlson |
| 54 | 2022-05-12 15:02:27 | Kelly Clarke-booth |
| 55 | 2022-05-11 12:12:01 | Rob de Young |
| 56 | 2022-05-08 22:24:27 | Tony Harding |
| 58 | 2022-05-12 16:32:47 | Esme Kershaw |
| 59 | 2022-05-11 20:29:20 | Jackie Loizides-Wright |
| 60 | 2022-05-12 13:59:16 | Gary Guard |
| 62 | 2022-05-12 18:44:43 | Zoe Marie Harrison |
| 63 | 2022-05-11 19:16:51 | Nancy steer |
| 64 | 2022-05-12 20:18:18 | Jasmine Hill |
| 65 | 2022-05-11 12:33:39 | Constance Mason |
| 66 | 2022-05-12 13:42:14 | Gail Gilbert |
| 67 | 2022-05-12 18:39:20 | Reece coles |
| 68 | 2022-05-12 13:14:31 | Drew Taylor |
| 69 | 2022-05-06 13:02:13 | Imogen Howes |
| 70 | 2022-05-12 15:26:46 | Amber Phillips |
| 71 | 2022-05-12 08:46:13 | Terri-Ann Davies |
| 72 | 2022-05-07 16:30:21 | Linda Lugg |
| 74 | 2022-05-08 17:08:37 | james sutherland |
| 75 | 2022-05-12 16:06:04 | Nina Henton-Waller |
| 76 | 2022-05-10 08:03:33 | Alison Cass |
| 77 | 2022-05-12 15:33:23 | Paul thomas |
| 78 | 2022-05-09 19:00:30 | Jemma Cunliffe |
| 80 | 2022-05-12 20:05:41 | barbara warne |
| 82 | 2022-05-11 22:08:57 | Joanne Davey |
| 83 | 2022-05-12 18:38:46 | Mark Lofthouse |
| 84 | 2022-05-11 20:29:20 | Jackie Loizides-Wright |
| 85 | 2022-05-12 13:26:36 | Lekel North |
| 87 | 2022-05-11 19:53:06 | David Smith |
| 88 | 2022-05-08 18:41:39 | Wayne Jacks |
| 89 | 2022-05-08 19:27:10 | Natasha Case |
| 90 | 2022-05-11 19:02:51 | Anna Benney |
| 91 | 2022-05-09 21:10:18 | Phillip Kelly |
| 92 | 2022-05-12 17:52:43 | Danielle Taylor |
| 93 | 2022-05-12 19:25:22 | Daniel Westlake |
| 94 | 2022-05-11 14:35:11 | Lucy Mulligan |
| 95 | 2022-05-09 10:56:33 | David Clarke |
| 96 | 2022-05-12 00:37:56 | Alex Norman |
| 97 | 2022-05-12 14:09:56 | Sarah Moran |
| 98 | 2022-05-12 19:48:17 | Nathan Scott |
| 99 | 2022-05-10 01:09:54 | Marc Baker |
| 100 | 2022-05-11 19:16:51 | Nancy steer |