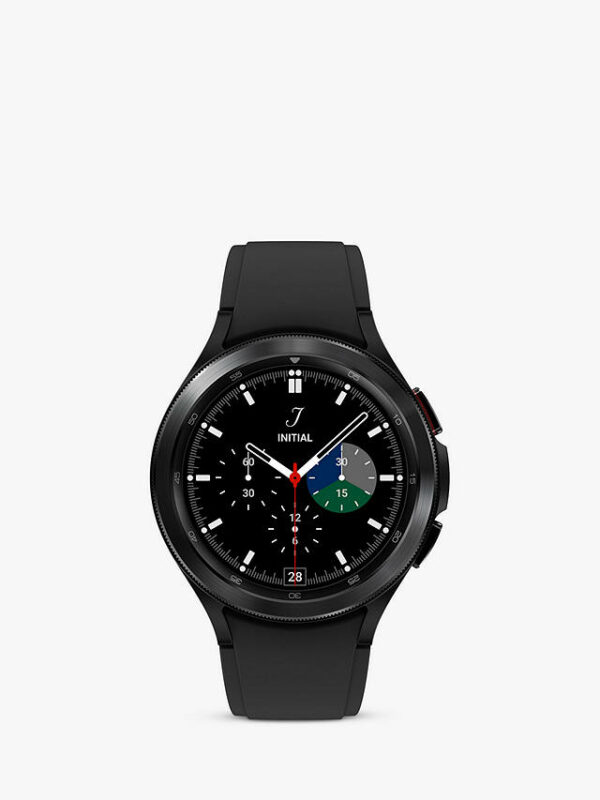 Samsung Galaxy Watch 4 Classic, Bluetooth, 46mm, Stainless Steel with Silicone Strap, Black
Description
Samsung Galaxy Watch 4 Classic, Bluetooth, 46mm, Stainless Steel with Silicone Strap, Black
Created with an understated metal frame, a slightly raised, rotating bezel, a flat, circular display, packed with technology and powered by an OS that's made in collaboration with Google, Samsung's stylish Galaxy Watch 4 Classic smartwatch has been engineered to ensure comfort during your workouts, as well as looking the part during your sophisticated evenings out. You'll receive a clear picture of your overall health and BMI with body composition measurements – all to help you make the most of every workout and reach those fitness goals.
Handy health coach
With Samsung Health you can get to grips with how your body works and what it needs to maximise your health and wellbeing. The Galaxy Watch 4 Series and Samsung Health invite you to learn more about your body so you can understand it better. With body composition, ECG and Blood Pressure measurements*, and blood oxygen level tracking, it's never been easier to track your wellbeing goals and explore what's going on under the surface. And when you need a bit of motivation to get your trainers on, daily activity reports and group challenges can provide that extra push.
Do more with less
Streamline your daily routine with a range of extra features, including Samsung Pay, wireless connectivity for Buds and SmartThings Find. A long-lasting battery lets you go further between charges, and 16GB of internal storage offers enough space to play thousands of songs offline. Link up with your phone's SmartThings app to wirelessly control your connected tech at home, straight from the wrist. And with SmartThings Find, you'll have no trouble keeping tabs on your Galaxy Watch 4 Series when it's not wrapped around your wrist.
Ready when you are
There's no need to fiddle with apps or settings, the Galaxy Watch 4 with built-in GPS will automatically store your every walk, run, cycle or swim – cleverly recognising when you're working out. You're able to set daily goals and track your progress, aiding you to hit your targets.
HR monitor
Galaxy Watch 4's health monitoring will keep an eye on your heart rate (HR) and send you an alert when it goes above or below normal levels. Additionally, it can help you manage stress.
Sleep well
Thanks to sleep monitoring technology, the Galaxy Watch 4 is able to monitor your sleep and then provide a rundown of just how deeply you slept when you finally rise.
Swim-friendly
As splash and water resistant as some new mobile phones might be, we wouldn't advise anyone to go swimming with them at the moment (there's a huge difference between gently submerging a device in pure water in the lab, and the chemicals, pressures and forces involved when swimming). The Galaxy Watch 4 is waterproof to 5 ATM, so there's no need to worry – it's great for tracking your pool-based training sessions – which it will automatically detect for you. Just make sure you give it a quick rinse in fresh water after your session, to keep it in tip top condition.
Updated OS with powerful apps
Utilising an operating system (OS) that's made in collaboration with Google, your Galaxy Watch 4 has loads of helpful options. Control your compatible smart home devices with Samsung's SmartThings or access your favourites from Google suite. There are loads of apps available for the Galaxy Watch 4, such as torches, alarms, stopwatches, calculators, reminders, music players, messaging, contacts, health, sat navs and picture galleries, just to name a few – ensuring every part of your day is covered.
Smart home help
Download Samsung's SmartThings app, along with their Bixby virtual assistant and get set to control your compatible Smart devices directly from your wrist – either via a quick tap or with voice commands. Pair up your Galaxy Watch 4 to your mobile via Bluetooth, and in next no time your phone's internet connection will be helping you feel like you're starring in your own Sci-fi film.
Tap and pay
Leave your credit card at home and use your Galaxy Watch 4 and Samsung Pay instead. Just register your credit card and you're good to go – just tap and pay as usual.
| Winner Name | Ticket Number | Draw Date |
| --- | --- | --- |
| Scooby Dooby Doo | 281 | 26/05/2022 |
| Ticket Number | Date | Name |
| --- | --- | --- |
| 1 | 2022-05-25 20:22:57 | Suzi Gooding |
| 2 | 2022-05-25 20:22:57 | Suzi Gooding |
| 3 | 2022-05-25 21:44:45 | Kelly Parker |
| 4 | 2022-05-26 19:54:37 | marie winnard |
| 6 | 2022-05-22 20:22:14 | Peter Sengun |
| 7 | 2022-05-25 20:22:57 | Suzi Gooding |
| 8 | 2022-05-26 16:12:20 | S H |
| 9 | 2022-05-25 17:40:11 | Jeremy Boothroyd |
| 11 | 2022-05-26 19:41:43 | C J |
| 12 | 2022-05-26 18:42:11 | John Harding |
| 13 | 2022-05-25 20:22:57 | Suzi Gooding |
| 14 | 2022-05-26 17:15:09 | Emma Sproston |
| 17 | 2022-05-26 19:41:43 | C J |
| 19 | 2022-05-26 15:01:16 | Emma Louise |
| 21 | 2022-05-25 06:31:59 | Trudi Parnell |
| 23 | 2022-05-25 20:22:57 | Suzi Gooding |
| 24 | 2022-05-23 20:44:46 | Daniel Green |
| 25 | 2022-05-24 06:53:32 | Jessica Matthews |
| 27 | 2022-05-26 20:41:18 | N C |
| 30 | 2022-05-25 18:46:24 | Nina Henton-Waller |
| 31 | 2022-05-26 20:41:18 | N C |
| 34 | 2022-05-26 20:37:43 | Marcus Bays |
| 36 | 2022-05-26 19:41:27 | Leah Gove |
| 38 | 2022-05-23 13:35:31 | Connor Godwin |
| 39 | 2022-05-26 17:24:56 | Adam Kenyon |
| 40 | 2022-05-20 11:55:19 | Jasmin Etches |
| 41 | 2022-05-20 11:55:19 | Jasmin Etches |
| 44 | 2022-05-26 20:37:43 | Marcus Bays |
| 46 | 2022-05-26 09:15:07 | Ian Anslow |
| 50 | 2022-05-25 06:31:59 | Trudi Parnell |
| 51 | 2022-05-25 10:28:15 | Kylie Oliver |
| 52 | 2022-05-20 11:27:09 | John Sproston |
| 55 | 2022-05-23 09:35:31 | Amy Angell |
| 58 | 2022-05-26 09:15:07 | Ian Anslow |
| 59 | 2022-05-26 19:29:47 | Nicholas Warnes |
| 61 | 2022-05-20 21:36:50 | Jeremy Boothroyd |
| 69 | 2022-05-26 19:06:23 | Usher Prowse |
| 71 | 2022-05-26 09:45:29 | Rachel chalk |
| 72 | 2022-05-26 14:01:34 | Keira Bradford-jones |
| 73 | 2022-05-26 20:40:02 | John Sproston |
| 74 | 2022-05-26 20:35:31 | Kathryn Dewing |
| 76 | 2022-05-26 16:27:37 | T W |
| 77 | 2022-05-25 09:38:34 | Leah Sheehan |
| 79 | 2022-05-26 20:24:40 | Kim Ayres |
| 85 | 2022-05-26 19:07:29 | Lekel North |
| 87 | 2022-05-26 17:24:56 | Adam Kenyon |
| 89 | 2022-05-26 20:41:18 | N C |
| 92 | 2022-05-20 11:55:19 | Jasmin Etches |
| 93 | 2022-05-26 14:46:08 | Elizabeth Coldrick-brown |
| 94 | 2022-05-26 08:55:59 | Shez Bullock |
| 99 | 2022-05-26 20:37:43 | Marcus Bays |
| 100 | 2022-05-26 20:37:57 | Si Underwood |