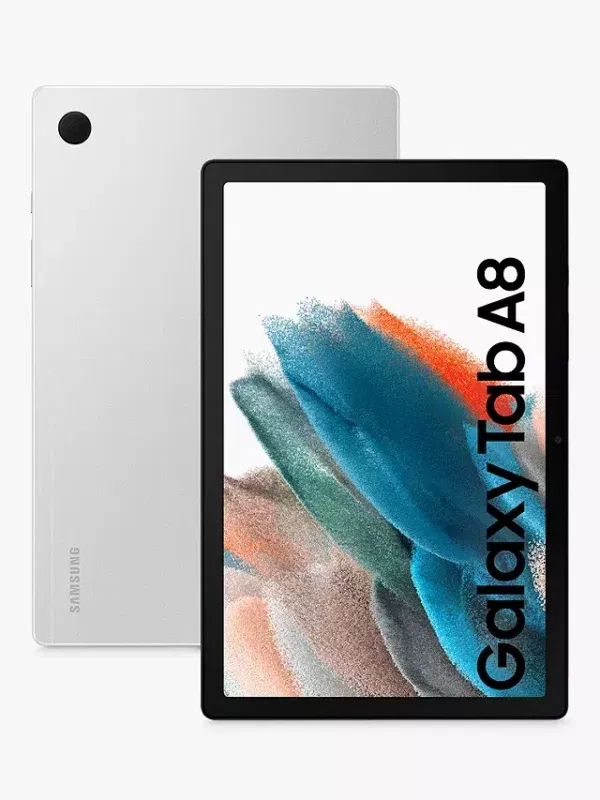 Samsung Galaxy Tab A8 Tablet, Android
Description
Samsung Galaxy Tab A8 Tablet, Android, 3GB RAM, 32GB, Wi-Fi, 10.5″, Silver
Samsung's Galaxy Tab A8 is built with Dolby Atmos speakers and an expansive 10.5" screen. And with Samsung Kids and Samsung TV Plus, it features great entertainment for the family.
Great entertainment
Enjoy balanced 3D audio with Quad Dolby Atmos speakers, while an immersive 10.5" display ensures a cinematic picture.
Multi-task
It's easy to stay productive with Galaxy Tab A8. You can split the screen to stream your favourite films and stay on top of emails at the same time. So it's easier to balance work and play.
Packed with power
With 32GB of storage and a long-lasting battery, it's easy to game, video call, and stream your favourite films all day. And it works seamlessly with other compatible Samsung devices.
What is RAM?
RAM (Random Access Memory) is different to the permanent storage provided by hard disk drives (HDD), solid state drives (SSD) or memory cards in your equipment. RAM is used by your device to temporarily store data to carry out everyday operations. The more RAM your machine has, the faster you can expect it to open and run programs.
This device has 3GB RAM.
| Winner Name | Ticket Number | Draw Date |
| --- | --- | --- |
| Sophie Sayer | 242 | 08/06/2022 |
1-100
101-200
201-300
301-400
401-500
| Ticket Number | Date | Name |
| --- | --- | --- |
| 1 | 2022-06-08 20:08:03 | Sharon Hobday |
| 2 | 2022-06-08 18:40:05 | Shelley Clewes |
| 3 | 2022-06-08 16:33:35 | John stapleton |
| 4 | 2022-06-07 08:41:33 | Michelle Eveson |
| 5 | 2022-06-08 07:41:41 | Zoey Hinchcliffe |
| 6 | 2022-06-08 20:08:03 | Sharon Hobday |
| 7 | 2022-06-08 17:55:41 | Mark Lofthouse |
| 8 | 2022-06-07 20:55:24 | Kevin Hayes |
| 9 | 2022-06-06 18:20:43 | Kate Nicholas |
| 10 | 2022-06-08 16:54:20 | Shannon Shaw |
| 11 | 2022-06-08 17:49:24 | Samantha J |
| 12 | 2022-06-08 17:55:41 | Mark Lofthouse |
| 13 | 2022-06-08 14:39:32 | Lauren Charlesworth |
| 14 | 2022-06-08 17:55:41 | Mark Lofthouse |
| 15 | 2022-06-08 12:14:35 | Hannah Del-pizzo |
| 16 | 2022-06-07 08:41:33 | Michelle Eveson |
| 17 | 2022-06-08 19:13:35 | Kerrie HENTON waller |
| 18 | 2022-06-08 20:42:51 | Charlotte Avery |
| 19 | 2022-06-08 15:47:29 | Candy Light |
| 20 | 2022-06-04 08:29:10 | Chris Birt |
| 21 | 2022-06-08 16:36:02 | Lisa Roberts |
| 22 | 2022-06-08 17:55:41 | Mark Lofthouse |
| 23 | 2022-06-08 19:13:35 | Kerrie HENTON waller |
| 24 | 2022-06-05 16:04:33 | Emma Louise |
| 25 | 2022-06-03 20:04:00 | emma body |
| 26 | 2022-06-07 09:54:47 | Nathan White |
| 27 | 2022-06-08 19:46:37 | N C |
| 28 | 2022-06-08 06:44:40 | Rachel Scott |
| 29 | 2022-06-08 17:55:41 | Mark Lofthouse |
| 30 | 2022-06-07 18:38:26 | Jasmine courtis |
| 31 | 2022-06-08 12:14:35 | Hannah Del-pizzo |
| 32 | 2022-06-08 19:24:59 | Vicki Benn |
| 33 | 2022-06-08 15:47:29 | Candy Light |
| 34 | 2022-06-08 20:09:57 | Marc Baker |
| 35 | 2022-06-08 12:29:23 | Leah Gove |
| 36 | 2022-06-06 20:51:22 | Gail. Gilbert. |
| 37 | 2022-06-08 18:53:26 | Janet Robson |
| 38 | 2022-06-08 09:25:57 | Sam Perrin |
| 39 | 2022-06-08 14:01:30 | T E C |
| 40 | 2022-06-08 14:01:30 | T E C |
| 41 | 2022-06-06 10:16:11 | Usher Prowse |
| 42 | 2022-06-08 16:54:20 | Shannon Shaw |
| 44 | 2022-06-08 13:13:19 | Emma Jones |
| 45 | 2022-06-05 09:07:32 | phyllis steer |
| 47 | 2022-06-08 20:19:58 | Lisa Darragh |
| 48 | 2022-06-08 20:32:47 | D C |
| 49 | 2022-06-08 19:44:19 | Raymond Burgess |
| 53 | 2022-06-06 18:20:43 | Kate Nicholas |
| 54 | 2022-06-07 16:46:59 | Ann Emmess |
| 55 | 2022-06-08 20:17:09 | Sophie Sayer-Poll |
| 56 | 2022-06-08 19:44:19 | Raymond Burgess |
| 57 | 2022-06-08 09:45:55 | Jackie Dyer |
| 58 | 2022-06-08 13:39:53 | Gemma Dix |
| 59 | 2022-06-08 06:14:23 | Justin Lashley |
| 60 | 2022-06-08 19:41:53 | Jem V |
| 64 | 2022-06-08 19:06:13 | Sharon Hayes |
| 65 | 2022-06-07 19:50:00 | Joanna Bevan |
| 66 | 2022-06-08 09:45:55 | Jackie Dyer |
| 67 | 2022-06-08 10:26:18 | Nicole Stevenson |
| 68 | 2022-06-08 13:32:35 | Katy Howe |
| 69 | 2022-06-08 11:18:40 | lisa terrett |
| 72 | 2022-06-08 07:45:45 | Kimberley Escott |
| 73 | 2022-06-04 08:29:10 | Chris Birt |
| 74 | 2022-06-07 17:29:24 | Nina Henton-Waller |
| 75 | 2022-06-08 20:19:00 | Kaitlin Gowing |
| 76 | 2022-06-08 20:19:00 | Kaitlin Gowing |
| 77 | 2022-06-08 20:19:00 | Kaitlin Gowing |
| 78 | 2022-06-08 16:54:20 | Shannon Shaw |
| 79 | 2022-06-08 09:34:48 | Tyrone Small |
| 80 | 2022-06-08 12:29:23 | Leah Gove |
| 83 | 2022-06-05 09:07:32 | phyllis steer |
| 84 | 2022-06-08 20:09:57 | Marc Baker |
| 85 | 2022-06-07 21:56:36 | Lekel North |
| 86 | 2022-06-08 20:17:09 | Sophie Sayer-Poll |
| 87 | 2022-06-08 17:36:58 | Samantha Hodge |
| 88 | 2022-06-08 20:00:36 | Louise Beams |
| 90 | 2022-06-08 07:55:19 | Lucy Wallis |
| 92 | 2022-06-08 20:17:09 | Sophie Sayer-Poll |
| 93 | 2022-06-07 22:52:41 | Sam Pollexfen |
| 94 | 2022-06-08 15:47:29 | Candy Light |
| 96 | 2022-06-08 20:19:58 | Lisa Darragh |
| 97 | 2022-06-07 10:18:39 | Steven Knapman |
| 98 | 2022-06-08 20:32:47 | D C |
| 100 | 2022-06-08 18:46:11 | Hannah Stalley |