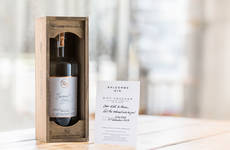 SALCOMBE GIN-Gin School Lesson for two
Description
At our outstanding distilling laboratory for adults, together they will take charge of a beautiful mini copper still to develop and distil their very own 70cl bottle of gin to share.
The Gin School experience
The experience starts at The Boathouse with a 'Salcombe & Tonic' each at our distillery bar overlooking the Salcombe estuary. (Soft drinks/coffee are also available).
With drinks in hand, our distiller will give them a guided tour of our distillery and explain the art of distillation and what it takes to produce a well-balanced and harmonious gin.
Then it's over to our Gin School laboratory to get the 'magical alchemy' underway at one of our ten beautiful mini-copper stills.
They'll start by choosing the ingredients from our range of 100+ botanicals to create their unique gin recipe – some also like to bring their own botanicals to experiment with.
With step-by-step guidance through the fascinating distillation process, our distiller will teach them how to produce a delicious hand-crafted gin and once the still run is underway, there will be plenty of time for another round of 'Salcombe & Tonics'.
With the distillation process complete, they'll both sample and name their unique creation, before bottling and applying their personalised label ready to take home with them in one of our exclusive Gin School wooden presentation boxes to share.
The experience concludes back at our distillery bar where it's time to relax and enjoy the view whilst tasting the newly created gin with a range of garnishes and tonics.
| Winner Name | Ticket Number | Draw Date |
| --- | --- | --- |
| Gemma Tanner | 156 | 11/08/2022 |
| Ticket Number | Date | Name |
| --- | --- | --- |
| 1 | 2022-08-11 19:09:00 | Tia potter |
| 2 | 2022-08-11 20:33:45 | Lisa Darragh |
| 3 | 2022-08-11 13:21:02 | Donna Mault |
| 5 | 2022-08-11 09:12:50 | Kirstie Darragh |
| 7 | 2022-08-11 15:40:24 | Kirstie Darragh |
| 11 | 2022-08-11 18:05:00 | Chantelle Amphlett |
| 12 | 2022-08-11 20:34:49 | Kirstie Darragh |
| 13 | 2022-08-09 10:27:37 | Kirstie Darragh |
| 14 | 2022-08-08 07:19:38 | Juliet Phillips |
| 16 | 2022-08-05 18:55:05 | Carla Drake |
| 19 | 2022-08-04 21:08:19 | Beth Eason |
| 21 | 2022-08-11 07:19:05 | Lisa Roberts |
| 22 | 2022-08-11 19:44:13 | jemma Vooght |
| 23 | 2022-08-11 10:15:54 | Rebecca McCabe |
| 24 | 2022-08-08 23:28:17 | Emma Louise |
| 25 | 2022-08-11 20:33:41 | Jessica Mitchell |
| 32 | 2022-08-11 19:09:00 | Tia potter |
| 34 | 2022-08-11 09:12:50 | Kirstie Darragh |
| 37 | 2022-08-11 20:42:16 | Kirstie Darragh |
| 38 | 2022-08-11 19:44:47 | Gemma Skett |
| 40 | 2022-08-04 22:11:25 | Jill Higham |
| 41 | 2022-08-11 17:24:52 | Rachel Scott |
| 46 | 2022-08-11 10:15:54 | Rebecca McCabe |
| 47 | 2022-08-11 20:33:41 | Jessica Mitchell |
| 49 | 2022-08-07 12:37:53 | Jason Matthews |
| 50 | 2022-08-11 16:52:37 | Cristina Evans |
| 51 | 2022-08-11 08:42:12 | Nicola Mclean |
| 52 | 2022-08-10 16:11:08 | Nicola Wills |
| 54 | 2022-08-11 20:33:45 | Lisa Darragh |
| 58 | 2022-08-11 19:34:59 | Martin Longley |
| 61 | 2022-08-11 18:52:07 | Kate Coley |
| 64 | 2022-08-11 20:33:41 | Jessica Mitchell |
| 67 | 2022-08-08 12:48:37 | Carla Drake |
| 69 | 2022-08-11 16:42:05 | jemma Vooght |
| 70 | 2022-08-11 19:09:00 | Tia potter |
| 71 | 2022-08-11 20:01:01 | Gemma Tanner |
| 72 | 2022-08-11 20:33:41 | Jessica Mitchell |
| 77 | 2022-08-11 08:42:12 | Nicola Mclean |
| 78 | 2022-08-11 20:33:45 | Lisa Darragh |
| 79 | 2022-08-11 08:42:12 | Nicola Mclean |
| 80 | 2022-08-08 16:32:09 | Tracy Brown |
| 82 | 2022-08-11 13:55:28 | Elise Watling |
| 85 | 2022-08-11 15:05:15 | Lekel North |
| 92 | 2022-08-09 09:16:28 | Shaan French |
| 95 | 2022-08-09 10:11:22 | Kirstie Darragh |
| 96 | 2022-08-08 15:34:46 | Megan Barratt |
| 99 | 2022-08-06 11:34:26 | Jodie Joyce |
| 101 | 2022-08-11 09:12:50 | Kirstie Darragh |
| 102 | 2022-08-11 18:09:40 | Leah Gove |
| 104 | 2022-08-11 18:56:46 | Ellie Donald |
| 105 | 2022-08-11 20:23:51 | Lisa Roberts |
| 109 | 2022-08-11 19:28:12 | Nicola Naylor |
| 112 | 2022-08-11 09:12:50 | Kirstie Darragh |
| 113 | 2022-08-11 19:50:13 | Jasmine Taylor |
| 122 | 2022-08-11 19:44:13 | jemma Vooght |
| 123 | 2022-08-11 19:44:13 | jemma Vooght |
| 124 | 2022-08-11 20:33:09 | Kathryn Dewing |
| 127 | 2022-08-11 19:09:00 | Tia potter |
| 128 | 2022-08-11 16:10:50 | Lorraine Rawles |
| 130 | 2022-08-11 20:33:45 | Lisa Darragh |
| 136 | 2022-08-11 15:28:22 | Rachel Gilbert |
| 137 | 2022-08-09 22:02:54 | Elizabeth Halfyard |
| 144 | 2022-08-11 20:33:41 | Jessica Mitchell |
| 150 | 2022-08-11 20:10:48 | Hannah Tait |
| 152 | 2022-08-11 13:18:24 | Emma Davies |
| 154 | 2022-08-11 09:12:50 | Kirstie Darragh |
| 155 | 2022-08-11 19:09:00 | Tia potter |
| 156 | 2022-08-11 20:01:01 | Gemma Tanner |
| 157 | 2022-08-10 22:05:55 | Ellie Thuell |
| 159 | 2022-08-11 20:33:45 | Lisa Darragh |